This is, without a doubt, our favorite way to prepare potatoes.
We love all kinds of potatoes, from classic french fries to best-ever mashed potatoes. But, folks, these luscious potatoes are like none you've ever made or served before. Fondant is French for "melting" and they literally melt in your mouth. They are what you would call a "special occasion" dish, but you'll want to make them constantly, after one bite.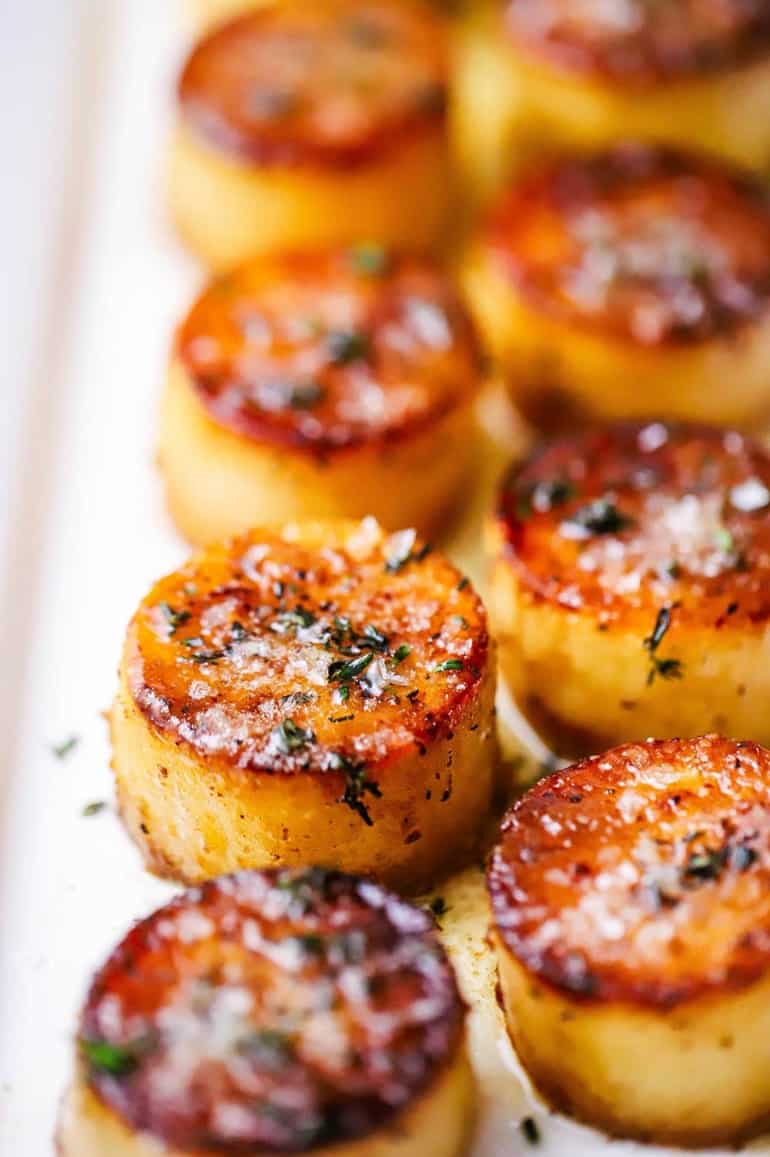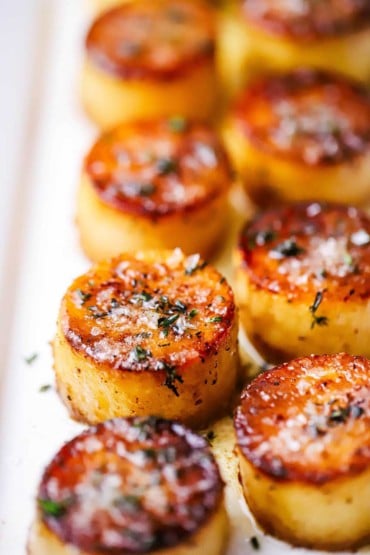 How To Make Fondant Potatoes
NOTE: If you liked this video, please subscribe to our YouTube channel. Remember to click the little 'bell' icon so you'll never miss a new video. Thank you!
The Ingredients You Will Need
Believe it or not, there are just a handful of ingredients for these spectacular potatoes. There are couple of ingredients, that put them in a league of their own, starting with the duck fat. Here's what you'll need to have on hand:
Potatoes – Starchy is what you want. Gold or Russet work great. Outside North America: Sebago and King Edward are great choices.
Fat or Oil – Duck fat is our recommendation. It can be found in many supermarkets, including Whole Foods. Bacon grease will work, too, as well as pork lard. Vegetable oil will even work.
Seasonings – Salt and pepper is all you need.
Butter – Unsalted, cubed.
Broth – Homemade chicken stock is great, but store-bought is just fine. Vegetable broth works great, too.
Garlic – Whole cloves, cut in half, lengthwise.
Herbs – Sprigs of thyme are perfect.
Coarse salt – Any kind of finishing salt is excellent. Coarse sea salt works, Maldon Flakey Sea Salt is wonderful.
EXPERT TIP: To form perfect cylinders, use a 1½" cookie cutter to cut a 2″ tall piece of circular potato (2nd photo below). Or, peel each potato, cut the ends off, and then use a sharp knife to form a 2-inch cylinder (1st photo below).
Tips for Making Perfect Potatoes Fondant
Use the Right Potatoes – Use a starchy potato such as Russet or Yukon Gold for the best texture. Don't use waxy potatoes, such as red potatoes.
Cut the Potatoes Evenly – Cut the potatoes into even, thick slices to ensure that they cook evenly and have a consistent texture. A cookie cutter makes this a snap. Use excess potatoes to make mashed potatoes.
Use a Combination of Oil and Butter – Use a combination of unsalted butter and oil to cook the potatoes, which will give them a nice crispy texture and rich flavor. Duck fat delivers incredible taste.
Baste the Potatoes – Basting the potatoes with the cooking liquid during the cooking process and then right after will help to keep them moist and tender, and add flavor.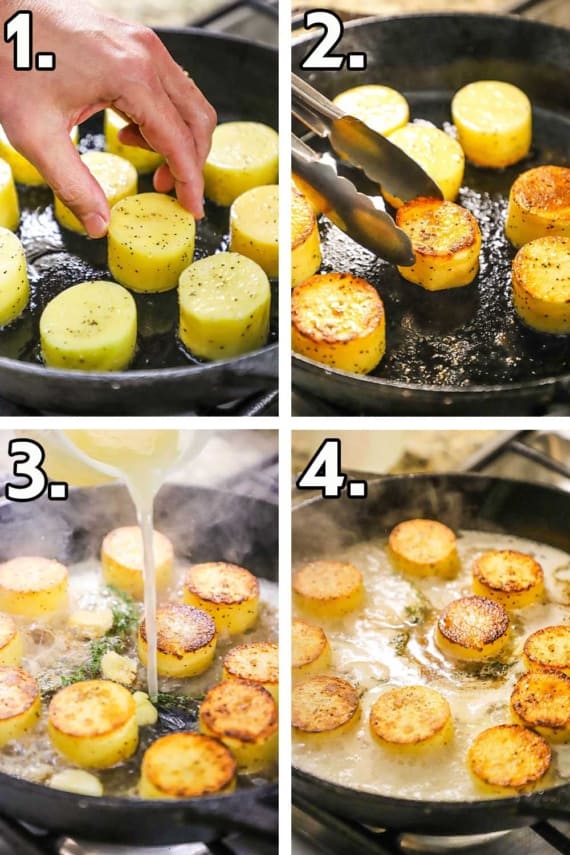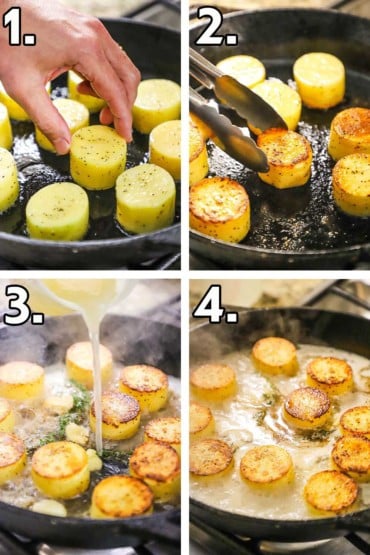 How To Cook Fondant Potatoes
Think of cooking the potatoes like searing meat or sea scallops. You'll start them off in a hot skillet with oil, preferably duck fat.
You can move them around occasionally in the skillet, especially if there are hot spots over the heat. They should turn a nice golden color before you flip them and sear the other side.
Finishing them off in the oven with butter, garlic, herbs, and stock allows the potatoes to absorb the liquid (except the oil) and become extremely tender (hence the name: Fondant, which translates to 'melting').
Baste at least once during the baking process.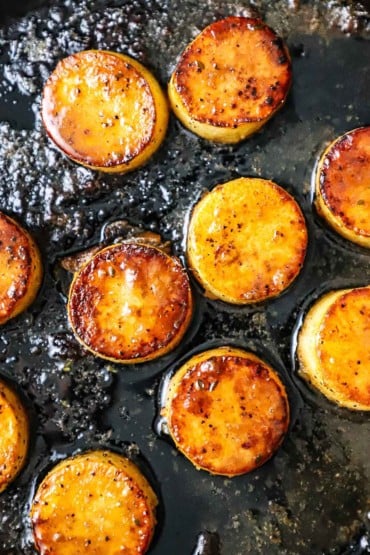 How To Serve
When you and your family try these potatoes, you'll immediately understand why these are considered a "special occasion" dish.
They are spectacular to serve alongside a steak at an elegant dinner party. They are also wonderful to serve family-style during the holiday season.
But, honestly, they are so simple to prepare, they are fun to whip up for a Sunday night dinner at home.
You can plate them along side the main protein (ie, steak) and then serve. Or, you can do what we like to do, and place them all on a platter and then drizzle the sauce over the potatoes and top with herbs and sea salt.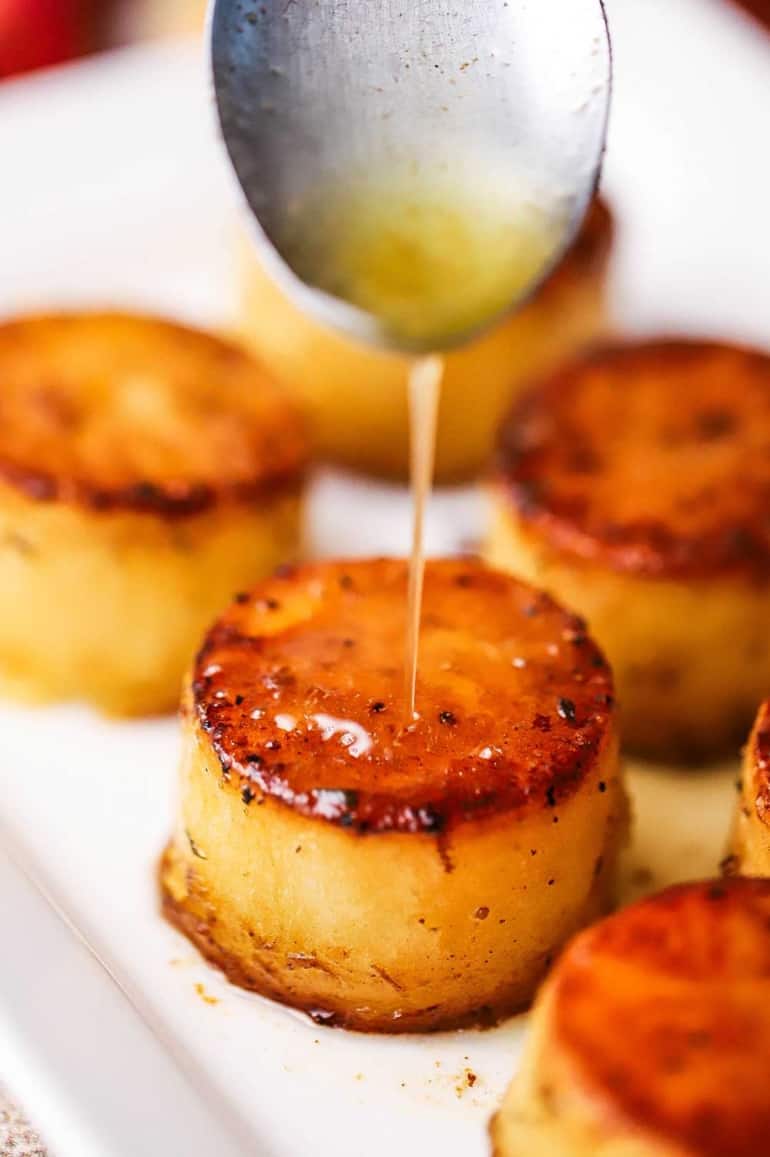 Other "Special Occasion" Side Dish Recipes to Try
These potatoes are show-stoppers, without a doubt, but these following side dishes are also sure to create a room full of "ooh's" and "ah's", too.
Potatoe Dauphinoise (French au Gratin Potatoes)
Crispy Hasselback Potatoes
Gourmet Green Bean Casserole
Braised Green Beans with Tomatoes
Sautéed Broccolini with Garlic and Lemon
Roasted Whole Cauliflower with Herb Butter Sauce
Cauliflower Mash with Roasted Garlic
Sautéed White Beans with Tomatoes, Garlic, and Sage
Cream of Sweet Corn Casserole
Cheese and Asparagus Soufflé
Maple Braised Carrots
Stuffed Tomatoes
These are all amazing, without a doubt. But, in the meantime, aren't these calling your name?
If you are looking for a side dish that is truly something special, you need to look no further. This is it.
Every single bite is an absolute taste sensation.
And, they are honestly as beautiful and so unique in appearance as they are spectacular in taste. They are truly that good.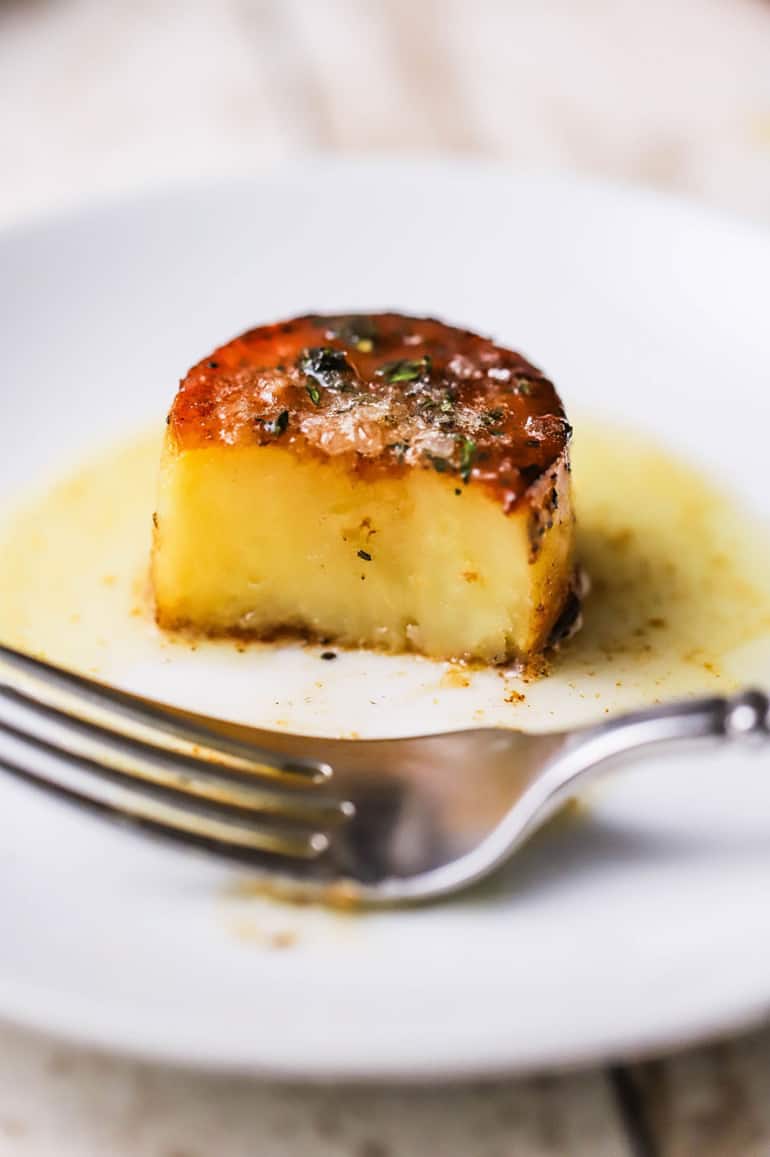 Ready to make the best potato dish you've ever tried, tasted, or served? Go for it!
And when you do, be sure to take a photo of it, post it on Instagram, and tag @HowToFeedaLoon and hashtag #HowToFeedaLoon!
Potatoes Fondant (Melting Potatoes)
Potatoes Fondant are called "melting potatoes" because they do just that...they melt in your mouth. If you can't find duck fat, then go with bacon grease or just plain vegetable oil. You'll still have stunning potatoes.
Print
Pin
Rate
Servings: 4
Calories: 223kcal
Equipment
Sturdy skillet that can go in the oven such as a cast-iron skillet
Ingredients
4 lbs potatoes starchy, such as russet or gold
3 tbsp duck fat see NOTES, divided
Salt and pepper
4 tbsp unsalted butter cubed
4 cloves garlic peeled and cut in half, lengthwise, and then smashed with the side of a knife
3 sprigs thyme fresh
1½ cups chicken stock
coarse sea salt for finishing
Instructions
Preheat oven to 400°F.

Peel the potatoes, and then cut the ends off of each side. Use a sharp knife to cut the potato into 1 to 2 2-inch cylinders. Use a sharp knife to shave off the edges to make straight-edge cylinders, or use a 1½" cookie cutter to cut out the cylinders. (See the video for reference). Save excess potatoes to make mashed potatoes.

4 lbs potatoes

Place the potatoes in a large bowl. Add 1 tbsp of the duck fat and season liberally with salt and pepper. Toss the potatoes to fully coat. Set aside.

3 tbsp duck fat, Salt and pepper

Heat the remaining 2 tbsp duck fat in a large oven-safe skillet over medium-high heat. Place the potato cylinders into the skillet and sauté until golden brown on the underside, moving occasionally to achieve even browning, about 7 to 8 minutes.

Turn each potato and sear again for another 7 to 8 minutes (moving occasionally) until browned.

Add the butter, garlic, thyme, and chicken stock to the pan and bring to a boil. Remove from the heat and place in the oven for 20 minutes. After 10 minutes, spoon the sauce over the potatoes. After 20 minutes, most of the liquid should be gone, leaving only the butter.

4 tbsp unsalted butter, 4 cloves garlic, 3 sprigs thyme, 1½ cups chicken stock

Remove from oven and discard the garlic and thyme. Spoon the sauce over the tops of the potatoes.

Plate the potatoes, and then spoon more of the butter sauce over the top. Garnish on top with a little chopped thyme and a sprinkling of the coarse salt. Serve at once.

coarse sea salt
Notes
See the video near the top of the blog post for visual guidance. If you liked the video, please subscribe to our YouTube channel.
Duck fat can be found in many well-stocked supermarkets near where shortening and oils are sold. Whole Foods sells it. Bacon grease, pork lard, or even vegetable oil can be used in place of duck fat.
These potatoes are best served warm, but they are still delicious at room temperature.
The potatoes can be cut and then kept in water for several hours before proceeding with the recipe. Be sure to pat them dry completely.
Nutrition
Calories: 223kcal | Carbohydrates: 4g | Protein: 3g | Fat: 18g | Saturated Fat: 9g | Polyunsaturated Fat: 2g | Monounsaturated Fat: 5g | Trans Fat: 0.5g | Cholesterol: 42mg | Sodium: 131mg | Potassium: 114mg | Fiber: 0.2g | Sugar: 1g | Vitamin A: 388IU | Vitamin C: 2mg | Calcium: 15mg | Iron: 0.4mg