Slow Roasted Pork Shoulder is such a gorgeous and equally delicious roast.
It is so easy to prepare and always turns out extremely flavorful and tender!
It is absolutely heavenly with a wonderful pan gravy. Just look at this roast!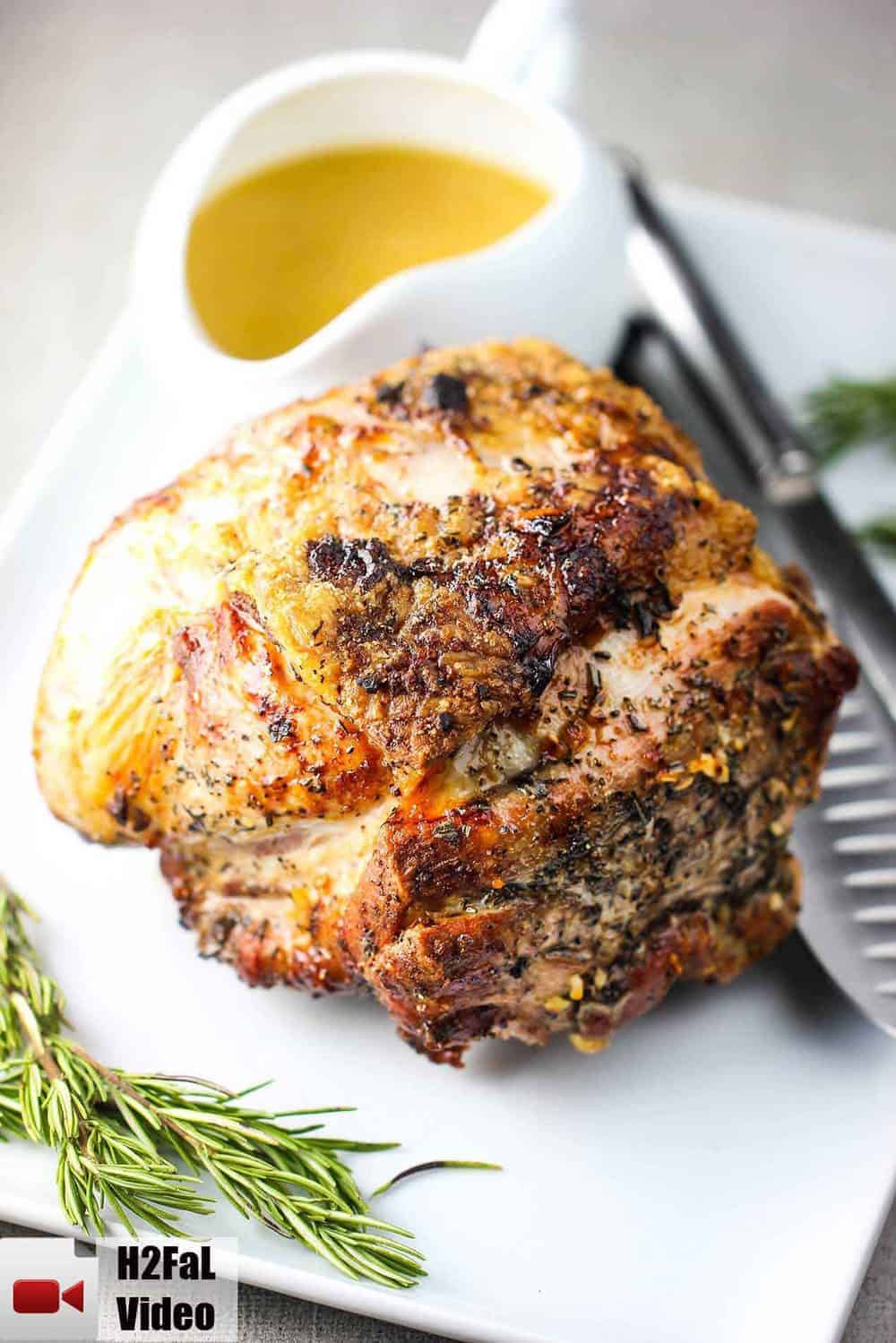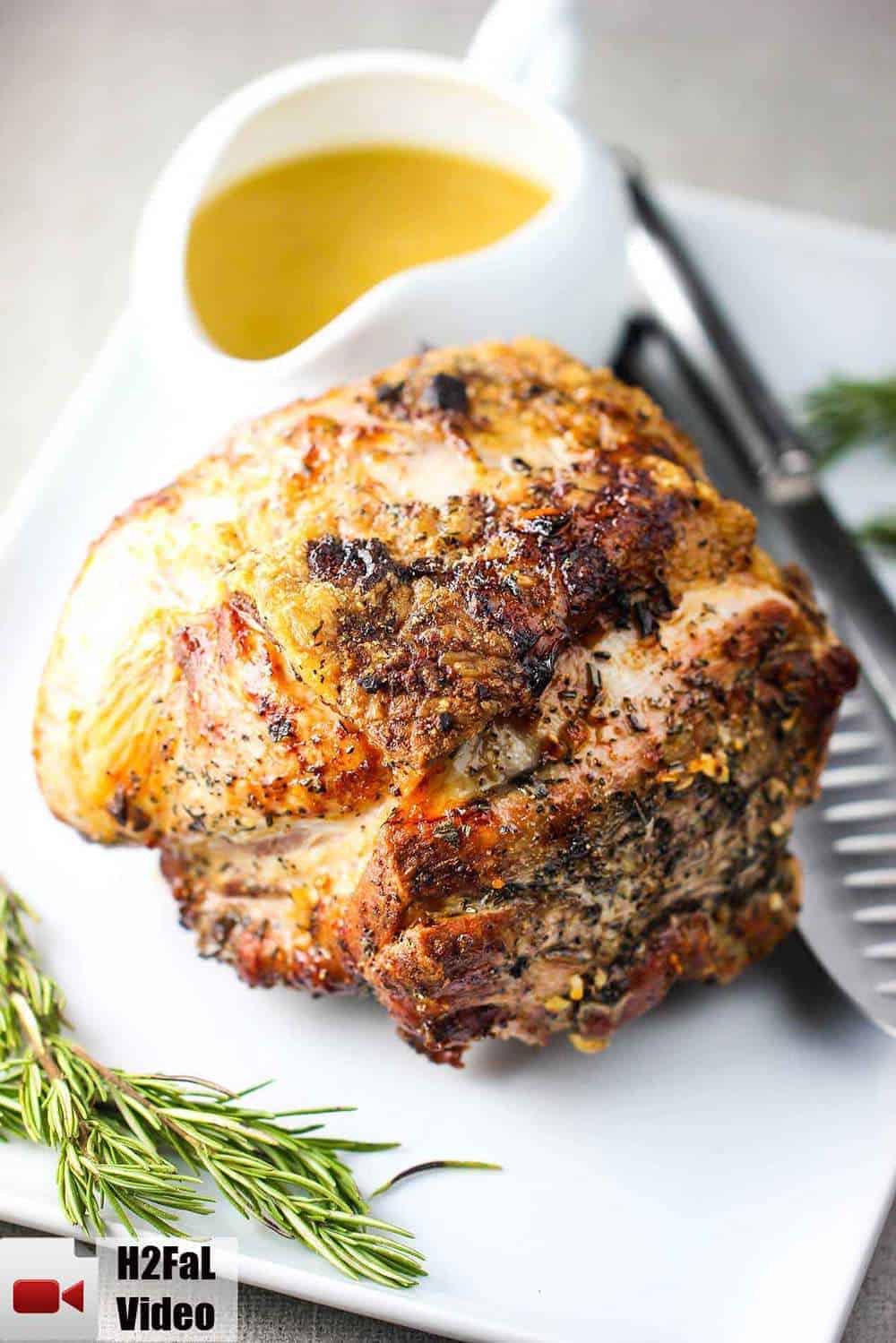 SLOW ROASTED PORK SHOULDER IS EASY TO PREPARE
This roast is glorious when served during the holidays, but we love it so much, we make it year-round.
Watch us show you how easy it is to prepare this amazing Slow Roasted Pork Shoulder!
Pork shoulder's are easily found in the meat department of most well-stocked supermarkets. Although we love to get our from our favorite location butcher. You can always get excellent quality roasts when ordering from D'Artagnan Foods.
OTHER INCREDIBLE ROAST RECIPES TO TRY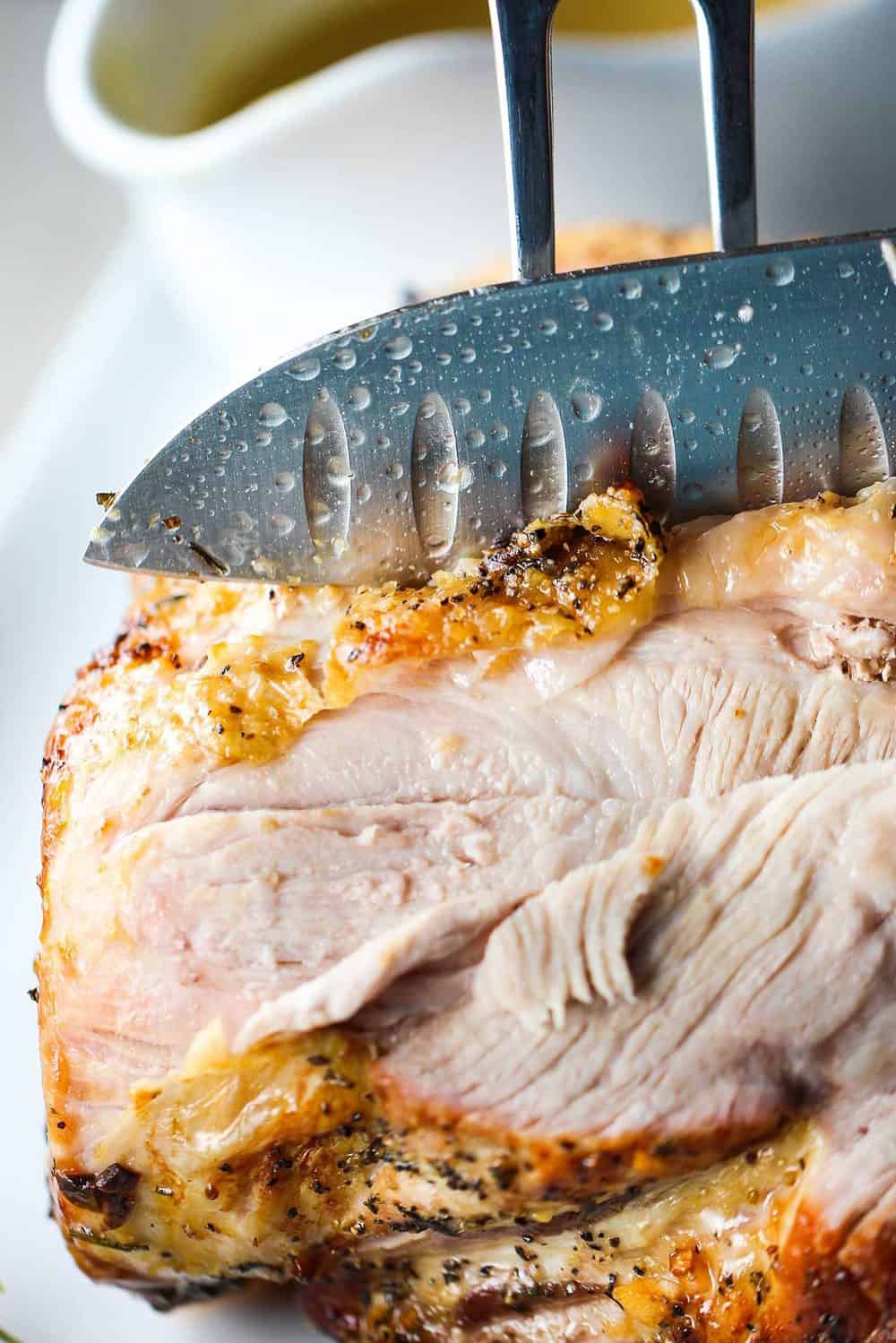 EXPERT TIP: You'll want to use an instant-read thermometer to ensure you reach the perfect temperature for this roast. The ideal internal temperature is 145°F.
We love the roast to be just a little pink on the inside. There is absolutely no health risk for a little pinkness, and the flavor is incredible.
Oh, you had us at: Roasted Pork Shoulder.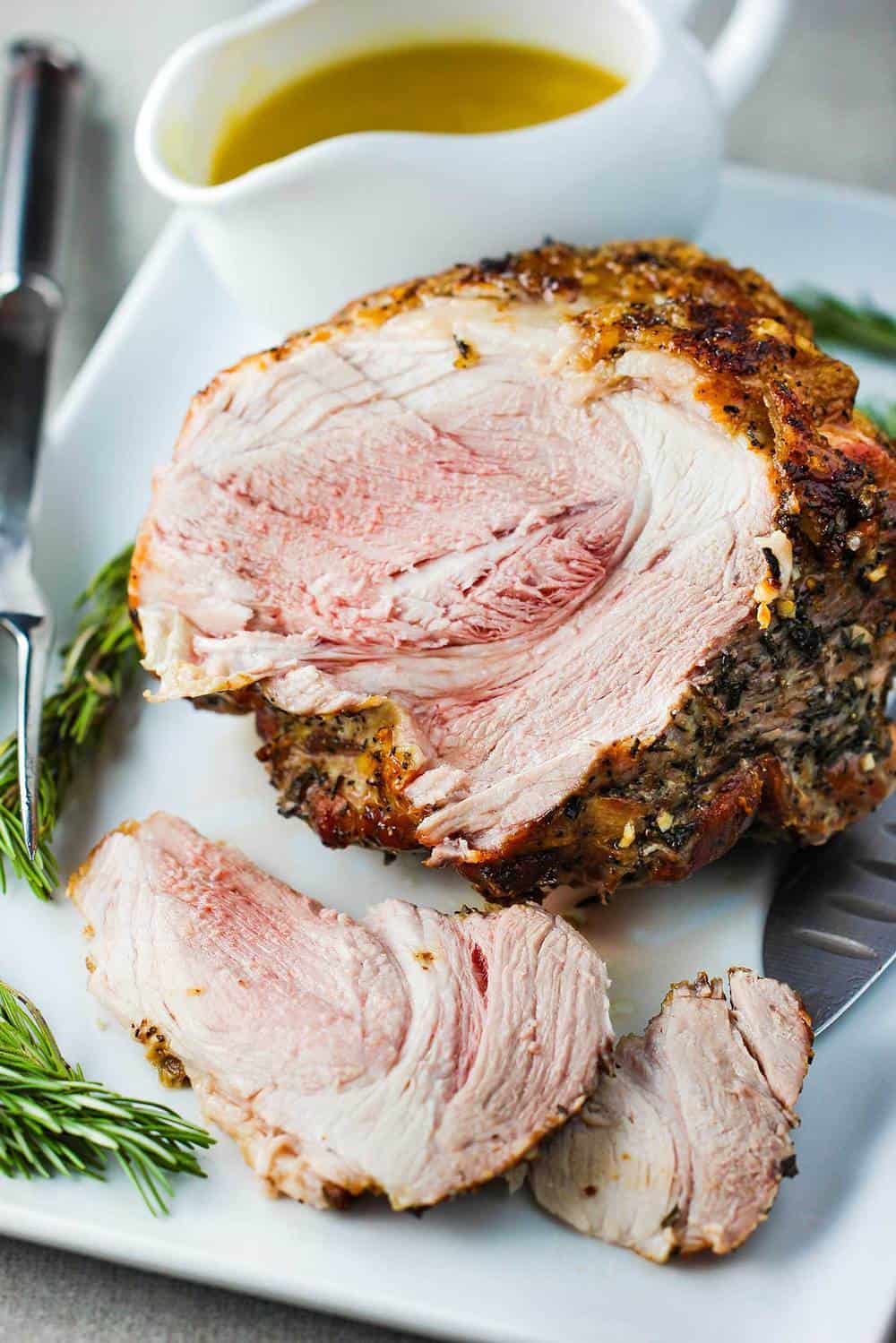 HOW TO MAKE PAN GRAVY
Of course gravy is a must with this incredible slow roasted pork shoulder.
Make a simple roux in a large skillet by melting 2 tbsp of fat (such as pan drippings, bacon grease, or butter). Next, add 2 tbsp of flour and stir until incorporated. Cook for a couple minutes. To the roux, whisk in 2 cups chicken stock with salt and pepper, stir until thickened. Now you've got a perfect pan gravy for this roast.
Divine!
BONE-IN ADDS MORE FLAVOR
We love getting a bone-in pork shoulder. Talk about flavor!
We save the bone and then use it when we're making our incredible New Orleans Red Beans and Rice!
I mean, come on…just look at this beauty!
We just can't rave enough about this Slow Roasted Pork Shoulder.
And you can't believe how easy it is to prepare.
This is truly a dish you will keep in your rotation for one of those meals that is so impressive, and not much trouble at all. Mmmmmm.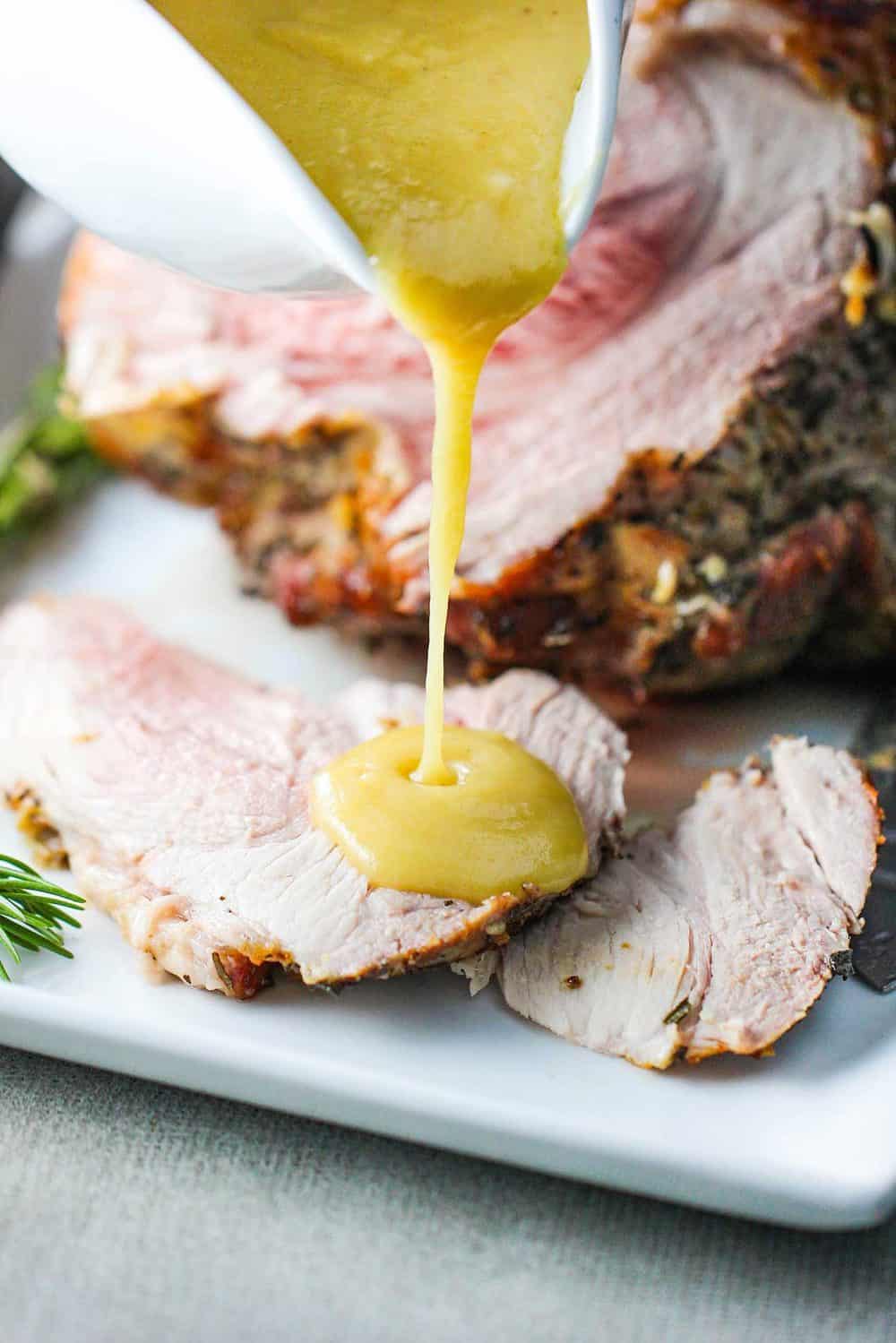 Ready to impress? Go for it and make this amazing roast. You and your loved ones will be so happy that you did.
And when you make it, be sure to take a picture, post on Instagram, and tag @howtofeedaloon and #howtofeedaloon!
Slow Roasted Pork Shoulder
This Slow Roasted Pork Shoulder is so flavorful and is really quite simple. Slow cook until juicy. Garlic and a couple herbs make this roast sing! Use the left-over bone for stocks or when cooking up red beans and rice!
Print
Pin
Rate
Servings: 10 people
Calories: 281kcal
Ingredients
3 tbsp olive oil
2 tbsp garlic chopped, plus 1 garlic clove, thinly sliced
2 tbsp fresh rosemary chopped
2 tbsp fresh sage chopped
Kosher salt and freshly ground black pepper
4 lb pork butt shoulder
Instructions
Pre-heat the oven to 350 F.

Liberally sprinkle salt and pepper all over the roast.

In a small bowl, mix together the olive oil, garlic, rosemary, and sage.

Using a small brush, or your hands, spread the mixture all over the pork butt.

Make slits in the meat, about 1/2-inch wide and deep. Insert the garlic slices into the slits.

Set the meat on a rack in a roasting pan.

Cook until an instant-read thermometer inserted into the thickest part of the roast reads 145°F, about 25 minutes per pound.

Remove the roast from the oven and let stand for 15 minutes.

Slice and serve!
Notes
Be sure to select a pork butt, which is actually from the shoulder. Bone-in adds even more flavor. Because oven temperatures vary, as well as the size of the roast, we recommend using an instant read meat thermometer to ensure doneness. The internal temperature should be 145°F. Left-overs can stay refrigerated for 5 to 7 days. The sliced roast can also be frozen for up to 2 months.
Nutrition
Calories: 281kcal | Carbohydrates: 1g | Protein: 34g | Fat: 15g | Saturated Fat: 4g | Cholesterol: 109mg | Sodium: 118mg | Potassium: 627mg | Fiber: 1g | Sugar: 1g | Vitamin A: 10IU | Vitamin C: 1mg | Calcium: 37mg | Iron: 2mg