Baked Cinnamon Apples are so delicious and easy to prepare.
We love them in a pie, on ice cream, or especially as a side dish during the holidays or really, any time of the year.
Mmmmm…!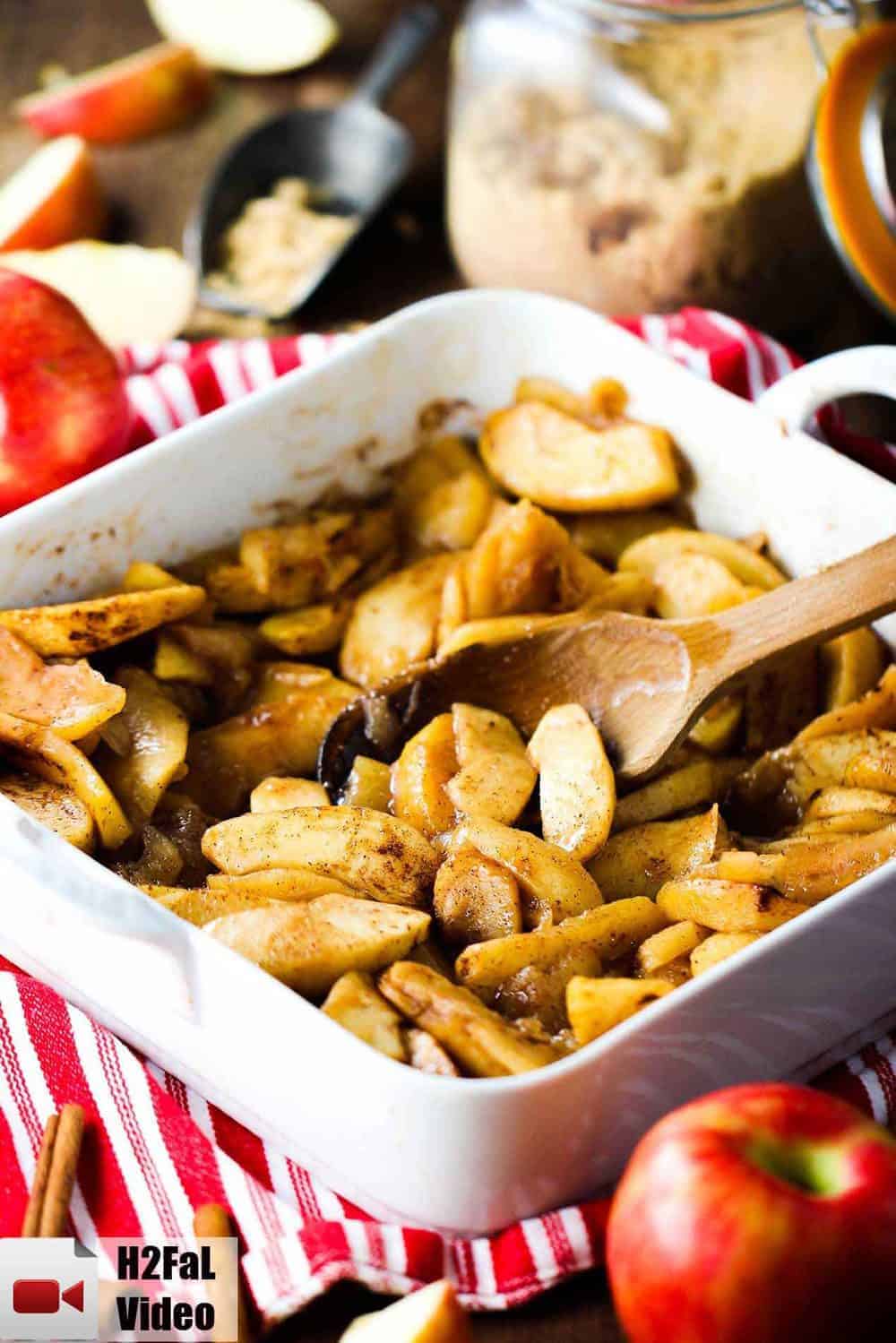 HOW TO MAKE BAKED CINNAMON APPLES
You can't believe how incredible your house will smell as these apples bake.
Watch us show you how easy it is to prepare Bake Cinnamon Apples:
This dish is one of our all-time favorite dishes. We love apples of all kinds and you really can't go wrong with whichever type of apple you go with.
We love to use Gala or Honey Crisp apples.
They are literally bursting with delicious apple goodness.
The ingredients in this dish are so accessible and so comforting.
Use good-quality cinnamon and vanilla extract.
We LOVE Neilsen-Massey extracts and flavorings, but you can certainly go with whatever you have on hand.
We like this version because the apples don't get mushy.
They are soft but still taste like apples.
With amazing cinnamon, vanilla, and butter sauce. Just divine!
Baked Cinnamon Apples.
Doesn't that have the most delicious sound to it? And if you like this dish, we promise you'll love our Homemade Apple Pie!
Bring it all together and it spells pure culinary comfort.
Can't you just taste them right now? Hurry up and make this amazing dish, soon!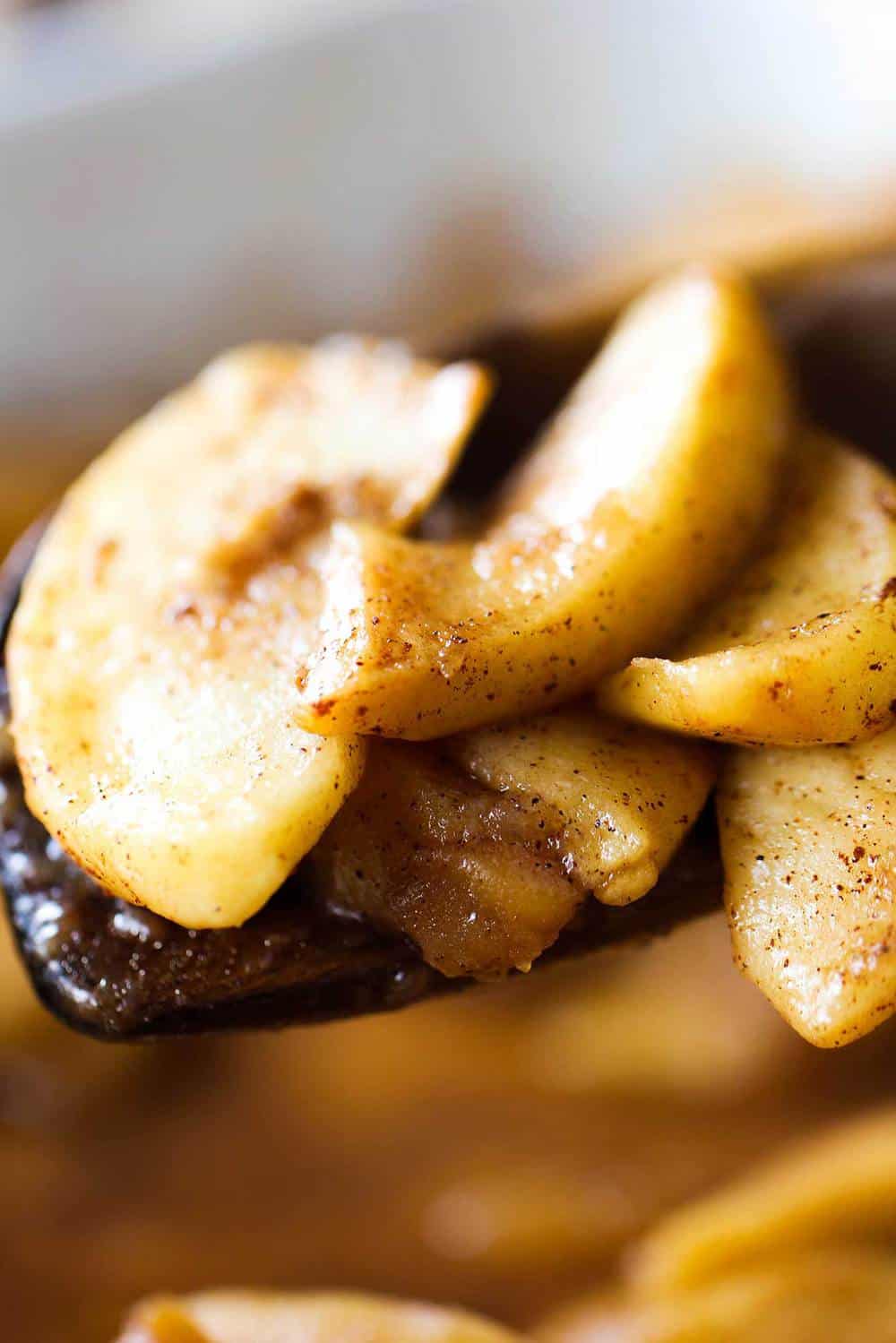 Ready to make the best apples in town? Go for it!
And when you do, be sure to take a photo, post it on Instagram, and tag @howtofeedaloon and hashtag #howtofeedaloon!
Baked Cinnamon Apples
These Baked Cinnamon Apples are so simple and so delicious. They are cooked just long enough so the apples become soft, but not mushy. Perfect for dessert, or a wonderful side dish!
Print
Pin
Rate
Servings: 6 people
Calories: 162kcal
Ingredients
6 apples peeled, cored and sliced
2 tbsp light brown sugar
3 tsp sugar
2 tsp ground cinnamon
1 tsp ground nutmeg
¼ cup apple cider
1 tsp vanilla
2 tbsp unsalted butter roughly chopped, plus a little extra for greasing the pan
Instructions
Pre-heat to 350°F.

Grease a 9"x13" baking dish with butter

Mix sugars, cinnamon and nutmeg in a small bowl.

Place about 1/3 of the apples in the prepared dish and sprinkle 1/3 of the cinnamon mixture over the the top. Repeat layers two more times.

Mix cider and vanilla in a small bowl. Pour over the apples.

Top with butter, scattering the pieces evenly.

Bake for 45 minutes, or until the apples are fork-tender.
Nutrition
Calories: 162kcal | Carbohydrates: 33g | Protein: 1g | Fat: 4g | Saturated Fat: 3g | Cholesterol: 10mg | Sodium: 4mg | Potassium: 205mg | Fiber: 5g | Sugar: 26g | Vitamin A: 217IU | Vitamin C: 8mg | Calcium: 23mg | Iron: 1mg