This homemade apple pie coming fresh out of the oven will make you think you're at Grandma's house…or at least someone's Grandma's house.  Serve it hot or at room temp, with a nice scoop of quality vanilla ice cream…and be transported to delicious-ville.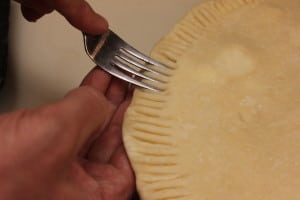 Homemade Apple Pie
This is about as all-American as they come. And this is a classic version of a classic pie. Homemade apple pie...yum, yum, yum.
Author: Adapted from King Arthur
Recipe type: Dessert
Cuisine: American
Serves: 10
Ingredients
9 wholes apples, such as Cortland or Granny Smith, peeled, cored, and sliced (about 8 cups)
¼ cup of apple cider
2 tablespoons of fresh lemon juice
2 teaspoons of vanilla extract
¾ cup of sugar
¼ cup cornstarch
½ teaspoon of salt
1 teaspoon of cinnamon
¼ teaspoon of ground nutmeg
¼ teaspoon of allspice
Instructions
Pre-heat oven to 425 F
In a large bowl, mix together the apples, cider, lemon juice and vanilla
In another bowl, whisk together the dry ingredients.
Stir the dry ingredients into the apples to coat them evenly.
Roll one piece of the pie crust discs to about 13 inches, and then place into a 9-inch pie plate.
Spoon in the filling.
Roll out the other pie crust, and lay it atop the pie.
Seal and crimp the edges.
Brush the top with milk and sprinkle with sugar.
Cut two slashes in the middle of the crust to vent steam.
Bake the pie for 15 minutes.
Reduce heat to 375 F, and bake for an additional 45 minutes.
Let cool for about 10 minutes.
Serve with whipped cream or ice cream.