Homemade Apple Pie are three magical words.
This classic pie is one of the best pies around. Simple, yet so incredibly flavorful. And surprisingly easy to prepare. This ranks right up there with Classic Pecan Pie, Classic Pumpkin Pie, Apple Brown Betty, and Southern Chess Pie.
HOMEMADE APPLE PIE IS EASY TO MAKE
You will really be surprised how easy it is to make authentic apple pie from scratch.
Of course, we highly recommend making the pie dough, too, but in a pinch, you can use store-bought.
Watch us show you how easy it is to make Homemade Apple Pie in your own kitchen!
CHOOSING THE RIGHT APPLES
We've tested numerous apples for baking homemade apple pie, and to be honest, you really can't go wrong.
Here are the apples we recommend:
Honeycrisp (Sweet)
Granny Smith (Tart)
Golden Delicious (Sweet)
Fuji (Sweet)
Cortland (Tart)
Golden Delicious (Sweet)
Jonathan (Tart)
Crispin/Mitsu (Sweet)
EXPERT TIP: The best apples are a combination of sweet and tart. But again, we had a large basket of honeycrisp, and made our pie with just those apples…and good heavens, was it great!!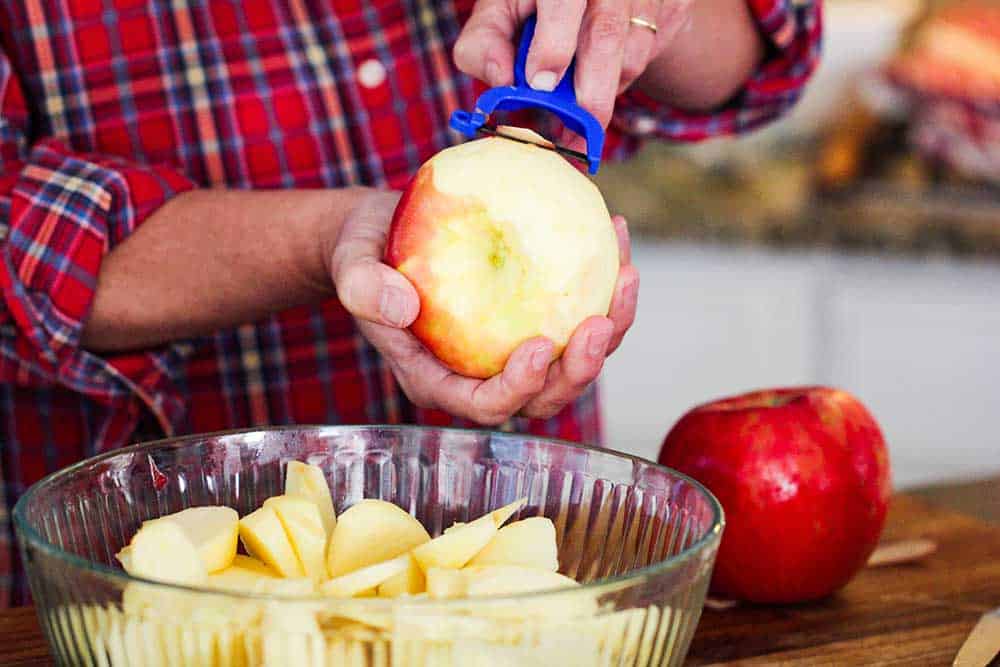 HOMEMADE PIE DOUGH IS IDEAL
Making homemade apple pie is so much fun and the end result is truly some special.
So, if you're going to make apple pie from scratch, why not make it even more special and make the pie dough from scratch?
EXPERT TIP: You'll need to make two batches of pie dough, one for the bottom layer of crust and one for the top. Gently form each ball of dough into a disk, wrap with plastic wrap, and keep in the refrigerator until ready to use. You can make the dough up to 3 days in advance! Or freeze up to 2 months in advance!
THE ESSENTIAL INGREDIENTS FOR HOMEMADE APPLE PIE
We like to toss the sliced apples with a small portion of apple cider and lemon juice. Not only does the lemon juice add flavor, but it will prevent the apples from starting to brown from oxidation.
The spices are simple and deliver that classic apple pie taste. Ground cinnamon is a must. Ground nutmeg is really great, also. And we love ground allspice, too. If you can't find allspice, just stick with cinnamon and nutmeg, and you'll be just fine.
EXPERT TIP: Allspice will lose its flavor after several months of shelf-life. We recommend getting a fresh jar if you haven't used your allspice in a number of months, or in some cases, years!
Sprinkle the dry mixture over the apples after you have tossed them with the cider and lemon juice. You'll notice how the spices adhere nicely to the apples.
NO NEED TO PRE-BAKE THE PIE DOUGH
There is no need to pre-bake (aka 'blind bake') the pie dough before adding the pie filling.
Simply layer the apples into a 9-inch pie dish that you have already lined with the first pie dough.
We recommend not 'dumping' the apple mixture into the prepared pie dough, because you don't need all the liquid from the apple cider and lemon juice. Use a slotted spoon, or even your fingers, to grab the apples. Add a couple tablespoons of the remaining liquid over the apples in the pie dish.
CUT SLITS INTO THE TOP DOUGH
We love to pile the apples high in our homemade apple pie.
Next, gently place the 2nd rolled-out pie dough (rolled out to roughly 13 inches) over the top and crimp the sides, working to seal the bottom layer of dough with the top layer.
Before you start to crimp, or flute, the edges of the pie, use a pair of scissors to clip away excess dough.
EXPERT TIP: As the pie bakes, steam will need to release. That's why we recommend making four slits in the top of the pie, or if you're feeling up to it, slice the top layer of dough into strips and make a lattice top!
HOMEMADE APPLE PIE IS PERFECT FOR THE HOLIDAYS
Homemade Apple Pie is the quintessential dessert during the holidays.
We do recommend letting the pie cool completely before serving. If you prefer your slice of apple pie warmed, just heat it for a short bit in the microwave.
There is something truly transformative that happens when these simple ingredients are brought together and baked to pie perfection.
Ready to make everyone's favorite holiday dessert? Go for it!!
And when you make this awesome pie, be sure to take a picture of it, post it on Instagram, and tag @howtofeedaloon and #howtofeedaloon!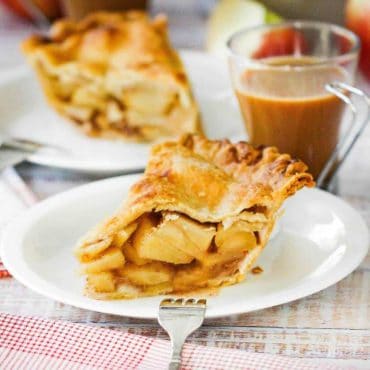 Homemade Apple Pie
This is about as all-American as they come. And this is a classic version of a classic pie. Homemade apple pie...yum, yum, yum.
Print
Pin
Rate
Servings: 10 people
Calories: 89kcal
Ingredients
2 discs pie dough
9 whole apples such as Cortland or Granny Smith, peeled, cored, and sliced (about 10 to 12 cups)
2 tbsp apple cider
1 tbsp lemon juice
1 tsp vanilla extract
¾ cup sugar plus extra for dusting the top of the pie
¼ cup cornstarch
½ tsp salt
1 tsp cinnamon
¼ tsp ground nutmeg
¼ tsp allspice
½ cup milk
1 egg lightly beaten
Instructions
Pre-heat oven to 425°F.

In a large bowl, mix together the apples, cider, lemon juice and vanilla.

In another bowl, whisk together the dry ingredients.

Stir the dry ingredients into the apples to coat them evenly.

Roll one piece of the pie crust discs to about 13 inches, and then place into a 9-inch pie plate.

Use a slotted spoon to transfer the apples into the pie dish. Sprinkle 2 to 3 tbsp of the liquid over the apples.

Roll out the other pie crust, and lay it atop the pie.

Seal and crimp the edges.

Add the egg to the milk, and gently mix.

Brush the top with milk/egg bath and sprinkle with sugar.

Cut four slashes in the middle of the crust to vent steam.

Bake the pie for 15 minutes.

Reduce heat to 375 F, and bake for an additional 45 minutes.

Let completely cool on baking rack. At least two hours.
Notes
The pie dough can be made up to 3 days in advance. Keep wrapped in plastic in the refrigerator. Almost any type of apple will work for this pie, but we recommend a combination of sweet and tart. See blog post for more detail on types of apples to select. This recipe creates a little sauce and may 'ooze' a bit when cutting the first slice. If you want no liquid at all, omit adding the 2 tbsp of the apple cider/lemon juice liquid. Keep an eye on the pie when baking at the higher temperature for the first 15 minutes, if browning too quickly, cover with foil, and then remove when you lower the temperature for the remainder of the baking process. We recommend allowing the pie to completely cool before serving. If you would like to serve it warm, heat the pie (or pie slices) for abut 30 seconds in the microwave first. Wonderful served with vanilla ice cream or whipped cream!
Nutrition
Calories: 89kcal | Carbohydrates: 20g | Protein: 1g | Fat: 8g | Saturated Fat: 2g | Cholesterol: 18mg | Sodium: 129mg | Potassium: 22mg | Fiber: 1g | Sugar: 16g | Vitamin A: 44IU | Vitamin C: 1mg | Calcium: 19mg | Iron: 1mg
POST UPDATE: This recipe was originally adapted from King Arthur Flour in January, 2014, but has been updated with tweaks to the recipe, brand new photography and a fabulous new video in October, 2019.