This Chicken Francese recipe is an absolute favorite of ours. It's so flavorful and bursting with flavor.
Oh, it's doesn't get much better than this dish!
Delicious and beautiful, all at the same time!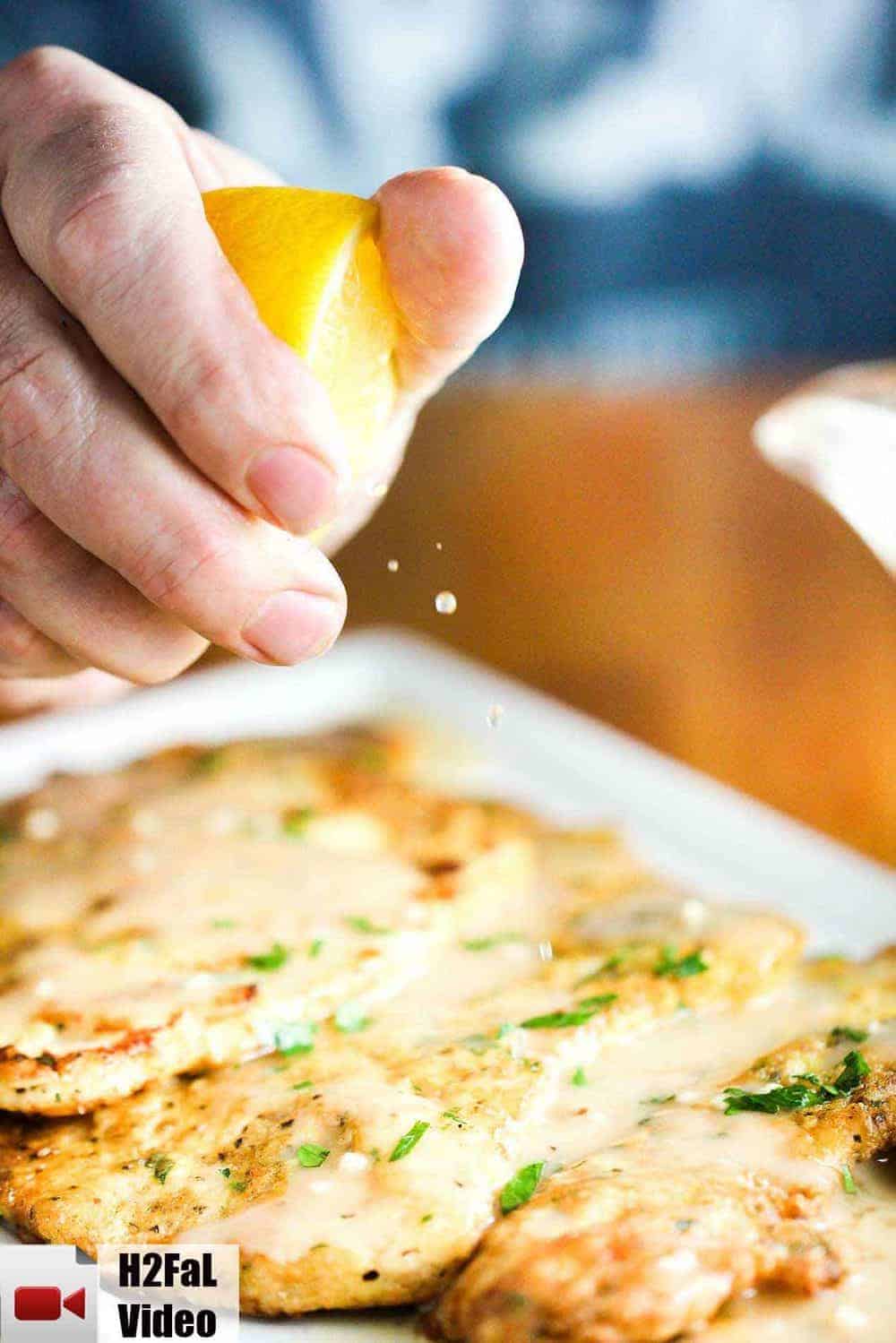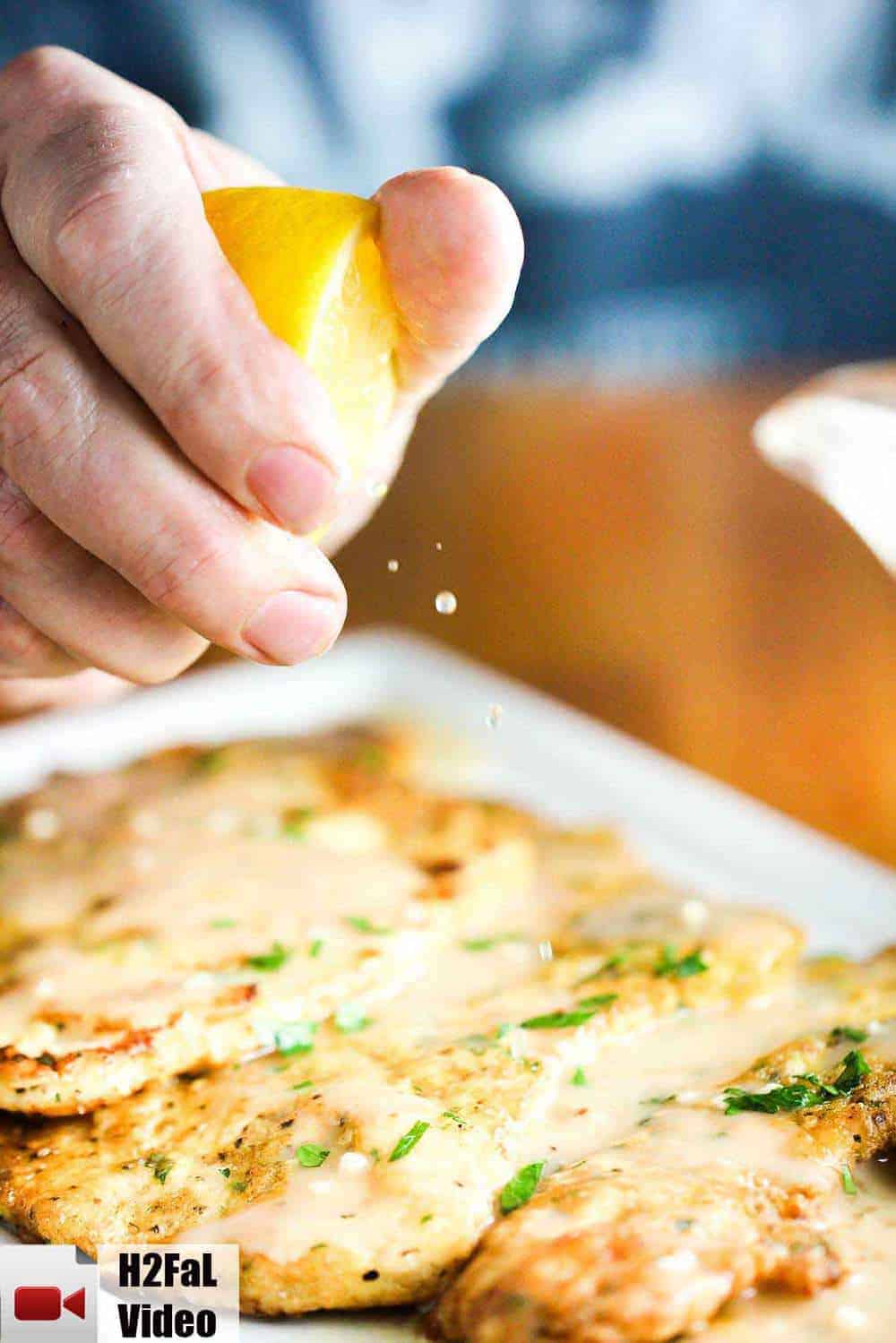 HOW TO MAKE CLASSIC CHICKEN FRANCESE AT HOME
Watch us show you how easy it is to make this incredibly delicious dish.
It's so good and a lot of fun to make!
OTHER CLASSIC CHICKEN RECIPES TO TRY
The ingredients in chicken francese are simple and work beautifully together.
The simplicity of this dish is really what makes it shine. White wine and lemon and egg…doesn't get much better than that!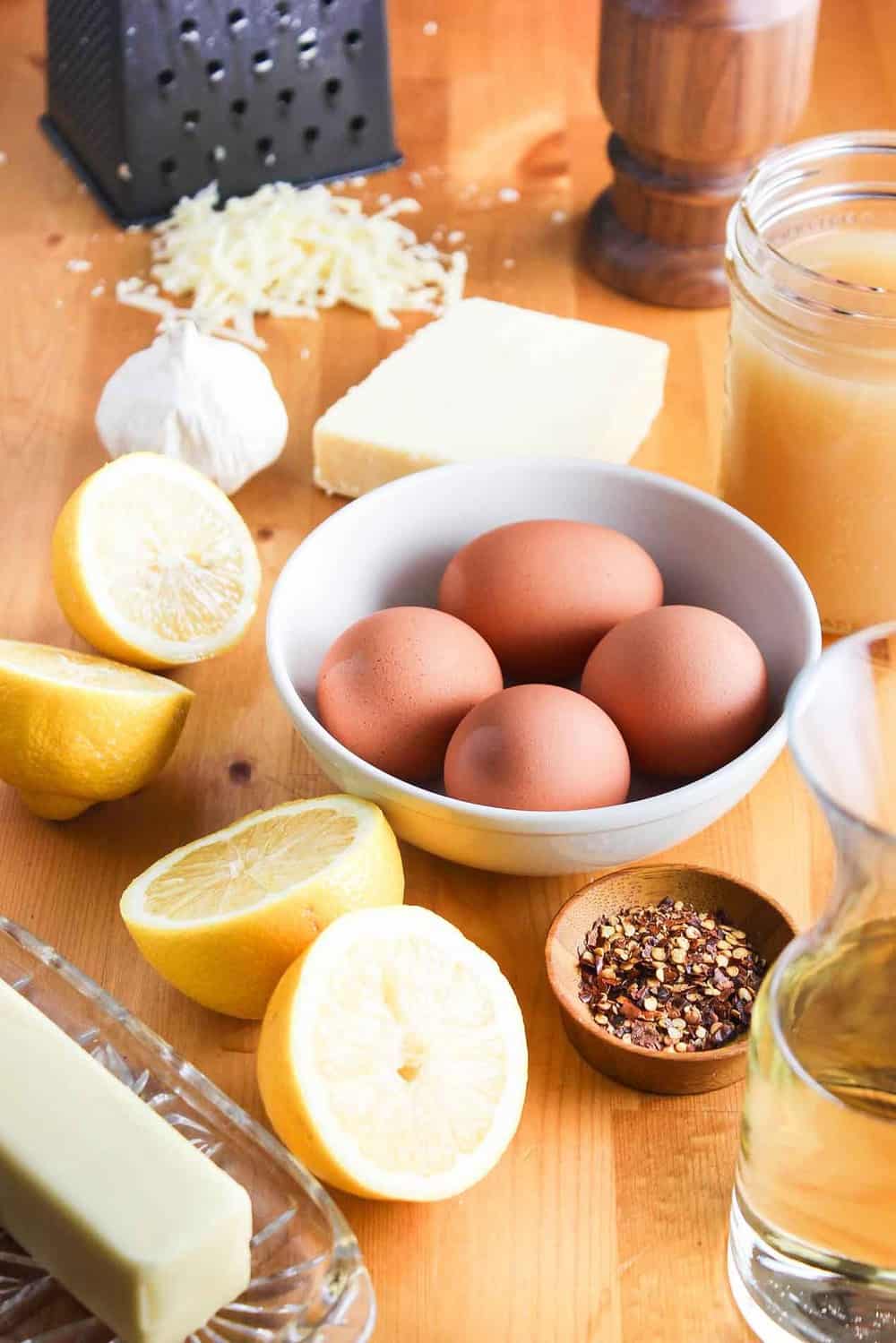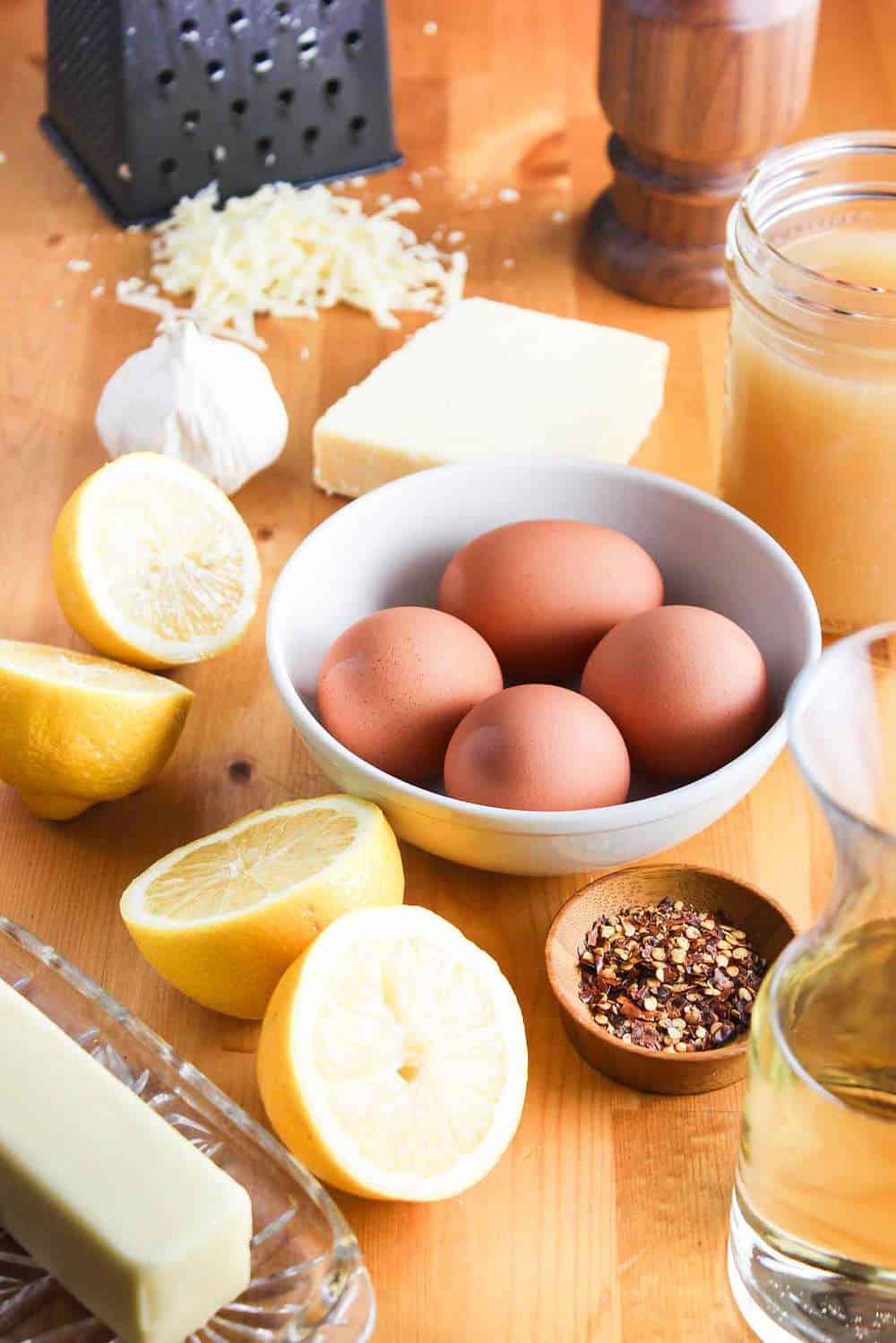 THE EGG IS ON THE OUTSIDE
Chicken Frances is similar to Chicken Picatta, but the real difference is that "the egg is on the outside."
You dredge in seasoned flour first, and then egg with herbs.
This is going to be good.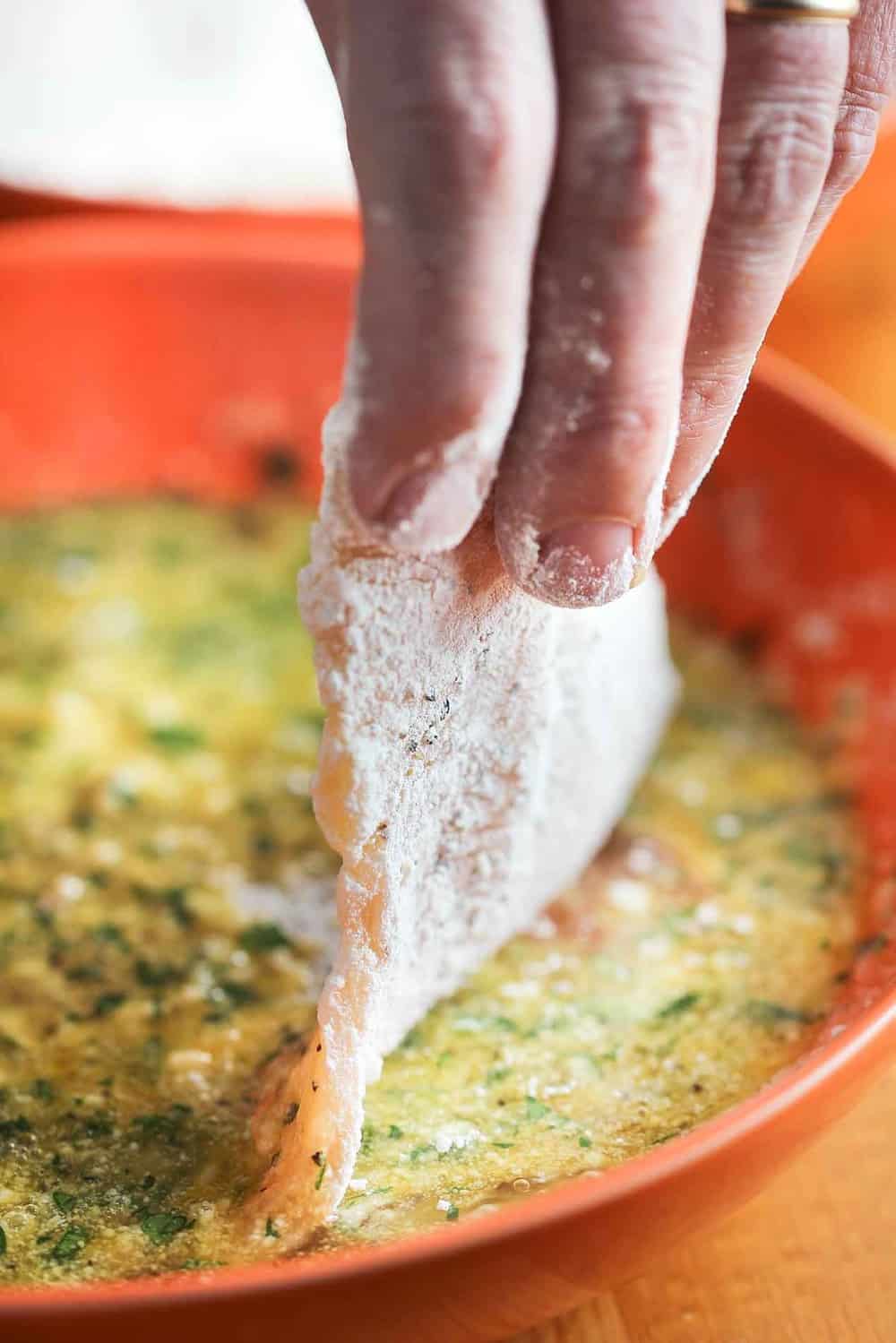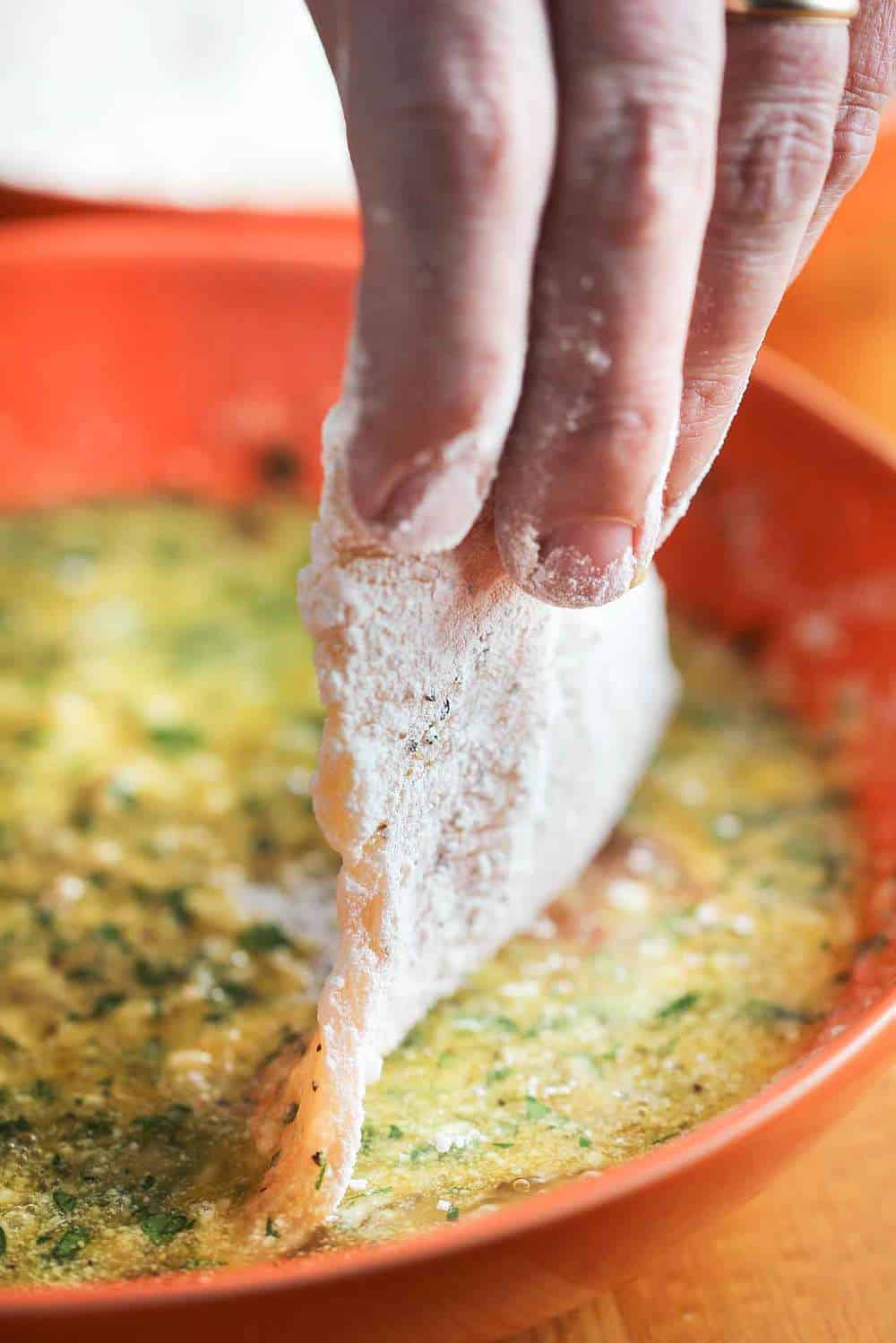 Make sure the chicken cutlets are nice and thin. You can easily place them in a large freezer bag and pound them until they are about an 1/8″ thick.
Then cook them in the olive oil until beautifully browned. You can keep them warm in a low-temp oven. Resist the urge to put the breaded cutlets in the sauce, this often causes the egg 'breading' to fall away from the chicken cutlet.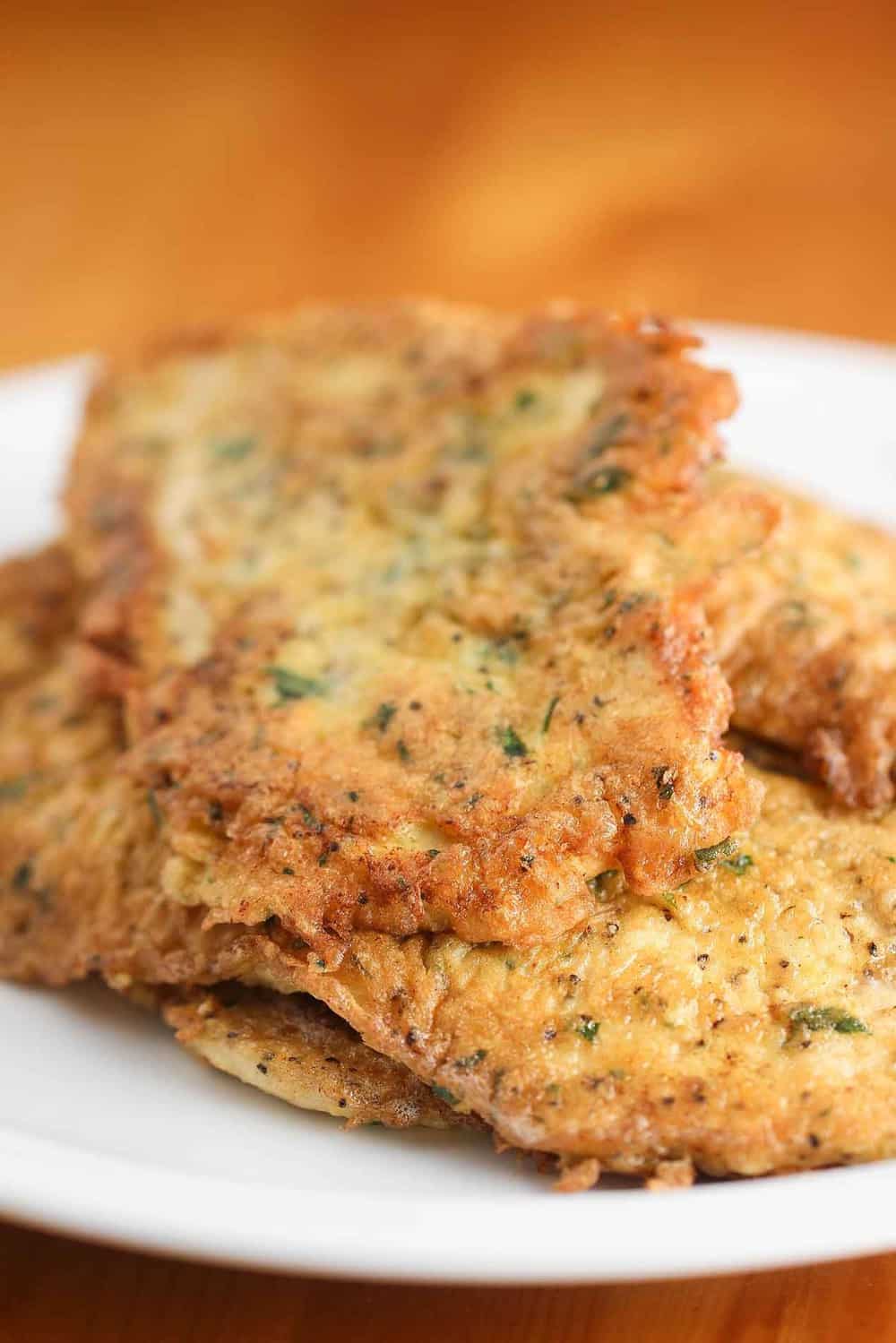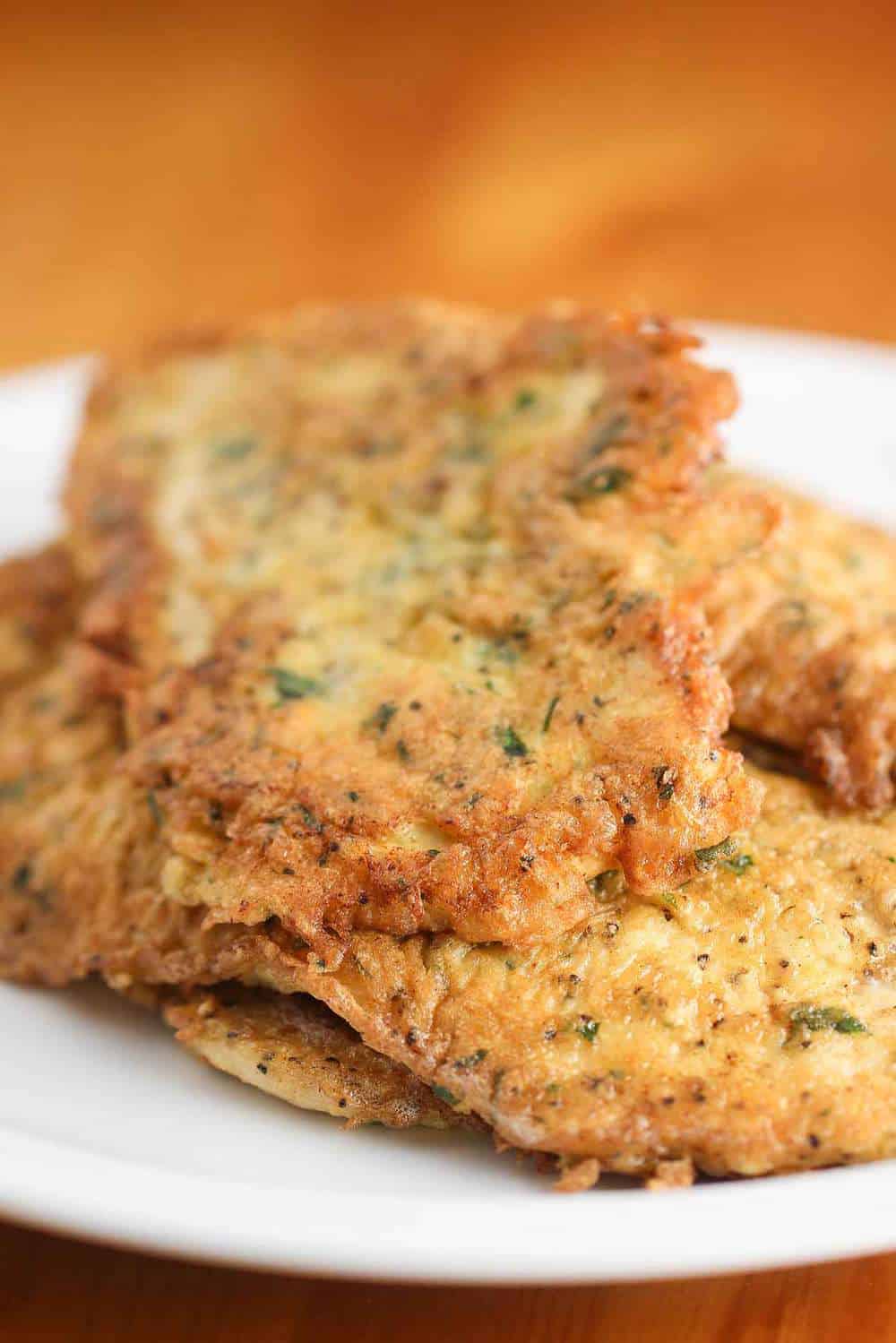 CHICKEN FRANCESE IS MADE WITH A WINE AND BUTTER SAUCE
And then the sauce. Oh, that sauce.
White wine, chicken stock, garlic…and some butter.
Divine.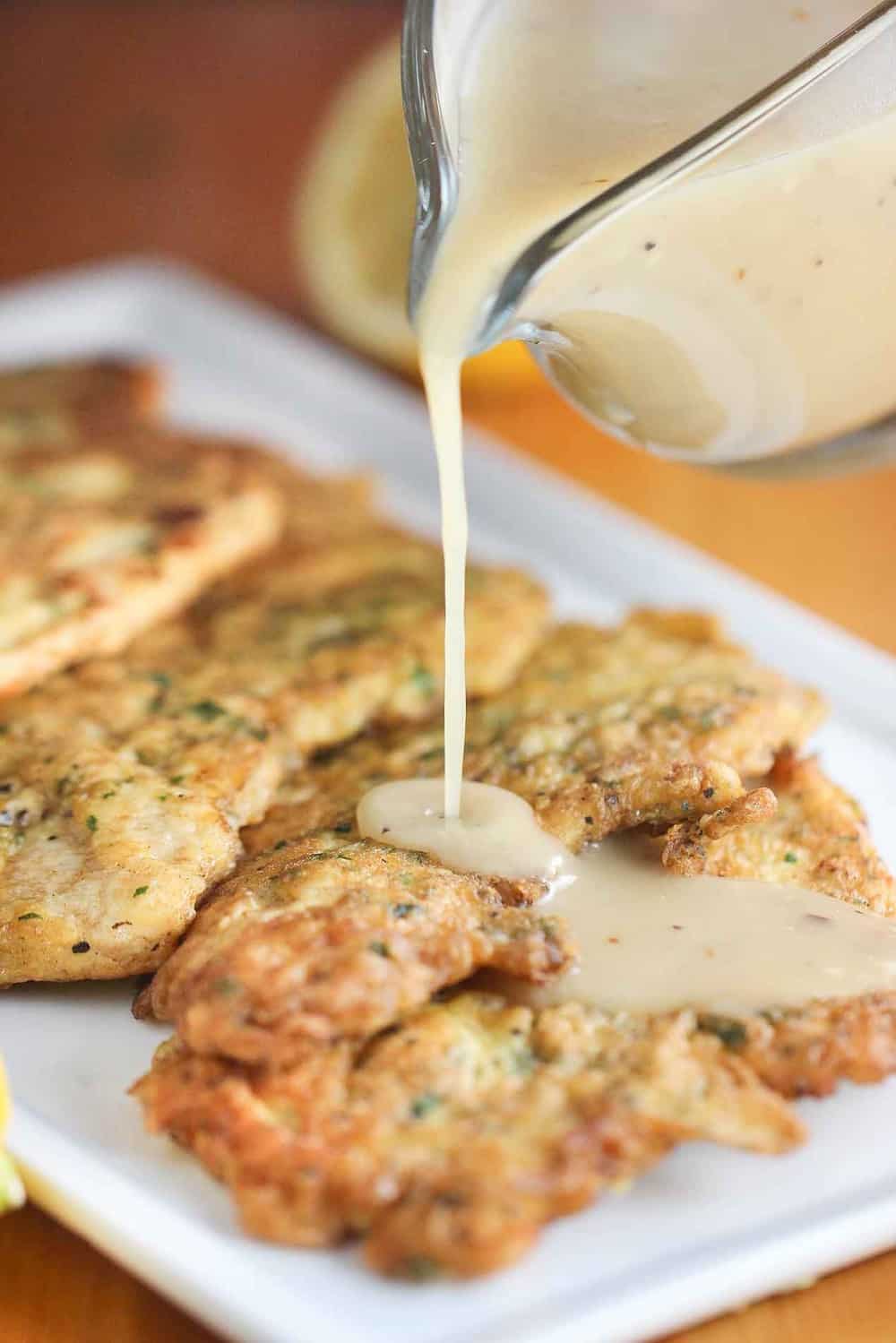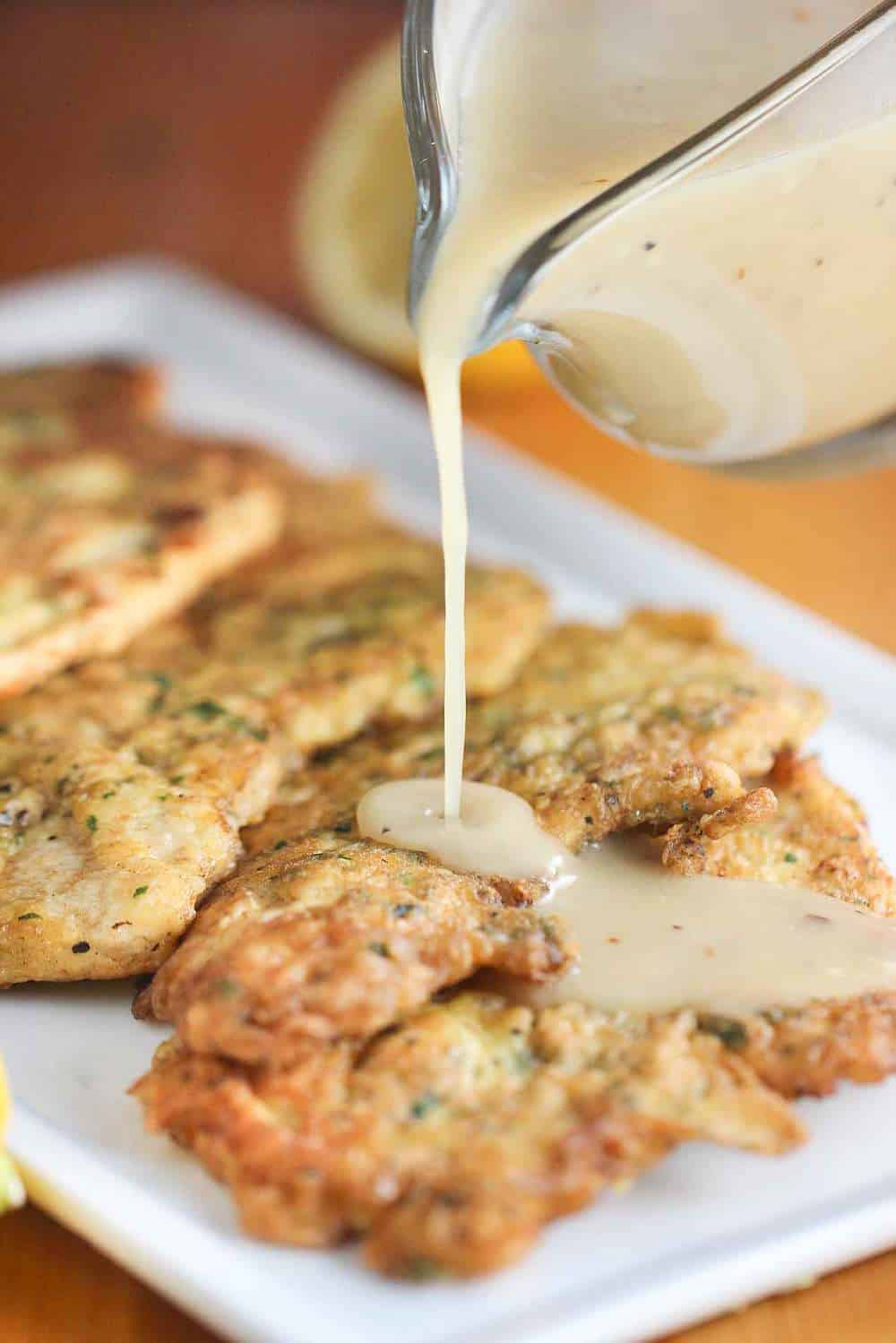 IS IT CHICKEN FRANCESE, OR CHICKEN FRANCAISE?
This dish has French and Italian origins, but it is most commonly seen in Italian eateries. Learn more about the history of this amazing dish here.
The presentation is just beautiful, too.
Finish it with a squeeze of fresh lemon, and your guests will be so impressed!
Yes!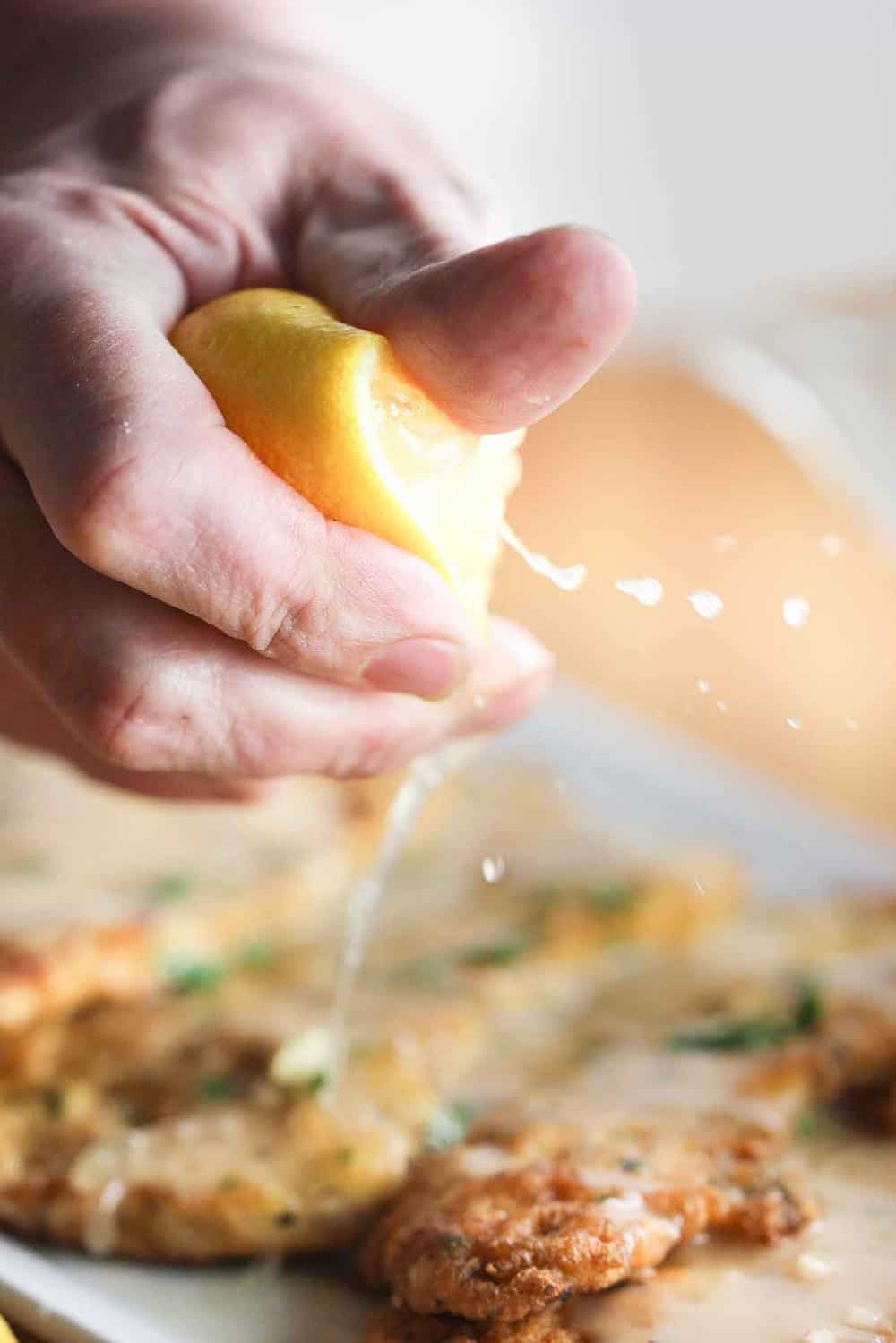 FINISH THE CHICKEN FRANCAISE WITH A SQUEEZE OF LEMON
If you enjoy this amazing Chicken Francese, chances are you'd also love our Pork Milanese!
And this amazing dish can literally come together in 30 minutes. Perfect for a weeknight meal. But impressive enough to serve to guests on a special dinner party. Serve with salad and crusty Italian bread. Just amazing. 100% Loon Approved!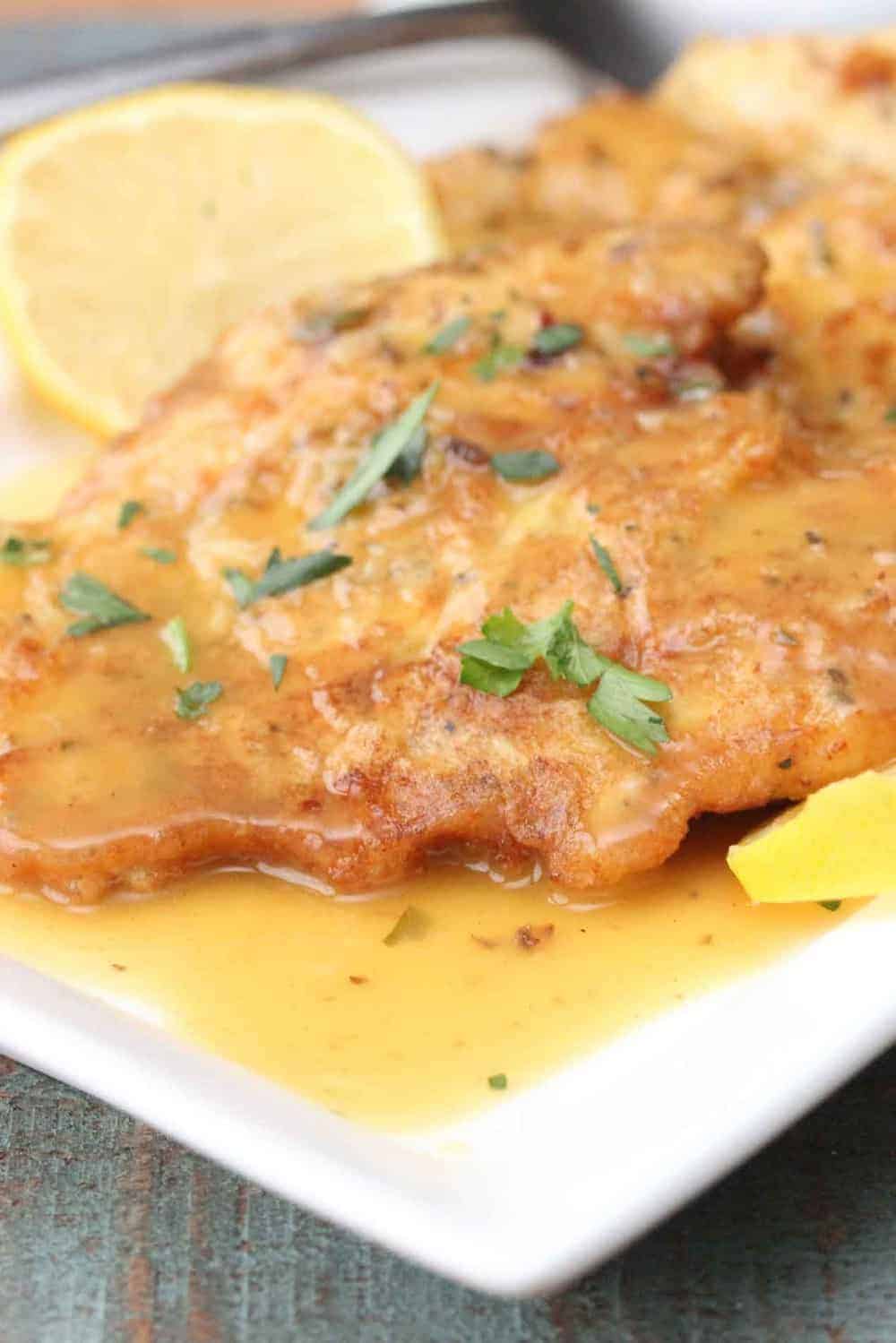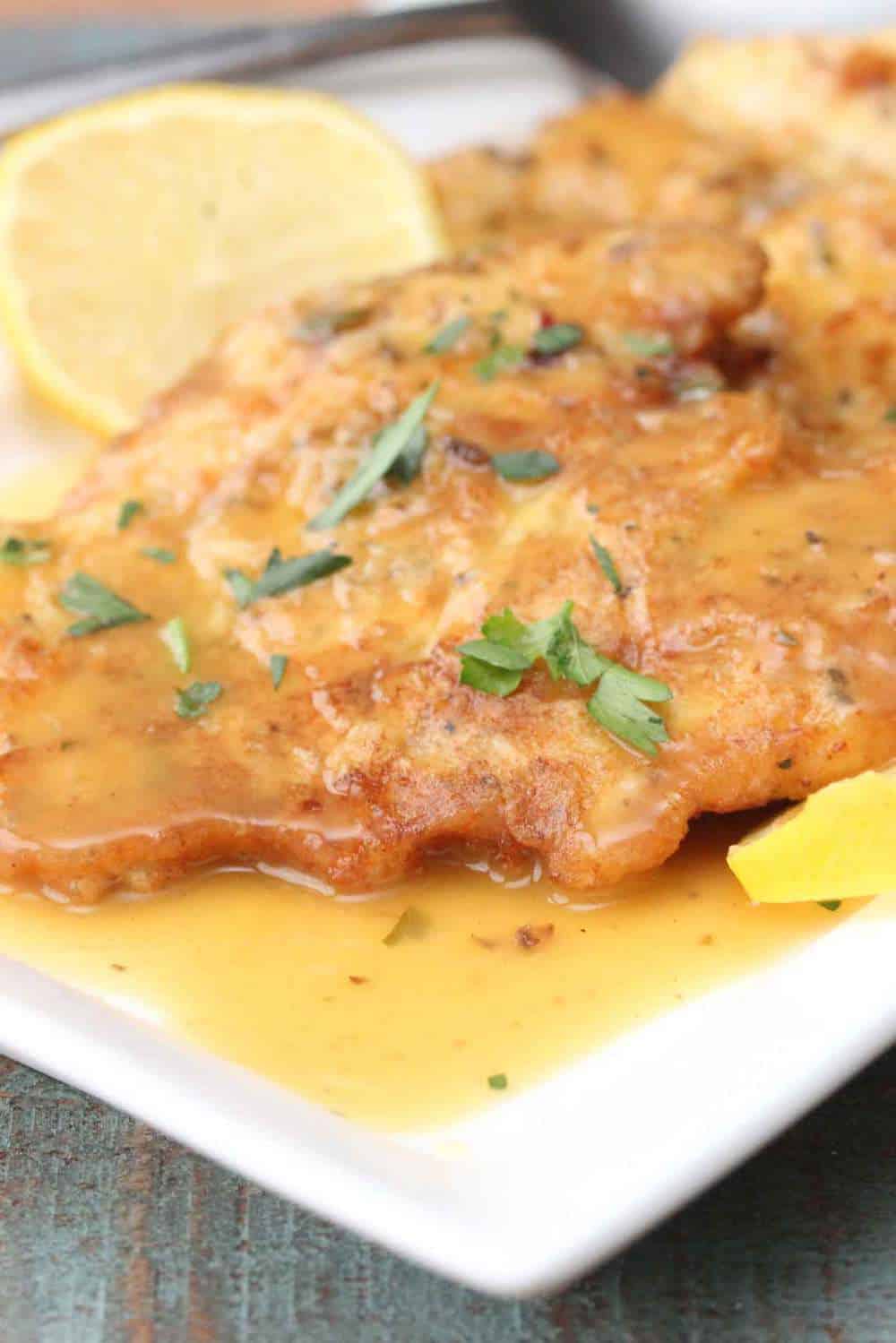 CHICKEN FRANCESE FAQ'S
How far in advance can the cutlets and sauce be made in advance? Yes! Prepare the cutlets and sauce as written and then re-eat the cutlets in a low-temp oven and heat the sauce in a saucepan on the stove.
Is it okay to simmer the prepared cutlets in the sauce? We don't recommend this. Often, the sauce will cause the cooked egg 'breading' to pull away from the cutlet. We recommend serving the cutlet with the sauce poured over the top.
Is cooking wine for the sauce? We feel pretty strongly about this…if you wouldn't drink the wine by itself, you shouldn't cook with it either. This is a pretty straight-forward dish without a lot of ingredients, that's why quality is so important.
Can the sauce be frozen? Yes! For up to 2 months!
Now, it's time to make this incredible Chicken Francese Recipe!
And once you've made the dish, take a picture and post to Instagram! Be sure to tag @howotfeedaloon and #howtofeedaloon!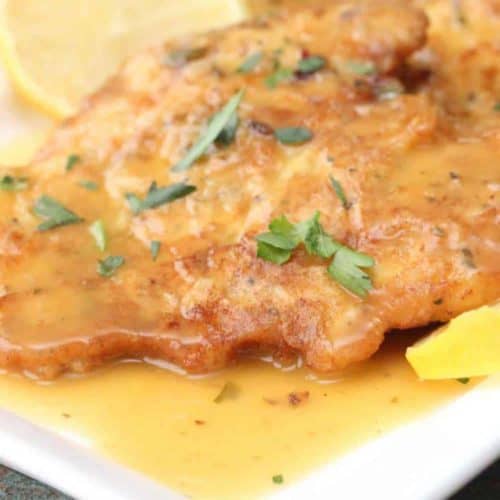 Chicken Francese
This Chicken Francese recipe is so easy to make, and one of the tastiest dishes there is. The 'egg on the outside' gives it a wonderful texture. And the sauce is divine. Amazing.
Print
Pin
Rate
Servings: 4 people
Calories: 526kcal
Ingredients
3 to 4 chicken breasts boneless and skinless, about 14 oz. to 16 oz. total
1 cup flour for dredging (you'll also need 2 tablespoon of the flour mixture later for the sauce...but we'll get to that later in the instructions).
Kosher salt
Freshly ground black pepper
1 tsp garlic powder
4 eggs
2 tbsp Parmesan grated
4 tbsp fresh parsley chopped (divided...2 tablespoons for batter, 2 for garnish)
4 tbsp olive oil divided...2 tablespoons for sautéing the chicken, and then 2 more for the sauce
4 tablespoons unsalted butter divided...2 for sautéing the chicken, 2 for the sauce
4 garlic cloves minced
¼ teaspoon red pepper flakes more, to taste
½ cup dry white wine ie, Pino Grigio
1 ¼ cups chicken stock
Juice of two fresh lemons about 4 tablespoons
Instructions
Place the chicken (one at a time) in a large freezer bag, and using the side of a meat tenderizer, pound the chicken to 1/8" to 1/4" in thickness.

Cut each pounded chicken piece into halves, or thirds. Set aside.

Pour the flour onto a platter or plate. Add 1/2 teaspoon of salt, 1/2 teaspoon of pepper and the 1 teaspoon of garlic powder. Gently mix together with a fork. Remove 2 tablespoons to use later for the sauce.

In a second small/medium-sized bowl, mix together the eggs, Parmesan, 2 tablespoons of the parsley, and a pinch of salt and pepper.

Dredge each chicken cutlet in the flour mixture and then dip into egg mixture, fully coating.

Heat oil over medium heat in a large skillet. After the oil has heated, add 2 tablespoons of the butter.

Place the coated chicken into the hot skillet, 2 at a time.

Cook for 3 to 4 minutes, until nicely browned on the bottom.

Flip and cook the other side until completely cooked through and nicely browned, about another 3 - 4 minutes.

Remove from the pan and repeat with remaining chicken. (Cooked cutlets can be made 1 to 2 hours ahead of time. Re-heat in (350 F) oven 15 minutes before serving, or keep warm in oven (220 F) until ready to use.

In the same skillet, add the remaining 2 tablespoons of oil over medium heat.

Add garlic and crushed red pepper, cook until soft, about 3 minutes.

Add the reserved 2 tablespoons of seasoned flour, and mix completely. Add another tablespoon of flour if too wet, should resemble wet sand. Stir and let cook for about 1 to 2 minutes (don't let it get dark brown).

Add white wine and chicken stock and bring to a boil. Reduce the heat.

Add the lemon juice. Stir until slightly thickened.

Season with a healthy pinch of salt and pepper.

Remove the pan from the heat and stir in remaining 2 tablespoons of butter. Stir until melted.

Taste and adjust seasonings, if necessary.

Place cutlets on plates, or platter, and pour sauce over the top.

Garnish with remaining parsley.

Enjoy!
Notes
Prepare the sauce separate from the chicken cutlets. Place the cutlets on the serving dish and then pour the sauce over the cutlet. If you simmer the cutlets in the sauce, it can cause the egg batter to pull away from the chicken. The cutlets and sauce can be prepared several hours in advance of serving. Re-heat the cutlets in a low-temp oven and gently warm the sauce on the stove. The sauce can be frozen for up to 2 months.
Nutrition
Calories: 526kcal | Carbohydrates: 30g | Protein: 48g | Fat: 36g | Saturated Fat: 7g | Cholesterol: 306mg | Sodium: 415mg | Potassium: 864mg | Fiber: 1g | Sugar: 2g | Vitamin A: 1015IU | Vitamin C: 8mg | Calcium: 84mg | Iron: 3mg