This Classic Chicken Cacciatore recipe is so comforting and comes together beautifully in one pot. "Cacciatore" means "hunter's style" and it always makes me think of something you would serve a group of hungry souls coming in from a long day's work and in need of something hearty and comforting.
This recipe fits that bill perfectly.
Watch us show you how easy it is to make this iconic Italian comfort-food dish.
We dare you not to salivate!
The sauce is so flavorful and the chicken is so tender when you bite into it.
We can't get enough of this dish.
The ingredients are simple and straightforward, but the end result brings them all together for an unforgettable meal.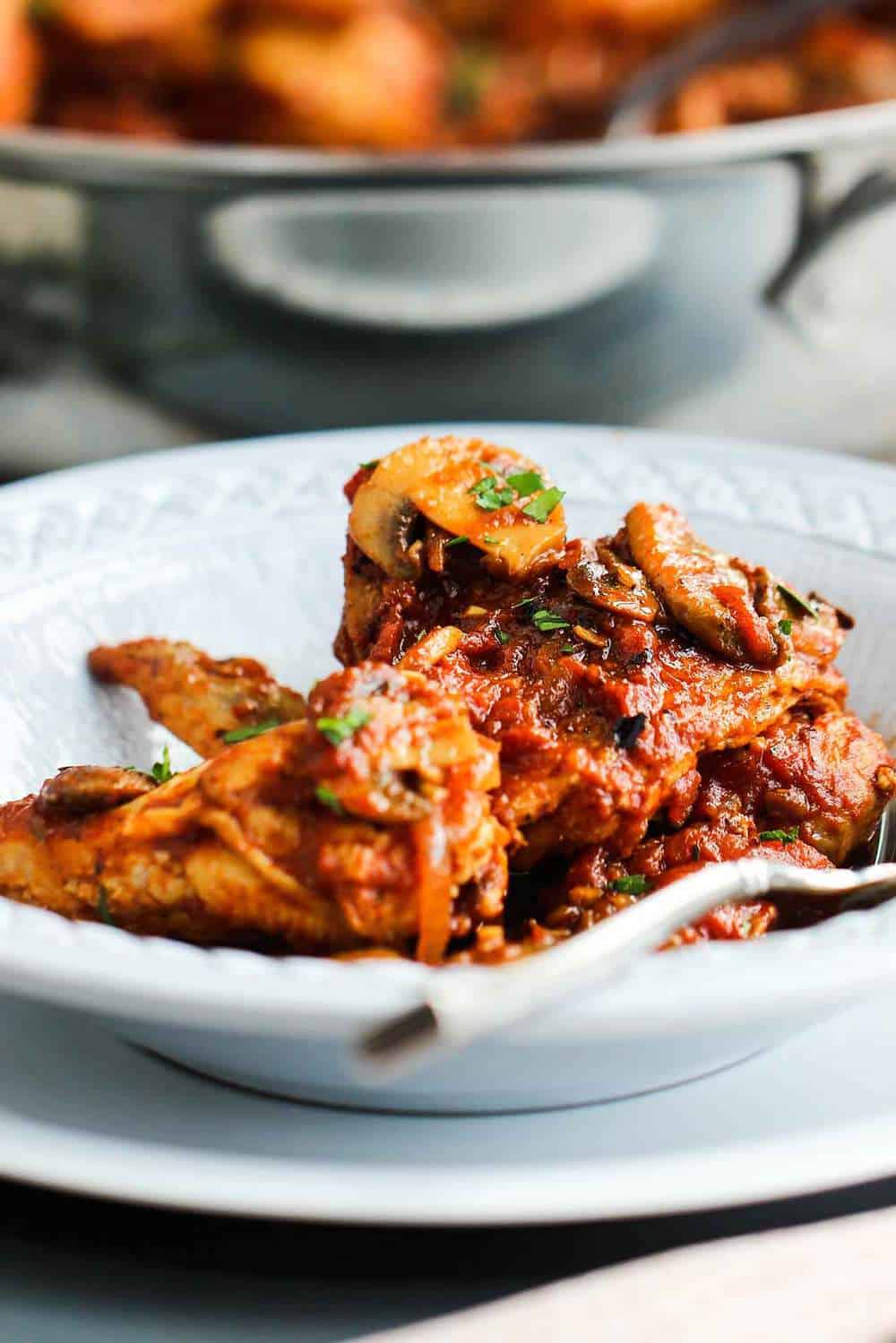 We love using a whole cut up chicken. You may need to ask your butcher to cut the breast pieces in half. This will give you 10 nice chicken pieces for cooking up.
Searing the seasoned chicken in a little olive oil gets it nice and crisp on the outside and super tender on the inside.
You're building something truly special here!
Then you begin the process of building the classic cacciatore sauce.
Starting with thinly sliced onions, fresh garlic and thick-cut mushrooms.
Then deglazing the pan with white wine adds so much delicious flavor. And the smell coming from you kitchen? Forget about it!
And then you must go with San Marzano tomatoes with their juice. These tomatoes are canned when they are at their best and these are the most flavorful tomatoes in the world.
Make sure the can says 'certified' so you're certain they are truly from the region in Italy.
Fresh thyme, bay leaves and rosemary deepens the flavor of the sauce beautifully.
If you're looking for a wonderful weeknight meal that will fill the family with good wholesome yumminess, and do it without a lot of fuss, then you need to give this Classic Chicken Cacciatore recipe a try.

It has become a standard in our house, and because we are constantly developing new recipes and don't often get the chance to repeat a recipe, that is really saying something.
So good and just so comforting.
Now, go gather up the hungry hunters in your life (even if they're just hunters of delicious food)…and make this incredible Classic Chicken Cacciatore recipe!

You and your family will be grateful that you did!
Classic Chicken Cacciatore
This Classic Chicken Cacciatore recipe is Italian comfort at its very best. Perfect for a busy weeknight as it all comes together in one pot. Use a whole cut up chicken, or use your favorite types of chicken pieces. Bone-in and skin-on really enhance the flavor and texture to this wonderful dish.
Print
Pin
Rate
Servings: 4 people
Calories: 375kcal
Ingredients
2 tbsp olive oil
1 whole chicken 3 1/2 to 4 lbs, cut into 10 pieces
Kosher salt
1 tbsp crushed red pepper flakes
1 cup thinly sliced yellow onions about 2 medium onions
6 garlic cloves minced
8 oz. white button mushrooms sliced
1 cup dry white wine
1 28 oz. can whole peeled San Marzano tomatoes
2 bay leaves
4 sprigs fresh thyme
1 sprig fresh rosemary
Instructions
Season the chicken pieces all over with salt and the red pepper flakes.

Heat the oil in a large skillet over medium-high heat.

Add the chicken to the skillet in a single layer, skin side down, and lower the heat to medium and sauté for about 8 minutes, until the have browned nicely on the bottoms.

Flip the chicken pieces and sauté for another 8 minutes.

Transfer the chicken to a rimmed baking sheet, or platter, and set aside.

In the same skillet, add the onions and cook until they have softened, about 5 minutes.

Add garlic and mushrooms and cook over medium-high heat, until the mushrooms are releasing their liquid and becoming slightly browned on the edges.

Pour in the white wine and simmer until almost all of the liquid is gone, about another 5 minutes.

Season with a nice pinch of salt and then add the tomatoes with their juices and bring to a simmer.

Nestle the chicken pieces along with any accumulated juices into the simmering sauce and then nestle in the bay leaves and thyme (hold off on the rosemary).

Turn the heat to low and simmer for 45 minutes. Add the rosemary after the dish has simmered for about half an hour (allowing the rosemary to simmer for a total of approx. 15 minutes).

Remove the pan from the heat and let rest for about 10 minutes.

Taste and add more salt, if desired.

Plate chicken pieces with sauce poured over the top.
Nutrition
Calories: 375kcal