If there ever was a side dish that should be deemed the king or queen of all side dishes, this would probably be the one.
Achieving the perfect potato side dish isn't hard to achieve, but there are a few techniques that we strongly recommend you follow to get the fluffiest, lightest, creamiest, most buttery spuds on the planet. Dishes such as Best-Ever Meatloaf, Ale-Braised Bratwurst, Instant Pot Braciole, and of course, the Perfect Turkey just wouldn't be the same without them! Here we go!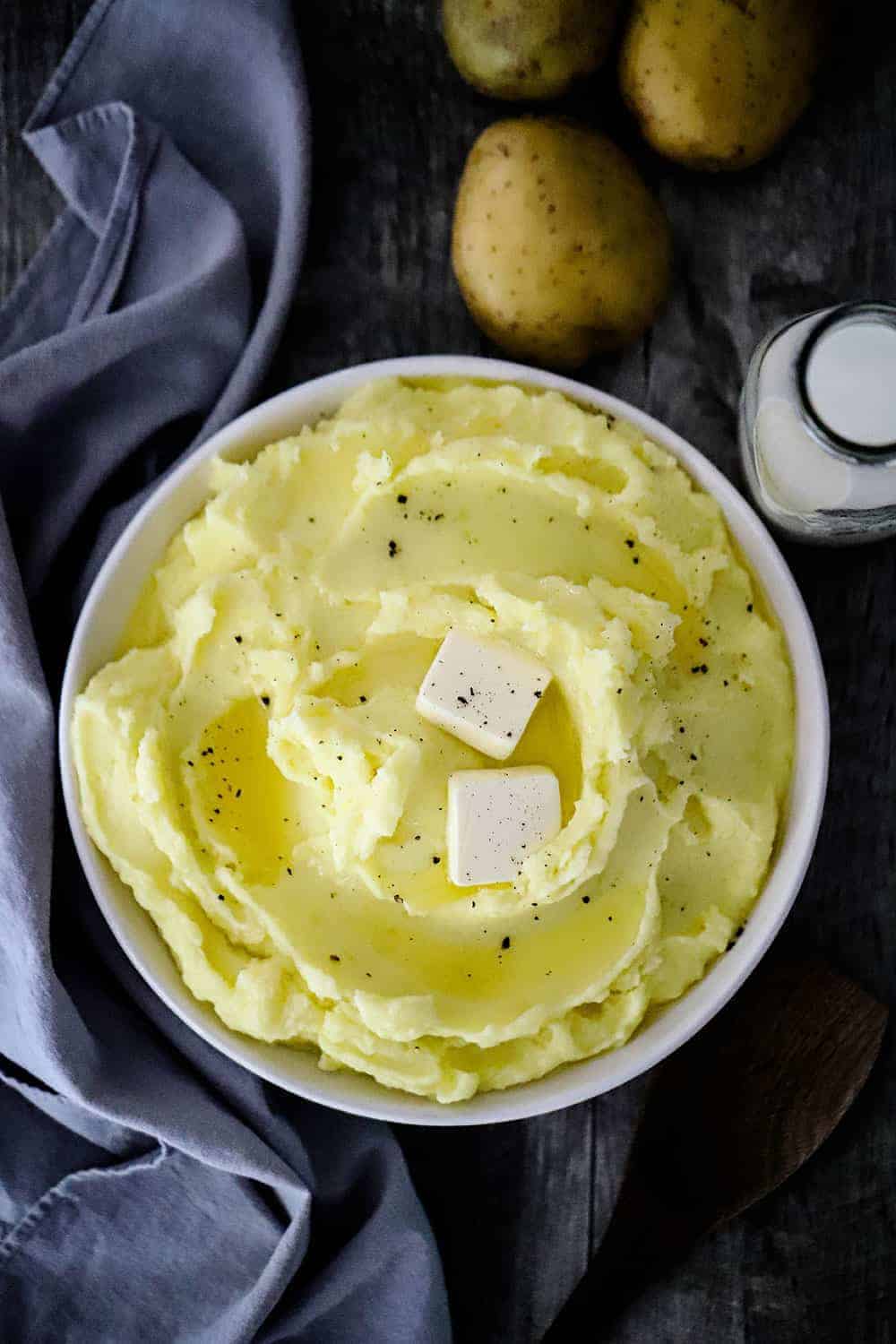 How To Make Mashed Potatoes
Homemade mashed potatoes are not difficult to make at all.
We've got the tips to make this truly the best mashed potato recipe you will ever try.
Selecting the Right Potato
We're often asked, "what are the best potatoes for mashed potatoes?"
There are two types of potatoes, those that are 'waxy' such as red potatoes. Then there are starchy potatoes, such as the ubiquitous russet.
EXPERT TIP: Our favorite potatoes for mashed potatoes are gold potatoes, such as Yukon gold. They are closer to russet, but we find the taste and texture is just perfect. Russets are perfectly fine to use, too, but we don't recommend using a waxy potato, such a red.
We peel the potatoes and then cut them into approximately 1-inch cubes. Place them in your pot and then add enough cool water to cover the spuds by about 1 inch.
The Tools You Will Need
Once the cubed potatoes have simmered in the salted water for 15 minutes, they will be ready to mash.
There are several methods for mashing the cooked potatoes. First, you can use a standard hand masher, that's common, and will still yield delicious potatoes.
EXPERT TIP: Here is the most important tip for this recipe: Using a potato ricer or a food mill will give you incredibly fluffy and creamy mashed potatoes. They both perform the same task and force the cooked potatoes through small holes that create a texture that allows the potatoes to be light yet creamy. The bonus for a food mill is that you don't have to peel the potatoes. We used a ricer for this version, and the results are nothing short of amazing.
NOTE: Never place the cooked potatoes in a food processor or blender. They will become a gummy mess on not desirable.
Okay, now, let's keep going with the super important tips:
After you have passed the cooked potatoes through your ricer or food mill, it's time to add the butter! 1 cup (2 sticks) may seem like a lot, but the best mashed potatoes are buttery! And believe us, 4 lbs of potatoes can handle a good amount of butter.
EXPER TIP: Always add the melted butter to the potatoes BEFORE you add the cream. Use a large wooden spoon to mix the butter into the potatoes, which will allow the butter to adhere to the starch. The result means a delicious buttery taste with every bite.
Next, it's time to add the cream.
Make sure you heat the cream. We love using half-and-half, which is part milk and part cream. For extra luxurious potatoes, go with all heavy cream.
EXPERT TIP: Add the heated cream in stages, and stir until you've reached your desired consistency. For thicker potatoes, you'll need about 1¼ cup of the cream, for creamier potatoes, go with 1¾ cups.
Reviewing the Key Steps for Making the Best Mashed Potatoes
There are lots of ways to make homemade mashed potatoes, but we find if you employ the following steps, you'll get the fluffiest, most delicious potatoes ever:
Use gold or russet potatoes (we prefer Yukon gold).
Simmer cubed potatoes in salted water until just soft enough to easily pierce with a knife (15 mins after brought to a simmer)
Use a potato ricer or food mill to 'shred' the potatoes.
Mix the melted butter into the potatoes BEFORE adding the cream.
Make sure the cream is warmed before mixing in.
Add salt in increments until the desired seasoning is reached.
Add more butter on top when serving, for extra flavor and a beautiful presentation. We add a few grinds of fresh black pepper, too.
Tips for Making Ahead
When you're making your gameplan for preparing the big feast, it's always great to be able to prepare components of the meal ahead of time.
This side dish is the perfect one to make ahead of time.
EXPERT TIP: Make the potatoes as written up to 6 or 8 hours in advance. We find the best way to reheat them is to place them into a pot that will fit into a larger pot filled with simmering water. Bring the water to a simmer about an hour before serving. If the potatoes are chilled, it may take closer to 2 hours go get them to the right temperature. Stir the potatoes every now and then. They can also be reheated in a large skillet on the stove, but be careful, overheating them can dry them out. Even nuking them in the microwave is an option. But the submerged pot in simmering water works perfectly for us.
I don't think I have ever heard of anyone not liking a bowl of warm, creamy, buttery mashed potatoes.
Now, you can serve this iconic dish with confidence and ease.
And get ready for lots of 'oohs' and 'ahhs'!
Ready to make the best bowl of mashies in the world? Go for it!
And when you do, be sure to take a photo, post it on Instagram, and tag @HowToFeedaLoon and hashtag #HowToFeedaLoon!
Best Mashed Potatoes
The Best Mashed Potatoes really are the best mashed potatoes in town. We highly recommend using a potato ricer or food mill to get extra fluffy and creamy spuds. See Notes for tips on making in advance and storing.
Print
Pin
Rate
Servings: 10
Calories: 358kcal
Equipment
Large pot for simmering, potato ricer or food mill
Ingredients
4 lbs gold potatoes peeled, cut into 1-inch cubes
Kosher salt
1 cup unsalted butter melted, 2 sticks
1¾ cup half and half heated
black pepper freshly ground, optional
Instructions
Place the cubed potatoes in a large pot and cover with cool tap water. Season the water with 1 tbsp salt. Bring to a boil and then simmer for 15 minutes.

Drain the potatoes. Pass the potatoes through the ricer or food mill into a large bowl.

Slowly mix in the melted butter until fully incorporated into the potatoes.

Gradually stir in the warmed half and half until desired consistency is reached. Less cream if you prefer thicker potatoes, more if you prefer creamier spuds.

Season with salt, usually 2½ teaspoons. Taste as you salt until you reach the desired seasoning.

Transfer to a serving bowl and top with another pad or two of chilled butter. Top with freshly ground pepper, if desired. Serve at once.
Notes
Russet potatoes are a fine substitution for the gold. We don't recommend red potatoes. If using a ricer, you'll need to peel the potatoes. If using a food mill, still cube the potatoes, but there's no need to peel the potatoes. Make sure you incorporate the melted butter into the potatoes before adding the warmed cream. We use half and half, but you can use all heavy cream for an extra luxurious taste and texture. All whole milk is just fine, too. We don't recommend skim milk or milk substitutes, but it won't ruin the potatoes if you do go that route. You can prepare the potatoes up to 8 hours in advance of serving. We like to gently reheat them by placing them in a pot that will fit into another pot of simmering water. They'll need to be in the simmering water for at least an hour to be warmed throughout. Don't fill the outer pan to the top with water...you don't want it to overflow any hot water when simmering. You can reheat the potatoes on the stove, but be careful to not overdo it and dry them out. Nuking them in the microwave is an option, too. The potatoes will keep in the fridge for up to 1 week. They freeze just fine but will lose some of the fluffy texture when thawed and reheated.
Nutrition
Calories: 358kcal | Carbohydrates: 34g | Protein: 5g | Fat: 23g | Saturated Fat: 15g | Cholesterol: 64mg | Sodium: 31mg | Potassium: 824mg | Fiber: 4g | Sugar: 1g | Vitamin A: 717IU | Vitamin C: 36mg | Calcium: 72mg | Iron: 1mg