Ale-Braised Bratwurst and Sauerkraut is hands-down a H2FaL favorite dish.
And when fall is upon us, there is nothing better than this pure comfort German dish. Every layer of flavor adds to the depth of deliciousness here.
Mmmmmmm…so comforting!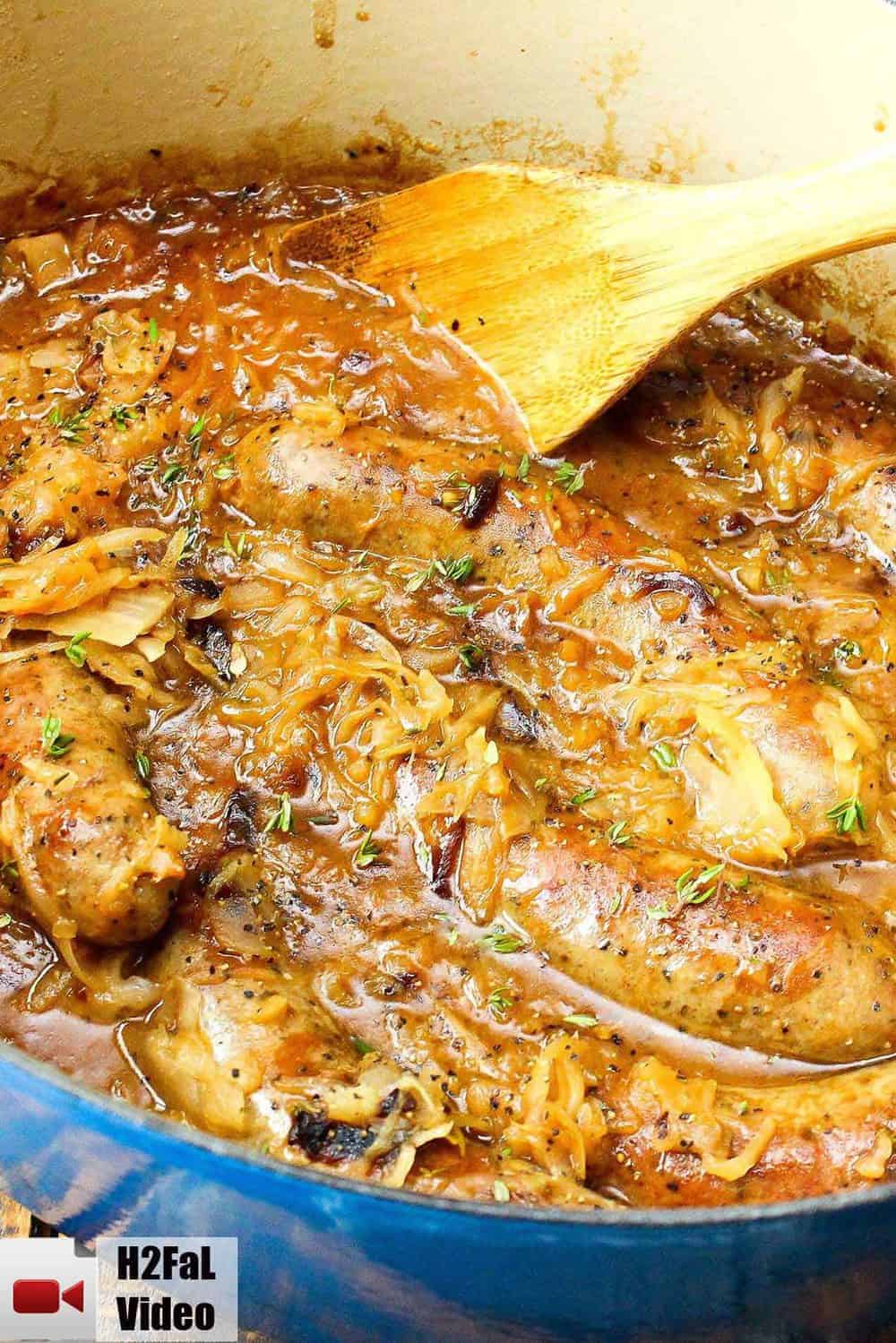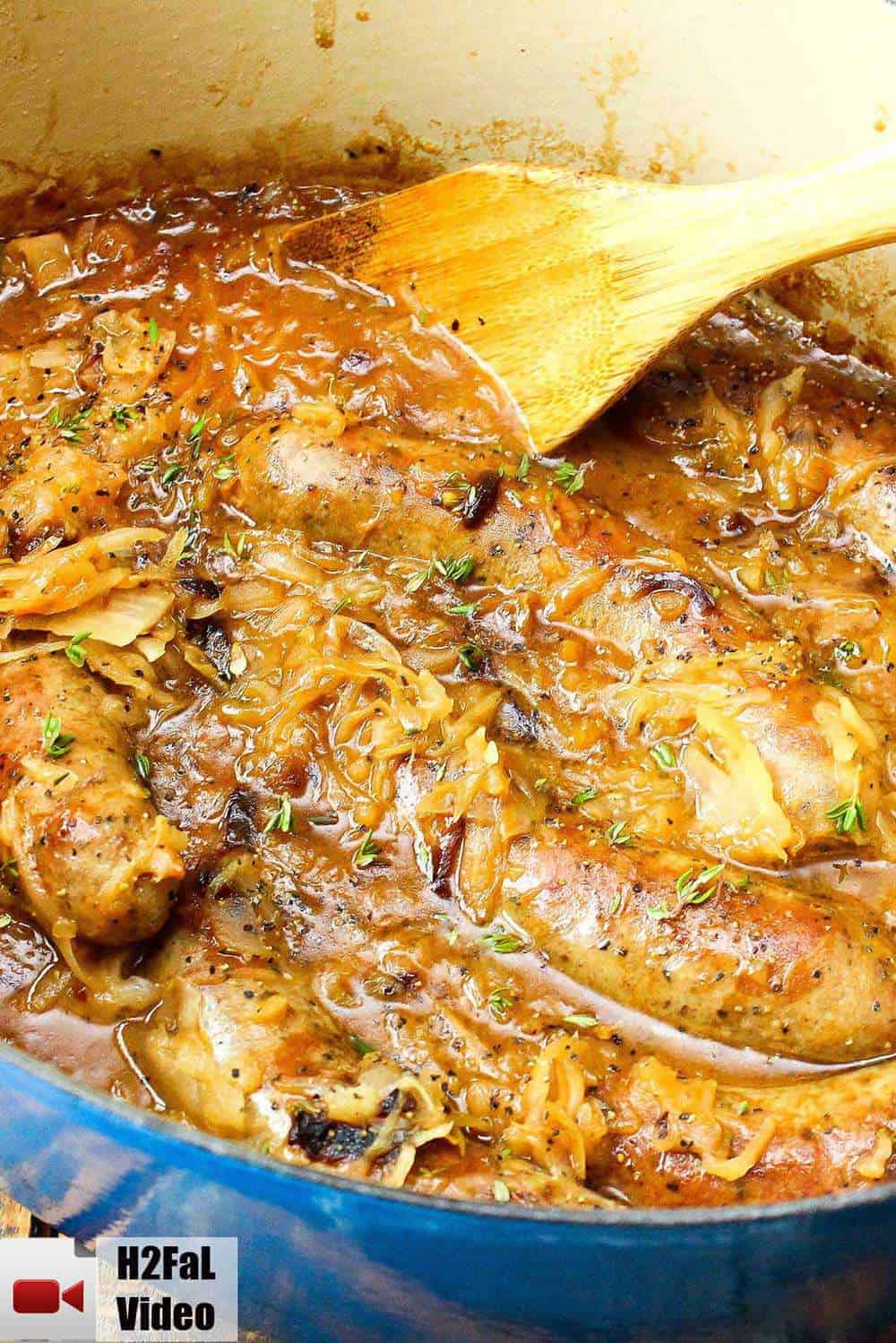 HOW TO MAKE ALE-BRAISED BRATWURST AND SAUERKRAUT
This amazing dish is so packed with flavor and is not difficult to make at all.
Watch us show you how easy it is to make this incredible ale-braised bratwurst and sauerkraut!
We love picking up some good German brats from our butcher and either starting them off on the grill or in our Dutch oven.
You just want to brown them a little to lock in the flavor, and then those juicy brats will finish cooking in the sauce.
Brat-alicious! And if you think this looks amazing, you'll probably flip for our: Beer-Braised Kielbasa with Peppers, Pennsylvania Dutch Stuffed Cabbage Rolls, or for something really different for fall, how about our Pumpkin Gnocchi and Shrimp!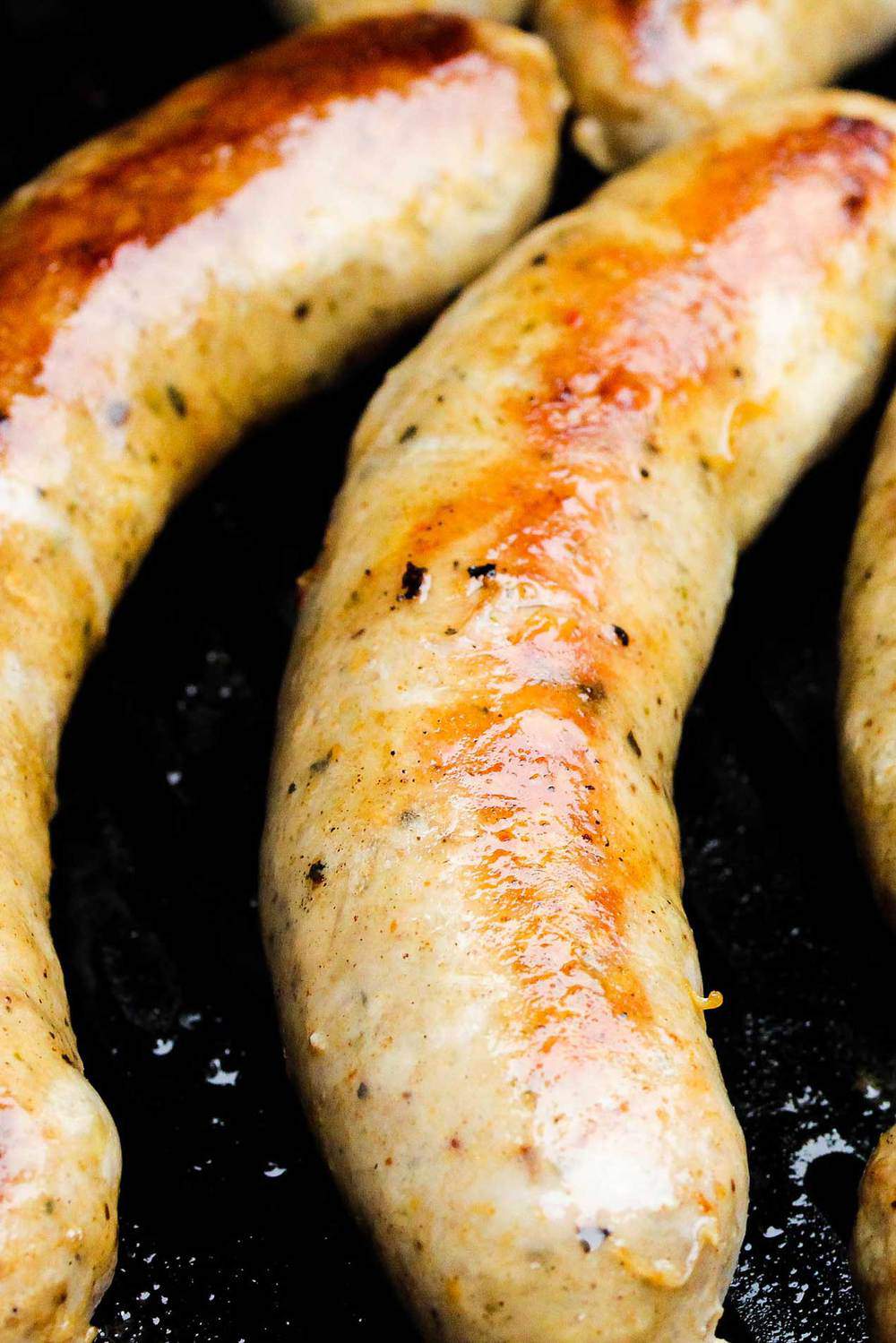 GERMAN ALE MATCHES PERFECTLY WITH THE BRATS & KRAUT
Of course, what would ale-braised bratwurst be without ale? Not very good!
Pick yourself up a good German ale. You'll need one bottle for the dish, and the rest for YOU!
Beeeeeeeeeer!!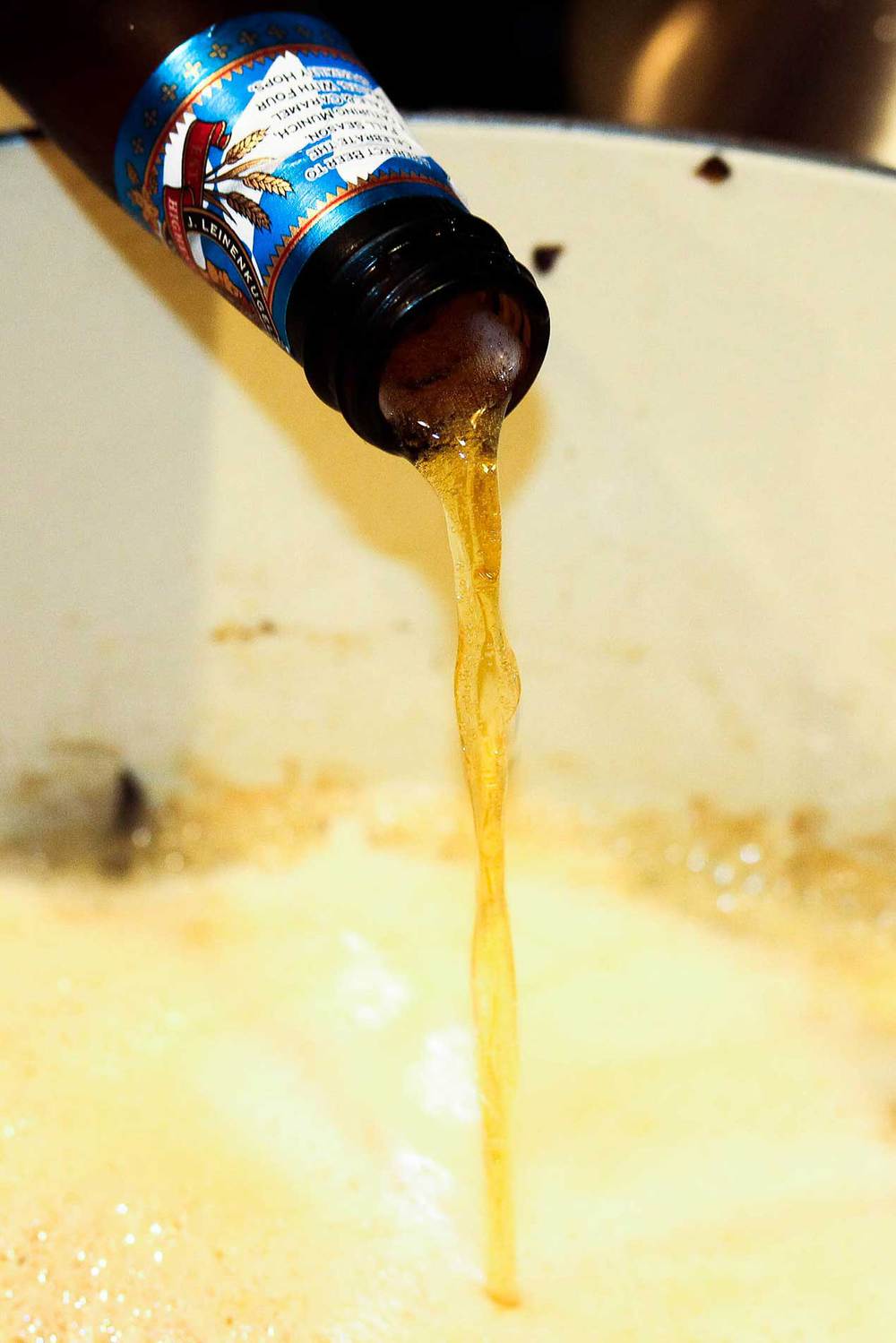 And of course, homemade sauerkraut would be awesome in this dish, but you can certainly find quality pre-made sauerkraut at well-stocked supermarkets and gourmet food markets.
The sauerkraut adds just enough flavor and texture to put the dish over the top.
Even if you think you don't like sauerkraut, after you try it in this ale-braised bratwurst with sauerkraut recipe, you may just change your mind.
This classic comfort food dish is wonderful anytime of the year, but our favorite time is in the fall, just as the temperatures are dropping outside.
And, just in time for Oktoberfest! Another German favorite is our German Schnitzel with Mushroom Gravy.
Let there be not doubt, this incredible dish is wunderbar!!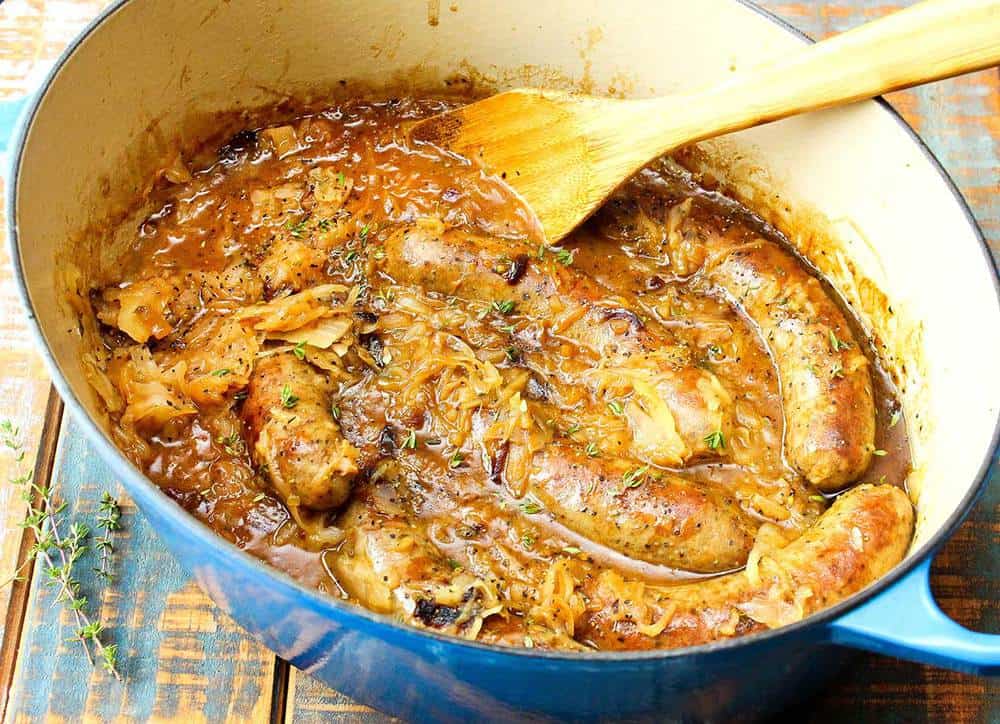 Ale-Braised Bratwurst and Sauerkraut
This Ale-Braised Bratwurst and Sauerkraut gets a nice kick-start on the grill (or in the skillet), which gets the brats nice and browned before they the go into the pot to be braised with all the other amazing German aromatics. This is German comfort food at its best!
Print
Pin
Rate
Servings: 6 people
Calories: 345kcal
Ingredients
2 tbsp olive oil
2 lb fresh bratwurst uncooked
1 medium yellow onion roughly chopped
3 tbsp all-purpose flour
1 12 fl oz. German ale
1/2 cup apple cider
3 tbsp fresh thyme chopped
1 1/2 cup chicken stock
2 cups good qaulity sauerkraut drained
Kosher salt
Freshly ground black pepper
Instructions
Heat your grill to medium-high heat , or a large heavy skillet.

Add the brats, and cook until browned on all sides, about 5 minutes (doesn't need to be cooked completely through...they will finish cooking while braising). Set aside.

In a Dutch oven (or large sturdy pot), over medium eat, warm the olive oil.

Add the onion and saute until tender and golden, about 10 minutes.

Add the flour and cook, stirring for another minute.

Whisk in the ale and cider until the mixture is smooth and bubbly.

Add the thyme and stock, whisking to blend, and bring to a simmer.

Return the sausages to the pot and cover.

Reduce the heat to medium-low, and cook for 15 minutes.

Uncover, add the sauerkraut, and simmer until the sauce is slightly reduced, about 5 minutes longer.

Taste and season with salt and pepper.

Divide the sausages and sauce among serving bowls and serve at once.
Nutrition
Calories: 345kcal