This is such a quintessential 'farm-to-table' recipe. Steeped in tradition and loaded with heart-warming goodness.
With a touch of sweetness in the sauce, countering perfectly against the beef filling and cabbage leaves, this filling dish is perfect for feeding a hungry family on a chilly evening. Actually, they are delicious any time of the year! And they are really fun to put together, all in less than 1 hour!
HOW TO MAKE AMAZING STUFFED CABBAGE ROLLS
We're not kidding when we say these really are easy stuffed cabbage rolls.
Steaming the cabbage is fun and easy, and the filling cooks when it bakes. The sauce is a snap. Easy, fun, and delicious!
HOW TO REMOVE THE CABBAGE LEAVES
It all starts with a head of green cabbage. By the way, did you know that cabbage is loaded with nutrients and super healthy? Learn more here!
Simply bring a pot of salted water to a boil and carefully lower the cabbage and cook for a couple of minutes.
EXPERT TIP: Be very careful when lowering the cabbage into the boiling water. Try and minimize splashing of the hot water by using heat-resistant gloves, or grab a second pair of hands, and a couple of pairs of tongs to help you slowly lower the cabbage into the hot water. Another method would be to start with the cabbage in the water and then bring it to a boil. You will see the outer leaves start to pull away from the head. Use a pair of tongs (and possibly kitchen shears) to pull the leaves free, one after another.
We love to make a slightly sweet and slightly tart tomato-based sauce to complement the stuffed cabbage rolls.
These rolls are similar to Polish stuffed cabbage rolls.
The sauce can be made up to 2 days in advance before baking the dish.
NO NEED TO COOK THE MEAT MIXTURE
You can really use any kind of protein you desire for the filling.
We love ground beef, but you could also use ground chicken, pork, veal, turkey, or no meat at all, just increase the amount of rice.
Be sure to cook the rice first before adding to the filling. This can be done hours in advance. No cooking of the meat is required before baking.
HOW TO FORM THE STUFFED CABBAGE ROLLS
First, you'll need to take a cabbage leaf. If there is a large, thick portion of the leaf from the core, simply trim it away.
Add a couple of tablespoons of the mixture along the middle of the cabbage leaf, lengthwise.
Next, simply fold the ends in, and then roll the cabbage up.
Next, place the formed cabbage rolls in a baking dish. A 9″x13″ will work just fine.
Depending on the size of your cabbage rolls, you should yield about 12 to 16 rolls.
EXPERT TIP: Ladle enough of the sauce over the rolls to cover them but be sure to leave enough sauce for passing at the table. We love to plate the rolls onto a small pool of the delicious sauce for each individual serving.
PENNSLYVANIA DUTCH STUFFED CABBAGE ROLLS FEED A FAMILY
Several years ago, we became inspired to make the recipe at home after visiting several Amish communities in beautiful Lancaster, Pennsylvania.
We dined a restaurant where these were served family-style. We were not sure if we would like them, but they were recommended, so we gave them a shot.
Needless to say, they became an instant favorite and we have been enjoying them ever since that wonderful trip.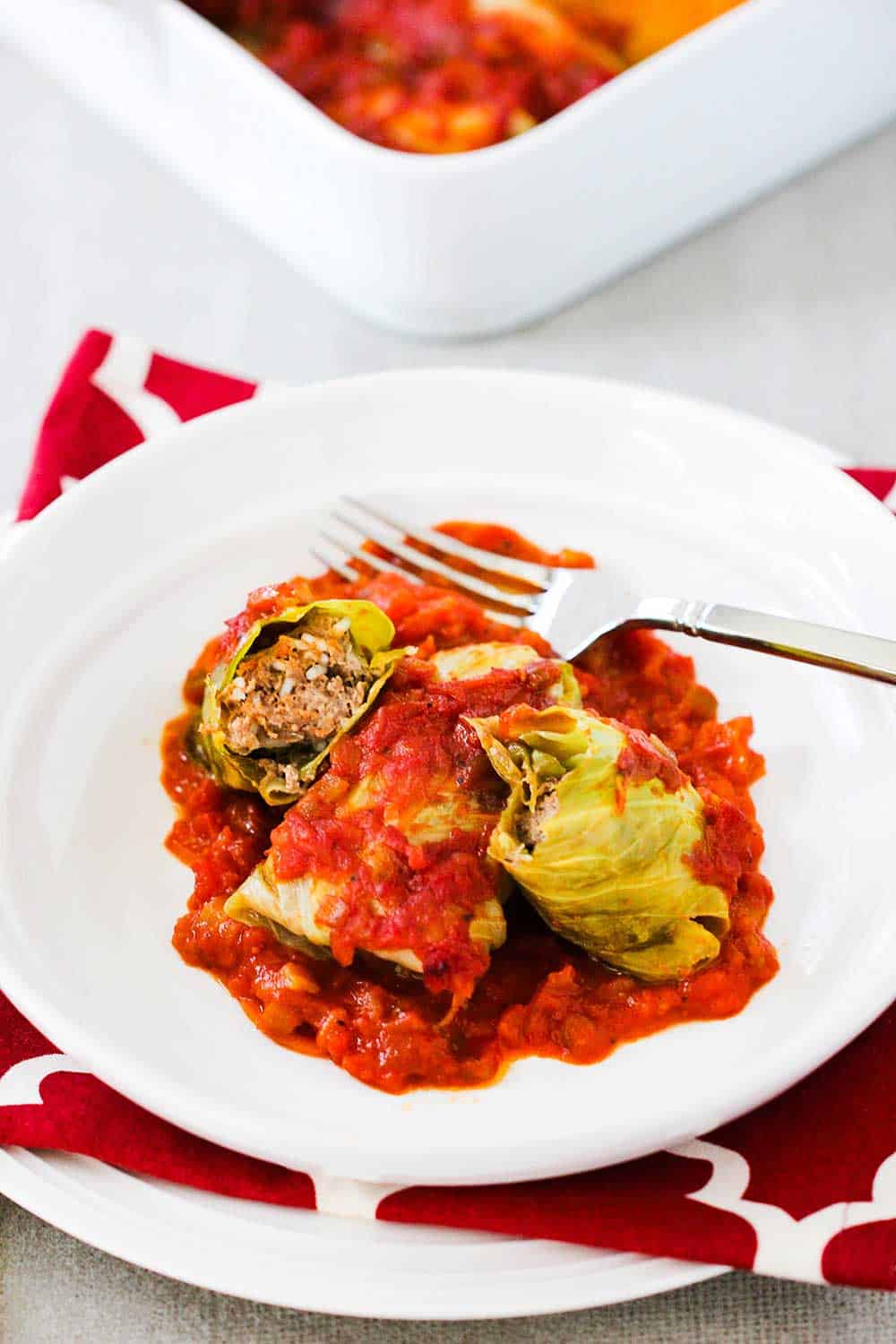 CLASSIC FARM-TO-TABLE COMFORT FOOD
Now, we get it. You may have doubts about trying out stuffed cabbage rolls. As mentioned, we were a little uncertain ourselves.
But, boy, oh boy, were we pleasantly surprised. No, it's not a big plate of Southern Fried Chicken or a Ribeye Steak, but it sure is comforting, filling, and satisfying.
By the way, did you know Brussels sprouts are actually tiny cabbages? Check out our amazing Maple-Roasted Brussels Sprouts with Bacon and Pecans!
In the meantime, make a batch of these Pennsylvania Dutch Stuffed Cabbage Rolls…you'll be so glad that you did!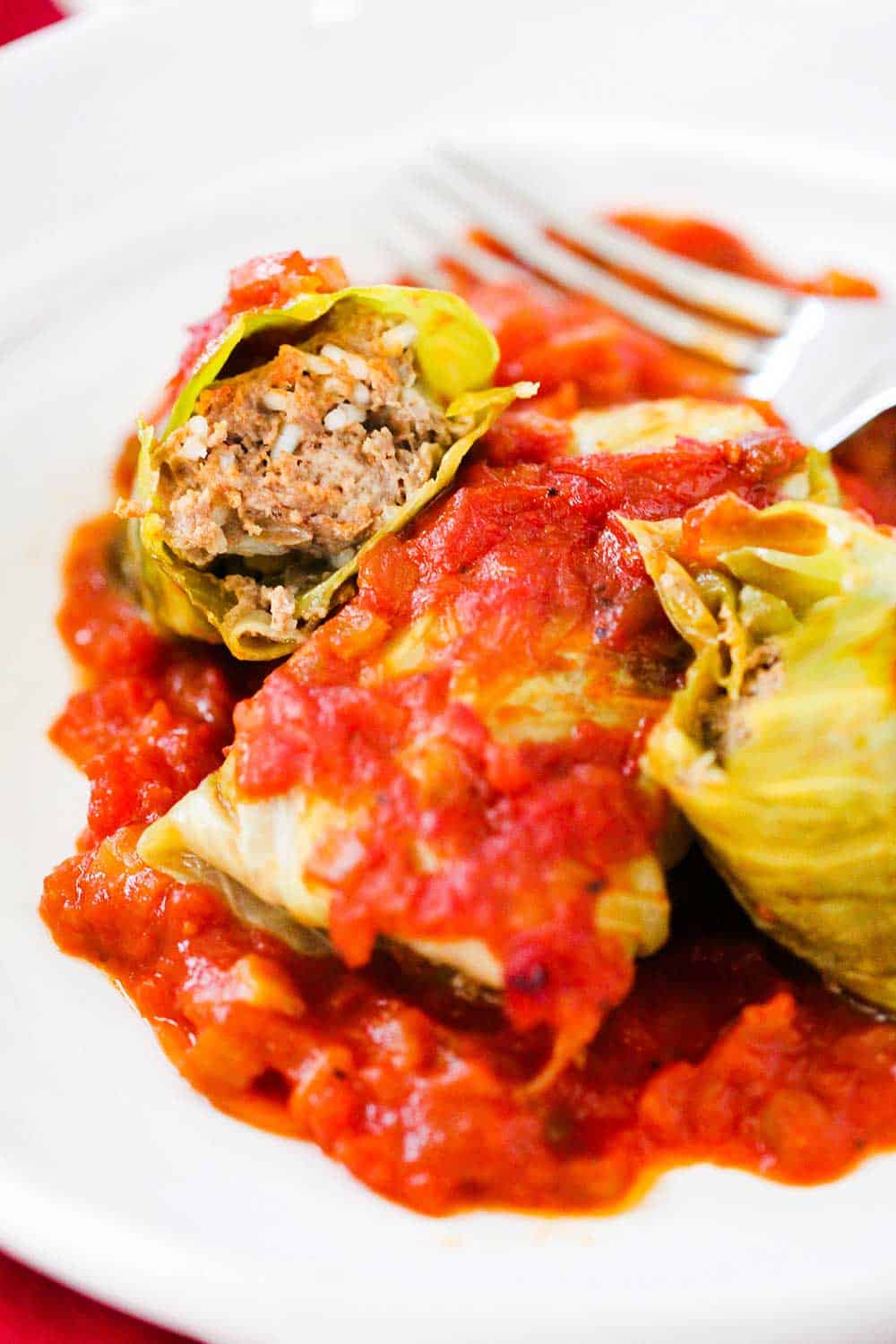 Ready to make an amazing authentic farm-to-table dish? Go for it!
And when you do, be sure to take a picture, post it on Instagram, and tag @howtofeedaloon and hashtag #howtofeedaloon!
Pennsylvania Dutch Stuffed Cabbage Rolls
These Pennsylvania Dutch Stuffed Cabbage Rolls have become a staple in our home, especially when the weather turns chilly. These are not hard to make, and just so hearty and bursting with flavor. You'll feel like you're eating grandma's special dinner. So good! Straight out of Amish country!
Print
Pin
Rate
Servings: 8 people
Calories: 319kcal
Ingredients
Kosher salt to taste
1 large green cabbage cored
2 tbsp olive oil
2 medium onions 1 thinly sliced, 1 finely chopped
2 ribs celery chopped
1 pinch ground black pepper
¼ cup tomato paste
¼ cup honey
¼ cup fresh lemon juice
1 28 oz can whole tomatoes San Marzano are good, in juice
1 lb ground beef chuck 85% lean
½ cup white rice cooked
3 tbsp beef stock
1 tsp smoked paprika
¼ tsp cayenne pepper
1 large egg lightly beaten
Instructions
Bring a large pot of salted water to a boil over high heat.

Add cabbage and cook, pulling off each outer leaf with tongs as it becomes tender, about 1 to 2 minutes per leaf.

Transfer leaves to a baking sheet and continue until you have 15 to 20 leaves.

Heat oil in large saucepan over medium-high heat.

Add sliced onions and celery, season with a healthy pinch of salt and pepper, and cook, stirring, until lightly caramelized, about 15 minutes.

Add tomato paste and cook, stirring, until lightly caramelized further, about 2 minutes.

Add honey, lemon juice, and tomatoes and bring to a boil (crush the tomatoes with your hands over the sauce, and then drop them in. Also add the juice from the can).

Reduce heat to medium-low and cook, partially covered, until reduced, about 15 minutes.

Heat oven to 350°F.

In a large bowl, combine the remaining chopped onion, beef, rice, stock, paprika, cayenne, egg, pinch of salt and pepper.

Place 2 tablespoons beef mixture in center of each cabbage leaf, fold sides inward, and then roll up.

Transfer rolls, seam side down, to a 9" x 13" baking dish.

Pour tomato sauce over rolls and bake until filling is cooked through, 50 minutes. Let cool for 10 minutes. Serve, passing extra sauce at the table.
Notes
Don't worry about removing the entire core of the cabbage. You want the cabbage to still be intact once added to the boiling water. Be very careful lowering the cabbage into the boiling water. Preferably use heat-resistant gloves. Or, find an extra pair of hands and a couple of large tongs to gently lower the cabbage head into the boiling water. As an alternative, you can place the cabbage in the pot of water, and then bring to a boil. Either way is perfectly acceptable. As you removed the cabbage leaves from the cooking cabbage, place them on a couple large baking sheets until ready to use. Be sure to leave some of the sauce for serving the final dish. We like to ladle about a 1/2 cup of sauce on each plate, and then topping it with a couple cabbage rolls. After baking, there will quite a bit of liquid in the dish. Let the dish rest for about 8 minutes, and the liquid will re-distribute. The dish can be assembled up to several hours before baking. The cooked rolls will keep in the fridge for up to 1 week. Although the dish is best served fresh, you can freeze up to 2 months before baking. Reheat in the oven for 30 minutes, or until heated through and bubbly.
Nutrition
Calories: 319kcal | Carbohydrates: 32g | Protein: 14g | Fat: 12g | Saturated Fat: 5g | Cholesterol: 67mg | Sodium: 162mg | Potassium: 612mg | Fiber: 5g | Sugar: 16g | Vitamin A: 510IU | Vitamin C: 61mg | Calcium: 93mg | Iron: 2mg
POST UPDATE: The recipe was originally published October 2016, but was updated with improved tweaks to the recipe and tips, new photography, and a fabulous new video in February 2020!