You'll be surprised at how easy it is to whip up a batch of beautifully steamed rice.
So many of our favorite dishes, such as Red Beans and Rice and Chicken and Sausage Gumbo require rice that is perfectly cooked. Well, we're using famed Cajun Chef Donald Link's technique for producing perfect steamed rice, in only about 25 minutes!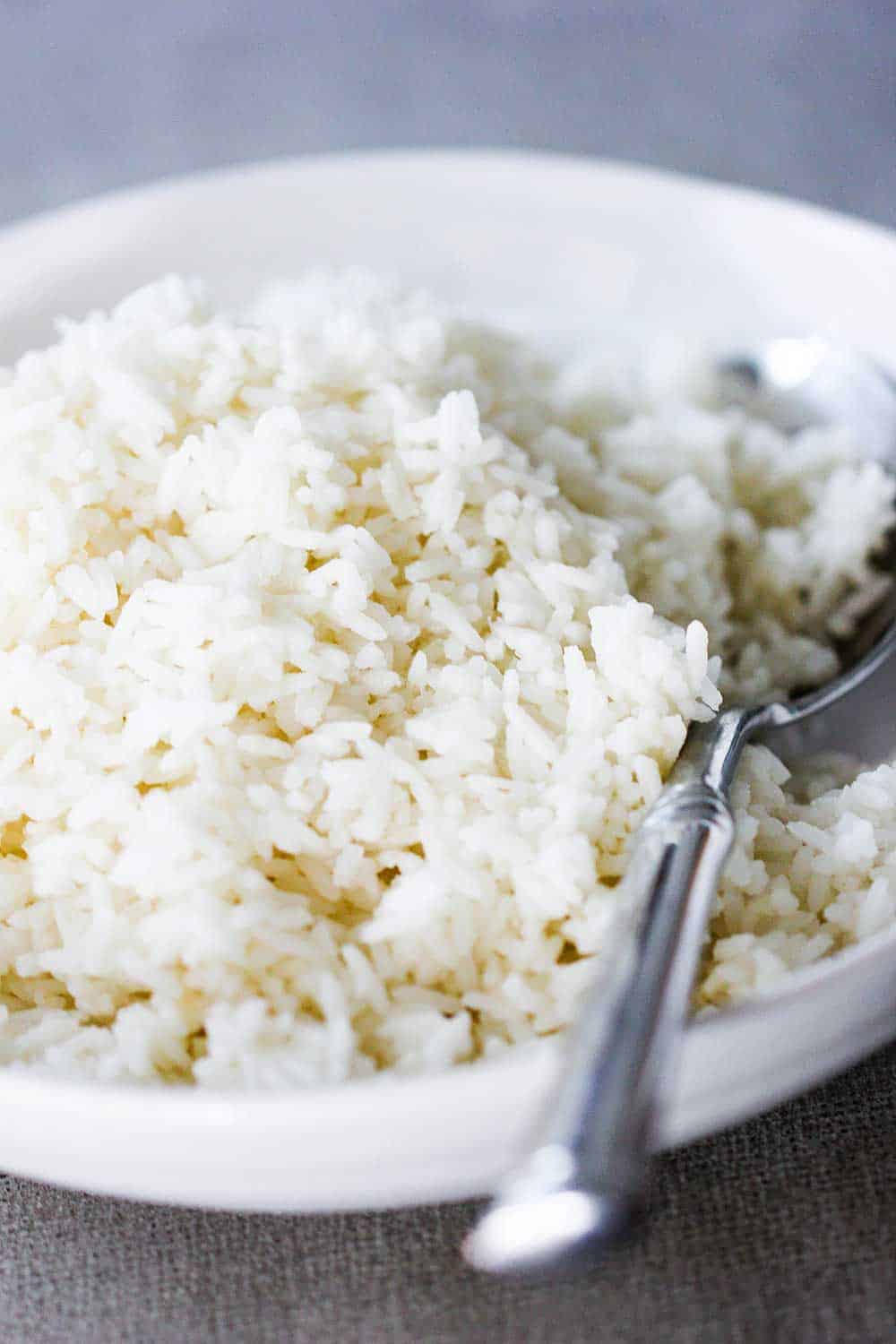 HOW TO MAKE PERFECT STEAMED RICE
Rice is truly a ubiquitous ingredient that plays such an important role in so many cuisines.
There are myriad different types of rice and multiple ways of preparing them. For Cajun and many Asian recipes, we perfer our rice on the sticky side.
Watch us show you how easy it is to make steamed long-grain rice at home!
STICKY OR DRY STEAMED RICE
As mentioned, this recipe produces fluffy, yet somewhat sticky white rice. The 2 bay leaves add a subtle but nutty delicious flavor.
We love sticky rice for many of our dishes because it soaks up the rich and fragrant sauces perfectly.
EXPERT TIP: If you prefer drier cooked rice, simply rinse the rice in cold water several times before cooking. Use your hands to swish the rice around some before re-rinsing. This helps to remove the starch. We follow this method when making steamed basmati or Jasmine rice.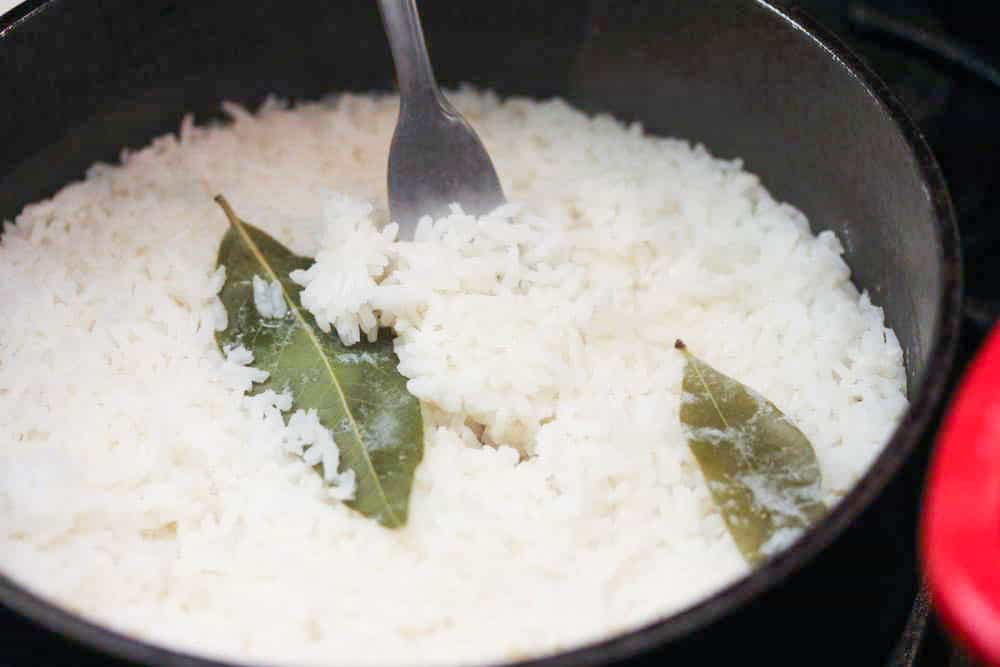 FLUFF THE RICE WITH A FORK
After you bring the simple ingredients of long-grain rice, water, bay leaves, and salt to a boil, all you need to do is cover the pan, lower the heat, and let it steam for about 20 minutes.
Resist opening the lid because this will interfere with the steaming process.
Once it's done, all you need to do is fluff the rice with a fork.
PERFECT STEAMED RICE CAN BE DOUBLED OR TRIPLED
If you're serving a group, this recipe can easily be doubled or tripled, just always keep the ratio of 1 part rice to 1½ parts water.
The rice can also be easily reheated in a microwave or a saucepan with a splash more water.
Mmmm….steamed rice is so good.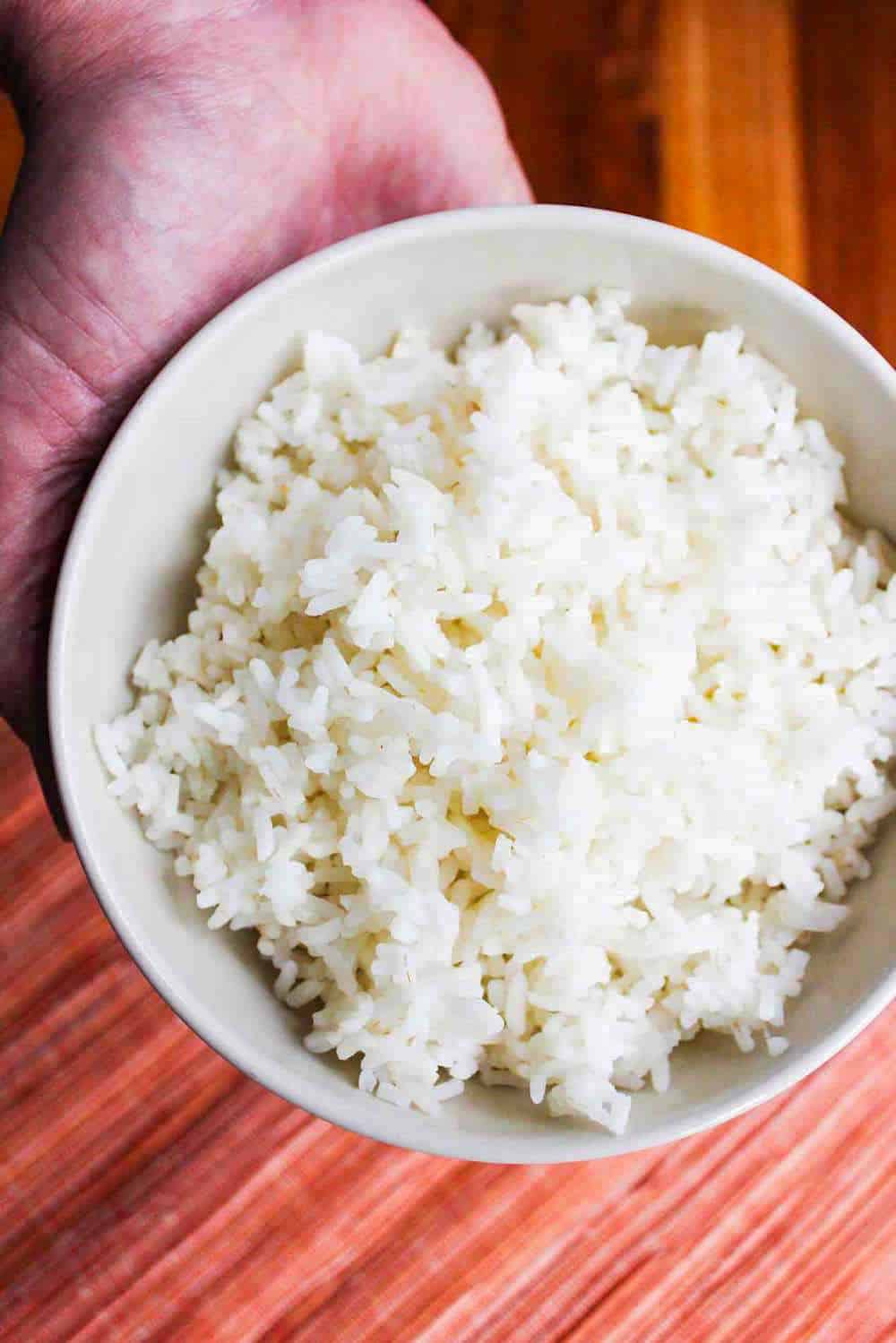 We love this perfect steamed rice in so many classic dishes.
The rice soaks up all the delicious sauce and is the perfect compliment.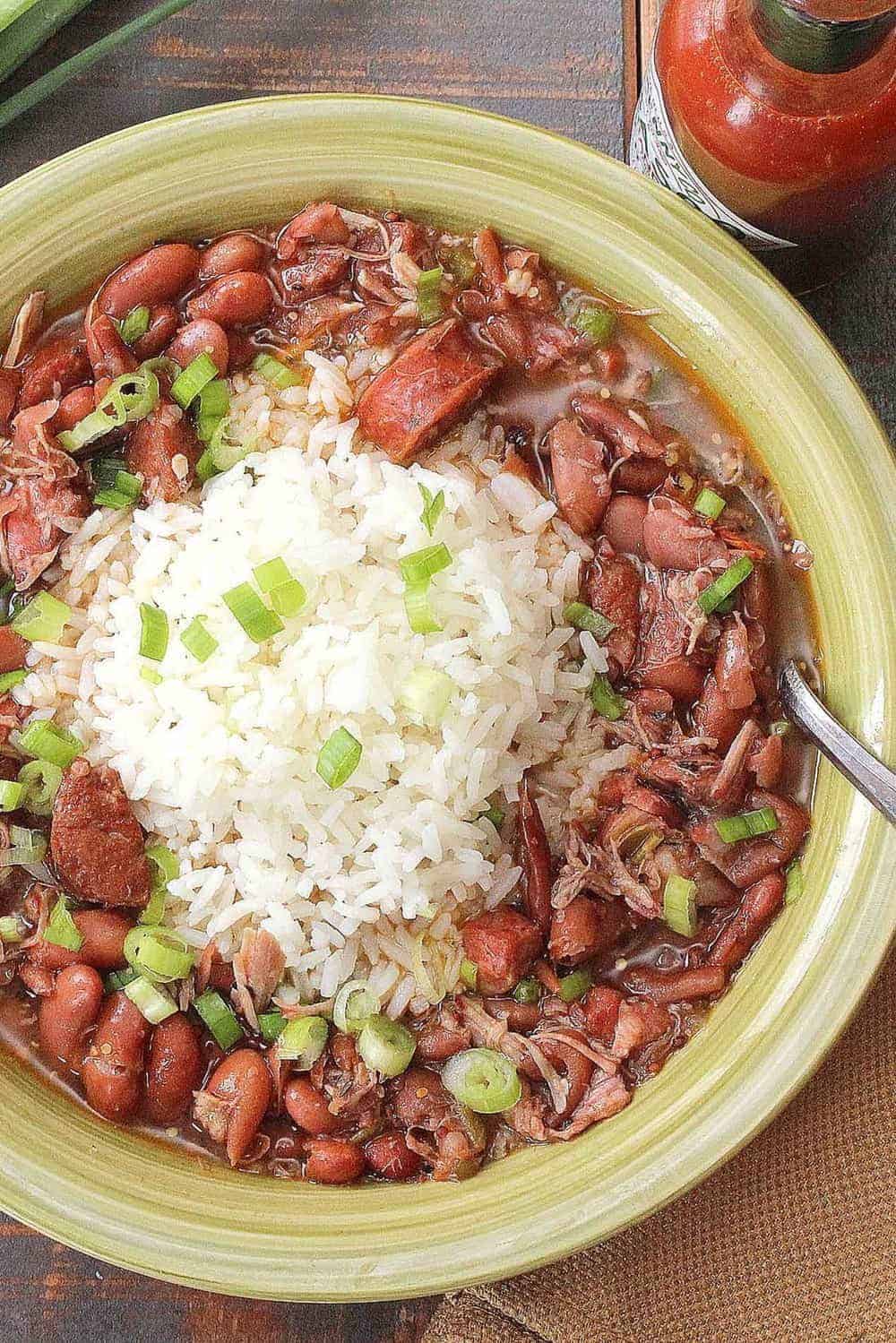 Ready to make the best rice in town? Go for it!
And when you do, be sure to take a picture, post it on Instagram, and tag @howtofeedaloon and #howtofeedaloon!
Perfect Steamed Rice
We follow famed Cajun chef Donald Link to make perfect steamed rice. This makes nice and sticky rice with is perfect when served with dishes that have a great sauce, such as Red Beans and Rice of Chicken and Sausage Gumbo!
Print
Pin
Rate
Servings: 4
Calories: 169kcal
Equipment
Medium saucepan with tight-fitting lid.
Ingredients
1 cup long-grain white rice
1½ cups water
2 bay leaves
Pinch Kosher salt
Instructions
Combine the rice, water, bay leaves, and salt in a medium saucepan and bring to a boil over medium-high heat.

Lower the heat to low, cover, and simmer for 20 minutes.

Turn off the heat and keep covered for another 5 minutes.

Take off the lid, remove the bay leaves, and fluff with a fork.
Notes
To make a drier, less sticky rice, rinse the rice grains in cool water two or three times. Swishing the rice around in the water before draining off the water. You can also make the rice in a pilaf manner by sautéing the rice briefly in butter or oil before adding the liquid. You could also sauté the rice in the butter/oil with some chopped onions. Resist opening the lid while the rice is steaming. If you keep the heat on low, the rice will steam perfectly. If the rice has not absorbed all the water at the end of the simmering process, place the lid back on the pan and simmer for another 5 minutes, and raise the heat a small amount. Reheat the cooked rice in microwave in 1-minute intervals, or on the stove with a splash of water.
Nutrition
Calories: 169kcal | Carbohydrates: 37g | Protein: 3g | Fat: 1g | Saturated Fat: 1g | Sodium: 7mg | Potassium: 53mg | Fiber: 1g | Sugar: 1g | Calcium: 16mg | Iron: 1mg