New Orleans is known for a lot of things. Music, culture, jazz, architecture, folklore, Mardi Gra…but guess what we love most about this treasured city: The food!
And here is one of the most comforting, satisfying dishes in the world. Deep in flavor with a little heat…oh boy, do they get it right down in the Big Easy. We show you the tips and tricks to make this dish authentic and through-the-roof delicious. And it's easy as can be!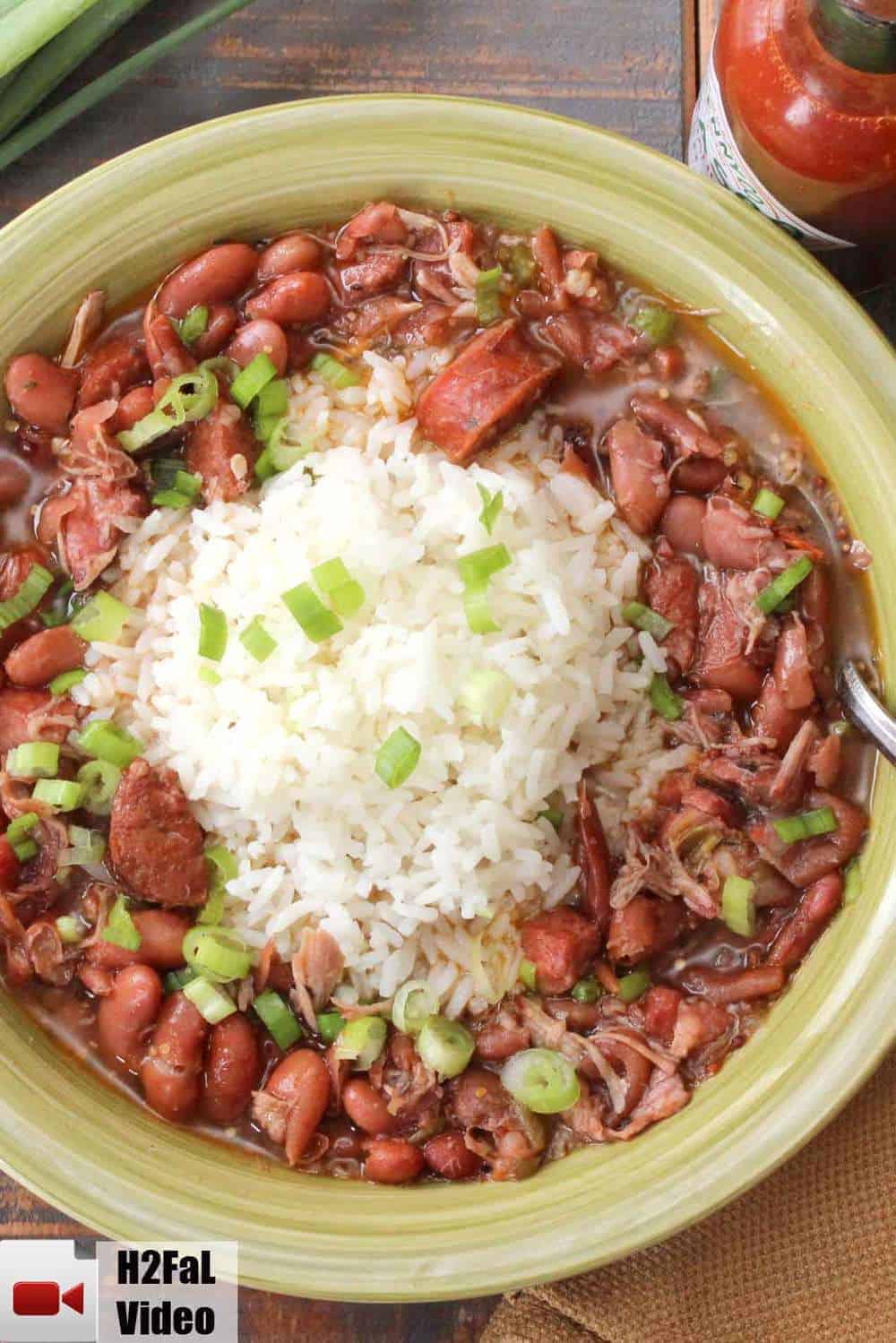 This Red Beans and Rice Recipe is Easy to Prepare
We love making red beans and rice. It is always something we look forward to and make it as often as we can.
Watch us show you how easy it is to prepare!
The ingredients in this masterpiece of Cajun cuisine work together beautifully.
From the andouille sausage to the smoked ham, to all the amazing spices and aromatics. NOLA perfection.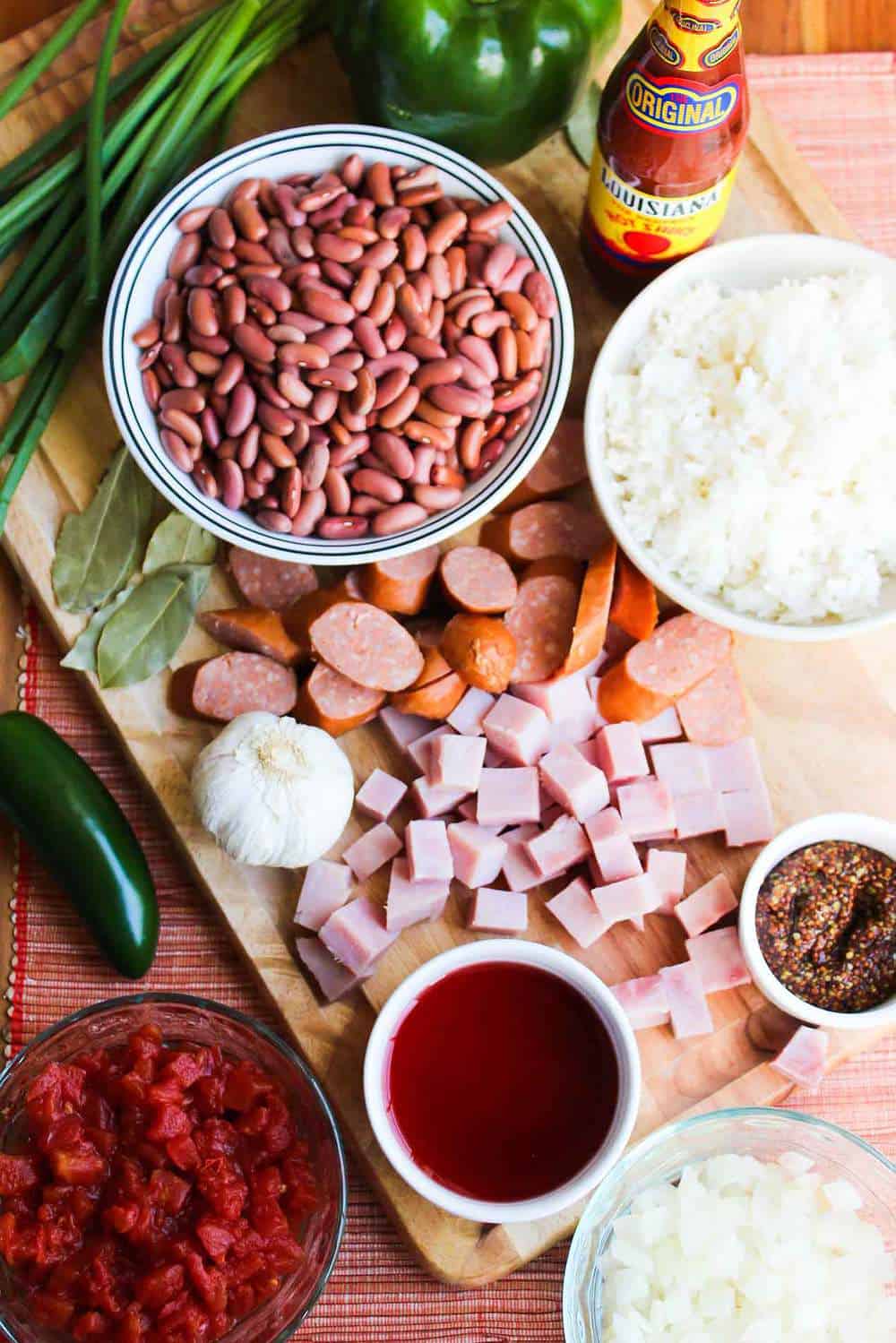 Be sure to soak your dried red kidney beans overnight.

This is the best way to start this dish off.
No arguments, please.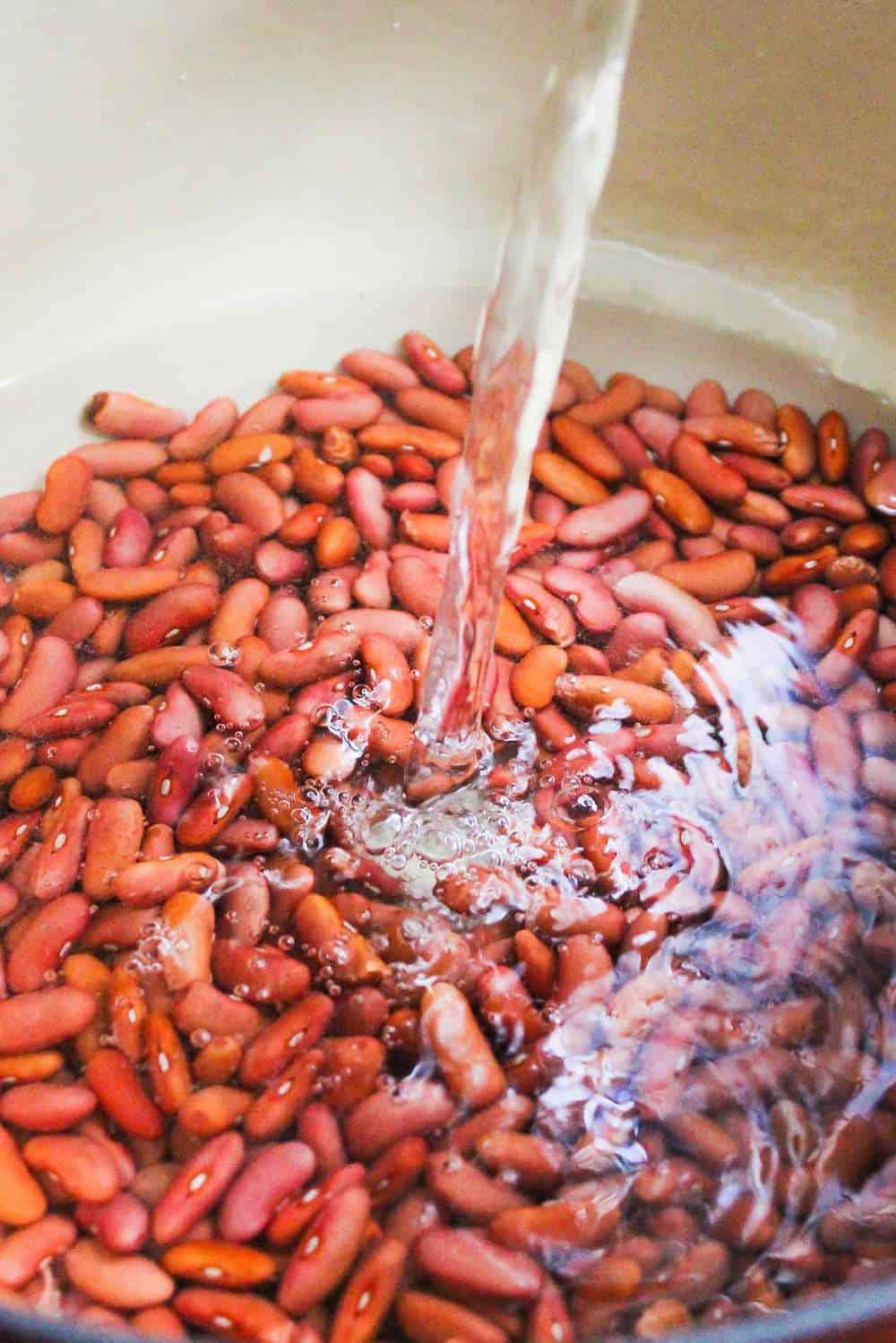 Red Beans and Rice is Classic NOLA Cuisine
Oh, how we love this New Orleans recipe.
We love the Big Easy so much, and when we're really missing all that jazz, we make up a batch of New Orleans Red Beans and Rice.

Perfectly steamed rice is a must for this iconic dish.

Next time you bake a ham or make Slow Roasted Pork Shoulder, be sure to save the bones to simmer in this incredible dish.
Or, you can use smoked ham hocks, just ask your butcher at your supermarket. If they don't have any available, they can get some for you no problem!
This is an authentic recipe, but it really an easy red beans and rice recipe!
You won't believe how your house will smell when you make this iconic N'awlins dish!
Be sure to have your favorite hot sauce handy…and as is often the case, this is even better the next day!
This recipe is just so comforting, and literally keeps you and your loved ones coming back for more and more and more!!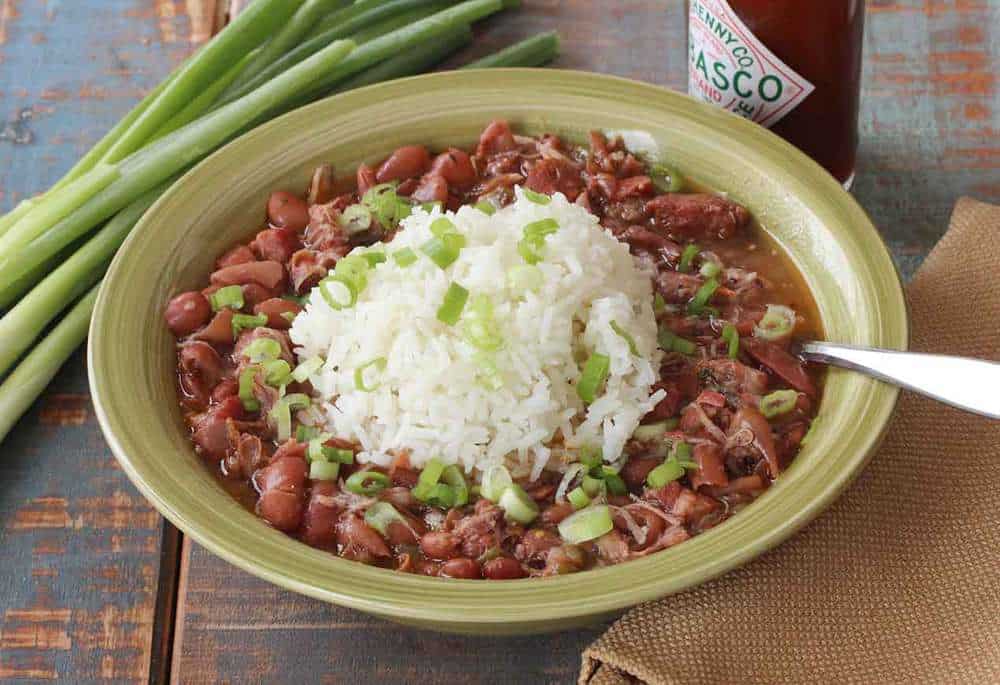 Ready to make the best New Orleans Red Beans and Rice recipe this side of The Crescent City? Go for it!
And when you do, be sure to take a photo of it and post it on Instagram and tag @HowToFeedaLoon and hashtag #HowToFeedaLoon!
New Orleans Red Beans and Rice
This recipe for New Orleans Red Beans and Rice is one of our all-time favorite Cajun dishes. So deep in flavor and has just enough kick to make your eyes light up and your tummy say "Howdy!" 100% Loon Approved!
Print
Pin
Rate
Servings: 8
Calories: 378kcal
Equipment
Large Dutch oven, or large sturdy pot
Ingredients
1 lb dried red beans
1 large meaty ham bone (or use a bone from a cooked pork butt roast)
6 bay leaves
½ lb andouille sausage smoked, chopped into 1/2-inch dice (a generous cup)
½ lb ham smoked, chopped into 1/2-inc dice (a generous cup)
1 medium onion chopped
1 tomato diced
2 jalapenos stemmed, seeded, and finely chopped
6 cloves garlic minced
2 tbsp whole grain mustard
¼ cup red wine vinegar
1 tbsp Kosher salt
2 tsp thyme seeds dried
1 tsp black pepper
1 tsp cayenne pepper
Steamed white rice for serving
Scallions thinly slice, for garnish
Hot sauce
Instructions
Put the dried beans in a large pot of water (the beans should be covered by at least 2 inches of water).

Soak the beans overnight and then drain.

Combine the beans, 1 gallon plus 2 cups water, the ham bone, and bay leaves in a large stock pot and bring to a simmer over medium heat.

Meanwhile, in a large skillet, cook the sausage and ham over medium-high heat until crispy and brown, about 8 minutes.

Add the onion and cook until softened, 5 minutes more.

Add the tomato, jalapenos, garlic, mustard, vinegar, salt, thyme, black pepper, and cayenne and continue to cook until the mixture is hot and the ingredients have softened, an additional 5 to 8 minutes.

Scrape the sausage mixture into the pot of beans.

Simmer slowly, uncovered, stirring occasionally, until creamy and tender, about 3 hours.

Approximately 10 minutes before the beans are done, use a wooden spoon to smash some of the beans against the inside of the pot.

Remove the bones and bay leaves.

Serve over hot steamed white rice with sliced scallions and hot sauce.
Nutrition
Calories: 378kcal | Carbohydrates: 39g | Protein: 25g | Fat: 12g | Saturated Fat: 4g | Cholesterol: 41mg | Sodium: 1514mg | Potassium: 1019mg | Fiber: 9g | Sugar: 2g | Vitamin A: 271IU | Vitamin C: 11mg | Calcium: 64mg | Iron: 5mg