Steak House Onion Rings are truly something to behold.
Light. Crunchy. And exploding with flavor.
These onion rings are always a crowd favorite.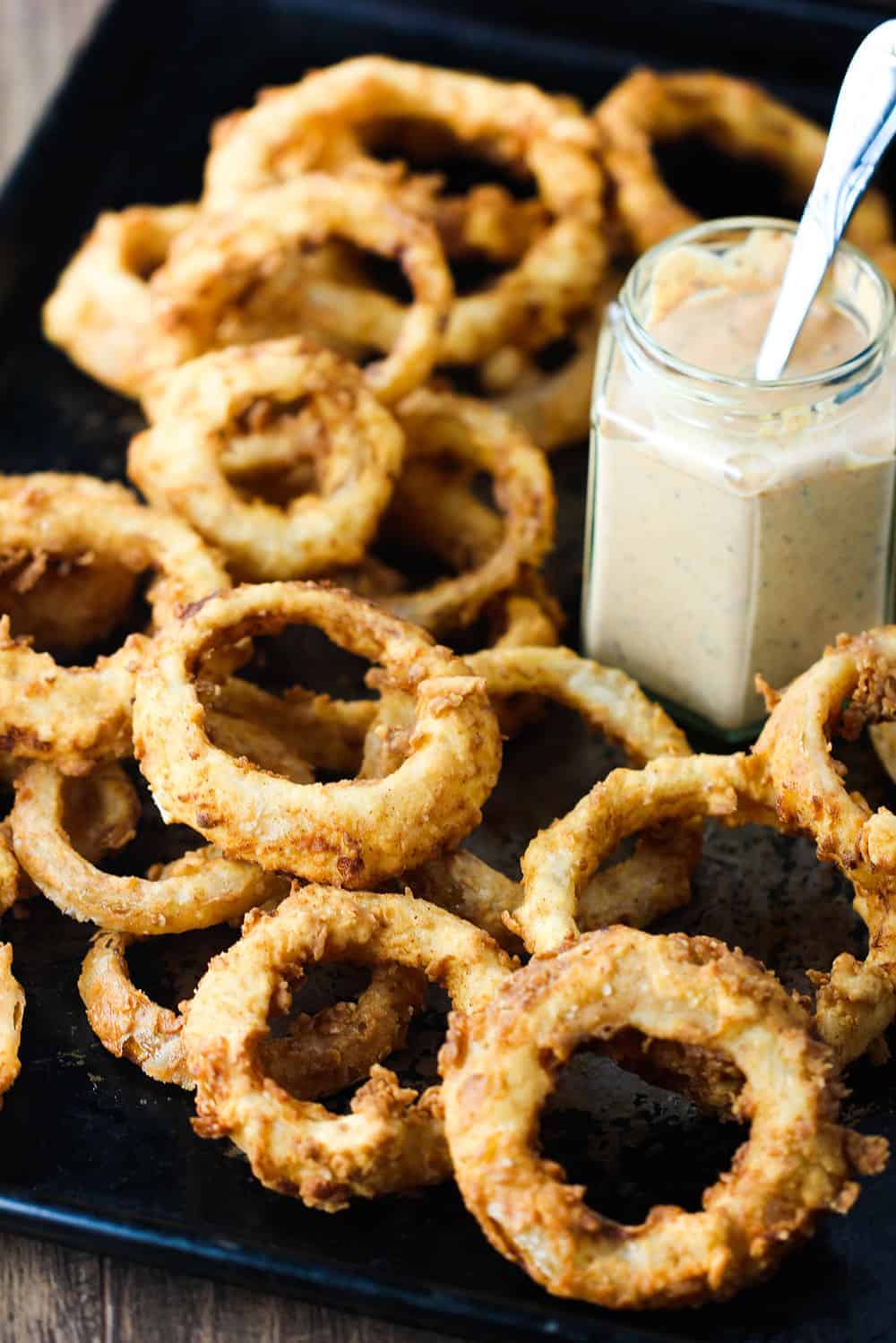 STEAK HOUSE ONION RINGS ARE EASY TO MAKE AT HOME
Marinating the rings of onion in buttermilk for at least an hour (or overnight) ensures a great texture and delicious flavor.
We usually start with two (or three) large yellow onions, but white onions work great, too.
The acid in the buttermilk helps to soften the onion.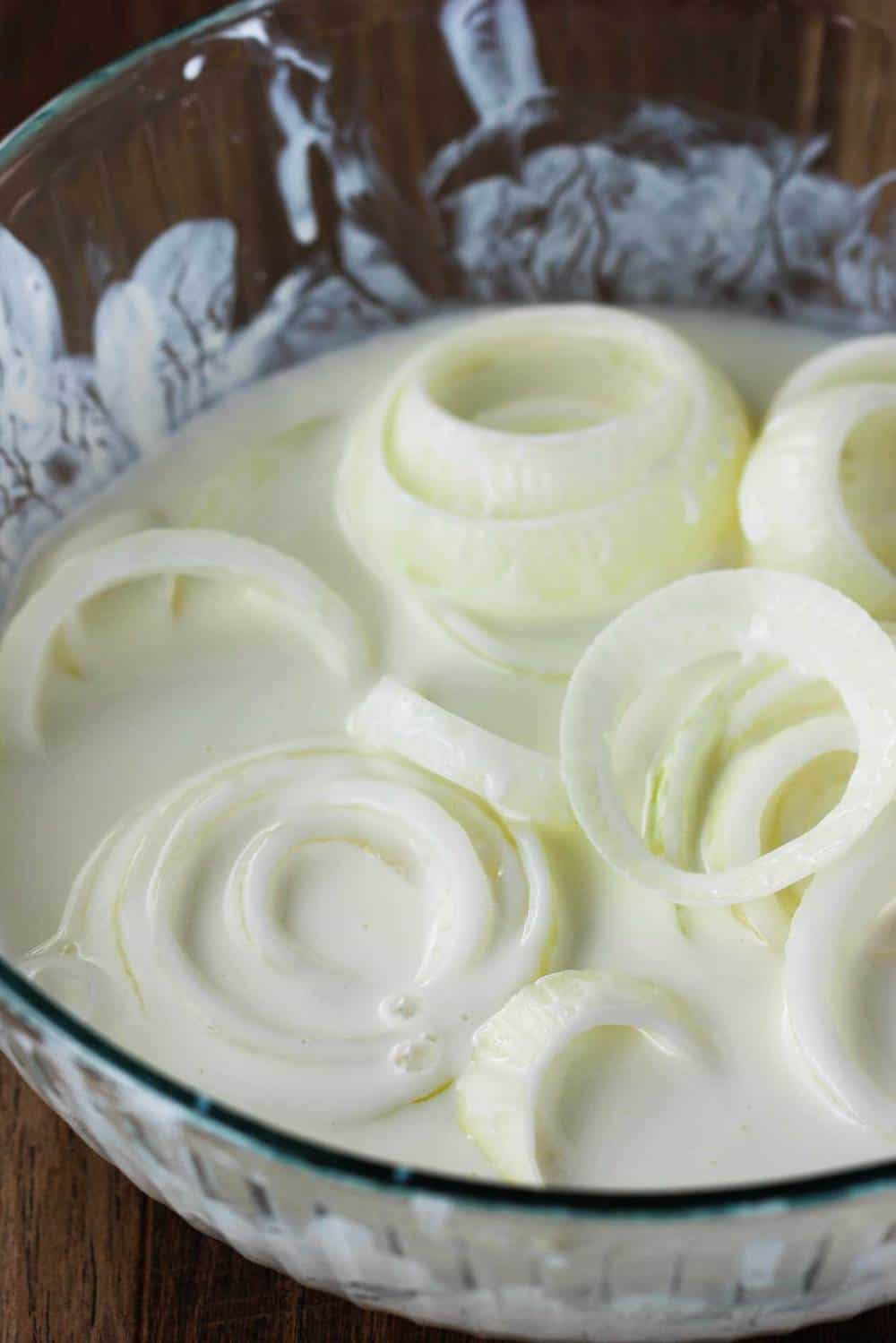 Once the onion rings have soaked for a sufficient amount of time, it's time to dredge them in the wonderfully seasoned flour.
The flour is seasoned with salt, garlic powder, smoked paprika and cayenne.
Talk about a flavor explosion!
DOUBLE DREDGE FOR EXTRA CRISPY
If you like them extra crispy, then do a double dredge.
That just means carefully taking each ring that's been coated with buttermilk, and then the flour mixture, and just repeat the process.
We love double dredge!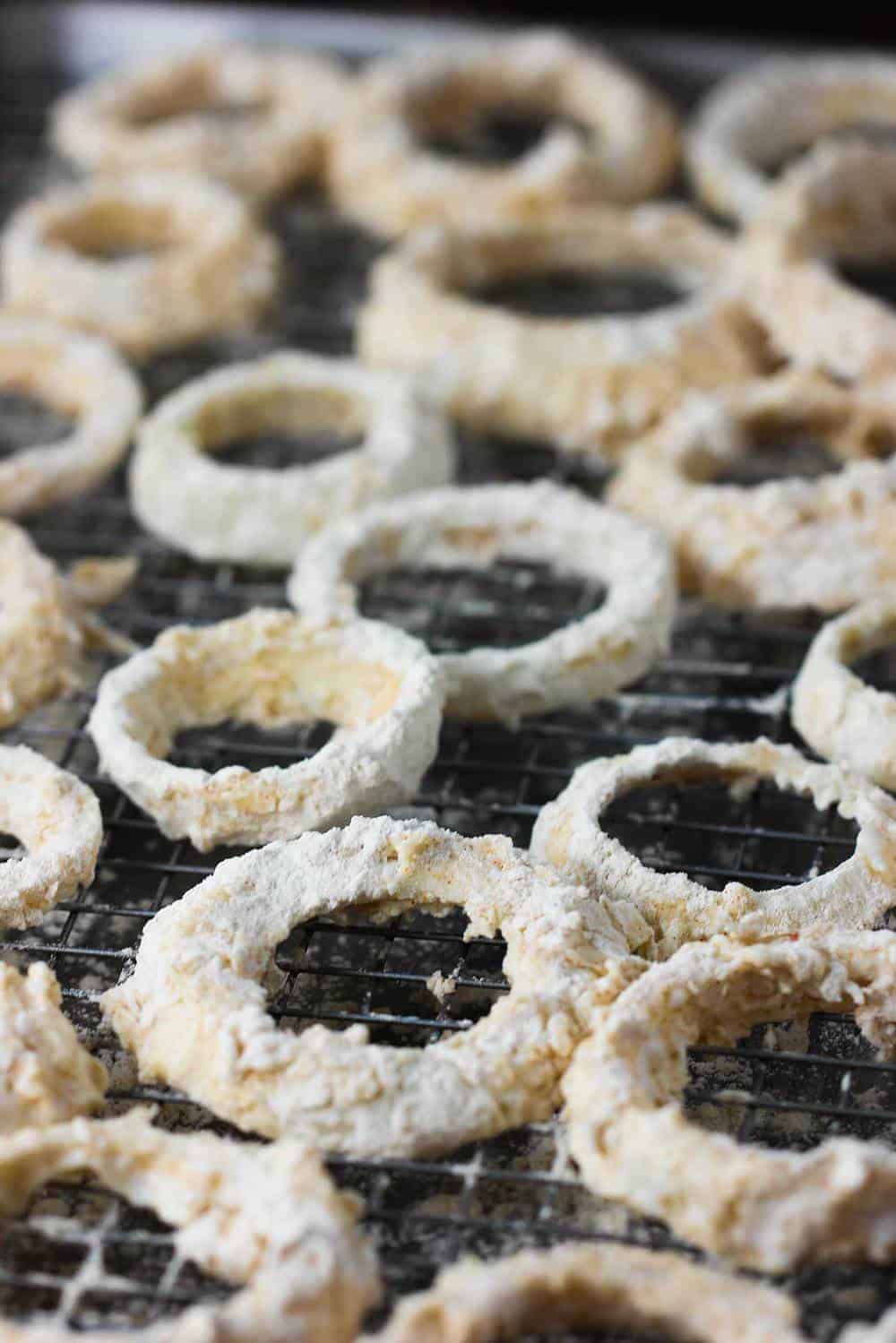 Bring a pot (or a deep fryer) of oil (vegetable works just fine) to 365° F.
Then carefully drop 5 or 6 breaded rings into the oil.
Don't overcrowd the pan. Once cooked, you can keep them in a warm oven until the entire batch is fried.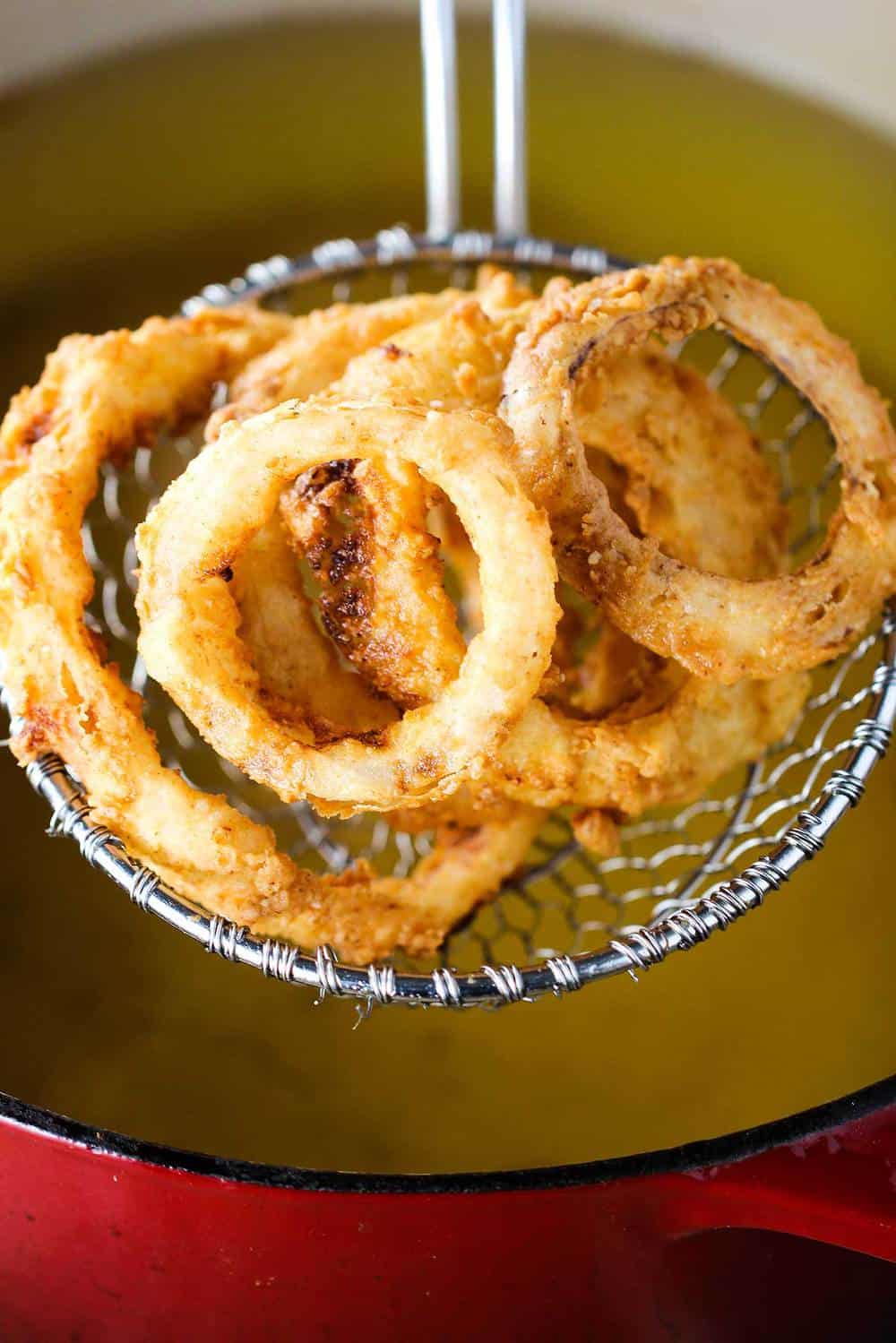 These steak house onion rings are nothing short of amazing.
They are light and so crisp, but incredibly flavorful.
They work wonderful as a side to a burger or a steak, but also as a spectacular appetizer.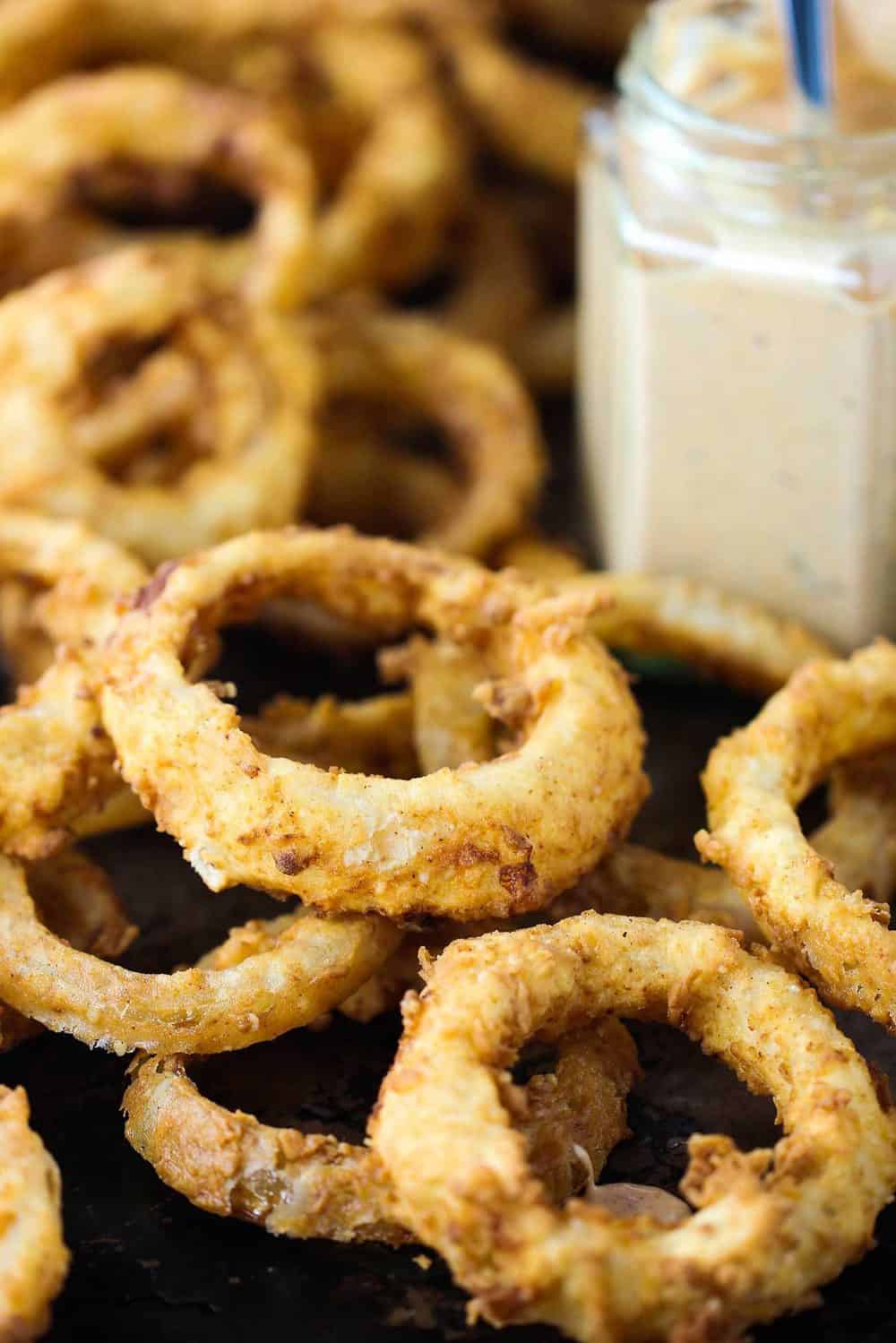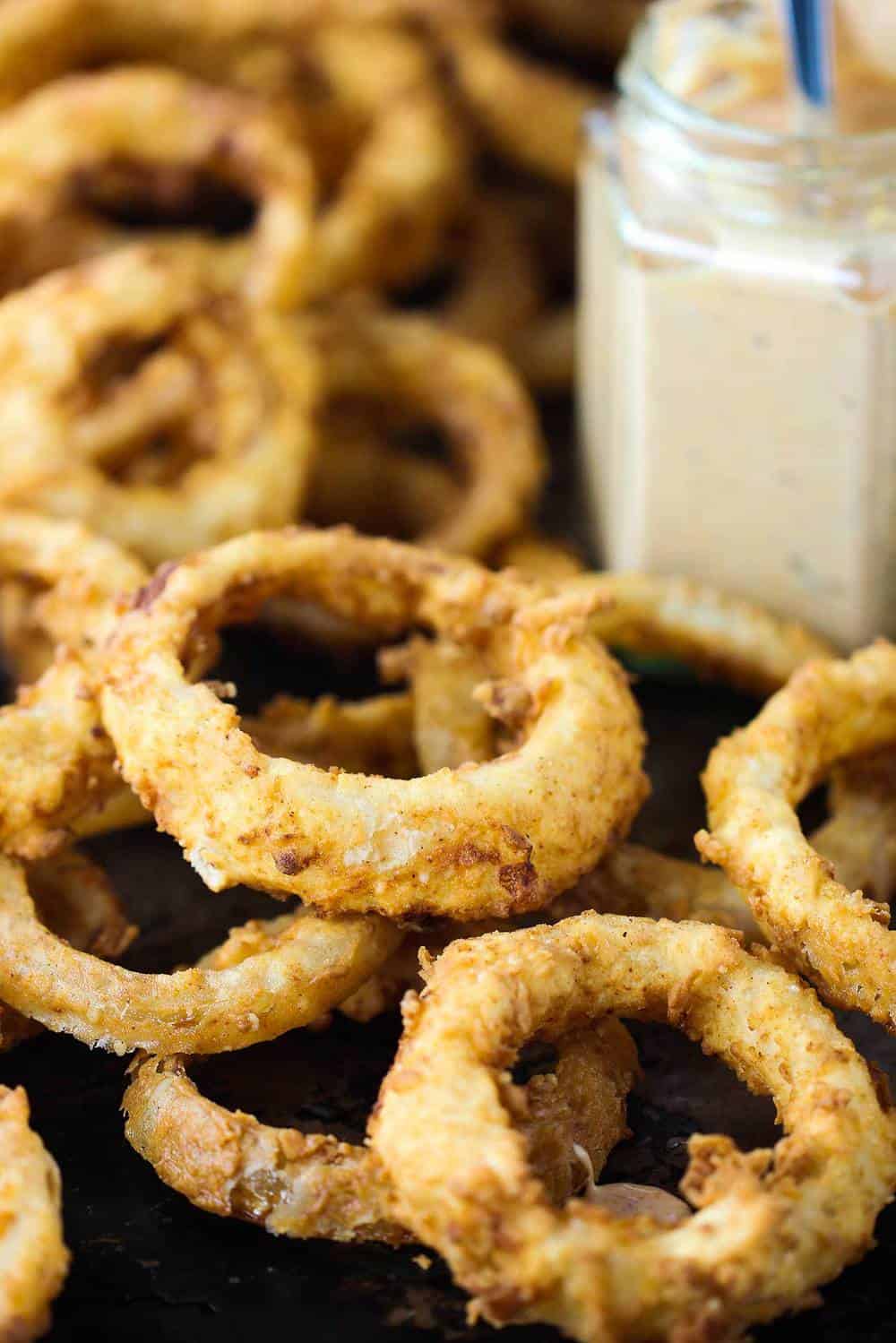 And you can trust us when we tell you these babies are great by themselves.
But…why not kick things up a bit with an incredible dipping sauce?
Our Kickin' Remoulade Sauce is the perfect condiment for the amazing rings of deliciousness.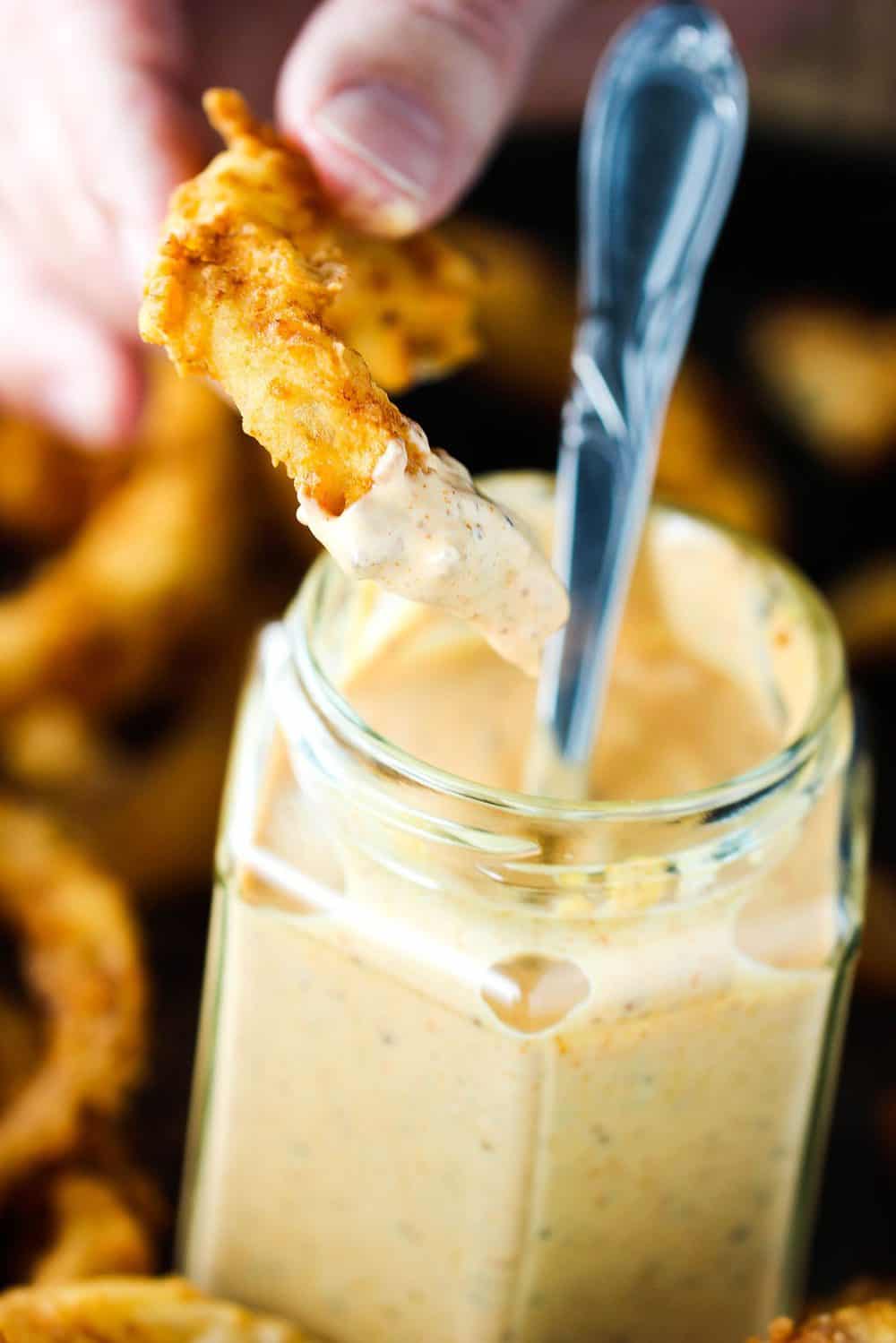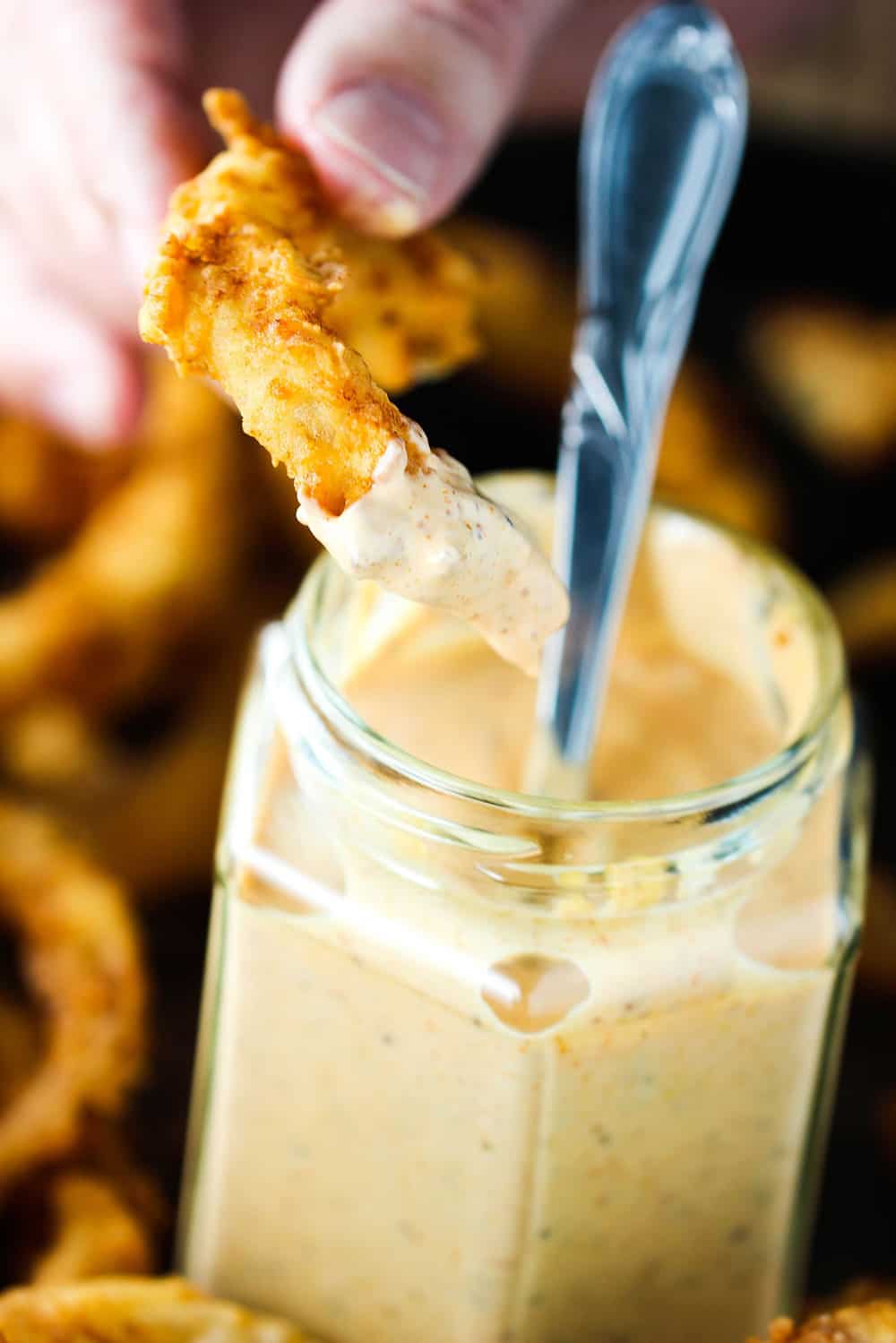 Steak House Onion Rings
These steak house onion rings are light, crispy, and packed with flavor. A true Loon Favorite! We absolutely love these Steak House Onion Rings! Perfect as a side for a burger or steak, or an killer-good appetizer!
Print
Pin
Rate
Servings: 6 people
Calories: 398kcal
Ingredients
2 or 3 large onions ends cut off, and then sliced into 1/8 inch rings
1 cup buttermilk
2 cups all-purpose flour
1 tbsp Kosher salt
2 tsp smoked paprika
1 tsp garlic powder
1/2 tsp cayenne pepper
Vegetable oil for frying
Instructions
Place onion rings into a bowl and cover with buttermilk.

Cover with plastic and place in the fridge for 1 hour (or up to 24 hours).

Stir flour, salt, paprika, garlic powder, and cayenne pepper in another large bowl.

Drain onions.

Add the onion to the flour mixture and toss to coat. If you prefer extra crispy onion rings, do a double dredge (add the coated rings back into the buttermilk then dredge in flour again).

Place oil in a large, heavy saucepan to a depth of about 3 inches, or heat your deep fryer, to 365° F.

Working in smaller batches, shake excess flour off onions, and cook in hot oil until golden brown and crispy, about 2 minutes per batch.

Transfer onions to paper towels.

Season with a little more salt (if desired) and serve immediately! Delicious served with Kickin' Remoulade!
Nutrition
Calories: 398kcal