Mahi Mahi Tacos are absolutely…AMAZING!
These tacos are layered with flavor after flavor and really are out-of-this-world delicious. And what else is so amazing about these tacos? They are on the table in about 30 minutes from start to finish!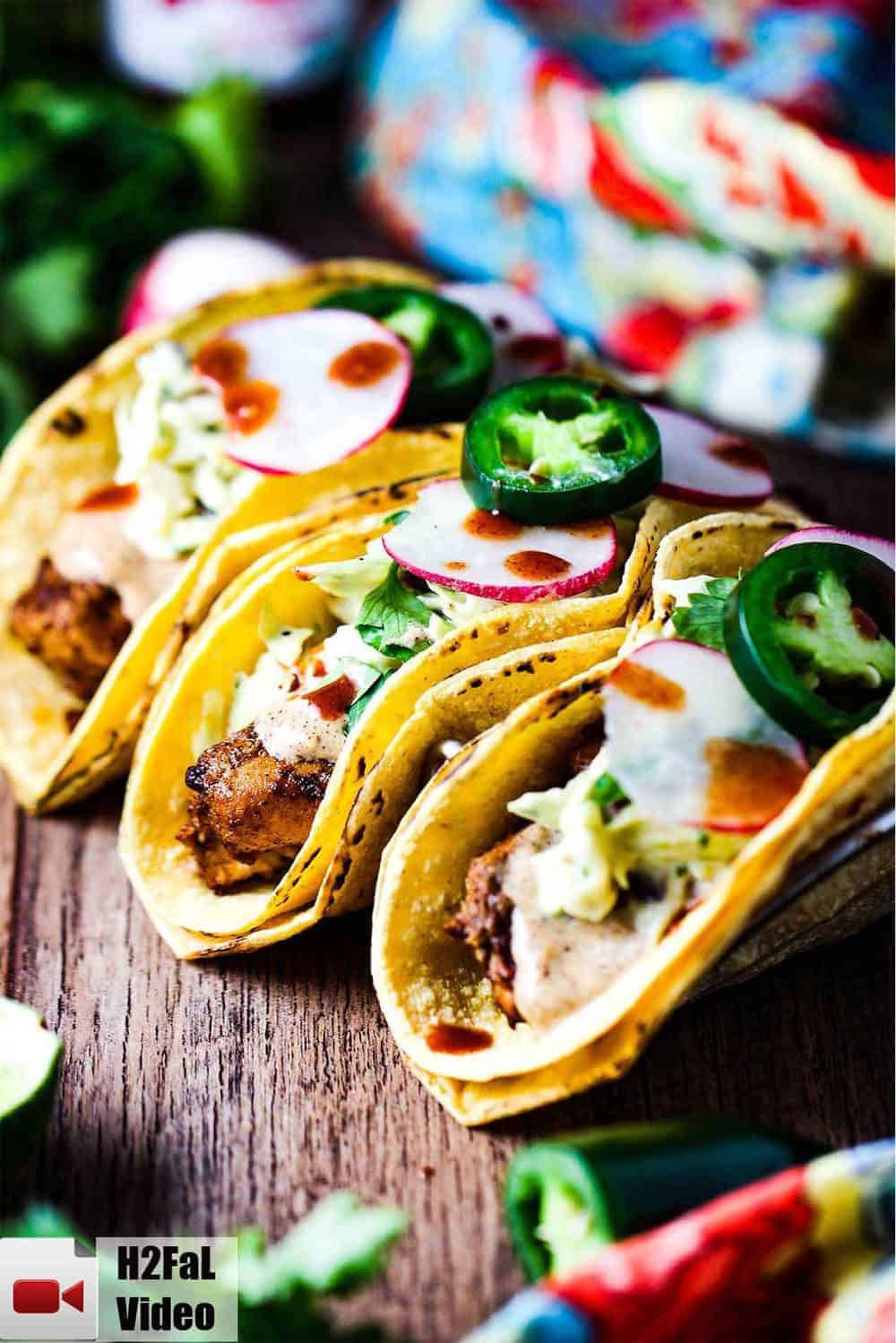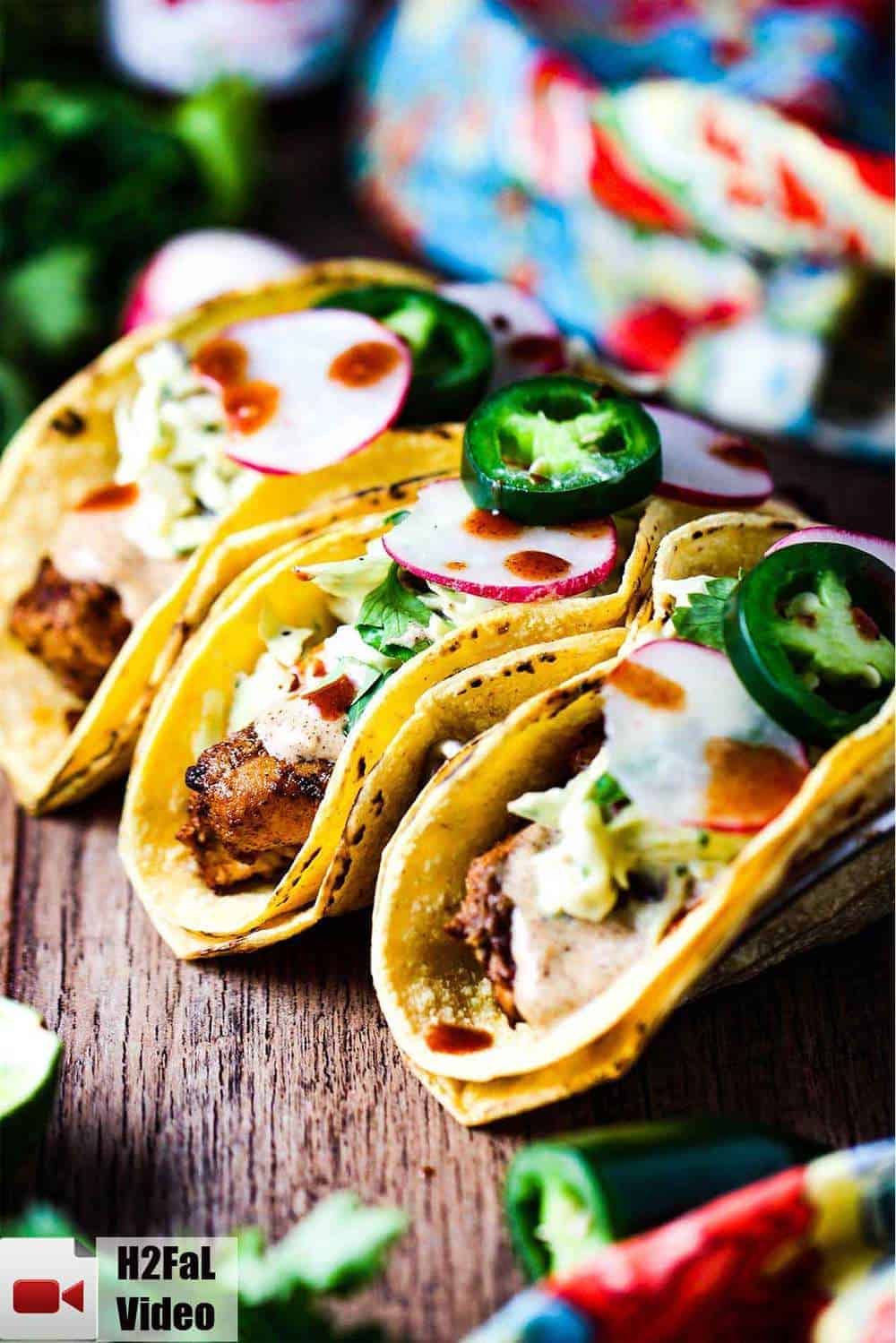 MAHI MAHI TACOS ARE EASY TO MAKE AT HOME
Fish tacos may seem like something that's not easy to achieve at home.
Trust us. These Mahi-Mahi Tacos are simple to prepare and are as good as you'll get anywhere. We love mahi-mahi because it's not fishy tasting at all. Learn more about mahi-mahi here.
Watch us show you how easy it is to prepare the Amazing Mahi-Mahi Tacos!
OTHER CLASSIC TACO RECIPES TO TRY
MAHI MAHI TACOS ARE LAYERED WITH FLAVOR
Before we get to the star ingredient of these mahi-mahi tacos, let's talk about what else makes them so great.
The Avocado Lime Slaw is incredibly fresh and bursting with flavor.
It's wonderful because the recipe gives you plenty to put on your tacos, and then have lots leftover as a side dish. Yum!
Another delicious addition to these mahi-mahi tacos is a zesty chipotle aioli.
EXPERT TIP: The chipotle chili powder adds heat, so if you want to go super mild, you can use just regular chili powder.
The fresh garlic and lime juice round out the flavor profile of the aioli perfectly.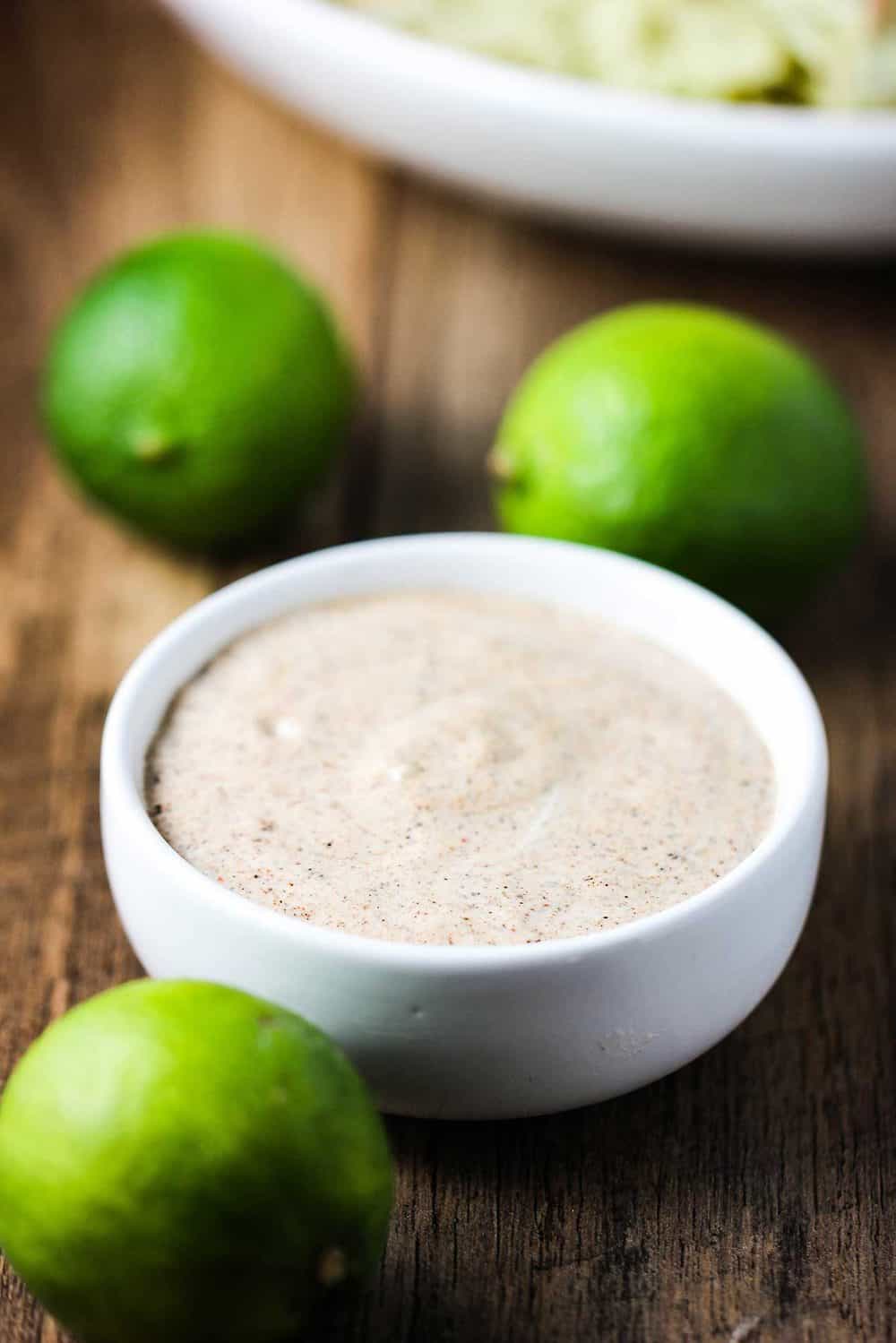 BLACKENED MAHI MAHI CAN BE GRILLED OR SEARED IN A SKILLET
Mahi Mahi is a great fish to blacken and then either grill or sear in a hot skillet.
EXPERT TIP: If grilling, a grill pan is great for keeping the fish from falling through the grates. Or, you can run skewers through the fish pieces.
The fish only need to cook for a total of 5 to 8 minutes to become cooked through and starting to flake. And the smell? Crazy good.
Finally, we love to double-stack each taco with two corn tortillas.
To bring out the amazing corn taste, even more, we either throw the tortillas on the hot grill for a few minutes or place them directly on the stove gas flame.
All you need is a few flips of the tortillas and they are good to go. You could also do this by placing them individually on a skillet. Just keep them in a pocket of foil to keep them warm as you heat them all up.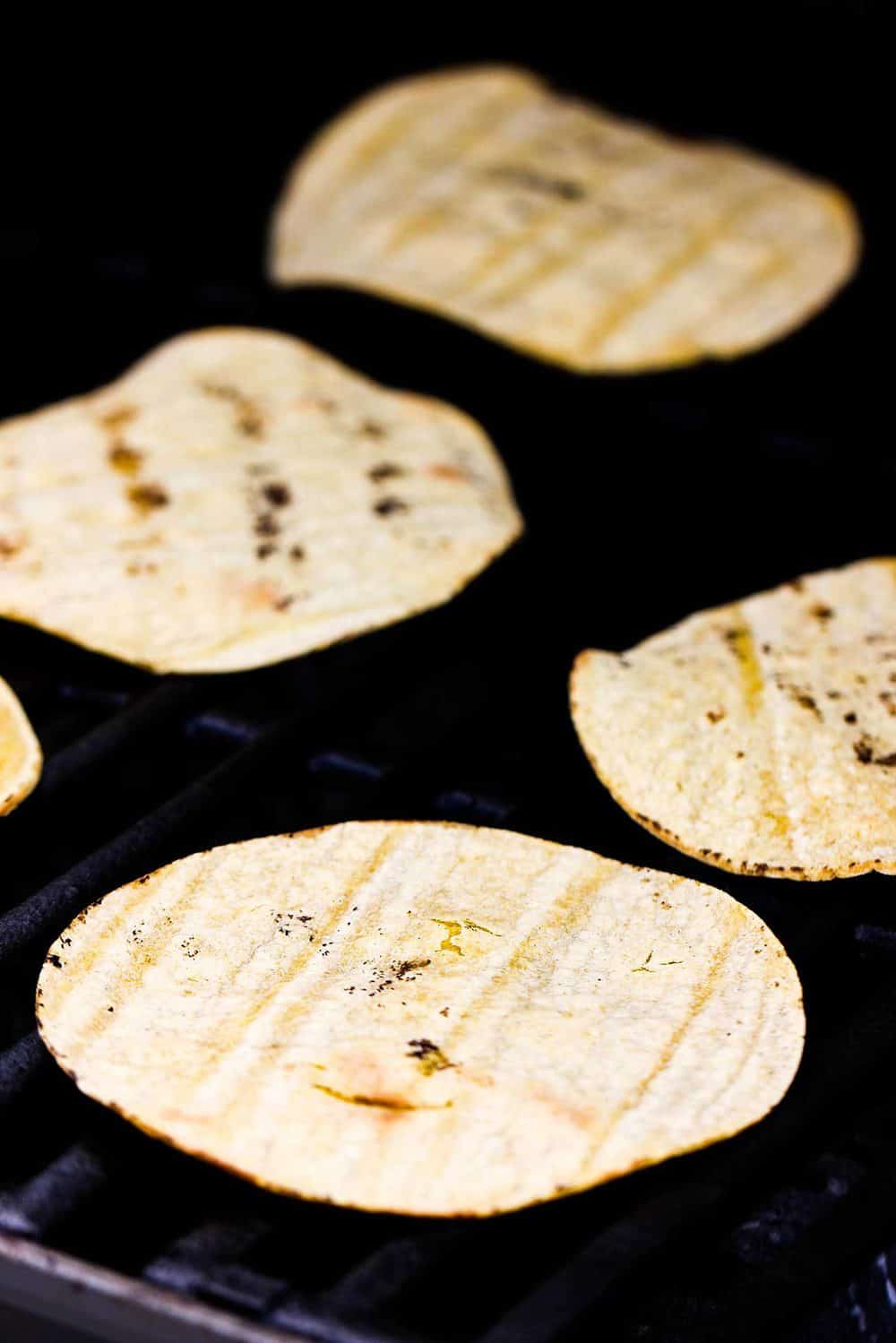 THEY COME TOGETHER QUICKLY
And it just keeps getting better, these tacos only take about 30 minutes from start to finish! We love to serve them 3 per serving on our taco holder stand!
The combination of the blackened mahi-mahi, the avocado-lime slaw, the kick of the chipotle mayo and all the fixins is out of this world.
These mahi-mahi tacos have become one of our favorite go-to tacos recipes. Once you try them, you'll most likely feel the same way!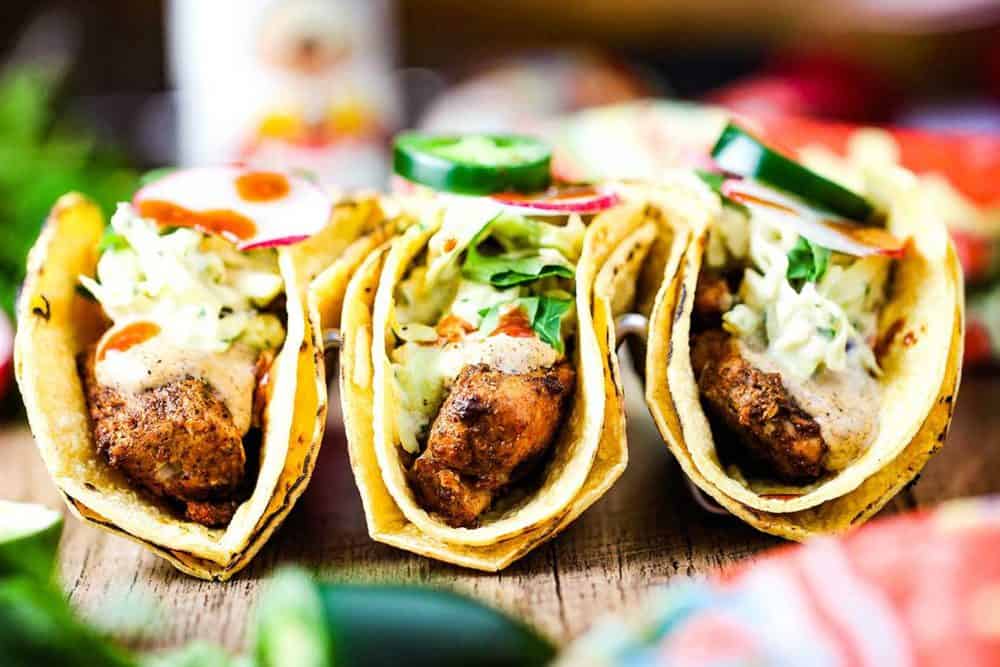 Amazing Mahi Mahi Tacos
These Mahi Mahi Tacos are now a staple in our house. So flavorful and easy to make. You can grill them, sear them, or bake them. The avocado-lime slaw is sublime. And the chipotle-aioli gives a wonderful kick. Incredible flavor!!
Print
Pin
Rate
Servings: 4 people
Calories: 368kcal
Equipment
Gas, Charcoal, or Electric Grill. Or a stovetop grill pan.
Ingredients
FOR THE AVOCADO-LIME SLAW
½ cup mayonnaise
1 avocado
½ cup cilantro roughly chopped
2 garlic cloves
3 tbsp lime juice
4 tbsp jalapeños pickled, chopped. Or 1 fresh jalapeno: cored and seeded
½ tsp Kosher salt
¼ tsp freshly ground black pepper
12 oz. slaw mix
FOR THE CHIPOTLE AIOLI
1/2 cup mayonnaise
2 cloves cloves minced
1 tsp lime juice
1/2 tsp chipotle chile powder add more for increased heat, or regular chil powder for less heat
1 pinch Kosher salt and freshly ground black pepper
FOR THE MAHI MAHI
1 ¼ lb mahi mahi fillets skinless, cut into 12 pieces (can aslo use also use fresh tuna steak)
4 tsp chili powder
1 tsp ground cumin
1 tsp smoked paprika
1 tsp onion powder
1 tsp garlic powder
1 tsp Kosher salt
2 tbsp lime juice
3 tbsp olive oil
½ tsp freshly ground black pepper
12 corn tortillas
½ cup fresh cilantro for garnish
½ cup thinly sliced radish for garnish
2 fresh jalapenos thinly sliced, for garnish
Hot sauce such as Tobasco, for garnish
Instructions
MAKE THE AVOCADO-LIME SLAW
In a food processor, add the mayo, avocado, cilantro, garlic, lime juice, jalapenos, salt and pepper and pulse until completely blended.

Add the mayo-avocado mixture to the slaw and stir until fully coated. Set aside.
MAKE THE CHIPOTLE AIOLI
Stir together the mayo, garlic, lime juice, chili powder, salt and pepper. Set aside.
PREPARE THE MAHI MAHI
Make the marinade by mixing together in a medium bowl the chili powder, cumin, paprika, onion and garlic powders, salt, pepper, lime juice, and olive oil.

Add the mahi mahi and turn to coat. Let rest for 15 minutes.

Meanwhile, heat your grill to high heat.

Place fish in a grill pan or cast iron skillet. Or, thread each fish piece with a skewer. Discard the left-over marinade.

Grill the fish, carefully turning once, until opaque and just cooked through, about 8 minutes total.

Heat the tortillas directly on the grill rack, or place in aluminum foil, and heat on the grill.

Place the cooked fish in the warmed tortilla and top with slaw, fresh cilantro, radishes, chipotle aioli, sliced jalapenos, and hot sauce.
Notes
Use your favorite type of chili powder. We like chipotle chili powder, but this will definitely add some heat. If you're looking for low to no spicy heat, then use regular chili powder. If you can't find mahi-mahi, you can use quality tuna steak, or swordfish, or cod. We highly recommend placing the marinating fish into a grill pan, or a cast iron skillet before grilling. Alternatively, you could can thread the fish pieces onto skewers. If warming the tortillas on the grill, don't leave them on too long, otherwise the heat will dry them out. You can place them in a foil packet and warm them that way. You won't get the nice charred grill marks, but they won't dry out that way.
Nutrition
Calories: 368kcal | Carbohydrates: 50g | Protein: 34g | Fat: 14g | Saturated Fat: 2g | Cholesterol: 127mg | Sodium: 968mg | Potassium: 1239mg | Fiber: 12g | Sugar: 5g | Vitamin A: 1765IU | Vitamin C: 44mg | Calcium: 144mg | Iron: 4mg