So, I post a lot of TexMex dishes on H2FaLoon.   Well, here's a CalMex dish that is nothing short of amazing.   You can get some of the best fish tacos in the world in San Diego, CA…but if you can't make it there…try these, you'll be glad you did.  This version uses nice and crispy cod, but you can easily substitute grilled mahi mahi, or any other fish.   Make the delicious sauce, which is a copy of famous Rubio's restaurant in San Diego.   Garnish with avocado, shredded cabbage and radicchio, pico de gallo, and hot sauce.  Serve with homemade corn tortillas, and you'll be jumping in the air for joy at how good these things are.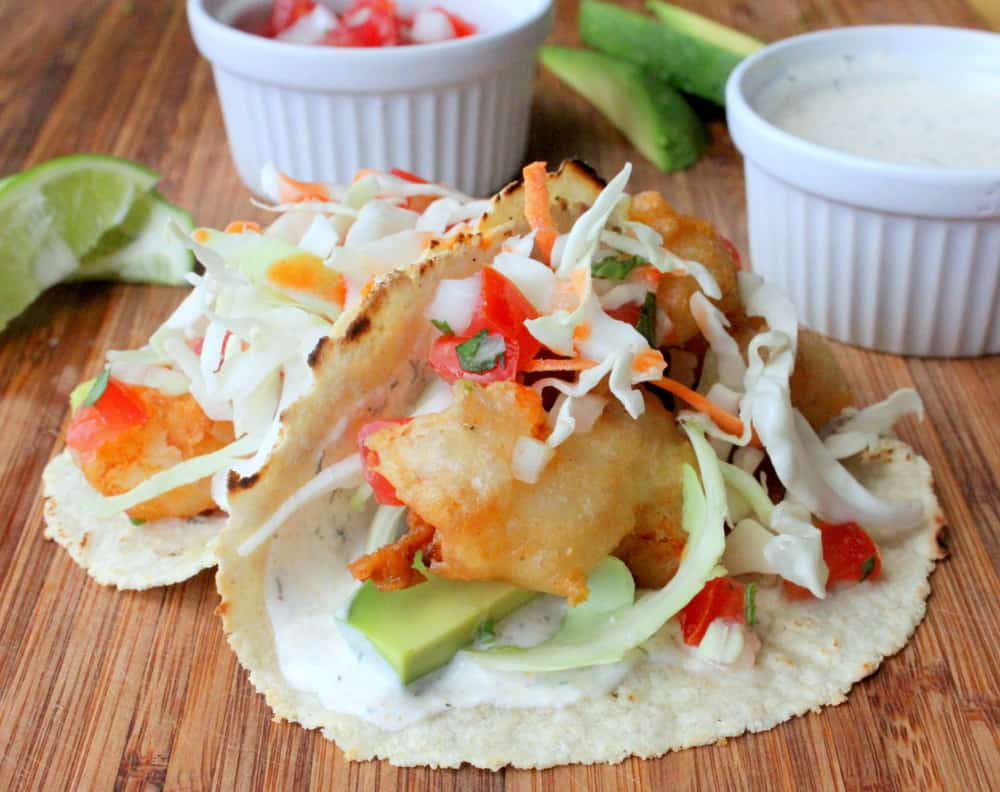 Baja Fish Tacos
These Baja Fish Tacos are the bomb! This version uses fresh cod, quickly fried, for a nice yummy crunch. Serve with avocado,
fresh pico
, cabbage, homemade tortillas, and hot sauce. Oh wow, these are good.
Print
Pin
Rate
Servings: 6 people
Calories: 314kcal
Ingredients
1 quart vegetable oil
12 to 16 corn tortillas
1 cup all-purpose flour
1 tsp salt
1/2 tsp garlic salt
1/2 tsp Adobo all-purpose seasoning
1/2 tsp dry mustard
1 cup beer not dark
1 lb cod fillet cut into bite-size pieces
FOR THE BAJA SAUCE
1/2 cup plain yogurt
1/2 cup quality mayonnaise
1/2 tsp cumin
1/2 tsp dried dill
1/2 tsp Cayenne pepper
juice of 1 lime
1/4 tsp salt or to taste
GARNISHES
Shredded cabbage or lettuce
Avocado slices
Lime wedges
Instructions
Mix together the ingredients for the Baja sauce and place in fridge for at least 1 hour.

Heat deep fryer, or 1 inch of oil in a 10-inch heavy pot (2 to 3 inches deep). Bring temp to 350 F.

Meanwhile, wrap tortillas in foil and heat in oven for about 15 minutes at 350° F.

Add all the ingredients for sauce in a bowl and mix. Place in fridge until ready to assemble the tacos.

Stir together the flour and seasonings in a large bowl.

Stir in the beer (batter will be thick).

Gently stir fish into batter to coat.

Lift each piece of fish out of the batter, letting excess drip back into the bowl.

Fry fish in batches, turning once or twice, until nice and golden, about 5 minutes.

Drain on a rack.

Assemble tacos with the warm tortillas, smeared with the Baja sauce, fish, pico de gallo, cabbage, and a squeeze of fresh lime. Add hot sauce to liking.
Nutrition
Calories: 314kcal
link