Growing up in Texas, and living here now, we do a lot of Tex-Mex.
Well, here's a Cal-Mex dish that is nothing short of amazing. You can get some of the best fish tacos in the world in San Diego, CA. But, if you can't make it there…try these, you'll be glad you did. This version uses nice and crispy cod, but you can easily substitute grilled mahi-mahi or any other fish. Make the delicious sauce, which is similar to the famous Rubio's restaurant in San Diego.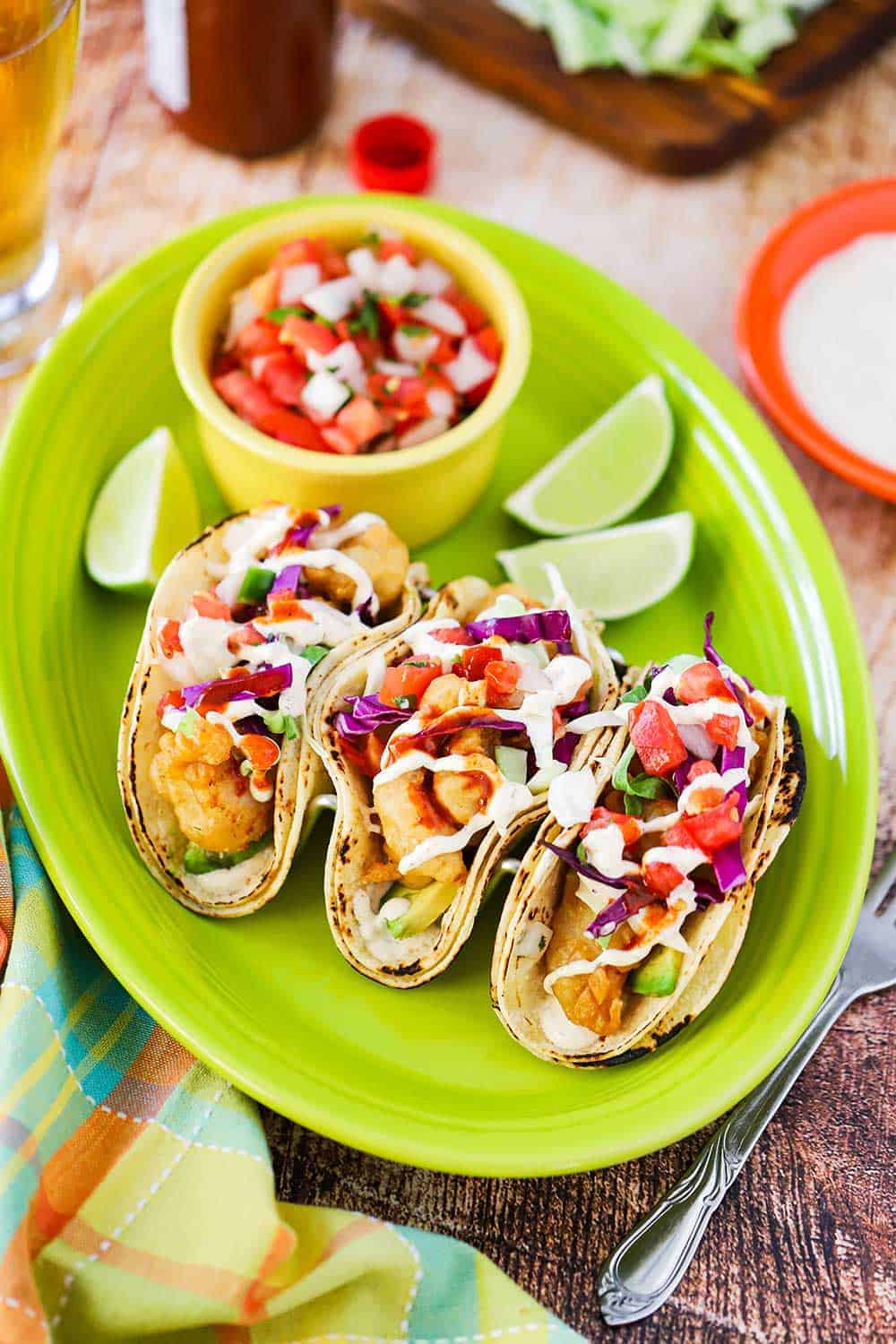 As mentioned, we've modeled these Baja Fish Tacos after Rubio's epic fish taco restaurant in San Diego.
These tacos are as fun to prepare as they are to devour!
Make the Sauce Ahead of Time
You've heard the saying, the sum is greater than the parts.
That concept is 100% accurate for these amazing tacos. Each component complements the others perfectly
The sauce is creamy, refreshing, and the perfect match to the crunchy fish and other condiments.
EXPERT TIP: The sauce can (and should be) prepared at least an hour in advance. You'll want it to chill in the refrigerator so it thickens slightly, but mostly to allow all the flavors to meld. The sauce can be made up to 2 days in advance.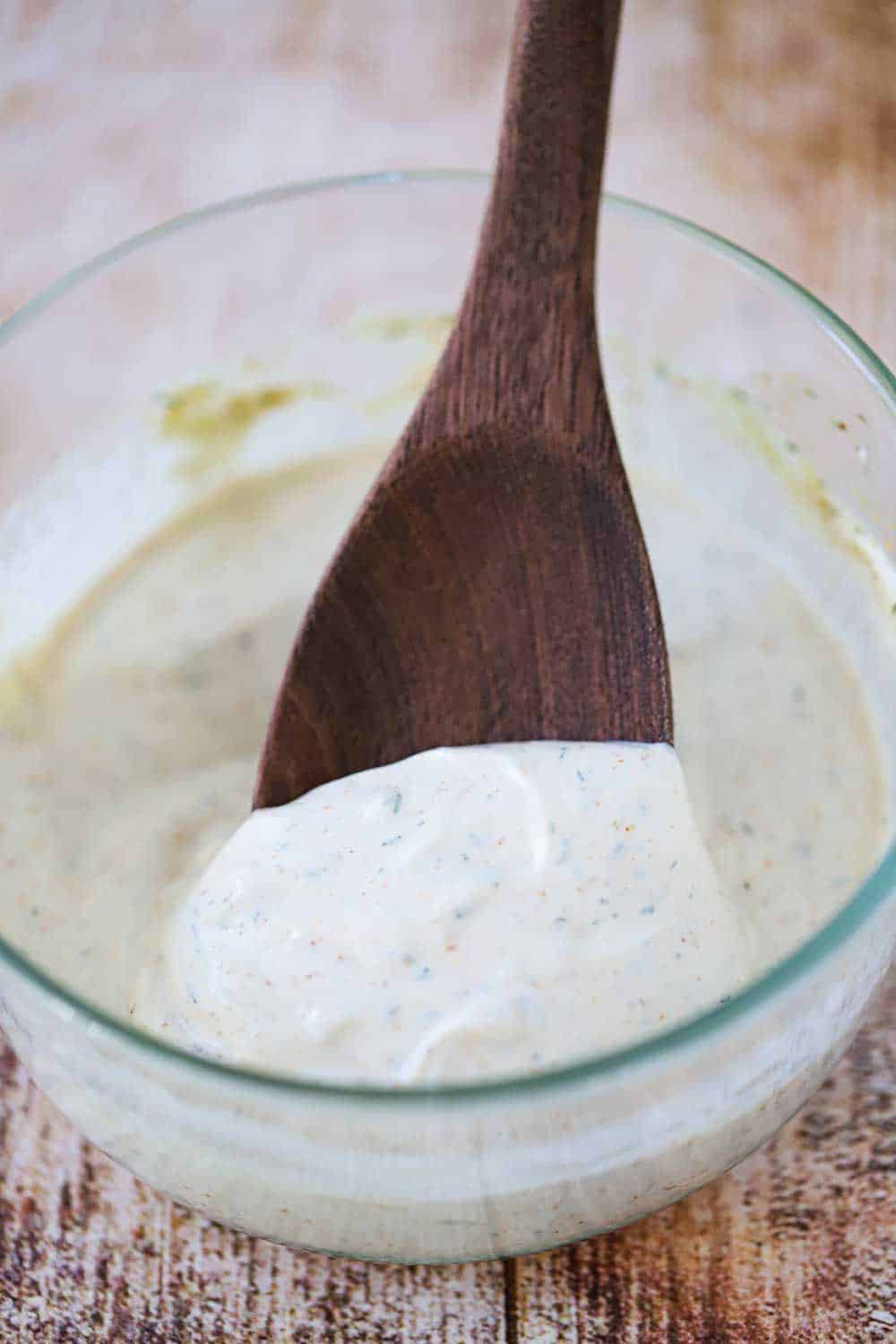 Creating the Perfect Beer Batter
A beer batter is ideal for Baja fish tacos.
It all starts with flour that's seasoned with garlic powder, dry mustard, Adobo seasoning, and salt
EXPERT TIP: You really can't go wrong in choosing the beer for the batter. We usually go with an amber beer, but a blonde or even a lager works well, too. We don't recommend a dark stout or a flavored beer, as that will change the taste too much. Non-alcohol beer can be used, too.
What Fish to Select
We think cod is the perfect fish for these tacos.
Sturdy, yet still flaky, and not "fishy" tasting at all. This is the fish commonly used for traditional Fish and Chips.
EXPERT TIP: Suitable substitutes for cod include grouper, striped bass, mahi-mahi, or pollack. Be sure to cut the fish into 1-inch, bite-sized pieces before placing in the prepared batter.
Now, it's time to quickly fry the fish.
You can use a deep fryer or a sturdy skillet (i.e., cast-iron skillet) or pot will with a couple of inches of oil.
EXPERT TIP: A candy thermometer helps you know you've reached the ideal frying temperature of 365°F, but you can also do a quick test by tossing in a small piece of bread. If it browns within about 60 to 90 seconds, you're set. It browns too quickly, the oil is too hot. If it doesn't brown after about 1 minute, the oil is not hot enough.
The fish is ready once the batter has turned a golden brown color. You'll most likely need to fry the fish in two or three batches.
What to Serve with the Tacos
As mentioned before, the garnishes are really what put these Baja Fish Tacos over the top.
Of course, the Baja Sauce is key.
But when you add fresh avocado, shredded red and green cabbage, pico de gallo, and limes, you will have created a taco masterpiece.
EXPERT TIP: We love using white corn tortillas for the tacos. We like to char them just a little over the flame from a gas stove, or grill. Don't char them too much, or they will dry out. Place the tortillas in foil and keep warm in a low-temp oven (250°F), this will keep them warm and pliable for serving. We also use two tortillas per taco. Flour tortillas can be substituted, as well.
Oh, and we think a couple of dashes of hot sauce are the perfect final touch.
These are wonderful to serve at a taco party.
Let folks build their own fish taco! Fun and delicious at the same time!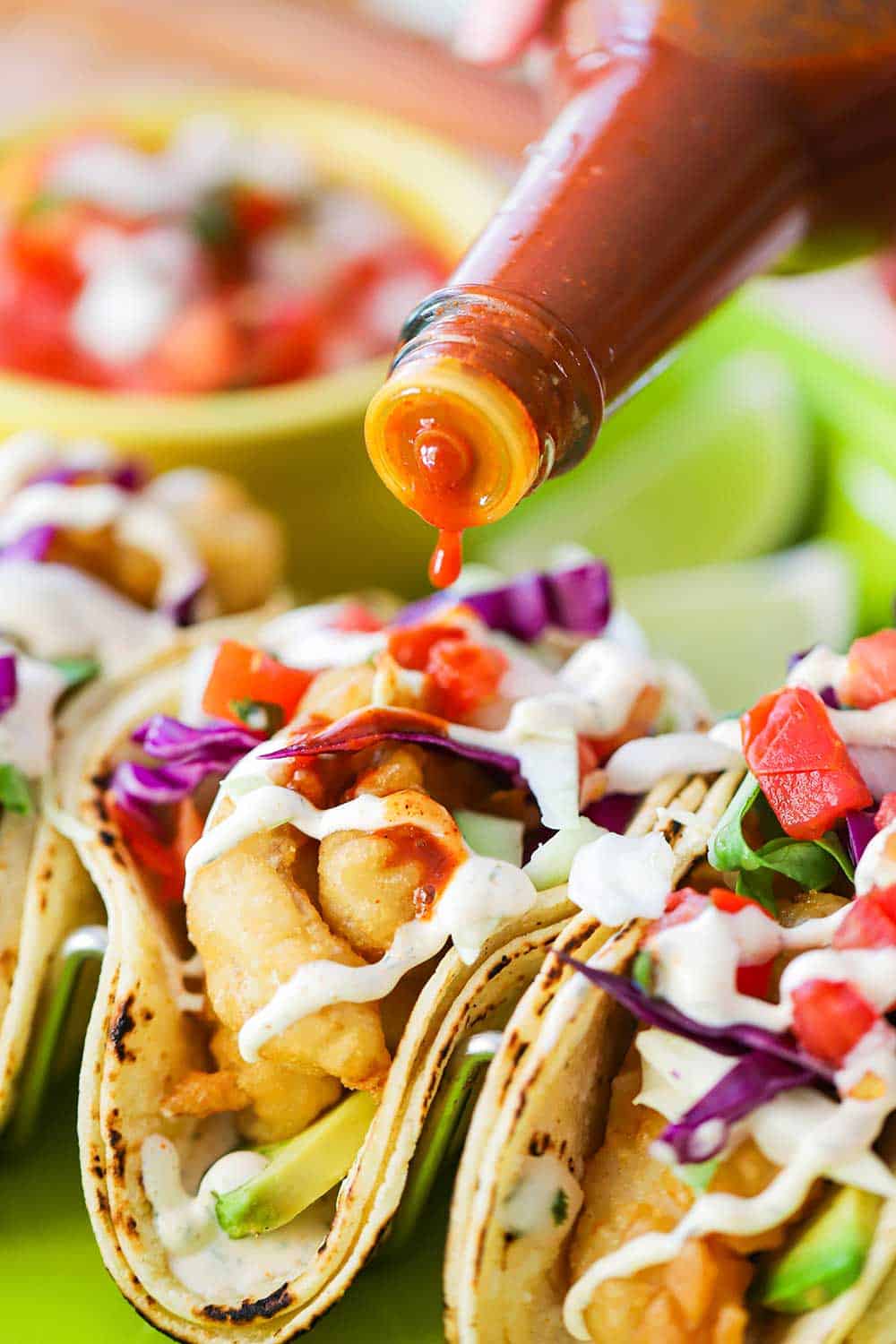 The Best Cal-Mex Taco
Although we do love our good ole Tex-Mex Beef Tacos, we have to say these tacos are truly something special.
The flavor combination is just spot-on, and the taste combination of the crunchy fish with the creamy Baja sauce and other garnishes is taco perfection.
If you're looking for a non-fried fish taco, check out our Amazing Mahi-Mahi Tacos!
But, in the meantime, look at these babies!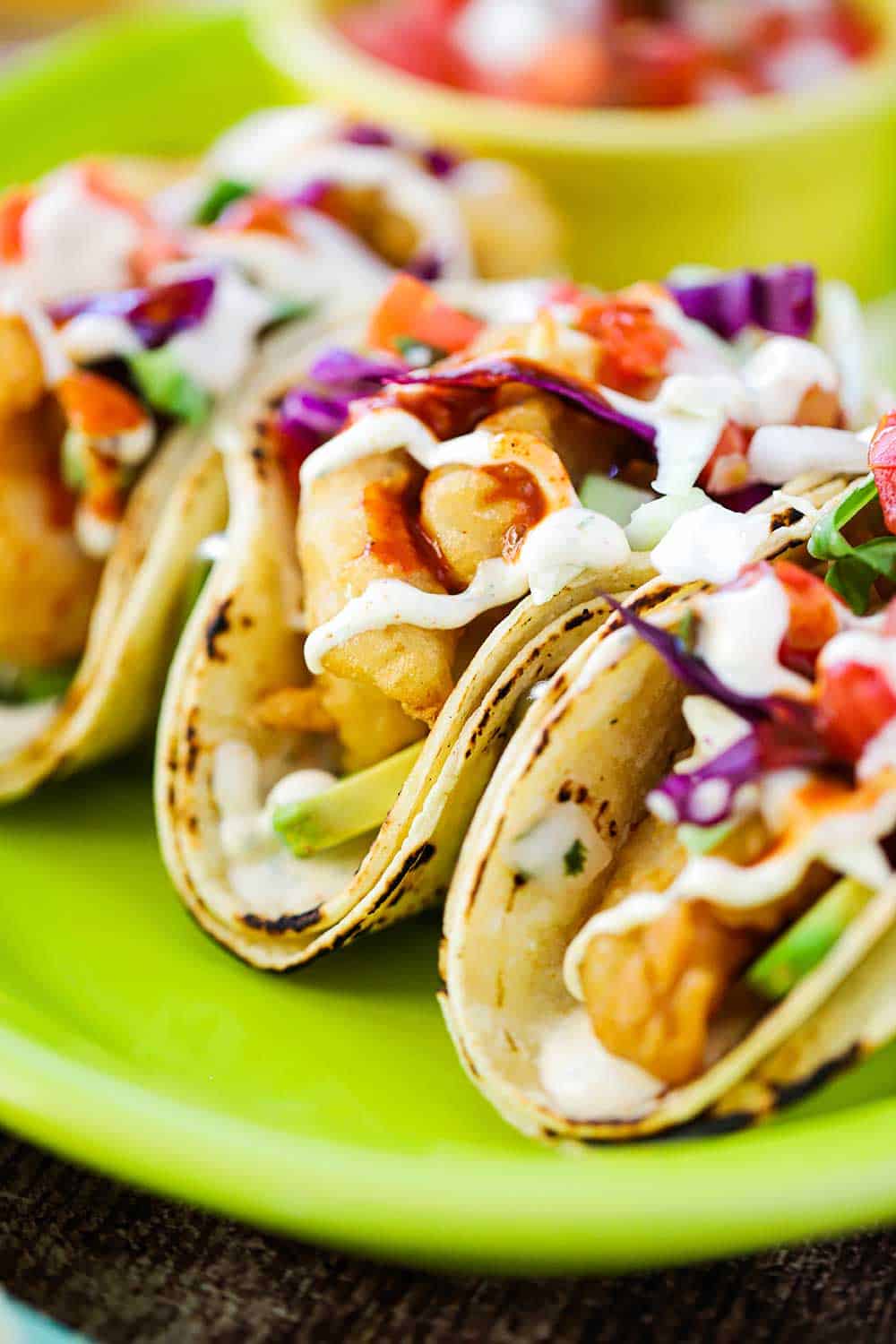 The Loon says that this is his favorite taco of all time.
With just one bite, and you very well may have the exact same reaction.
They really are that delicious. Want a bite?
Ready to make the best fish tacos this side of Baja? Go for it!
And when you do, be sure to take a photo, post it on Instagram, and tag @howtofeedaloon and hashtag #howtofeedaloon!
Baja Fish Tacos
These Baja Fish Tacos are the bomb! This version uses fresh cod, quickly fried, for a nice yummy crunch. Serve with avocado, pico de gallo, cabbage, homemade tortillas, and hot sauce. Oh wow, these are good.
Print
Pin
Rate
Servings: 4 people
Calories: 610kcal
Equipment
Deep fryer, of sturdy skillet/pot with 1 to 2 inches of vegetable oil
Ingredients
FOR THE BAJA SAUCE
½ cup plain yogurt
½ cup mayonnaise
½ tsp cumin ground
½ tsp dill dried
½ tsp Cayenne pepper
1 tbsp lime juice from 1 lime
¼ tsp salt or to taste
FOR THE TACOS
vegetable oil for frying
12 corn tortillas
1 cup all-purpose flour
1 tsp salt
½ tsp garlic powder
½ tsp Adobo all-purpose seasoning
½ tsp dry mustard
1 cup beer not dark
1 lb cod fillet cut into bite-size pieces
GARNISHES
2 cups cabbage shredded, red and green, or lettuce
1 avocado sliced
Lime wedges
hot sauce optional
Instructions
Mix together the ingredients for the Baja sauce and place in the fridge for at least 1 hour.

Heat deep-fryer, or 1 to 2 inches of oil in a 10-inch heavy pot (2 to 3 inches deep). Bring temp to 365°F.

Meanwhile, use a pair of tongs to slightly char the tortillas over a glass flame. Then wrap them in foil and keep warm in the oven at 250°F. If you don't have a gas flame, just place in foil and warm them in the oven.

Stir together the flour with the salt, garlic powder, all-purpose seasoning, and dry mustard in a bowl. Stir in the beer until fully incorporated. The batter will be thick.

Gently stir fish into the batter to coat.

Fry fish in batches, turning once or twice, until nice and golden, about 5 minutes. Drain on a plate lined with paper towels.

Assemble tacos with the warm tortillas, smeared with the Baja sauce, a slice of avocado, fried fish, pico de gallo, cabbage, and a squeeze of fresh lime. Add hot sauce to liking.
Notes
The Baja sauce can be made up to 2 days in advance and kept in an air-tight container in the fridge. We use an amber beer, but you go with whatever is your favorite. Blonde and lager beers work well. We don't recommend going with a dark stout or flavored beer. Non-alcoholic beer will work, too. Corn tortillas are traditional for Baja fish tacos, and we like going with white corn. But yellow corn is delicious, too. And if you prefer flour tortillas, they'll be just fine, as well. Although we do recommend serving these soon after the fish has been fried, however, you can keep them warm on a baking rack over a baking sheet in a low temp oven (250°F) for an hour or so.
Nutrition
Calories: 610kcal | Carbohydrates: 70g | Protein: 31g | Fat: 24g | Saturated Fat: 4g | Cholesterol: 65mg | Sodium: 1029mg | Potassium: 1013mg | Fiber: 10g | Sugar: 4g | Vitamin A: 295IU | Vitamin C: 20mg | Calcium: 143mg | Iron: 4mg
POST UPDATE: This recipe was originally posted in July 2014, but was updated with improved tweaks to the recipe, new tips and photography, and a fabulous new video in August 2020!