Tortillas filled with savory meat or vegetables, also known as tacos, rank as one of the all-time favorite dishes in the world.
Growing up in Texas, eating Tex-Mex was literally a way of life! We love all the classics like cheese enchiladas with ancho sauce and chicken quesadillas. But these crispy savory tacos are at the top of our list. They are fun to make and simply incredible in taste and texture!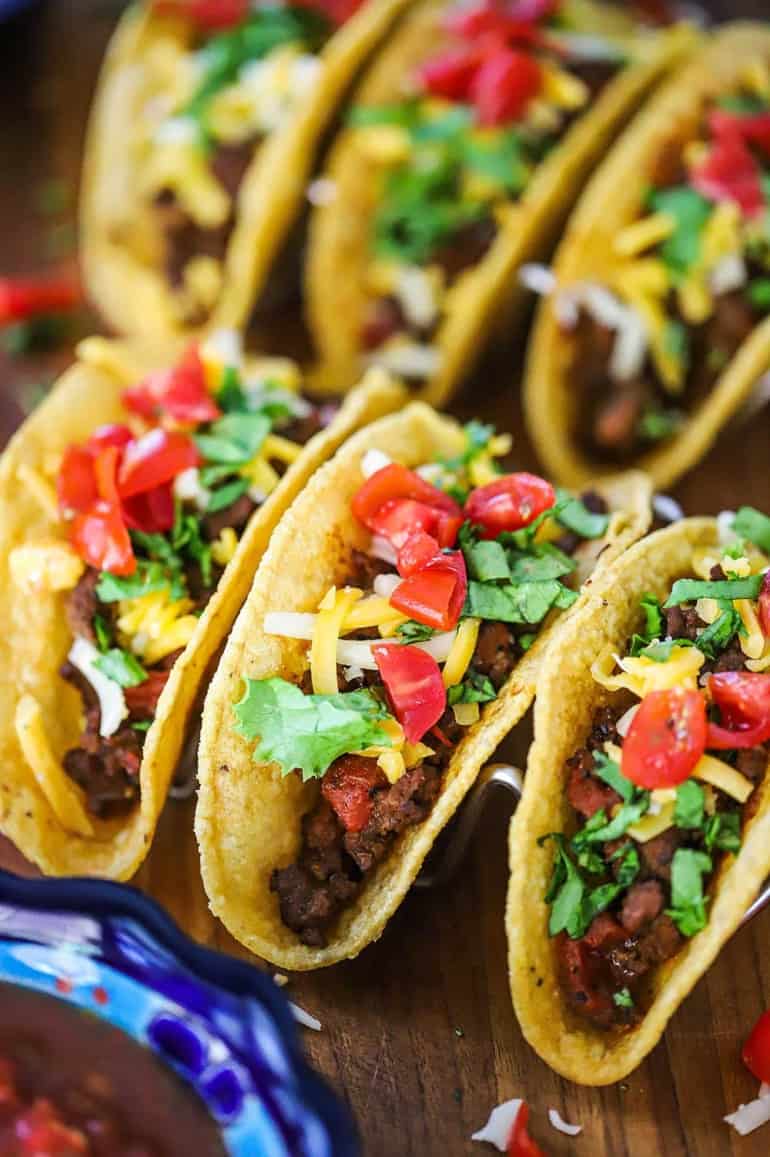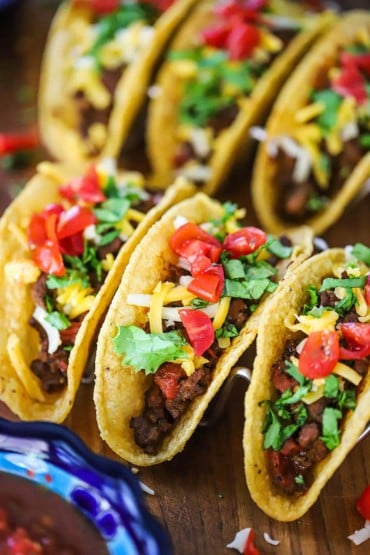 How To Make Tex-Mex Beef Tacos
Probably the two most important components of the classic Tex-Mex taco are the filling and the crispy taco shells.
The meat filling should be deeply flavorful and very juicy. The shells should be crisp, but not so crisp they shatter after the first bite.
NOTE: If you liked this video, please subscribe to our YouTube channel. Remember to click the little 'bell' icon so you'll never miss a new video. Thank you!
The Ingredients You Will Need
It may seem like there are a lot of seasonings in the meat sauce. We've tested and tested and found the combination of these spices with these quantities delivers a true beef taco filling that is about as good as we've ever had.
Here's What You'll Need to Have on Hand
Oil – Vegetable, or olive (for sautéing)
Onion – Chopped
Garlic – Minced
Ground beef – 85% lean is great, but you'll need to drain off excess grease
Chili powder – We order ours from Pendery's
Cumin – Ground
Oregano – preferably dried Mexican, but regular dried will work, too
Onion powder
Garlic powder
Salt – Kosher
Pepper – Black, ground
Cayenne – A pinch for a little kick, more for added heat (spice)
All-purpose flour – Acts as a thickener
Ro-tel – Canned tomatoes with chilis (just half the can)
Beef stock – Go with good quality stock or broth for the best depth of flavor
Tortillas – Soft corn, preferably from your local Hispanic market
Vegetable oil – For frying
The toppings – Shredded cheddar cheese, chopped lettuce and tomatoes, and salsa (preferably homemade)
EXPERT TIP: It's very important that you don't over-simmer the meat filling. Drain off excess grease, add the seasonings, and then add half the can of Ro-tel and the beef broth. It will take only about 10 minutes for the filling to reduce the correct consistency. The meat filling should be wet, but not runny, but it should definitely not be dry either.
Tips for Perfect Tex-Mex Beef Tacos
Don't Overcook the Beef Filling – We can't express this enough. You want the mixture to be wet to the touch. Not dripping with liquid, but not dry at all. Have extra beef stock on hand, just in case it gets a little dry. You can also add some dark Mexican beer for an even deeper flavor profile
Test Frying the Tortillas – Once you get your oil to 350°F, you'll only need to fry them for about 75 seconds. Do a couple of practice runs, first. The perfect shell will be nice and crunchy but still have just enough "chew" that they don't completely fall apart when bitten into.
Warm the Tacos Briefly in the Oven – This step is 100% necessary, but filling the shells with the meat filling and then baking on a baking sheet for about 10 minutes, will keep the shells crispy, but slightly pliable: The perfect Tex-Mex crispy taco.
EXPERT TIP: We use a taco fry press/mold for frying our shells. Be sure not to press the mold to tightly shut with the tortilla in it, this will cause the curved bottom of the shell to crack and break. You can also place a tortilla filled in a cast-iron skillet with hot oil, and then use two forks to bend the tortilla into a taco shell shape. Flip and fry until crispy.
How To Serve Tex-Mex Beef Tacos
These tacos are best served warm, fresh out of the oven, or freshly stuffed with the warm filling.
We love to serve them with a fun taco stand. You can even place the taco stand on a baking sheet and then warm the meat-stuffed tacos while standing upright. But, this isn't absolutely necessary.
Of course, for the true Tex-Mex experience, you need to have plenty of traditional toppings available, including chopped lettuce and tomatoes, shredded cheddar, and homemade salsa. Some folks love a spoonful of sour cream, too.
Other Tacos Recipes To Try
It's pretty safe to say there is seldom a taco we ever met that we didn't like. While these traditional crispy beef shells are certainly one of our all-time favorites, here are some other versions that are always sure to impress:
Chicken Tinga Tacos
Carnitas Tacos
Korean Beef with Kimchi Tacos
Shrimp Tacos Dorados
Mahi Mahi Soft Tacos
Baja Fish Tacos
Taco Quesadillas
In the meantime, aren't you craving this classic?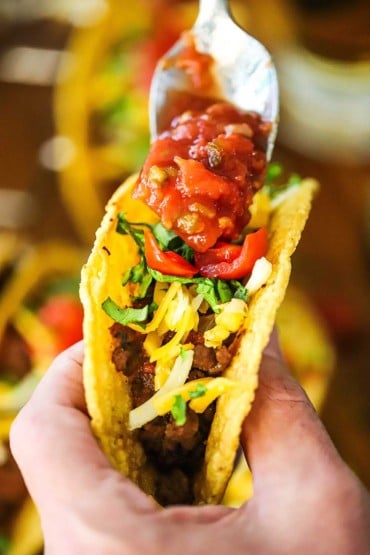 Mexican and Tex-Mex cuisine is one of the most popular types of food in the world.
And tacos are one of the most popular food items from this wildly popular cuisine.
Making them from scratch is nothing short of amazing and is always a huge hit when served to guests. Talk about the ultimate taco party!
Every bite is a Tex-Mex taste sensation!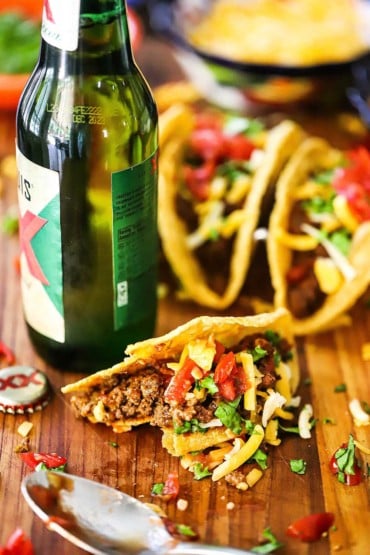 Ready to make the best tacos this side of the Rio Grande? Go for it!
And when you do, be sure to take a photo of them, post it on Instagram, and tag @HowToFeedaLoon and hashtag #HowToFeedaLoon!
Authentic Tex-Mex Beef Tacos
These authentic beef Tex-Mex tacos are perfect for a taco dinner party! Make the beef filling ahead of time...do the tortillas 1 or 2 hours before your guests arrive...serve with your favorite Tex-Mex sides.
Print
Pin
Rate
Servings: 8 people
Calories: 333kcal
Ingredients
1 tbsp olive oil
1 cup onion chopped
3 cloves garlic minced
1 lb ground beef 85% lean works well
2 tsp chili powder
1 tsp ground cumin
1 tsp oregano preferably Mexican
1 tsp garlic powder
1 tsp onion powder
1 tsp smoked paprika
1 tsp Kosher salt
½ tsp cayenne
½ tsp ground black pepper
1 tbsp all-purpose flour
½ can Ro-tel (tomatoes with chilis)
1 cup beef broth
12 corn tortillas
Vegetable oil for frying
1 cup cheddar cheese shredded, for garnish
1 cup lettuce shredded, for garnish
1 cup tomatoes diced and seeded, for garnish
Salsa for serving
Instructions
Heat olive oil over medium-high heat in skillet.

1 tbsp olive oil

Cook the onion until soft, about 4 minutes. Add the garlic, and sauté for another 30 seconds.

1 cup onion, 3 cloves garlic

Add the beef and cook, stirring often, until no longer pink. Tilt the skillet and use a large spoon to remove most of the rendered grease. Discard safely.

1 lb ground beef

Add all seasonings and the flour. Stir until well blended and aromatic, about 1 minute.

2 tsp chili powder, 1 tsp ground cumin, 1 tsp oregano, 1 tsp garlic powder, 1 tsp onion powder, 1 tsp smoked paprika, 1 tsp Kosher salt, ½ tsp cayenne, ½ tsp ground black pepper, 1 tbsp all-purpose flour

Add the Ro-tel and beef stock. Cook until thickened somewhat and most of the liquid has cooked down, about 10 minutes. The mixture should feel wet, but not runny, but also not dry.

½ can Ro-tel, 1 cup beef broth

Meanwhile, heat vegetable oil to 350°F degrees

Vegetable oil

Fry corn tortillas in deep fryer, or in a skillet (if using a skillet...place the tortilla in the hot oil for about 10 seconds...then, using tongs and a fork, grab one end of the tortialla and gently fold in half....continue cooking for about 20 seconds...then flip, and cook for another 20 or 30 seconds, and until golden and nice and crisp).

12 corn tortillas

Place cooked tortillas on paper towels. Preheat oven to 275°F.

Place meat mixture in tortilla shells and place on a baking sheet. Bake for 10 minutes. Remove from the oven and serve at once with all the fixings.

1 cup cheddar cheese, 1 cup lettuce, 1 cup tomatoes, Salsa
Notes
See the video near the top of the blog post for visual guidance. If you liked the video, please subscribe to our YouTube channel. Taco meat can be made several days in advance. Reheat with another 1/4 cup of beef broth. The shells can be made 1 to 3 hours before serving. In the unlikely event that there are leftover tacos, wrap them lightly in foil. They will lose some of their crunch, but will sill be delicious, even at room temperature. The meat can be made and frozen for up to 2 months.
Nutrition
Serving: 12 tacos | Calories: 333kcal | Carbohydrates: 24g | Protein: 17g | Fat: 19g | Saturated Fat: 8g | Polyunsaturated Fat: 1g | Monounsaturated Fat: 8g | Trans Fat: 1g | Cholesterol: 54mg | Sodium: 565mg | Potassium: 427mg | Fiber: 4g | Sugar: 3g | Vitamin A: 705IU | Vitamin C: 7mg | Calcium: 172mg | Iron: 3mg
POST UPDATE: This recipe was originally published in March 2018, but was updated with improved tweaks to the recipe with new tips and photography and a fabulous new video in May 2023!