Authentic TexMex Beef Tacos ranks as one of our all-time favorite dishes in the world.
I grew up in Texas and eating TexMex was literally a way of life! I simply could not get enough tacos and it became one of the first dishes I learned to make many years ago, and I'm pretty sure these will rival any platter of TexMex Tacos you'll find at any good TexMex restaurant.
That's a bold statement, but make these tacos, and I'm pretty sure you'll agree!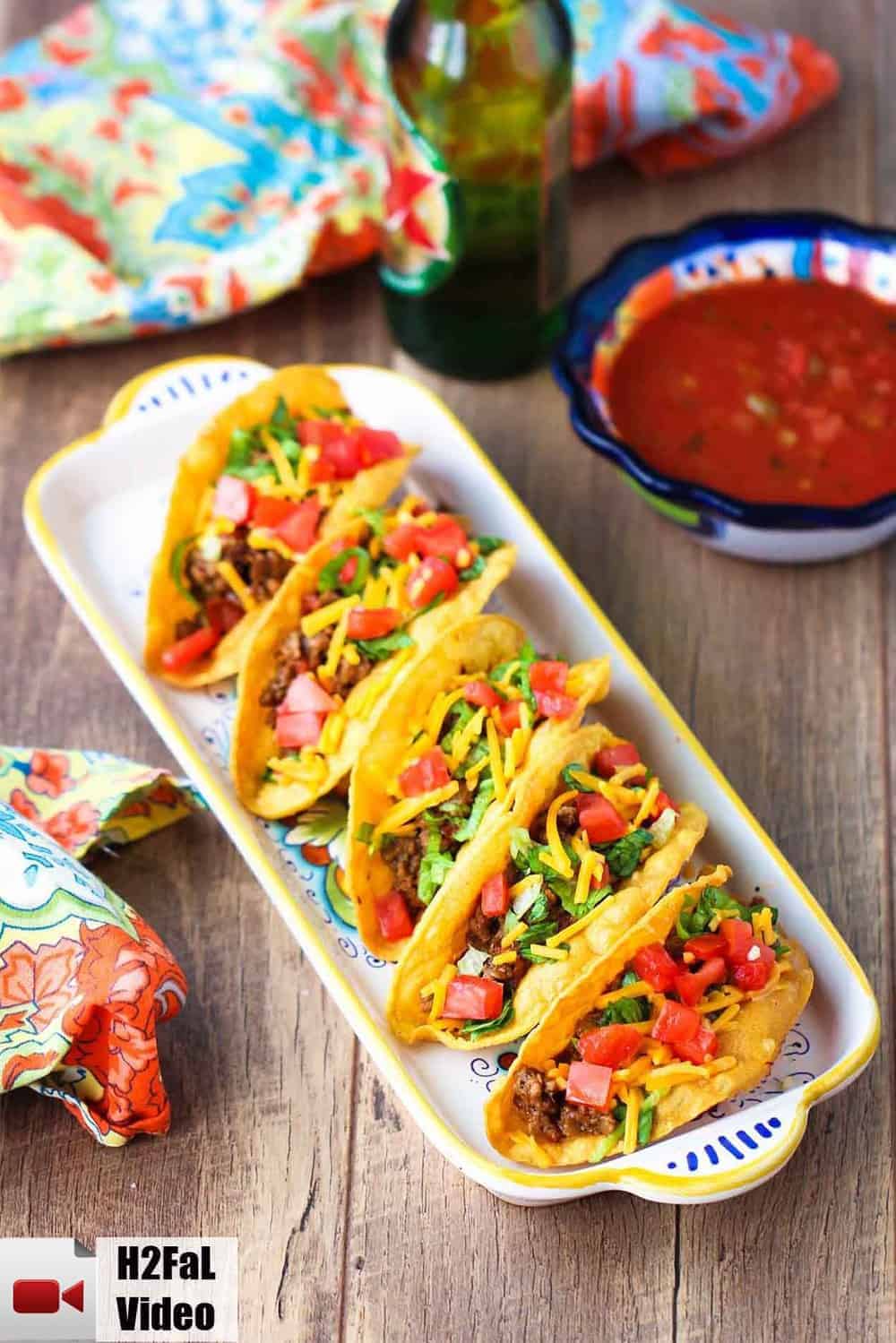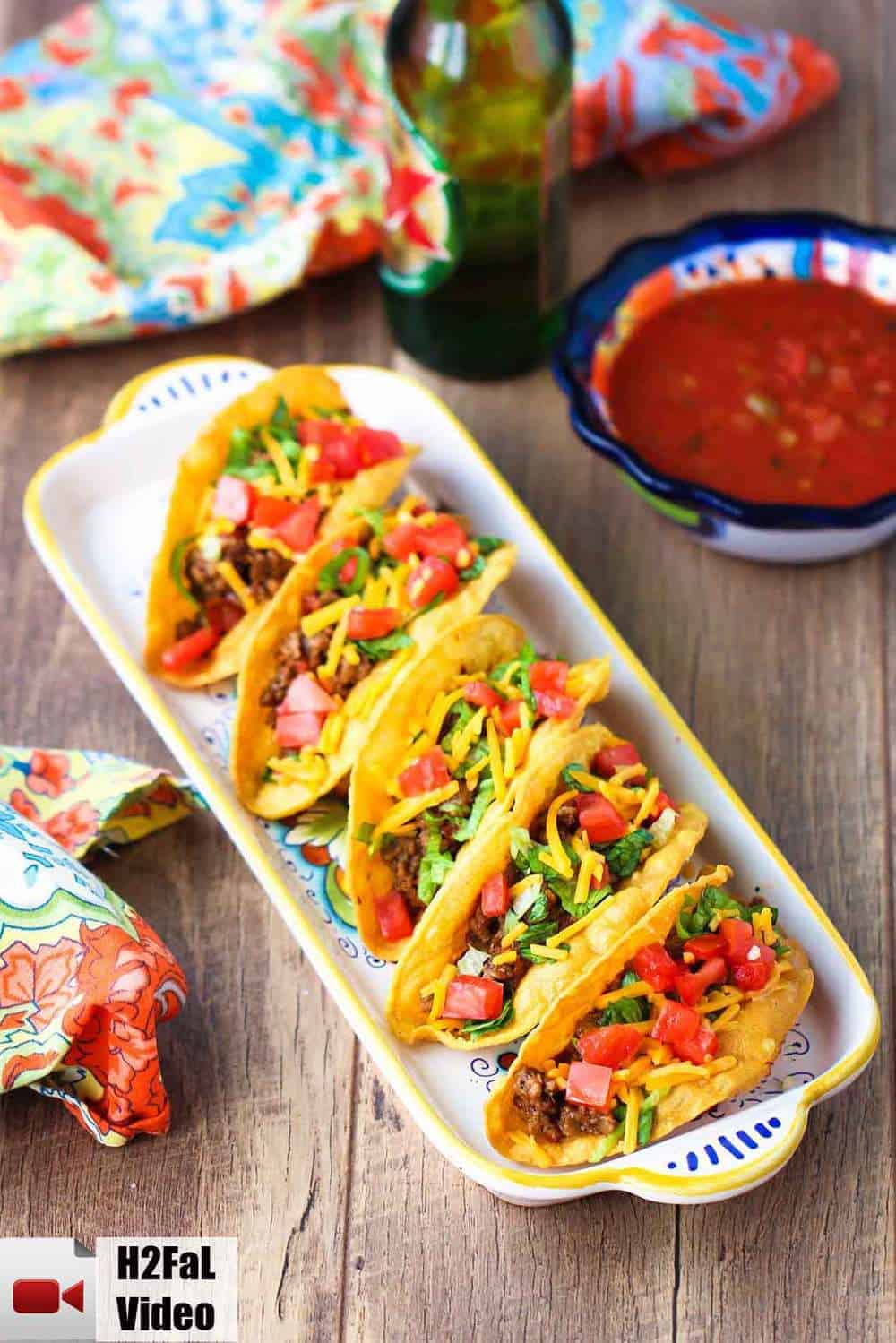 HOW TO MAKE TEXMEX BEEF TACOS
Watch us show you how easy it is to make these incredible tacos!!
THE PERFECT TACO SHELL
The Loon is certain (and I don't disagree) that what sets these amazing tacos apart from your average everyday taco is the incredible meat filling, and the perfectly crispy taco shells. The shells make all the difference in giving you that authentic TexMex restaurant taste. Just get a nice sturdy pot (I use my Dutch oven), or use a deep fryer, a get your oil to a nice 350°F, then fry the corn tortillas for about 90 seconds. Using a Taco Press makes this super simple!
Just look at those shells waiting to be filled and eaten!!
Is there anything much more enjoyable than sinking your teeth into a really delicious and completely authentic TexMex Taco? Well, if there is, I can't think of it at the moment!
WE LOVE TEXMEX TACOS!!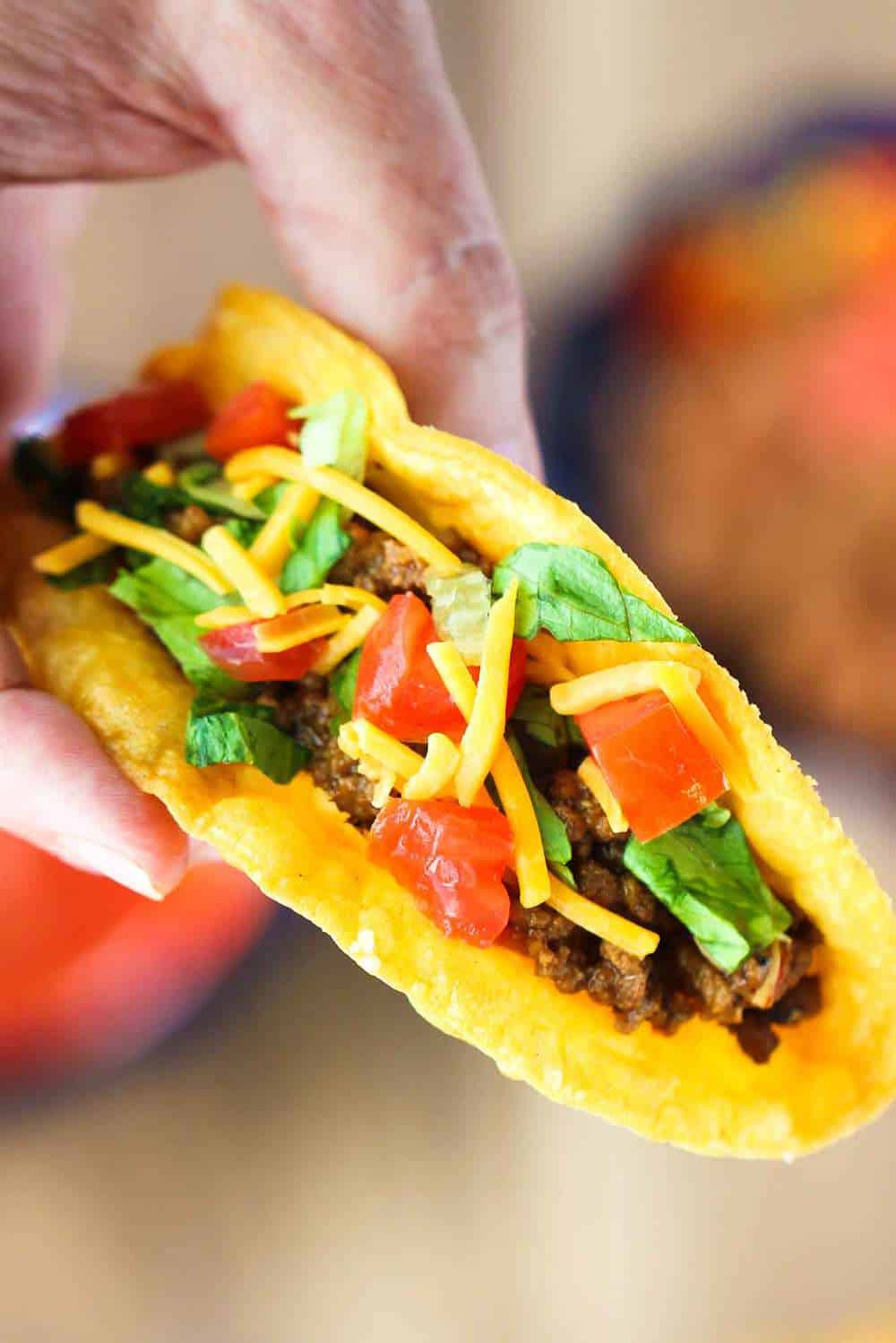 You can make the meat and the shells a day in advance and then re-heat before serving. All the fixins can easily be made ahead of time, too!
And folks if you love these amazing tacos, we're pretty sure you will flip for our Best Tex-Mex Tostadas!
Did we mention that WE LOVE TEXMEX TACOS?!
And of course, Authentic TexMex Tacos just beg for awesome Restaurant-Quality Salsa!

Now, let's make this Authentic TexMex Tacos recipe!
Authentic TexMex Beef Tacos
These authentic beef TexMex tacos are perfect for a taco dinner party! Make the beef filling ahead of time...do the tortillas 1 or 2 hours before your guests arrive...serve with your favorite TexMex sides! (
Bocacious Borracho beans
and
Restaurant-Quality Salsa
!)
Print
Pin
Rate
Servings: 8 people
Calories: 580kcal
Ingredients
1 tbsp olive oil
1 medium onion chopped
3 garlic cloves diced
1 lb ground beef I use 85/15
2 tsp good chili powder order from Pendry's!
1 tsp ground cumin
1 tsp oregano preferably Mexican
1 tsp garlic powder
1 tsp onion powder
1/4 tsp garlic salt
1/4 tsp onion salt
1 tsp smoked paprika
1/2 teaspoon cayenne (optional)
1 teaspoon ground black pepper
1 tablespoon all-purpose flour
1/2 can Ro-tel (tomatoes with chilis)
1 cup beef stock or broth
12 corn tortillas
Vegetable oil for frying
1 cup cheddar cheese, shredded
1 cup iceburg lettuce, shredded
3 tomatoes, cored and diced diced...seeds and ribs removed
Salsa (link to recipe in last step of instructions) for serving
Instructions
Heat olive oil over medium-high heat in skillet.

Cook the onion and garlic until soft (about 8 minutes)

Add the beef, cook, until no longer pink.

Drain the fat through a sieve or colandar...return to the pan

Add all seasonings plus flour...stir until well blended

Add the Ro-tel and beef stock

Cook until liquid cooks down, about 12 minutes.

Taste and adjust seasonings, adding more salt if desired.

Meanwhile, heat vegetable oil to 350°F degrees

Fry corn tortillas in deep fryer, or in a skillet (if using a skillet...place the tortilla in the hot oil for about 10 seconds...then, using tongs and a fork, grab one end of the tortialla and gently fold in half....continue cooking for about 20 seconds...then flip, and cook for another 20 or 30 seconds, and until golden and nice and crisp).

Place cooked tortillas on paper towels and lightly salt

Place meat mixture in tortilla shells, and serve with lettuce, tomatoes, cheese and

salsa
Nutrition
Serving: 12 tacos | Calories: 580kcal