We love tacos so much. We love quesadillas so much. You see where we're going here, right?

These babies are wonderful on so many levels. First and foremost, they are unbelievably delicious. But in addition to this, they are so easy to prepare and are perfect for a busy weeknight meal. The kids will flip for them, and so will the adults. Serve with our easy restaurant-quality salsa!


NOTE: If you liked this video, please subscribe to our YouTube channel. Remember to click the 'bell' icon so you won't ever miss a new video!
How To Make Taco Quesadillas
These delicious tacos are quick and easy to make.
They are so adaptable to you and your family's tastes. Make them big, make them small…however you like!
Once each taco quesadilla is crispy and lightly browned on the outside, simply place them on a baking pan lined with a rack in a low-temp warm to keep them warm.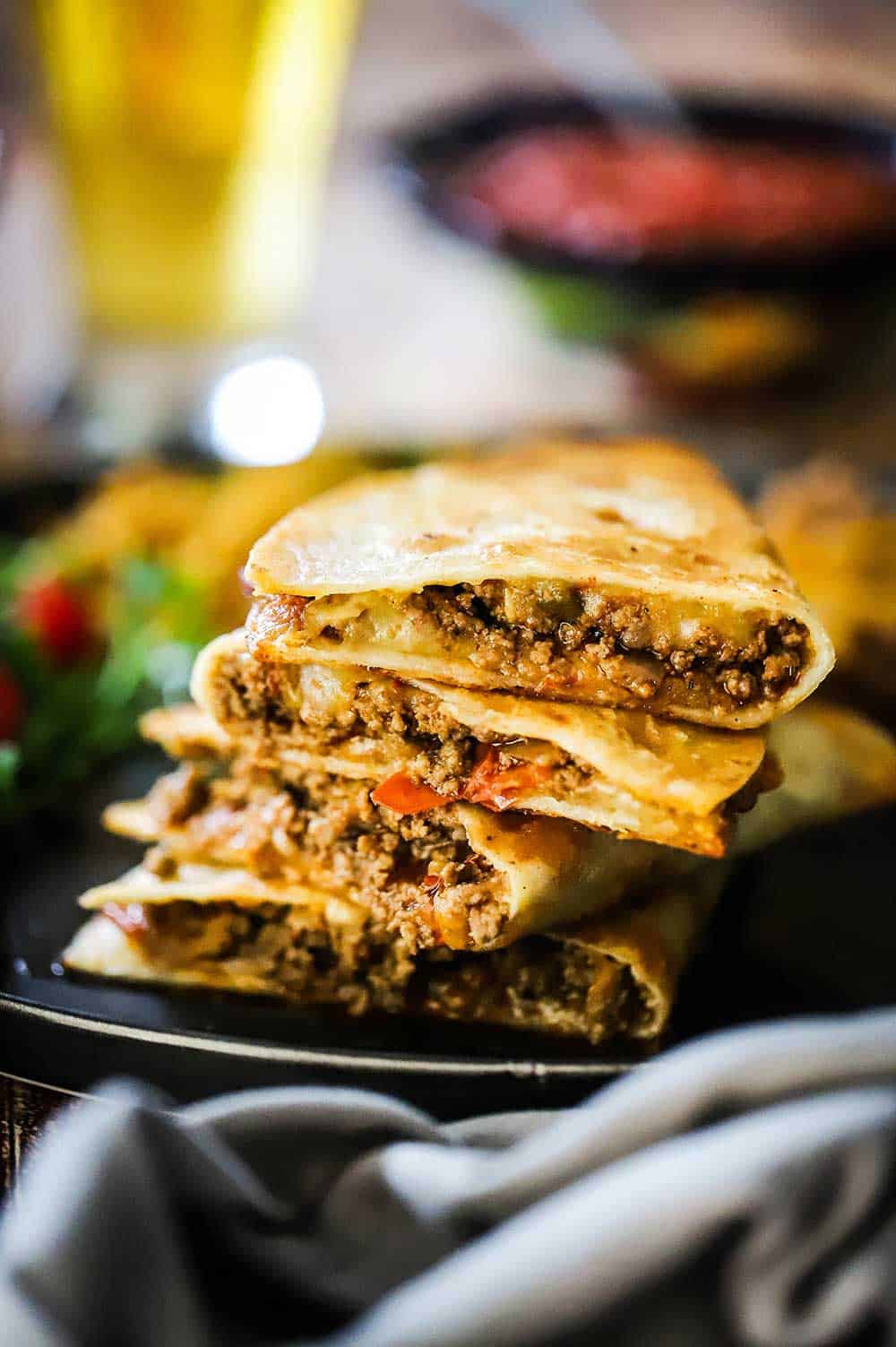 The Perfect Filling
We love making a super flavorful ground beef taco filling from scratch.
The recipe is not difficult and can easily be made, and even frozen, in advance.
However, there is nothing wrong at all going with your favorite taco seasoning packet from the supermarket.
HEALTHY TIP: To make these tacos healthier, go with ground turkey or chicken. You could also crisp them up in an air-fryer or in a 350°F oven for about 20 minutes, flipping halfway through.
The Process for Making Taco Quesadillas
First, we recommend grabbing a non-stick skillet. If you don't have one, no worries, they just make flipping the tacos a little easier, but really, any skillet will do.
Just make sure it's big enough to hold the full tortilla.
We add about 3 tbsp of vegetable oil to the hot pan. Add the tortilla, and then on one side, add a layer of grated cheese, a good helping of the taco meat, and then another heap of cheese.
Fold to form a taco. As the taco starts to crisp up, use two forks to carefully flip the taco over.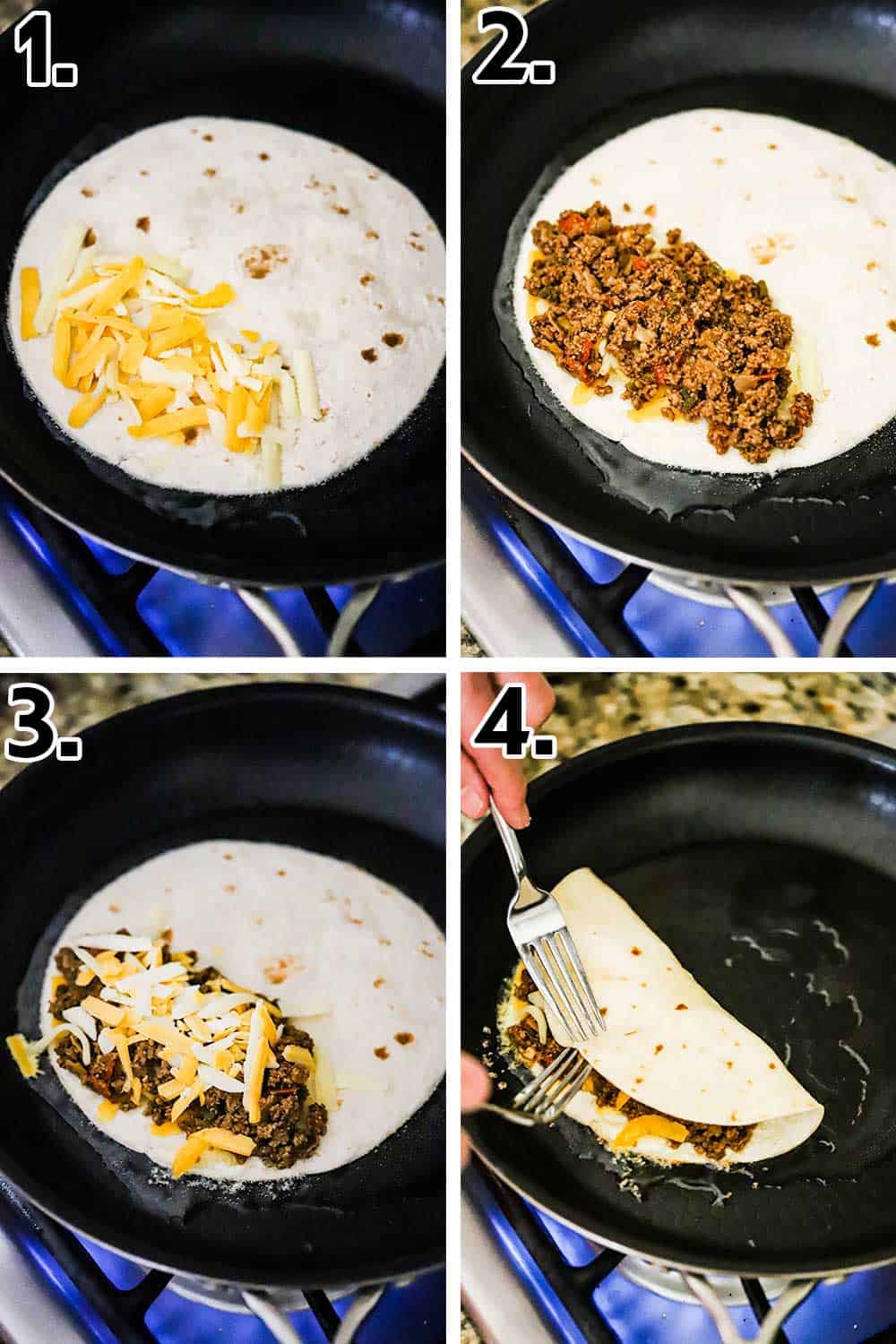 We love tacos, no doubt. In fact, check out these classic taco recipes:
TexMex Beef Tacos
HomemadeCheesy Gordita Crunch
Carnitas (Pork) Tacos
Mahi Mahi Tacos
Baha Fish Tacos
But, folks, we are crazy in love with quesadillas, too. Quesadillas have as much culinary history as tacos do.
One of our most favorite things in the world to prepare are our chicken quesadillas.
Here is what our chicken quesadilla looks like. It's as delicious as it is gorgeous!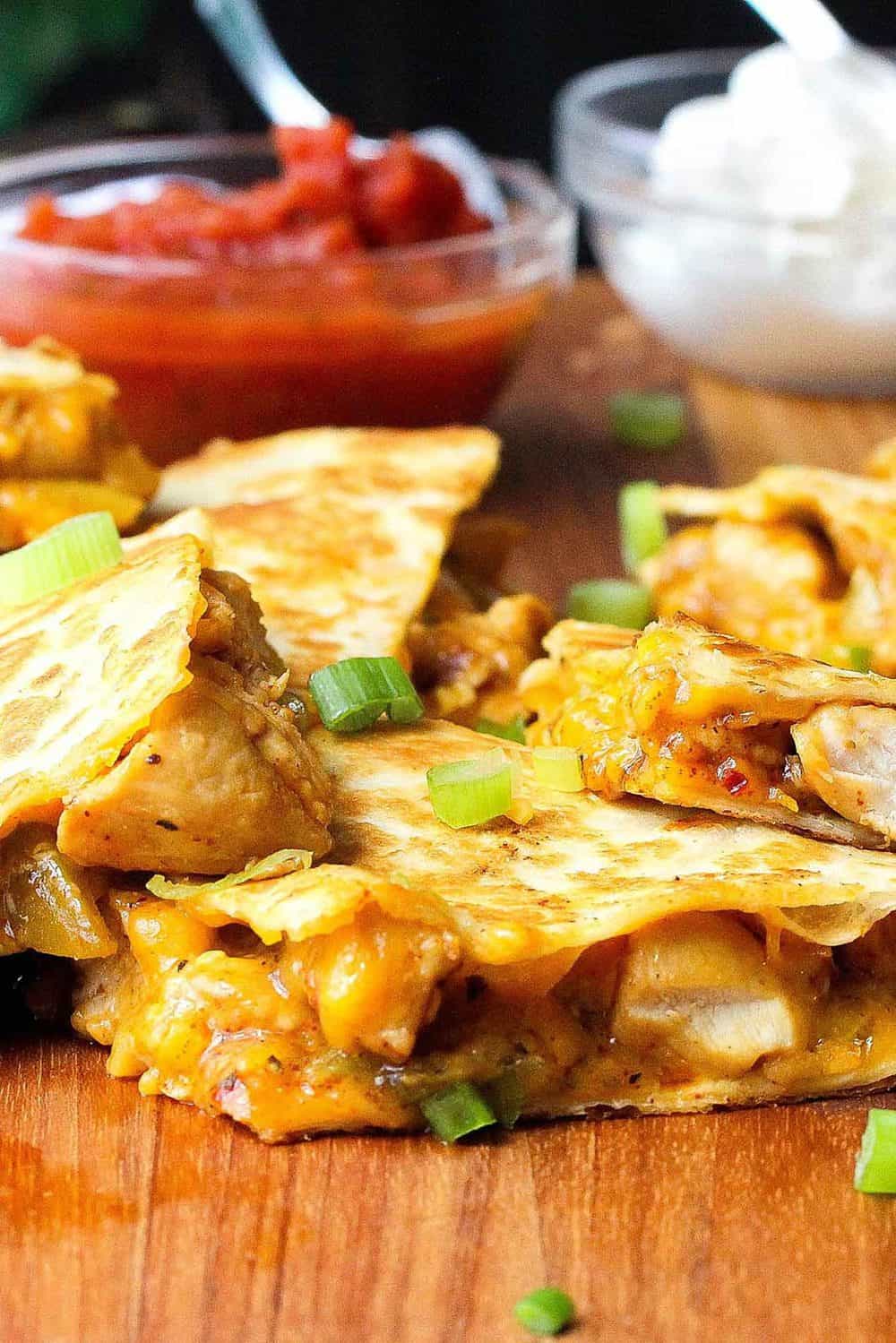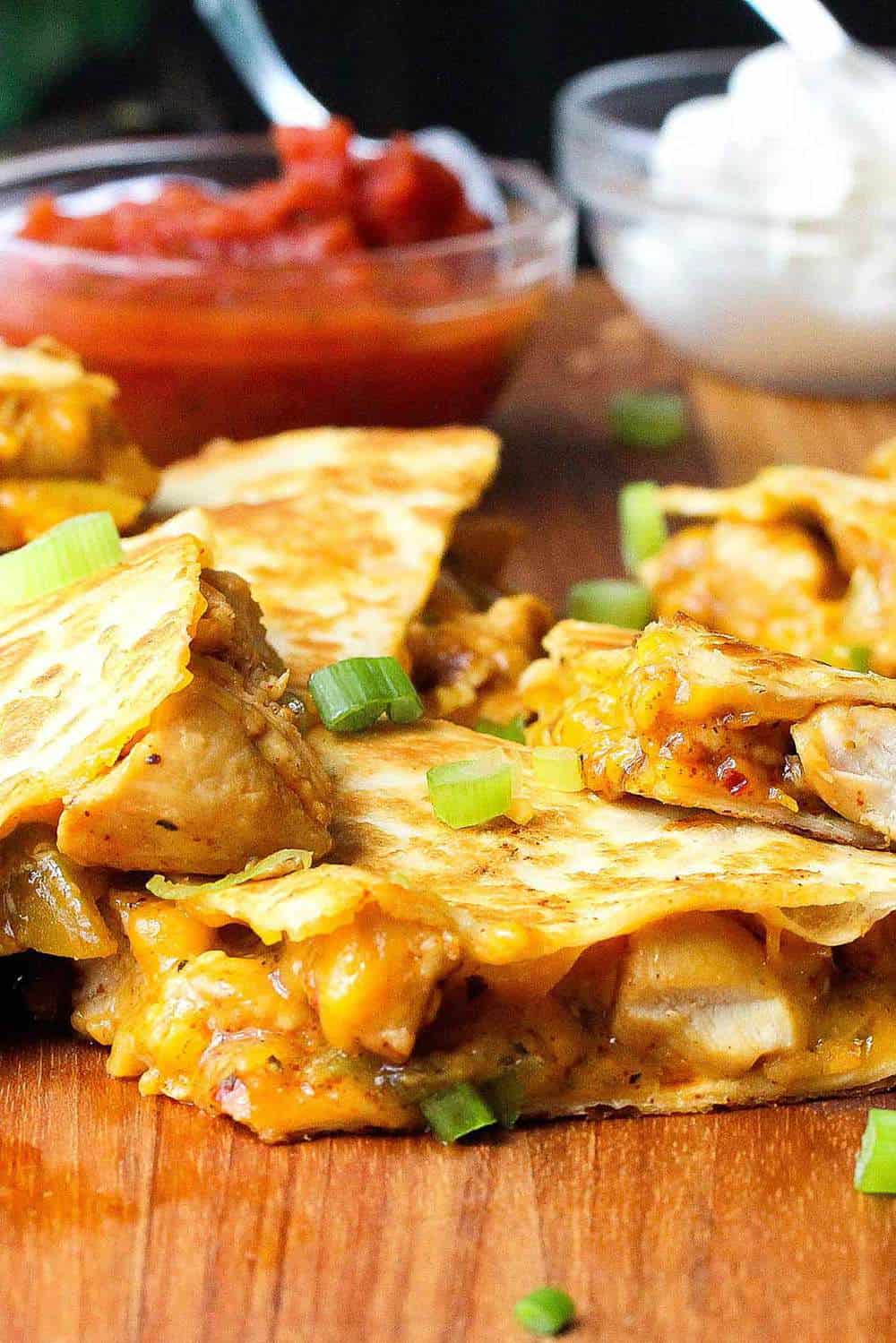 What to Serve With
Because these tacos are such a quick dish to prepare, you can make it easy on yourself and heat up canned refried beans and a box of quality Mexican rice.
If you have a little extra time and want to make the meal spectacular, go ahead and make it all from scratch with these classic recipes:
Homemade flour tortillas
Authentic refried beans
Best-ever Mexican rice
Restaurant-quality salsa
EXPERT TIP: We find the best accompaniments for the tacos is salsa and sour cream. Place them on a large platter and let your family or guests build their own tacos.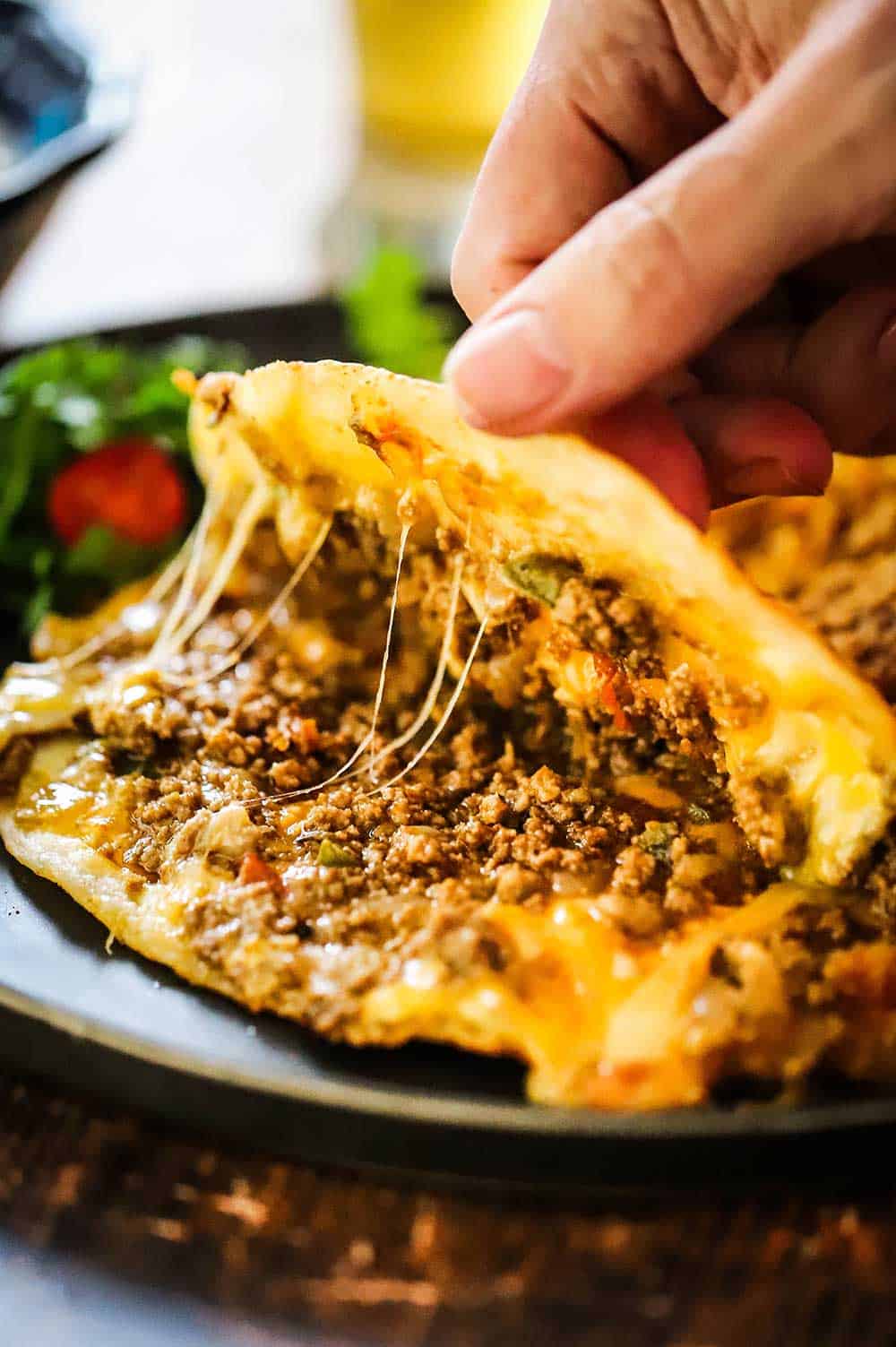 Taco quesadillas have become somewhat of a rage recently, even going viral on TikTok.
We have been making our version for so many years.
It has always been one of these items that we would make when we needed to cheer ourselves up. They are really that yummy.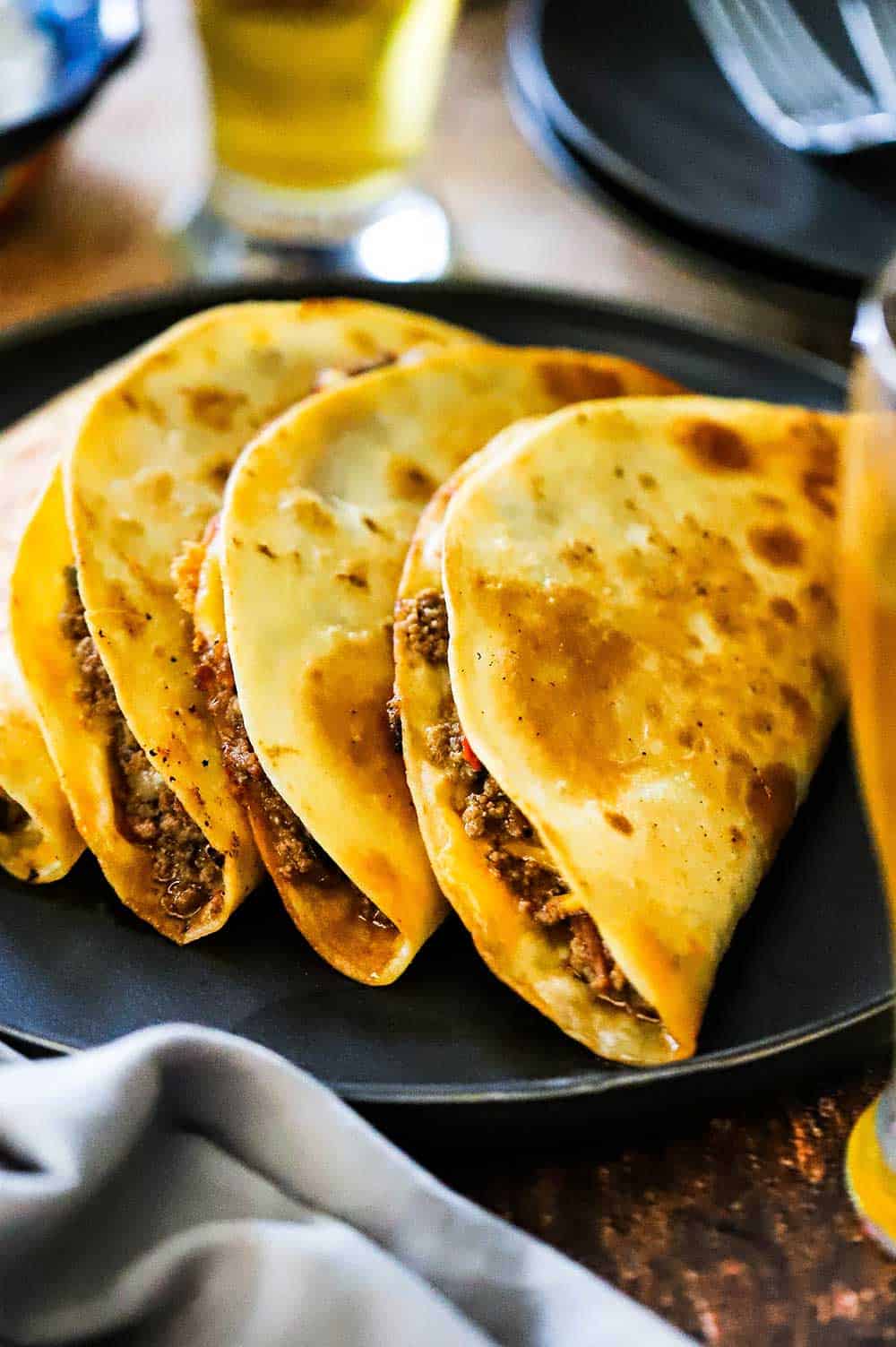 Ready to make a platter full of deliciousness that your family will be requesting time and time again? Go for it!
And when you do, be sure to take a photo of them, post it on Instagram, and tag @HowToFeedaLoon and hashtag #HowToFeedaLoon!
Taco Quesadillas
Taco Quesadillas are so delicious and easy to make. We absolutely love our ground beef taco meat, but you can certainly go with your favorite taco seasoning packet to speed things up even more. Remember to keep prepared tacos warm in a low-temp oven as you continue to make them all.
Print
Pin
Rate
Servings: 4
Calories: 678kcal
Equipment
Large skillet, preferably non-stick
Ingredients
For the Taco Meat
2 tbsp olive oil
1 cup onion chopped
1 jalapeno cored and seeded, finely chopped
2 cloves garlic minced
1 lb ground beef 85% lean
2 tomatoes chopped, Romas work well
1 tbsp chili powder
1 tbsp cumin ground
1½ tsp Kosher salt
1 tsp black pepper ground
1 cup dark beer
For the Quesadilla Tacos
¼ cup vegetable oil
8 flour tortillas fajita or soft-taco size
3 cups cheddar cheese shredded, or Mexican blend
sour cream for garnish
homemade salsa for garnish
Instructions
Make the Taco Meat (Can be done in advance)
Heat the oil over medium heat in a large skillet. Add the onion and peppers and cook until soft and translucent, about 5 minutes. Add the garlic and cook for another minute.

Add the ground beef and cook until no longer pink. Spoon off excess rendered grease and safely discard.

Stir in the chopped tomatoes, chili powder, cumin, salt, and pepper, with the heat still on. Cook, stirring frequently, for another 5 minutes, until the tomatoes have begun to break down somewhat.

Slowly pour in the beer and cook until the mixture thickens a bit and most of the liquid is gone. Don't let it get too dry. If it looks dry, add a little more beer. Set aside.
Make the Taco Quesadillas
In a large skillet, preferably non-stick, heat 3 tbsp of the vegetable oil over medium-high heat.

Once the oil is shimmering, carefully lay a tortilla into the skillet flat. On one side of the tortilla, add a small handful of the cheese. Spoon on enough of the taco meat to cover the cheese. Add another handful of cheese on top of the meat. Use a couple of forks to pull the other side of the tortilla over the meat and cheese.

Cook until starting to brown on the bottom. Carefully use the forks (and a spatula, if you prefer) to flip the taco quesadilla over. Cook until both sides are nicely browned and slightly crispy all over. Place the taco on a baking pan lined with a baking rack and keep warm in a low-temp oven. Continue this process until all the meat has been used, adding more oil when needed. Serve warm with sour cream and salsa on the side.
Notes
See the video near the top of the blog post for visual guidance. If you like the video, please subscribe to our YouTube channel.
A packet of your favorite taco seasoning can be used with the ground beef, no problem.
Ground turkey or chicken can be substituted for beef. To make it even healthier, fry them briefly in your air-fryer until lightly browned. You can also bake them in a 350°F oven for about 20 minutes, flipping halfway through. They won't be as crisp as the skillet version, but they'll still be delicious.
The taco meat can be doubled or tripled and easily frozen for up to 2 months. The cooked taco meat will keep in the fridge for 5 to 6 days.
Nutrition
Calories: 678kcal | Carbohydrates: 43g | Protein: 47g | Fat: 32g | Saturated Fat: 12g | Polyunsaturated Fat: 3g | Monounsaturated Fat: 14g | Trans Fat: 1g | Cholesterol: 170mg | Sodium: 1929mg | Potassium: 789mg | Fiber: 4g | Sugar: 7g | Vitamin A: 2015IU | Vitamin C: 16mg | Calcium: 739mg | Iron: 7mg