A "combo" Tex-Mex platter would woefully miss the mark if these weren't on the plate.
These magical beans are transformed into a creamy, deeply flavorful Mexican side dish that is perfect alongside crispy tacos, cheesy enchiladas, Mexican rice, or as a key ingredient in our Best Beef Tostadas! Give yourself a few hours and you will be amazed at how great these turn out. Truly restaurant-quality.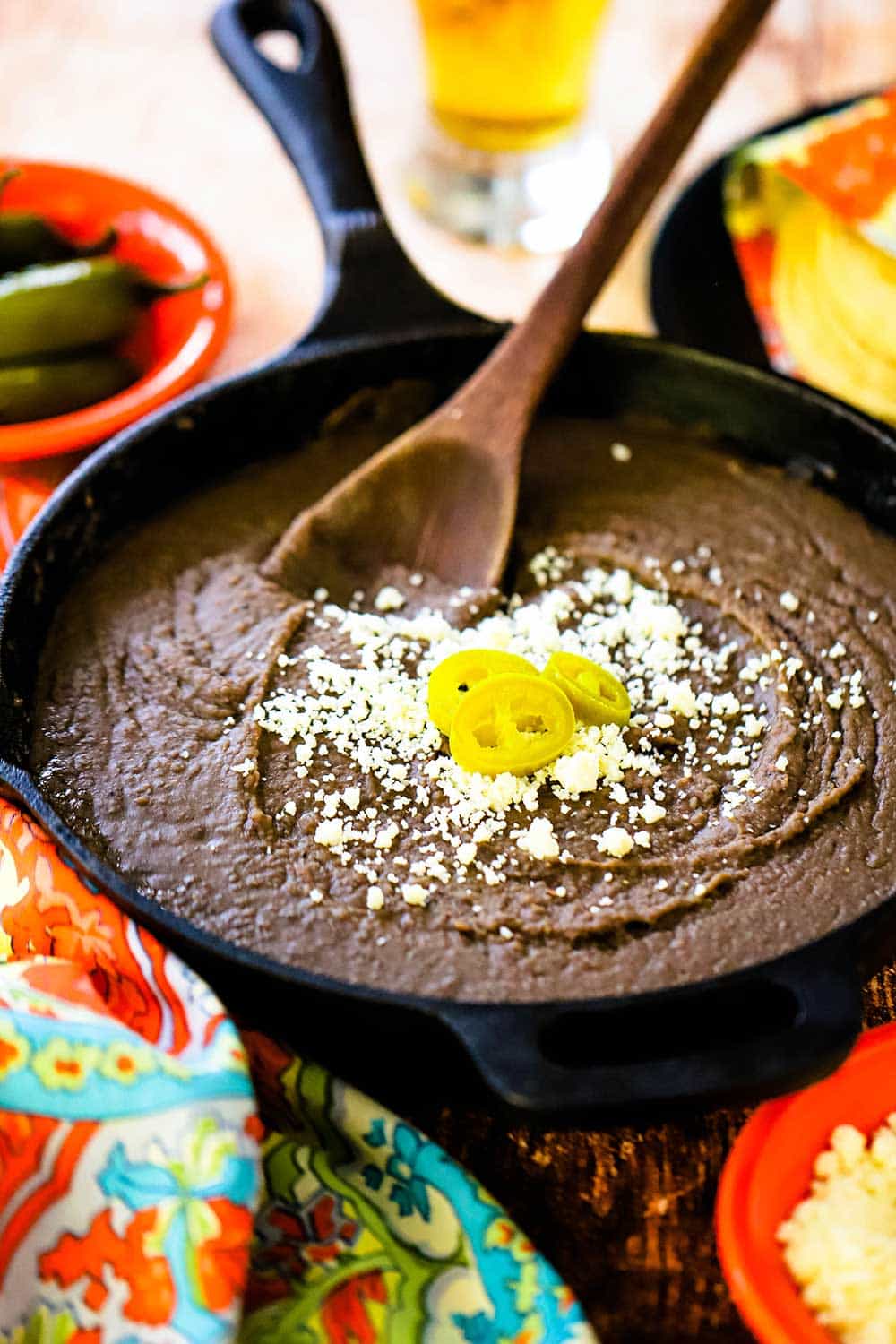 How To Make Refried Beans
There are a few tricks to making these beans as good as any Mexican restaurant in town.
You'll need to allow a total of about 4 hours from start to finish, but it's well worth the time.
What Type of Bean to Use
The traditional (and we think best) dried bean to use for this dish is dried pinto beans. You could use red kidney or black beans, but to keeps things authentic, stick with pinto.
Place the beans in a large pot and add enough cool water to cover by a couple of inches. Bring to a boil then lower the heat and add the chopped onion.
EXPERT TIP: After adding the water, remove any beans or bean fragments that float to the surface. Some recipes will have you soak the beans overnight. We find simmering them for 3 hours is all that's needed to get them to the perfect consistency for mashing or puréing.
As the beans are simmering on the stove, you don't need to say with them constantly. Check them every half hour, or so, and give them a good stir just to make sure they're not burning on the bottom of the pan.
You also want to keep plenty of liquid in the pot. We add about a ½ cup of water every 30 minutes, or so.
EXPERT TIP: After 3 hours of gently simmering, the beans should be very soft. As they simmer, they very well turn a darker brown. Sometimes this happens more than other times. Newer beans could stay a lighter color as they simmer, whereas beans that have a longer shelf life may turn darker, even a dark brown. They are both perfectly fine and older beans vs. newer ones still have the same nutritional value and taste. They just sometimes turn a little darker the older they are.
Remove the beans from the heat and then use a ladle or large spoon to remove excess liquid from the surface of the beans. Stir in the seasonings until fully incorporated. We use an emulsion blender to get a very creamy consistency. If the beans are too thick, then add in some of the reserved liquid until you reach the desired consistency. A potato masher works, too, and allows you to leave a little more "bean" texture to the refried beans.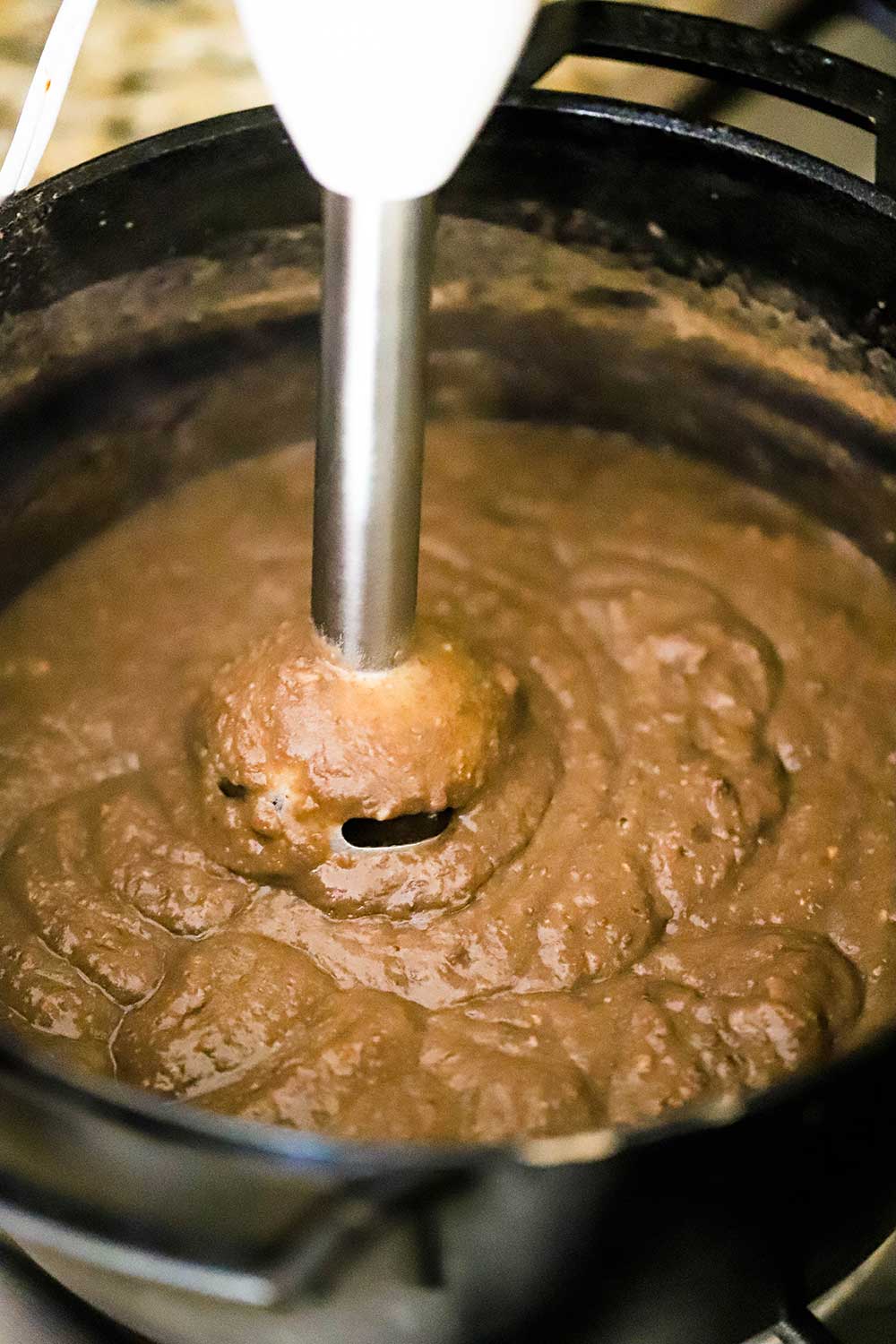 How To Refry the Beans
We're not really sure why these are called "refried" beans, because you're never really frying them. But, that's not really important, is it?
Now, it's time to pull out a nice large skillet, such as cast iron.
Transfer the smashed/emulsified beans to the skillet on your stove and turn the heat on medium.
The Secret Ingredient
Now, it's time to put these beans in a league all of their own.
The addition of pork lard is authentic and the taste it adds to the dish is amazing.
EXPERT TIP: Pork lard can be found at Hispanic food markets. Although some think it is unhealthy, it is actually one of the healthiest fats to cook with and has true health benefits. We don't recommend the packaged lard that you can often find at supermarkets. It doesn't deliver good flavor and contains processed chemicals. See NOTES on making pork lard at home, if you don't have access to a Hispanic/Mexican market.
Melt the lard and then stir it into the beans. Heat over high, then lower the heat and continue stirring until the lard has been completely incorporated.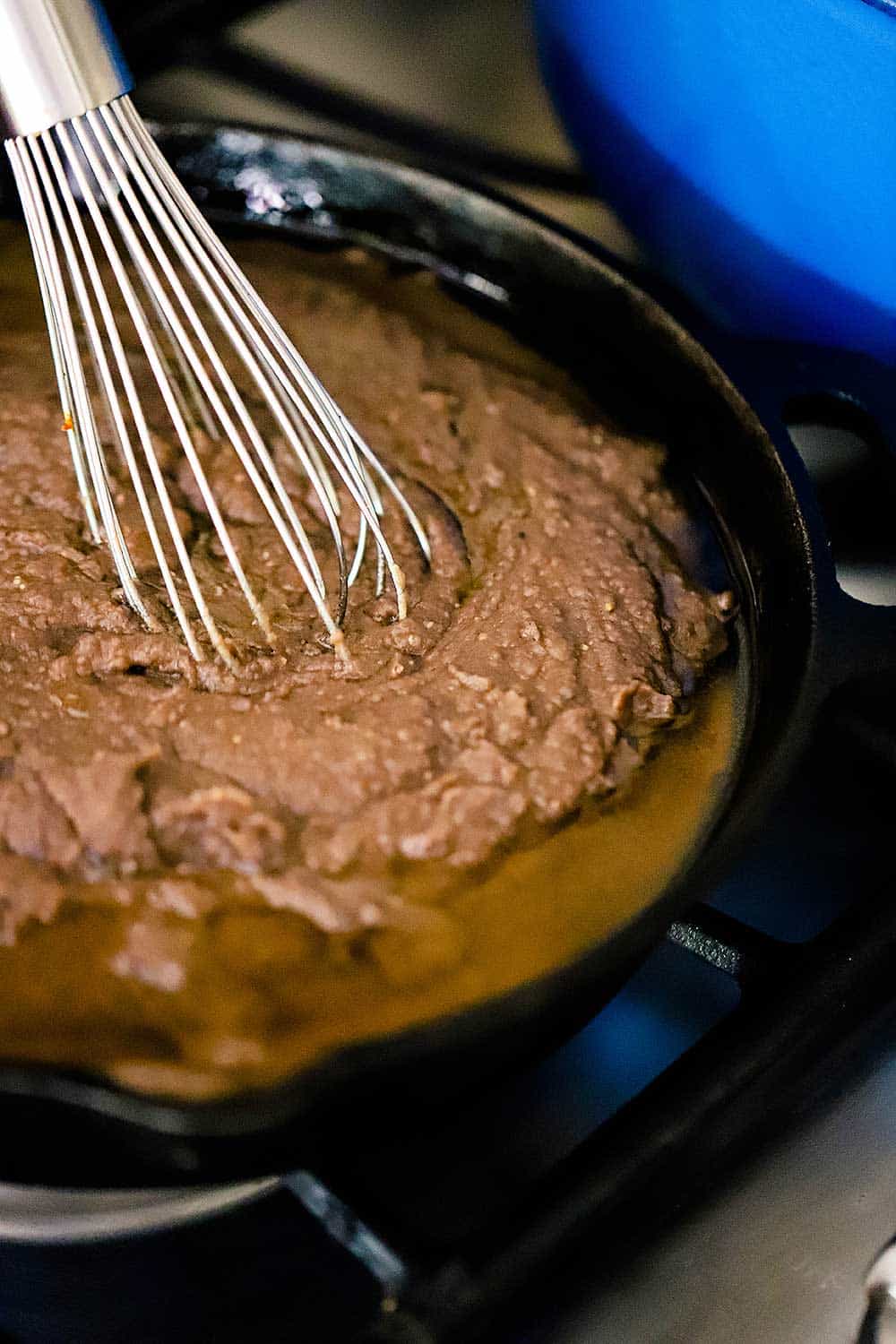 If you're looking for a restaurant-quality refried beans recipe, you trust us when you say you have found it.
We love to serve the beans right out of the skillet, garnish with crumbled Cojita cheese, or shredded mozzarella.
EXPERT TIP: The beans can be made up to 24 hours in advance. Reheat in a skillet over medium-low heat. Add a little more water or chicken stock, if the beans need to be loosened up a bit.
Talk about an all-time classic TexMex side dish!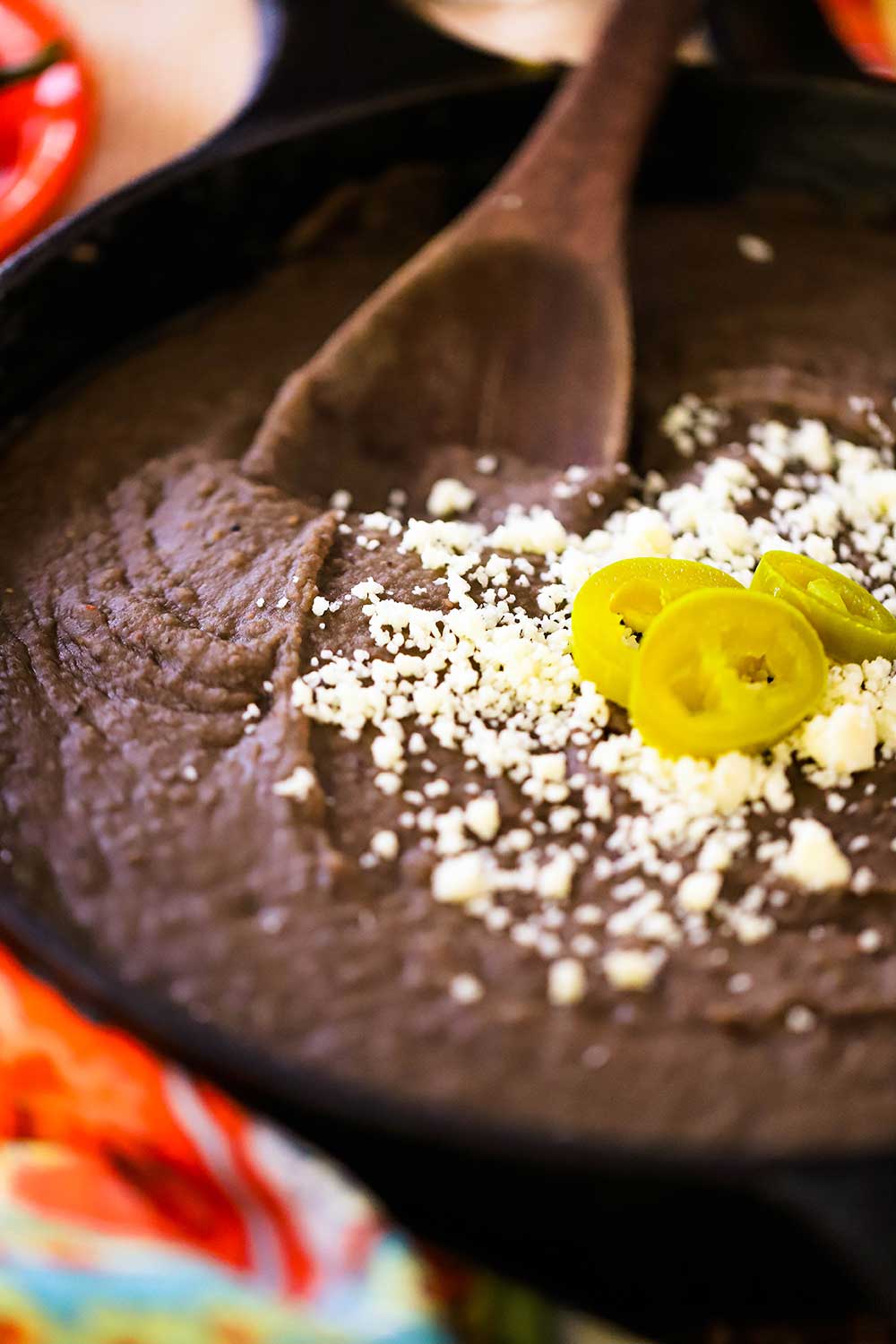 Other Classic Mexican Dishes
If you love refried beans, chances are you'll love these classic dishes, too:
Borracho Beans
Best Beef Tostada
Cilantro-Lime Mexican Rice
Chicken Tortilla Soup
Elote Corn (Mexican Street Corn)
Homemade Flour Tortillas
Chicken Fajitas
Best-Ever Classic Nachos
But, in the meantime…you've got to make these incredible beans!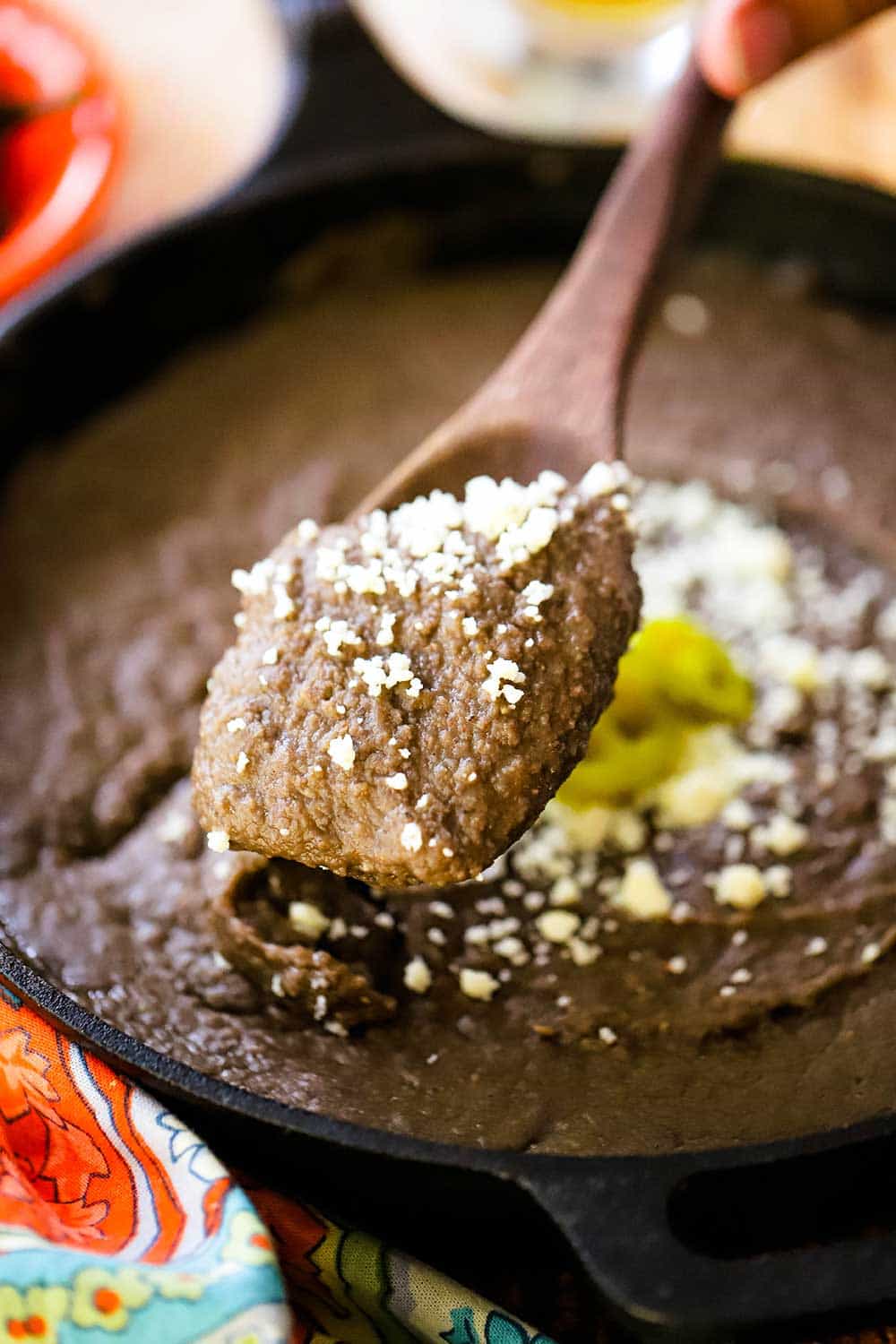 Ready to make the best TexMex side dish this side of San Antonio? Go for it!
And when you do, be sure to take a photo of them, post it on Instagram, and tag @HowToFeedaLoon and hashtag #HowToFeedaLoon!
Authentic Refried Beans
Is there any side dish more quintessential TexMex or Mexican than refried beans? Seek out a Mexican food market and pick up some pork lard. It's what puts these over the top and makes them truly restaurant-quality. If you don't have access to a Mexican/Latin market, see NOTES on how to make your own. We don't recommend using packaged lard from a supermarket.
Print
Pin
Rate
Servings: 8
Calories: 328kcal
Equipment
Large pot plus a skillet, such as cast-iron
Ingredients
1 lb pinto beans dried, about 2 cups
2 cups onion chopped
1 tbsp chili powder
1 tbsp cumin ground
2 tsp Kosher salt plus more, if needed
1 tsp black pepper freshly ground
½ cup lard Pork lard: See NOTES
1 cup Cojita cheese crumbled, for garnish
Instructions
Place the beans in a large pot and cover them with water by a couple of inches. Bring to a boil and then immediately lower the heat. Add the onions and simmer gently for 3 hours, adding about ½ cup of water every 30 minutes, and stirring occasionally to prevent burning or sticking to the bottom of the pan.

Remove the pot from the heat and use a ladle or a large spoon to skim off liquid from the top of the beans and place in a small bowl. The liquid level should be just under the top layer of the beans. Hold onto the skimmed liquid as you may need to add it to the puréed beans to reach the right consistency.

Stir in the chili powder, cumin, salt, and pepper. Continue stirring until fully incorporated. Transfer the beans to a large skillet.

Use an immersion blender, or potato masher, to purée the beans until they are smooth and creamy. Transfer the beans to a large skillet over a burner on your stove.

Meanwhile, melt the lard in a small skillet. Transfer the melted lard to the beans and bring to a slight simmer. Continue to gently whisk the lard into the beans until fully incorporated, usually about 5 minutes. Taste and add more salt, if needed. Serve at once.
Notes
As the pinto beans cook, they may turn a brown, even dark brown, color. This can happen if the beans have had a long shelf life. They naturally turn a darker color but lose absolutely no nutritional value of taste. Pork lard is essential to making these beans taste authentic. It can found in Mexican/Hispanic food markets. We don't recommend using packaged lard (often in tubs) that can be found in many supermarkets. It doesn't have the right taste and also contains processed chemicals. See below for how to make pork lard yourself (it's really easy!). The beans can be made 24 hours in advance. Keep in an air-tight container in the fridge. Reheat over medium heat, adding a little water or broth to them if they are too tight. The beans will keep in the fridge for up to 1 week and can be frozen for up to 2 months. Homemade Pork Lard: Preheat your oven to 250°F. In an ovenproof vessel, preferably a Dutch oven, add cubed pork fat trimmings (ask your butcher to help you on this) and place in the oven for 3 hours, stirring every now and then. Strain the lard into an air-tight container. The lard will last for up to 1 year in the fridge or up to 3 years in the freezer.
Nutrition
Calories: 328kcal | Carbohydrates: 19g | Protein: 6g | Fat: 18g | Saturated Fat: 6g | Sodium: 601mg | Potassium: 338mg | Fiber: 6g | Sugar: 2g | Vitamin A: 415IU | Vitamin C: 4mg | Calcium: 48mg | Iron: 2mg