If you love Mexican cuisine, then you are going to want to have this recipe in your rotation, without a doubt.
The smell of these beans as they are simmering on your stove is intoxicatingly delicious. This makes sense since borracho beans translate to "drunken" beans. But don't worry, they cook in just one bottle of beer. They are the perfect side dish for tacos, enchiladas, chicken molé, and more!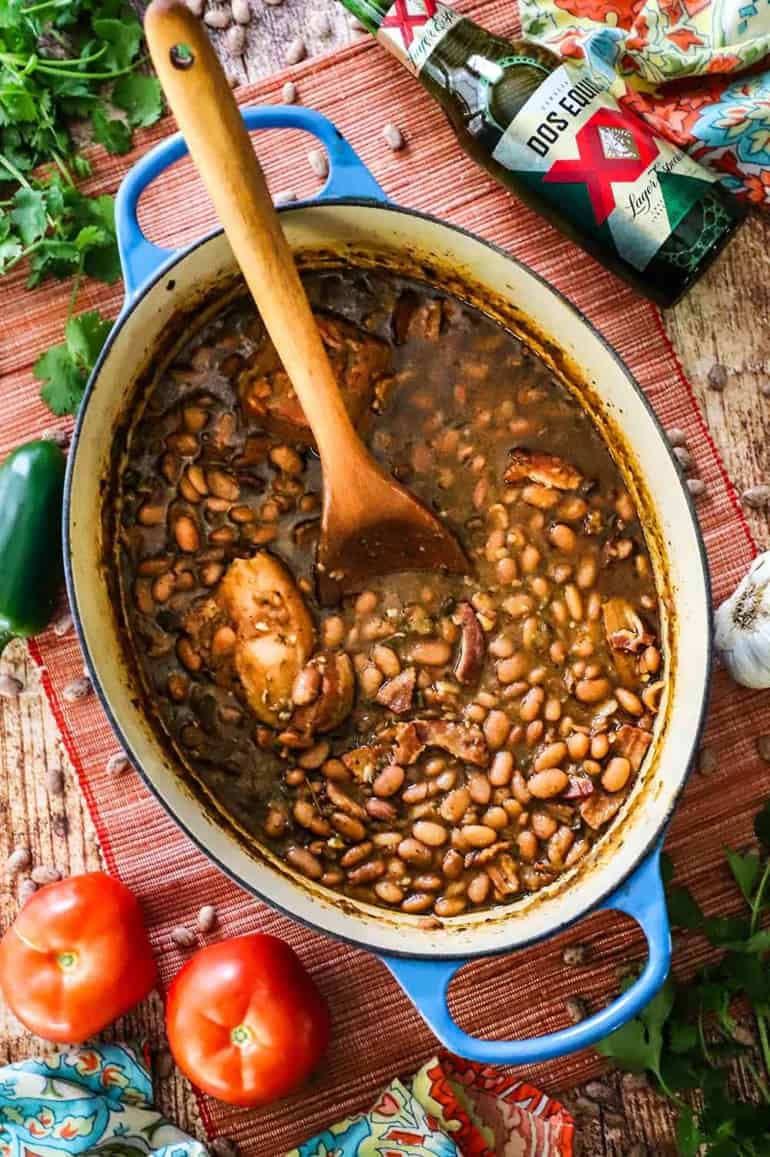 How To Make Authentic Borracho Beans
NOTE: If you liked this video, please subscribe to our YouTube channel. Remember to click the little 'bell' icon so you'll never miss a new video. Thank you!
The Ingredients You Will Need
Just a handful of ingredients are slow-cooked for several hours to produce an amazingly deeply flavored pot of beans. Here's what you'll need to have on hand:
Dried beans – Pintos are traditional, but you could substitute red kidney, cannelloni, or even black-eyed peas. Soaking them overnight is best, but see notes for expediting this.
Stock or broth – Chicken is what we use, but you could use vegetable or even beef broth or stock.
Mexican beer – We use Dos Equis, but other options include Modelo, Tecate, Corona, Victoria, or whatever beer you have on hand. You can omit the beer completely if desired and still get good flavor.
Water – You'll add more water as the beans simmer for several hours.
Pork – Salt pork, ham bone, or ham hocks are all great choices.
Bacon – Thick cut is our favorite.
Onion -Chopped
Jalapeño peppers – Seeded and finely chopped. Leave some seeds in for a little extra heat.
Garlic – Minced.
Cilantro – Fresh is best. Chopped.
Tomatoes – Roughly chopped, they'll completely cook down as they simmer.
Seasonings – Cumin, oregano, salt, and pepper.
EXPERT TIP: Next time you have a bone-in ham, be sure to keep the ham bone and freeze it and then use it when making borracho beans. If you don't have a ham bone, go with a salt pork from the grocery store, usually found near bacon and lunch meats in your local grocery store. See the NOTES about using a salt pork.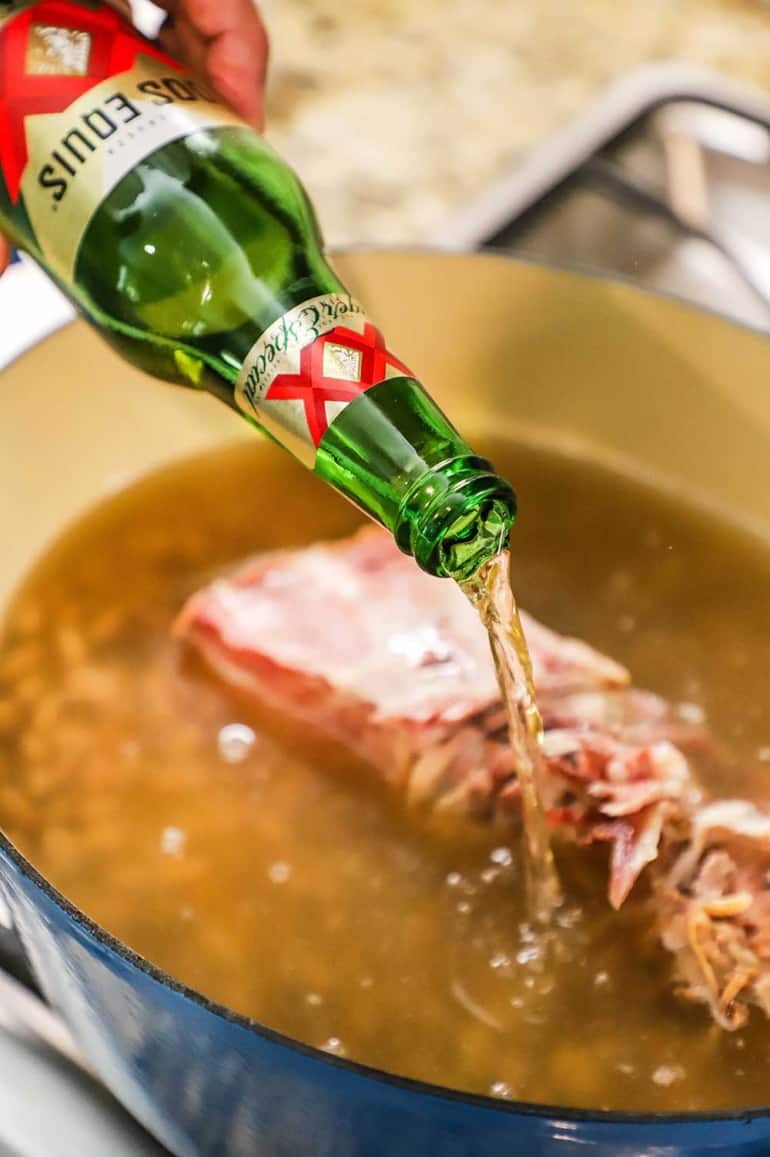 Tips for Perfect Borracho Beans
Soak the Beans – Soaking them overnight ensures they cook evenly and become very tender.
Use a Quality Broth or Stock – Homemade broth or stock is best, but store-bought is perfectly fine. Just be sure to go with a quality brand. It makes a big difference.
Maintain a Soupy Consistency – As the beans simmer, much of the liquid will evaporate. This is normal, but you'll need to add more water to maintain a somewhat soup consistency. See the video for visual reference.
EXPERT TIP: If you have a Hispanic market near you, seek out pork lard. It adds a depth of flavor to the beans that is truly authentic and incredibly tasty.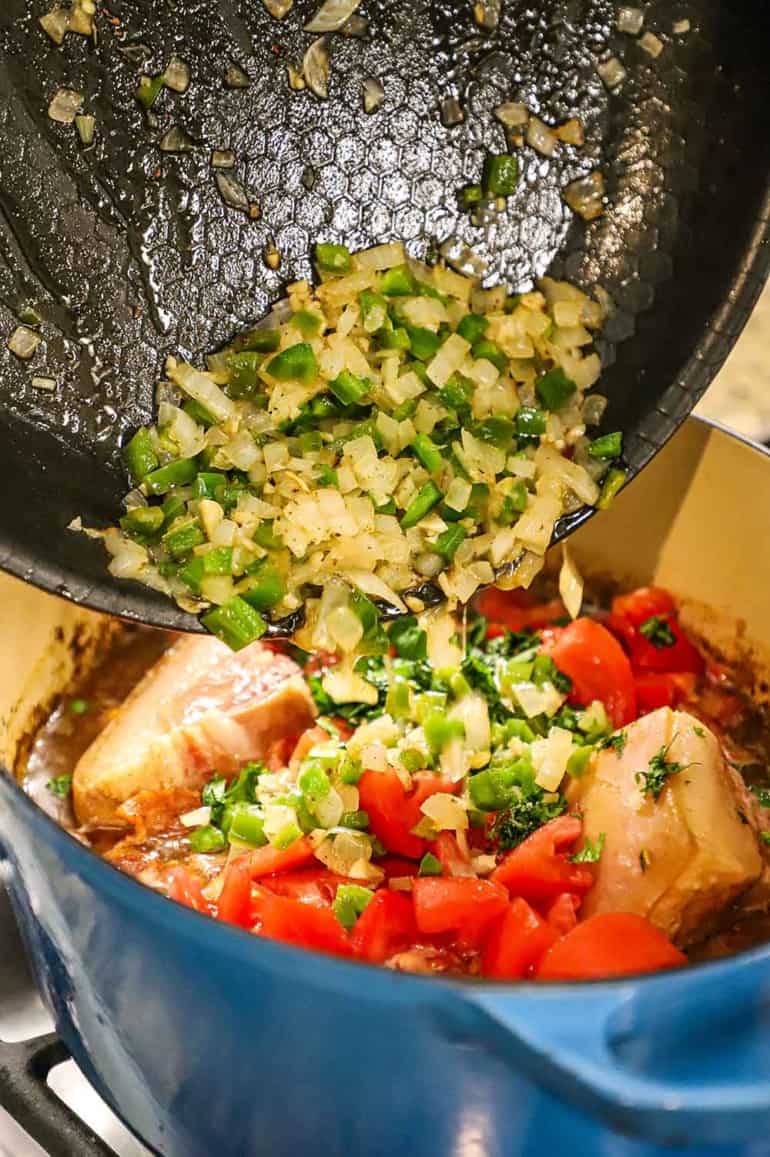 How to Serve
As mentioned, these beans are a wonderful side dish to all of your favorite Mexican/Tex-Mex dishes.
We serve them in small cups, but any kind of bowl will work. Because they are soupy, they need some sort of a vessel to hold them in.
You can place the pot on the table with a ladle and let family and friends serve themselves, if desired.
To re-heat, simply heat over medium heat on the stove and add about another cup of water or broth. They are even better the next day!
Other Mexican or Tex-Mex Side Dish Recipes
No Mexican or Tex-Mex platter would be right without the classic sides. Here are some our favorites that are authentic and incredibly delicious:
Authentic Refried Beans
Slow-Cooked Mexican Black Beans
Mexican Rice
Cilantro-Lime Rice
Elote (Mexican Corn on the Cob)
Mexican-Style Cream Corn
Best-Ever Guacamole
Homemade Flour Tortillas
These are all amazing, for sure. But, these beans are about as yummy as they come and the perfect side dish.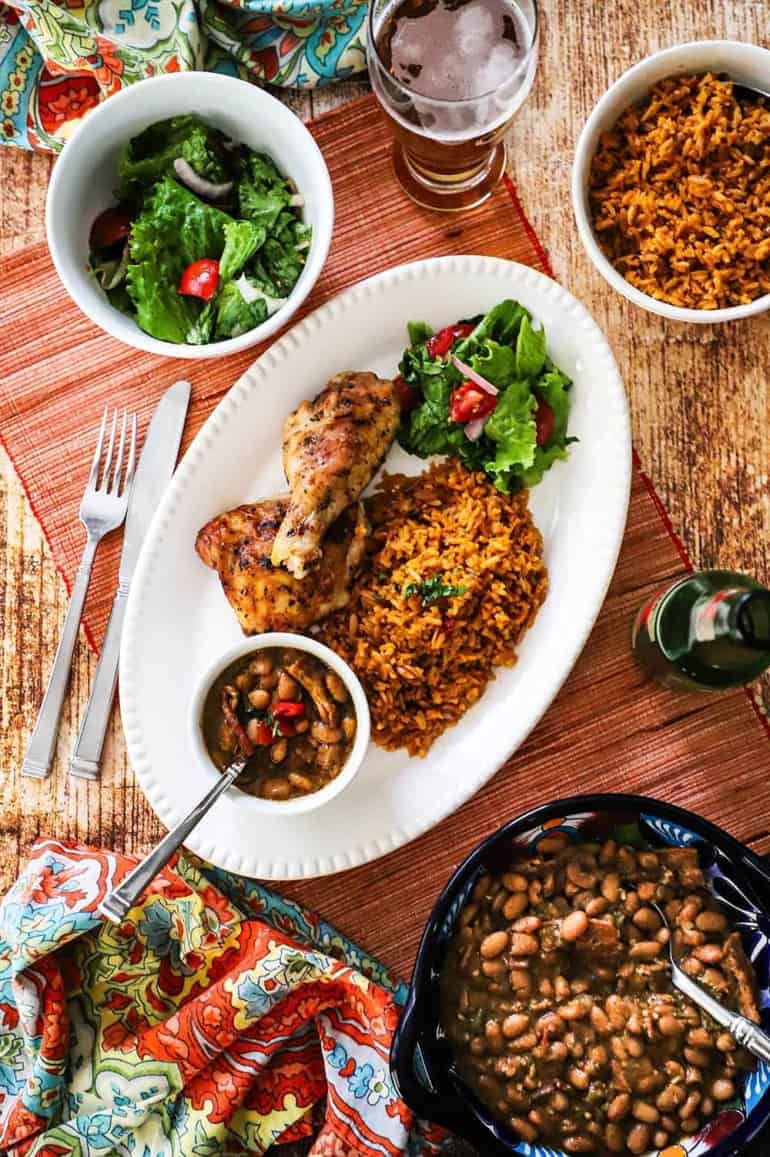 Mexican and Tex-Mex cuisines are some of the most popular types of food in the world.
We love refried beans, especially when serving beef fajitas or chicken fajitas.
But there is something extra special about these borracho beans. They warm you to the bone, and are so delicious and filling, they can make a meal by themselves! Just serve with tortillas.
These are the real deal and your family will absolutely love them (and you!).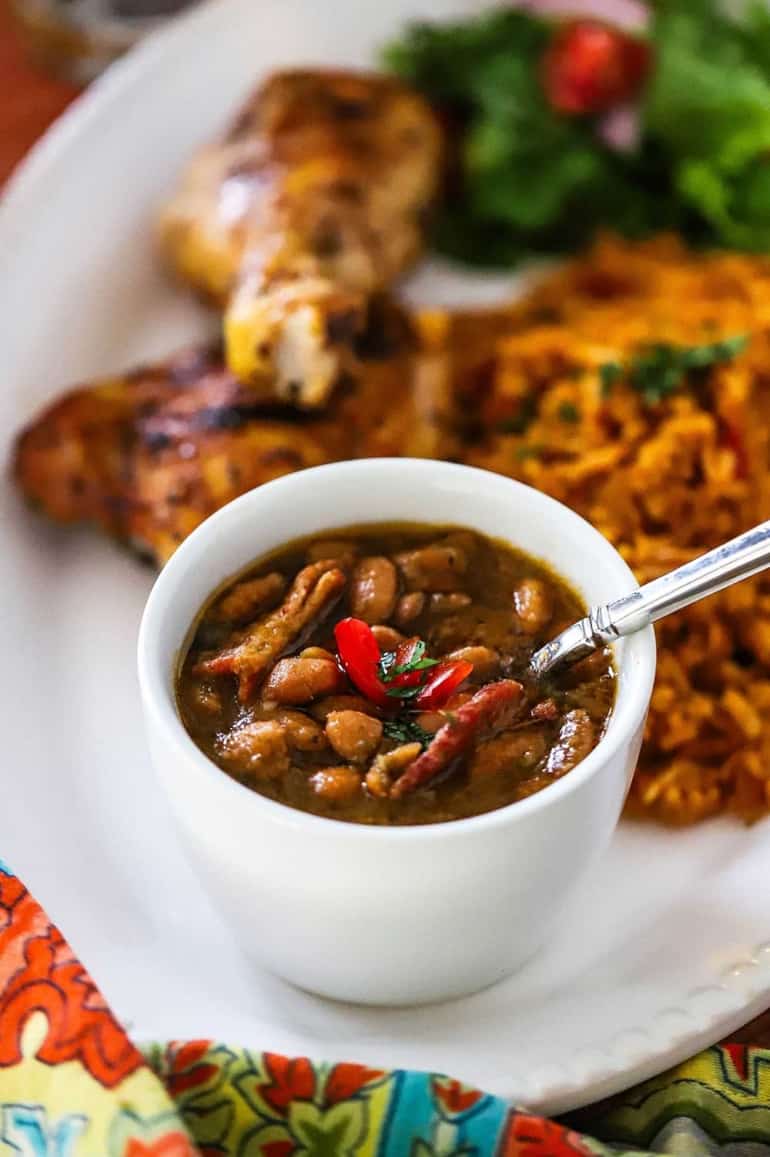 Ready to make the best beans this side of the Rio Grande? Go for it!
And when you do, be sure to take a photo of them, post it on Instagram, and tag @HowToFeedaLoon and hashtag #HowToFeedaLoon!
Authentic Borracho Beans
These Borracho Beans are about as comforting of a pot of food as you'll ever make. Warm, delicious, and wonderful any time of the year. Allowing the beans overnight ensures they will cook evenly and be perfectly tender.
Print
Pin
Rate
Servings: 8 people
Calories: 341kcal
Equipment
Large pot or Dutch oven 7 to 9 quart
Ingredients
1 lb pinto beans dried
4 cups chicken stock
1 bottle beer preferably Mexican, not dark
2 cups water plus more as the beans simmer
1 pound salt pork or ham bone or ham hocks, See NOTES
6 slices bacon roughly chopped
1 medium onion chopped
2 jalapeno peppers seeded and finely chopped
3 cloves garlic minced
2 tbsp pork lard optional
½ cup cilantro fresh, chopped
2 tomatoes roughly chopped
1 tsp ground cumin
1 tsp dried oregano
1 tsp salt See NOTES
1 tsp black pepper
Instructions
Soak the beans overnight. The next day, drain and add beans into a large pot.

Add the stock, beer, water, and salt pork (or ham bone) to the pot and simmer on low for 1½ hours. Stir occasionally to prevent the beans from sticking to the bottom of the pot.

Meanwhile, cook the bacon in a large skillet over medium-high heat until crisp. Remove to a paper towel-line plate.

Pour out all but 2 tbsp of the bacon grease from the skillet and then heat over medium heat.

Add the onion, peppers and garlic and cook until soft, about 3 to 4 minutes.

Add to the simmering beans the cooked bacon and sautéed vegetables, along with the pork lard (if using), cilantro, tomatoes, cumin, oregano, black pepper, and salt (to taste). Simmer for another 1½ hours, or until the beans are tender. Stir occasionally and add more water to maintain a "soupy" consistency.
Notes
See the video near the top of the blog post for visual guidance. If you liked the video, please subscribe to our YouTube channel.
If you forget to soak the beans overnight, you have two options:
Hot soak - Cover the beans with 10 cups of water in a large pot, and bring to a boil for 3 minutes. Turn off the heat, cover, and let the beans sit for 4 hours. Then proceed with the recipe.
Quick soak - Cover the beans with 6 cups of water in a large pot, and bring to a boil for 3 minutes. Turn off the heat, cover, and let the beans sit for 1 hour. Then proceed with the recipe.
If cooking with salt pork, be sure to taste the beans before adding salt. Some salt porks are very salty and others are not. If yours is salty, you may need to add very little salt. Add the salt near the end of the simmering process.
Pork lard adds an amazing depth of flavor and gives the beans a very authentic taste. Pork lard can be found at your local Hispanic food market.
Reheat beans over medium heat on the stove and add more water or stock to reach the "soupy" consistency. Leftovers will keep in the fridge for up to 6 to 7 days. They freeze nicely for months.
Nutrition
Calories: 341kcal | Carbohydrates: 24g | Protein: 14g | Fat: 17g | Saturated Fat: 8g | Polyunsaturated Fat: 4g | Monounsaturated Fat: 6g | Trans Fat: 0.02g | Cholesterol: 63mg | Sodium: 712mg | Potassium: 342mg | Fiber: 6g | Sugar: 4g | Vitamin A: 376IU | Vitamin C: 11mg | Calcium: 50mg | Iron: 2mg
POST UPDATE: This recipe was originally published in August 2015 but was updated with improved tweaks to the recipe and new tips and photography and a fabulous new video in September 2023!