Borracho Beans are so flavorful and just so amazingly comforting. And these Bodacious Borracho Beans are about as good as they come.
The smell as they slowly simmer on the stove is intoxicating…which would make sense when you consider that borracho means "drunken" beans.
Actually, it's just one bottle of beer, so they're not really "drunk"…but they do smell amazing.
HOW TO MAKE AUTHENTIC BORRACHO BEANS
We can't rave about these borracho beans enough.
Watch us show you how easy it is to make these incredibly flavorful legumes!
Of course, it all starts with beans. We love using dried pinto beans, but you could also go with red kidney, or cannellni, or even black eyed peas.
Soaking the beans overnight primes the beans for a slow simmer on the stove the following day.
There is just something so comforting and "homey" when a pot of beans is resting on a stovetop.
MEXICAN LAGER IS IDEAL FOR BORRACHO BEANS
We love using a good Mexican lager for our borracho beans.
Get yourself a nice six-pack, pour one bottle in, and enjoy the rest for the remainder of the day.
These beans just keep on giving!
Cooking down the vegetables in a little bacon grease bumps up the flavor profile these borrocho beans quite a bit.
Remove the seeds and the interior ribs of the fresh jalapeños to reduce the heat (leave them in if you prefer your beans with some heat).
Onion and garlic round out the delicious aromatics as they simmer before going into the pot of beans.
BORROCHO BEANS ARE CLASSIC MEXICAN COMFORT FOOD
Finally, ground cumin, along with fresh tomatoes and cilantro add one final flavor boost.
Borracho Beans have been warming the hearts in Mexico for generations and we just love them so much. I make a batch several times a year, and love them every single time.
So good.
Slow simmering the beans produces the most wonderful flavor and texture for the borracho beans. Another wonderful Mexican beans recipe. is our Easy Gourmet Refried Beans.
If you don't have time to soak the beans overnight, you can just double the cook time and they'll be just fine.
Simmering with ham hocks, or salt pork, is essential. Just remember if you use salt pork, be careful when adding additional salt (you may not need any more, due to the salt from the salt pork).
These beans are just the best. Make them and you will be very happy. Mmmmm.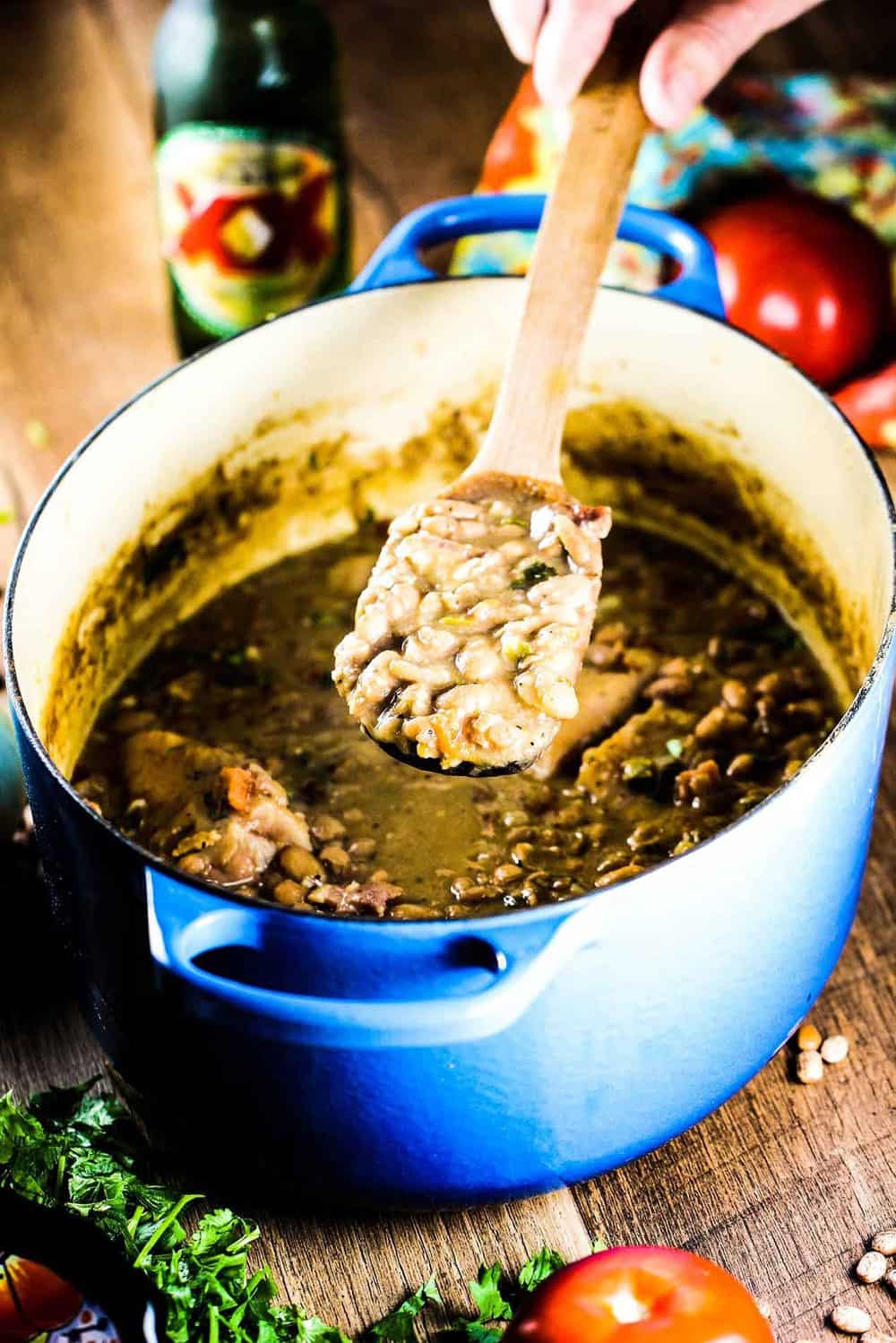 Bodacious Borracho Beans
These Bodacious Borracho Beans are about as comforting of a pot of food as you'll ever make. Warm, delicious and wonderful any time of the year. We love using a nice Mexican lager like Tecate for these beans. So good!
Print
Pin
Rate
Servings: 8 people
Calories: 280kcal
Ingredients
1 lb dried pinto beans
4 cups chicken stock
1 bottle of Mexican beer
2 cups water
1 pound salt pork
6 slices thick bacon roughly chopped
1 medium white onion chopped
2 jalapeno peppers, seeded and ribs removed finely chopped
3 cloves garlic minced
1/2 cup fresh cilantro chopped
2 tomatoes seeded and roughly chopped
1 tsp black pepper
1 tsp ground cumin
1 tsp dried oregano
1 pinch salt taste before adding
Instructions
Soak the beans overnight. The next day, drain and add beans into a large pot (preferably a Dutch oven).

Add the stock, beer, water and salt pork to the pot and simmer on low for 1 & 1/2 hours. Stir occasionally to prevent from sticking to the bottom of the pot.

Meanwhile, cook the bacon in a large skillet over medium-high heat until crisp. Remove to a paper towel-line plate.

Pour out all but 2 tbsp of the bacon grease from the skillet and then heat over medium heat.

Add the onion, peppers and garlic and cook until soft, about 3 to 4 minutes.

Once the beans have simmered for an hour and a half, add the cooked bacon and sautéed vegetables, along with the cilantro, tomatoes, black pepper, cumin and taste. Add salt if desired (the beans will already be salted from the salt pork).

Simmer for another hour then serve.
Nutrition
Calories: 280kcal