This is the perfect side dish when you're in the mood for amazing grilled food.
We love everything about this iconic corn that is such a popular street food in the beautiful country of Mexico. It goes perfectly alongside Grilled Chicken, Slow-Cooker BBQ Ribs, and Gourmet Beef Sliders. Exploding with flavor and is so easy to prepare. Beautiful, festive, and so delicious!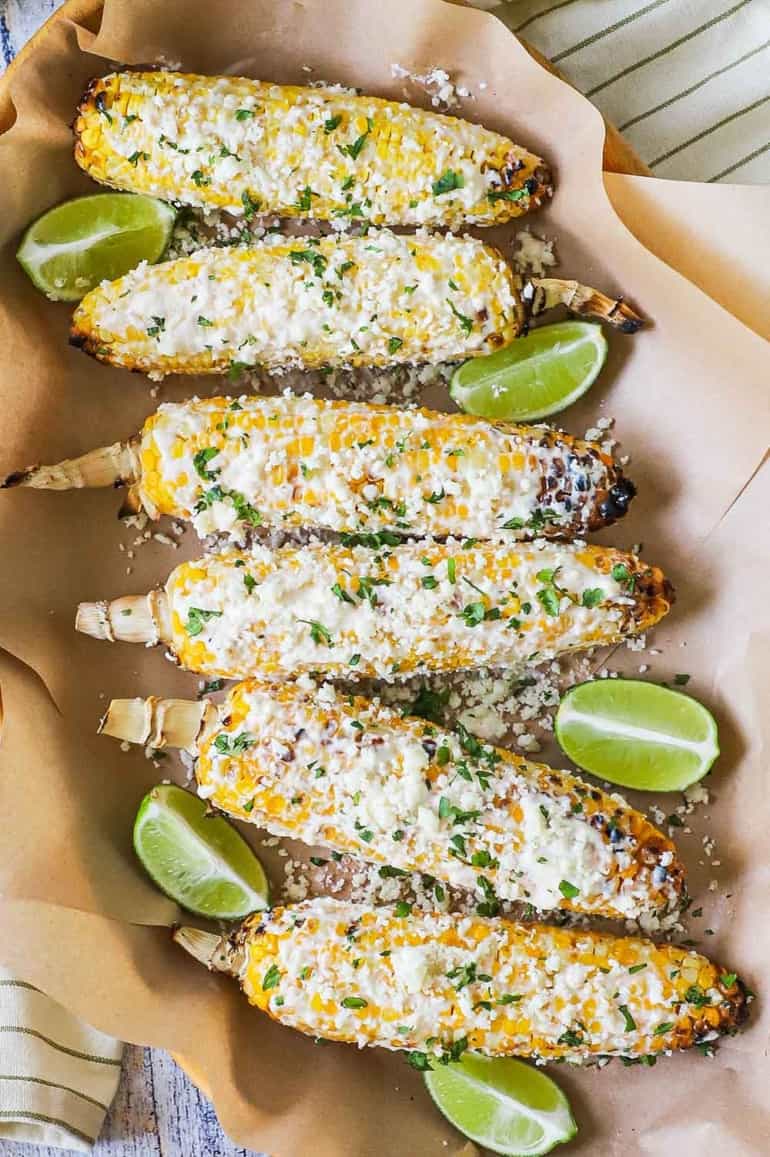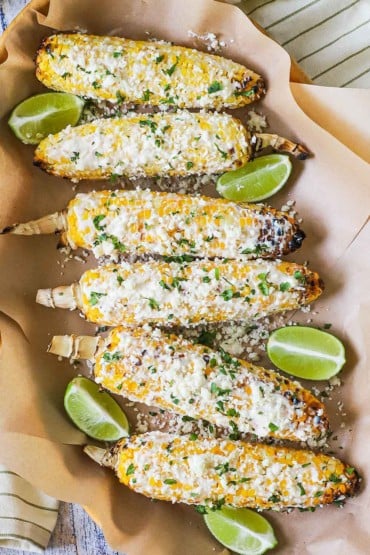 How To Make Elote (Mexican Street Corn)
You can get a jump start on preparing the corn by removing the silk two or three days in advance.
It's a bit of a chore, especially if you are doubling or tripling the recipe. But once you've completed this task, the rest of the preparation is a snap.
NOTE: If you liked the video, please subscribe to our YouTube channel. Remember to click the little 'bell' icon so you'll never miss a new video. Thank you!
The Ingredients You Will Need
Fresh corn, or maize, has been an integral part of civilizations for thousands of years. Its history is intriguing, and even somewhat mysterious. Read this fascinating article on The Ancestry of Corn from the New York Times.
Here's What You'll Need to Have on Hand
Fresh corn – Preferably with the husks on. For added flavor, we pull the husks back, remove the silk, and the tie the husks back up. This imparts flavor when grilling!
Mexican crema – This can often be found in the dairy section of many supermarkets or at Hispanic markets. Sour cream or crème fraîche, are fine substitutes.
Mayonnaise – Homemade is great, but store-bought is good, too!
Cotija cheese – This is a hard, crumbly cheese that can be found in the dairy section (near the Mexican crema) in many supermarket or a Hispanic market. Mild feta or crumbly Parmesan are decent substitutes.
Cayenne pepper – For a little kick. Place extra out so guest and sprinkle more on the corn, if they like a little more spice.
Lime – Have plenty on hand. Fresh and halved.
Salt – Coarse sea salt is good, but any kind will work.
Cilantro – Fresh and chopped.
EXPERT TIP: We love to remove the silk from each ear of corn, but leave the husks on. Tie the tusks in place and then grilled until lightly charred, about 8 to 12 minutes. IMPORTANT: Keep an eye on the corn with the husks on! They can burn easily and even catch on fire. Turn them frequently and remove once lightly charred (see photo below).
Tips for Making Perfect Elote
It's all about the corn – Choose fresh, sweet corn and grill it over high heat until it's charred and slightly caramelized, which adds smoky flavor and sweetness to the corn. Avoid frozen corn, if at all possible.
Get rid of that silk – If you leave the husks on or off, be as meticulous in removing the silk from the corn. This takes a little time, but it's worth it. If you don't, guests will be picking it from the teeth for hours.
Garnish liberally – The grilled corn is the star, but what puts it over the top is the sauce, and additional garnishing of more cheese, fresh cilantro, and chopped cilantro. It's fresh, herbaceous, and balances out the flavors.
EXPERT TIP: Once you've removed the husks, you'll want to add the corn back to the grill over direct heat. Move the corn around often during the grilling process. Most grill will have "hot spots" and be hotter in some areas. This can cause uneven charring on the corn.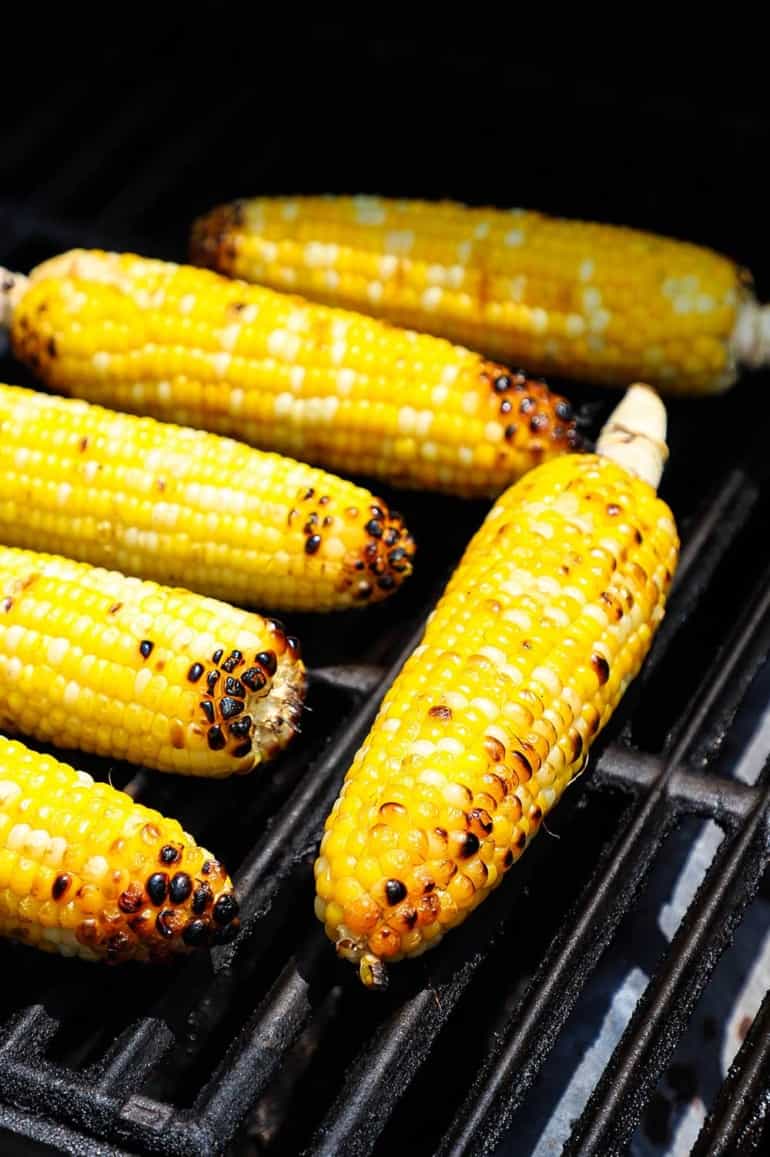 How To Serve
This amazing side dish is wonderful served family style, nice and hot.
We love to leave the stem intact at the base of each ear so folks can use it to hold the corn while they dress their own and eat it.
There's nothing much more festive than placing out a platter pile high with freshly prepare elote.
You'll want to have plenty of extra crumbled Cotija cheese, as well as chopped fresh cilantro, lime wedges, and cayenne pepper so folks can customize their corn. Fun, festive, and so delicious!
EXPERT TIP: Prepare the sauce at least an hour before grilling the corn and chill in the refrigerator. Then, slather on the sauce while the corn is good and hot.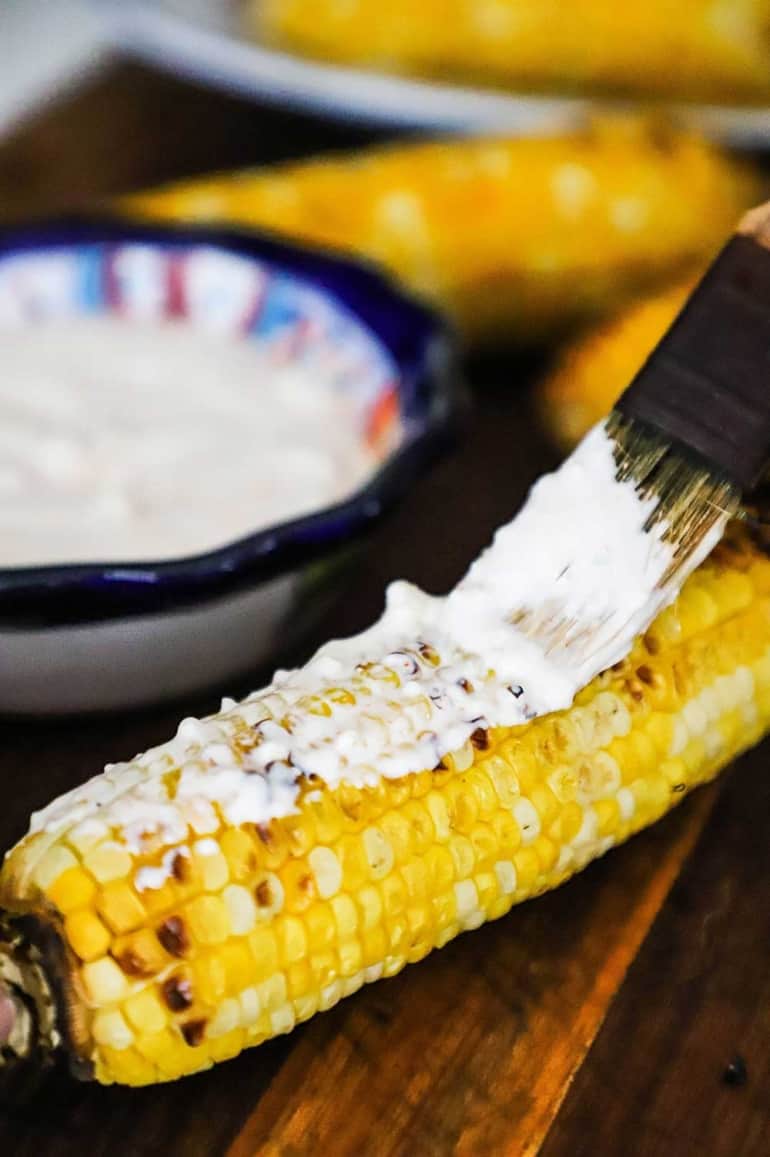 Other Classic Side Dish Recipes for an Outdoor BBQ or Picnic
This grilled corn is always a huge hit whenever we serve it to friends and family. These dishes always garner rave reviews, too. You'll definitely want to give them a try!
Mexican-Style Creamed Corn
Slow-Cooker Corn on the Cob
Zesty Corn and Black Bean Salad
Southern Baked Beans
Ultimate Macaroni and Cheese
Avocado-Lime Slaw
Best-Ever Potato Salad
Cheddar Bacon Ranch Pasta Salad
Creamy Horseradish Potato Salad
These are all so good. But, in the meantime, isn't this corn creation calling your name?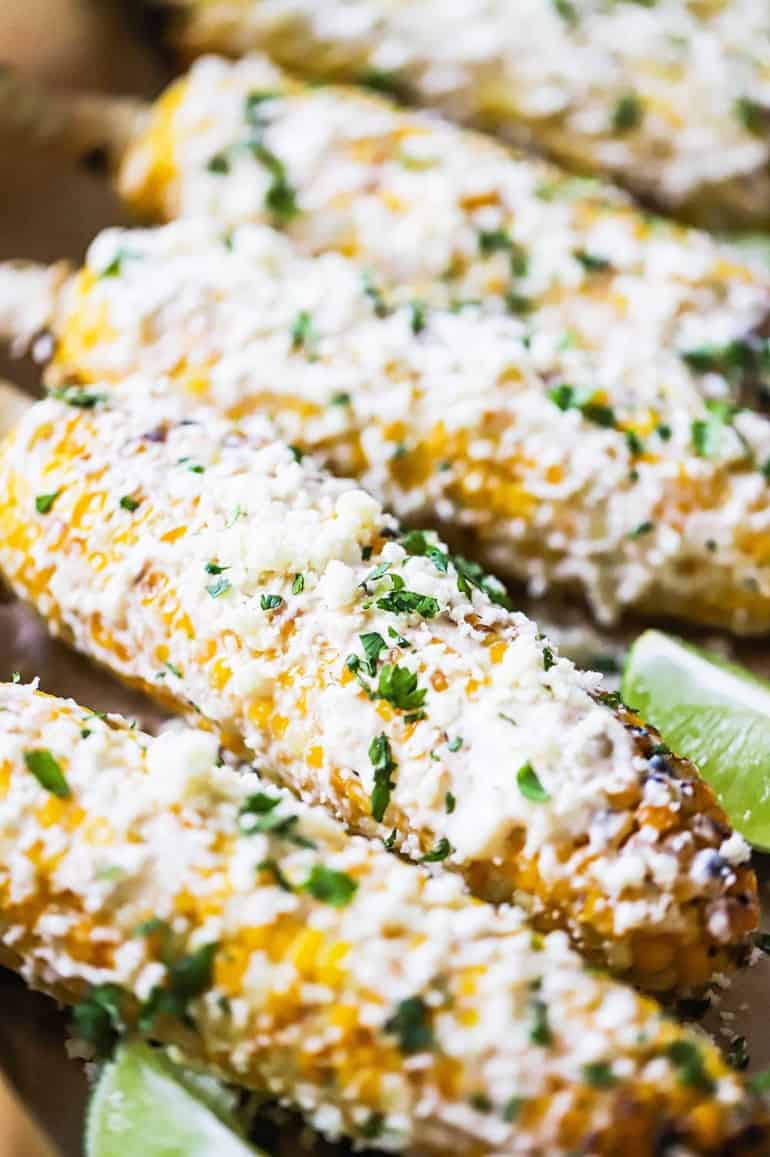 The smoky flavor from the grill is incredible. The sweetness of the corn is beyond description. The tanginess of the sauce as it melts into the hot corn is heavenly.
Trust us, make this at your next outdoor BBQ, and you will 100% be the superhero of the day.
It's that good.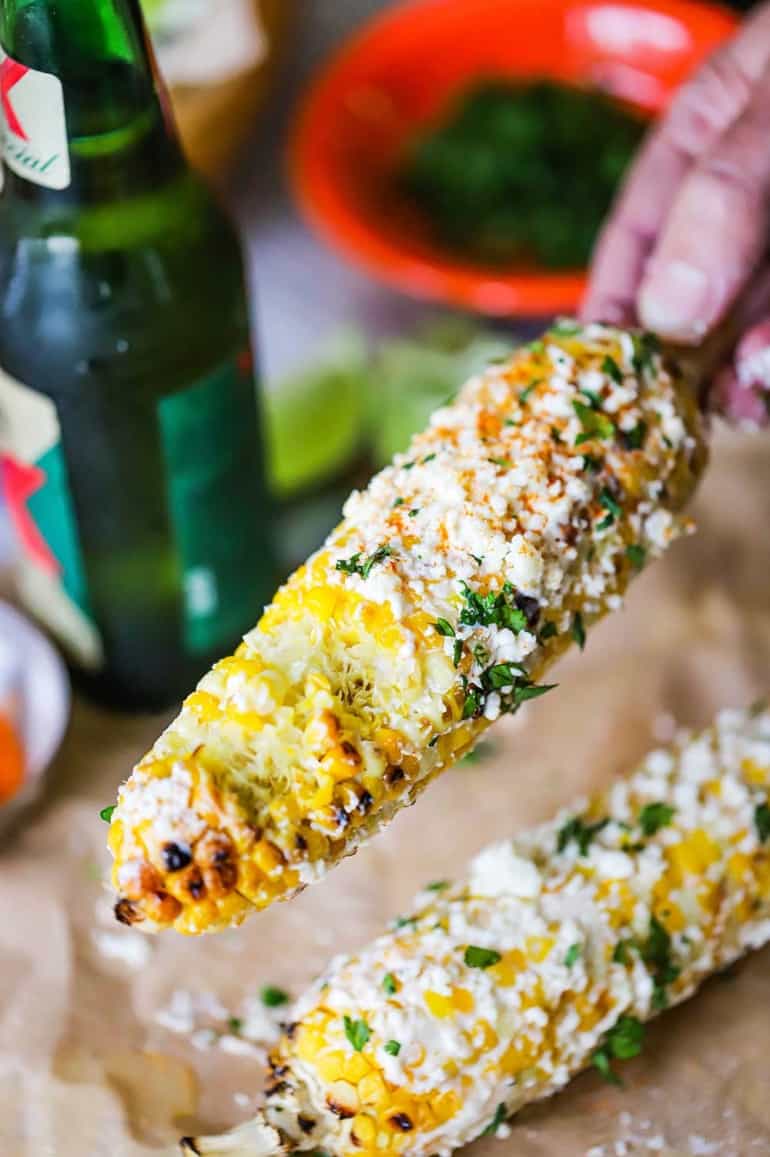 Ready to make the best corn on the cob this side of Mexico City? Go for it!
And when you do, be sure to take a photo of it, post it on Instagram, and tag @HowToFeedaLoon and hashtag #HowToFeedaLoon!
Elote (Mexican Street Cron)
Elote is iconic street food in Mexico and has become wildly popular around the world. It's ideal for serving at an outdoor BBQ but is great for so many types of occasions. If you don't have a grill, the corn can be boiled.
Print
Pin
Rate
Servings: 8 people
Calories: 191kcal
Equipment
Gas grill, charcoal grill, or electric grill
Ingredients
8 ears fresh corn preferably in husks
½ cup Mexican crema or creme fraiche, or sour cream
¼ cup mayonnaise
¾ cup Cotija cheese crumbled, see NOTES
¼ tsp cayenne pepper more for dusting
1 lime juiced, about 2 tbsp
1 tsp salt
½ cup cilantro fresh, chopped
Lime wedges for garnish
Instructions
Prepare your grill to medium-high heat.

Pull the husks back from each ear of corn. Use your fingers to remove as much of the silk for each ear of corn. Bring the husks back around the ear of corn, and use string, or a strand of the husk to tie the tops of the husks so they stay on the corn. (It's okay if some of the corn is visible through the husks).

8 ears fresh corn

In a medium bowl, mix together the Mexican crema (or creme friache or sour cream), mayonnaise, ½ cup crumbled Cotija, cayenne, lime juice, and salt.

½ cup Mexican crema, ¼ cup mayonnaise, ¾ cup Cotija cheese, ¼ tsp cayenne pepper, 1 lime, 1 tsp salt

Cook corn in husks on the grill for about 8 to 10 minutes, until the husks have begun to char. Watch them closely, and move them around the grill often with metal tongs. The husks will burn easily, so, stay with them!

Remove the corn from the grill, and when cool enough to handle, remove the husks from each ear of corn, leaving a portion of the stalk in place. Place the corn back on the grill for about 12 to 15 minutes, until kernels are browned in spots, turning occasionally.

Remove corn from the grill and place on a large cutting board.

Brush with the cream mixture all over the corn while still hot.

Place on a platter and sprinkle on the remaining Cotija cheese, the cilantro, freshly squeezed lime, and extra cayenne, if desired. Serve at once.

½ cup cilantro, Lime wedges
Notes
See the video near the top of the blog post for visual guidance. If you liked the video, please subscribe to our YouTube channel.
Mexican crema is often found in the dairy area of many well-stocked supermarkets or at Hispanic markets. If you can't find it, you can substitute sour cream.
Cotija cheese will usually be near the Mexican crema in the dairy area of your supermarket. If you can't find it, you could use a crumbled mild feta cheese, or crumbled parmesan.
The ears of corn can be prepped up to 2 days in advance. Wrap them in plastic (or foil) to keep them from drying out.
If you don't have a grill, you can boil the corn for 5 to 10 minutes, depending on fresh it is.
Nutrition
Calories: 191kcal | Carbohydrates: 19g | Protein: 6g | Fat: 12g | Saturated Fat: 3g | Polyunsaturated Fat: 4g | Monounsaturated Fat: 2g | Trans Fat: 0.02g | Cholesterol: 23mg | Sodium: 571mg | Potassium: 268mg | Fiber: 2g | Sugar: 6g | Vitamin A: 396IU | Vitamin C: 9mg | Calcium: 99mg | Iron: 1mg
POST UPDATE: This recipe was originally published May 2018, but was updated with improved tweaks to the recipe with new tips and photography and a fabulous new video in June 2023!