Southern Baked Beans. Truly a beautiful thing.
This is one of the best side dishes you'll make. We promise you that.
Even folks who don't like beans, rave to us about this recipe.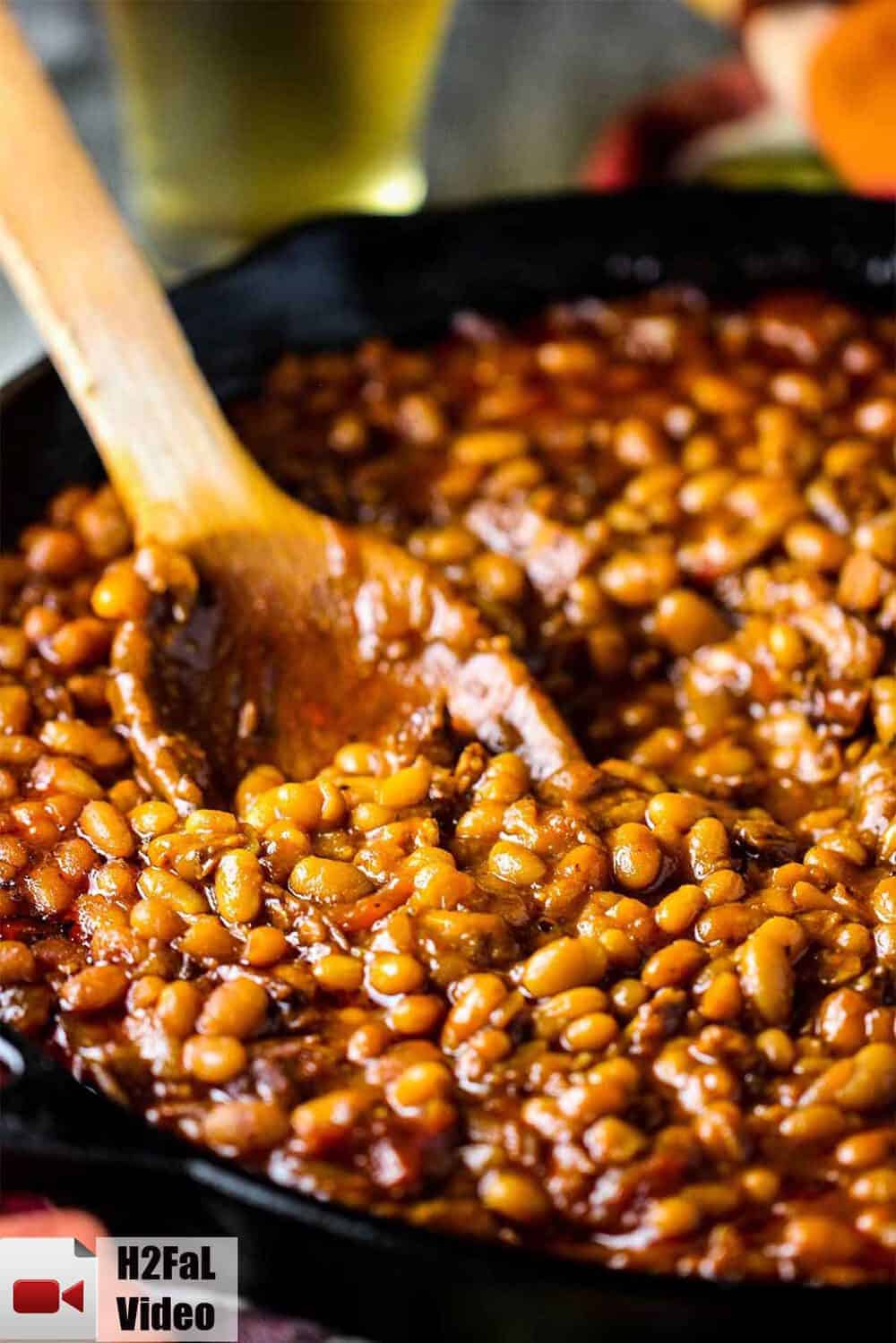 SOUTHERN BAKED BEANS ARE EASY TO PREPARE
You can prepare this dish in a Dutch oven, or, as we like to do, in a large cast iron skillet. Just make sure you are able to cover the oven-ready vessel.
And you'll be surprised how simple it is to prepare these amazing baked beans.
Watch us show you how much fun it is to prepare Southern Baked Beans at home!
The ingredients come together to bring that classic BBQ taste.
Savory matched against sweet just can't be beat.
And did we mention smoked bacon and brisket? Oh yes we did.
CANNED BEANS WORK PERFECTLY FOR THIS DISH
If you were making Boston Baked Beans, then I would recommend soaking the beans overnight and then slow simmering for a minimum of 6 hours in a low-temp oven.
But these Southern Baked Beans are so loaded with flavor, canned beans are just fine!
We love to go with Great Northern White beans!
In a large skillet, start by cooking 10 strips of you favorite type of bacon.
We love maple black pepper bacon, but you go with your favorite. Smoked will always add more flavor.
Just as the bacon starts to render fat, add the chopped onion and cook until tender, about 5 minutes.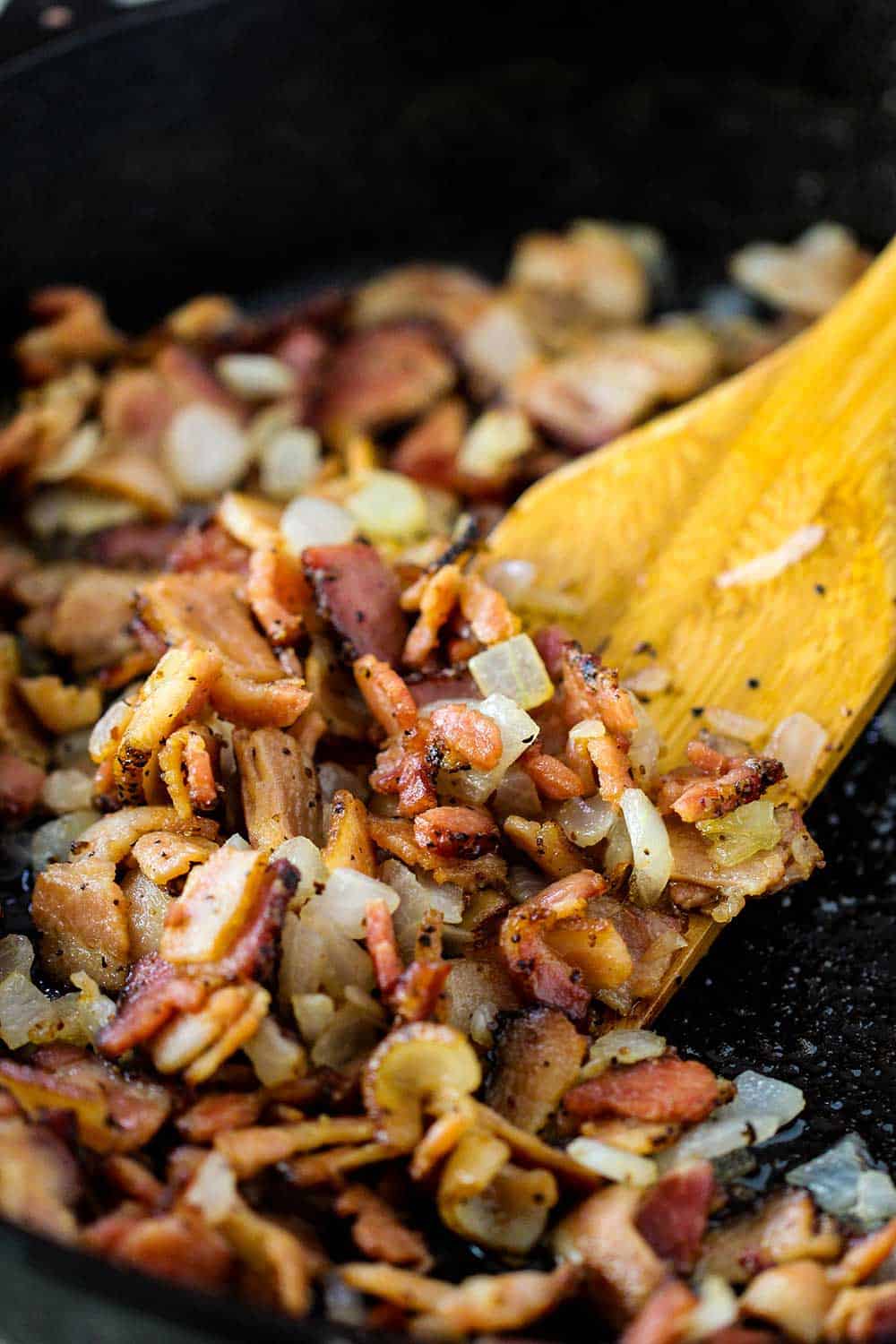 GENTLY COMBINE ALL THE INGREDIENTS BEFORE BAKING
After all the ingredients have been added, gently mix everything together until the beans are nicely coated.
We seldom have overflow as the beans cook in the oven, but just for good measure, we add a large baking sheet on the rack under the beans…just in case there is spillage.
The beans are so beautiful, even at this point…but just wait. It gets so much better!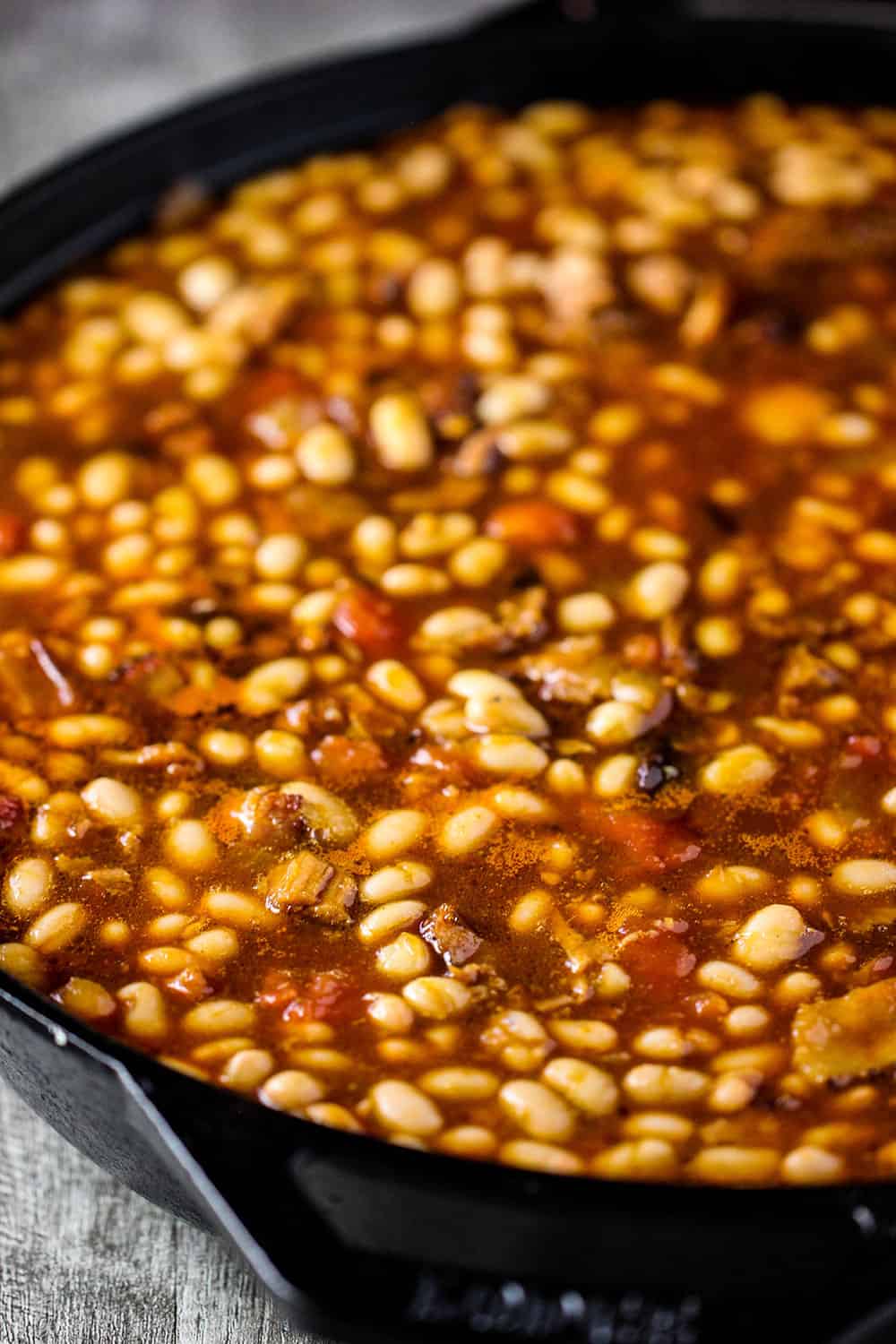 After the beans have baked for a good 2 hours, carefully remove from the oven and let rest for at least 10 minutes.
Get ready to salivate as you remove the lid, or the foil, from these succulent Southern Baked Beans.
Give the beans a good stir with a wooden spoon. Just incredible.
SOUTHERN BAKED BEANS ARE THE PERFECT SIDE DISH
These baked beans are delicious, they are practically a meal by themselves.
But paired with a cold beer and your favorite BBQ dishes, you'll be in Southern bliss.
Other BBQ favorite side dishes are:
Best-Ever Potato Salad
Slow-Cooker Corn on the Cobb
Cheddar Bacon Ranch Pasta Salad
The Ultimate Macaroni and Cheese
Best-Ever Yellow Squash Casserole
These beans re-heat beautifully for about 45 minutes in a low-temp oven of 200°F.
Now, hurry, and make these incredible Southern Baked Beans!
Southern Baked Beans
The perfect BBQ side dish. These truly will be the bast baked beans you've ever had. Bring these to a BBQ, and you'll be very popular. We promise. 100% Loon Approved.
Print
Pin
Rate
Servings: 8 people
Calories: 399kcal
Ingredients
10 slices smoked bacon roughly chopped
1 cup onion chopped
2 cups barbecue sauce
1 cup dark brown sugar
1 cup beef stock
1 cup brisket roughly chopped
1/4 cup molasses
1/4 cup maple syrup
4 16 oz. cans Great Northern White Beans, or Navy drained and rinsed
1 16 oz. can whole, peeled tomatoes drained and roughly chopped
1 tbsp dry ground mustard
2 tsp Kosher salt
Freshly ground black pepper to taste
Instructions
Pre-heat over to 325°F.

Cook bacon in a large skillet over medium heat until bacon is crispy. Drain on a paper towel-lined plate. Remove all but about 2 tbsp of bacon grease.

Heat the bacon grease and then add onions and cook until soft and translucent, about 5 minutes.

Stir in the cooked bacon, BBQ sauce, brown sugar, beef stock, brisket, molasses, maple syrup, beans, tomatoes, mustard, salt, and pepper, and bring to a boil.

Cover with foil and place in oven and bake for 90 minutes.

Remove from oven and let rest for at least 10 minutes. Remove lid/foil and stir with wooden spoon. Sauce will have thickened. Serve warm.
Nutrition
Calories: 399kcal | Carbohydrates: 74g | Protein: 15g | Fat: 12g | Saturated Fat: 2g | Polyunsaturated Fat: 0.4g | Monounsaturated Fat: 2g | Cholesterol: 36mg | Sodium: 1736mg | Potassium: 684mg | Fiber: 1g | Sugar: 65g | Vitamin A: 161IU | Vitamin C: 2mg | Calcium: 91mg | Iron: 2mg