Ultimate Macaroni and Cheese. The name says it all.
Folks, this is it. If you make one thing from How To Feed a Loon, this probably should be the dish you make.
We call it "ultimate" for good reason. It's insanely delicious.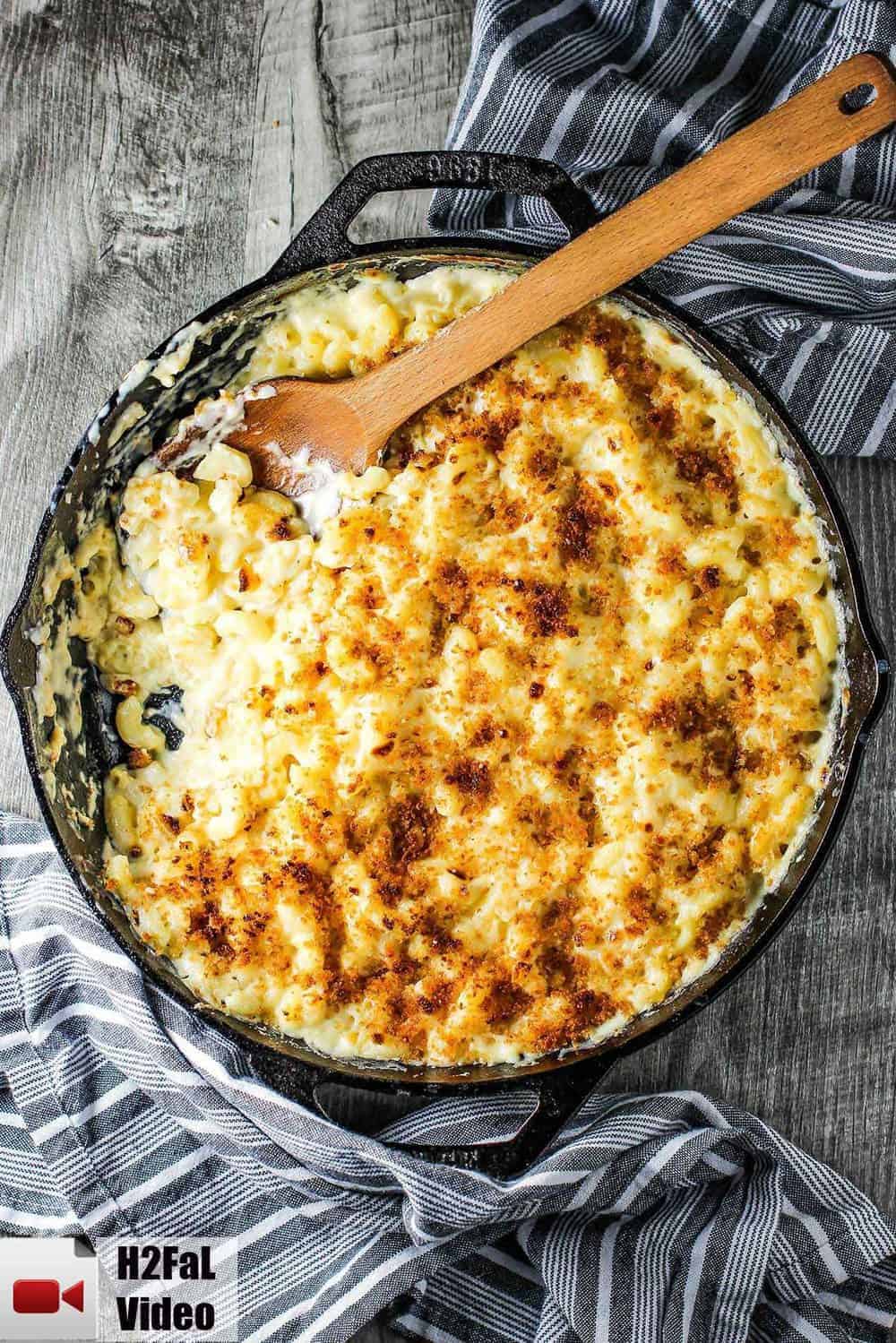 ULTIMATE MACARONI AND CHEESE IS EASY TO MAKE AT HOME
You can truly make a show-stopper mac 'n cheese at home. Seriously, it's so good.
Watch us show you how to make Ultimate Macaroni and Cheese!
Great macaroni and cheese relies on delicious melting cheese.
You can choose whatever are your favorites and you'll be in good shape.
Over the years, we have found that we get amazing taste when we use equal amounts of white cheddar, gouda, smoked Gruyere, and muenster.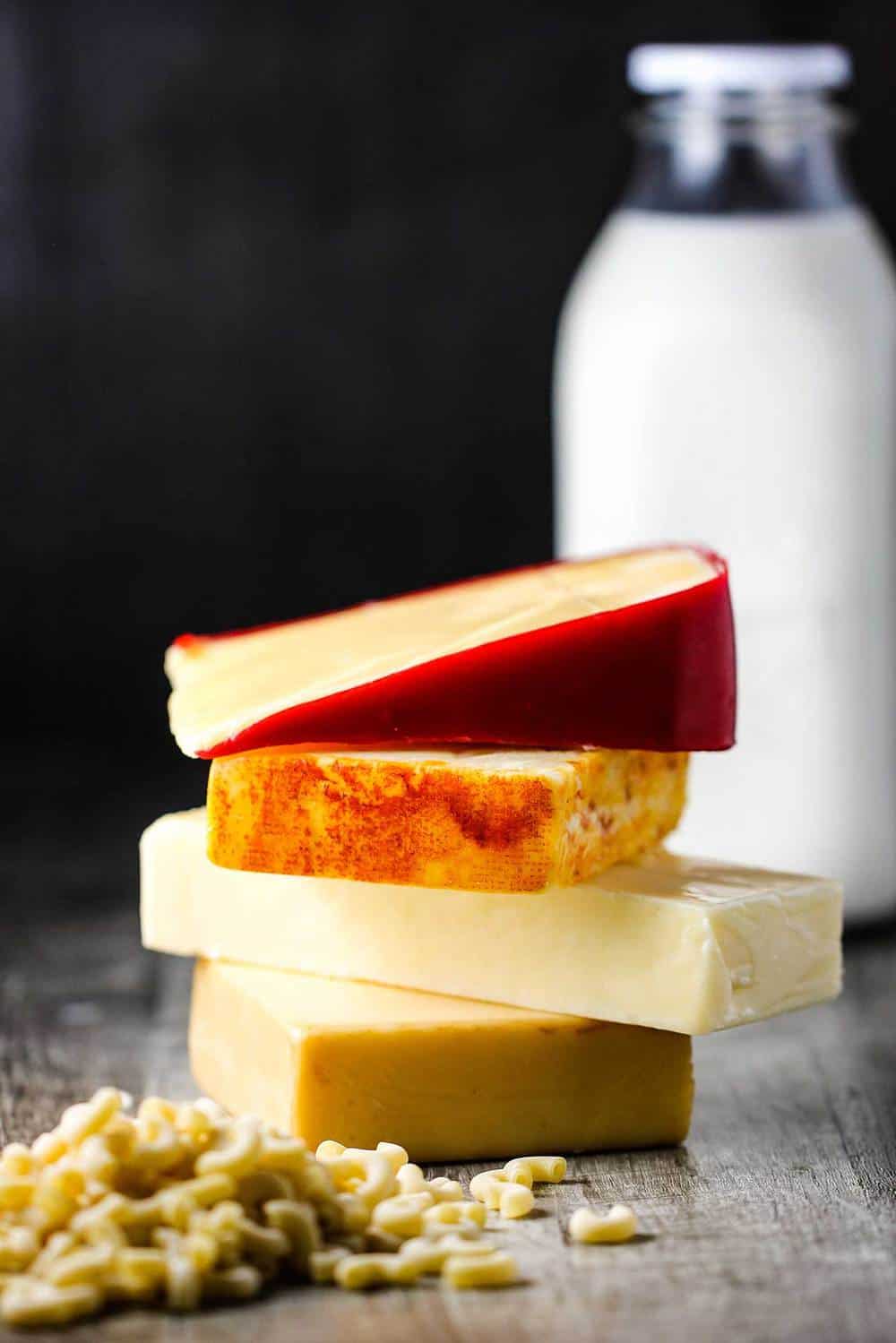 A CLASSIC BÉCHAMEL SAUCE MAKES THE DISH CREAMY
It all starts with a beautiful béchamel sauce. Make a roux with unsalted butter and flour.
Then add the milk and cream, with salt, white pepper and dried mustard, and stir until slightly thickened.
Then add in the shredded cheese.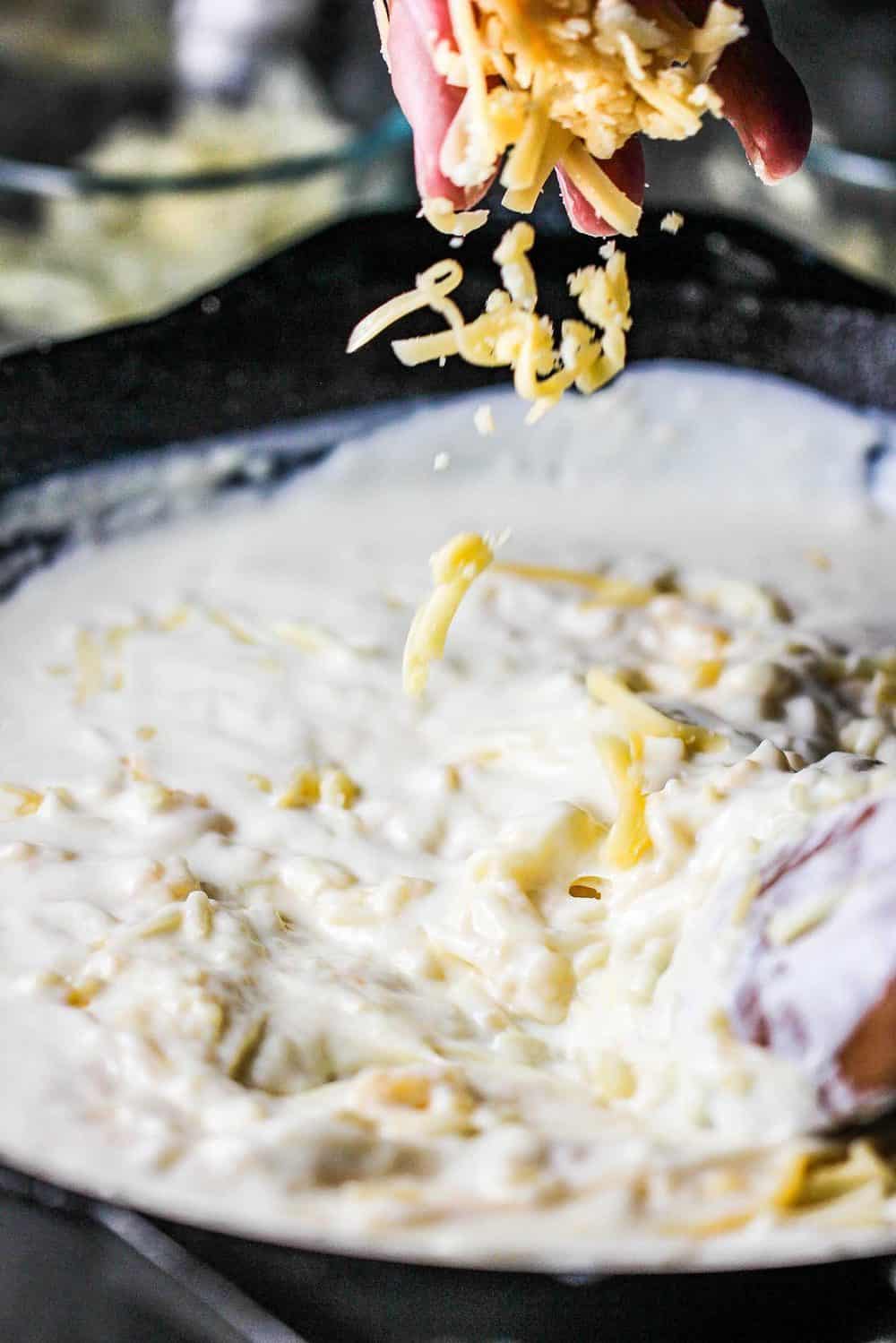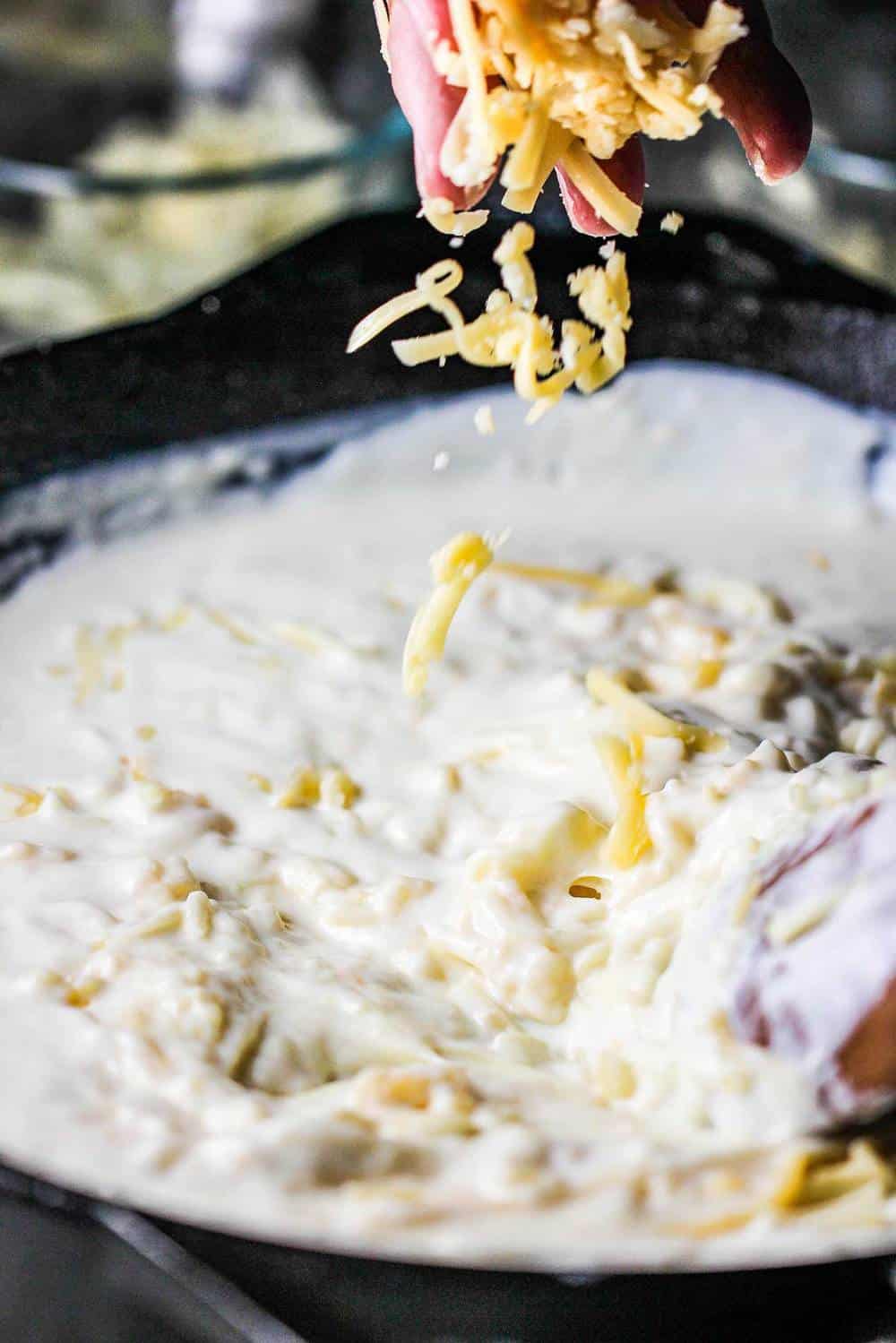 ANY SMALL PASTA WILL WORK FOR HOMEMADE MAC 'N CHEESE
We've experimented with different types of pasta, and honestly, we always go back to small elbow.
It's the perfect size for snuggling with the creamy and cheesy sauce.
Just fold the cooked pasta right into the sauce.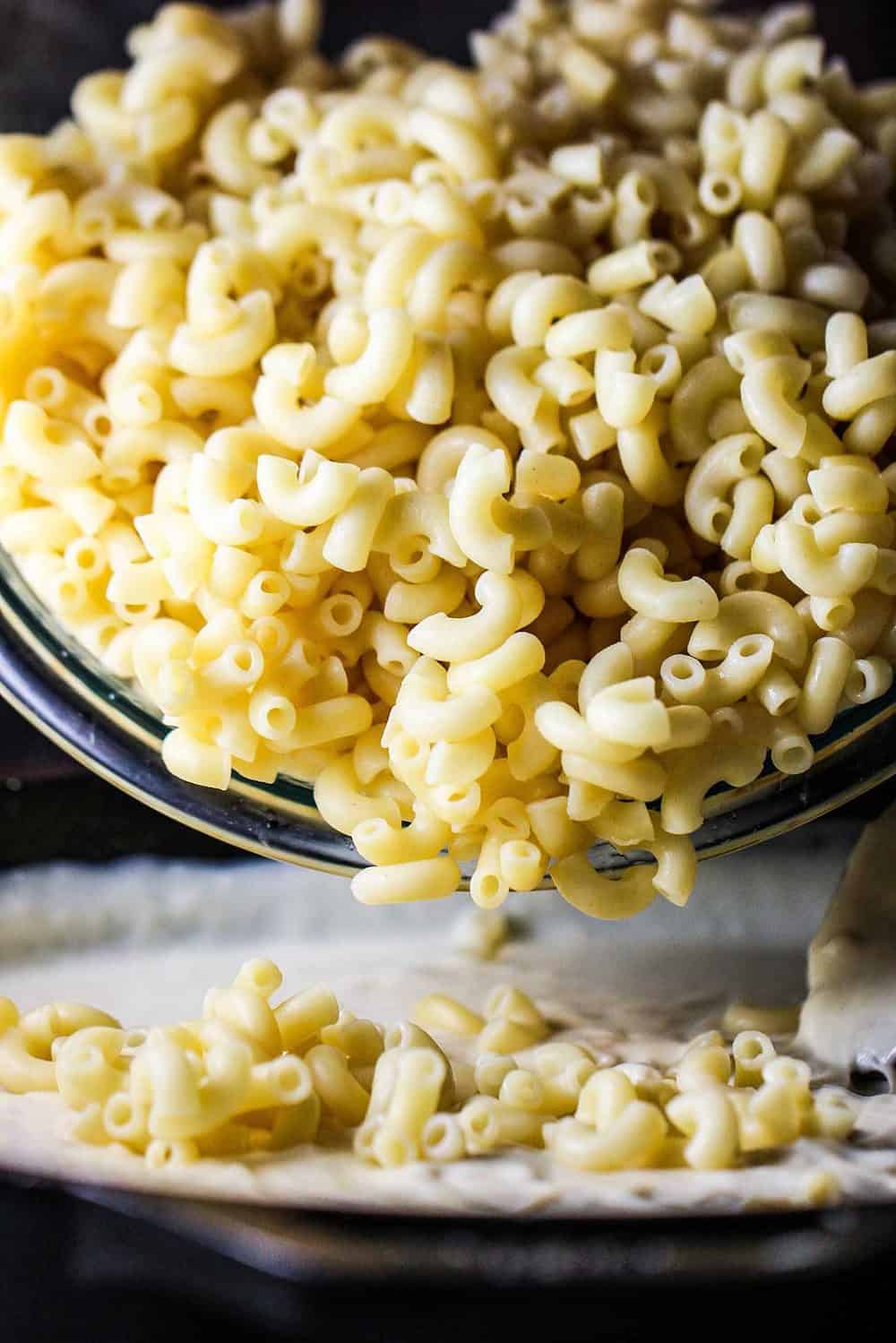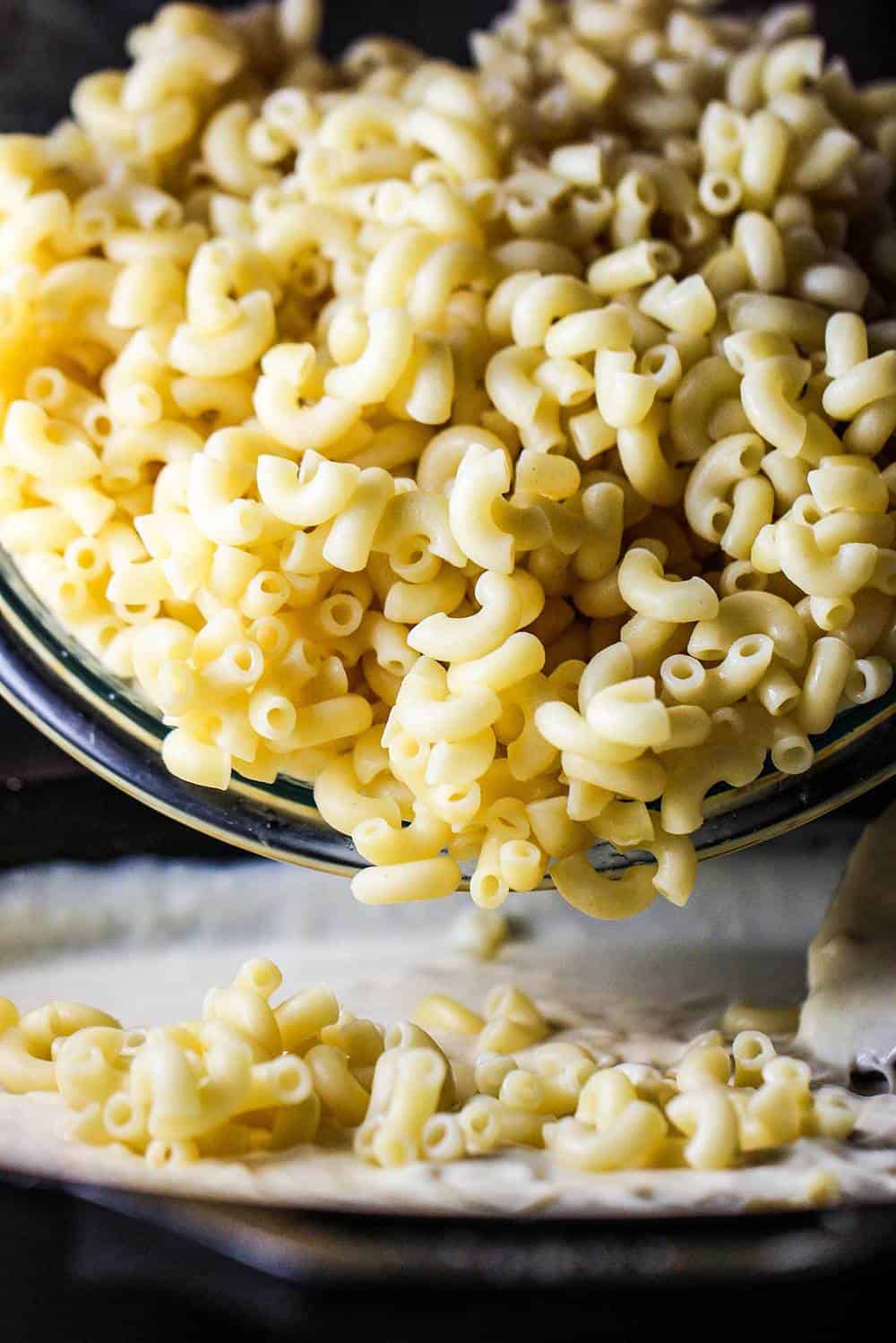 We find that the creamy texture of our Ultimate Macaroni and Cheese works perfectly with a crunchy topping.
Remove the crust from a baguette and then add them to a food processor to make bread crumbs.
Simply cook them in a large skillet with a little oil and butter and a sprinkle of salt for perfectly crunchy and delicious bread crumbs.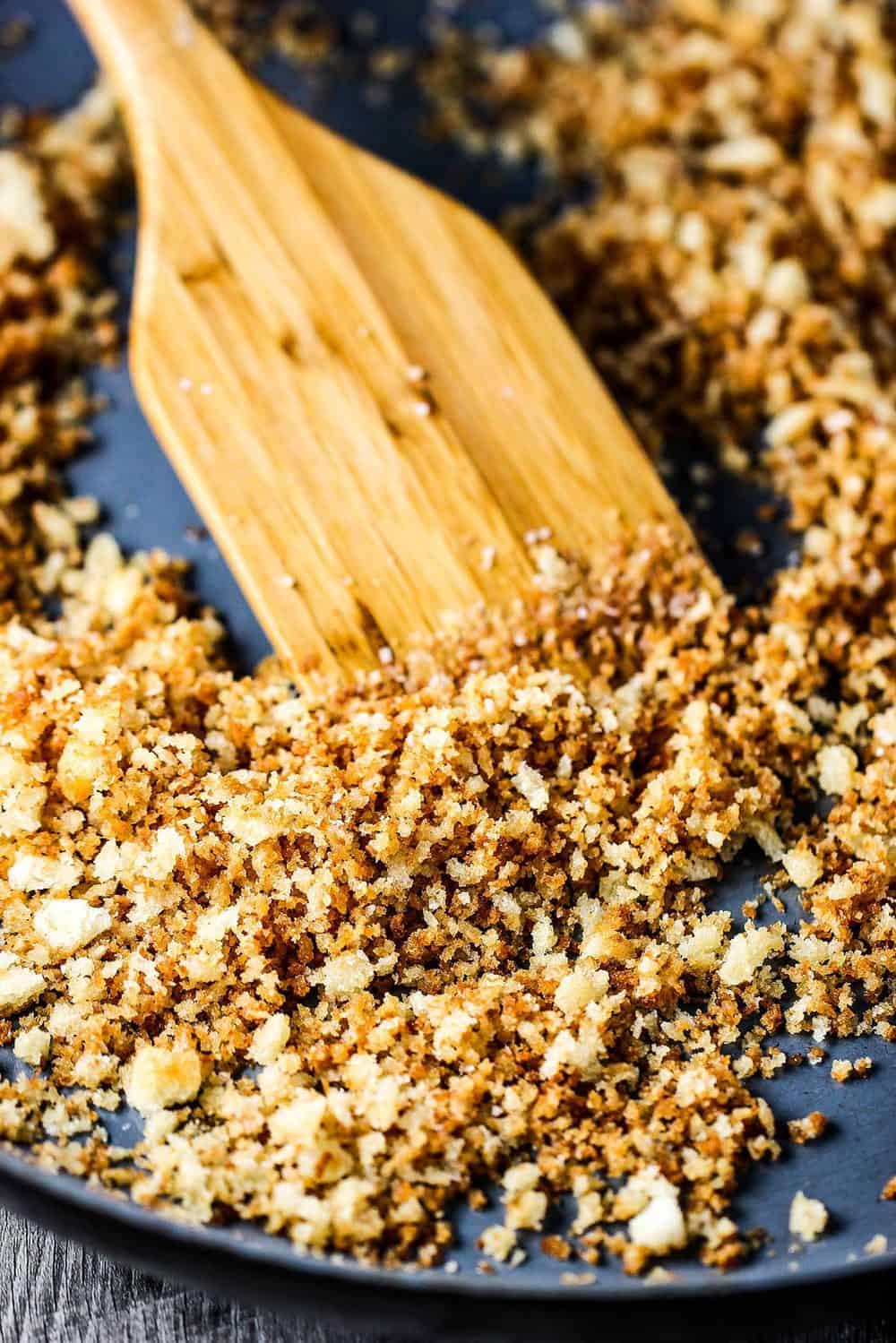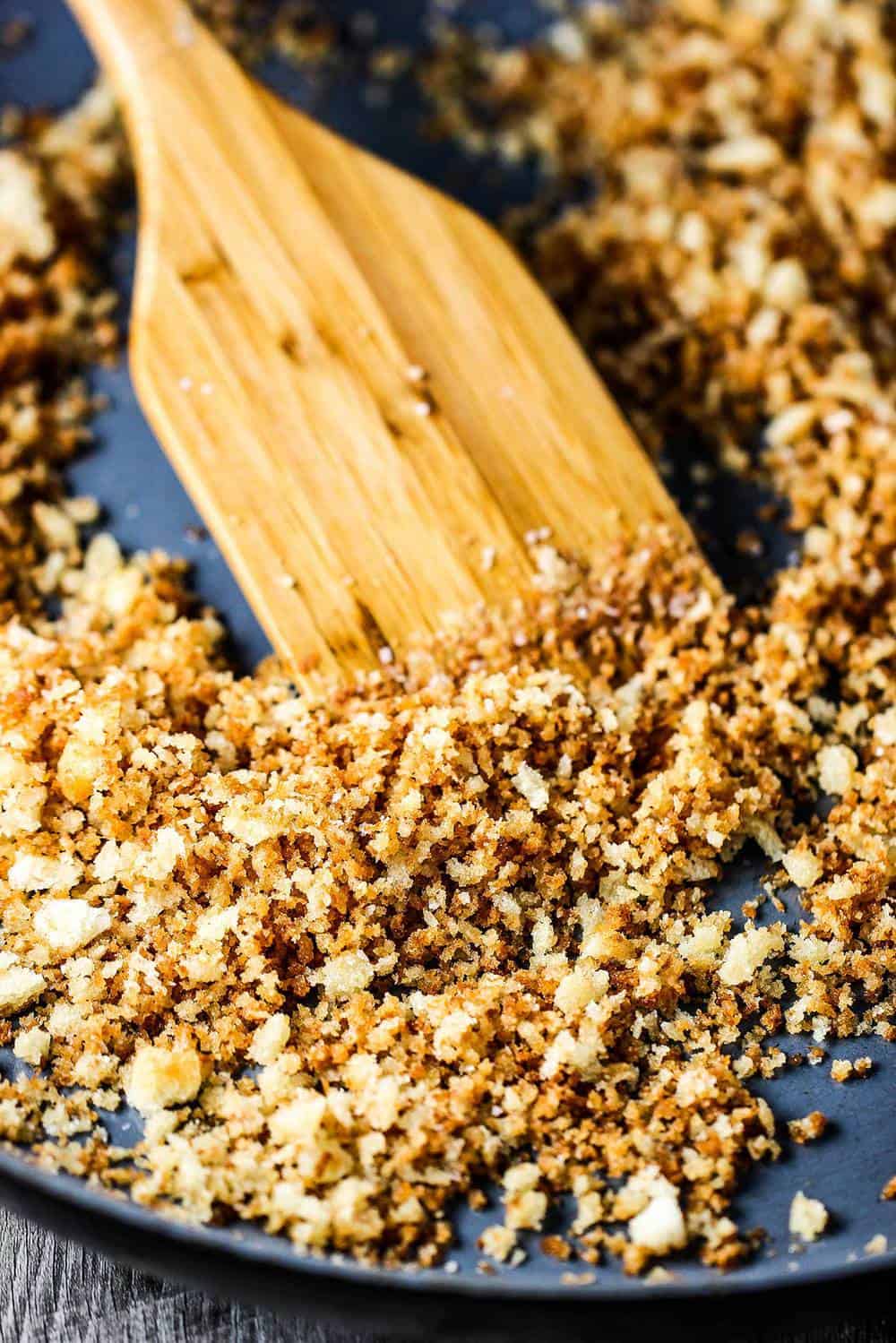 ULTIMATE MACARONI AND CHEESE IS VERY CREAMY
We love for our Ultimate Macaroni and Cheese to be very creamy and cheesy at the same time.
It's really good enough to eat before even baking the dish.
It's hard to resist…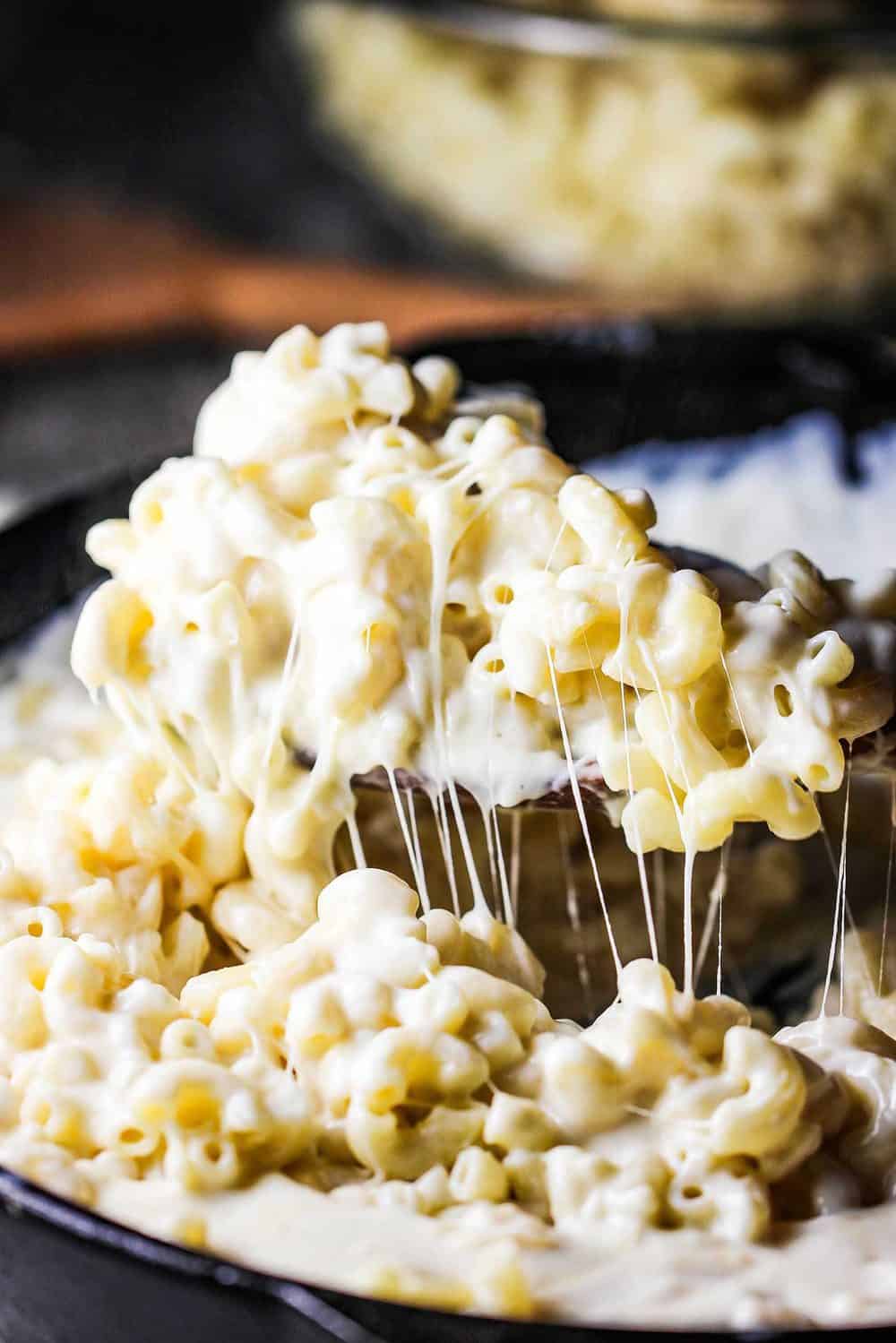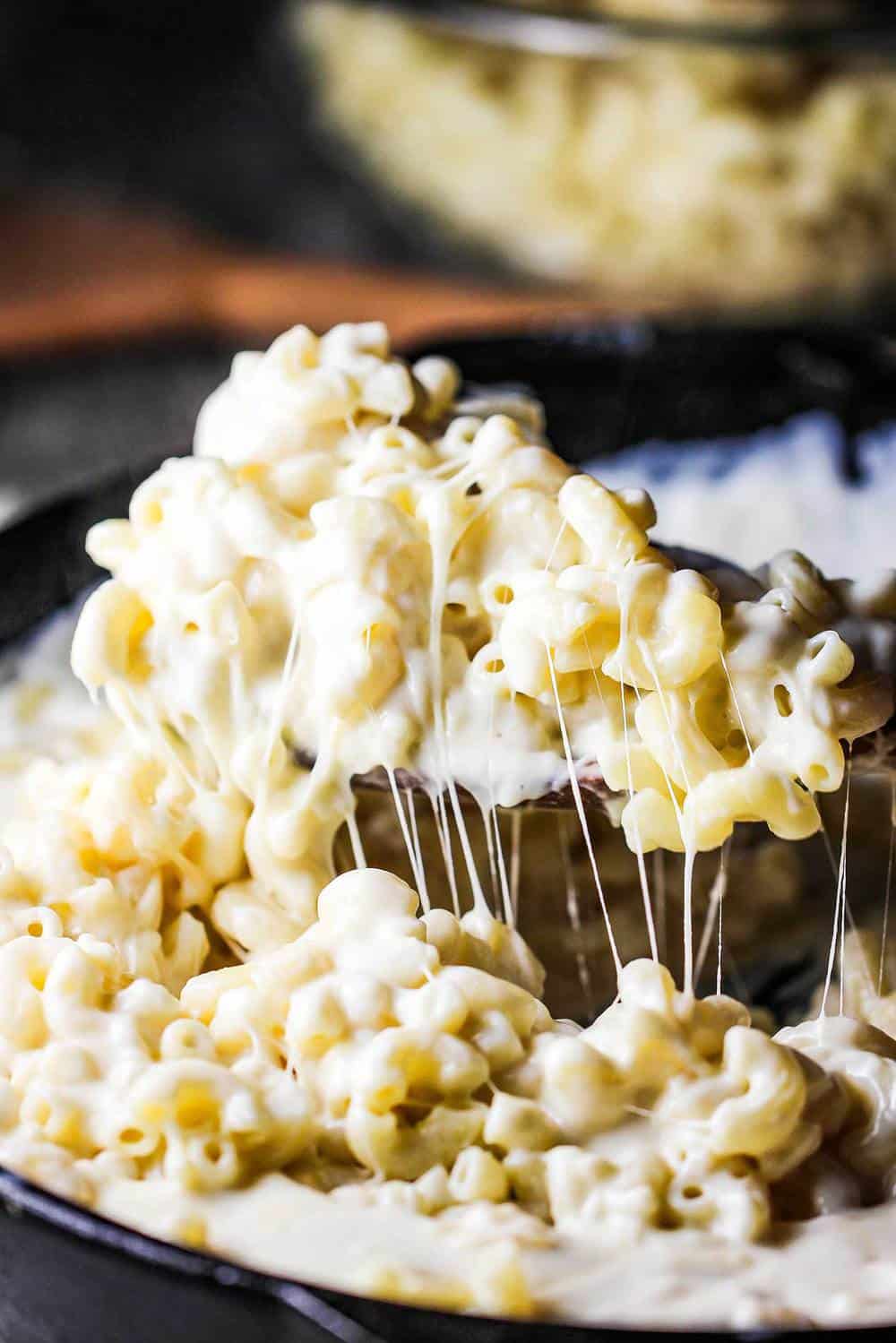 Baking the mac 'n cheese gets it nice and bubbly, and firms it up just a bit.
It's simply incredible fresh out of the oven.
We like to stick it under the broiler for a few moments, just to brown the bread crumbs. But be careful!! Don't let it burn!!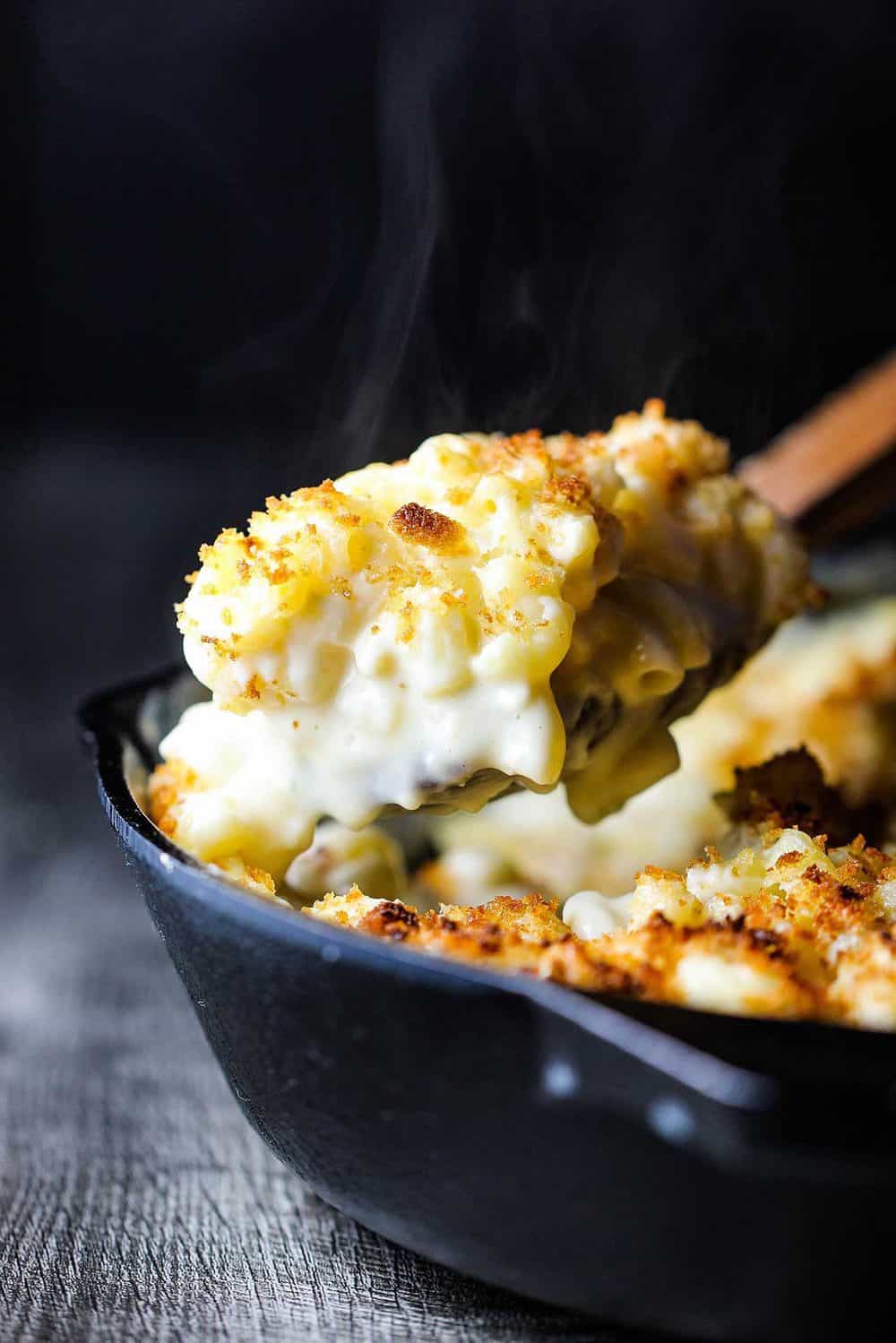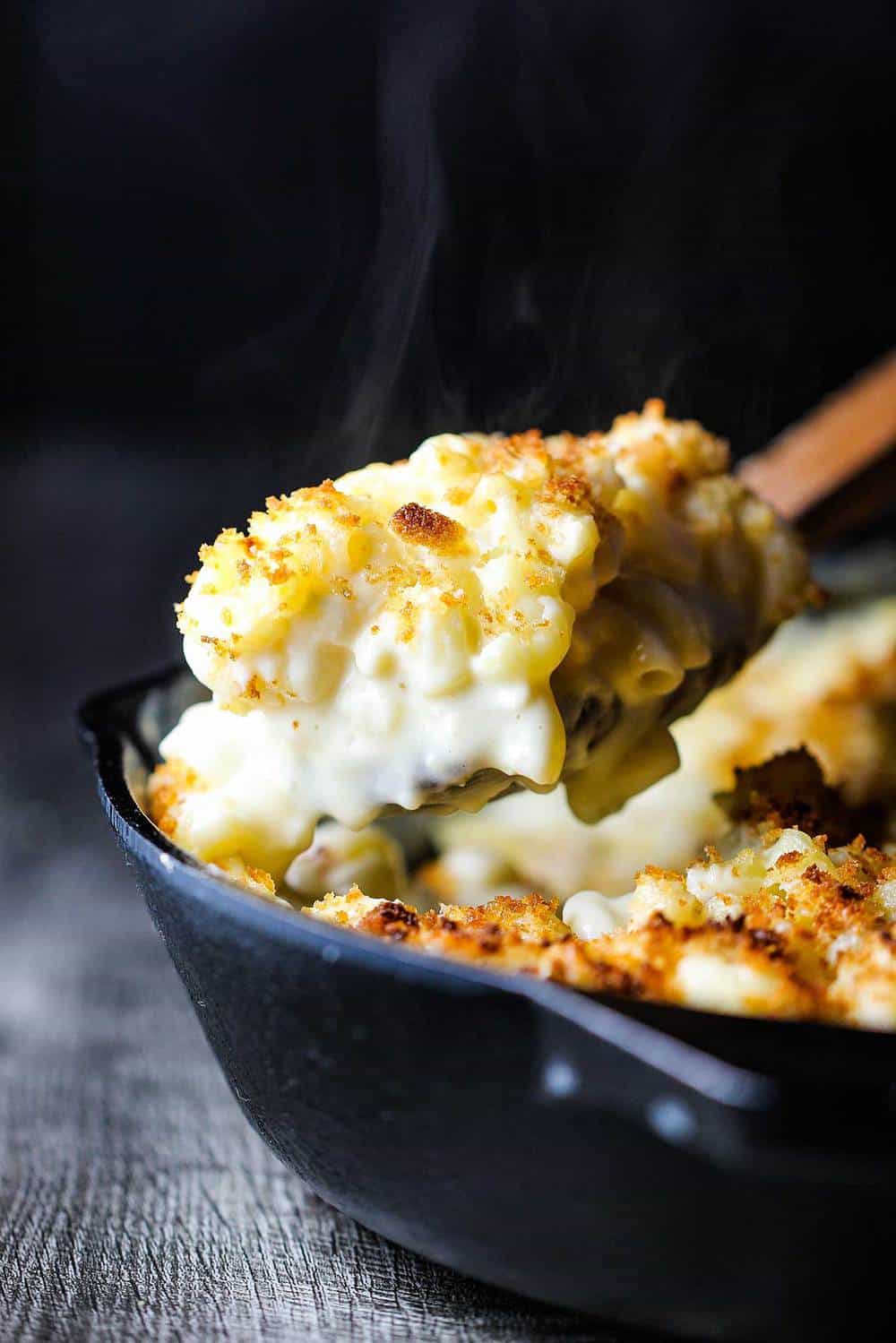 HOMEMADE MAC 'N CHEESE IT THE ULTIMATE COMFORT FOOD
A bowl of this creamy mac 'n cheese is heavenly.
It's the perfect addition to our incredible Southern Fried Chicken (click for recipe).
So comforting and so delicious!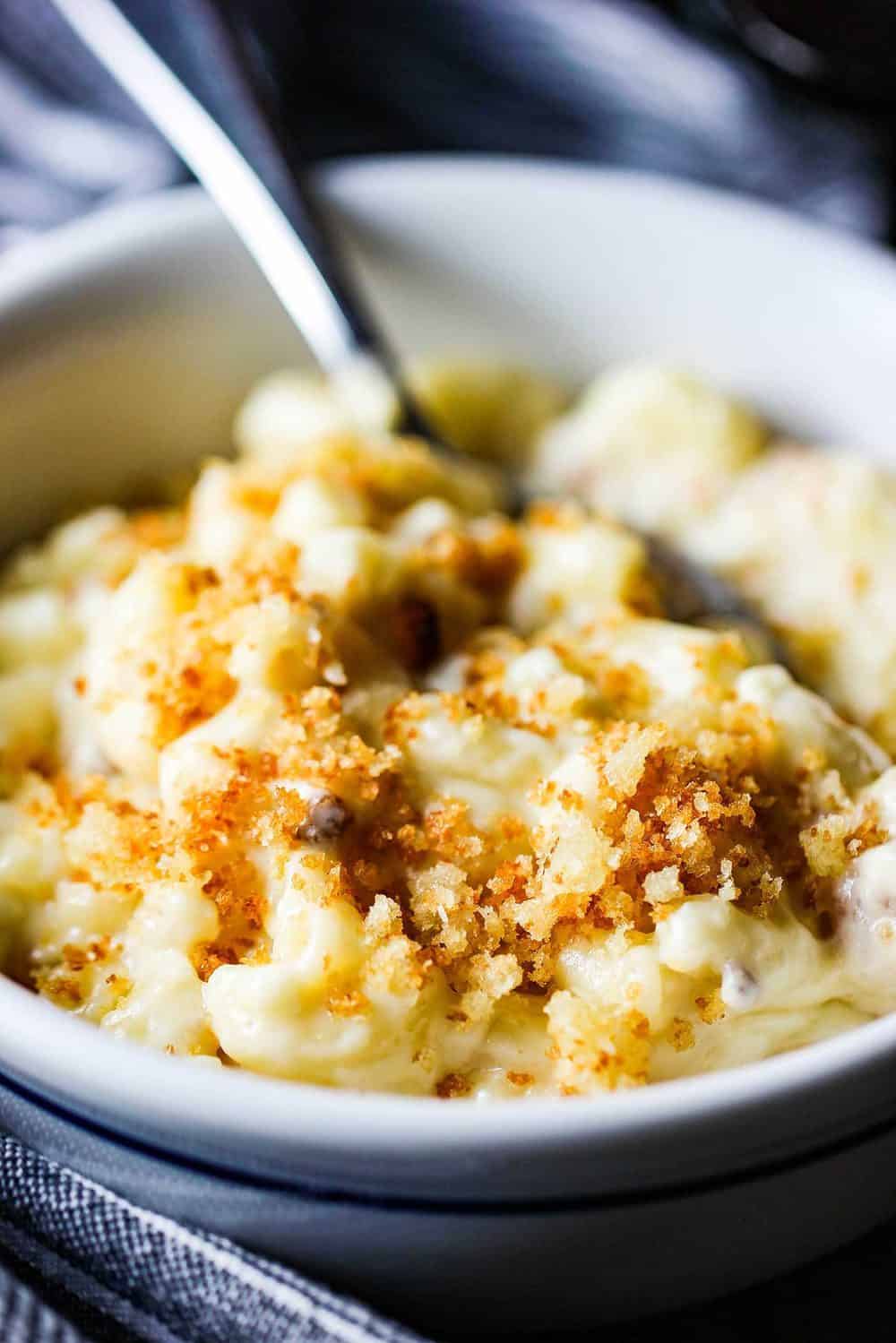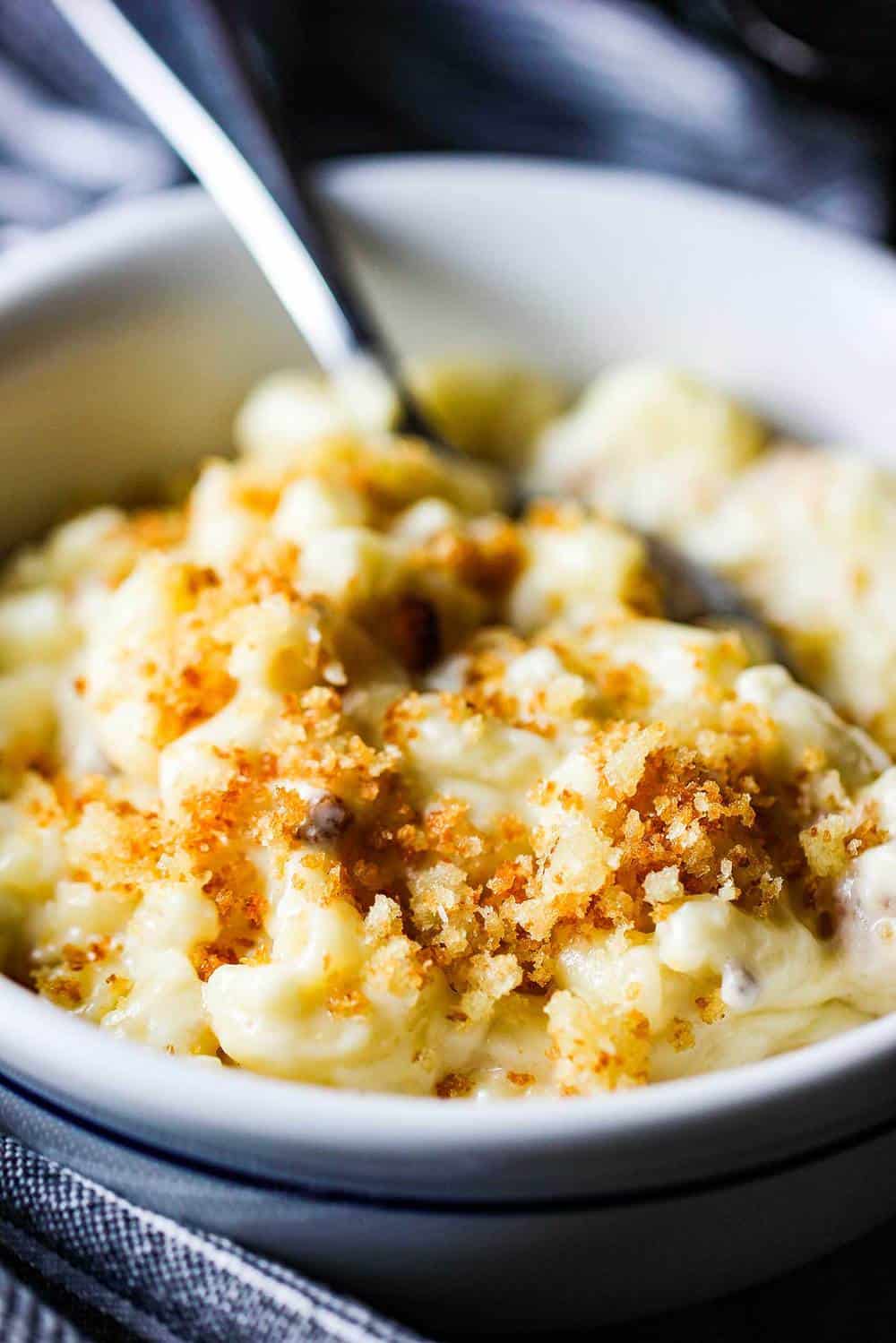 We call this Ultimate Macaroni and Cheese because we really believe it is the ultimate.
This dish re-heats beautifully, too, so leftovers are always a wonderful thing…if there are any leftovers.
Now…make this Ultimate Macaroni and Cheese and be very happy with life.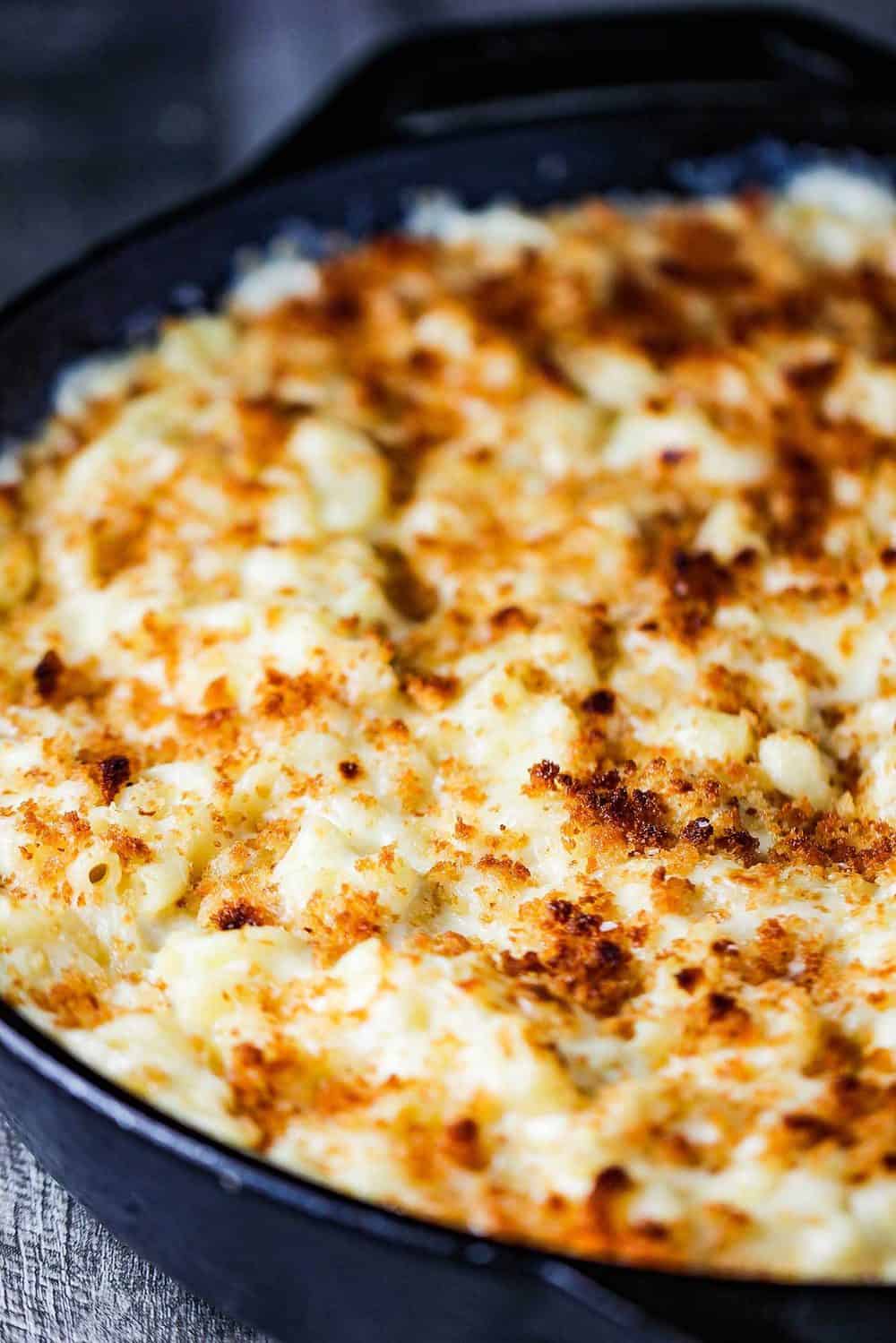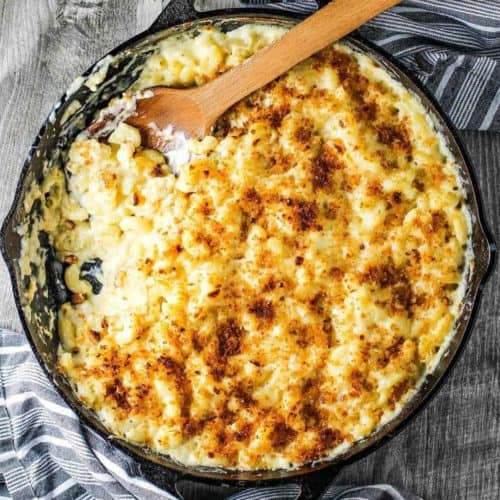 The Ultimate Macaroni and Cheese
This is the ultimate macaroni and cheese dish that you are going to love. Creamy and cheesy in the middle...a quick browning under the broiler crisps up the toasted bread crumbs and makes for the perfect flavor combination.
Print
Pin
Rate
Servings: 8 people
Calories: 426kcal
Ingredients
FOR THE BREAD CRUMBS
1 tbsp unsalted butter
1 tbsp olive oil
1 cup coarse fresh bread crumbs use a food processor to make finely chopped bread crumbs...take a French baguette, slice off edges...then finely chop
FOR THE MAC 'N CHEESE
4 tbsp unsalted butter
1/4 cup all-purpose flour
2 cups whole milk
1 cup heavy cream
1 tbsp dry mustard
1/2 tsp white pepper
1 tsp Kosher salt
12 oz macaroni about 3 cups of uncooked pasta
1 cup white cheddar cheese grated
1 cup Muenster cheese grated
1 cup Gruyere cheese grated
1 cup gouda cheese grated
Instructions
MAKE THE BREADCRUMBS
Heat the butter and oil in a large heavy skillet over medium heat.

Add the bread crumbs, stirring until crumbs are golden. About 10 minutes.

Transfer to paper towels to drain.

Season with a pinch of salt.
MAKE THE MAC 'N CHEESE
Pre-heat oven to 350°F.

Heat a pot of salted water until boiling.

Add the macaroni to the boiling water. Cook until al dente...about 12 minutes. Drain.

Meanwhile, melt the butter in a large sauce pan (preferably a large cast iron skillet) over medium-high heat.

Add flour and cook, whisking, for about 2 minutes.

Gradually whisk in milk, cream, mustard, and white pepper and simmer, whisking occasionally, about 5 minutes, or until slightly thickened. Stir in the salt.

Slowly add the cheese, stiffing constantly.

Fold in the cooked macaroni.

If not baking in the skillet, transfer the macaroni and cheese mixture into a greased 9"x13"casserole dish.

Sprinkle the bread crumbs on the top.

Bake for 20 minutes, until bubbly. Remove from oven and turn broiler on high. Place dish under broiler for about 1 minute, just to brown the bread crumbs. Keep an eye on this...don't let it burn as broilers vary!

Remove from oven and let rest for 5 minutes.
Nutrition
Calories: 426kcal