Southern Fried Chicken is so good.
I mean, really, really good.
When the Loon hears that Southern Fried Chicken is on the menu…he gets giddy. I mean, really giddy, but that's another story.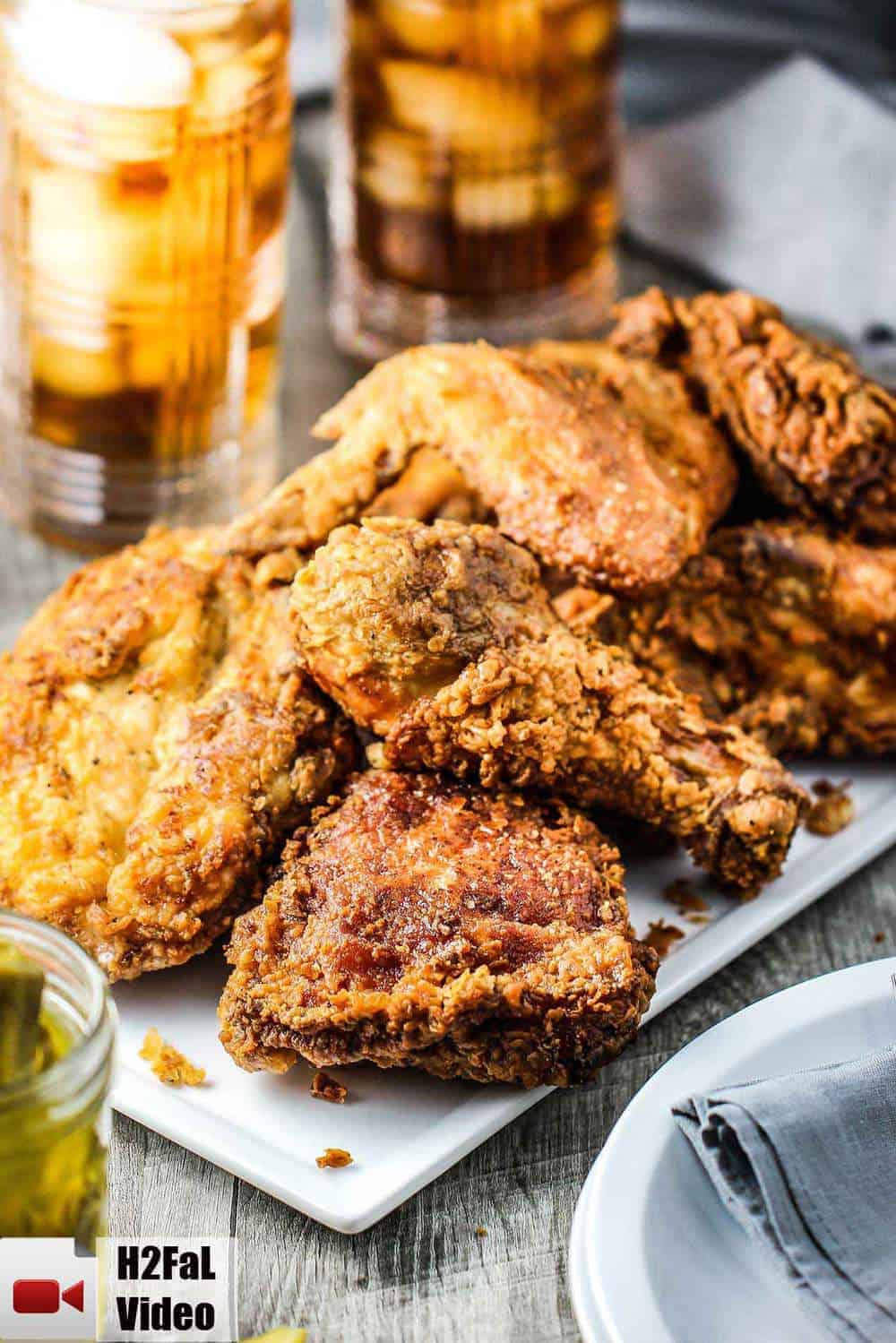 THERE A FEW SECRETS TO MAKING PERFECT FRIED CHICKEN
There are some key steps that you need to make sure you follow to get perfectly cooked fried chicken at home.
Watch us show you how to get "crispy-on-the-outside" and "tender-on-the-inside" Southern Fried Chicken at home!
We find that marinating the chicken with seasoning and a few dashes of hot sauce makes the meat super flavorful.
You'll want to let the marinated chicken rest in the fridge for a minimum of 1 hour, or overnight for best results.
Then, bathing the chicken in good-quality buttermilk, mixed with a couple eggs, gets you ready for crispy fried chicken!
SEASON THE CHICKEN AND THE BATTER FOR BEST FRIED CHICKEN
We find that not only seasoning the chicken delivers amazing taste, but the batter needs to be seasoned as well.
Some folks like to toss the floured chicken in a paper bag.
We just add the flour to the chicken and buttermilk, and then gently toss to combine. In the mood for more fried chicken, take a look at our Fried Chicken and Biscuit Sandwiches!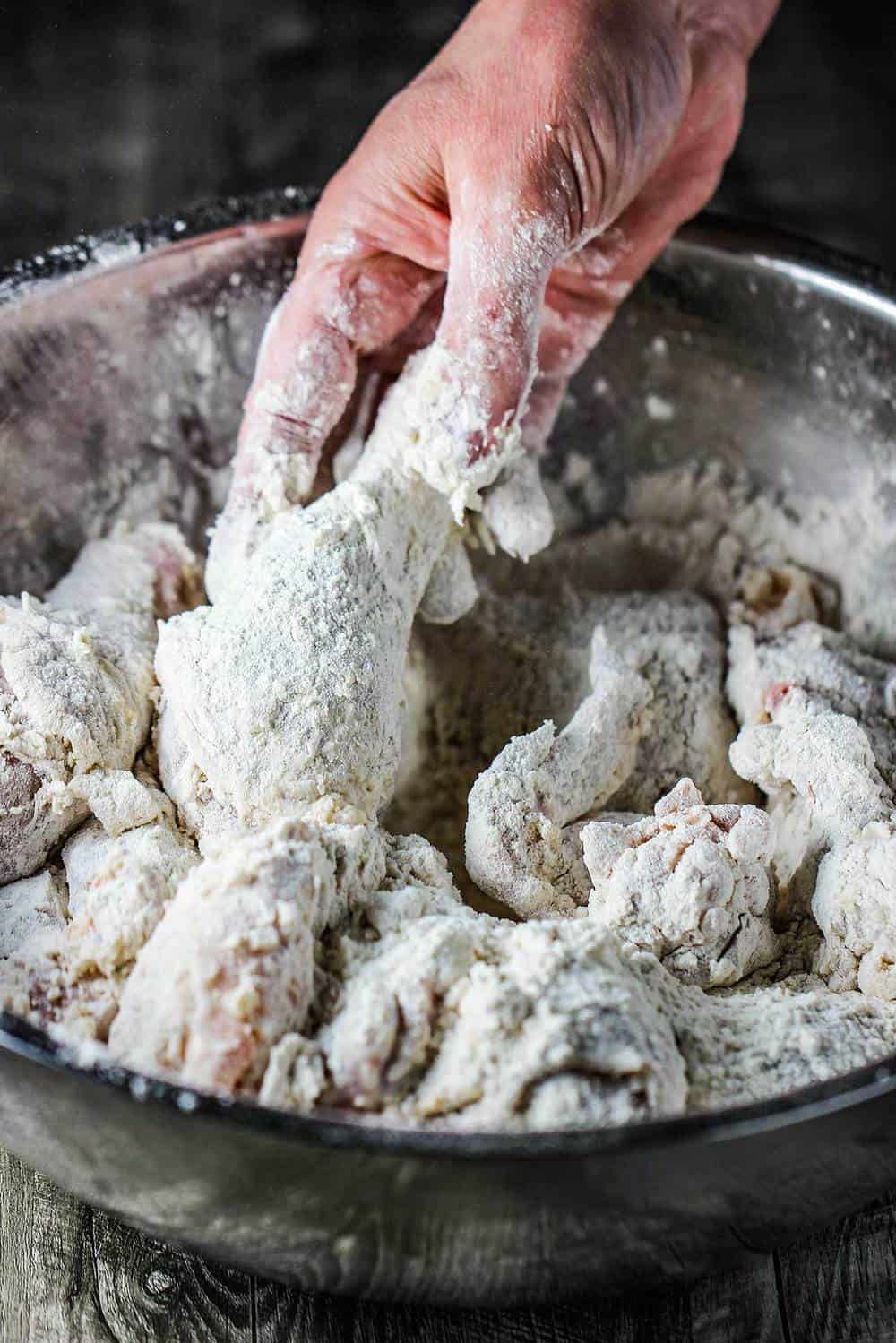 We have tested many different ways of frying up Southern Fried Chicken, and we have found that our sturdy Lodge 12-inch Cast Iron Skillet works best.
Two extremely important steps to keep a close eye on: Use a candy thermometer to keep the oil at 350°F. And DON'T OVERCROWD THE PAN! As you add the chicken, the oil temperature will lower, and if you add too much chicken, it will not cook evenly and not yield good results.
We like to cook with lard, but shortening, or vegetable oil works great, too.
IF NECESSARY, FINISH COOKING THE FRIED CHICKEN IN THE OVEN
Each time you make fried chicken, it seems like it cooks a little differently every time. Don't worry! That's normal. Just remember, as the chicken pieces are frying, don't let the skin get too brown!
Remove the chicken pieces just when they reach the perfect golden color. This usually is about 7 minutes per side, except for large pieces, such as breasts, that will take closer to 8 to 9 minutes per side.
Set your oven temperature to 300°F. Then, after removing the chicken from the hot oil, preferably using an instant-read thermometer, check the internal temperature of the fried chicken. It should be around 160°F. (Remember, it will continue to cook a little longer as it rests, until it reaches 165°F). If it's not quite there yet, place the fried chicken pieces on a baking sheet (with a rack is best) and place in the oven while you fry the rest of the chicken. This will finish off the cooking, and the skin will remain perfectly golden and crisp.
GOOD HOT OR AT ROOM TEMP
Fried chicken is such an American classic dish.
I can't think of anyone who doesn't have fond childhood memories of learning that she or he was going to be treated to fried chicken for dinner!
This recipe and step-by-step instructions will enable you to make this dish perfectly…in your own kitchen!
When you are getting your chicken from the meat department, or butcher, ask if you can have the breast split in half. Otherwise, you'll have a huge piece of chicken (the breast), compared to all the other pieces.
If your butcher, or meat department, won't cut the breast for you, it's easy to do at home. Just get a large sharp knife (a chef's knife works well), and carefully cut the breast in half.
Start making memories with this iconic dish today!
Southern Fried Chicken
This Southern Fried Chicken is the real deal. Serve hot or at room temp. So classic. So perfect. So yummy. Follow these steps and instructions, and you'll have perfectly fried chicken every time! Enjoy!
Print
Pin
Rate
Servings: 8 people
Calories: 496kcal
Ingredients
1 3 to 4 lb chicken cut into 10 pieces (cut the breast in half)
Salt and pepper
1/2 tsp cayenne pepper
3 tsp garlic powder divided
6 dashes hot sauce Crystals or Tobasco is good
1 cup buttermilk
2 large eggs lightly beaten
3 cups lard, or shortening
3 cups all-purpose flour
Instructions
Place the chicken pieces in a mixing bowl and sprinkle on: 2 tsp salt, 1 tsp black pepper, 1/2 tsp cayenne, 1 tsp garlic powder, and hot sauce. Toss to coat evenly.

Cover with plastic wrap, place in the refrigerator, and marinate for at least one hour, or up to 24 hours (the longer the better!)

Meanwhile, in a medium bowl, stir the eggs into the buttermilk.

Remove the chicken from the refrigerator and take off the plastic wrap. Pour the buttermilk/egg mixture of the chicken and gently toss the chicken to ensure chicken is fully coated.

Heat the lard (or shortening, or oil) in a large cast iron skillet to 350° F. A candy thermometer is best. Otherwise, toss a little flour in once hot, and when it sizzles, it's ready. Don't let oil get too hot. (If smoking, turn down the heat!).

Meanwhile, in a medium bowl, combine the flour with 1 tsp salt, 1/2 tsp black pepper, and 2 tsp garlic powder.

Remove the chicken from the buttermilk, allowing the excess liquid to drip off, and place in a new, large bowl. Add the flour over the chicken and then toss to completely coat the pieces.

When the oil is ready, add a few pieces of chicken, making sure to not overcrowd the skillet. You'll be cooking the chicken in batches. Always cook pieces that are similar in size, per batch.

Large pieces cook for about 9 minutes per side, 16 to 18 minutes total. Smaller pieces will take 12 to 15 minutes, total. Keep an eye on them, use a pair of tongs to see the bottom side, if getting too dark, then flip, and adjust the heat on the stove. Gently increase the oil temperature back to 350°F.

Remove the chicken pieces once they reach the desired golden, crunchy skin exterior. Place on a plate lined with paper towels. Check internal temperature with an instant-read thermometer. If not at 160°F, then place in an oven that has been pre-heated to 300°F on a baking sheet and baking rack. This will finish cooking the chicken as you prepare the remaining pieces. Finish with the wings last, since they will cook through in the hot oil, and most likely won't need to finish cooking in the oven.

Remove cooked chicken and let rest for at least 5 minutes, to cool and let the juices settle in the meat.
Nutrition
Calories: 496kcal