This is one of the most iconic American dishes of all time. And for good reason.
You would be hard-pressed to find a more comforting and beloved meal. Serve this classic chicken with buttery mashed potatoes, crispy fried okra, and cream gravy for the ultimate Southern feast.
How To Make Perfect Southern Fried Chicken
There are a few key steps that you need to make sure you follow to get perfectly cooked fried chicken at home.
You're striving for tender, juicy, flavorful chicken, with wonderfully golden, crispy skin.
NOTE: If you liked this video, please subscribe to our YouTube channel. Remember to click the little 'bell' icon so you'll never miss a new video. Thank you!
The Ingredients You Will Need
Of course, it all starts with the chicken. Seek out a whole chicken and either cut it into 8 pieces or have your butcher do it for you.
Here's What You'll Need to Make Perfect Fried Chicken
Whole chicken – Cut into 8 pieces
Buttermilk – Enough to cover the chicken pieces
Hot sauce – Such as Tobasco, Crystals, Franks, or Louisiana
Salt & pepper
Flour – All-purpose
Seasonings – Smoked paprika and garlic powder
Vegetable oil – For frying, or canola oil, shortening, or lard
EXPERT TIP: The longer you allow the chicken pieces to rest in the buttermilk/hot sauce mixture, the more tender and flavorful the meat will be. We recommend at least hours, but up to 24 is wonderful.
Tips for Perfect Southern Fried Chicken
Season as You Go – For maximum flavor, we recommend seasoning the chicken pieces with salt, pepper, and garlic powder before adding the buttermilk. Then you'll add more salt, pepper, and garlic powder to the flour for the crispy skin. The addition of smoked paprika is subtle but adds an amazing depth of flavor.
Don't Let the Skin Burn – Whether you are frying in a deep-fryer, skillet, or electric skillet, you'll want to remove the chicken once it reaches the perfect gold color and is very crispy. Chances are likely you'll need to finish off the pieces in the oven to ensure the internal temperature reaches 160° to 165°F. Be sure to get your oil in the range of 335°F to 350°F.
Keep the Smaller Pieces Warm – The smaller chicken parts (wings) will be cooked through sooner than the larger pieces. Once the wings are fully cooked (juices run clear), then transfer them to a platter and cover them with foil. Next, you'll want to remove the legs, then the thighs, and then finally the breasts. An instant-read thermometer ensures perfectly cooked chicken.
EXPERT TIP: Mix together the flour with the seasonings and either transfer it all to a baking pan (9″x13″) or, working in batches, into a brown paper bag. Be sure to coat the chicken pieces multiple times to get the crunchiest, perfect skin. After you've dredged the pieces, let them rest on a baking rack over a baking pan. Fry the pieces in batches.
How To Serve
This chicken is amazing served piping hot or even at room temperature. The skin will lose some of its crispiness as it cools down but still is incredibly delicious.
For the perfect Southern feast, serve the fried chicken with mashed potatoes, fried okra, cream gravy, and Southern biscuits. Be sure to have plenty of ice-cold tea on hand, too. Cold beer
EXPERT TIP: When cooking with hot oil, it's very important to take extra care to ensure safety. If using a deep-fryer, place it on a counter where the cord is secured and there is no danger of splashing or spillage.
Other Southern Classic Dishes
Fried chicken is about as classic as they come. But, here are some more of our all-time favorite Southern classic dishes:
Southern Fried Pork Chops with Cream Gravy
Classic Chicken Fried Steak with Peppercorn Cream Gravy
BBQ Grilled Shrimp
Chicken Fried Steak Sandwich
Beer-Can Grilled Chicken
Hot Kentucky Brown
Pan-Seared Pork Chops with Cajun Rice
Southern-Style Crab Cakes
But in the meantime, aren't you craving a big plate of this amazing deliciousness?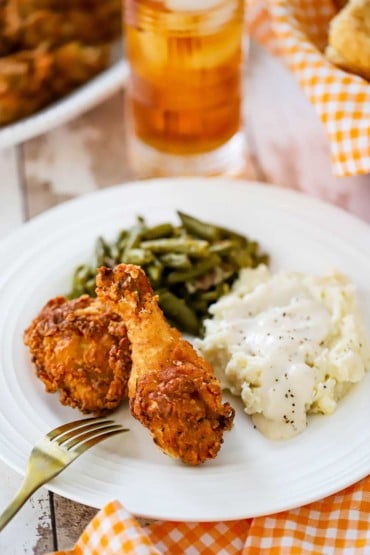 Ready to make the best chicken this side of Savanah, Georgia? Go for it!
And when you do, be sure to take a photo, post it on Instagram, and tag @HowToFeedaLoon and hashtag #HowToFeedaLoon!
Southern Fried Chicken
This Southern Fried Chicken is the real deal. Serve hot or at room temp. So classic. So perfect. So yummy. Follow these steps and instructions, and you'll have perfectly fried chicken every time!
Print
Pin
Rate
Servings: 4 people
Calories: 276kcal
Equipment
Deep-fryer, skillet, or electric skillet
Ingredients
1 3 lb chicken cut into 8 pieces (cut the breast in half)
Salt and pepper
1 tbsp garlic powder divided
1 cup buttermilk
5 tbsp hot sauce i.e., Crystals, Tabasco, Frank's, or Louisiana
2 cups all-purpose flour
2 tsp smoked paprika Crystals or Tobasco is good
vegetable oil for frying, or shortening or lard
Instructions
Place the chicken pieces in a mixing bowl and sprinkle on: 2 tsp salt, 1 tsp black pepper, and 1 tsp garlic powder. Toss to coat evenly.

In a large measuring cup or bowl, whisk together the buttermilk and hot sauce. Pour over the chicken. Cover and place in the fridge for 2 hours or up to overnight.

On a large platter, stir together the flour, 1 tsp salt, ½ tsp pepper, 1 tbsp garlic powder, and the smoked paprika.

Remove the chicken from the refrigerator. Working one piece at a time, shake off excess buttermilk and dredge through the seasoned flour. Use your fingers to fully coat each piece, adding more flour as you go. Place the breaded pieces on a baking rack over a baking pan.

Heat the oil to 335°F. A candy thermometer is best. Otherwise, toss a little flour in once hot, and when it sizzles, it's ready. Don't let the oil get too hot. (If smoking, turn down the heat!). Preheat oven to 350°F.

When the oil is ready, add a few pieces of chicken, making sure to not overcrowd the fryer or skillet. You'll be cooking the chicken in batches. Always cook pieces that are similar in size, per batch.

Large pieces cook for about 8 minutes per side, 16 to 18 minutes total. Smaller pieces will take 12 to 15 minutes in total. Keep an eye on them, and use a pair of tongs to see the bottom side, if getting too dark, then flip, and adjust the heat on the stove. Gently increase the oil temperature back to 350°F.

Remove the chicken pieces once they reach the desired golden, crunchy skin exterior. Place on a plate lined with paper towels. Check internal temperature with an instant-read thermometer. If not at 160° ot 165°F, then place in the oven for another 15 to 20 minutes to finish the cooking. Finish with the wings last, since they will cook through in the hot oil, and most likely won't need to finish cooking in the oven.

Remove cooked chicken and let rest for at least 5 minutes, to cool and let the juices settle in the meat.
Notes
See the video near the top of the blog post for visual guidance. If you liked the video, please subscribe to our YouTube channel!
If crunched for time, you can skip letting the chicken rest in the fridge with the marinade. The extended time in buttermilk helps to tenderize the chicken meat, but you'll still get a delicious crunchy fried chicken with a quick soak.
If frying in a skillet, keep an eye on the chicken the entire time. The heavier pieces will likely rest on the bottom of the pan and could start to burn and turn a dark color. Flip occasionally to prevent this. And remember, remove the chicken pieces from the oil as soon as you've got a golden color and the skin is crispy. Finish off in the oven until all parts are 165°F.
Nutrition
Calories: 276kcal | Carbohydrates: 53g | Protein: 9g | Fat: 18g | Saturated Fat: 3g | Polyunsaturated Fat: 1g | Monounsaturated Fat: 1g | Cholesterol: 7mg | Sodium: 496mg | Potassium: 218mg | Fiber: 2g | Sugar: 3g | Vitamin A: 618IU | Vitamin C: 12mg | Calcium: 84mg | Iron: 3mg
POST UPDATE: This recipe was originally published in October 2019, but was updated with improved tweaks to the recipe with new photos and tips and a fabulous new video in October 2022!