There is something extra-special about making something with love and from scratch.
These are so light, flakey, and just down-right delicious. We'll show you the tricks to making the best country biscuits ever! And it's really much easier than you might think!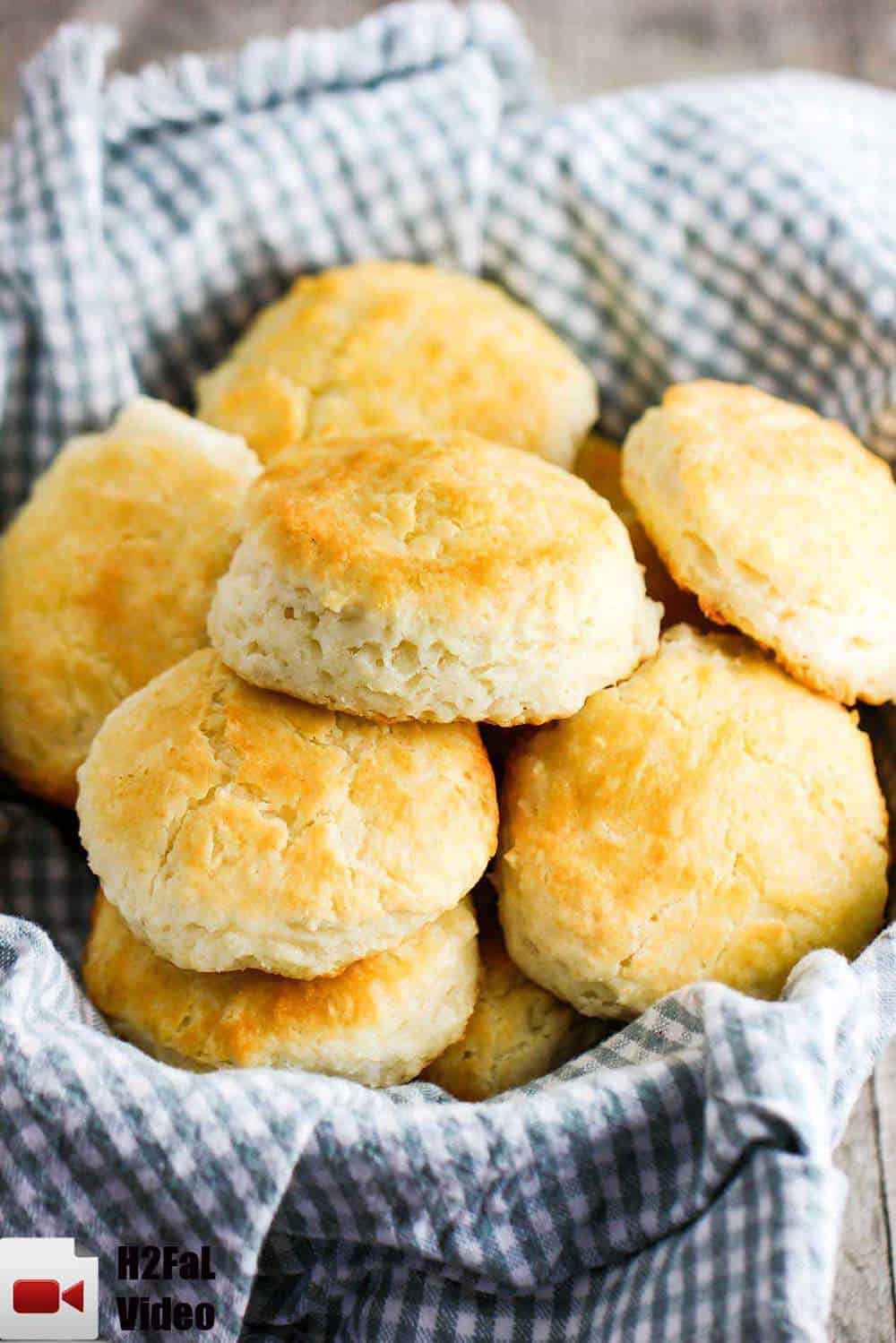 How to Make Biscuits from Scratch
One of the most important tricks to this Southern biscuit recipe is to shred very cold butter with a box grater.
These beautiful ribbons of butter will melt as the biscuits bake and release steam which will make those glorious biscuit layers.
Butter. Good ole butter.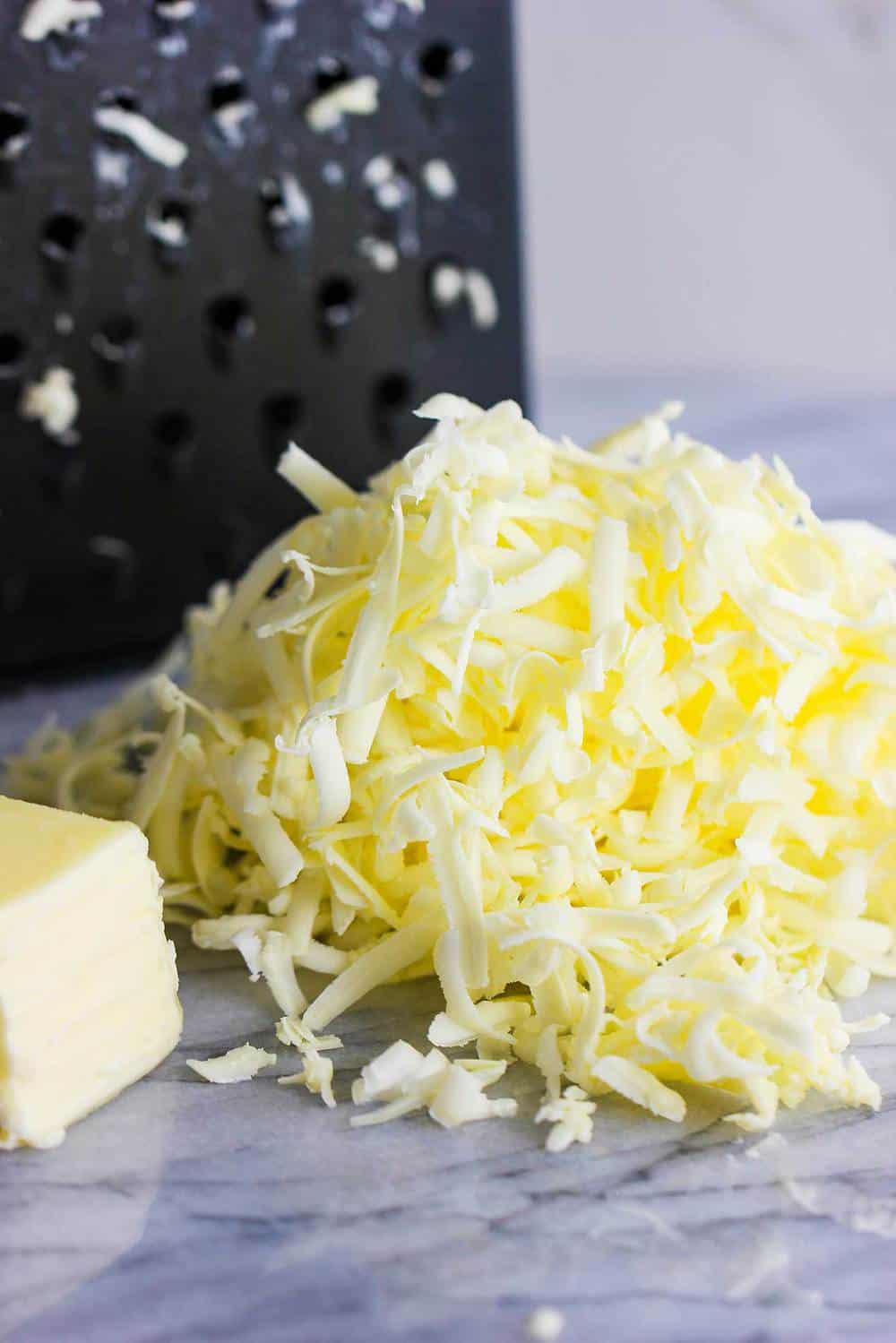 White Lily Biscuits Are Light and Fluffy
We absolutely love using White Lily Self Rising Flour when baking.
The gentle wheat is low gluten and low protein, which translates to lighter, fluffier biscuits.
King Arthur is good, too, but White Lily is a southern staple that we think makes the best southern biscuits.
After adding the ribbons of butter to the flour, stick the bowl back into the freezer to keep it all nice and really cold.
Cold ingredients are important so when they hit the extra hot oven, you get a quick rise and lots of layers.
The butter should resemble small peas or ribbons.
Seek out a 2 1/2-inch biscuit cutter, if you can. The little ridges give you that perfect American biscuit appearance.
Resist the urge to twist the cutter in the dough, because this will hinder the biscuit's ability to rise to the occasion!
Oh, we're getting close folks!
These gorgeous gems only take about 15 to 20 minutes to fluff and turn a beautiful golden brown.
You might as well and do them the true Southern way and finish them off with a few brushes of melted butter.
Biscuit heaven. And now folks, we think it's time to introduce you to Southern Biscuits and Gravy!
These really are easy to make and once you make them yourself, you'll never buy the canned variety again. Want to learn more about biscuits? Click here.
Ready to make the best Southern biscuits this side of Savanah, Georgia? Go for it!
And when you do, be sure to take a photo and post it on Instagram, and tag @HowToFeedaLoon and hashtag #HowToFeedaLoon!
Homemade Southern Biscuits
These Homemade Southern Biscuits are something to behold. Not hard to make but one of the most delicious items you will ever encounter. Bake biscuits like true Southerners, and you will be so happy! They are perfect for Biscuits and Gravy!
Print
Pin
Rate
Servings: 4 people
Calories: 545kcal
Equipment
2- or 3-inch biscuit cutter, or inverted jar

9-inch cake pan
Ingredients
½ cup unsalted butter 1 stick, frozen
2¼ cups self-rising flour (We love White Lily)
1 cup buttermilk cold
2 tbsp butter melted
Instructions
Preheat oven to 470°F. Take butter out of the freezer and let thaw about 5 minutes.

Using the large holes of a box grater, grate the butter.

Add the butter to the flour and toss together with spoons (or briefly with your hands). Place back in the freezer for another 15 minutes.

Pour the buttermilk into the flour/butter mixture and stir until just incorporated. The batter will be somewhat sticky.

Turn dough out onto a lightly floured cool surface and add a little more flour, if too wet.

Using a floured rolling pin, roll the dough into an 8" x 10" rectangle. Fold over one side and roll out again. Repeat two more times.

The dough should be about 1/2-inch thick. Using a 2 or 3-inch biscuit cutter, cut out the biscuits and place in a 9-inch cake pan snuggly against each other. (Can also use a 9 or 10-inch cast iron skillet).

Bake for 15 to 20 minutes until lightly golden on top. Remove from oven and brush melted butter over the top.
Nutrition
Calories: 545kcal | Carbohydrates: 54g | Protein: 11g | Fat: 28g | Saturated Fat: 12g | Cholesterol: 83mg | Sodium: 118mg | Potassium: 151mg | Fiber: 2g | Sugar: 3g | Vitamin A: 986IU | Calcium: 86mg | Iron: 1mg