There is something extra-special about baking bread with love and from scratch.
These are so light, flakey, and just downright delicious. We'll show you the tricks to making the best country biscuits ever! And it's really much easier than you might think! And, of course, you'll want to immediately whip up a batch of homemade biscuits and gravy!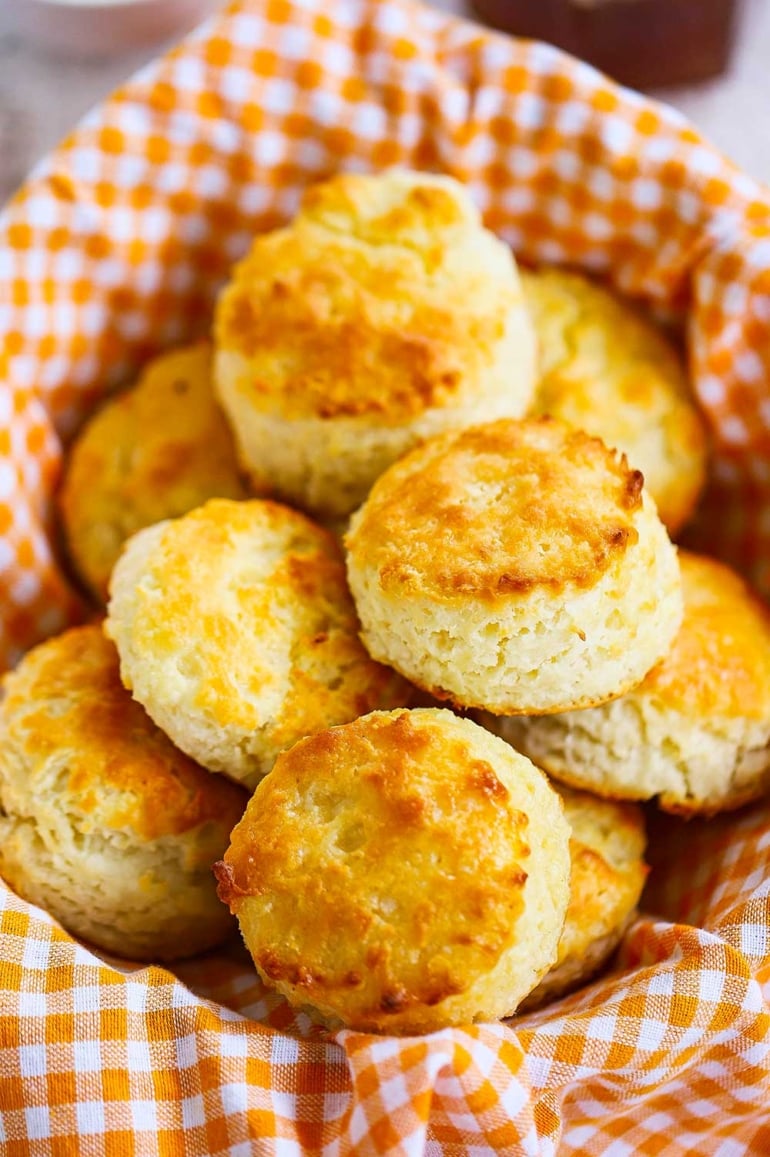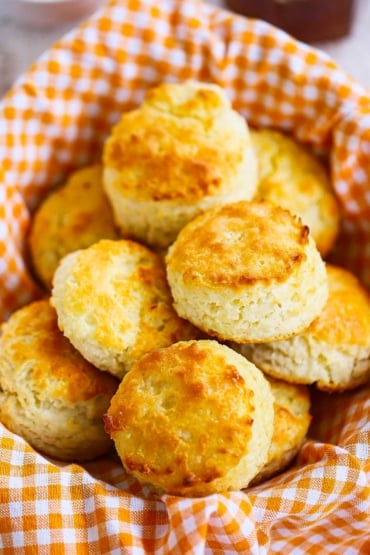 How to Make Southern Buttermilk Biscuits from Scratch
One of the most amazing things about these classic biscuits is that there are only 3 ingredients in them!
But, it's the way you bring those 3 humble ingredients together that makes all the difference!
NOTE: If you liked this video, please subscribe to our YouTube channel. Remember to click the little 'bell' icon so you'll never miss a new video! Thank you!
The Ingredients You Will Need
As mentioned, you only need to grab three ingredients to make perfect biscuits every single time. Here they are
Unsalted butter – Cold, cold, cold!
Self-rising flour – White Lily is best, but other brands will work, too
Buttermilk – Full fat, if possible. But even more important – Cold, cold, cold!
EXPERT TIP: To achieve the ideal texture for the ice-cold butter is to grate it with a box grater. It will create ribbons of cold butter. You'll just need a total of 8 tbsp (1 stick), but using half of two sticks makes it easier!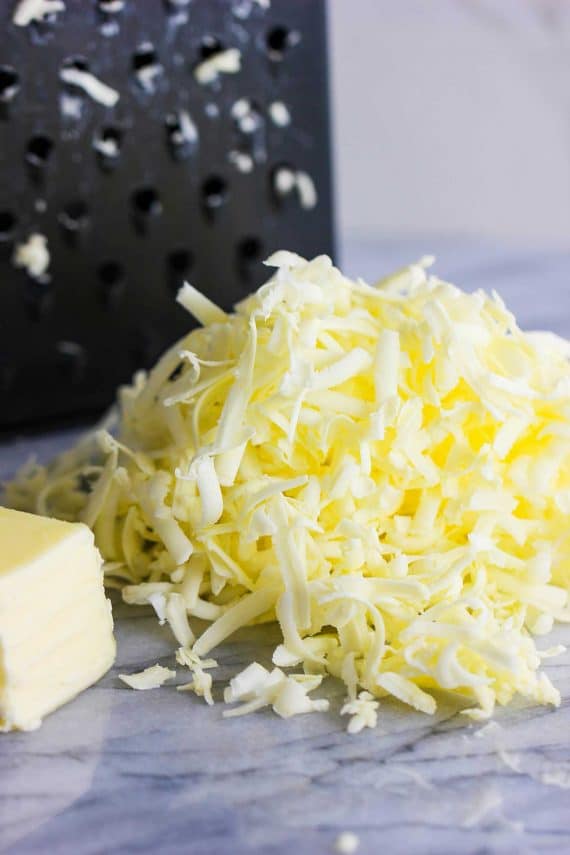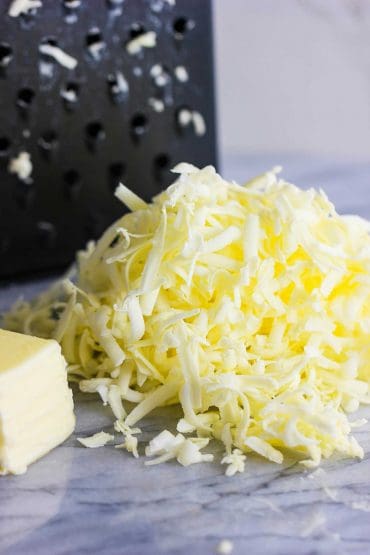 Tips For Perfect Southern Buttermilk Biscuits
Keep It Cold – Make sure all of your ingredients are ice-cold. Stick the butter in the freezer for a few hours, then let it sit out for about 15 minutes before grating. After combining it with the flour, place the bowl back in the freezer. Even after you've formed the biscuits, place them back in the freezer for 15 minutes. When the biscuits hit the hot oven, they will release steam and become beautifully flakey with some height!
Sticky Is Best – Do your best to not overwork the dough. You don't want to break down the gluten, plus your hands will warm the butter. The dough should be sticky, but still pliable enough to form a rectangle.
Forming the Biscuits – It's more important that your dough has height when you cut the biscuits than anything else. You'll want the dough to be about ¾-inch to 1-inch in height. The next important thing to remember is to push the biscuit cutter straight down. Don't twist and turn the dough, this will keep the biscuit from rising as it bakes.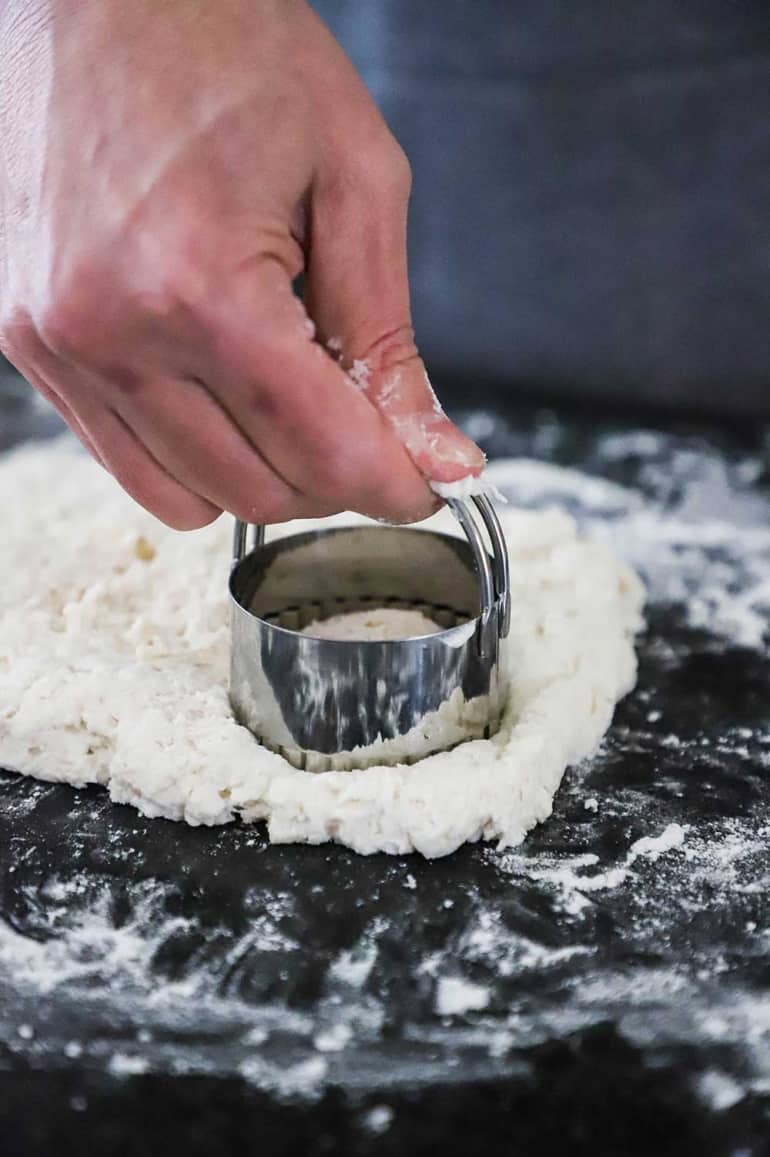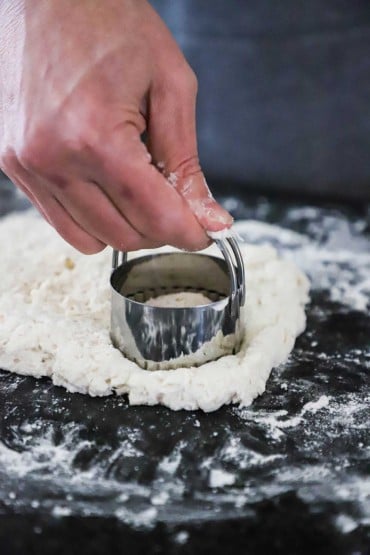 These gorgeous gems only take about 15 to 20 minutes to fluff and turn a beautiful golden brown.
You might as well do them the true Southern way and finish them off with a few brushes of melted butter. Hit them with a little butter before baking, and then again once they're done.
Biscuit heaven.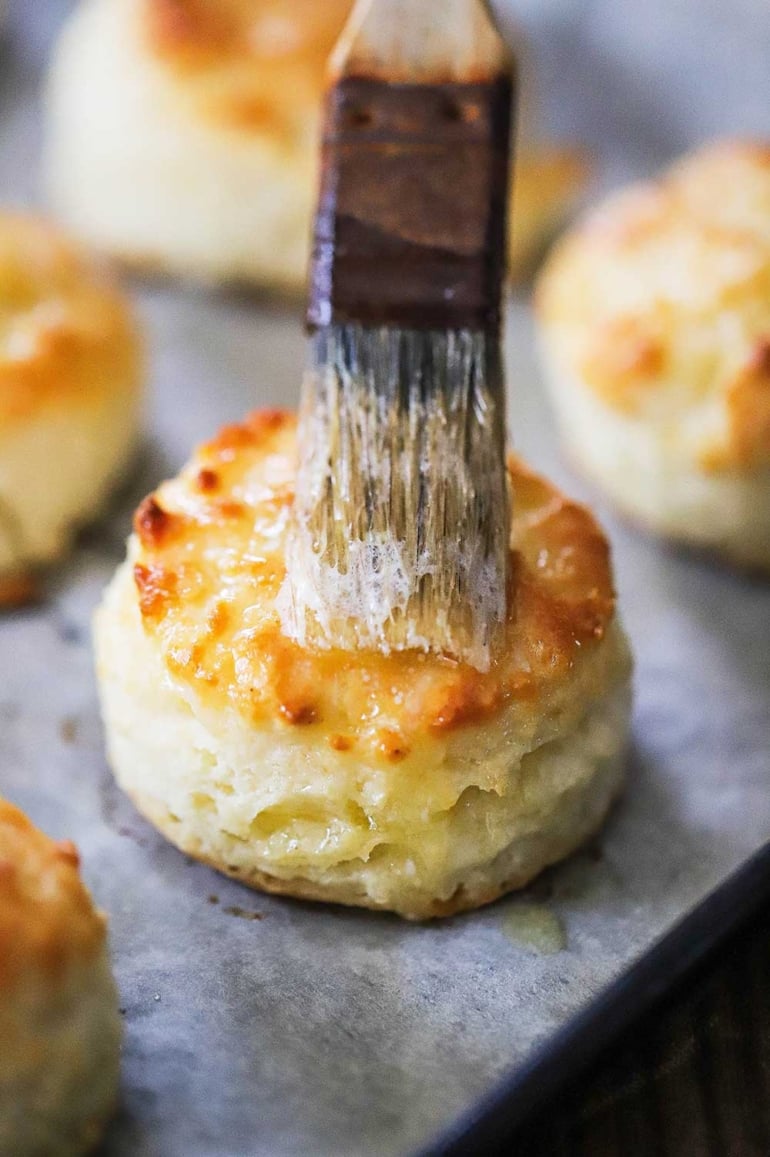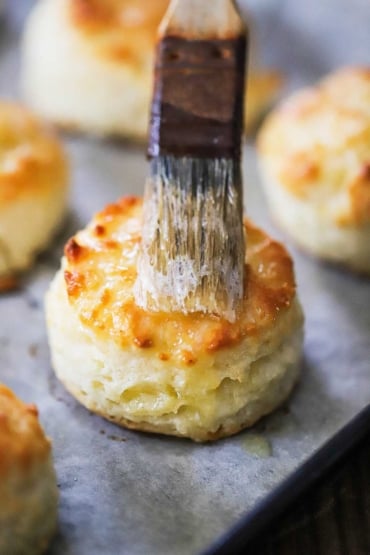 How and When To Serve
Of course, these glorious biscuits are magnificent for a breakfast feast. Right alongside the fluffiest scrambled eggs, crispy bacon, and potatoes is nothing short of breakfast perfection.
But these are wonderful served at lunch or dinnertime. For the ultimate Southern-style feast, make a batch of Southern Fried Chicken, mashed potatoes with cream gravy, slow-cooked green beans, and then biscuits. It just doesn't get much better than that.
EXPERT TIP: One batch of this dough will yield about 9 to 10 biscuits. The recipe can easily be doubled. Keep leftover biscuits in a large plastic baggie and then gently reheat them in the microwave for about 10 seconds. You can also reheat them in your air-fryer.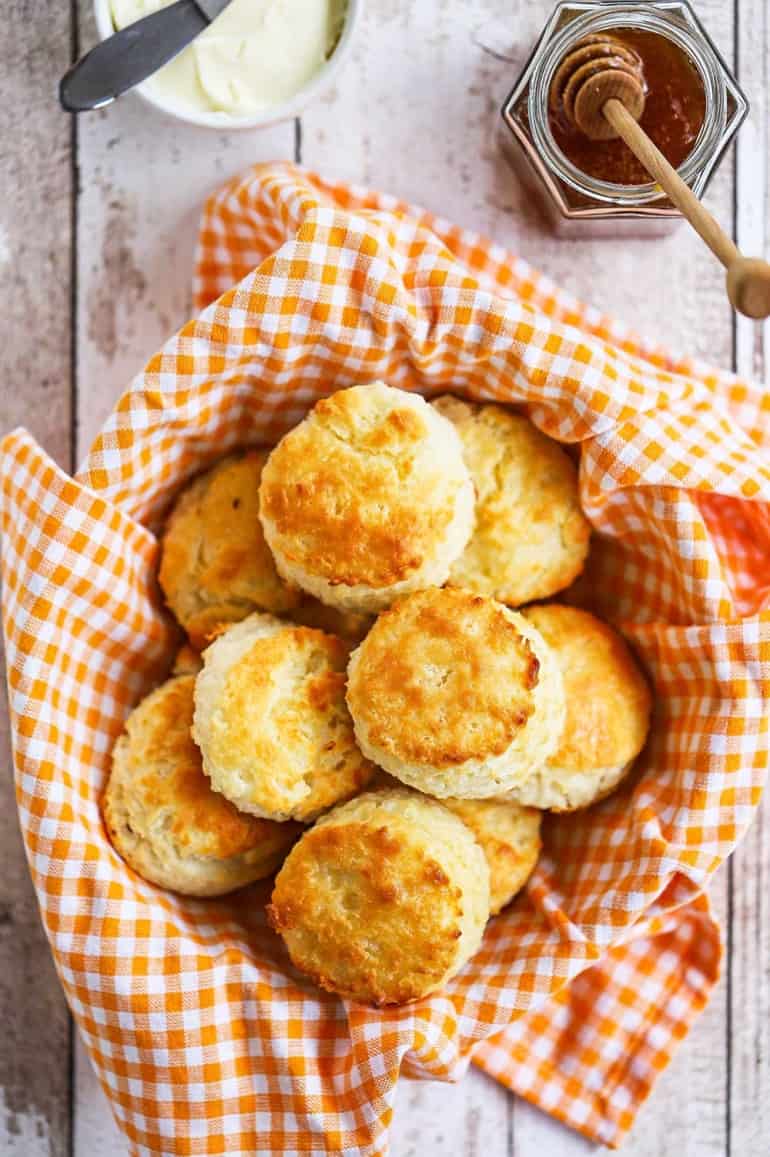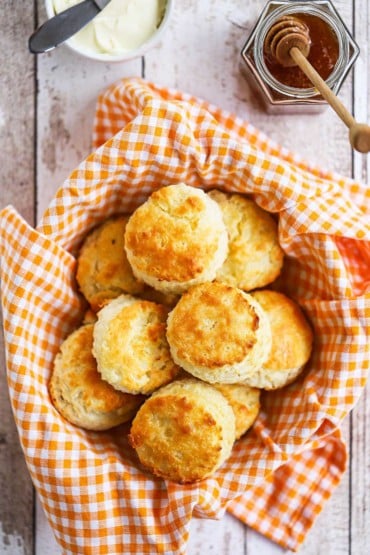 Other Classic Bread Baking Dishes to Try
We just love baking bread of all types. Here are some of our favorites that you will want to try:
Homemade Country White Bread
Cloverleaf Dinner Rolls
Focaccia with Rosemary, Sea Salt, and Olive Oil
Homemade Monkey Bread
Zucchini Bread
Banana Nut Bread
Cinnamon Raisin Swirl Bread
Grandma's Cinnamon Rolls
Orange Sweet Rolls
But in the meantime, aren't these babies calling your name? Made even better with a little softened butter and a drizzle of honey!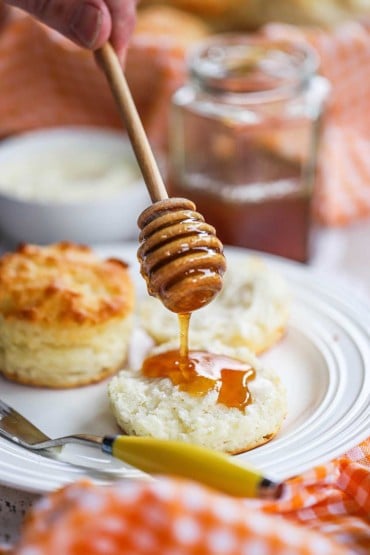 There is something truly magical about these homemade biscuits.
Follow the tips and techniques outlined in this recipe, and you'll have perfect biscuits every single time.
And, remember, practice makes perfect!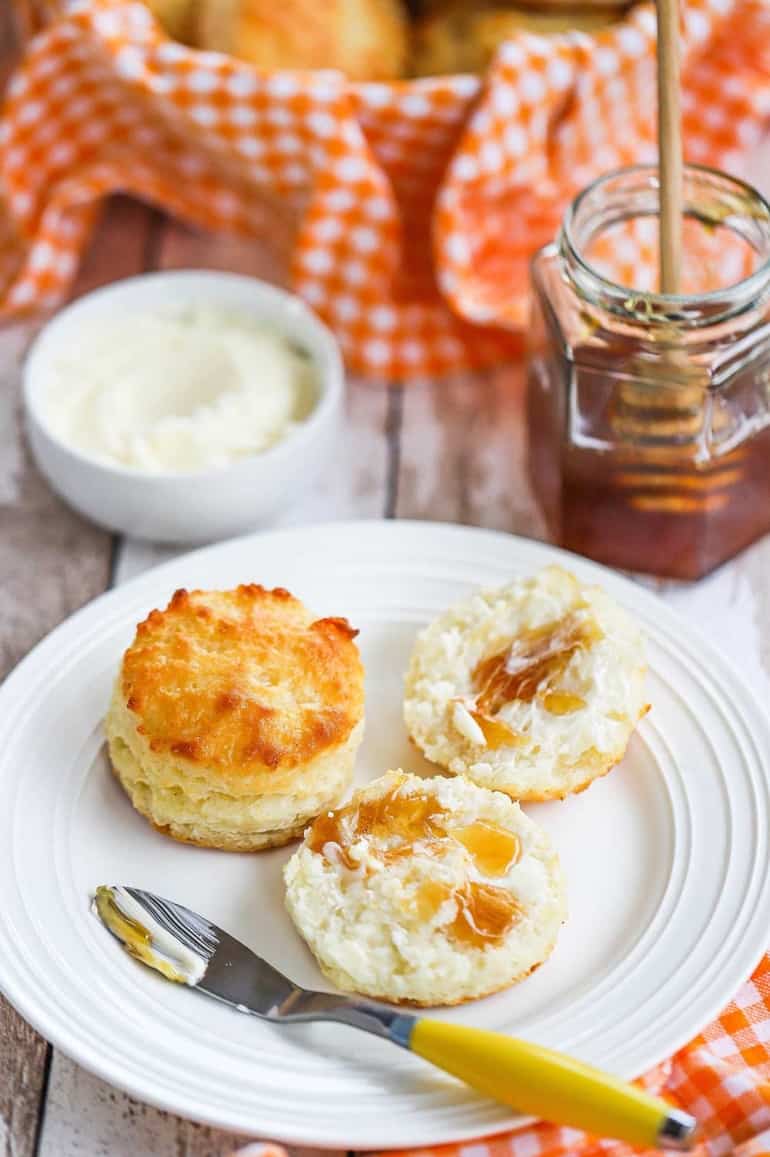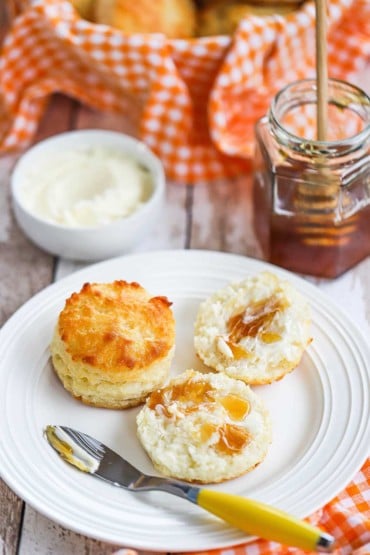 Ready to make the best Southern biscuits this side of Savanah, Georgia? Go for it!
And when you do, be sure to take a photo of them, post it on Instagram, and tag @HowToFeedaLoon and hashtag #HowToFeedaLoon!
Homemade Southern Buttermilk Biscuits
These Homemade Southern Buttermilk Biscuits are something to behold. Not hard to make but one of the most delicious items you will ever encounter. Bake biscuits like true Southerners, and you will be so happy! They are perfect for Biscuits and Gravy!
Print
Pin
Rate
Servings: 4 people
Calories: 545kcal
Ingredients
½ cup unsalted butter 1 stick, frozen
2¼ cups self-rising flour (We love White Lily)
1 cup buttermilk cold
2 tbsp butter melted
Instructions
Preheat oven to 450°F. Take butter out of the freezer and let thaw for about 5 to 15 minutes.

Using the large holes of a box grater, grate the butter. (Using half of two partially frozen sticks of butter is easier than grating all of just one).

Add the butter to the flour and toss together with spoons (or briefly with your hands). Place back in the freezer for another 15 minutes.

Pour the buttermilk into the flour/butter mixture and stir until just incorporated. The batter will be sticky.

Turn the dough out onto a lightly floured cool surface and add a little more flour, if too wet. Working quickly, use your hands to press the dough into a rectangle that is about 3/4" to 1" thick.

Use a bench scraper, or a large knife and slice the dough into quarters. Stack the quarters on top of each other and quickly, again, press the dough into a thick rectangle (3/4" to 1"). Repeat this process two more times.

Use a 2 to 3-inch biscuit cutter to gently cut the biscuits. Be sure to press straight down, don't twist and turn the cutter. You may need to pull the dough away from the biscuits. Carefully transfer them to a small baking sheet lined with parchment paper, about 1 inch apart from each other. Form excess dough into another square and form another biscuit or two. You should yield about 6 to 7 biscuits. Place the biscuits back in the freezer for another 15 minutes.

Brush a little melted butter over the tops of each of the biscuits. Bake for 13 to 15 minutes until lightly golden on top, turning the pan around halfway through. Remove from oven and brush more melted butter over the tops.
Notes
See the video near the top of the blog post for visual guidance. If you liked the video, please subscribe to our YouTube channel.
The dough, after adding the buttermilk, will be "shaggy" but should come together. You may need to add another little bit of buttermilk. It will stick somewhat to your fingers. This is normal.
Review the "Tips" in the blog post for critical steps for making perfect biscuits. Here are the key points:
Everything should be super cold
White Lily self-rising flour is best (there is a link in the blog post)
Don't over-knead the dough, at all - just gently press it into a rectangle about 3/4-inch thick
Be sure to press the cutter straight down and don't twist it when cutting the biscuit.
Leftover biscuits can be kept in a large zipper bag. Reheat in the microwave for about 10 to 15 seconds. They can be frozen for up to 2 months. Let thaw completely and then reheat in a 350°F for about 15 minutes.
Nutrition
Calories: 545kcal | Carbohydrates: 54g | Protein: 11g | Fat: 28g | Saturated Fat: 12g | Cholesterol: 83mg | Sodium: 118mg | Potassium: 151mg | Fiber: 2g | Sugar: 3g | Vitamin A: 986IU | Calcium: 86mg | Iron: 1mg
POST UPDATE: This recipe was originally published in June 2018, but was updated with improved tweaks to the recipe with new tips and photography and a fabulous new video in February 2023!