This Homemade Country White Bread recipe is a perfect place to begin your journey into baking.   Mmmm….this is so good for sandwiches, next to roast beef, and so forth.  Make bread and be thankful.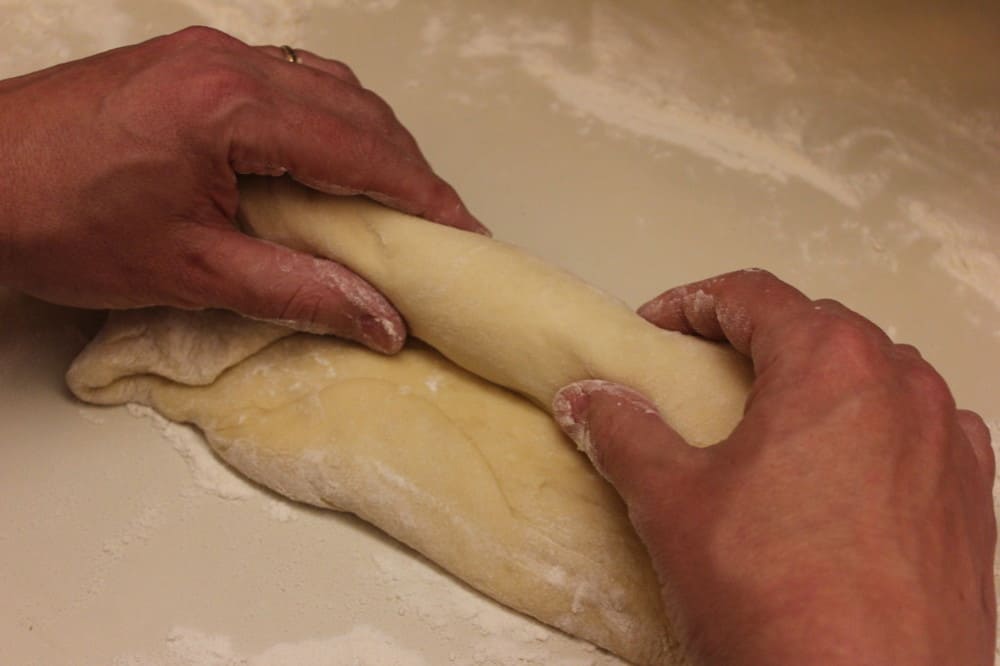 Another great bread recipe is: Pumpkin Butterscotch Bread! Watch us make it!
Homemade Country White Bread
I've been baking for several years now, Nick Malgieris has helped me a lot. Follow these steps..and you'll have two amazing loaves of brttead. Get your kitchen nice and hot...I turn the oven on to 450, to get the right temp for proofing.
Author: Nick Malgieris
Recipe type: Bread
Cuisine: American
Serves: 10
Ingredients
6 cups of bread flour (i use King Arthur)
2 tablespoons of sugar
¾ cup of water, room temp
3 teaspoons active dry yeast
1 cup of whole milk, scalded and then cooled
3 large eggs, room temp
4 tablespoons of unsalted butter. softened (room temp)
1 tablespoon of fine sea salt
2 loaf pans...buttered, and lined with parchment paper at the bottom
Instructions
Pre-heat oven to 400 degree - F
Combine the flour and sugar in a large bowl and set aside.
Pour the water into the bowl of an electric mixer and whisk in the yeast. Wait 5 minutes, then whisk again. Whisk in the eggs and cooled milk.
Use a large spatula to stir the flour mixture into the liquid a little at a time, stirring to combine between additions.
Place the bowl on the mixer with dough hook and scatter pieces of butter on the surface of the dough; mix on the lowest speed for 1 minute.
Stop the mixer and let the dough rest for 15 minutes.
Increase the speed to medium and sprinkle in the salt.
Beat until dough is smooth and elastic, about 3 minutes.
Scrape the dough into an oiled bowl, and turn the dough over so that the top is oiled.,
Cover with plastic wrap and let ferment for abut an hour.
Invert the dough to a lightly floured work surface. Flatten the dough to a disk. Fold the two sides in to over lap at the middle, then roll the top toward you all the way to the end.
Invert, flatten, and repeat.
Return the dough to the bowl (add more oil if necessary)
Cover with plastic and let proof for about another hour
Invert the dough to dough to a floured work surface, and shape it into a rough square. . Use a large knife and cut the dough in half.
Pull the ends of each rectangle inwards. Then roll each one from the top, jelly roll style
After tightly rolled, drop each roll into good ceramic bread pans.
Cover with oiled plastic wrap. Let rise, until abut ½ inch above edge of pans.
Place the loaves into the pre-heated oven and then immediately reduce the heat to 350 degrees.
Bake until risen and well golden...about 35 minutes.
Remove from oven...remove from pans...and cool on racks.