Homemade Bread is a perfect place to begin your journey into baking.
Mmmm….this is so good for sandwiches, next to roast beef, and so forth.
Make bread and be thankful.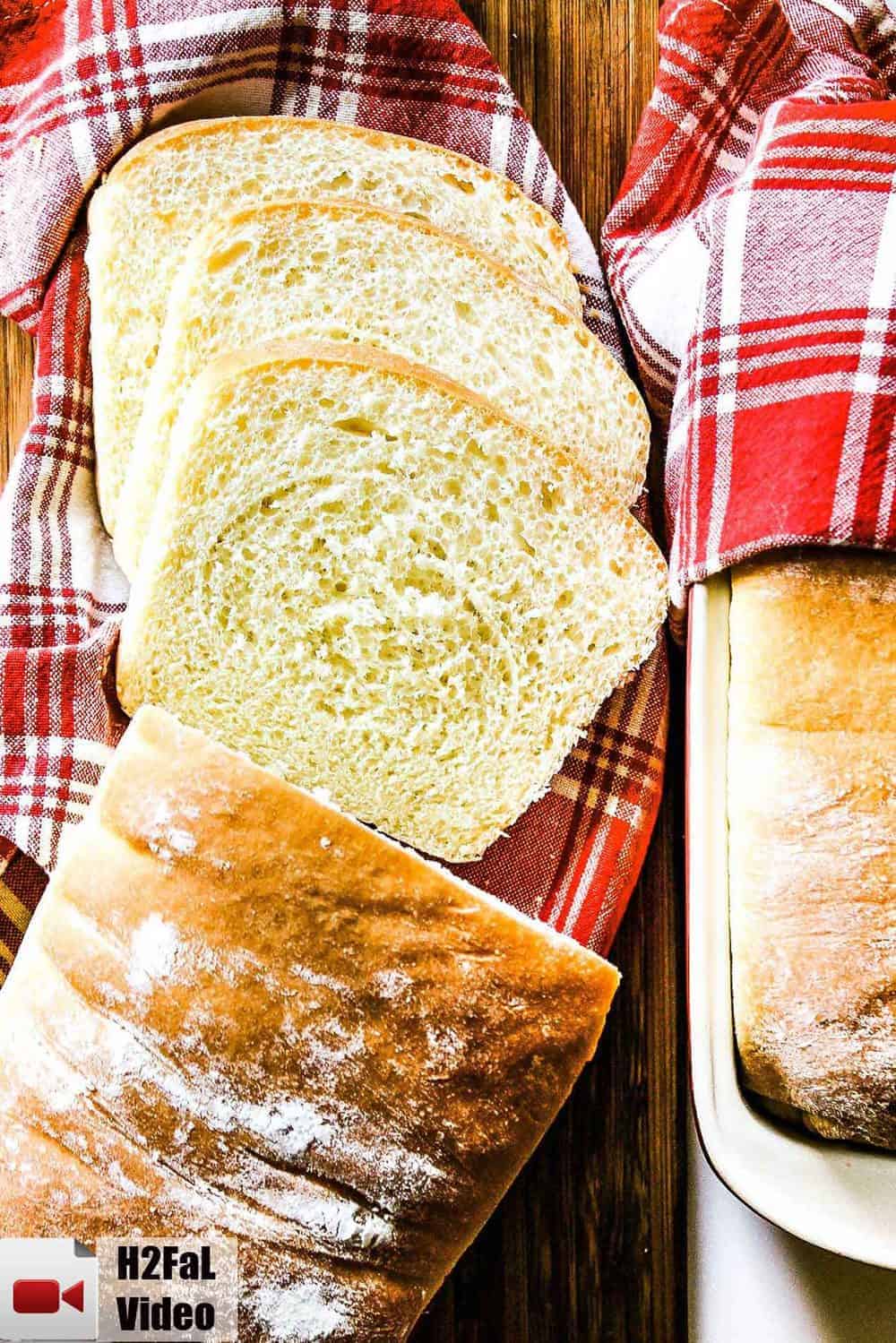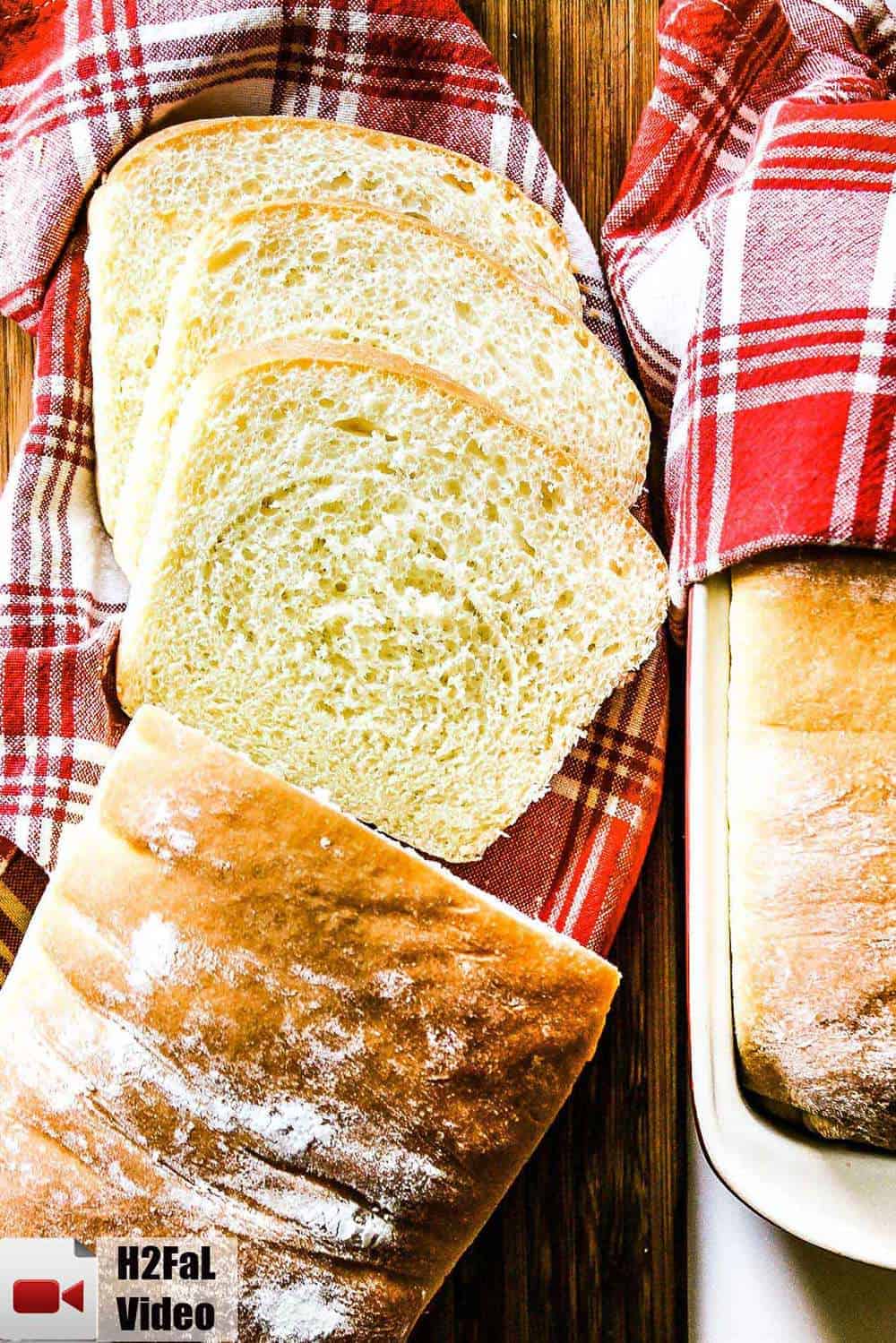 MAKING HOMEMADE BREAD AT HOME IS NOT DIFFICULT
There is nothing much better than a loaf (or two) of homemade bread baking in the oven.
Watch us show you how easy it is to make Homemade White Bread at home!
The dough should be tacky, but not too sticky.
It may feel like you're adding too much flour, but it should feel doughy in your hands.
Roll the dough tightly to form the loaf.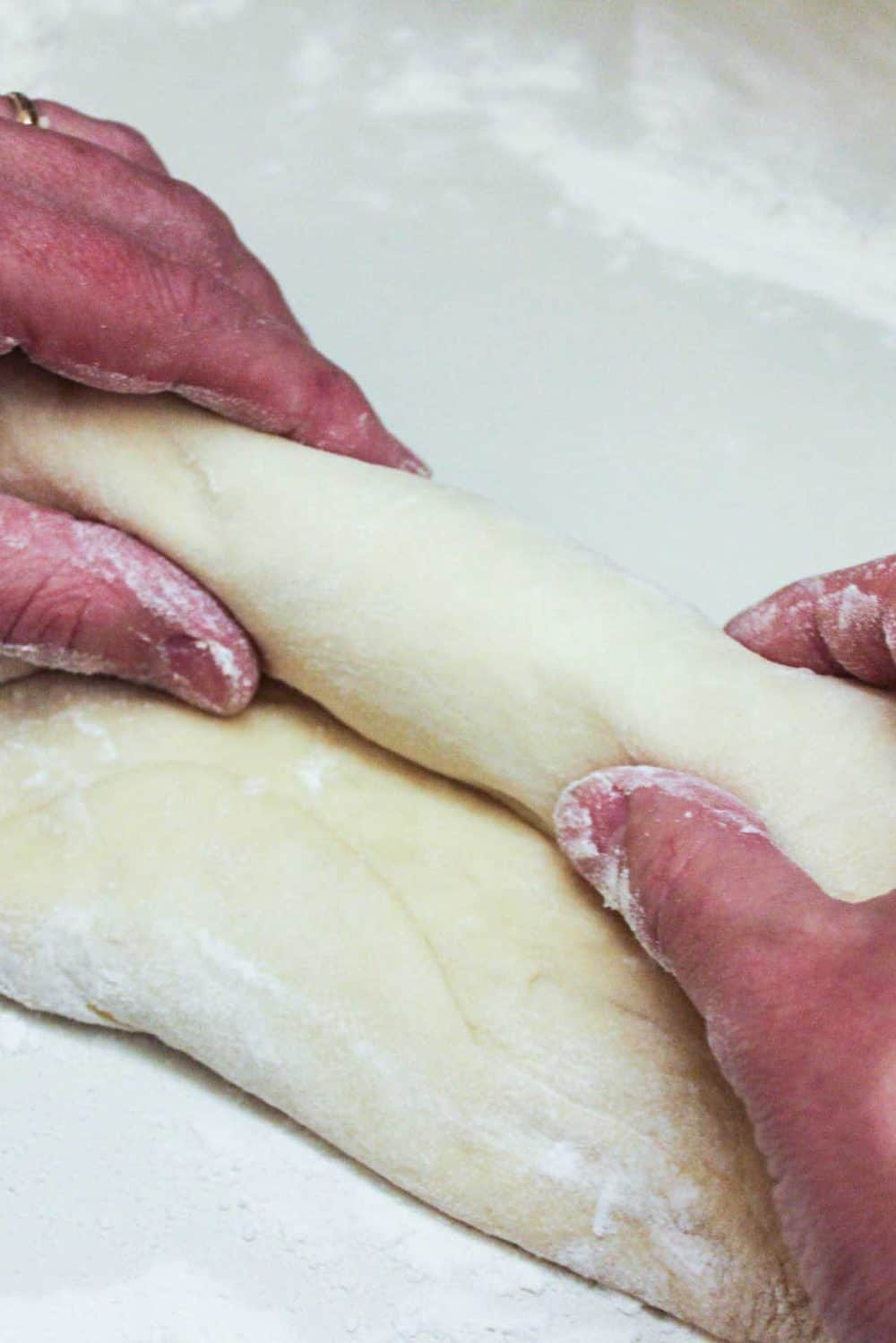 AFTER YOU ROLL THE DOUGH, PINCH THE ENDS
Once the dough has risen and almost doubled in size, then you'll roll the dough.
Simply pinch the ends to seal the loaf.
Place back in the loaf pan to rise again.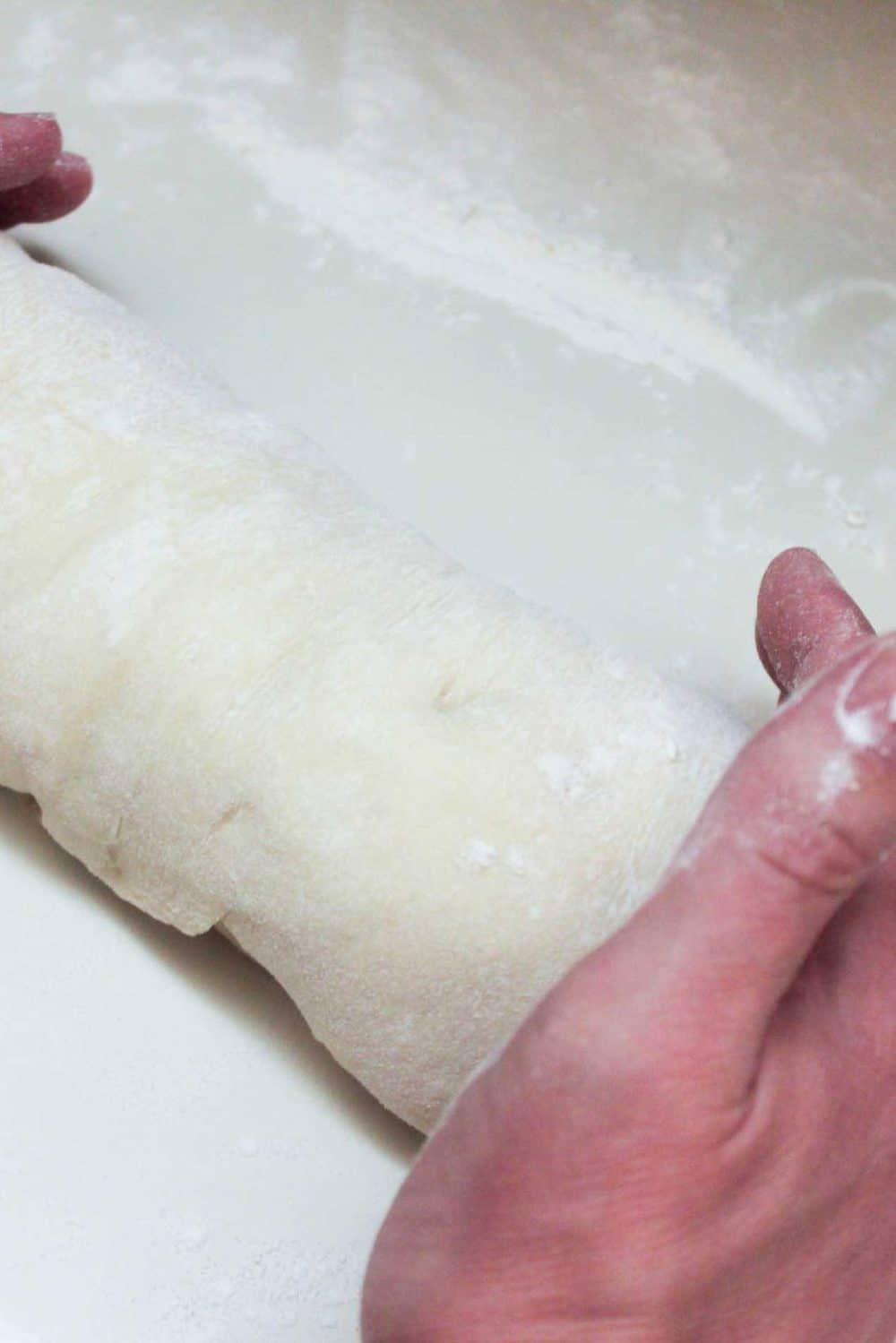 The bread will rise even more as it bakes.
The smell is incredible.
Is there anything more beautiful than freshly bake bread? It's hard to think of anything.
LET THE FRESHLY BAKED BREAD COOL FOR 10 MINUTES
Once the bread is finished baking, about 45 minutes, let iy rest in the pans for at least 10 minutes. Then gently remove from the pan and let cool on a baking rack.
Coating the bread with butter before and after baking adds color and flavor.
Mmmmmm…bread.
Freshly baked bread is heavenly.
We love using Homemade Country White Bread for one of our favorite dishes, Croque Madame.
Make this homemade bread, and be thankful. Be very thankful!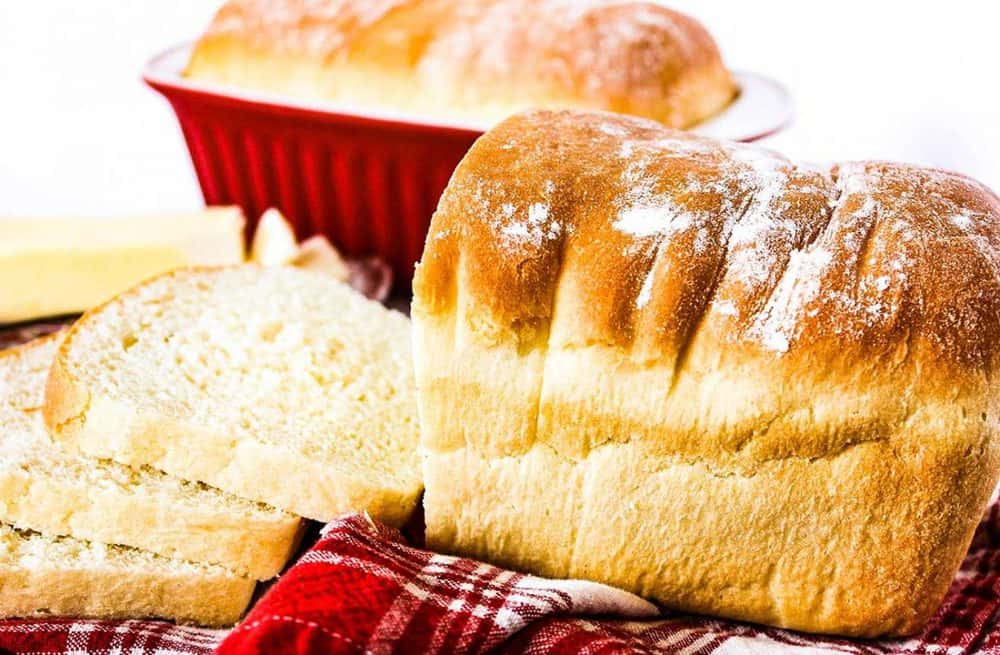 Homemade Country White Bread
There is nothing more homey than freshly homemade bread. This recipe for Country White Bread really is fool-proof. You get two beautiful loaves of bread with this recipe, but it can easily be cut in half for 1 loaf.
Print
Pin
Rate
Servings: 10 people
Calories: 214kcal
Ingredients
4 1/2 tsp instant yeast Two 0.25 packets
3/4 cup + 2 2/3 cups warm water divided
1/4 cup sugar
1 tbsp Kosher salt
3 tbsp unsalted butter cubed, room temp
9 to 10 cups all-purpose flour
3 tbsp unsalted butter melted, for brushing
Instructions
In the bowl of a mixer, dissolved the yeast in 3/4 cup of the warm water (approx. 105°F), and let sit for 5 minutes

Add the remaining 2 2/3 cups water, sugar, salt, butter (room temp), and 5 cups of the flour. Stir to combine.

Using a dough hook, mix on low speed and gradually add the remaining flour until the dough is soft and tacky, but not sticky (you may not need to use all the flour). Continue to knead until a soft ball of dough forms and clears the sides of the bowl, about 7 to 10 minutes.

Place the dough in a lightly greased bowl and turn it over so it is complete coated. Cover with plastic wrap and set in a draft-free place to rise until double in size, about 1 hour.

Turn the dough out onto a clean, lightly floured surface.

Gently press it all over to remove any air pockets. Divide the dough in two and, working with piece at a time, gently pat into a 9x12 rectangle.

Roll up the rectangle, starting on the short end, into a very tight cylinder. Pinch to seal the seams and the ends, tuck in the ends of the rolls. Place into 2 greased 9-inch loaf pans.

Cover the loaves loosely and place in a draft-free area until doubled in size, about 45 minutes.

Position an oven rack on lowest setting and pre-heat the oven to 400°F.

Brush the loaves with some of the melted butter and then baked the loaves for 30 minutes, rotating halfway through, or until golden brown.

Removed from the oven and immediately brush with more of the melted butter. Allow to cool for 10 minute, then removed from the pans and cool completely before slicing.
Nutrition
Calories: 214kcal
This recipe is from Michelle of the amazing Brown Eyed Baker!