Southern Tomato Pie is a truly magical culinary creation.
It is the quintessential summer dish.
Fresh ingredients straight from the farmer's market put this incredible savory pie over the top for summertime favorites.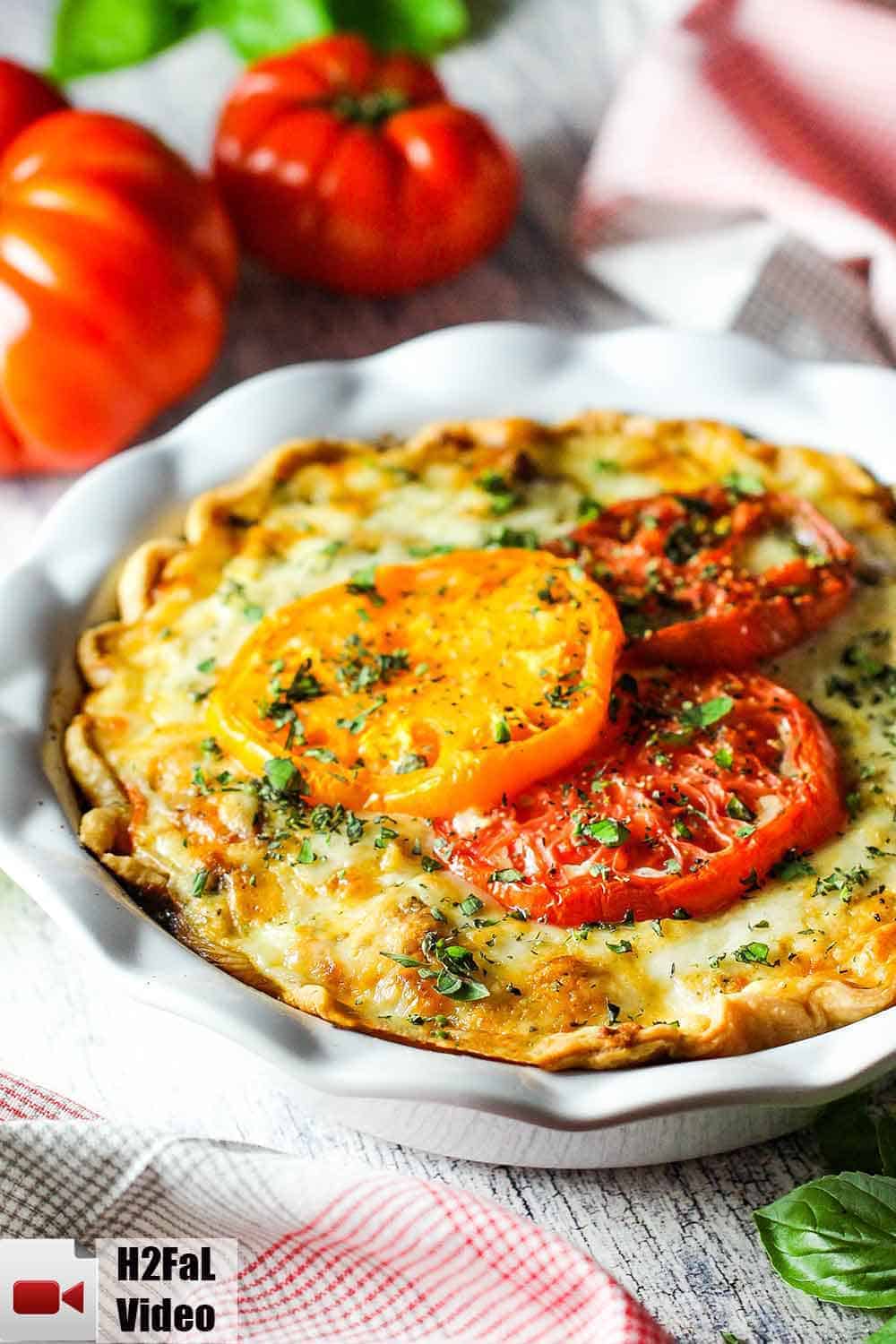 SOUTHERN TOMATO PIE IS EASY TO MAKE
Once you get back from the market with your beautiful fresh tomatoes and herbs, bringing this amazing dish together is not hard at all!
Watch us show you how to make this incredible Southern Tomato Pie!
HEIRLOOM TOMATOES WORK WELL
Heirloom tomatoes have become very popular throughout much of the U.S. in recent years.
They are a little delicate, but the flavor is, in our opinion, unmatched.
Of course, if you don't have access to heirloom tomatoes, just go with the juiciest ripe tomatoes at your local market. And you will be in great shape.
SALT HELPS TO REMOVE WATER
One problem lots of folks have with tomato pie is when baking, the tomatoes exude a lot of water and make the pie crust soggy on the bottom.
Nobody likes a soggy bottom, right? Well, we have a couple tricks to help with that problem.
First, place the sliced tomatoes on paper towels and then liberally sprinkle them with salt. The salt naturally brings out moisture from the tomatoes. The other trick is to roast the salted tomatoes for 40 minutes in the oven. This removes more water and concentrates the tomato flavor, which is a double win!
FRESH HERBS ARE ESSENTIAL FOR TOMATO PIE
"Summer fresh" is what Southern Tomato Pie brings to mind as soon as you take that first bite.
Of course the fresh tomatoes are key to that sensation, but also fresh herbs are very important, too.
Choose any of the following fresh herbs, along with fresh basil, and you'll be on your way to the perfect Tomato Pie:
Basil (this is a must)
Oregano
Thyme
Rosemary
Tarragon
Marjoram
The filling is a mixture of cooked bacon and sautéed white onion. Quality mayonnaise is a must. If you're really feeling adventurous, how about making Homemade Mayonnaise! If using store-bough, Duke's Mayonnaise is wonderful. But, any good quality mayo will always work just fine.
We love using a combination of wonderful melting cheeses. Sharp cheddar is traditionally used in Southern Tomato Pie, and it's always our go-to cheese for the dish. But, we also love to add even more flavor by using delicious, creamy Fontina, too. But, you could also use Mozzarella, Monterrey Jack, or Swiss.
Mix the filling it all together with a wooden spoon and get ready to build the perfect tomato pie!
HOMEMADE PIE CRUST IS BEST
Of course, homemade is always best, and this tomato pie is just begging for Homemade Pie Crust. You can easily make the dough ahead of time. Store bought will produce a delicious tomato pie, too, but why not go the distance and make the pie crust from scratch?
After par-baking the pie crust, it's time to layer the beautiful ingredients into the pie shell.
Start with a thin layer of the filling, then layer in the tomatoes, and then herbs, repeat, and top with the remaining filling and a little extra cheese. We love to top with three tomatoes and herbs.
SOUTHERN TOMATO PIE IS GOOD WARM OR ROOM TEMP
It's very hard to resit digging into this amazing pie as soon as it comes out of the oven. The smell alone is enough to write home about.
But try and resist, if you slice into the pie too soon, the filling will spread. If you're okay with that, then go for it. This Southern Pie is incredible hot, warm or room temperature.
Other awesome tomato recipes that you ought to try sometime:
Fried Green Tomatoes on Corn and Tomato Sauce
In the meantime…make this iconic Southern Tomato Pie!
Southern Tomato Pie
Southern Tomato Pie is the perfect summer dish. Use your favorite variety of fresh tomatoes, and cheeses....go with a wonderful pie crust, basil, and a touch of onion. Wow! Amazing!!
Print
Pin
Rate
Servings: 6 people
Calories: 456kcal
Ingredients
PIE CRUST (MAKE AHEAD)
FOR THE TOMATO PIE
3 lbs fresh tomatoes sliced, we love a variety of heirlooms
Kosher salt
4 slices bacon roughly chopped
1 small yellow onion finely diced
1/2 cup good quality mayonnaise
1 tbsp Dijon mustard
1 egg
1 cup sharp Cheddar cheese shredded
1 cup Fontina cheese shredded
1/2 cup fresh basil chopped
1/4 cup fresh oregano chopped, Can also use: thyme, rosemary, tarragon, marjoram
1/4 tsp freshly ground black pepper
Instructions
Pre-heat the oven to 425° F.

Par-bake the pie crust: Place the pie dough in the pie dish. Now, line with parchment paper. Add weights, or 1 cup dried beans, or, 1 cup dried rice on top. Bake for 15 minutes.

Meanwhile, layer one (or two, if needed) baking sheets with paper towels. Place the sliced tomaotes on the paper towels and sprinkle salt over the tops of the tomaotes.

Remove the pie from the oven, and discard the parchment paper and weights. Let cool completely.

Reduce the oven to 350° F.

On a separate baking sheet with a rack, place all but 3 of the tomaotes and roast in the oven for 40 to 45 minutes. Hold the 3 tomatoes for topping the pie after assembling.

Meanwhile, heat a medium-sized skillet over medium-high heat. Add the bacon and cook until just starting to crisp and grease is being rendered.

Add the chopped onion and cook until transluscent, about 4 to 5 more minutes. Use a slotted spoon to transfer to a plate lined with paper towels. Set aside.

Once the tomatoes are done roasting, remove from the oven and let cool for at least 20 minutes, still on the rack(s).

Make the filling by mixing together in a medium bowl the mayonaisse, cooked bacon / onion mixture, Dijon mustard, egg, and both cheeses. Stir until completely combined.

Add a thin layer of the filling to the par-baked pie crust. Use a knife to spread the filling.

Next, using a spatula, carefully add a layer of the roasted tomatoes. Sprinkle freshly ground black pepper over the tomatoes.

Now, sprinkle half the fresh basil and fresh oregano on top of the tomatoes.

Repeat this layering of filling, tomatoes, pepper and herbs. Add one more layer of the filling on top. Sprinkle more shredded cheese to cover any gaps.

Add the three remaining tomatoes on top and sprinkle on a little more of the herbs.

Bake for 40 minutes, until bubbly and lightly browned on top.

Let rest for 1 hour (if served sooner, the filling will still be somewhat fluid). Serve warm or at room temperature.
Notes
The tomatoes are somewhat fragile after roasting them. Carefully use a small spatula (and your hands) to transfer them from the baking rack to the pie.
Nutrition
Calories: 456kcal