This post is sponsored by Village Farms, but the recipe, photography, and opinions are 100% ours.
Grilled Oysters with Roasted Tomato Butter. Seriously. What more is there to say than that?
Well, let's simply say that we love eating oysters, we just do. Our favorite way has always been raw, on the half shell, with a lovely Champaign vinaigrette, and possibly a splash of top-notch vodka. But when we had the opportunity to partner with Village Farms, one of the greatest vegetable producers we have ever encountered, we knew we needed to step up our game.
We'll try to reserve boastfulness here, but, folks, we hit it out of the ballpark with these Grilled Oysters with Compound Butter: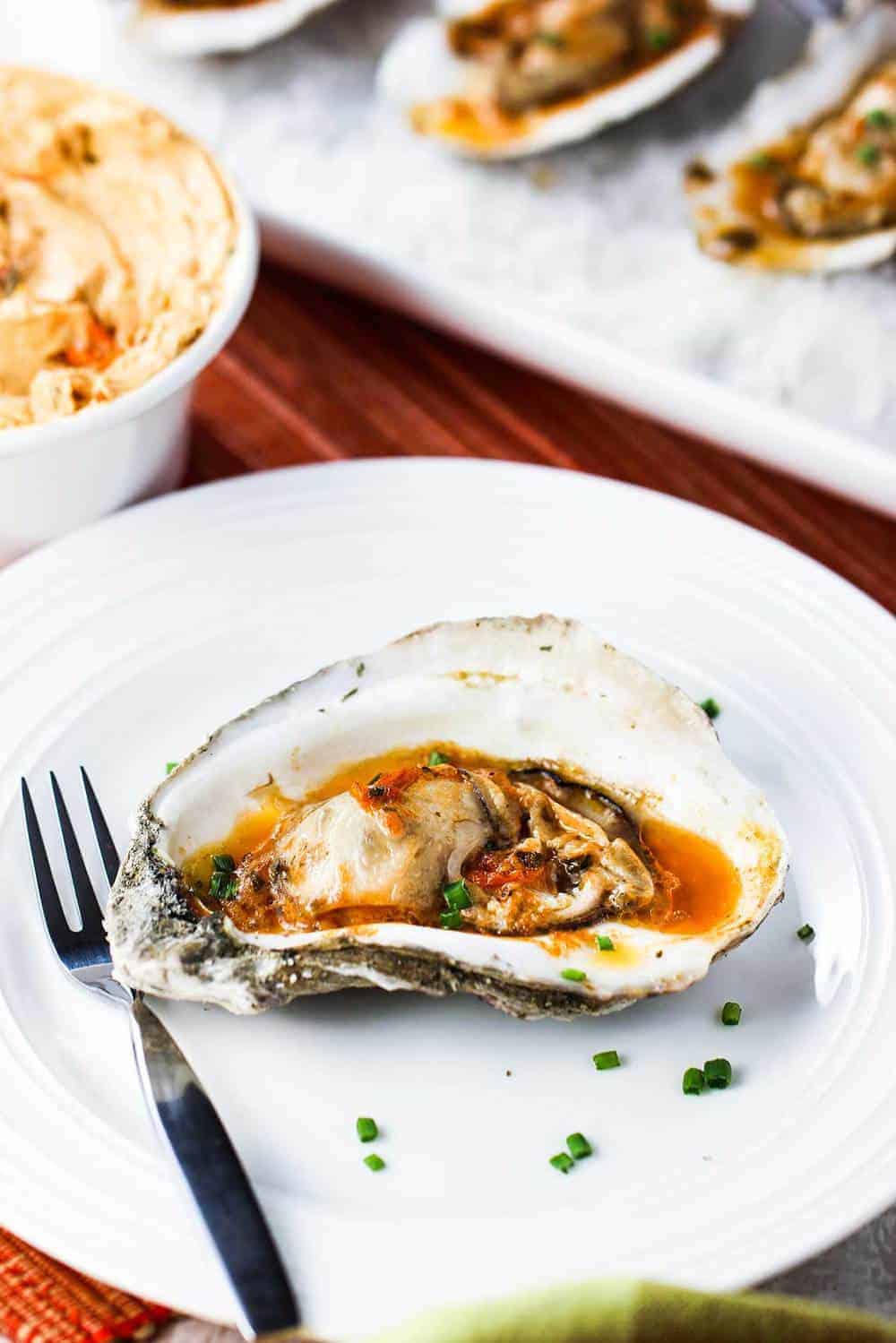 GRILLED OYSTERS ARE PERFECT FOR A ROMANTIC DINNER FOR TWO
Valentine's Day is just around the corner and you can probably guess how Wesley and I like to spend it…eating incredibly delicious food.
Oysters are on most "sexiest foods" lists. I'm not sure why, but they do conjure romantic memories through the years for Wesley and me, usually from when we were celebrating something special.
We absolutely are in love with Village Farms. Their produce is always so fresh, natural and just simply delicious. We can't rave enough about their tomatoes. For this dish, we decided to use Village Farms Cabernet Estate Reserve® Cherry Tomatoes. Just the name alone is enough to make us swoon. But the dark, smooth tomatoes are so juicy and tasty, that we knew roasting them would bring out even more of their incredible taste.
Mercy, were we right.
ROASTING THE TOMATOES BRINGS OUT EVEN MORE FLAVOR
We can't rave enough about compound butter. We love taking a wonderful herb, or pepper, or tomato, and simply combine it with top notch butter.
Preparation couldn't be easier with your food processor.
After roasting those gorgeous Village Farms Cabernet Estate Reserve® tomatoes, we added them to the food processor along with a few fresh herbs, a splash of balsamic vinegar and two sticks of quality unsalted butter. You'll have more than enough of the compound butter for the recipe, but you'll be glad you've got on hand. It will stay at room temperature for 48 hours and up to two weeks in the fridge.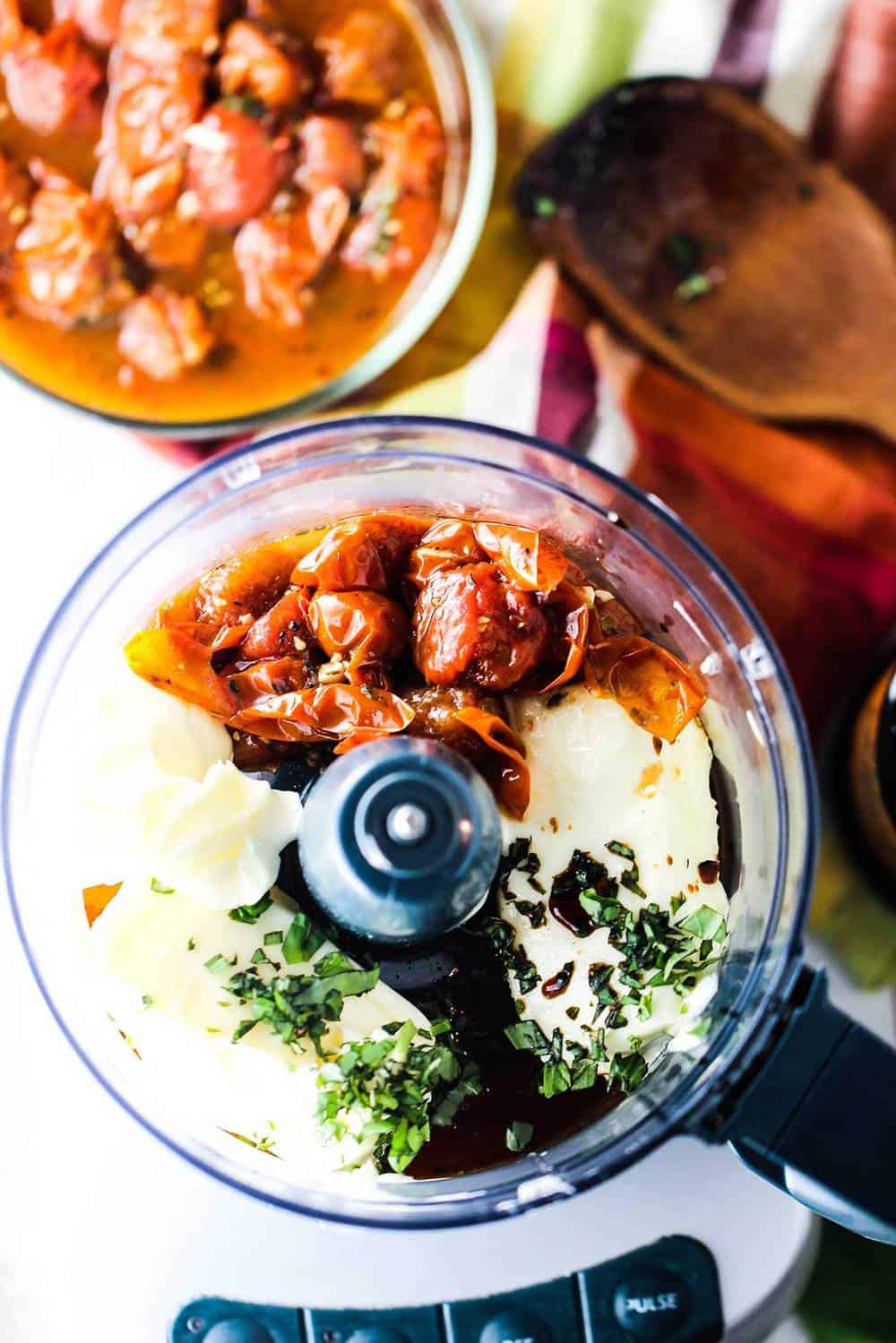 ROASTED TOMATO COMPOUND BUTTER HAS MANY USES
The Cabernet Estate Reserve® Tomatoes have such a distinctly rich, yet smooth taste.
We love using this compound butter on toast, grilled corn, eggs, and more.
But we especially adore it on our Grilled Oysters!! Just add a couple teaspoons on each securely placed freshly shucked oyster and you'll be ready for the grill! We love using our oyster holder for making sure the oysters don't lose any of their delicious liquid! If you can, shuck the oysters at home. You won't run the risk of losing any of their delicious liquid that way. But in a pinch, have your local fishmonger shuck them for you, but just be extremely careful when transferring them home, nestled firmly into a bed of shaved ice.
If it's Valentine's Day, or just time for something special, these Grilled Oysters with Roasted Tomato Butter couldn't be better.
VILLAGE FARMS IS LIKE HAVING A FARMER'S MARKET AT YOUR DOORSTEP
Village Farms tomatoes, cucumbers, and peppers are available in many well-stocked grocery stores throughout the U.S. and Canada. Their vegetables are so fresh, it's literally like getting tomatoes from your local farmer. What could be better than that?
And, did we mention how amazing they are in a compound butter atop grilled oysters? Well, it's heavenly.
Oh, just look at these grilled oysters with roasted tomato butter.
Gorgeous and so delicious.
Perfection on a plate.
GRILLED OYSTERS PAIR BEAUTIFULLY WITH RIBEYE STEAKS
If you're in the mood to make a spectacular Valentine's dinner, then make these incredible Grilled Oysters with Roasted Tomato Butter.
But, take it even a notch further, and make our incredible Seared Ribeye with Blistered Tomatoes and Bordelaise Sauce.
With Village Farms tomatoes and these recipes, you, your significant other, and Cupid will have a very happy Valentine's Day and beyond.
Grilled Oysters with Roasted Tomato Butter
These Grilled Oysters with Roasted Compound Butter are truly something special. Roasting the tomatoes brings out even more of the amazing taste. And grilling the oysters imparts a slightly smoky taste that just cannot be beat. Incredible.
Print
Pin
Rate
Servings: 4 people
Calories: 218kcal
Ingredients
1 clove garlic minced
Kosher salt and freshly ground black pepper
1 tbsp fresh thyme chopped
2 tbsp olive oil
16 tbsp unsalted butter room temp, 2 sticks
1 tbsp fresh basil chopped
1 tbsp balsamic vinegar
12 medium to large oysters
Rock salt optional
Instructions
PREPARE THE ROASTED TOMATO COMPOUND BUTTE
Pre-heat oven to 400°F.

In a large bowl, toss the tomatoes with the garlic, a healthy pinch of salt and pepper, and the thyme.


Place tomatoes on a rimmed baking sheet in a single layer.

Bake for 15 to 20 minutes, until the tomatoes are soft and have begun to release some juice.


Transfer tomatoes and juices to a bowl and let come to room temperature (this can be expedited by placing in the refrigerator).

In a food processor fitted with a metal blade, add the softened butter, basil, balsamic vinegar and 1 cup of the roasted tomatoes. Process until completely combined.

Transfer to a serving bowl. Leave at room temperature if using immediately, or cover with plastic wrap and refrigerate for up to 1 week.

PREPARE THE OYSTERS
Prepare grill to high heat, approx. 400°F.


Spread a layer of rock salt (or a layer of crumpled foil) in a large cast iron skillet, or pan.

Shuck oysters, leaving them on the half shell. Nestle the oysters in the rock salt, or foil.


Add 1 to 2 tsp of the compound butter on each oyster.


Place the skillet (or pan) on the grill and cook, covered, for 5 to 6 minutes, until the butter is bubbly and the oysters are beginning to curl, slightly.

Serve with additional roasted tomato compound butter on the side.

Nutrition
Calories: 218kcal