Sometimes the simpler things in life are the most rewarding. That certainly holds true for this Classic Tomato and Basil Bruschetta recipe. How can you go wrong with lightly toasted baguette slices, fresh tomatoes and basil, quality olive oil and a touch of garlic? Taste perfection.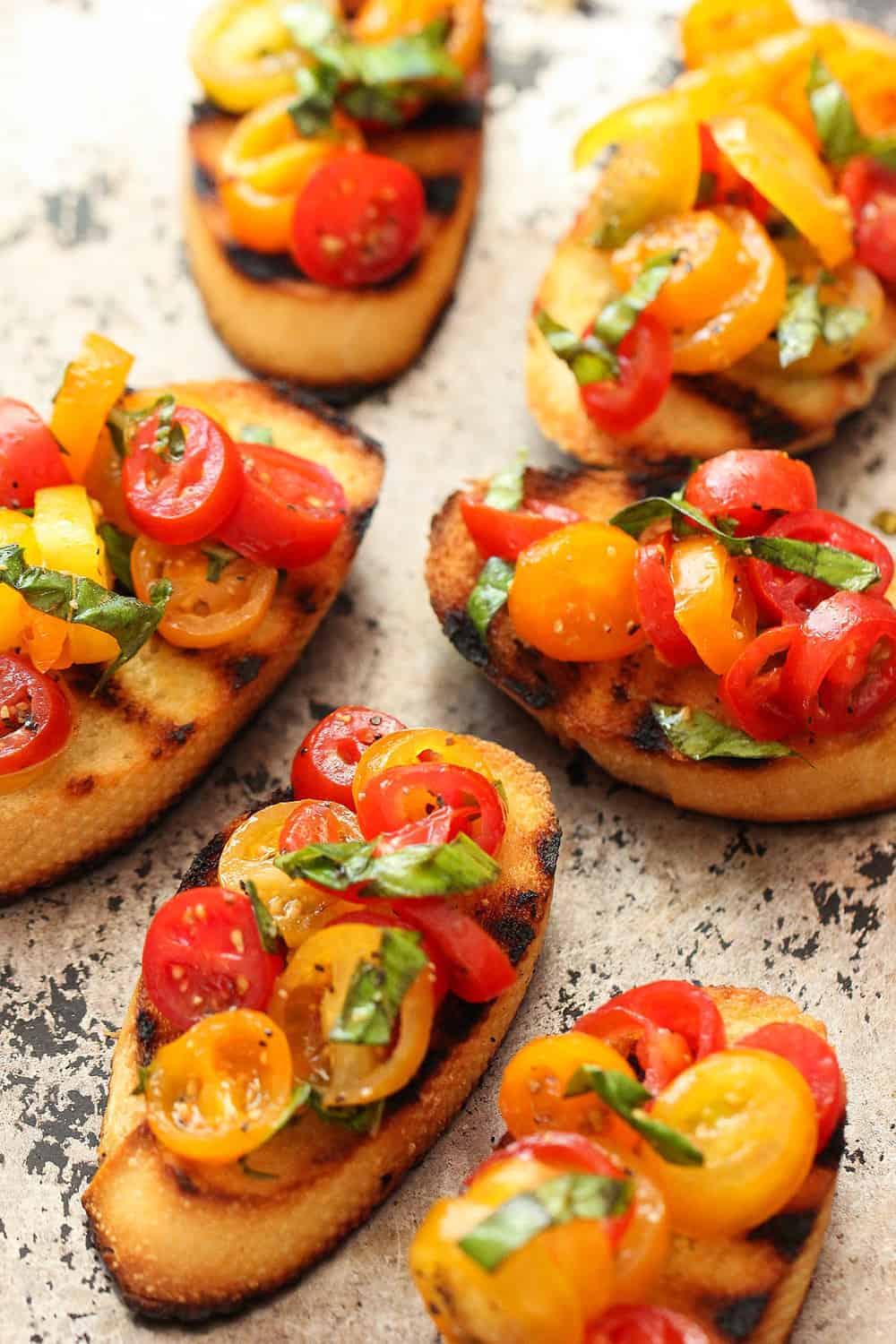 I really love using my
There is just something divine about farm fresh tomatoes, fresh basil, quality olive oil and a touch of garlic.
Those flavors compliment each other perfectly. This is good any time of the year, but when tomatoes are in season, you may have the perfect appetizer right at your fingertips.
Another great topping for bruschetta is our Roasted Pepper Topping.
You can't do much better than Classic Tomato and Basil Bruschetta. And it is so easy to make, too!! Yes indeed!
You can never go wrong with Classic Tomato and Basil Bruschetta at a dinner party or just gathering of friends and family. It's delicious, easy to prepare, and so easy for guests to grab one and enjoy as they sip on a glass of wine of iced tea.
You can easily make the tomato topping a couple hours a head of serving. I usually sprinkle a few small strips of fresh basil on top just before serving to give yet another pop of color.
Classic Tomato and Basil Bruschetta
This Classic Tomato and Basil Bruschetta recipe is the perfect pre-dinner or party appetizer. So simple to prepare and guests just eat them up. You can make the tomato mixture several hours before serving. A
cast iron griddle
make the perfect grilled toasted bread for serving.
Print
Pin
Rate
Servings: 6 people
Calories: 142kcal
Ingredients
1 cup cherry tomatoes varied colors are nice, halved
1/4 cup fresh basil cut into thin slivers
Extra-virgin olive oil as needed (about 1/4 cup)
Kosher salt and black pepper
1 garlic clove cut in half
1 baguette cut into 1/2-inch slices
Instructions
In a medium bowl, gently stir together the tomatoes and the basil.

Add a couple healthy dashes of the olive oil then add a pinch each of salt and pepper. Gently stir again.

Pre-heat a grill pan (cast iron works very well) over medium-high heat.

Brush the bread with the garlic and then the oil.

Grill the bread until toasted on both sides, about 2 minutes per side.

Transfer the grilled bread to a platter and mound the tomato mixture on top of each slice.

Serve at once and enjoy!
Nutrition
Calories: 142kcal