If you're looking for a dish to feature all those amazing Spring veggies, you've found it.
We just love everything about this dish. It's healthy, which is great, but it is also deeply flavorful and lets the vegetables shine. It takes a little more effort, but making the pasta from scratch is well worth it. And it all comes together in about 30 minutes!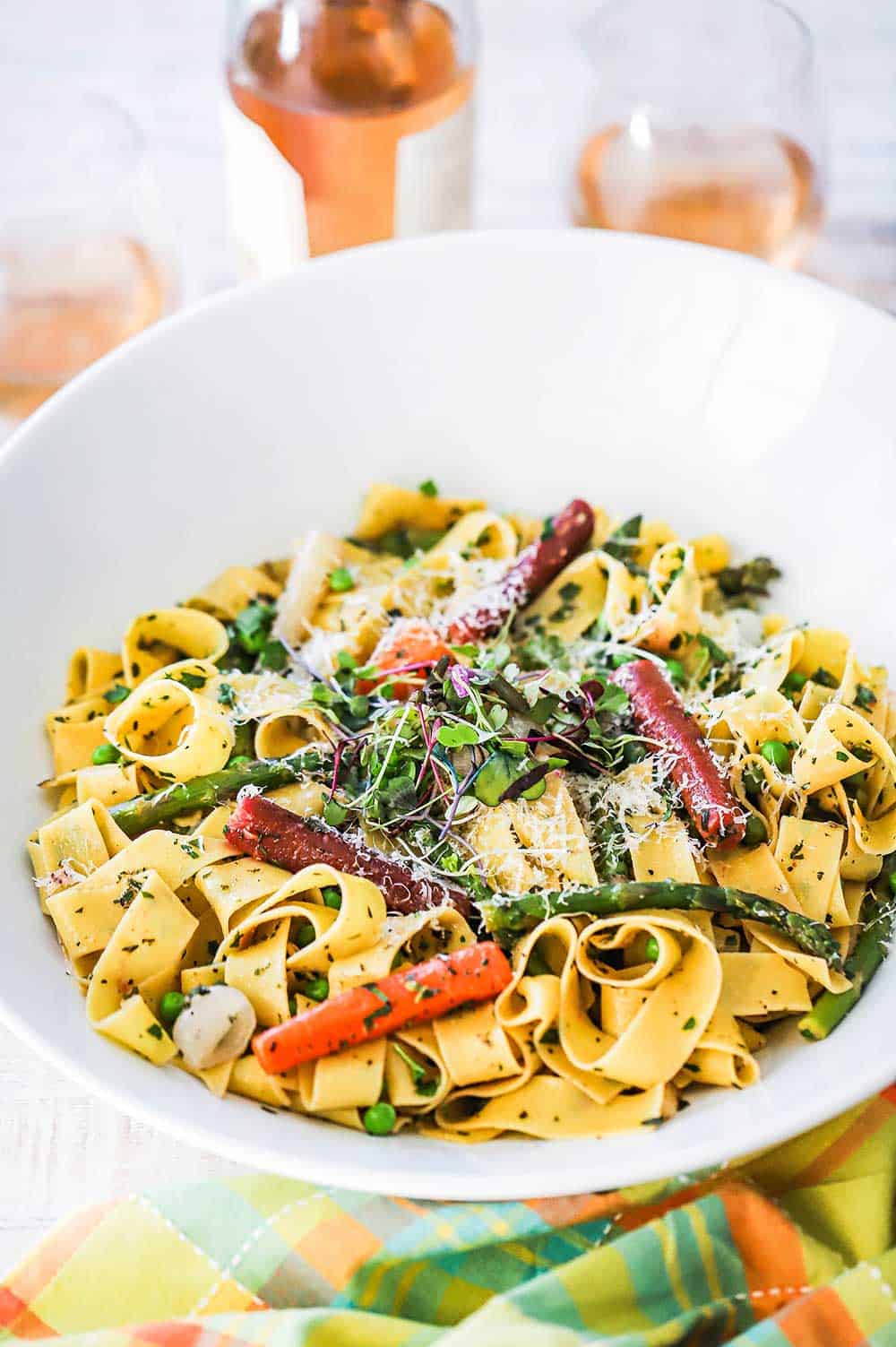 How To Make Pappardelle with Seasonal Vegetables
This dish is great any time of the year, but it's especially wonderful when vegetables are in their prime season, such as in spring.
Head to your local farmer's market and grab the veggies that are calling your name.
And choose your favorite herbs to season the dish. Fresh is the best!
NOTE: If you liked this video, please subscribe to our YouTube channel. Remember to click the little 'bell' icon so you'll never miss a new video. Thank you!
What Are Cipolline Onions and How To Prepare
We love adding cooked cipolline onions to this dish.
Although they are typically grown in the fall, you can find them year-round in most well-stocked supermarkets or farmer's markets.
EXPERT TIP: In Italy, cipolline onions are traditionally served whole. Simply boil them in their skins for about 5 minutes and then remove them from the water and let them cool. Use your fingers to cut the root end off then just squeeze the onion from the skin. They are mild in taste but very delicious and add a wonderful texture to the dish.
The Ingredients You Will Need
As mentioned, pick whatever vegetables look fresh and vibrant to you. Here are the vegetables we love to use:
Baby carrots, orange, purple and white
Asparagus, ends trimmed
Sweet peas, or shucked sugar snap peas
Parsnips
Cipolline onions (See NOTES)
Any of the following fresh herbs add amazing flavor:
Basil
Parsley
Marjoram
Tarragon
Dill
EXPERT TIP: If you don't have the time to make homemade pasta, seek out good-quality fresh pasta. If you can't find pappardelle, you can cook lasagna noodles and then use a pizza cutter to cut large strands of pasta. Or, go with whatever fresh pasta is available to you.
After simmering the vegetables, you can remove them from the liquid and continue cooking the broth until it reduces to about 1 cup.
When you add the vegetables and pasta back to the reduced sauce, it will simply coat them and you won't have a "saucy" dish at all.
We enjoy a little extra broth with the dish. It's perfect for dunking a fresh piece of bread into.
Either method is extremely delicious and satisfying.
How To Serve Pappardelle with Seasonal Vegetables
Because this dish comes together very quickly, we don't recommend preparing it in advance of serving.
However, to help reduce your time in the kitchen greatly, have all of the vegetables and herbs prepped and ready to go.
Drop the pasta in just before you are ready to serve. Be sure to follow package instructions, but most fresh pasta only takes 2 to 3 minutes to cook until al dente.
EXPERT TIP: This dish is absolutely heavenly when finished off with a little butter. It adds a luxurious texture to the pasta, but it can be omitted, if desired. Topping the finished dish with grated Parmesan and a small bunch of pea shoots is beautiful and delicious, too.
This pasta dish is so deeply flavorful and fresh that you won't miss the meat at all.
Other favorite Italian vegetarian dishes include:
In the meantime, you've got to give this vibrant pasta dish a try. You and your guests will be so glad that you did!
Ready to make one of the most beautifully delicious and healthy dishes in town? Go for it!
And when you do, be sure to take a photo of it, post it on Instagram, and tag @HowToFeedaLoon and hashtag #HowToFeedaLoon.
Pappardelle with Seasonal Vegetables
This Pappardelle with Seasonal Vegetables is so vibrant and so fresh! Really healthy and perfect to make when vegetables from the farmer's market are young and bursting with flavor.
Print
Pin
Rate
Servings: 4 people
Calories: 375kcal
Ingredients
½ lb pappardelle pasta can use linguine*
3 cups vegetable stock
Kosher salt and freshly ground black pepper
1 cloves garlic minced
1 bunch asparagus medium size, ends trimmed
1 cup baby carrots tri-color, if available
1 cup spring onions aka Cipolline (see NOTES)
½ cup sweet peas
2 tbsp basil fresh, chopped
2 tbsp parsley fresh, chopped
2 tbsp thyme fresh, chopped
4 tbsp unsalted butter
1 tbsp lemon zest
1 tbsp lemon juice from the lemon
Pea shoots or watercress for garnish
Freshly grated Parmigiano-Reggiano cheese optional, for garnish
Instructions
In a small pan, bring 2 cups of water to a boil and add the onions and simmer for 5 minutes.

Remove the onions with a slotted spoon. Cut off the root end, and squeeze the onion out of the skin. Set aside.

In a large skillet, bring the stock, garlic, 1 teaspoon salt, and 1/2 teaspoon of pepper to a simmer over medium-high heat.

Add the carrots, cover, and simmer for 5 minutes. Add the remaining asparagus and onions, cover again, and simmer for another 5 minutes, or until they are soft.

Meanwhile, cook the pasta in a pot of salted boiling water until al dente, about 3 minutes. Drain.

Stir in the peas. Next, add the cooked pasta, herbs, butter, zest, and lemon juice to the stock. Gently stir for 1 minute, or until butter is melted and pasta is coated.

Serve in pasta bowls and garnish with pea shoots and topped with shaved (or grated) Parmesan (if using).
Notes
See the video near the top of the blog post for visual guidance. If you liked the video, please subscribe to our YouTube channel.
Pappardelle pasta can be found in the fresh pasta section of many well-stocked supermarkets, gourmet food shops, or Italian markets. You can also cook lasagna noodles and then cut them into 1/2-inch strips with a pizza cutter. Or, simply go with your favorite type of pasta.
Cipolline onions can be found in the produce section of many well-stocked supermarkets and definitely at fresh produce markets. They are sometimes called 'boiler onions' or 'spring onions.' If you can't find them, you could go with pearl onions, but we recommend peeling them first.
We recommend using a combination of fresh herbs for the dish. We used tarragon in the video, which is wonderful but does have a slight (but distinct) licorice taste. If using dried herbs, only use 1 tsp of each.
Leftovers will keep in the fridge for up to 3 days. Gently reheat on the stove in a skillet until heated through. The dish does not freeze well.
Nutrition
Calories: 375kcal | Carbohydrates: 53g | Protein: 12g | Fat: 14g | Saturated Fat: 8g | Polyunsaturated Fat: 1g | Monounsaturated Fat: 4g | Trans Fat: 1g | Cholesterol: 78mg | Sodium: 751mg | Potassium: 555mg | Fiber: 7g | Sugar: 7g | Vitamin A: 6661IU | Vitamin C: 22mg | Calcium: 101mg | Iron: 5mg
POST UPDATE: This recipe was originally published May, 2016, but was updated with improved tweaks to the recipe with new tips and photography and a fabulous new video in March, 2022!