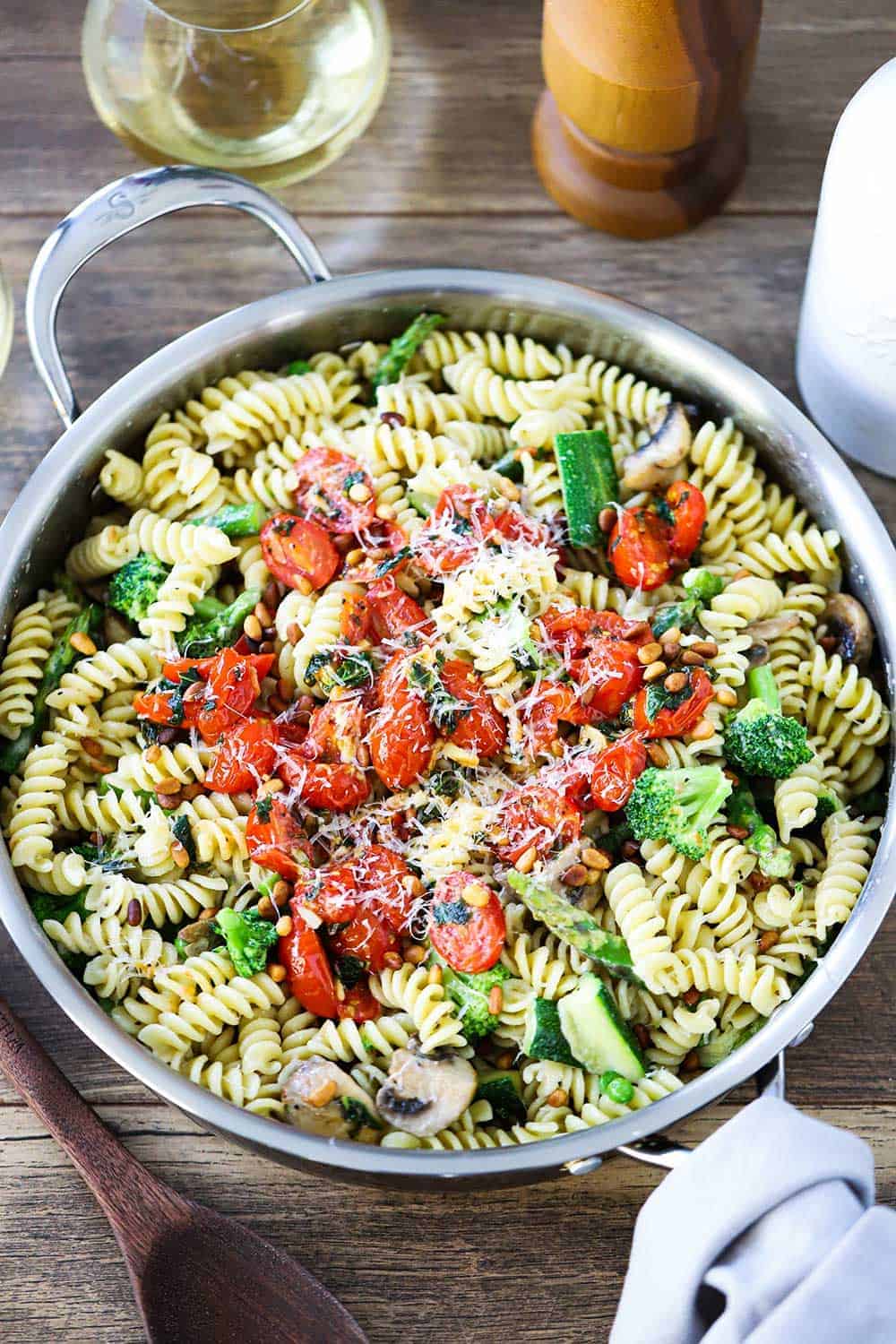 Spring is bursting out all over!  And Summer is practically here!  This is the perfect time to make one of our all-time favorite pasta dishes – Pasta Primavera!  Exploding with garden-fresh flavors, from mushrooms, to sweets peas, to broccoli, to zucchini.  Make it really special, and make a batch of homemade marina sauce.
If you don't have the time to do that, then just open a can 28 oz can of crushed tomatoes, add that to some olive oil and garlic that's been simmering for about 2 minutes, add a little dried oregano, a pinch of salt, let it simmer for about 20 minutes, and you're good to go!  (But really, make the homemade marinara…it brings this dish to incredible heights).   This is a dish inspired from one of our favorite Italian-American restaurants in NYC:  Carmines.  Make it completely vegetarian and use veggie stock, instead of chicken stock, and omit the pancetta!  Or, just go for it!! Enjoy!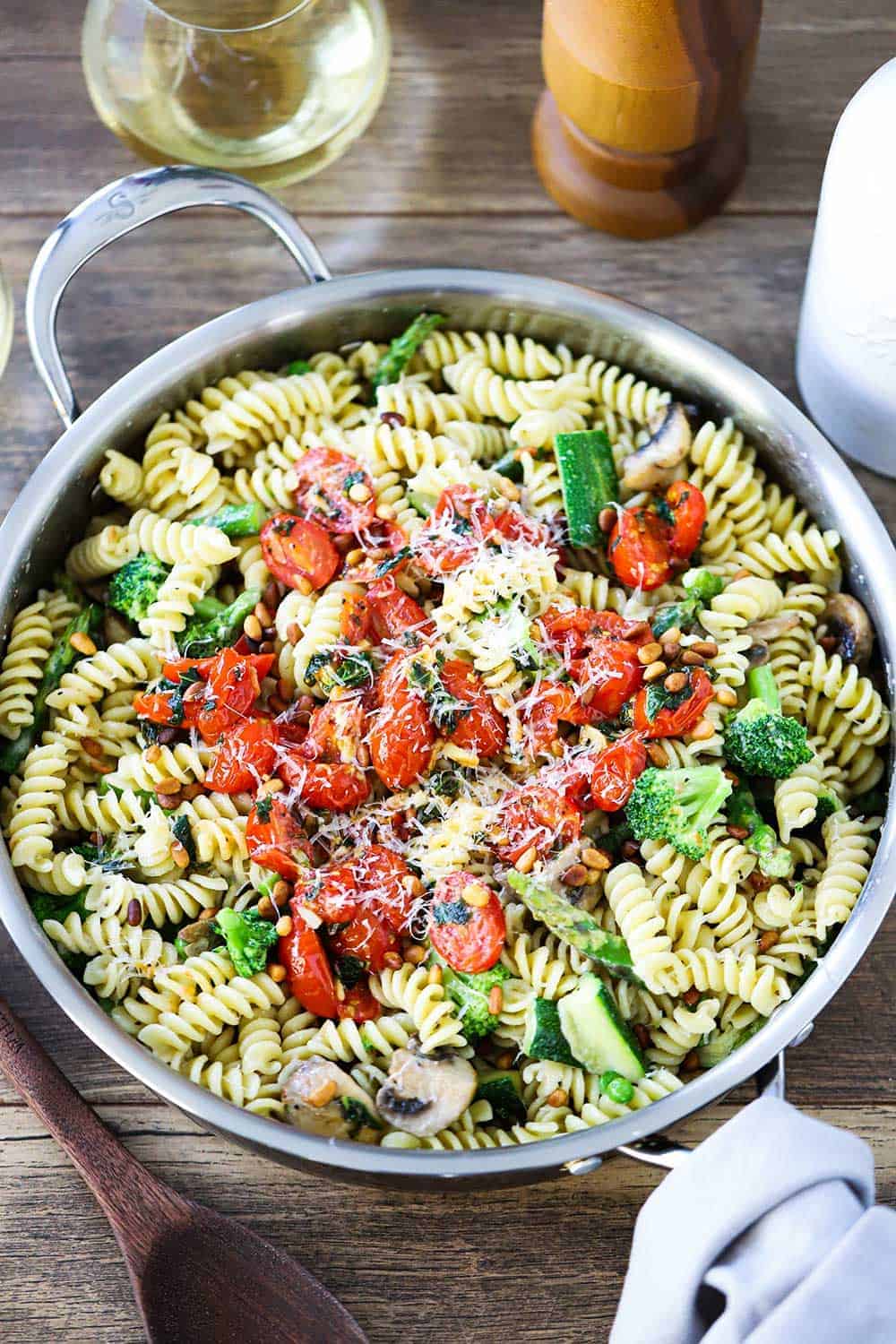 Pasta Primavera
This is a classic dish. You just can't get much better than Pasta Primavera. And this is inspired from Carmines, an amazing Italian-American restaurant in NYC. Bursting with flavor. So good!!
Print
Pin
Rate
Prep Time: 20 minutes
Cook Time: 20 minutes
Total Time: 40 minutes
Servings: 4 people
Calories: 248kcal
Ingredients
1/4 cup olive oil
1/2 onion thinly sliced
4 garlic cloves peeled and minced (about 2 tablespoons)
1 1/2 cups sliced white button mushrooms about 8 ounces
1 cup zucchini diced (about 1 whole zucchini)
2 tbsp pancetta diced
6 fresh basil leaves sliced and roughly chopped
2 tbsp flat-leaf parsley chopped
2 cups fresh marinara*
1 cup chicken stock
1/2 cup heavy cream
1 cup grated Romano cheese
1/2 cup frozen and thawed sweet green peas
Kosher salt and freshly ground pepper
1/4 head broccoli or two broccoli crowns, cut into 2-inch spears with florets
12 oz dried penne
*Simple marinara: Heat 2 tablespoon olive oil add 2 minced garlic cloves, then 1 28oz can of crushed tomaotes and 1 tablespoon of dried oregano and a pinch of salt, simmer for 15 minutes.
Instructions
In a large saute pan, heat the olive oil over medium-high heat.

When the oil is hot, add the onions and garlic and cook them, stirring, for about 2 to 3 minutes, or until the onions start to turn slightly golden brown.

Add the mushrooms, zucchini, pancetta, basil, and parsley.

Raise the heat to high and cook the mixture for 4 minutes, until the vegetables start to soften.

Add the marinara sauce, chicken stock, and heavy cream.

Bring the sauce to a boil over medium-high heat and boil it for 3 to 4 minutes, or until it starts to thicken.

Stir in 1/2 cup of the cheese and the peas.

Season with salt (about 1/2 teaspoon) and pepper (about 1/4 teaspoon).

Meanwhile, in a large pot of boiling salted water, cook the broccoli for 3 minutes.

Lift the broccoli from the water with a slotted spoon and add it to the sauce.

Reserve the water in the pot to cook the pasta.

Let the sauce sit, off the heat, for 15 minutes.

Bring the water to a boil, add the pasta, and cook for 9 minutes, or until al dente.

Drain the pasta well and transfer it to a shallow bowl or platter.

Bring the sauce to a simmer.

Immediately ladle it over the pasta and serve it with the remaining 1/2 cup of grated cheese on the side.
Nutrition
Calories: 248kcal