This dish is such a celebration of garden-fresh vegetables and classic Italian cuisine!
We love this classic pasta dish so much and we enjoy making all-year long. But, in the springtime and summertime, when fresh vegetables are at their peak, this dish is one of our all-time favorites. Even the meat-lovers in your family will flip for this deeply flavorful dish. The Loon certainly did! And it's ready in about 30 to 40 minutes!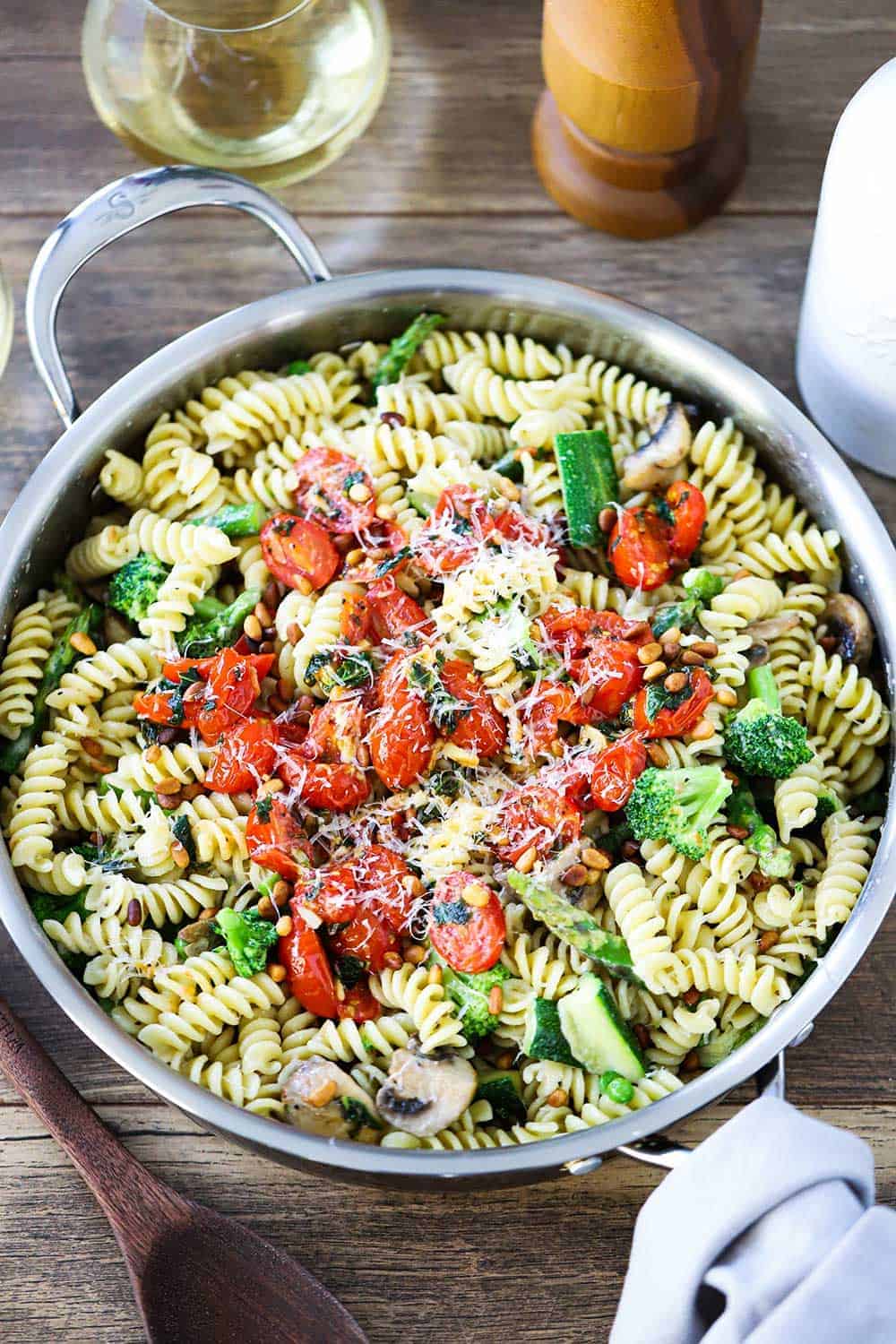 How to Make Pasta Primavera
This Pasta Primavera recipe is all about fresh vegetables, quality pasta, and a few other ingredients to deliver incredible taste.
Be sure to have all the components of the dish prepped before you start cooking. Then it all comes together very quickly!
Choosing the Best Pasta
You really can't go wrong when selecting a pasta for this dish.
We think smaller pasta, such as fusilli, penne, or rigatoni is the perfect match for the sautéed vegetables.
But spaghetti alla primavera is wonderful, too. As mentioned, you can't go wrong. Fresh homemade pasta is a glorious option, too!
EXPERT TIP: Before cooking the pasta (according to the package instructions), we blanch the asparagus and broccoli pieces in a pot of boiling and salted water. Blanch them for 3 minutes and then use a slotted spoon to remove the vegetables. Place in an ice bath to prevent further cooking. Now, you can cook your pasta! The water will have a hint of the veggie taste, which is great. Save about 1 cup of the pasta water, you may need it later.
Drain the pasta and add 1 tbsp of olive oil to keep it from stick together. Toss and then set aside.
What is Pasta Primavera?
Primavera means 'springtime' in Italian and the dish utilizes all those amazing vegetables that are at their peak in the spring and into summer.
Vegetables for our Pasta Primavera Sauce include:
Button mushrooms, quartered
Broccoli florets
Asparagus tips (save the stalks for another use)
Zucchini
Sweet Peas
Cherry tomatoes, halved
Garlic and fresh basil
This recipe was made famous by Sirio Maccioni of New York City's famed Le Cirque. We start by sautéeing garlic and then the quartered mushrooms. Cook until soft and just starting to release the mushroom liquid, about 4 minutes.
Now, it's time to add in the blanched broccoli and asparagus.
We don't blanch the zucchini, we just let it soften in the skillet with the other veggies.
Cook, along with the frozen peas, until everything is tender, but not mushy.
Finishing the Dish
Once the veggies are sautéed, add back in the pasta and stir to combine.
We love a slightly creamy pasta primavera sauce, so the addition of heavy cream and grated Parmesan gives the classic taste and texture.
EXPERT TIP: You can substitute half-and-half for the heavy cream if you prefer. We find that the cream combined with Parmesan cheese delivers a luxurious sauce but still maintains a lightness to it, which is preferred.
Now, one more step to finish this iconic pasta dish.
In a separate skillet, over medium heat, add the oil and then sauté the garlic with basil and halved cherry tomatoes.
EXPERT TIP: Cook until the tomatoes begin to wilt and break down a bit. Hit with a pinch of salt and pepper. This can be done in advance, but we recommend doing it while the rest of the dish is keeping warm in the skillet over low heat.
The Perfect Vegetarian Pasta Dish
This dish is amazingly loaded with flavor, that there is no need to add a protein.
Once the dish is plated, all that's needed is another good grating of fresh Parmesan cheese on top.
EXPERT TIP: Fresh Parmesan is ideal for topping the dish. If you don't have a cheese grater, you can scrape the block of the cheese along the small holes of a box grater, or with a zester, or micro-plane.
Serve this with a nice crisp white wine, such as Chardonnay, Sauvignon Blanc, or Pino Grigio, and you will be very happy.
A crusty loaf of Italian bread is a nice touch.
And did we mention how beautiful the plated dish is? And then you take that first bite. Oh, yeah!
Another recipe you might enjoy is our Pappardelle with Seasonal Vegetables!
But in the meantime, are you ready to make the most amazingly delicious meatless pasta dish in town? Go for it!
And when you do, be sure to take a photo, post it on Instagram, and tag @HowToFeedaLoon and hashtag #HowToFeedaLoon!
Pasta Primavera
This is a classic dish. You just can't get much better than Pasta Primavera. Brimming with fresh vegetables, and just enough cream and cheese to make it light, but still luxurious. Amazing!
Print
Pin
Rate
Servings: 6 people
Calories: 568kcal
Equipment
Large saucepan, small saucepan, pot for cooking pasta
Ingredients
1 cup broccoli florets
1 cup asparagus tips (save the stalks for another use)
1 lb pasta dried, such as fusilli or rigatoni
7 tbsp olive oil divided
5 cloves garlic minced, divided
8 oz. mushrooms quartered
1 small zucchini quartered lengthwise, cut into 1-inch pieces
½ cup sweet peas frozen
1 cup heavy cream
⅔ cup Parmesan cheese grated, plus more for garnish
1½ tsp Kosher salt
¾ tsp black pepper freshly ground
1 cup grape tomatoes or cherry, halved
2 tbsp basil fresh, chopped
½ cup pine nuts toasted
Instructions
Bring a large pot of salted water to a boil. Add the broccoli and asparagus and cook for 3 minutes. Remove with a slotted spoon and place in an ice bath to stop the cooking. Add the pasta and cook until al dente (according to package instructions). Drain, saving 1 cup of pasta water. Toss the pasta with 1 tablespoon olive oil. Set aside.

In a large saucepan, heat 5 tbsp olive oil over medium heat. Add about ⅔ of the garlic (2 minced cloves) and cook until just starting to turn golden, about 2 minutes. Add the mushrooms and cook until soft and just starting to release liquid, about another 3 to 5 minutes.

Drain the broccoli and asparagus and add to the saucepan with the mushrooms. Add in the zucchini and peas and cook until soft, about 4 to 5 minutes.

Carefully stir in the cooked pasta, cream, Parmesan cheese, butter, 1 tsp salt, and pepper. Stir to fully incorporate. Taste and add another ½ tsp of salt, if desired. If you feel it needs it, add a little of the pasta water to loosen the sauce even more.

Meanwhile, heat a medium-small saucepan over medium heat. Add 1 tbsp olive oil and heat until shimmering. Add the remaining garlic (about 3 minced cloves), tomatoes, basil, and a pinch of salt and pepper. Saute until tomatoes are wilting and just starting to break down.

Pour the tomato mixture over the top of the pasta and garnish with toasted pine nuts. Serve at once.
Notes
We love going with a smaller pasta for this dish, such as fusilli, penne, or rigatoni. However, a long pasta such as spaghetti, linguini, or fettucini, are all great choices, too. You can also blanch the zucchini along with the broccoli and asparagus, but we find that sometimes makes the zucchini too soft for our liking. It doesn't take much time in the skillet for it to become tender. The frozen peas cook just long enough to become the perfect texture and temperature. Half-and-half can be substituted for the cream, and the butter can be omitted for an even lighter dish. We think the cream, cheese, and butter, add just enough sauce that the dish still feels light, but deeply flavorful. Adding pasta water to the dish is not necessary, but if it feels a little 'tight', then add a little water, to your liking. This dish is so good, it's even delicious room temperature, but we feel it's at its very best right off the stove. The dish will keep in the refrigerator for up to 1 week. It can be frozen for up to 1 month, however, it will lose the brightness the longer it sits in the fridge or freezer.
Nutrition
Calories: 568kcal | Carbohydrates: 65g | Protein: 19g | Fat: 24g | Saturated Fat: 6g | Cholesterol: 72mg | Sodium: 791mg | Potassium: 615mg | Fiber: 5g | Sugar: 5g | Vitamin A: 1408IU | Vitamin C: 24mg | Calcium: 201mg | Iron: 3mg
POST UPDATE: This recipe was originally published in June 2015, but was updated with improved tweaks to the recipe and new tips, photography, and a fabulous video in August 2020.
This recipe is adapted from Sirio Maccioni of the famed New York City's Le Cirque and published online by Saveur.