This post is kindly sponsored by Kroger, but the recipe, photography, video, and opinions are 100% ours.
We're just crazy about Classic Buffalo Chicken Wings. We're also head-over-heels for Homemade Blue Cheese Dressing. Let's make a sandwich that brings it all together!
If you love buffalo chicken wings as much as we do, you are going to flip for this deeply flavorful sandwich. The chicken is crispy on the outside, and tender on the inside. And the wing sauce? Oh man, just wait. More on that shortly. But in the meantime, sink your eyes into what has become our most favorite go-to sandwich of all time.
How To Make Buffalo Chicken Sandwich
We are thrilled to be partnering with Kroger to bring you this amazing buffalo chicken sandwich recipe featuring Heritage Fare Buffalo Chicken Wing Sauce.
August is National Black Business Month and in honor of this, Kroger is highlighting some of the awesome vendors and their products that are Black-owned.
This sauce is spot-on with the right amount of the classic Buffalo taste, hints of garlic, and just enough heat to make you feel good. This crispy chicken sandwich comes together easily and the results are absolutely incredible.
Steps for Making Crispy Chicken Cutlets
Making the perfect chicken cutlet for these sandwiches is not challenging at all.
We like these cutlets to not be too thick, so start by slicing the chicken breasts in half, lengthwise (aka: butterflying). Then, to get them even thinner, we place the cut pieces of chicken into a large freezer bag and pound them to about ¼-inch in thickness.
EXPERT TIP: We love using Panko bread crumbs for the breading. The crumbs have more texture than plain breadcrumbs, which allows the breading to really soak up the wonderful Heritage Fare Buffalo Chicken Wing Sauce. Set up a dredging station with three pans. The first contains flour seasoned with salt and pepper. The next contains buttermilk with an egg. The third contains the Panko bread crumbs with garlic powder, chili powder, and seasoned salt. Dredge the chicken pieces through the flour, then submerge in the buttermilk/egg mixture, and then finally coat with the bread crumbs.
Now, it's time to quickly cook the cutlets.
We use a combination of olive oil and butter in a large skillet.
EXPERT TIP: Depending on the thickness of your cutlets, you'll want to cook them until the breading is golden brown and cooked through, typically about 4 to 5 minutes per side. Work in batches and drain the cutlets on a paper towel-lined plate.
Heritage Fare Delivers Unbeatable Taste
We love the amazing taste and texture of the Heritage Fare Buffalo Wing Sauce. We also have enjoyed learning the story behind the brand.
This is a family-owned company solely focused on bringing high-quality, delicious products to the market. They deliver products that enhance Southern-style cooking, and that immediately caught our attention.
All we have to do is gently heat the sauce on the stove, and then ladle it all over the crispy chicken cutlets. And the smell? It's nothing short of amazing. Topped only by the taste and texture. Buffalo wing sauce perfection!
Folks, we do lots of sandwiches here on H2FaL.
This one checks off all of the boxes for taste, texture, and off-the-charts delicious and has become our most favorite sandwich to make of all time. It's seriously that good.
EXPERT TIP: We highly recommend making the Blue Cheese Dressing from scratch. It's simple to prepare and can be made days in advance. Another amazing version would be a Buffalo Ranch Chicken Sandwich. Simply substitute the blue cheese dressing with our Homemade Ranch. Both sauces are creamy and cool – the perfect match against the zesty chicken cutlets!
Quality Ingredients Make It Better
We've said it many times before, and it bears repeating with our Buffalo Chicken Sandwich.
Homemade dressing, with quality ingredients, helps to make this sandwich stellar.
But, probably the most important ingredient is the wing sauce. Heritage Fare Buffalo Chicken Wing Sauce has just enough spice to make the sandwich sing, but not so much that it hurts. And all you have to do is open the bottle, warm the sauce up, and then pour over the cutlets. We love it so much, we save some to pass along tableside. It's so good, you'll want to dunk the sandwich in it for even more flavor!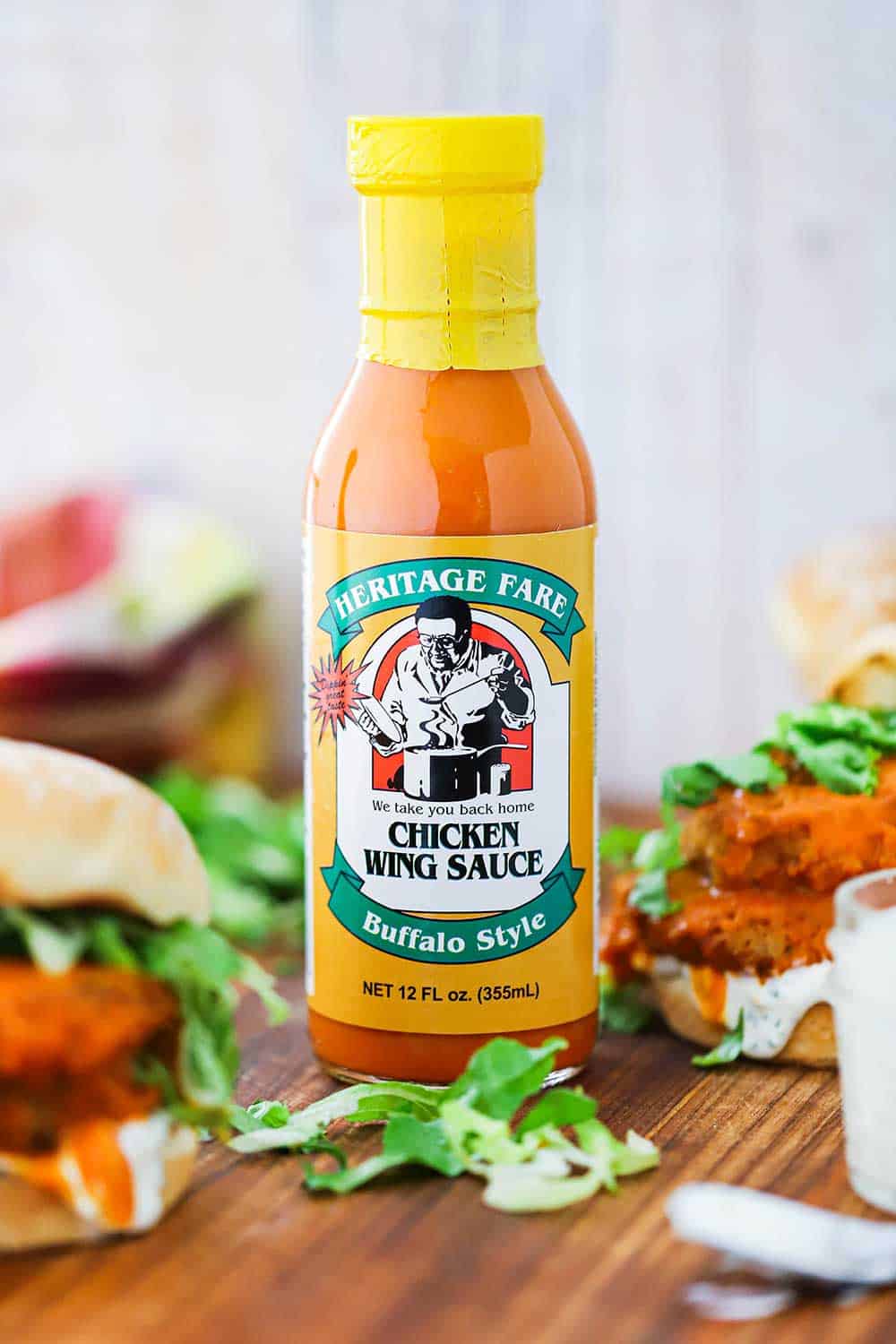 While the wing sauce is warming on the stove, we like to toast our buns.
Build the perfect sandwich by adding a layer of the homemade blue cheese dressing or homemade ranch on the bottom toasted bun, top with two (yes, two!) cutlets that are coated with the amazing sauce, and then place some shredded green lettuce just under the top bun.
You have just made the perfect sandwich, in our books! Now, it's time to dig in!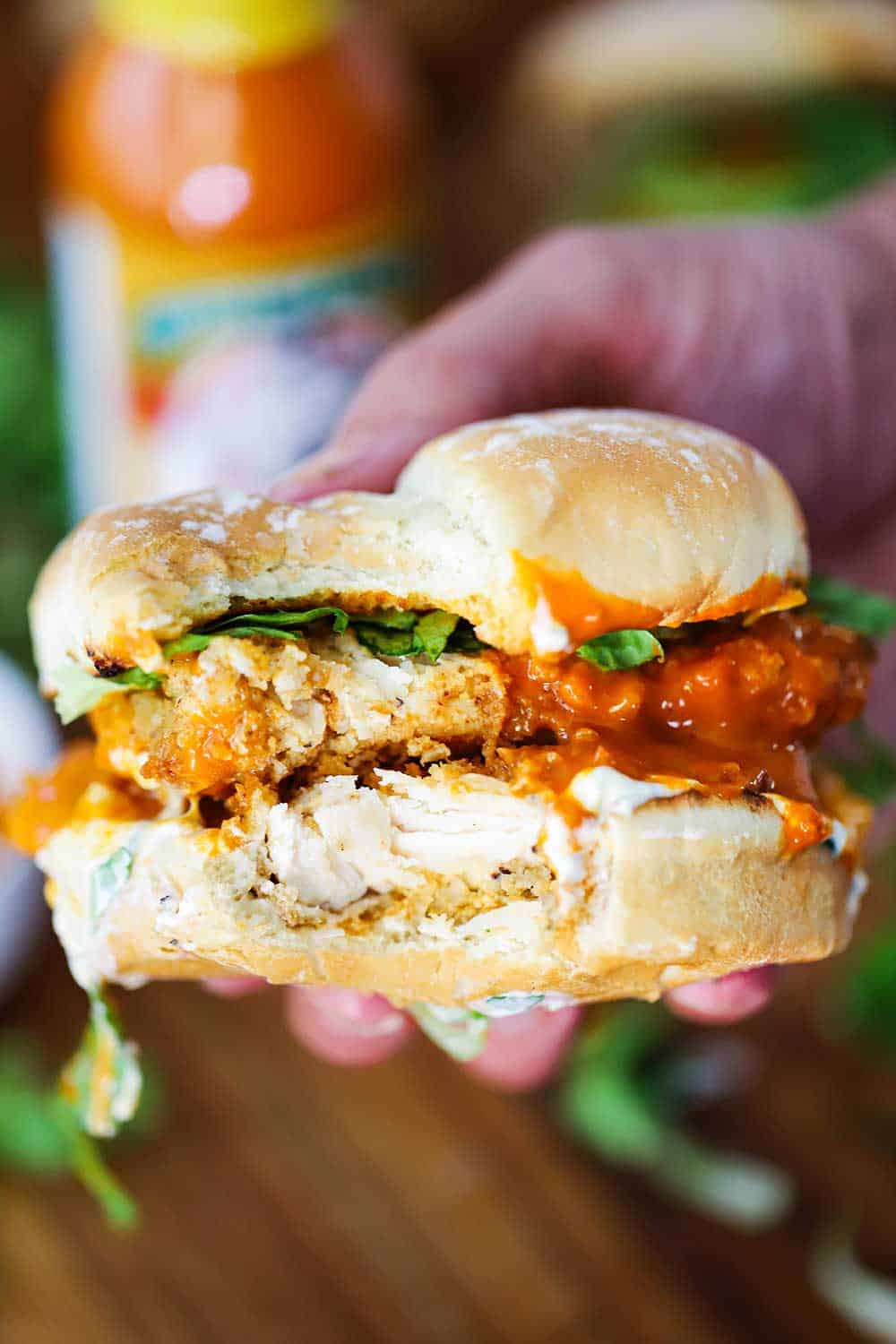 Heritage Fare is just one of a wide variety of Black-owned vendors and products that are sold at Kroger stores. Other wonderful brands include McBride Sister Collection, Simply Southern Sides, Andy's Seasoning, Inc., and Neilly's Food.
We highly recommend you check out these amazing brands and products. They really are top-notch and help to make your dishes the very best they can be.
And in the meantime, we suggest you make this incredible sandwich with Heritage Fare's Buffalo Chicken Wing Sauce.
It's the sandwich that you'll use to judge all other sandwiches with! It's really that good!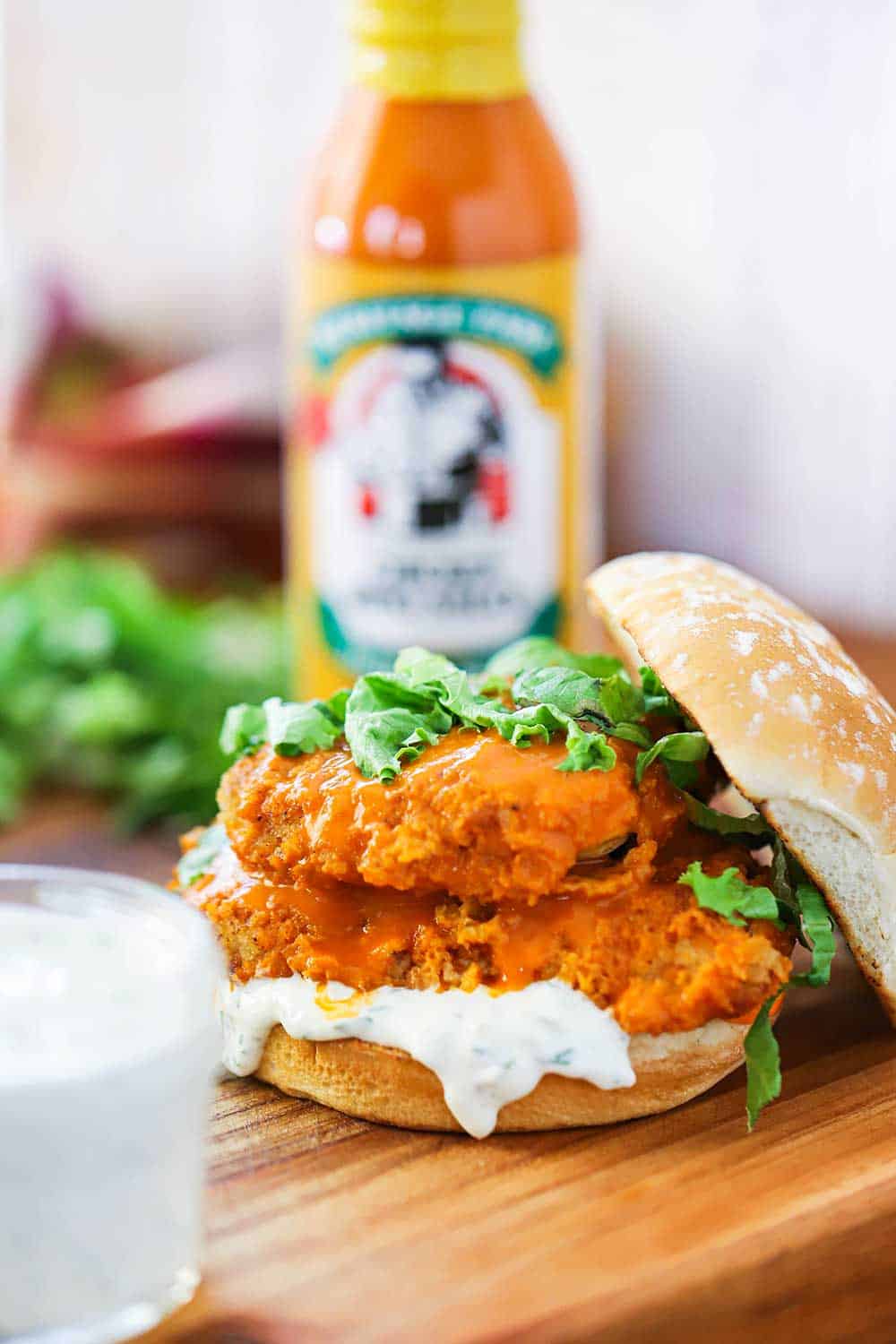 Ready to make the best sandwich – EVER? Go for it!
And when you do, be sure to take a photo of it, post it on Instagram, and tag @HowToFeedalOon and hashtag #HowToFeedaLoon!
Buffalo Chicken Sandwich
This Buffalo Chicken Sandwich is an explosion of flavor and texture. If you love buffalo chicken wings, then this crispy chicken sandwich is for you. The homemade blue cheese dressing puts it over the top!
Print
Pin
Rate
Servings: 4
Calories: 658kcal
Equipment
1 large skillet for frying the cutlets, 1 medium saucepan for heating the sauce.
Ingredients
2 large chicken breasts skinless, boneless, pounded to ¼-inch thickness, cut into 8 pieces
Salt and pepper
1 cup all-purpose flour
1 cup buttermilk
1 large egg
1½ cups Panko bread crumbs
1 tsp garlic powder
1 tsp chili powder
1 tsp seasoned salt
3 tbsp olive oil
5 tbsp unsalted butter divided
1 cup lettuce shredded
4 hamburger buns
1 cup blue cheese dressing
Instructions
Sprinkle the chicken all over with salt and pepper. Set aside.

Set up a dredging station with three pans or bowls. In the first, mix together the flour with ½ tsp of salt and ½ tsp black pepper. In the second pan, whisk together the buttermilk with the egg. In the third, mix together the bread crumbs, garlic powder, chili powder, and seasoned salt.

Dredge one or two pieces of chicken through the flour to completely coat, shaking off excess. Place the floured chicken in the buttermilk/egg mixture and press down to fully coat. Lift the chicken up and shake off excess buttermilk/egg. Dredge the chicken through the breadcrumb mixture until fully coated. Place on platter and repeat process until all chicken is coated.

Heat the oil in a large saucepan/skillet. When shimmering, add 3 tbsp of butter, and swirl with a wooden spoon until melted. Working in batches, add the chicken to the pan and cook until the underside of the cutlet is golden brown, about 4 to 5 minutes. Use tongs to carefully flip the cutlet over and cook for another 4 to 5 minutes, or until golden brown and cooked through with an internal temperature of 165°F. Place the cooked cutlets on a platter or plate lined with paper towels.

Meanwhile, pour the buffalo wing sauce into a medium-sized saucepan and heat over medium-low heat.

Place the chicken cutlets in a large dish and ladle the warm sauce all over. Save some of the sauce for passing tableside.

Meanwhile, butter the buns and toast until just browned.

Build the sandwich by adding about 1 tbsp (or more) of the blue cheese dressing on the bottom bun. Add two of the buffalo chicken cutlets on the dressing, and top with shredded lettuce and top bun. Serve at once with additional wing sauce and blue cheese dressing.
Notes
We start with a couple of nice-sized chicken breasts and then slice them in half, lengthwise. Basically, butterflying them. Now, you'll have 4 pieces of meat. To make them even thinner (which is best), we place them in a large freezer baggie and pound them with a mallet, or the bottom of a bottle or measuring cup, until they're about ¼-inch in thickness. Now, you can halve them again. The size of the cuts should be just big enough to sit on top of a hamburger bun.
We highly recommend making the homemade blue cheese dressing, which can be made up to 3 or 4 days in advance. Our Homemade Ranch is a fantastic substitute for the blue cheese.
You can make your own wing sauce by heating a medium-sized saucepan over medium-low heat: 1 cup Cayenne hot sauce, 6 tablespoons of unsalted butter, and 1 tsp of garlic powder. Cook until butter is melted. Stir until everything is mixed and slightly simmering.
Nutrition
Calories: 658kcal | Carbohydrates: 68g | Protein: 42g | Fat: 24g | Saturated Fat: 8g | Cholesterol: 164mg | Sodium: 1764mg | Potassium: 696mg | Fiber: 3g | Sugar: 9g | Vitamin A: 934IU | Vitamin C: 2mg | Calcium: 264mg | Iron: 5mg