Quality Chinese food will always be one of our favorite cuisines to eat and make ourselves!
Right up there with Pork Dumplings with Peanut Sauce, Beef and Broccoli Stir-Fry, and General Tso's Chicken, this classic dish is always a crowd favorite and only takes about 30 minutes to prepare from start to finish! And this fried rice recipe can be adapted to include pork, shrimp, beef, or veggies!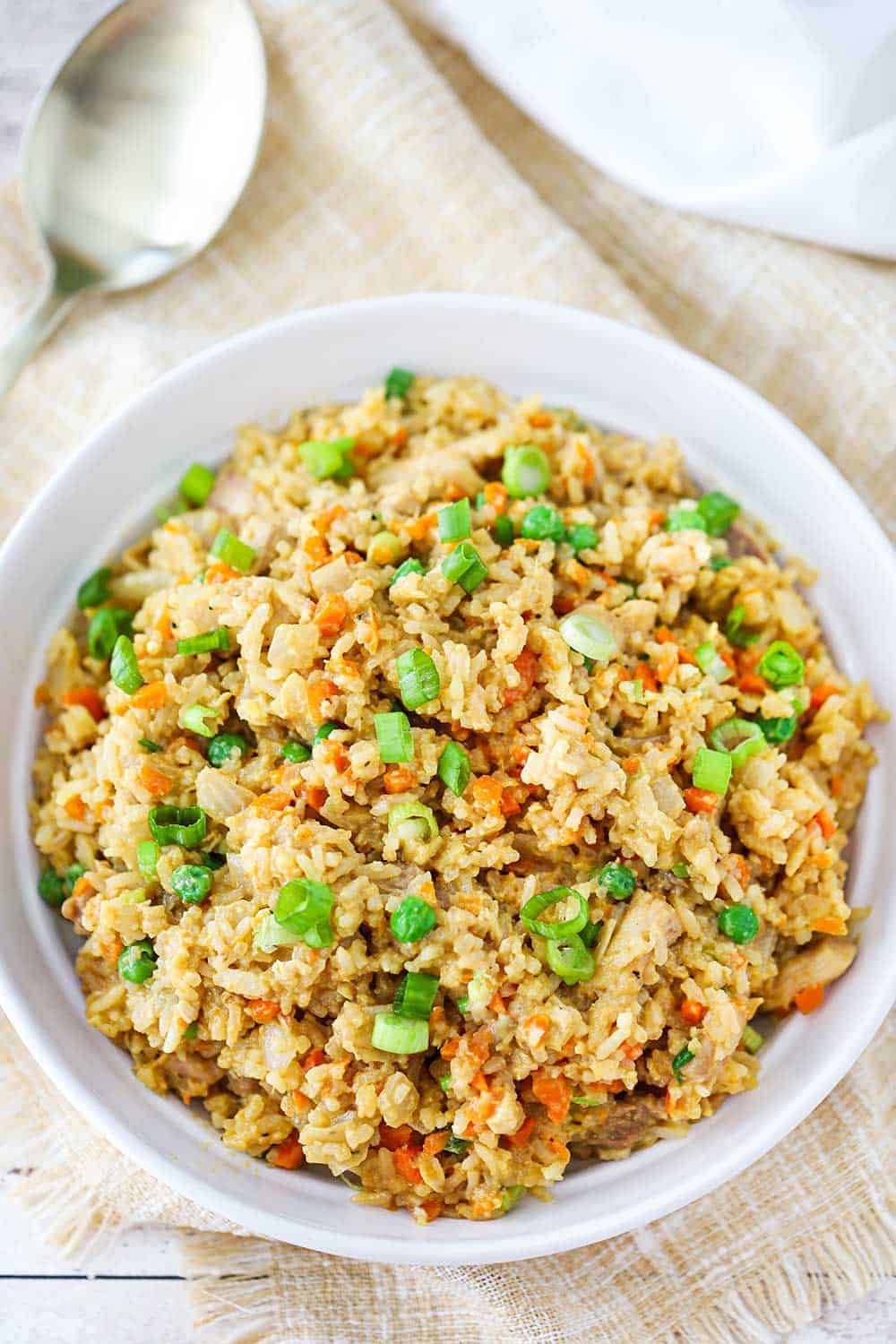 How To Make Chicken Fried Rice
This chicken fried rice recipe comes together very quickly, so it's really important to have all of your ingredients prepped and ready to go before you start cooking.
We love using our wok when preparing this dish, but you can also certainly use a nice sturdy pan such as a cast-iron skillet or Dutch oven.
EXPERT TIP: If you're are using a wok over a gas flame, we highly recommend using a wok ring to help keep the wok secure on the stove.
This really is an easy chicken fried rice recipe, but we are going to show you a technique that delivers superior taste.
First, you'll need to heat your wok (or skillet) over high heat.
Cook the vegetables first, and then throw in the chicken and sauté until it's just no longer pink. About 3 minutes for the veggies, and then 4 minutes for the chicken.
EXPERT TIP: We use canola oil for stir-frying the chicken, veggies, eggs, and rice for this dish. However, you could use vegetable oil, too. You need an oil that can handle high heat, and therefore we don't recommend olive oil.
The Gold-Covered-Silver Method
A common technique for your traditional fried rice recipe is to scramble the egg first, and then remove the egg from the wok and continue with the recipe, stirring the cooked egg back in at the end. This is called the Silver-Covered-Gold method.
There is another common technique that is believed to originate in the Yangzhou Province of China, and we think this type of preparation delivers a light and even fluffy dish that is just amazing.
To prepare Gold-Covered-Silver fried rice (which literally means gold covering the silver rice, or, the egg coating the rice), you'll need to start by scooting the sauteed veggies and chicken to one side of your wok, or skillet, with a large spoon or spatula. In the open area of the wok, add the beaten eggs and then immediately the day-old rice.
Stir to fully coat the rice. This produces a luxurious texture that we think is just incredible!
EXPERT TIP: Another extremely important tip in making authentic chicken fried rice is to use day-old rice. Or at least rice that has been steamed and then allowed to completely cool and even dry out a bit. Freshly steamed rice just won't deliver that classic taste and texture once it's added to the hot wok.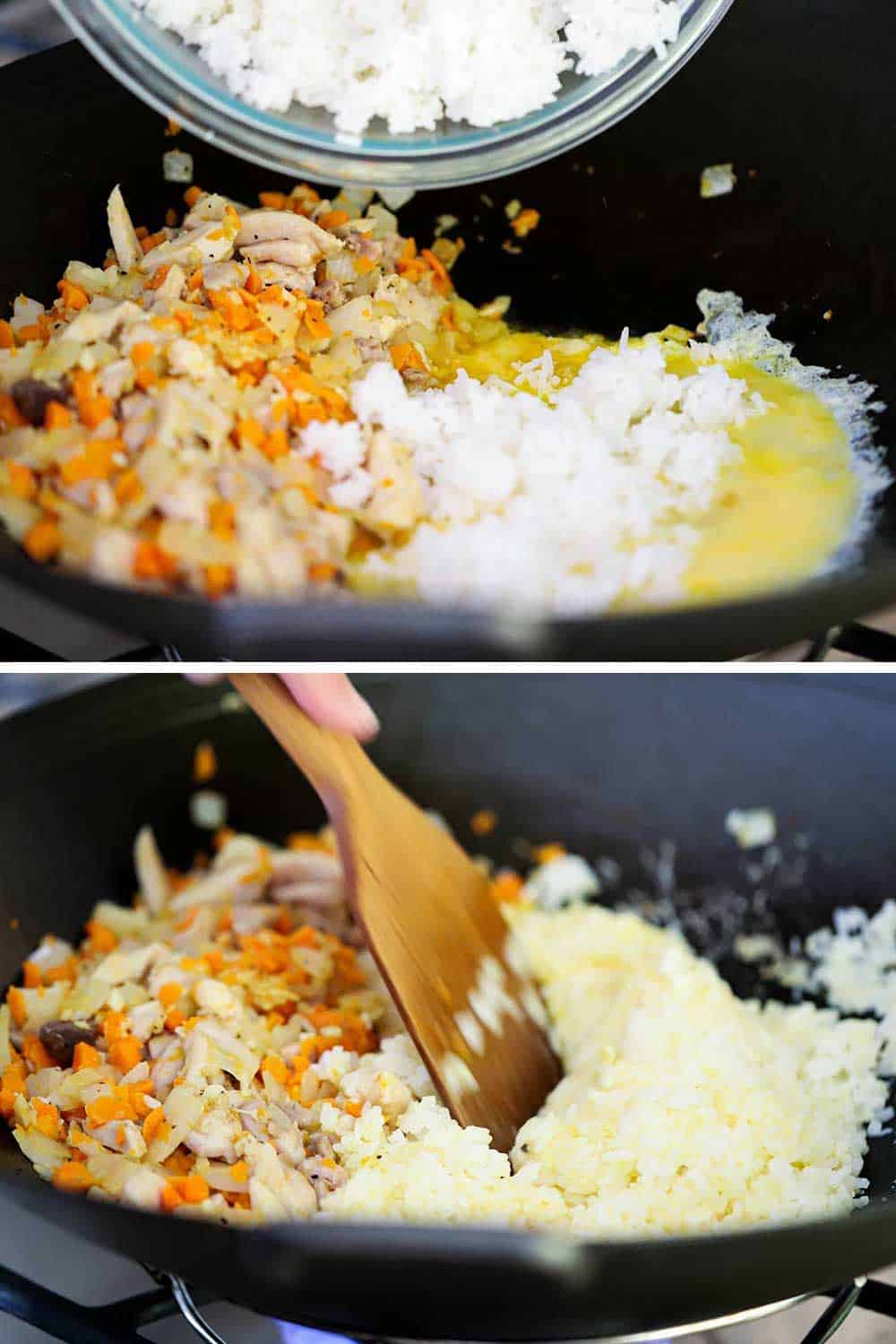 Building the Flavor Profile
A combination of soy sauce and oyster sauce delivers the classic Chinese fried taste.
If you're concerned about the taste of the oyster sauce, don't worry, it doesn't taste like oysters.
EXPERT TIP: Pour the soy sauce, oyster sauce, and 1 teaspoon of sugar over the rice/egg mixture. Be sure to work the sauce into the mixture until the rice is fully coated and becomes a uniformly golden-brown color. Next, mix together veggie/chicken mixture with the rice. Stir until fully mixed.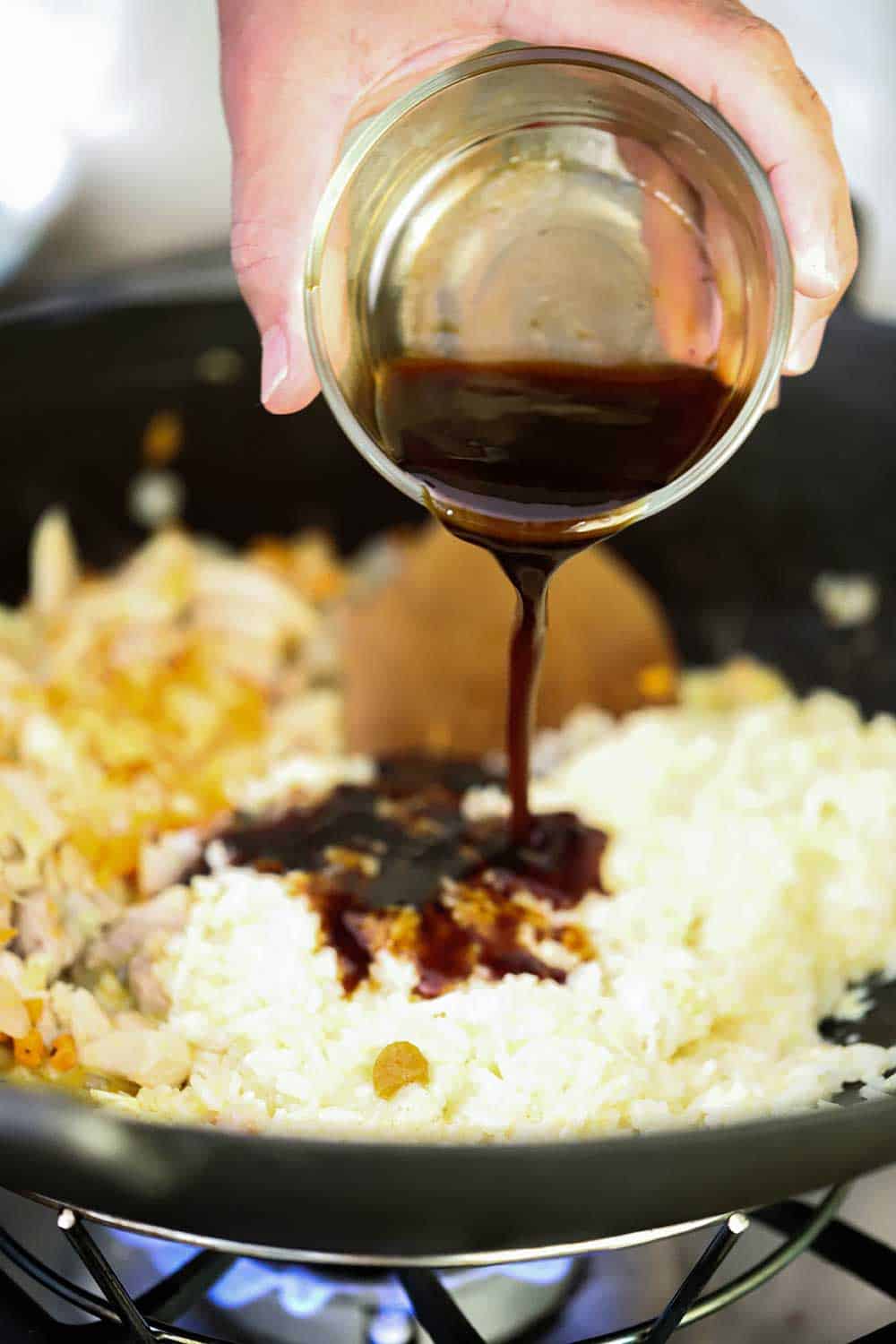 Finishing the Dish
We're almost ready, folks!
At this point, we stir in the frozen peas, most of the chopped scallions, and, if desired, a small amount of sesame seed oil.
Stir until completely mixed!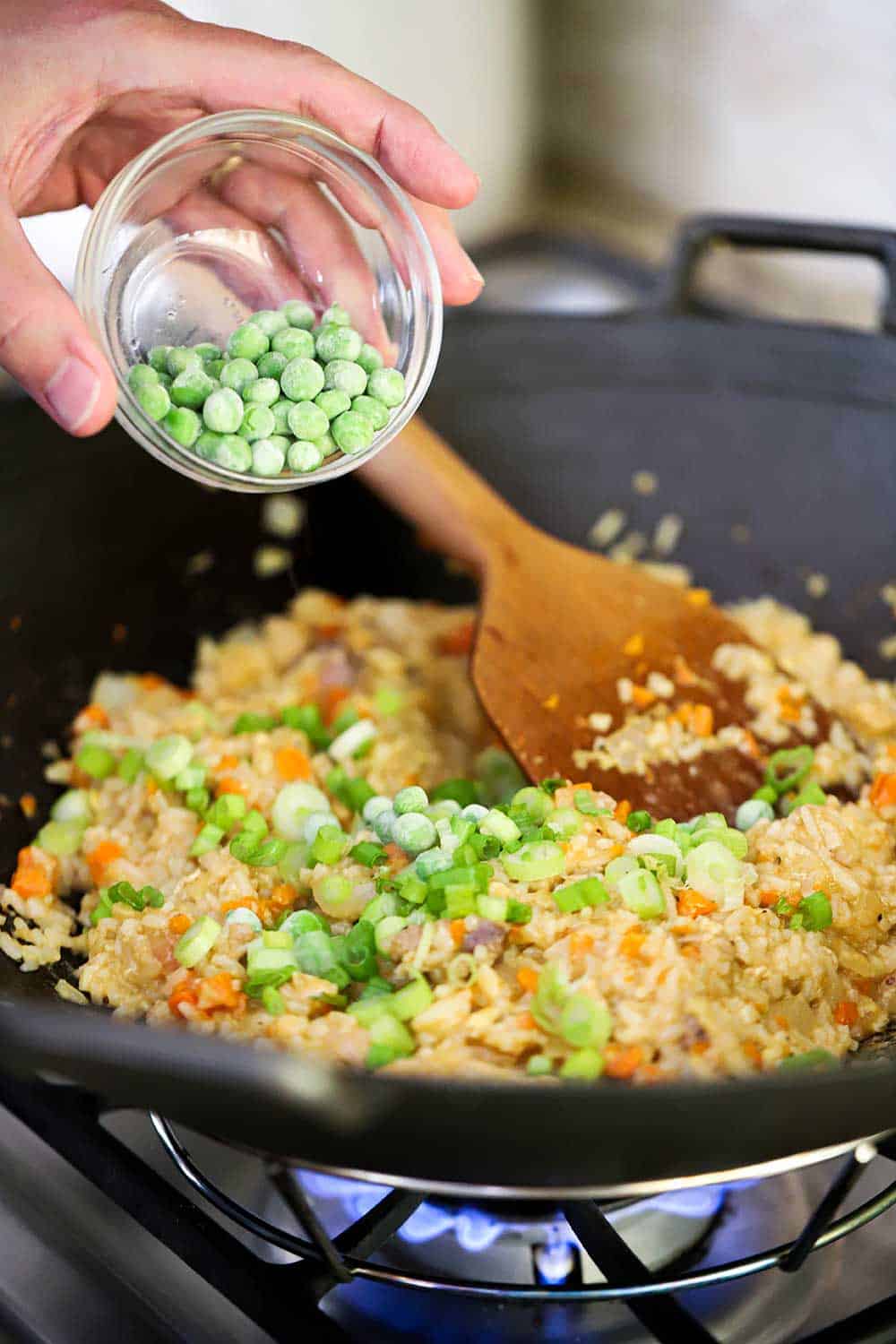 The dish is now ready to serve and is best served hot!
We just love adding another splash or two of soy sauce on our individual servings.
Taste before adding more soy to the final dish.
How To Serve
We absolutely love serving this to guests for an Asian-themed dinner party.
This is wonderful alongside General Tso's Chicken and with a batch of Homemade Egg Rolls!
EXPERT TIP: Egg fried rice is, of course, amazingly delicious served piping hot, right from the stove. But it is also wonderful heated up in a skillet after being stored in an air-tight container in the fridge for up to 1 week.
So good!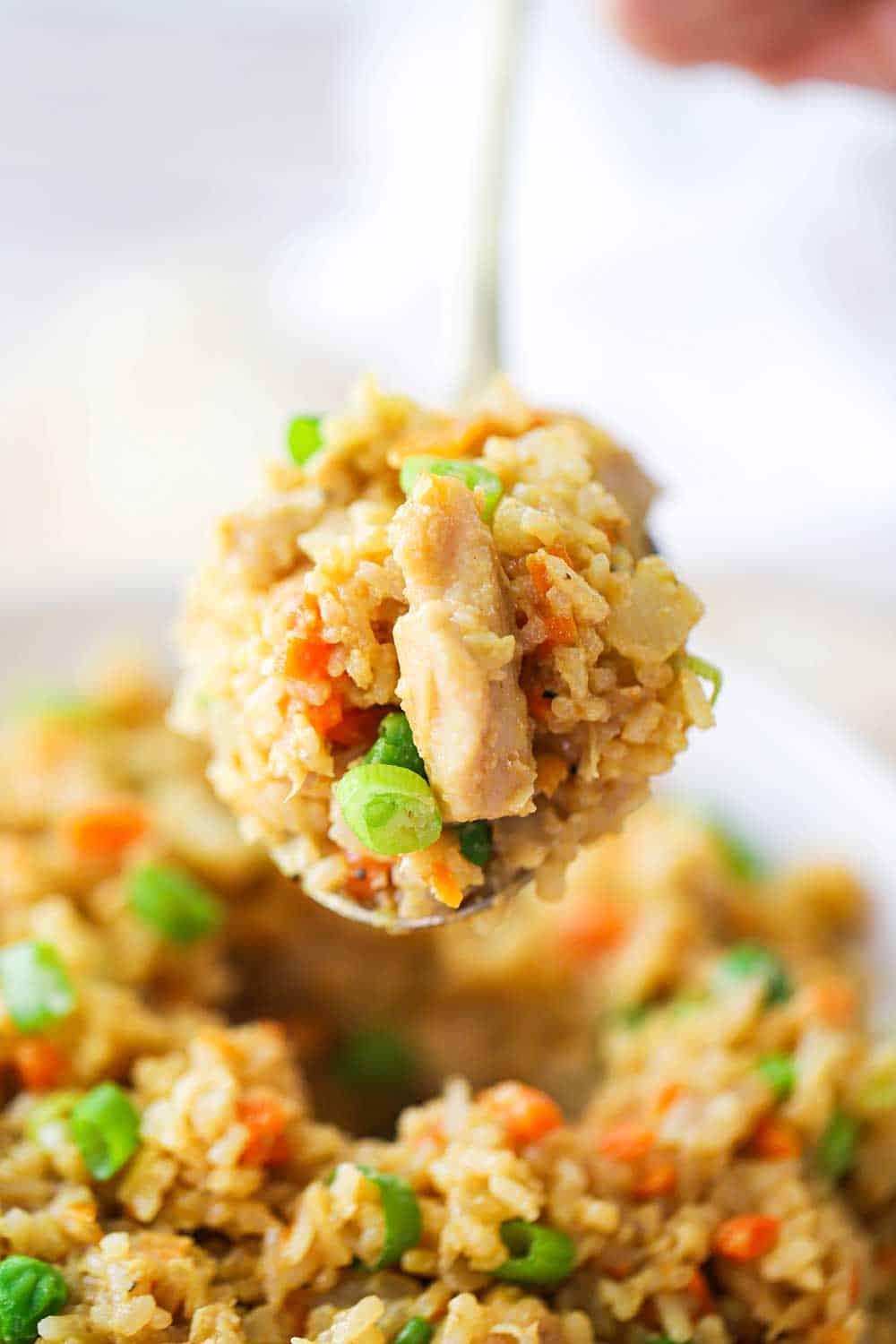 If you're craving this classic Chinese takeout recipe, then you are in luck!
As you can see, this easy chicken fried rice is authentic and easy to prepare at home!
You won't be disappointed, we are certain of that. And neither will be your dinner guests!
Ready to make this iconic Chinese fried rice recipe? Go for it!
And when you do, be sure to take a photo of it, post it on Instagram, and tag @HowToFeedaLoon and hashtag #HowToFeedaLoon!
Best Chicken Fried Rice
Chicken Fried Rice is a classic dish that seems like it should be easy to prepare at home. Well, it is, if you follow this recipe. Get authentic fried rice taste and texture! In about 30 minutes from start to finish!
Print
Pin
Rate
Servings: 6
Calories: 626kcal
Equipment
Wok (preferably with wok ring), or sturdy large saucepan, such as cast-iron or Dutch oven
Ingredients
2 tbsp canola oil
3 cloves garlic
2 tsp ginger fresh, minced
½ cup onion chopped
½ cup carrots chopped
2 chicken thighs thinly cut into 1-inch pieces
Kosher salt and black pepper
2 eggs beaten
4 cups white rice day old
2 tbsp soy sauce
3 tbsp oyster sauce
1 tsp sugar
¼ cup sweet peas frozen
3 scallions chopped, white and green parts
1 tsp sesame seed oil optional
Instructions
Heat oil in a wok (or skillet) over high heat until just starting to smoke.

Add the garlic, ginger, onion, and carrots and stir-fry for 3 minutes.

Stir in the chicken and sprinkle with salt and pepper. Stir-fry until chicken is no longer pink, about 4 minutes.

Use a large flat spoon or spatula to push the vegetables and cooked chicken to one half of the wok or skillet. In the open area of the wok, add the eggs, and immediately add the rice. Use a spoon, or spatula, to work the rice into the eggs until fully coated and the rice is a golden yellow color.

Stir in the soy sauce, oyster sauce, and sugar into the rice/egg mixture, and stir until the rice is uniformly coated and the color has turned a golden brown.

Mix the vegetables and chicken into the rice mixture and stir until fully incorporated.

Stir in the peas, and most of the scallions (leave some for garnish), and the sesame oil, if using.

Transfer to a platter, or individual plates, garnish with scallions, and serve at once with additional soy sauce on the side.
Notes
We use our food processor to chop the carrots for ease. Or you can use a sharp knife, just be careful!
1 boneless, skinless chicken breast can be substituted for the chicken thighs if desired.
It's really important to use completely cooled rice for this dish. We love using Jasmine rice, but any kind of cooked rice will work. Another great option to buy cooked rice from your favorite Chinese takeout and set it aside. Remember, day-old is best! See the recipe below for making perfect Jasmine rice.
This technique produces fried rice that is light and fluffy, which we absolutely love. If you like your fried rice to be a little drier, then scramble the eggs first in the wok. Remove with a large spoon and set aside. Continue with the recipe as is (omitting the part about mixing the rice with the eggs in the wok). Stir in the scrambled eggs at the very end when you are mixing in the frozen pea, scallions, and sesame oil.
Sesame oil adds a distinct Asian taste. Try a little and see if you like it. Remember, a little goes a long way.
The fried rice will keep in an air-tight container in the fridge for up to 1 week and freezes beautifully for up to 2 months.
Recipe for Perfectly Cooked Jasmine Rice:
Place 2 cups of Jasmine rice in a large bowl and cover with tap water.
Swirl the rice around until the water turns murky. Use your hands to hold back the rice, and drain the water into the sink. Repeat this process two more times. Drain the rice through a sieve or colander.
Add the rice, 2⅔ cups water, and ½ tsp salt into a medium-sized saucepan and bring to a boil. Turn the heat to low, cover, and steam for 10 minutes.
Remove the lid and fluff the rice with a fork. Transfer to a bowl and let cool completely, preferably overnight.
Nutrition
Calories: 626kcal | Carbohydrates: 104g | Protein: 18g | Fat: 14g | Saturated Fat: 3g | Cholesterol: 91mg | Sodium: 646mg | Potassium: 328mg | Fiber: 2g | Sugar: 2g | Vitamin A: 1950IU | Vitamin C: 3mg | Calcium: 62mg | Iron: 2mg