Homemade Egg Rolls are so much fun to make and incredibly delicious. Egg Rolls are an all-time favorite for The Loon and I for many, many years. I don't think we've ever ordered from our favorite Chinese takeout joint without at least ordering a couple egg rolls.
But let us tell you, there is something really special about these Homemade Egg Rolls.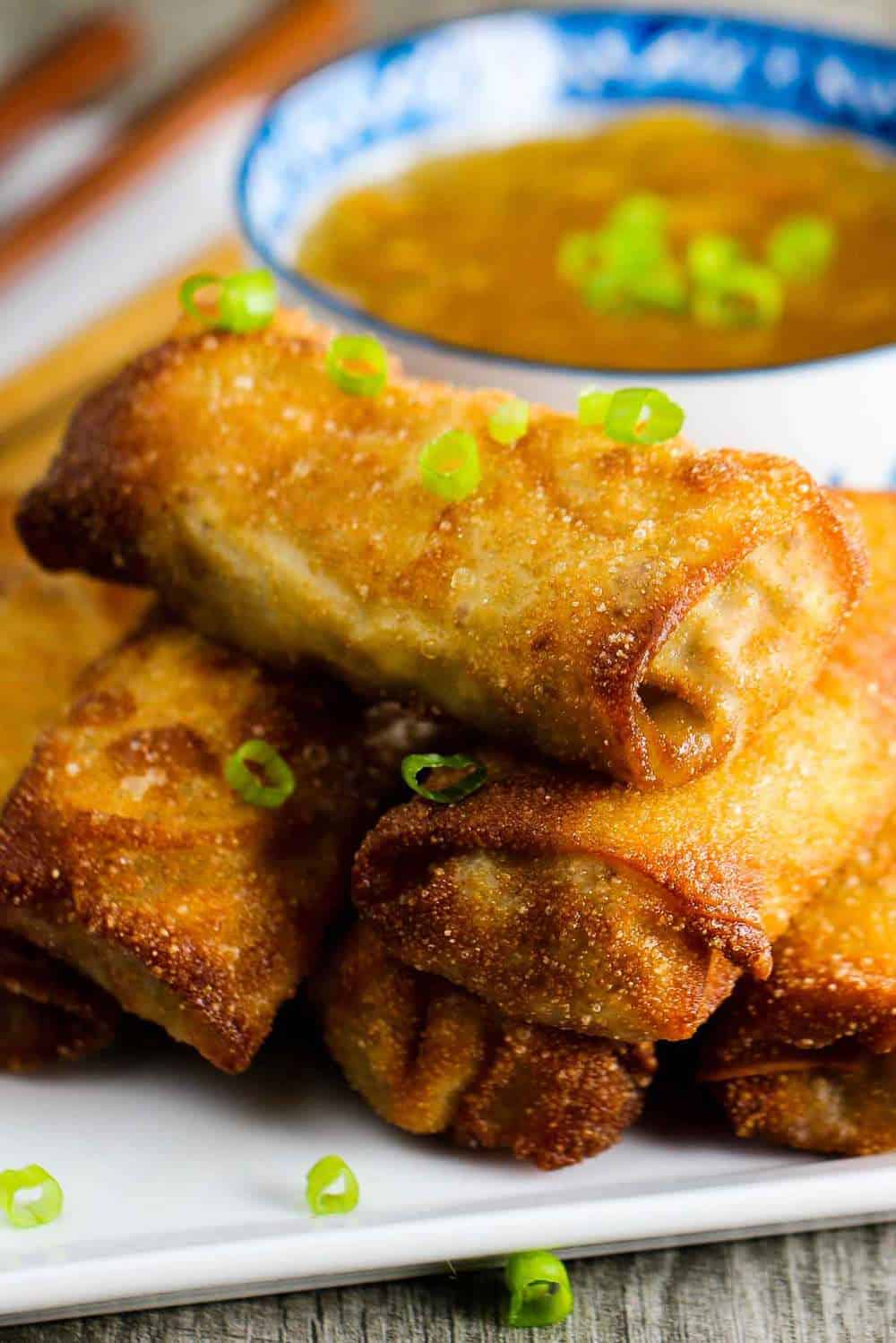 WE ARE KIND OF OBSESSED WITH HOMEMADE EGG ROLLS
Crispy on the outside with a super flavorful filling, these homemade egg rolls are the bomb!
And they are really surprisingly easy to make. The egg roll wraps are found in almost all major supermarket (usually in the chilled produce section), or at any Asian food market.
And what would be an egg roll without a delicious duck sauce? Now days, you can find really top-notch bottled duck sauce in well-stocked markets. If you feel like making your own, we really love this recipe from The Daring Gourmet.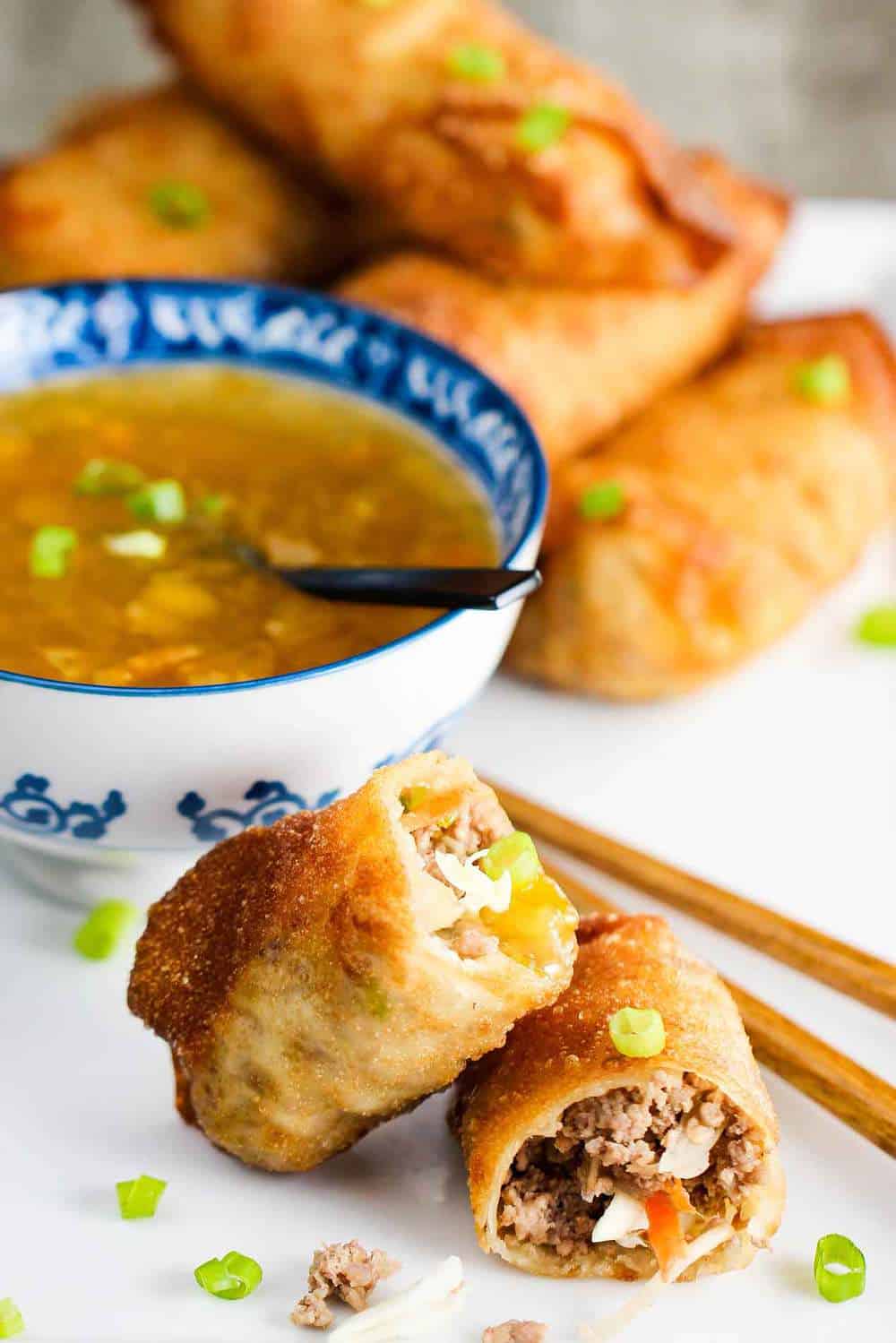 HOW TO MAKE HOMEMADE EGG ROLLS
The traditional filling for egg rolls is pork or chicken with shredded cabbage and carrots. We love to first sauté garlic, ginger and onion before adding the meat.
Mung bean sprouts are often used, and we love to add them into the filling, too.
Then you really amp up that incredible Asian taste with oyster sauce and sesame oil. Yum.
Rolling them is not difficult. Adding a little water around the edges of the wrapper, and then a little more as you fold and roll helps to seal the roll into place.
It may take a couple tries to get them just perfect, but rolling these homemade egg rolls is fun. Get the kids to help out…they'll love it!
Deep-frying the egg rolls is most common, but, for a healthier version (and still quite delicious), simply brush olive oil all over the rolls and then bake them in a 400°F oven for 10 to 12 minutes.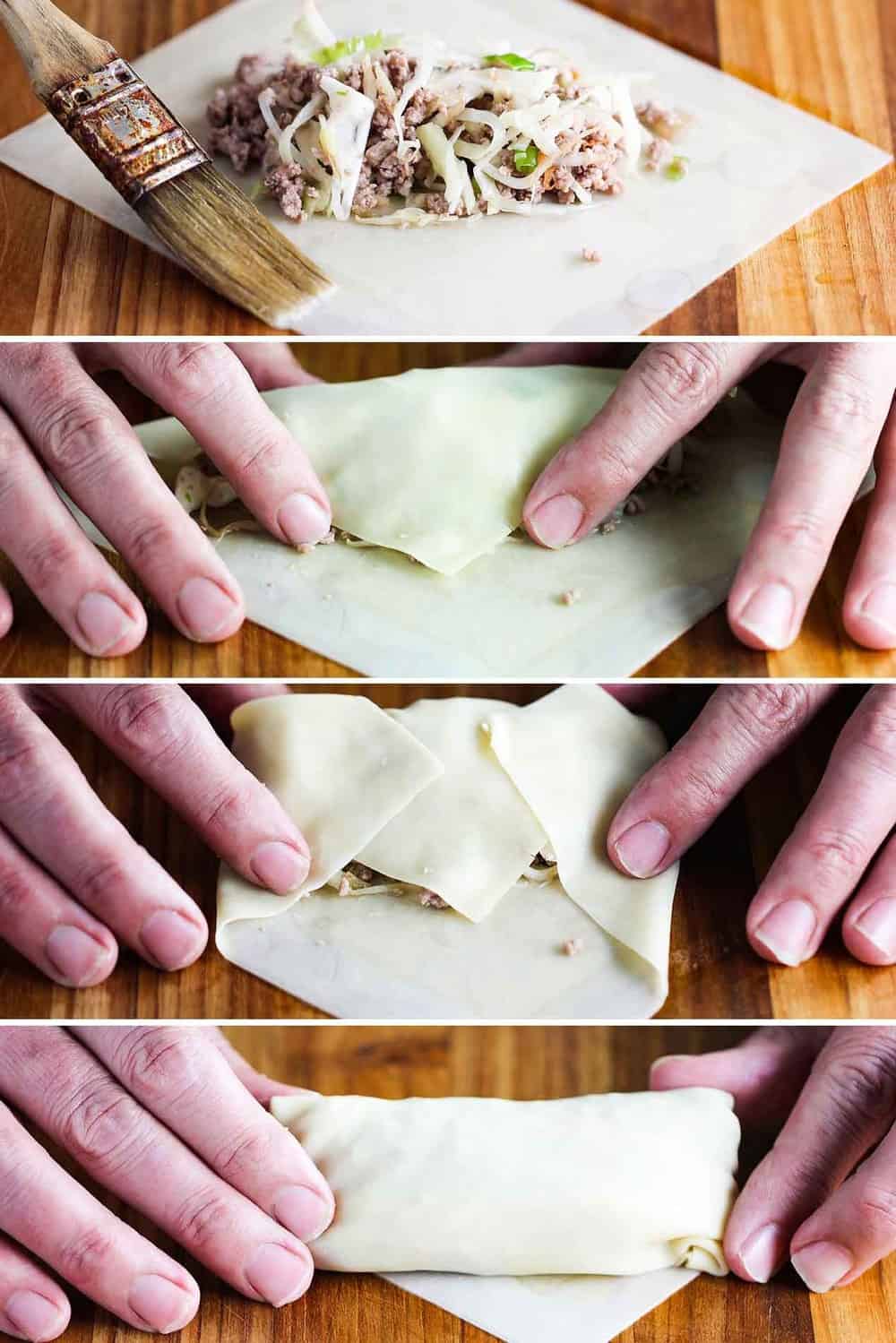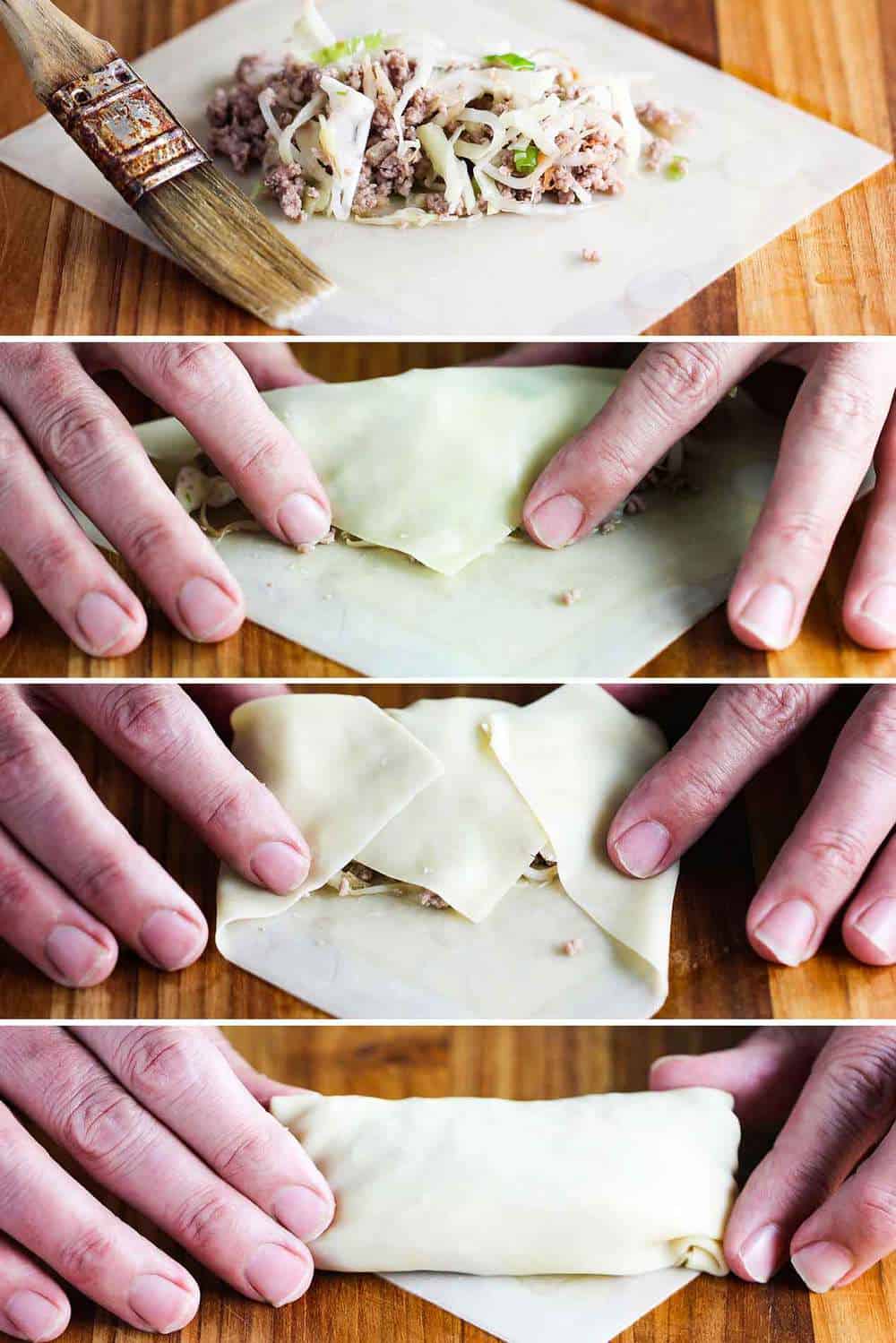 EGG ROLLS VS SPRING ROLLS
Lots of folks ask what's the difference between an egg roll and a spring roll. There are lots of different answers to this question, too.
But essentially, the wrapper for egg rolls contain (big surprise) egg and they tend to be thicker. And typically an egg roll includes some sort of meat, whereas spring rolls often are just julienned vegetables.
Read much more detail about the difference between an egg roll and a spring roll here.
When I first made these homemade egg rolls for The Loon he was his usual skeptical self. Especially since I hadn't spent hours in the kitchen getting them ready to eat.
But when he took that first bite, all covered in yummy duck sauce, he looked at me and simply said: "Wow." It didn't take long for that platter of homemade egg rolls to be devoured.
I love to sprinkle a small handful of sliced scallions for a beautiful presentation.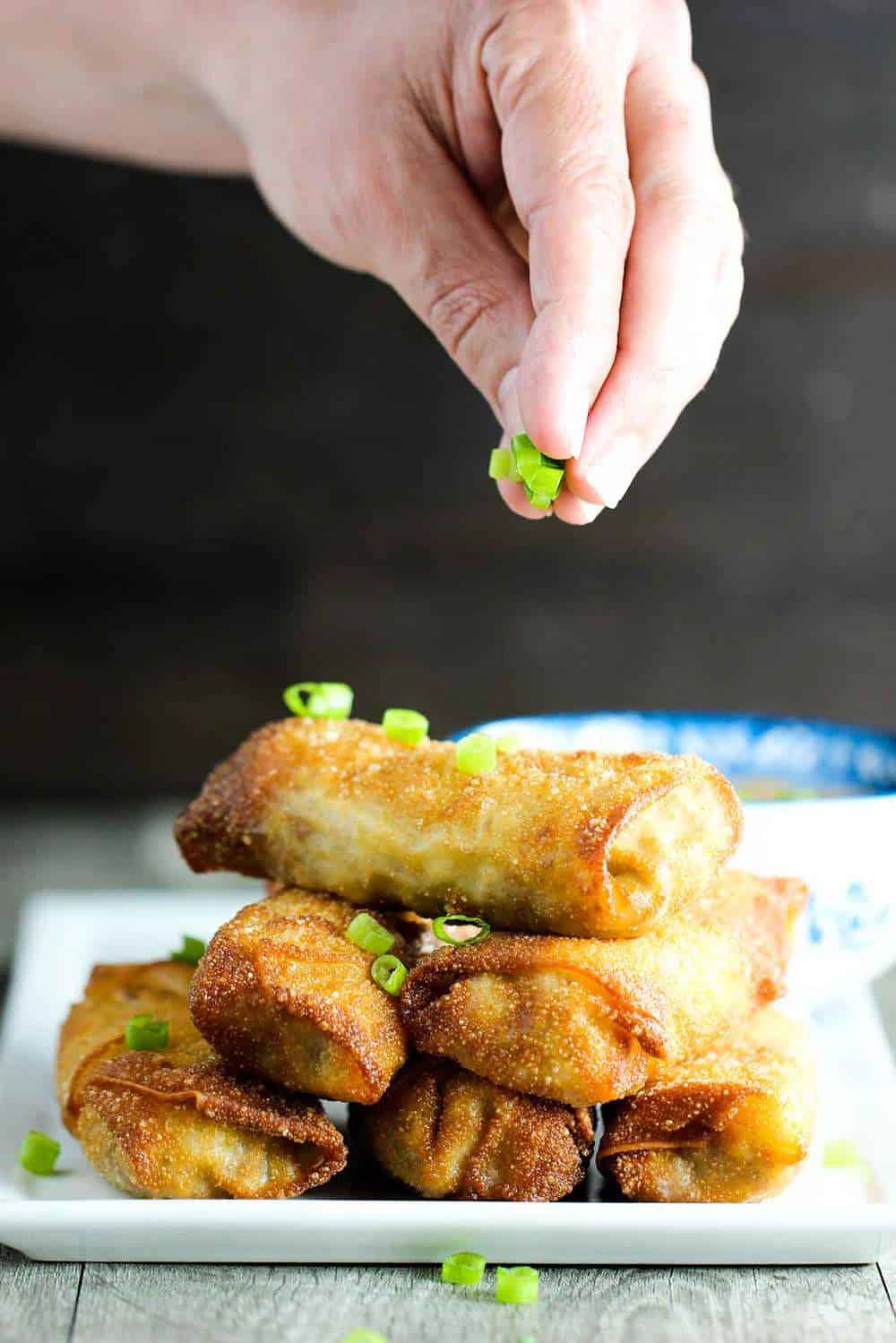 These are wonderful to prepare for a party, too. They are the type of appetizer that are always one of the first to go.
They can also very easily be frozen (before frying them) and then thawed and cooked, either deep fried or oven baked.
We love this Homemade Egg Rolls recipe so much and you've just got to give them a try! You and your guests will not be disappointed, we promise!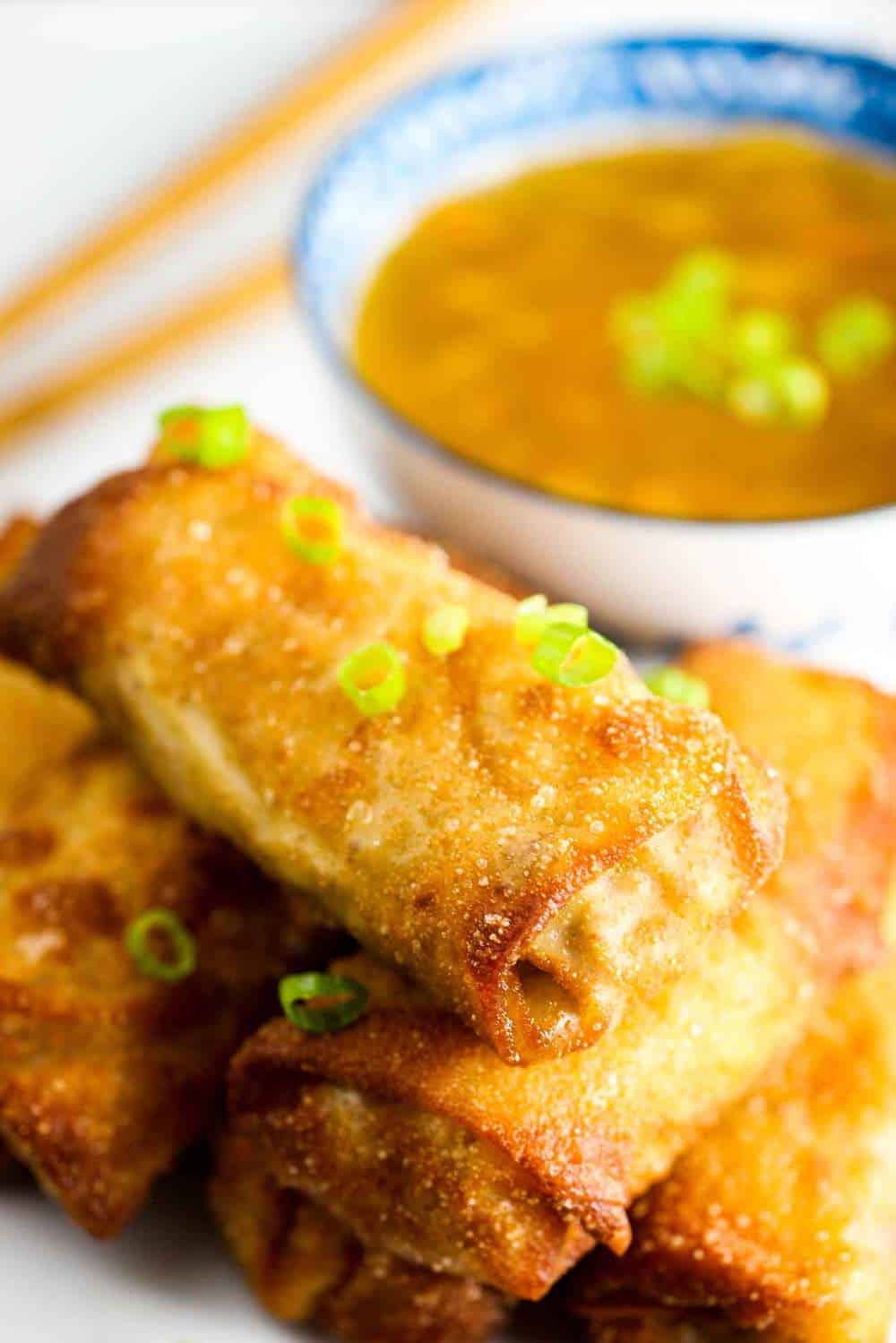 Homemade Egg Rolls
Homemade Egg Rolls are so easy to make and you will be amazed out how they taste even better than your favorite Chinese take-out. I know that sound impossible, but try these and you'll see what we mean!
Print
Pin
Rate
Servings: 8
Calories: 241kcal
Ingredients
1 tbsp olive oil
¼ cup onion chopped
2 cloves garlic minced
1 tbsp fresh ginger minced
1 lb ground pork
2½ cups coleslaw (or 2 cups shredded cabbage and 1 cup julienned carrots
¼ cup mung bean sprouts optional
2 scallions thinly chopped, green and white parts
2 tbsp oyster sauce
1 tsp sesame oil
vegetable oil, for frying (or olive oil, if baking)
12 egg roll wrappers (plus water for brushing)
Instructions
Heat the oil in a large skillet over medium-high heat.

Cook the onion, garlic, and ginger until just soft and aromatic, about 3 minutes.

Add the pork and cook until no longer pink, about 5 minutes. Drain excess fat, if desired.

Add the coleslaw mix (or cabbage and carrots), bean sprouts, scallions, oyster sauce, and sesame oil. Mix together with large spoon.

Working one roll at a time, place about 2 tablespoons of the filling across the center of a wrapper. Brush all four sides of the wrapper with a little water. Fold the bottom corner over the filling and gently tuck in. Next, fold the two sides in and tuck the sides in. Brush a little more water over the top. Roll the egg roll to enclose and the flap is sealed. (See image in post for reference).

Heat enough of the vegetable oil in a large skillet to cover a roll, about 2 to 3 inches. Heat the oil to 350°F (using a candy thermometer ensures correct temperature).

Using a fork, gently slide 1 or 2 of the rolls into the hot oil. Using a couple of forks, keep the rolls submerged until browned all over, flipping a couple times. About 2 minutes. Repeat with remaining rolls.

Garnish with chopped scallions, if desired. Serve with duck sauce, plum sauce or hoisin sauce.
Nutrition
Calories: 241kcal | Carbohydrates: 15g | Protein: 12g | Fat: 21g | Saturated Fat: 5g | Cholesterol: 43mg | Sodium: 272mg | Potassium: 243mg | Fiber: 1g | Sugar: 1g | Vitamin A: 51IU | Vitamin C: 11mg | Calcium: 31mg | Iron: 1mg