These take-out favorites are so much fun to make and incredibly delicious.
We absolutely love classic Chinese food, and we can't order takeout without ordering some sort of appetizer. We are crazy about crab rangoon and pork potstickers. But these have to be our favorite of all time. And what's so great is that our version is simple and comes together in about 30 minutes!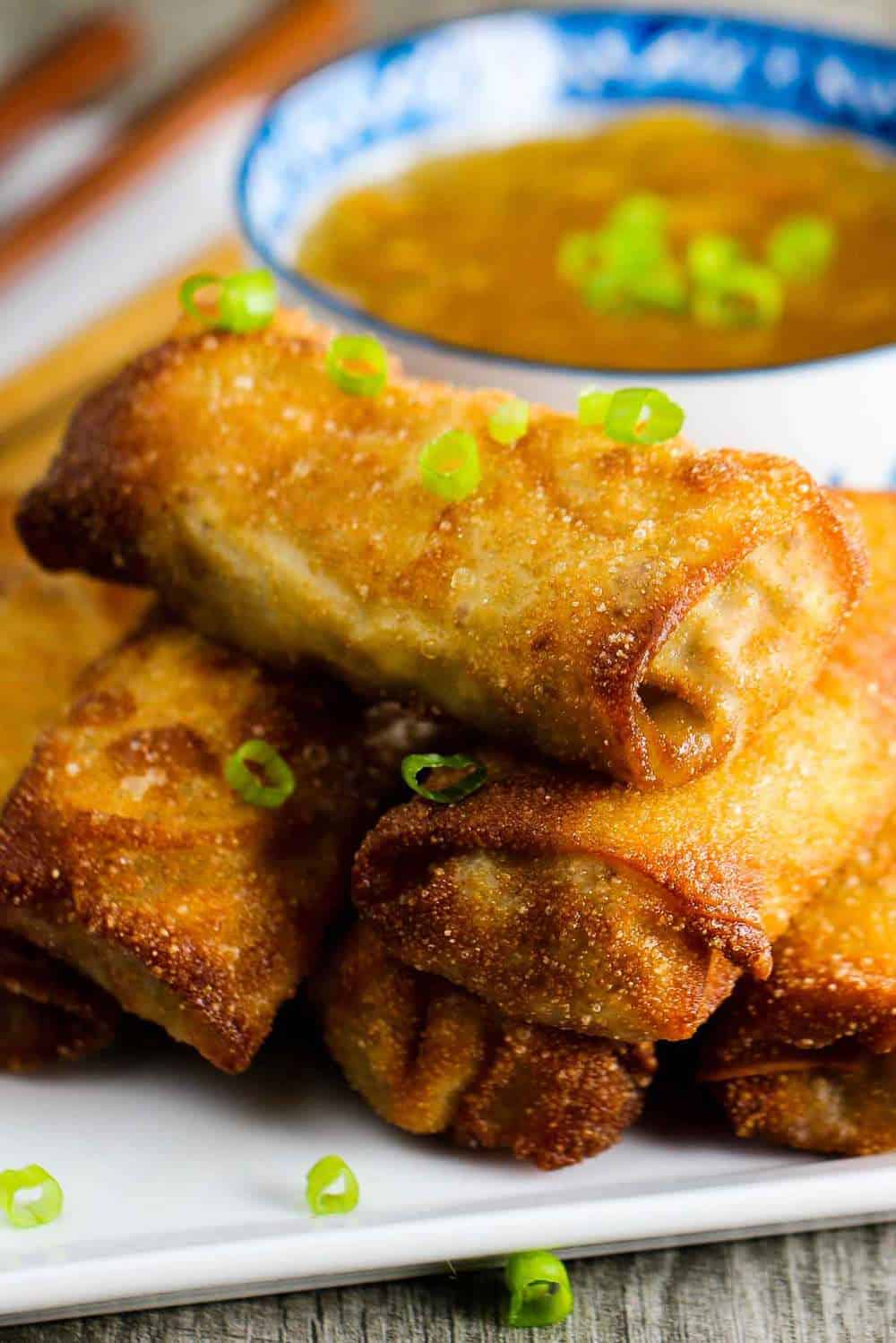 How To Make Homemade Egg Rolls
Crispy on the outside with a super flavorful filling, these homemade egg rolls are the bomb!
And they are really surprisingly easy to make. The egg roll wraps are found in almost all major supermarkets (usually in the chilled produce section), or at any Asian food market.
NOTE: If you liked this video, please subscribe to our YouTube channel. Remember to click the little 'bell' icon so you won't ever miss a new video! Thank you!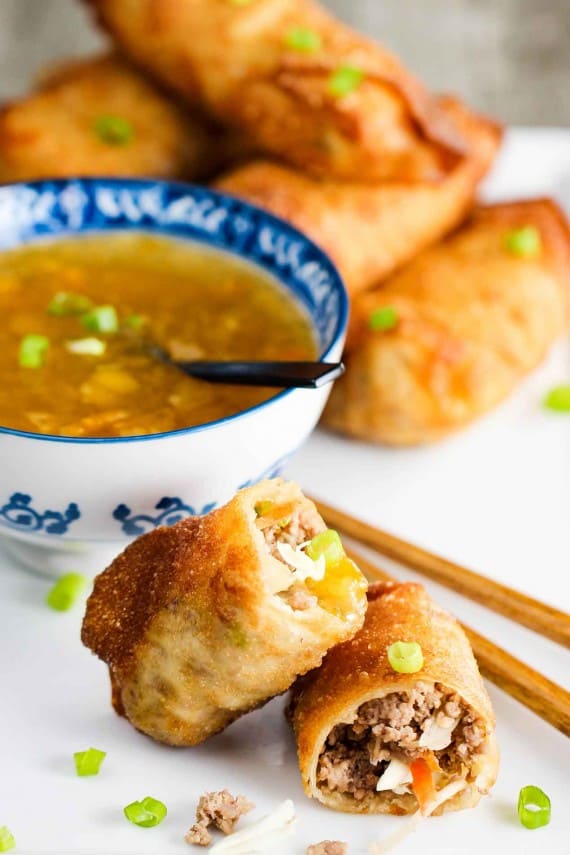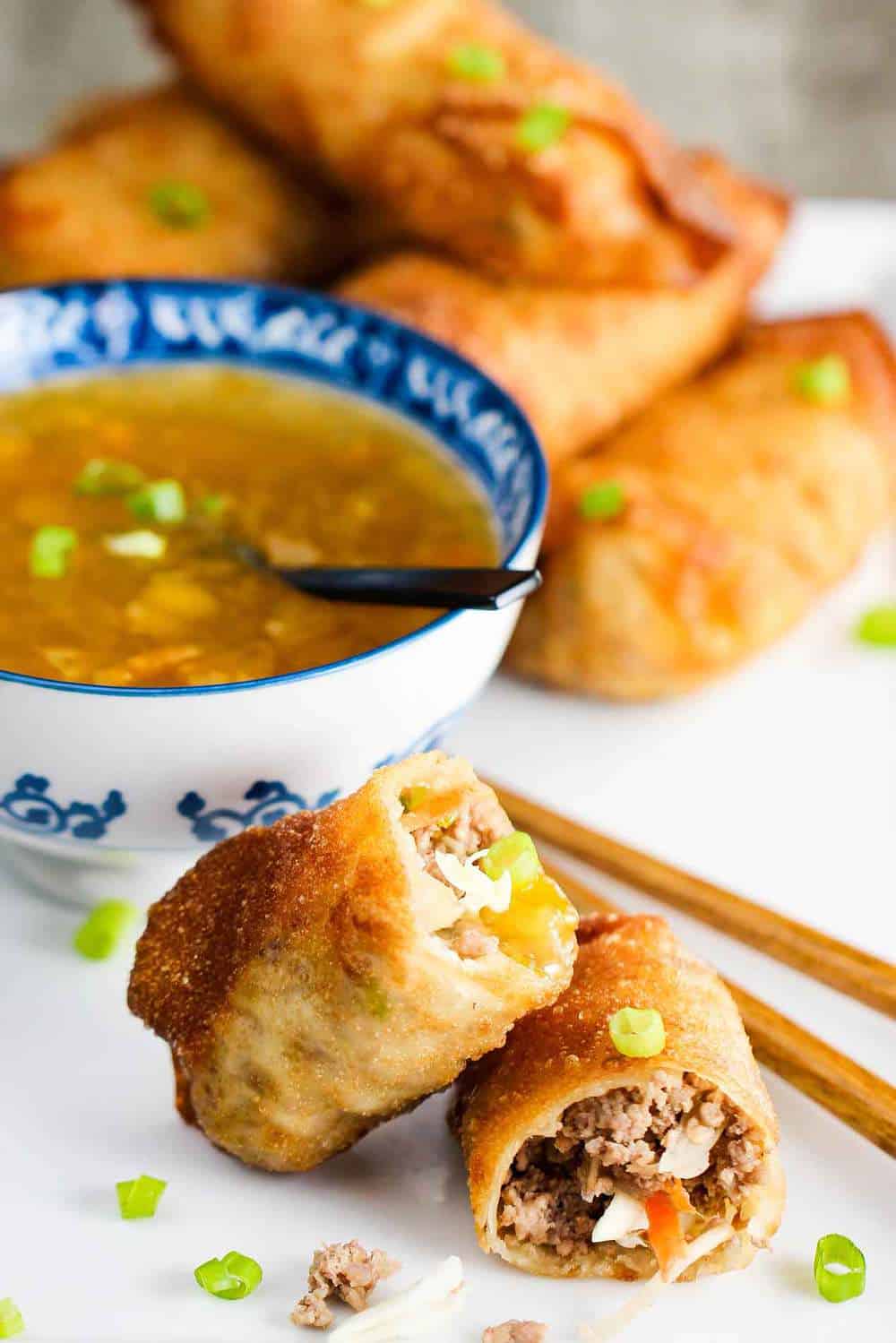 The Ingredients You Will Need
The traditional filling for egg rolls is pork or chicken with shredded cabbage and carrots. Sautéd garlic, ginger, and onion deliver an authentic taste.
Mung bean sprouts are often used, and we love to add them to the filling, too.
Then you really amp up that incredible Asian taste with hoisin sauce and sesame oil.
EXPERT TIP: For the cabbage and carrots, we make it easy on ourselves and use quality pre-packaged coleslaw mix. Of course, you could thinly chop Napa cabbage and julienne a carrot, but they will take more time. The filling can be prepared up to 3 days in advance.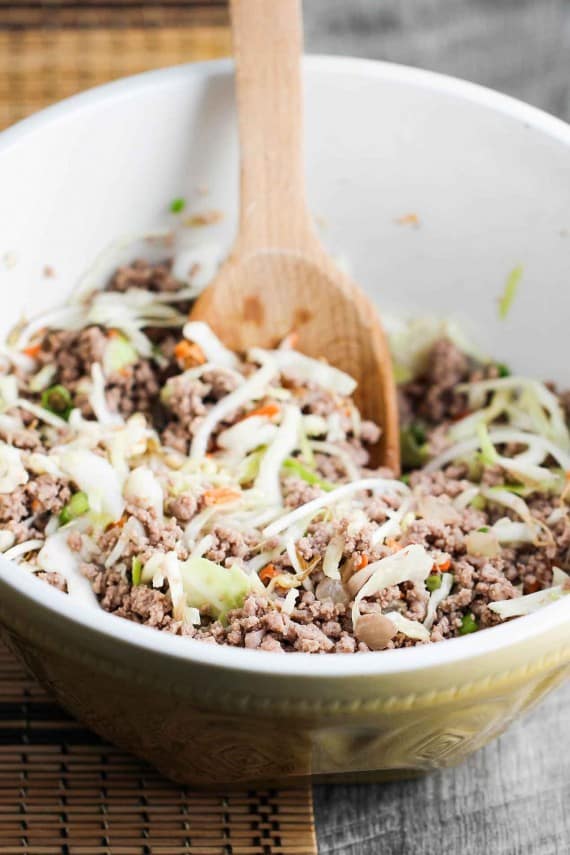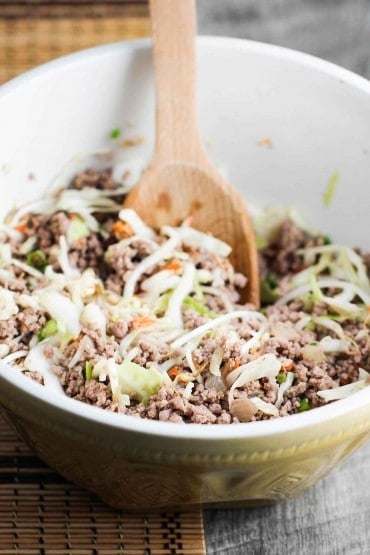 How To Roll Egg Rolls
Rolling them is not difficult. Adding a little water around the edges of the wrapper, and then a little more as you fold and roll helps to seal the roll into place.
It may take a couple of tries to get them just perfect, but rolling these homemade egg rolls is fun. Get the kids to help out…they'll love it!
EXPERT TIP: Deep-frying the egg rolls is most common, but, for a healthier version (and still quite delicious), simply brush olive oil all over the rolls and then bake them in a 400°F oven for 10 to 12 minutes.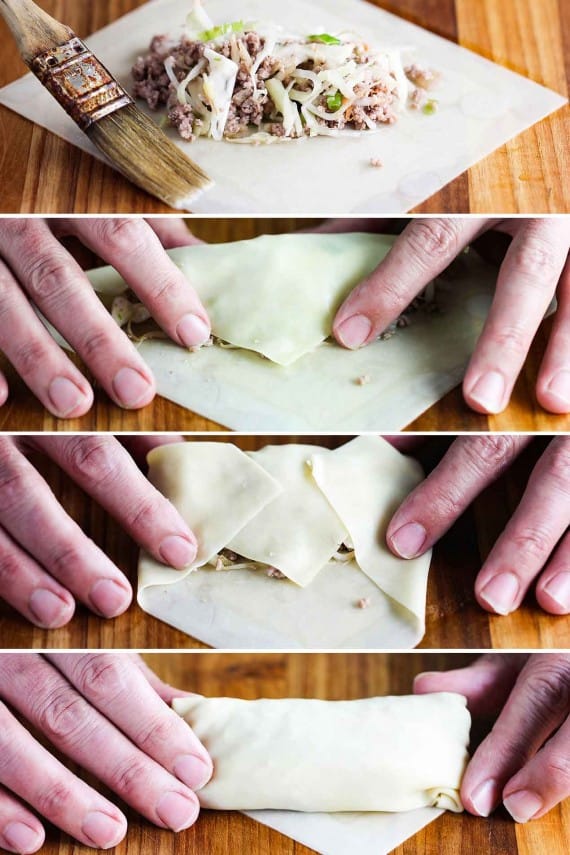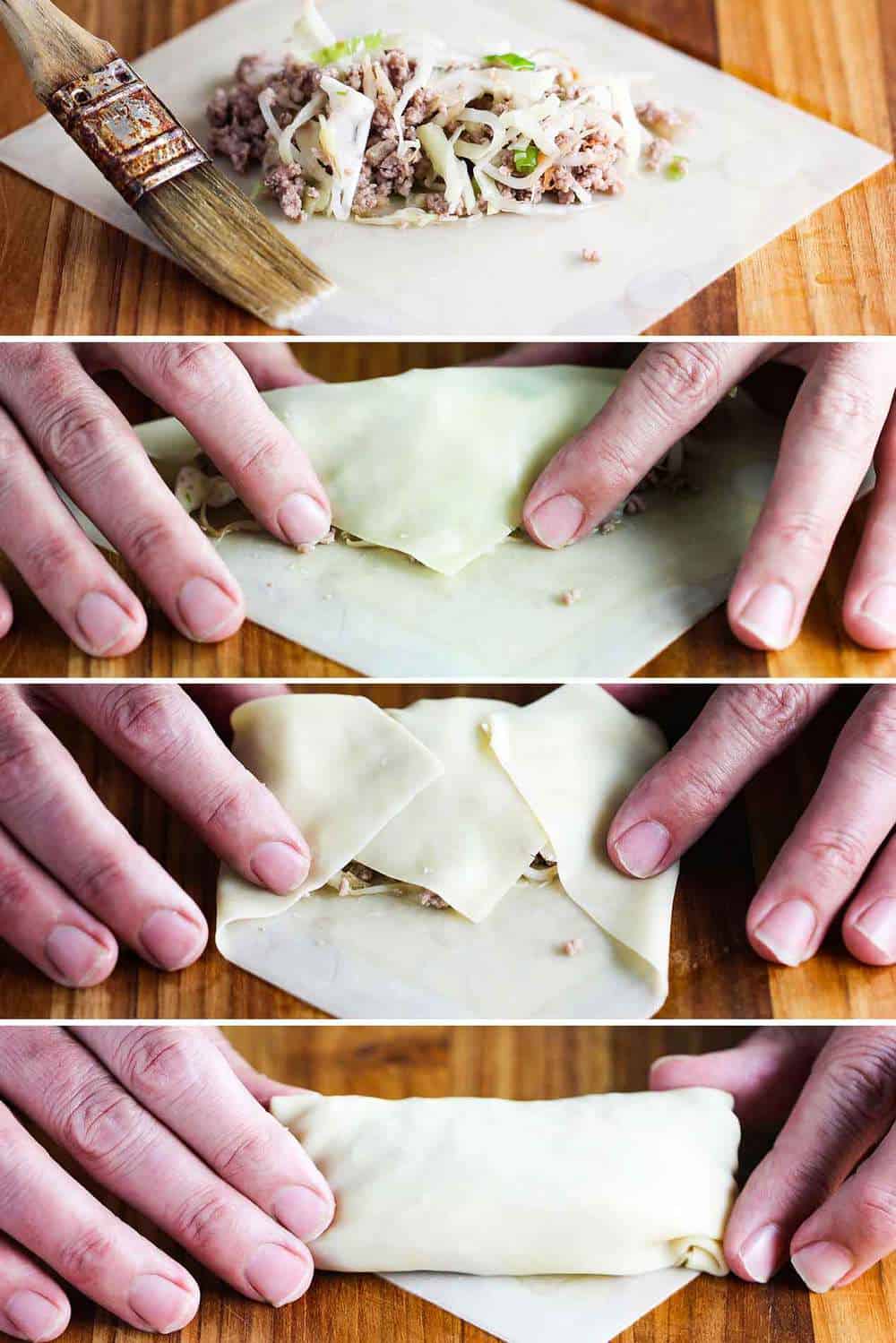 Egg Rolls vs. Spring Rolls
Lots of folks ask what's the difference between an egg roll and a spring roll. There are lots of different answers to this question, too.
But essentially, the wrapper for egg rolls contains (big surprise) eggs and they tend to be thicker. And typically an egg roll includes some sort of meat, whereas spring rolls often are just julienned vegetables.
Read much more detail about the difference between an egg roll and a spring roll here.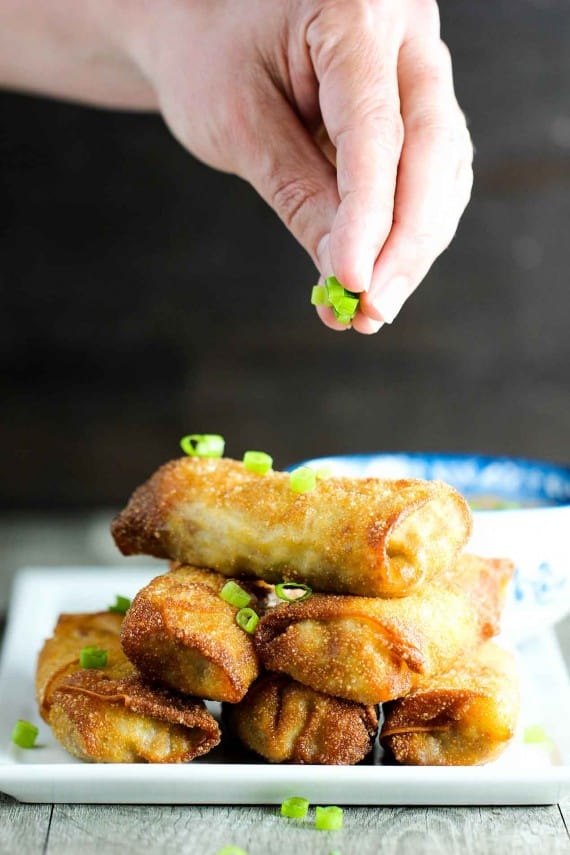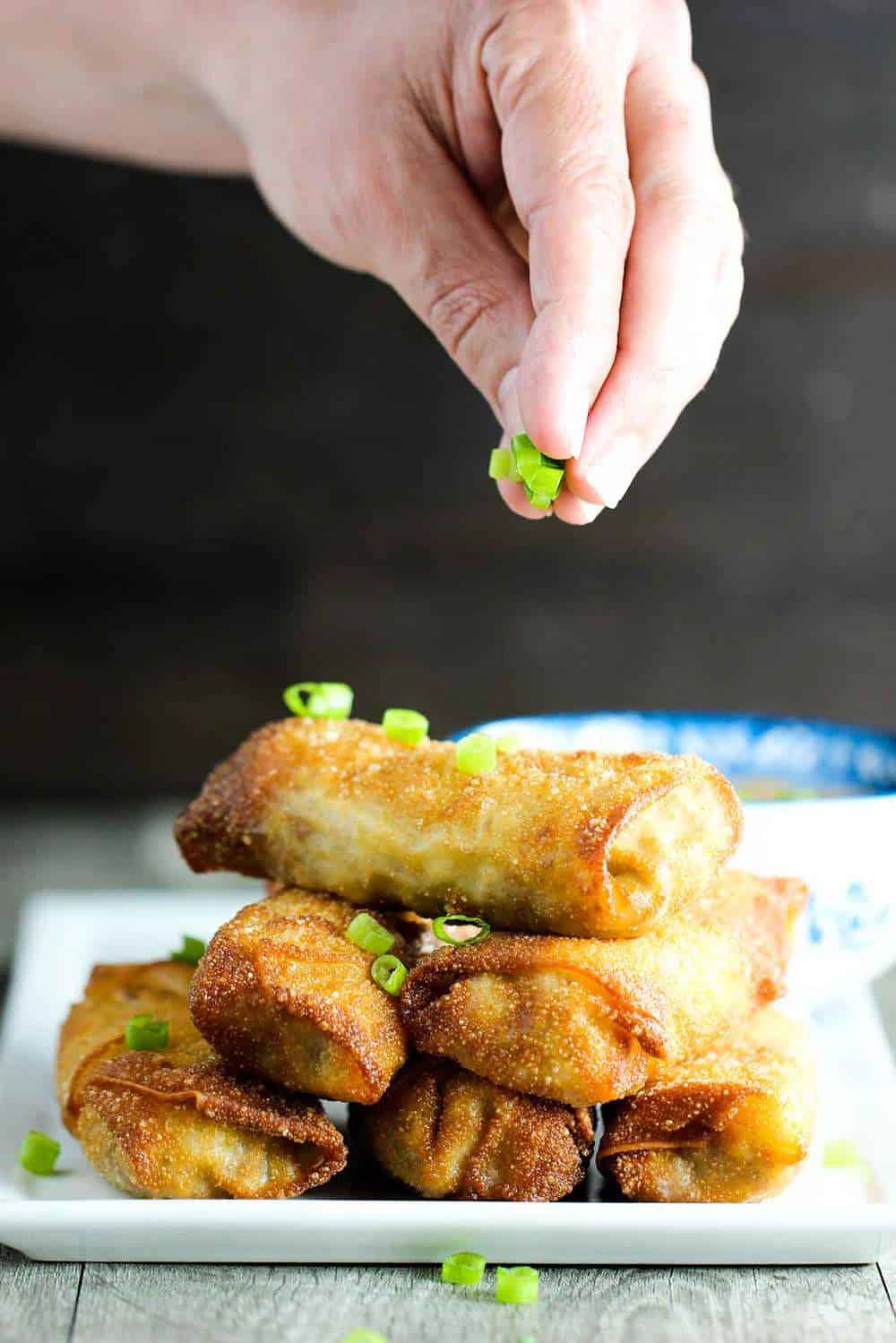 Other Classic Chinese Take-Out Recipes
Asian take-out is popular pretty much all over the world. Making these classic dishes at home is even better. Here are some of our all-time favorites:
Vegetarian Steamed Dumplings
Sesame Chicken
Crispy Sesame Beef
Orange Chicken
Beef and Broccoli Stir-Fry
Vegetable Stir-Fry
Slow-Cooker Chicken Chow Mein
Kung Pao Shrimp
But in the meantime, don't you think it's time to whip up a batch of these babies? We think so!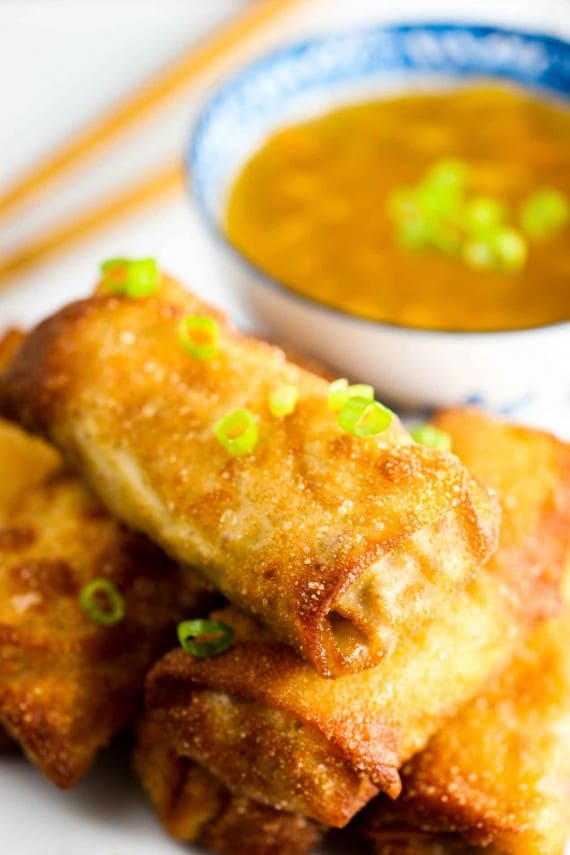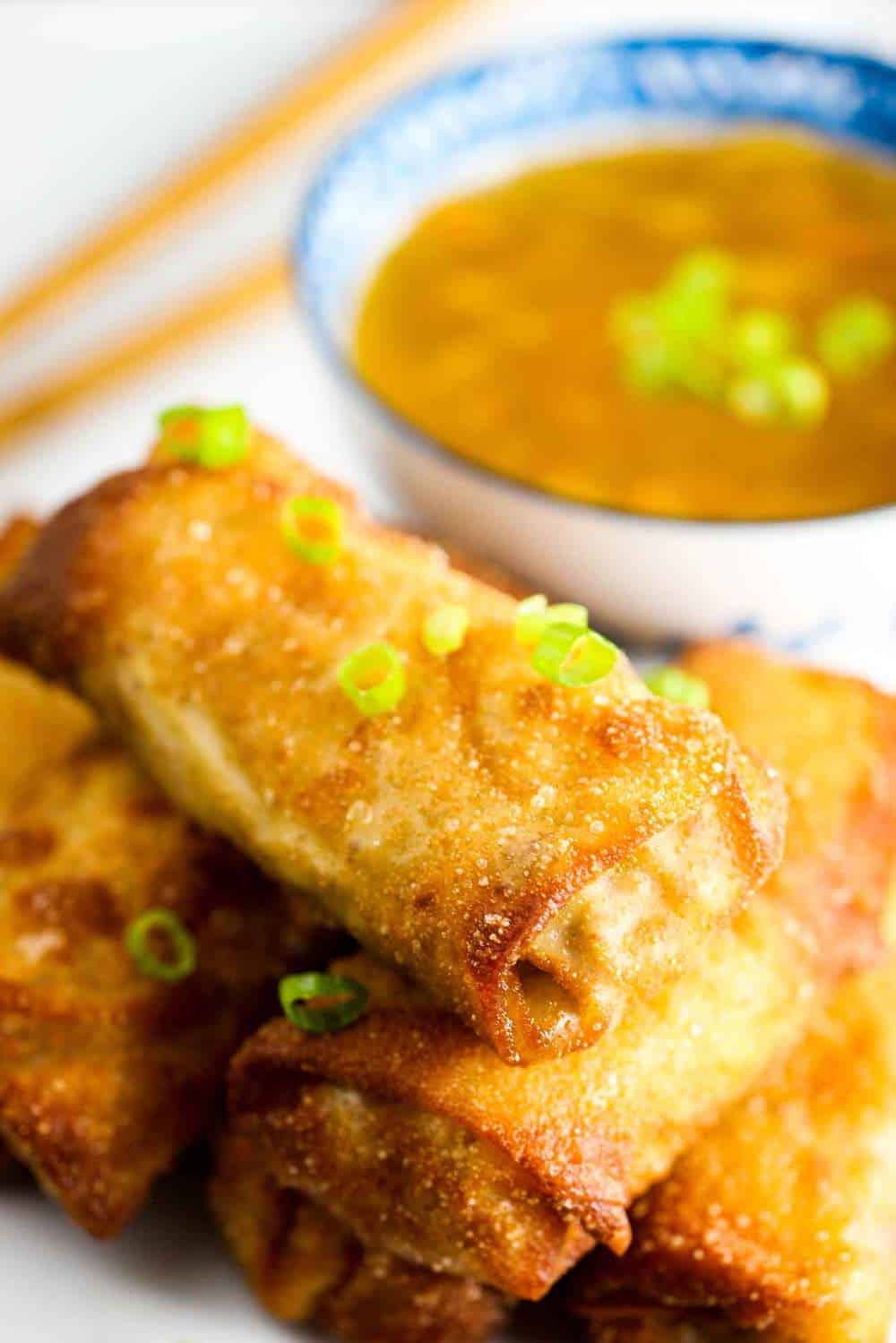 Ready to make the best Chinese appetizer in town? Go for it!
And when you do, be sure to take a photo of them, post it on Instagram, and tag @HowToFeedaLoon and hashtag #HowToFeedaLoon!
Homemade Egg Rolls
Homemade Egg Rolls are so easy to make and you will be amazed out how they taste even better than your favorite Chinese take-out. I know that sound impossible, but try these and you'll see what we mean!
Print
Rate
Servings: 8
Calories: 241kcal
Equipment
Wok, or large sturdy skillet
Ingredients
1 tbsp olive oil
¼ cup onion chopped
2 cloves garlic minced
1 tbsp fresh ginger minced
1 lb ground pork
2½ cups coleslaw (or 2 cups shredded cabbage and 1 cup julienned carrots
¼ cup mung bean sprouts optional
2 scallions thinly chopped, green and white parts
2 tbsp hoisin sauce
1 tbsp soy sauce
1 tsp sesame oil
vegetable oil, for frying (or olive oil, if baking)
12 egg roll wrappers (plus water for brushing)
For the Easy Duck Sauce
¾ cup apricot jam
4 tbsp rice vinegar
1 tbsp soy sauce
1 tsp garlic chili sauce
Instructions
Heat the oil in a large skillet over medium-high heat.

Cook the onion, garlic, and ginger until just soft and aromatic, about 3 minutes.

Add the pork and cook until no longer pink, about 5 minutes. Drain excess fat, if desired.

Add the coleslaw mix (or cabbage and carrots), bean sprouts (if using), scallions, hoisin sauce, soy sauce, and sesame oil. Mix together with a large spoon.

Working one roll at a time, place about 2 tablespoons of the filling across the center of a wrapper. Brush all four sides of the wrapper with a little water. Fold the bottom corner over the filling and gently tuck in. Next, fold the two sides in and tuck the sides in. Brush a little more water over the top. Roll the egg roll to enclose and the flap is sealed. (See image in post for reference).

Heat enough of the vegetable oil in a large skillet to cover a roll, about 2 to 3 inches. Heat the oil to 350°F (using a candy thermometer ensures correct temperature).

Using a fork, gently slide 1 or 2 of the rolls into the hot oil. Using a couple of forks, keep the rolls submerged until browned all over, flipping a couple of times. About 2 minutes. Repeat with remaining rolls.

To make the duck sauce, mix together all ingredients in a small bowl. Refrigerate until ready to use.
Notes
See the video near the top of the blog post for visual guidance. If you liked the video, please subscribe to our YouTube channel.
For extra thin and crispy wrappers, seek out "spring roll" wrappers in the frozen section of your local Asian market. Don't over-stuff with the filling and roll them tightly so you'll get at least 2 layers of the wrapper on the exterior of the roll.
The filling can be made up to 3 days in advance. Keep covered in the fridge until ready to fry.
These egg rolls can be baked (instead of fried) in a 400°F oven for 10 to 15 minutes, or until desired crispiness.
Uncooked egg rolls can be frozen in a flat row in a baggie for up to 2 months. Cooked egg rolls can be frozen for up to 2 months. Thaw completely before frying and reheat cooked egg rolls in a 350°F oven or in an air-fryer.
Nutrition
Calories: 241kcal | Carbohydrates: 15g | Protein: 12g | Fat: 21g | Saturated Fat: 5g | Cholesterol: 43mg | Sodium: 272mg | Potassium: 243mg | Fiber: 1g | Sugar: 1g | Vitamin A: 51IU | Vitamin C: 11mg | Calcium: 31mg | Iron: 1mg
POST UPDATE: This recipe was originally published in June 2018, but was updated with improved tweaks to the recipe with new tips and a fabulous new video in September 2022.