These non-meat steamed dumplings literally explode with flavor.  
Dumplings are one of our most favorite items to order of all time. We love our Pork Dumplings in Peanut Sauce and our Chinese Pot Stickers, too! And these vegetarian dumplings are just as delicious but much healthier!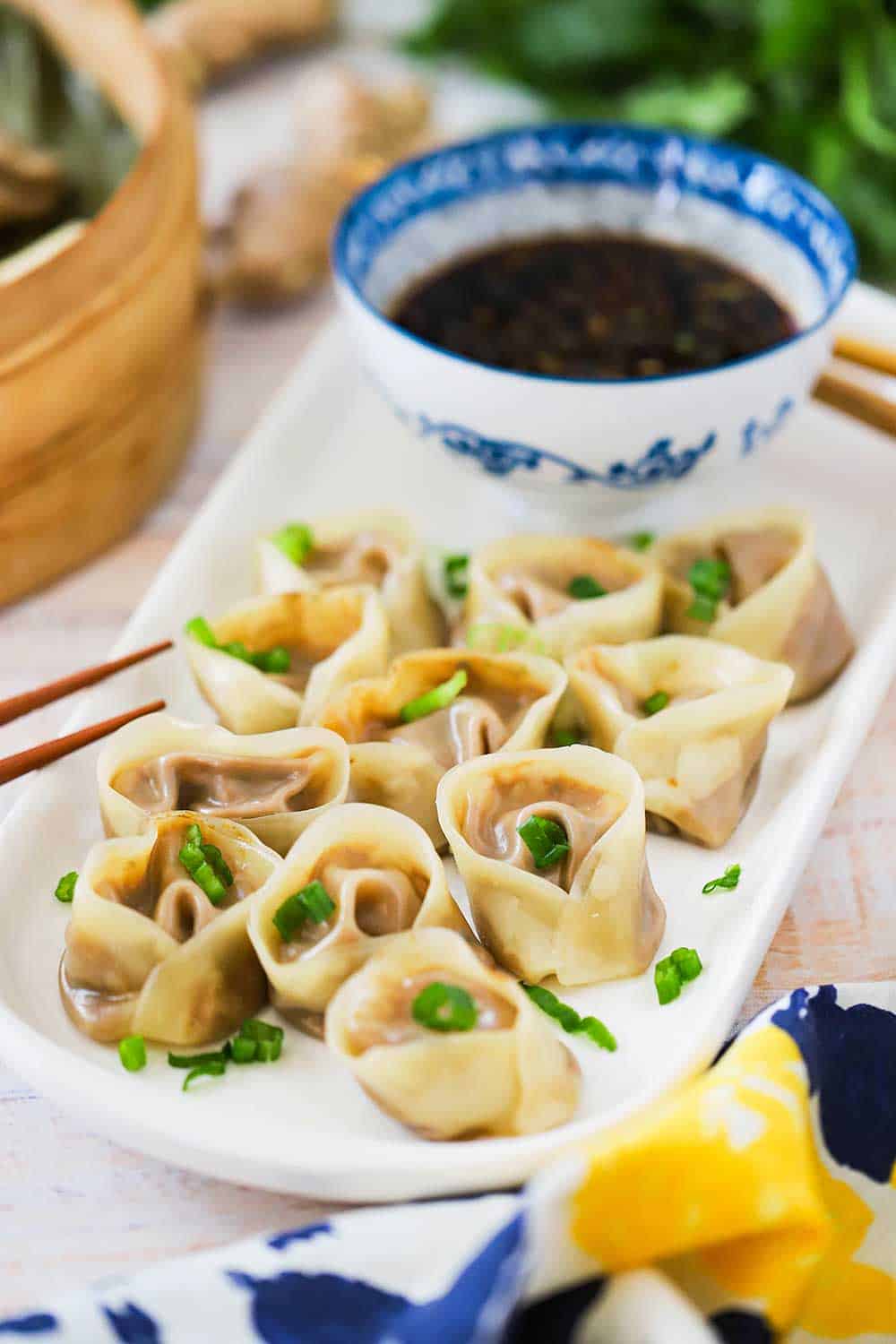 HOW TO MAKE VEGETARIAN STEAMED DUMPLINGS
Dumplings have been around for many, many years. In fact, they're considered an ancient food. Read more about that here.
Though there are about as many types of dumplings as there are restaurants that serve them, these are straight-forward and can easily be made at home.
You may need to make a trip to your local Asian food market or order some of the ingredients online. This is good stuff!
DUMPLING SKINS ARE DIFFERENT THAN WONTONS
Wonton wrappers are usually thinner than dumpling skins.
Both types of wrappers will work in for this recipe, but we enjoy using a good dumpling wrapper because they are usually a little sturdier than wontons. They work perfectly for our Vegetarian Steamed Dumplings.
Again, these can easily be found in Asian food markets or online.
We use our food processor to pulverize the filling.
You can certainly finely chop all the ingredients of the filling and then mix them by hand, if you perfer.
The smell is amazing before you even steam them!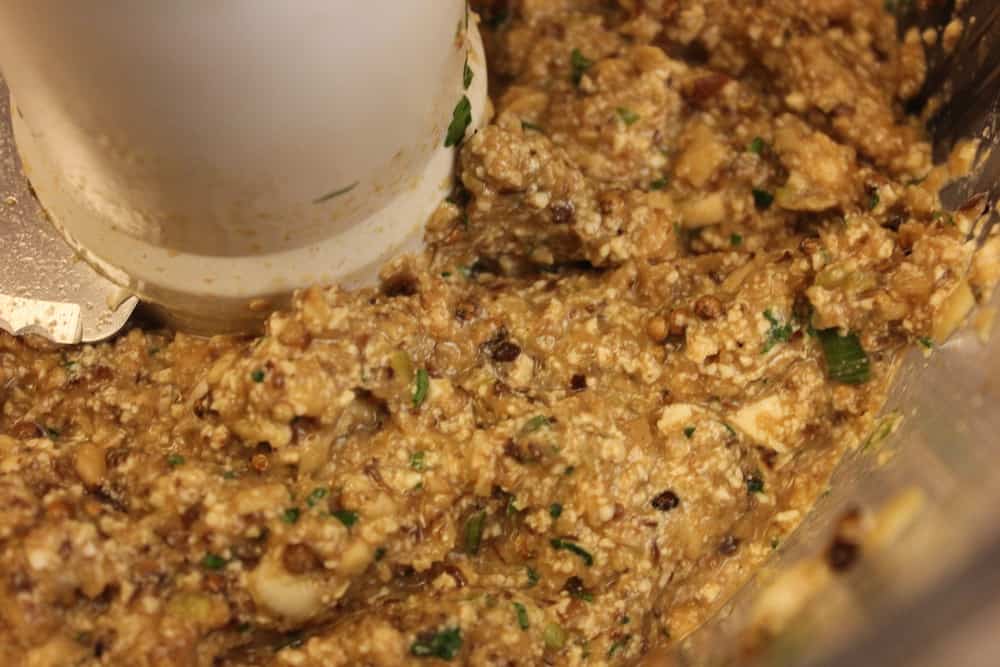 STEAMING THE VEGETARIAN STEAMED DUMPLINGS
We love pan-searing dumplings, but steaming them is wonderful, too.
A double-stack bamboo steamer is our favorite method for cooking the dumplings, but any kind of steamer will work.
Ready to make the best vegetarian steamed dumplings in town? Go for it!
And when you do, be sure to take a photo of it, post it on Instagram, and tag @howtofeedaloon and hashtag #howtofeedaloon!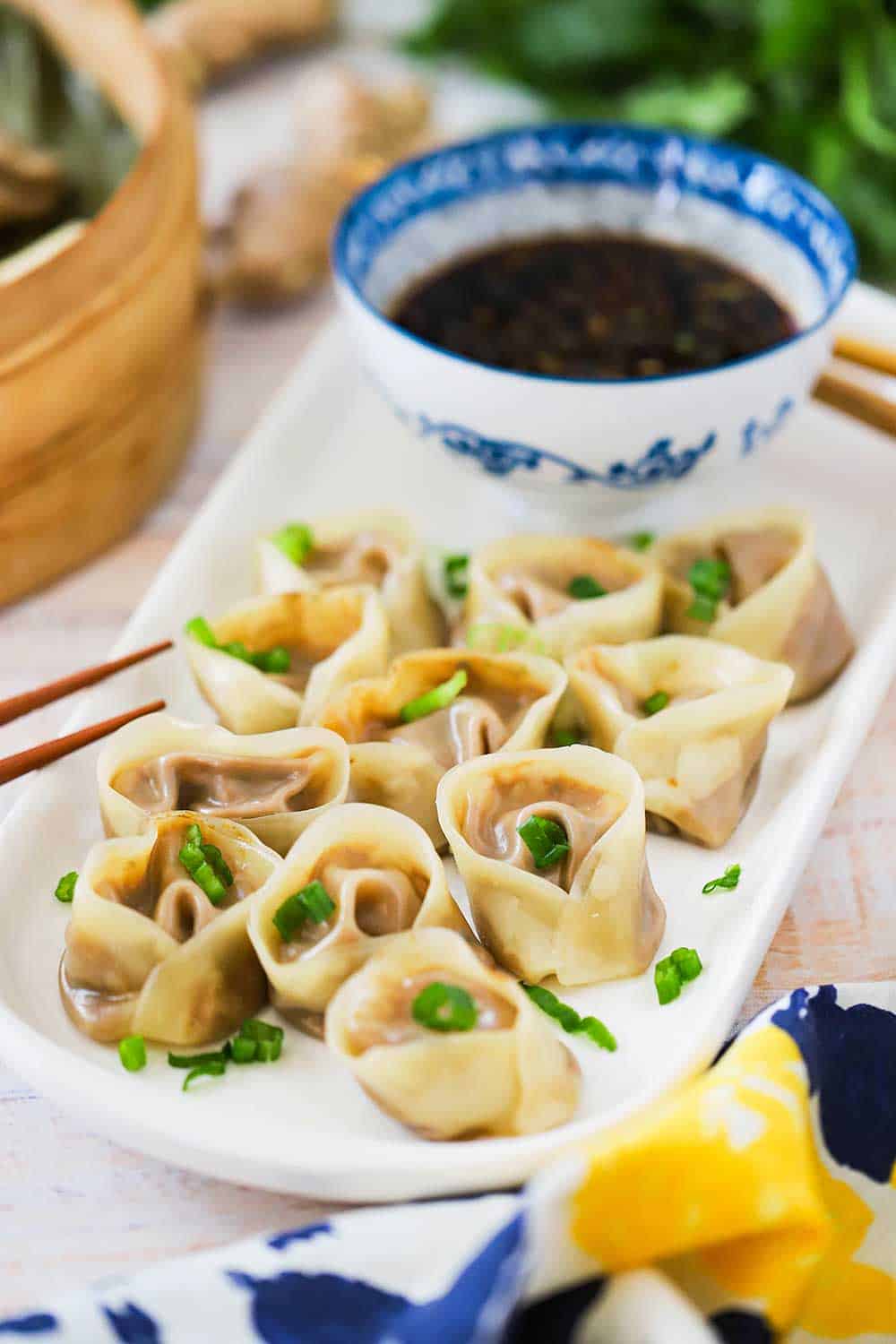 Vegetarian Steamed Dumplings
These may be vegetarian, but trust me, there is no shortage on flavor. These are amazing.
Print
Pin
Rate
Servings: 8 people
Calories: 333kcal
Ingredients
1 package banana leaves frozen or fresh
1 package dumpling wrappers if you can't get dumpling wrappers, then work with wonton wrappers
FOR THE FILLING
3 cups shiitake mushrooms fresh
1 cup tofu medium-firm
¼ cup vegetable stock
1 tbsp ginger fresh, minced
3 cloves garlic diced
3 tbsp soy sauce
1 tbsp dark soy sauce ie, Tamari sauce
2 tbsp sesame oil
2 green onions scallions, sliced
¼ cup cilantro chopped
1 tbsp coriander seeds
¼ tsp white pepper
1 tsp Thai chili sauce
Instructions
Prepare a bamboo steamer by lining it with banana leaves.

Place all of the filling ingredients in a food processor.

Process well to create the consistency of ground meat.

Lay several of the dumpling wrappers out on a clean working surface.

Have a small dish of water next to the dough.

Place 1 heaping teaspoon of the dumpling filling in the center of each wrap.

Using your finger by dipping in the water, generously moisten the periphery of each wrapper.

Draw up the two sides of the wrapper and pres together, pinching together along the sides.

Place the complete dumplings on a plate dusted with flour.

Place the dumplings in the prepared steamer (they can be touching, just not on top of each other).

Steam over high heat for 20 minutes.
Nutrition
Calories: 333kcal | Carbohydrates: 59g | Protein: 15g | Fat: 5g | Saturated Fat: 1g | Cholesterol: 5mg | Sodium: 737mg | Potassium: 339mg | Fiber: 5g | Sugar: 5g | Vitamin A: 53IU | Vitamin C: 6mg | Calcium: 91mg | Iron: 4mg