These non-meat steamed dumplings literally explode with flavor.
Dumplings are one of our most favorite items to order of all time. We love our Pork Dumplings in Peanut Sauce and our Chinese Pot Stickers, too! And these vegetarian dumplings are just as delicious but much healthier! And the Hot and Sweet Dipping Sauce is the perfect accompaniment!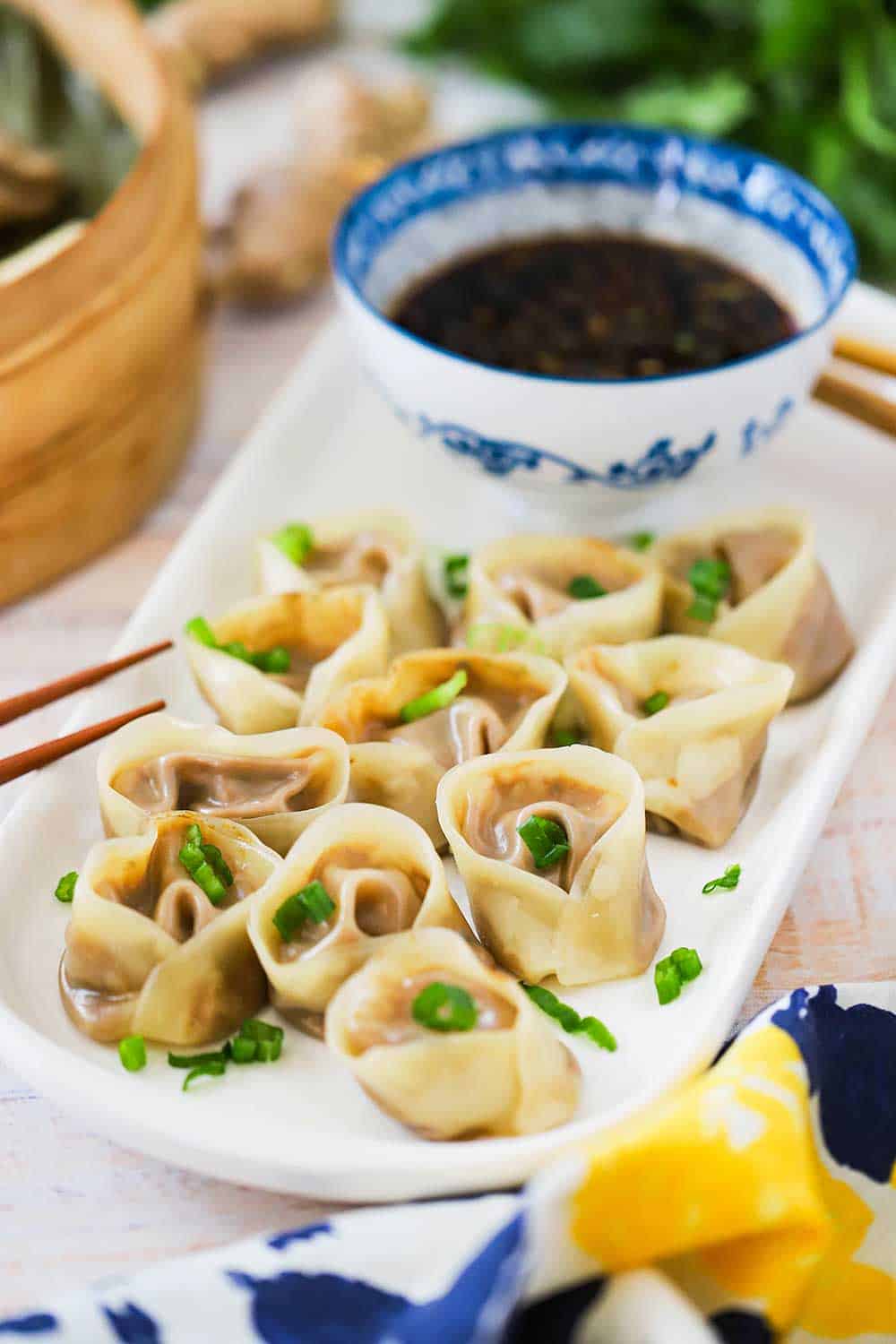 How To Make Vegetarian Steamed Dumplings
Dumplings have been around for many, many years. In fact, they're considered an ancient food. Read more about that here.
Though there are about as many types of dumplings as there are restaurants that serve them, these are straight-forward and can easily be made at home.
Preparing the Vegetarian Filling
The filling for this steamed dumpling recipe is loaded with tons of flavor.
You may be asking what are the steamed dumpling calories. Well, they are definitely lower than meat dumplings or pan-fried, or deep-fried. One serving is usually about 3 to 4 dumplings and is approximately 288 calories, plus another few for the dipping sauce (it's super low-cal!).
EXPERT TIP: We use our food processor to bring the filling together. We also love using fresh shiitake mushrooms, but you could use other types, too. If using dried mushrooms, be sure to follow package instructions for rehydrating them. And definitely go with firm tofu. Dark soy sauce can be found in the Asian section of many supermarkets, Asian markets, or online. In a pinch, regular soy sauce can be substituted for dark soy sauce. Tamari soy sauce is another suitable substitution.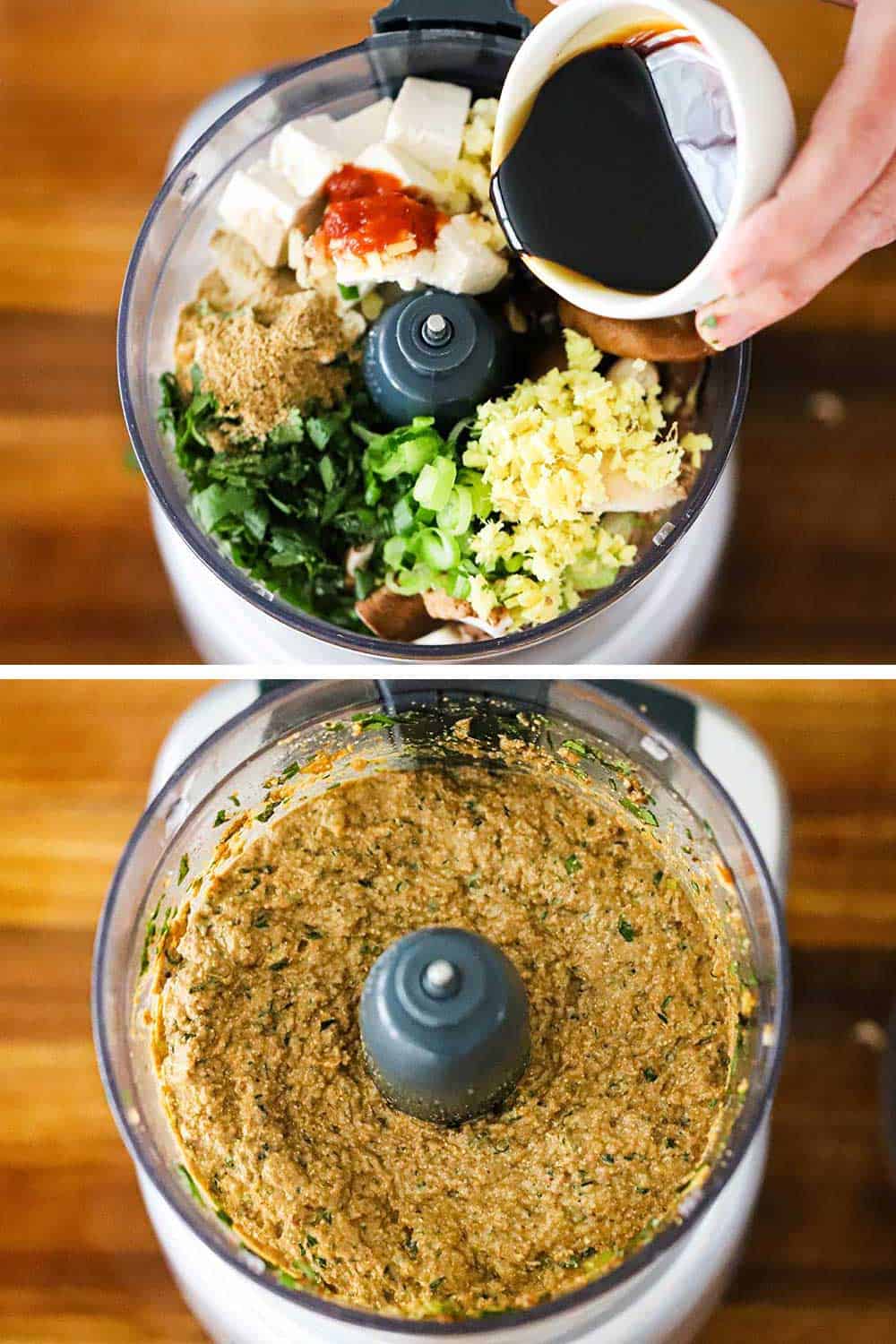 How To Fold Dumplings
There are various ways to fold up Chinese steamed dumplings. You will commonly see them folded up like a taco and sometimes pleated at the seam.
We love to wrap them up like a little parcel. Simply place a small amount of filling in the center of the dumpling wrapper, then fold up like a taco, then fold the bottom edges into each and seal with your fingers.
EXPERT TIP: Wonton wrappers or dumpling wrappers will both work for this recipe, but we find the dumpling wrappers are a little easier to work with because they are not as thin as wonton wrapper. Dumpling wrappers can be found in Asian markets or online. Be sure to use wet fingers (from water) as you form and seal the dumplings.
How To Steam Dumplings
There are multiple ways to steam dumplings.
We love the ease of using our bamboo steamer that has been placed in our wok with just enough water to submerge the steamer by about ½-inch.
EXPERT TIP: We recommend lining the steamer with a material that will allow the steam to cook the dumplings but not interfere with the process. Banana leaves are our favorite thing to use. They can be found in the frozen section of most Asian markets or purchase online. You can even find them cut into a circular formation that fits perfectly into your bamboo steamer! Other materials to use include corn husks or parchment paper. Don't use wax paper.
Place the steamer in your wok and add enough water to the wok to just go up to about ¼-inch along the bottom of the steamer.
Now, place the wok on your stove over medium-high heat. We wok ring helps hold the wok in place during the steaming process.
Cover the wok with the lid and steam for 20 minutes. You may need to add a little more water to the wok as you are steaming.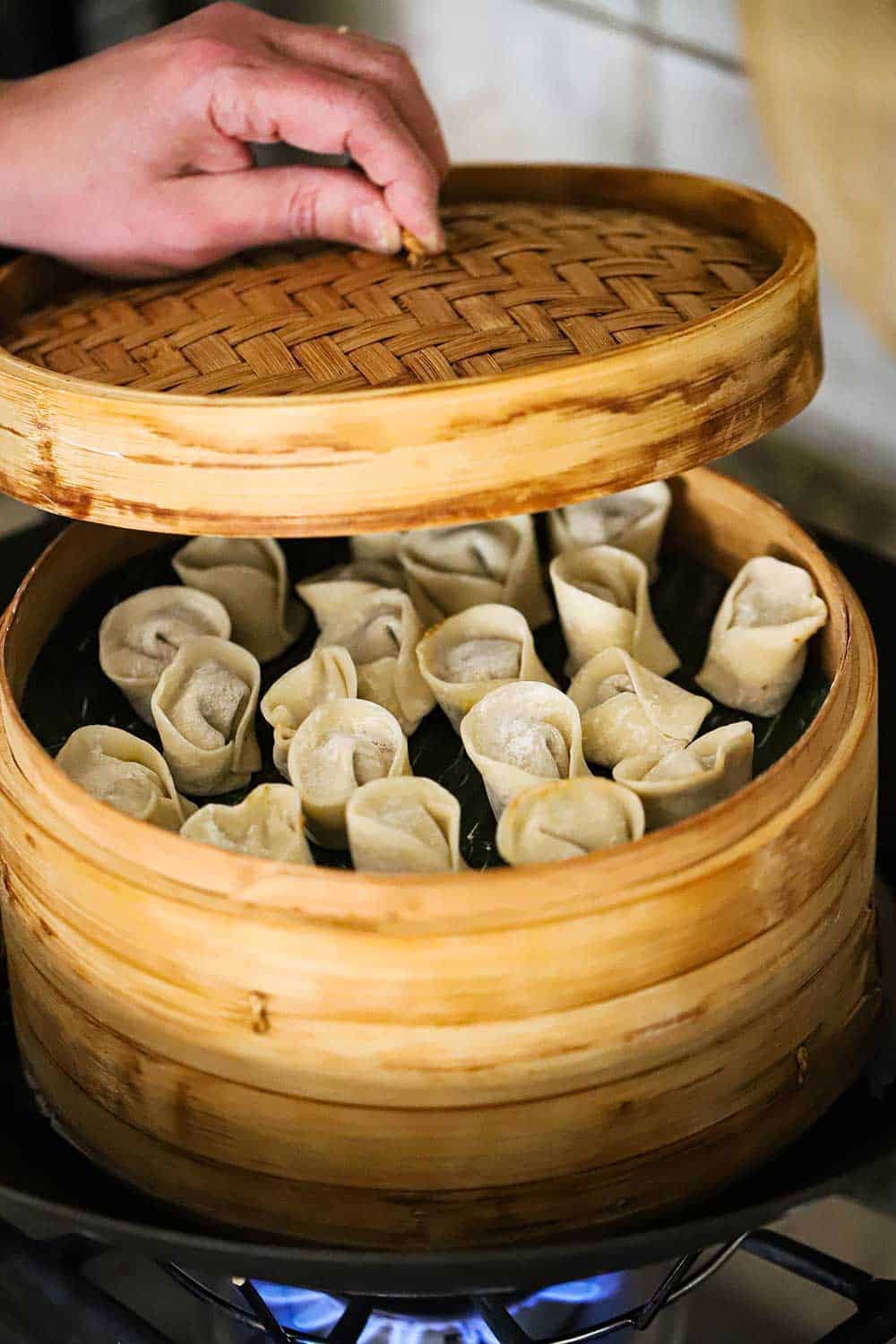 When To Serve Vegetarian Steamed Dumplings
There is just something magical about lifting that lid after the steaming process is complete.
These dumplings are low in calories but through-the-roof in taste and texture.
We often make a big batch of them and then have them for a meal. Of course, they are wonderful as an appetizer for a glorious Chinese dish, such as General Tso's Chicken or Beef and Broccoli Stir-Fry!
Of course, they make a spectacular party or game-day appetizer when entertaining.
Folks are always amazed that the steamed dumplings can be so deeply flavorful
They make a beautiful and whimsical presentation, too!
And to complete the umami experience, you've got to include an amazing dipping sauce.
Make our Hot and Sweet Dipping Sauce, and you will be very happy.
It's the perfect complement to the delicious and savory dumplings.
Ready to make the best vegetarian steamed dumplings in town? Go for it!
And when you do, be sure to take a photo of it, post it on Instagram, and tag @howtofeedaloon and hashtag #howtofeedaloon!
Vegetarian Steamed Dumplings
These may be vegetarian, but trust us, there is no shortage of flavor. These are amazing. Make the Hot and Sweet Dipping Sauce for the perfect accompaniment.
Print
Pin
Rate
Servings: 8 people
Calories: 288kcal
Ingredients
1 package banana leaves frozen or fresh, parchment paper
1 package dumpling wrappers or wonton wrappers
FOR THE FILLING
2 cups shiitake mushrooms fresh, stems removed, roughly chopped, about 5.5 oz.
1 cup tofu medium-firm, cut into cubes, about 7 oz.
¼ cup vegetable broth
1 tbsp ginger fresh, minced
3 cloves garlic diced
3 tbsp soy sauce
1 tbsp dark soy sauce
2 tbsp sesame oil
2 scallions thinly sliced, plus extra for garnish
¼ cup cilantro chopped
1 tbsp coriander ground
¼ tsp white pepper
1 tsp chili sauce more, for added spice
1 cup Hot and Sweet Dipping Sauce for serving
Instructions
Prepare a bamboo steamer by lining it with banana leaves or parchment paper.

Place all of the filling ingredients in a food processor. Process well to create the consistency of ground meat or bean curd.

Lay several of the dumpling wrappers out on a clean working surface. Have a small dish of water next to the dough.

Place 1 teaspoon of the filling in the center of each wrap.

Using your finger by dipping in the water, generously moisten the periphery of each wrapper. Draw up the two sides of the wrapper and press together, pinching together along the sides. Bring the 2 corners of the bottom of the dumpling together and seal in the center (see the photo in the blog post, or video, for reference).

Place the dumplings in the prepared steamer. Steam over high heat for 20 minutes.

Carefully transfer the steamed dumplings to a platter and sprinkle with extra chopped scallions. Serve immediately with Hot and Sweet Dipping Sauce on the side.
Notes
Banana leaves can be found in most Asian food markets in the frozen section or ordered online. If you can't get banana leaves, then corn husks or parchment paper are fine substitutes. The banana leaves do impart a nice flavor to the dumplings which is why we love them, but the dumplings will still be delicious without them. You can use any kind of fresh mushroom. If using dried mushrooms, be sure to follow the package instructions to rehydrate them. This recipe makes a lot of dumplings, around 50 of them. The recipe can easily be cut in half for fewer dumplings. The cooked dumplings freeze nicely for up to 1 month. Defrost them and then reheat them in a 350°F oven for 15 to 20 minutes or until heated through. The dumplings will keep in the fridge in an air-tight container for up to 1 week.
Nutrition
Calories: 288kcal | Carbohydrates: 57g | Protein: 14g | Fat: 5g | Saturated Fat: 1g | Cholesterol: 5mg | Sodium: 743mg | Potassium: 265mg | Fiber: 4g | Sugar: 4g | Vitamin A: 106IU | Vitamin C: 8mg | Calcium: 90mg | Iron: 4mg
POST UPDATE: This recipe was originally published in March 2014, but was updated with improved tweaks to the recipe with new tips and photography and a fabulous new video in February 2021!