We absolutely love Chinese food so much. And this one of the most classic Chinese-American dishes of them all.
We've been playing with this recipe for many years now, and we are so happy to share with you this newly revised version. The chicken is crispy and yet incredibly tender. And the sauce? Oh, the sauce. And it all comes together in about 30 to 40 minutes!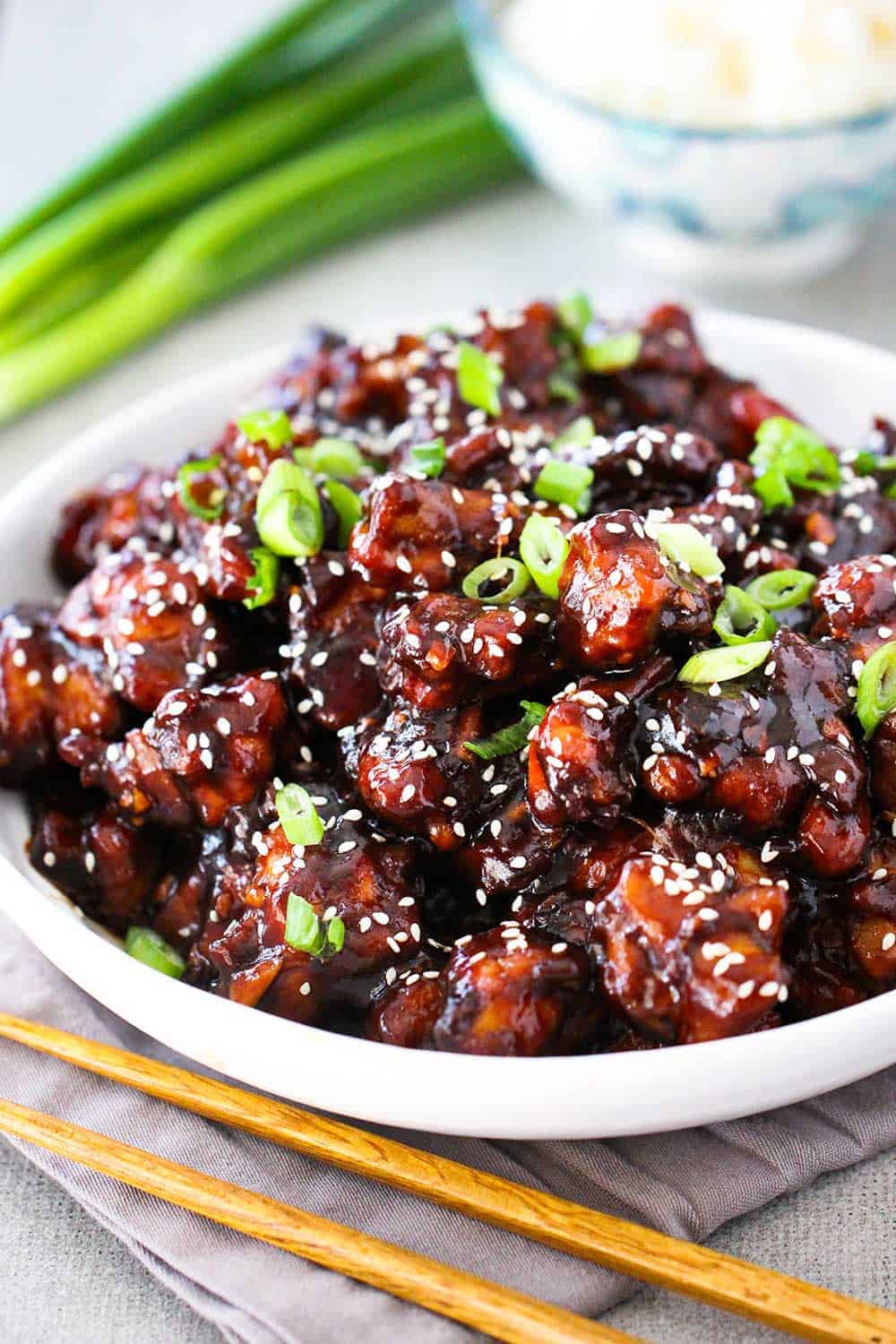 HOW TO MAKE AUTHENTIC GENERAL TSO'S CHICKEN
There are several tricks to making General Tso's Chicken taste like what you get at your favorite Chinese restaurant. First and foremost, 'mise en place' is critical. This is a culinary French term meaning, everything in its place. Essentially, once this dish starts coming together, things move quickly. You won't have time to run to the pantry to grab an item once you are stir-frying. Prep all the ingredients, have them easily within reach, and then get started.
Now, back to the dish, the chicken needs to be flavorful and tender on the inside, with a slight crunch on the outside.
And the sauce needs to be the perfect combination of sweet, savory, and if you prefer, a slight hit of spiciness.
START WITH THE CLASSIC SAUCE
Let's start off by putting together the sauce. It's really quite simple, but exploding with incredible depth of flavor.
What you'll need:
Chicken stock
Corn starch
Rice vinegar
Tomato paste
Light soy sauce
Dark soy sauce
Brown sugar (we prefer dark)
EXPERT TIP: We strongly recommend you seek out both of the soy sauces: Chinese dark, and Chinese light. Chinese light is not low-sodium soy sauce. It is a "thin" soy used in traditional Chinese cooking. In a pinch, you could use traditional Japanese soy sauce. Dark soy sauce is thick and sweet, and honestly, there is no substitute. Good news: Both are more and more commonly found in the Asian section of most well-stocked supermarkets, or at your local Asian market. You can also order them online (see links above).
Simply whisk all the ingredients together in a medium-sized bowl and set aside.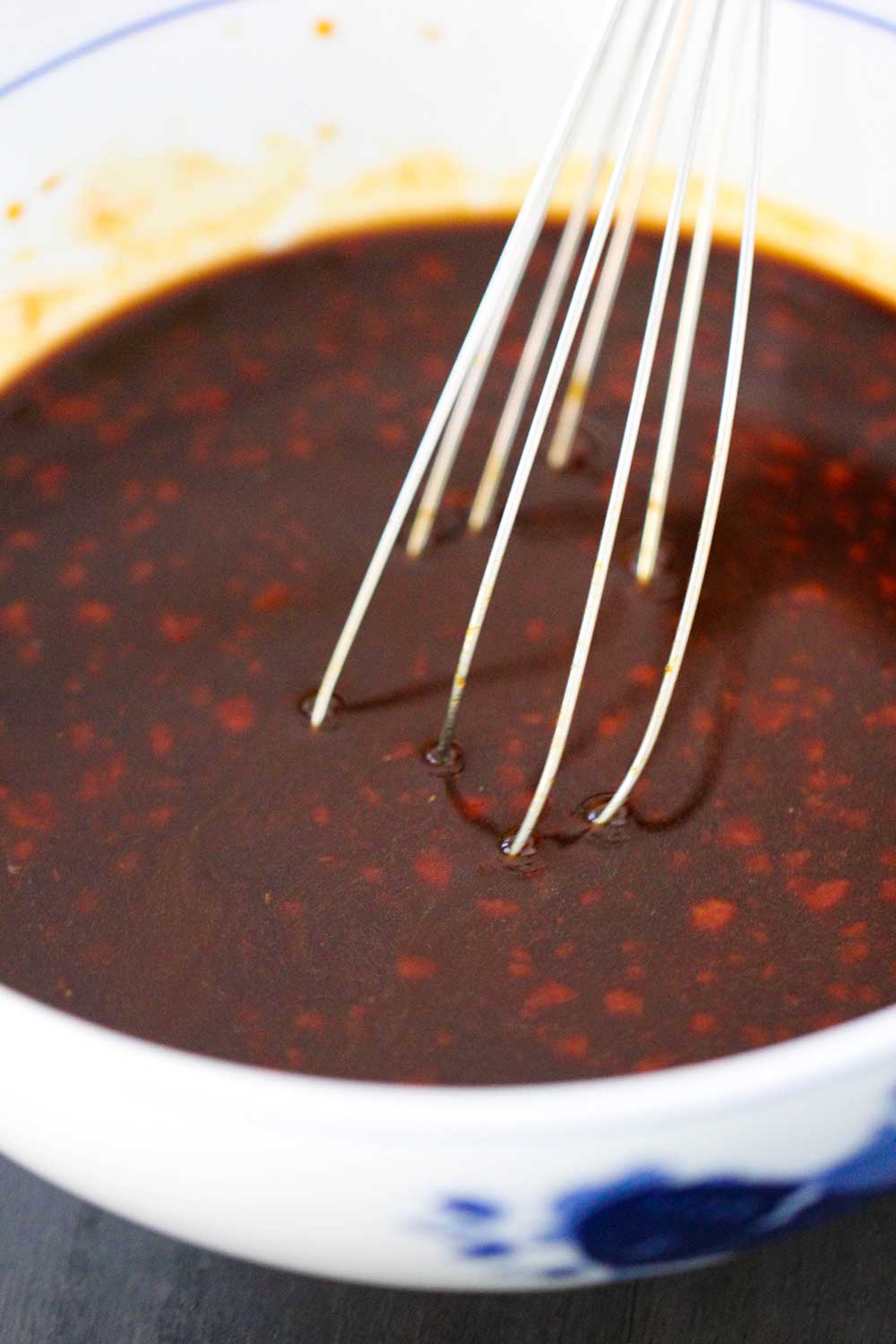 PREPARING THE CHICKEN FOR GENERAL TSO'S
We love using boneless, skinless chicken thighs for this iconic dish. It stays super tender and we think is deeply flavorful.
Coat the chicken pieces in the marinade ingredients along with the corn starch and then heat your oil to 375°F in your wok.
VERY IMPORTANT: We strongly recommend using a wok ring when cooking this dish! The ring holds the wok in place, you do not want an unstable wok when you are cooking with hot oil! You'll need to fry the chicken in two or three batches. Cook until nice and golden, about 4 to 6 minutes. Be sure to let the oil return to 375°F before continuing with the next batch.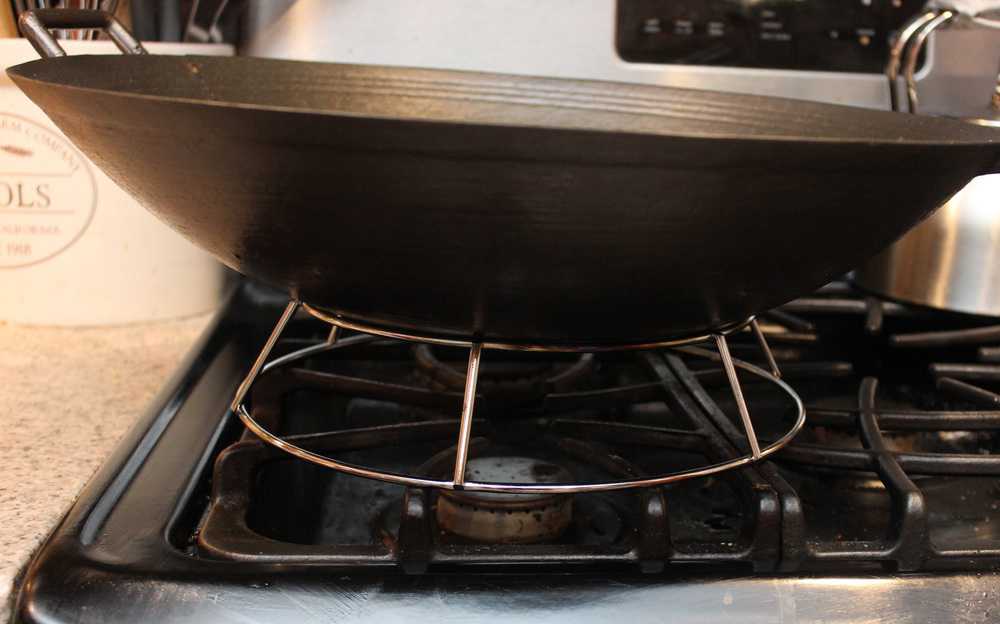 Just look at the crispy, perfectly cooked chicken!
EXPERT TIP: After frying the chicken pieces, you'll need to discard the oil from the wok. We recommend allowing the oil to cool somewhat, and then very carefully, use a funnel to transfer the oil to a heat-proof container. Most cities have a location where you can bring used cooking oil in larger quantities. It is not an environmentally good practice to pour used oil down your drain.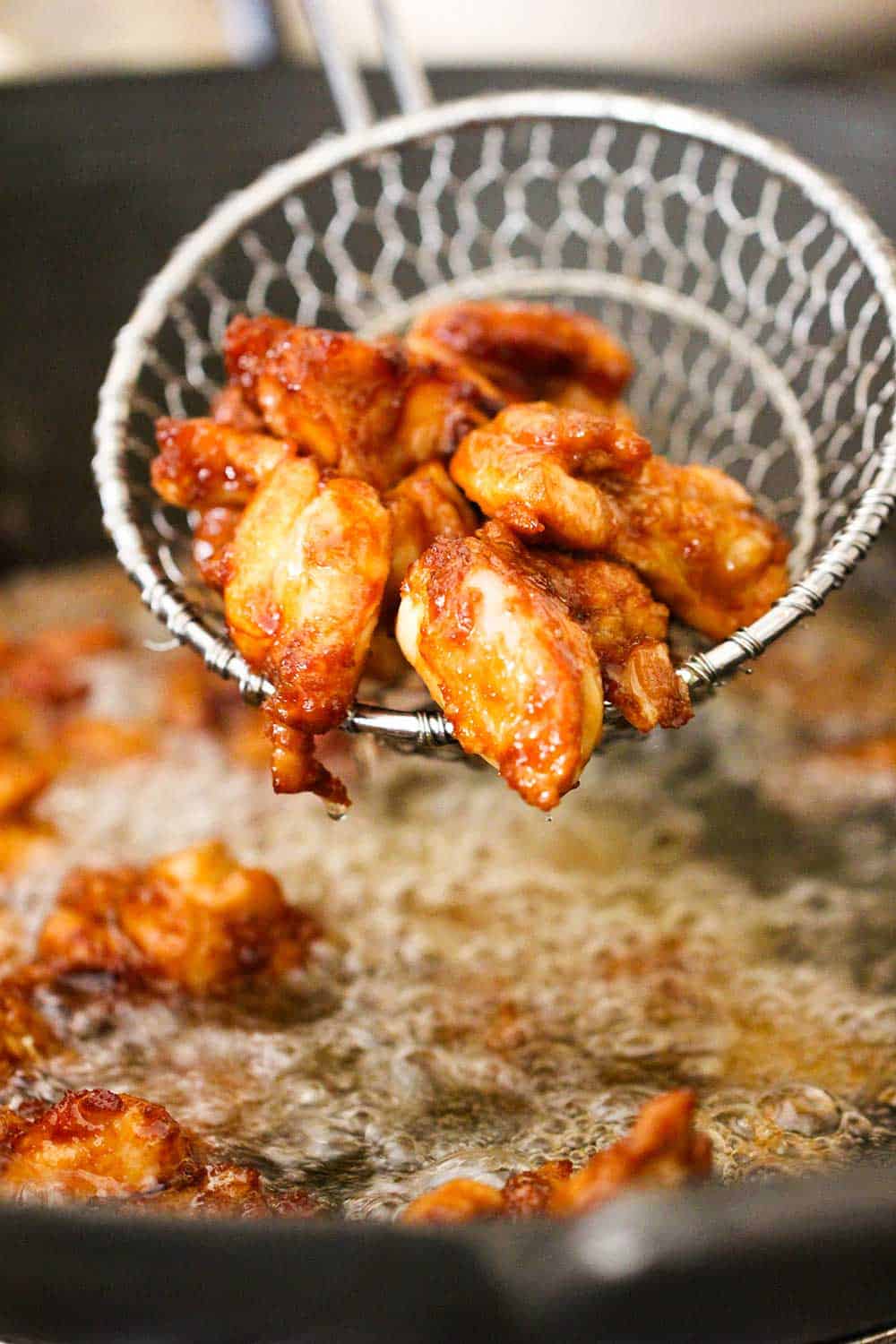 Now, we're ready to bring this dish home!
Heat 6 tbsp of peanut oil in your wok.
As soon as the oil starts to shimmer, and very slightly smoke, add the peppers, ginger, and garlic.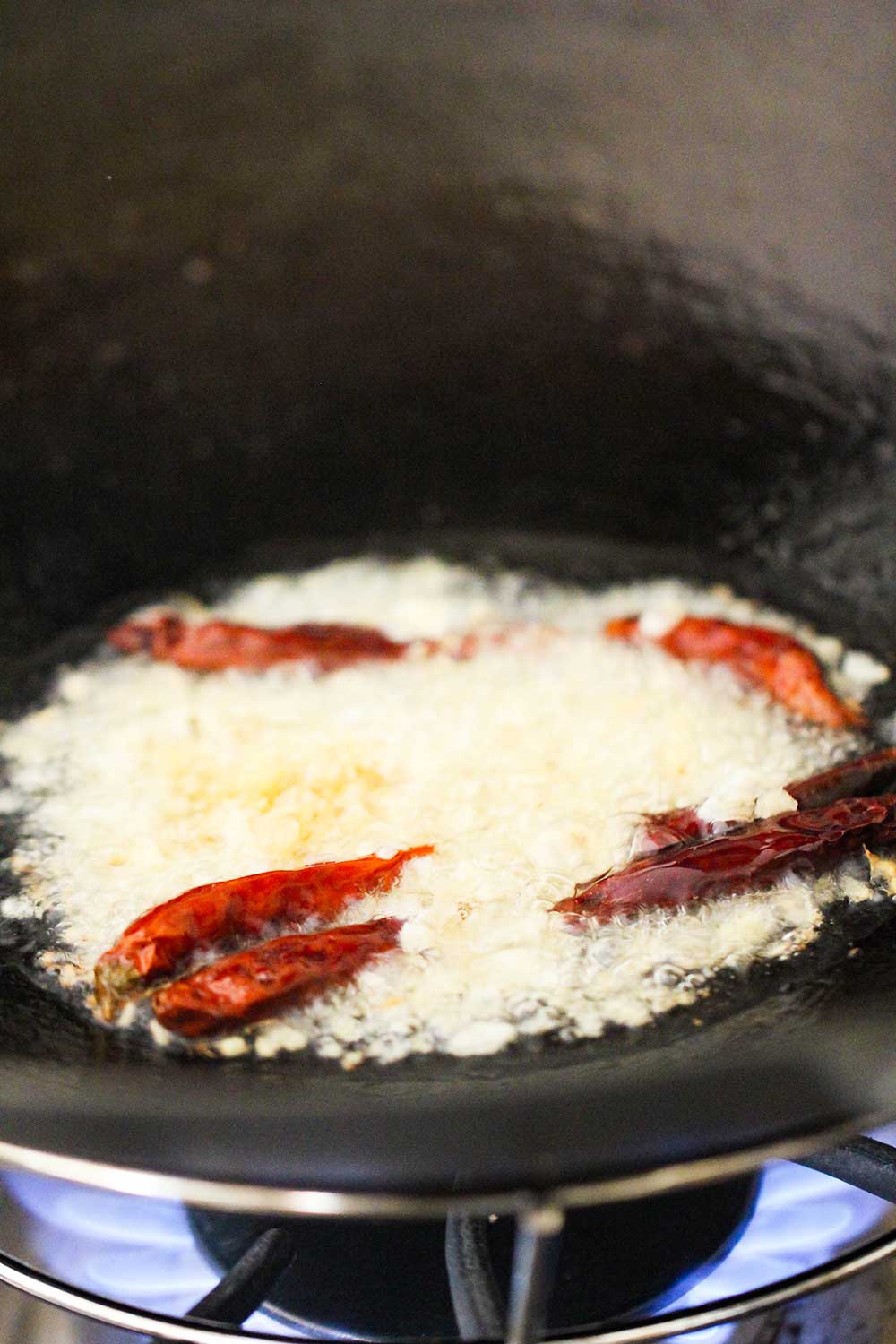 After just 30 seconds, add in the prepared sauce.
Stir the sauce continuously for about 3 to 5 minutes.
The sauce will thicken before your eyes and should be smooth and silky. Keep stirring! Don't let it burn.
FINISHING THE DISH
Next, very carefully transfer the prepared chicken into the wok.
Use a wooden spoon to stir the chicken around in the sauce.
It will only take two or three minutes to warm the chicken. We love to finish the dish off by stirring in 2 tbsp of sesame oil.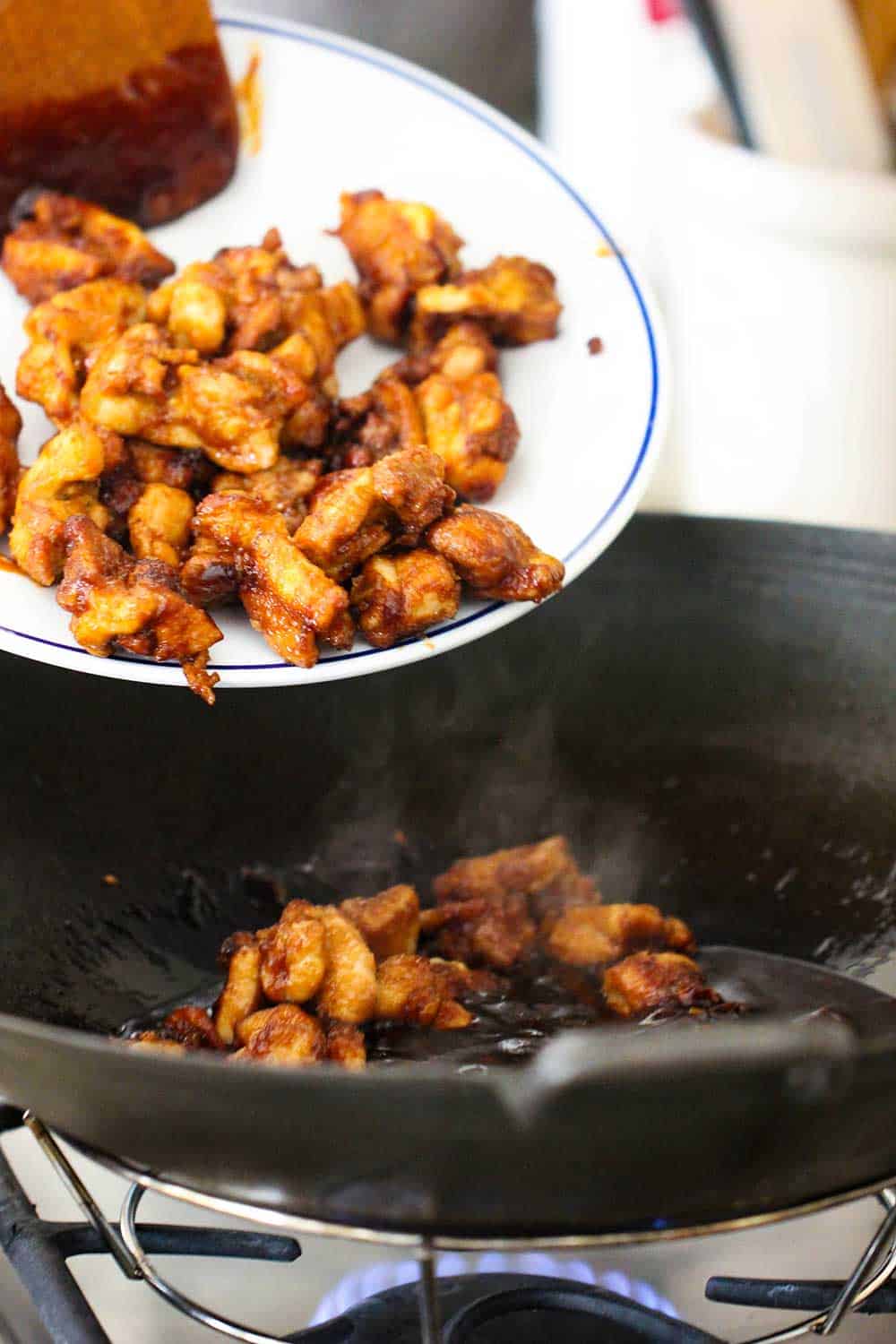 We just love the sauce for Authentic General Tso's Chicken.
So much that we made sure our version was good and saucy.
If you prefer less sauce, simply cut the sauce ingredients in half. But why would you want to that?
GENERAL TSO'S CHICKEN FAQs
Can I use chicken breasts instead of thighs? Of course! Just make sure to get boneless and skinless. We think the chicken thighs have great taste and texture for this dish, but with all the flavor that's happening in this dish, chicken breast meat will work just fine.
Is there a substitute for Light Soy Sauce, Dark Soy Sauce, and Shaoxing Rice Wine? If you're looking for the most authentic tasting General Tso's, then get your hands on these ingredients. If that's just not possible, then you use regular Japanese soy sauce for the light and the dark (there really is no substitute for dark soy sauce), and use either Dry Sherry or regular rice wine vinegar for the Shaoxing Rice Wine. These ingredients are becoming more increasingly available in many well-stock markets, and certainly in Asian food markets, or order online (click the links to order).
Can I use a skillet, if I don't have a wok? Sure! Go with a large, sturdy skillet, or saucepan that can handle high heat, and follow the recipe as written.
What is General Tso's served with? It is best served with Perfectly Steamed White Rice and garnished with sesame seeds and chopped green onions (aka scallions).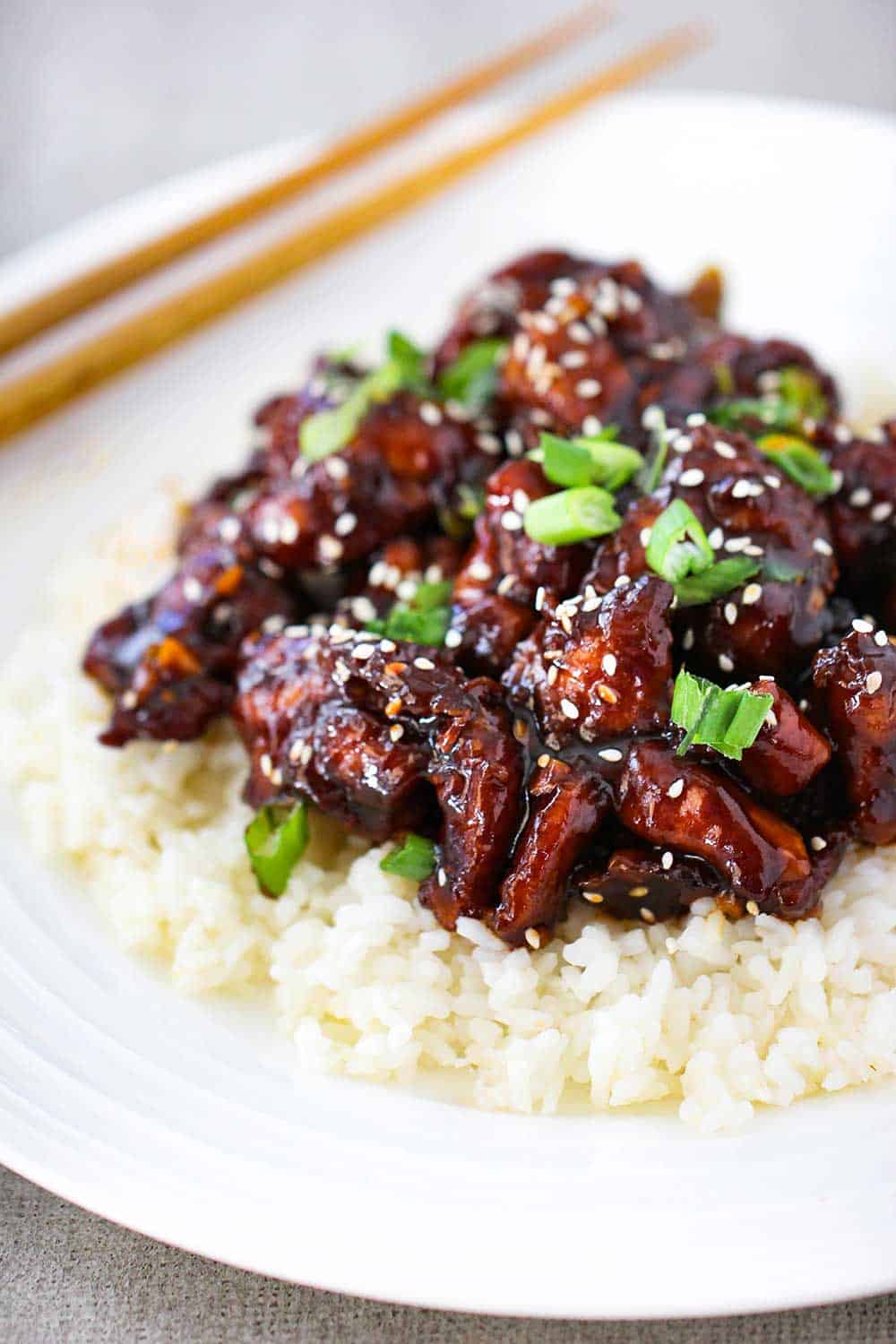 If you are a lover of this classic Chinese-American dish, then you've just got to give this recipe a try.
By the way, ever wondered where the name of this classic dish came from? Learn more here:
Here are some other amazing Asian dishes you will want to try:
Sesame Chicken
Homemade Egg Rolls
Sweet and Sour Pork
Beef and Broccoli Stir Fry
Authentic Shrimp Pad Thai
In the meantime, go and make this Authentic General Tso's Chicken!
Ready to make a dish better than any takeout you'll ever have? Go for it!
And when you do, be sure to take a picture, post it on Instagram, and tag @howtofeedaloon and hashtag #howtofeedaloon!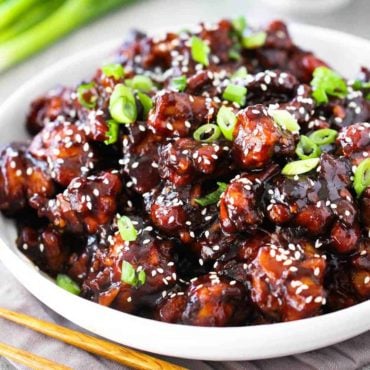 Authentic General Tso's Chicken
This Authentic General Tso's Chicken is the real deal. Use the links below to easily order the Shaoxing rice wine, light soy sauce, and dark soy sauce online. It's super easy! And be sure to use a wok ring when making this dish. Super important! This dish is one of our all-time favorites!
Print
Pin
Rate
Servings: 6 people
Calories: 648kcal
Equipment
Wok (with wok ring), or large, sturdy saucepan (skillet)
Ingredients
Instructions
Place all the sauce ingredients in a bowl and whisk until the corn starch has dissolved and is fully combined. Set aside.

Place the chicken pieces in a large bowl. Add the soy sauces, 1 tsp peanut oil, and egg yolks. Mix with two large wooden spoons. Add the corn starch and continue mixing until the chicken pieces are coated with the marinade mixture.

Heat the oil (3½ cups) over high heat in your wok (on a wok ring), or heavy 12-inch saucepan. Working in batches, carefully add the coated chicken pieces into the oil, once it has reached 375°F. Cook until golden brown and cooked through, about 4 to 6 minutes. Transfer to a platter lined with paper towels. Set aside.

Let the oil cool somewhat, and then very carefully discard. Wipe the wok clean with paper towels and place back on wok ring on the stove. Heat the 6 tbsp of oil over medium-high heat until shimmering and smoking very slightly.

Carefully add the peppers, garlic, and ginger and stir-fry for 30 seconds.

Add the sauce to the wok and stir constantly with a wooden spoon. Continue cooking and stirring until the sauce has thickened, about 3 to 5 minutes.

Carefully add the cooked chicken to the sauce in the wok and stir to fully coat. Simmer for about 2 minutes, enough time to heat the chicken pieces.

Turn the heat off and stir in the sesame oil.

Transfer the chicken with sauce to a serving platter. Garnish with sesame seeds and chopped green onions/scallions. Serve immediately with steamed white rice.
Notes
Boneless, skinless chicken thighs are our choice for General Tso's, but you could also go with boneless, skinless chicken breasts, too. (But thighs are better!). When you add the corn starch to the marinated chicken, it will take a couple minutes of mixing with large spoons/utensils. The chicken will seem a little 'gloopy', not like floured chicken when making Southern fried chicken. This is normal, the chicken will get crisp. Not overly crispy, but a nice golden crust. Test one chicken piece after the first cooking to make sure it's cooked through. Frying the chicken in the oil/wok should be done in a couple batches. Once you add the chicken to the hot oil, use metal tongs or large utensil to circulate the chicken, and preventing them from sticking to each other. Be sure to slit the peppers before adding them to the oil. They will impart a very small nuance of heat. If you prefer absolutely no heat at all, leave them out. General Tso's Chicken, as we all know, is still pretty good the next day, but, of course, it's best served fresh from the wok. A sturdy 12-inch skillet or saucepan will work if you don't have a wok. When using a wok, we highly recommend a wok ring to prevent any spillage of the extremely hot oil. A wok and wok ring will work on a gas stove or an electric stove, but is best over a flame.
Nutrition
Calories: 648kcal | Carbohydrates: 29g | Protein: 31g | Fat: 38g | Saturated Fat: 9g | Cholesterol: 233mg | Sodium: 950mg | Potassium: 485mg | Fiber: 1g | Sugar: 10g | Vitamin A: 310IU | Vitamin C: 2mg | Calcium: 48mg | Iron: 2mg
POST UPDATE: This recipe was originally published in July 2017, but was updated with improved tweaks to the recipe with expert tips, new photography, and a fabulous new video in March 2020!