Ordering Chinese take-out is fun and delicious. It's even more fun making the classics at home.
We love all types of Chinese cuisine classic dishes, such as General Tso's Chicken, Pork Dumplings with Peanut Sauce, and Kung Pao Shrimp. And this dish does not disappoint. You'll be amazed at the results and it all comes together in about 30 minutes!
How To Make Sesame Chicken
We have been enjoying this dish ever since our early days in NYC.
Like millions and millions of people around the world, we have been ordering Chinese take-out for years and there has probably never been a time that Wesley didn't order sesame chicken.
When we decided to make it at home, it took quite a bit of practice to get it just right. But, folks, we think this version is pretty spot on.
Watch Us Make It!
If you enjoyed this video, please SUBSCRIBE TO OUR YOUTUBE CHANNEL (click on the link to easily subscribe)! Be sure to click on the little 'bell' icon so you'll never miss a new video! Thank you SO MUCH!
How To Make the Chicken Extra Crispy
For the chicken, we love going with boneless skinless chicken thighs cut into bite-sized pieces.
To get that crunchy exterior that we all love so much, we use a combination of corn starch and flour.
This mixed with egg yolks, and a little soy sauce, and Chinese cooking wine (Shaoxing wine), salt, and pepper will yield the perfect crunchy chicken when cooked in peanut oil at 365F.
We use our wok to quickly fry up the coated chicken.
Peanut oil works well because it can handle high heat, and imparts a nice flavor to the chicken.
EXPERT TIP: If you would rather not deep fry the chicken, you can easily stir-fry the coated chicken. After sautéing the garlic and ginger, toss in the chicken and stir-fry until golden and cooked through, usually about 8 to 10 minutes.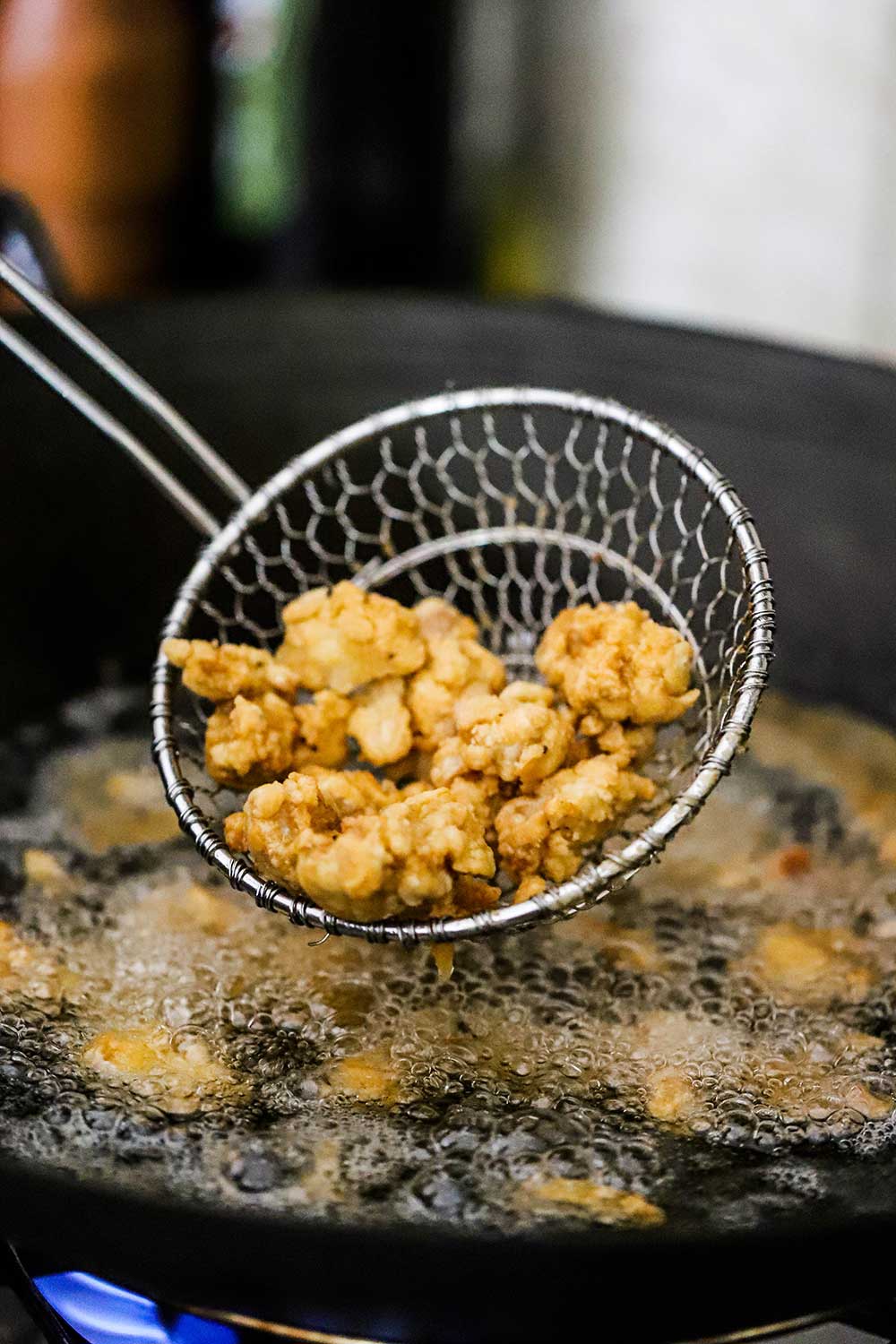 Building the Classic Flavor
After you've fried up the chicken, you'll need to let the oil cool somewhat and then safely discard it. We pour it into an empty coffee can and then take it, along with other used oil containers to our local 'used oil' drop-off facility. Check with your local municipality, many will even come and pick up the used oil/grease from your home.
Now, back to the wok.
Wipe it clean with a paper towel, and then heat 4 tablespoons of peanut oil. Toss in the minced garlic and fresh ginger and stir-fry for about 30 seconds.
EXPERT TIP: Once you start to stir-fry, everything cooks very quickly. Because of this, mise en place (or everything in place) is really important. This simply means, have all of your ingredients prepped and measured out before you get started. You won't have time to measure anything out once you get going.
The Classic Sesame Chicken Sauce
Folks, this dish is about crunchy chicken, without a doubt.
But equally important: The sauce has got to be just perfect.
Here's what you'll need to make the perfect sesame chicken sauce:
Sesame oil
Honey
Chinese cooking wine (Shaoxing)
Tomato paste
Brown sugar
Soy sauce
Chicken stock
Corn starch
Once added to the wok, stir constantly. After just a couple of minutes, the sauce will thicken and become the perfect coating for the chicken.
Once the sauce has thickened somewhat, it's time to add the chicken.
Carefully transfer the fried chicken pieces into the sauce.
Stir continuously until the chicken is fully coated and heated through, about another 2 minutes.
We love to stir in another tablespoon of sesame oil once the dish is ready.
The classic garnishes are sesame seeds and thinly chopped scallions (green onions).
EXPERT TIP: The use of a wok ring helps keep your wok steady as you are frying and stir-frying. It's really essential for deep-frying. It keeps the wok in place and still allows the burner to heat the wok.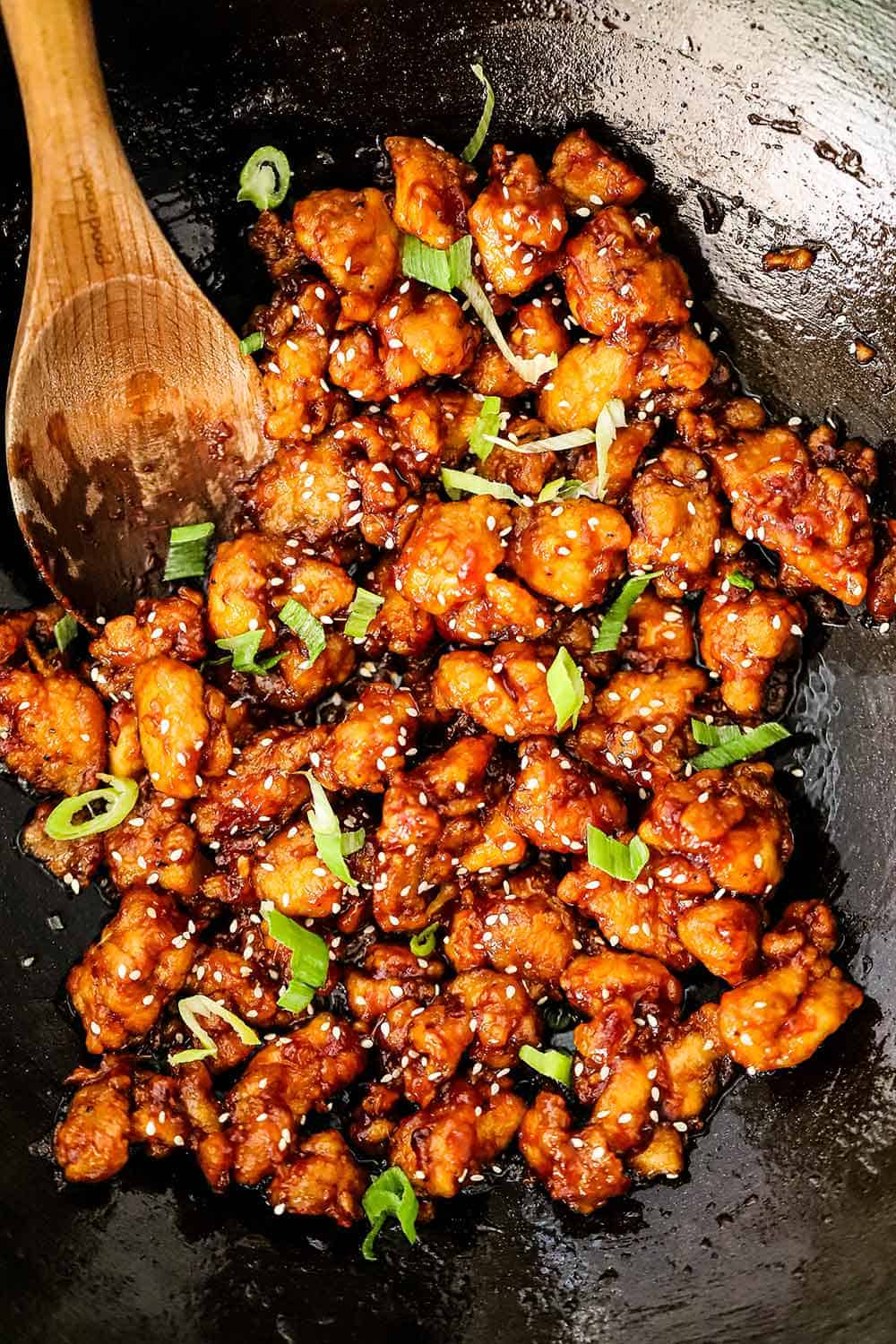 How To Serve Sesame Chicken
We love serving the dish right out of the wok, but it's also beautiful brought to the table on a platter.
Make sure to have a nice batch of our Perfectly Steamed Rice on hand.
You can garnish with the sesame seeds and scallions before serving, or allow guests to add to their own liking.
Extra soy sauce on the side is a nice touch, too.
Hopefully, you are inspired to make this classic dish.
As you can see, many of the ingredients you may already have on hand. If you can't find Chinese cooking wine, then go with a nice sherry, or just leave it out.
We love this dish so much, we make it at least once a month every month of the year! It's always a huge hit with guests, too!
Ready to make the best take-out dish in town…at home? Go for it!
And when you do, be sure to take a photo of it, post it on Instagram, and tag @HowToFeedaLoon and hashtag @HowToFeedaLoon!
Sesame Chicken
Sesame Chicken is not hard to make at home, at all. If you don't want to deep-fry the chicken, simply stir-fry it in the oil after you have stir-fried the garlic and ginger. Serve over a bed of rice and you'll seriously consider never ordering take out again (well, that's unlikely...but you are going to love this dish).
Print
Pin
Rate
Servings: 4
Calories: 736kcal
Equipment
Wok, or large sturdy skillet
Ingredients
For the Sauce
1 tbsp sesame oil
2 tbsp honey
2 tbsp Chinese cooking wine Shaoxing
2 tbsp tomato paste
¼ cup brown sugar light
3 tbsp soy sauce
¼ cup chicken stock or broth
2 tsp corn starch
For the Chicken
1½ lbs chicken thighs boneless, skinless, cut into bite-sized pieces
2 egg yolks
1 tsp soy sauce
1 tsp Chinese cooking wine Shaoxing
½ tsp salt
½ tsp black pepper
⅓ cup corn starch
⅓ cup all-purpose flour
peanut oil for frying, about 4 cups
For Stir-Frying
3 tbsp peanut oil
1 tsp garlic minced
1 tsp ginger fresh, chopped
For Serving
2 tbsp sesame seeds
4 scallions chopped
Steamed rice
Instructions
Make the Sauce
Place all of the sauce ingredients in a medium-sized bowl and whisk until the corn starch has dissolved. Set aside.
Fry the Chicken
Heat the peanut oil in the wok to 365°F. A candy thermometer works well.

Meanwhile, place the chicken pieces into a large bowl.

In a small bowl, add the 2 egg yolks, soy sauce, wine, salt, and pepper. Whisk until fully combined.

Add the corn starch, flour, and egg yolk mixture to the chicken. Use a large wooden spoon to stir and fully coat the chicken. There may still be some flour and corn starch at the bottom of the bowl, this is okay.

Working in a couple of batches, carefully add the chicken to the hot oil, shaking off excess flour before dropping it in. Use a spider, or metal tongs to move the chicken around in the oil, to prevent the pieces from sticking to each other. Fry until golden and cooked through, about 2 to 3 minutes. Remove from the oil and place on a platter lined with paper towels.
Finish Off the Dish
After the oil has cooled somewhat, safely discard. Wipe the wok out with a paper towel.

Heat the oil over medium-high heat. Add the garlic and ginger and stir-fry for about 30 seconds, careful to not burn the garlic.

Pour in the sauce and stir frequently until slightly thickened, about 2 to 4 minutes.

Add the fried chicken and stir to coat and heat through, about 2 more minutes.

Remove from heat and stir in 1 tbsp more of sesame oil.

Serve at once with steamed rice and garnished with sesame seeds and chopped scallions.
Notes
NOTE: See the video towards the top of the post to see us making this amazing dish. If you don't have a wok, no worries, you can easily make this in a nice large sturdy skillet. Boneless skinless chicken breasts can be used in place of the chicken thighs, if desired. Sherry is a good substitute for the Chinese cooking wine. Shaoxing can be found in the Asian section of many well-stocked supermarkets, or at Asian food markets, or online (see body of post for link). Because this dish comes together very quickly, it's really important to have all of the ingredients prepped and measure out before you get started. If you don't want to fry the chicken, just prepared as written, but instead of deep-frying, simply stir-fry it after you've quickly sautéed the garlic and ginger. Cook, stirring frequently, until golden and cooked through. No need to remove the cooked chicken, just add the sauce in and cook until slightly thickened. The finished dish will keep in the fridge in an air-tight container with a lid for up to 5 days. It can be frozen for up to a month. Completely defrost before heating on the stove.
Nutrition
Calories: 736kcal | Carbohydrates: 46g | Protein: 33g | Fat: 34g | Saturated Fat: 9g | Polyunsaturated Fat: 12g | Monounsaturated Fat: 20g | Trans Fat: 1g | Cholesterol: 264mg | Sodium: 1335mg | Potassium: 567mg | Fiber: 2g | Sugar: 24g | Vitamin A: 506IU | Vitamin C: 4mg | Calcium: 95mg | Iron: 3mg