Pork Dumplings with Spicy Peanut Sauce has been a favorite dish of ours since we met in NYC back in the late 80s.
The filling is savory and classic and the sauce is velvety and luscious, with a touch of heat.
One word of warning: These dumplings are so delicious, you will find it hard to have just one, or two…or 10.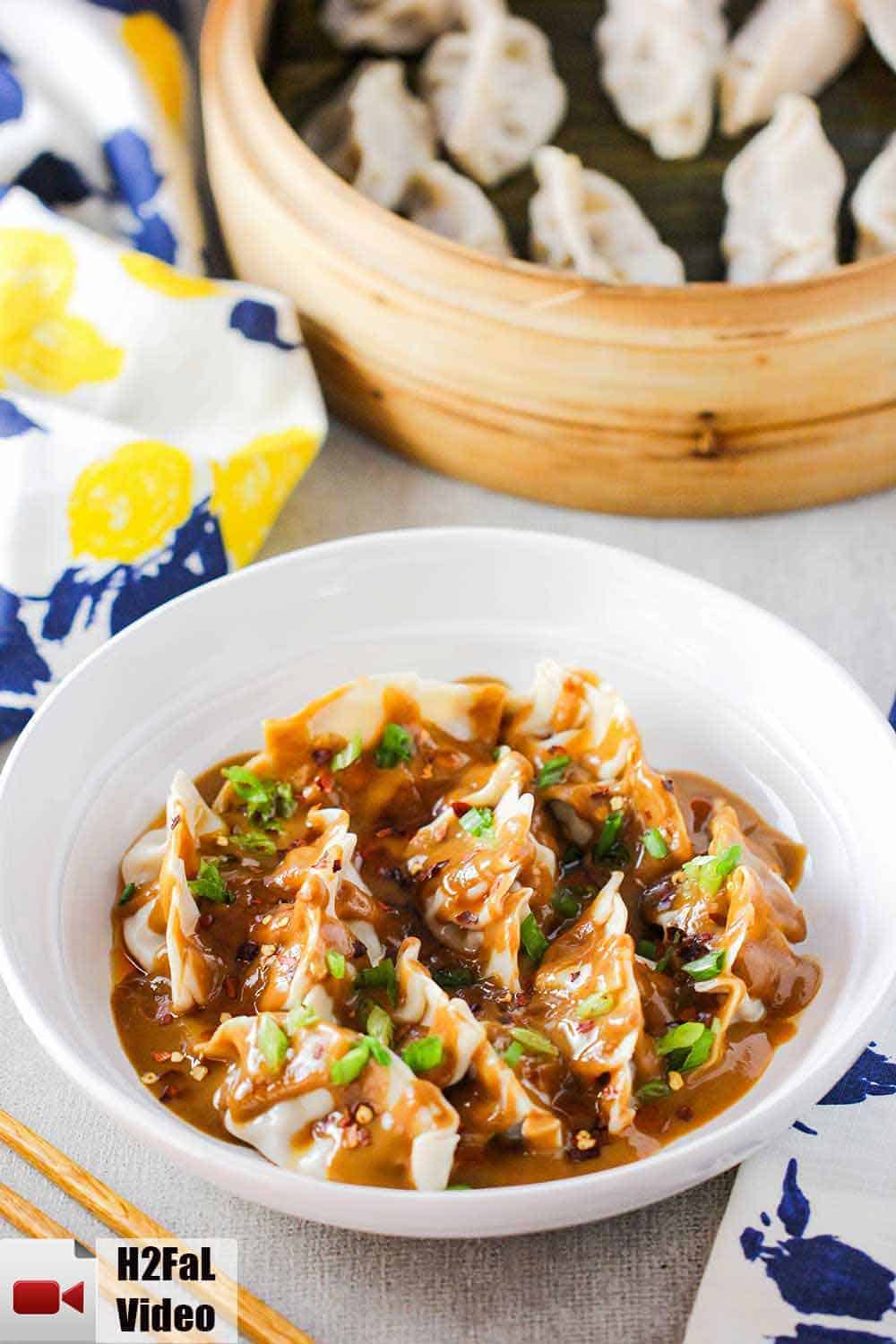 PORK DUMPLINGS WITH SPICY PEANUT SAUCE ARE EASY TO MAKE AT HOME
We have been making pork dumplings at home for many, many years, and this recipe has evolved into what we think is the perfect dumpling.
These are fun to make together, and really are not terribly time consuming.
Watch us show you how to make Pork Dumplings with Peanut Sauce!
INGREDIENTS NEEDED FOR PORK DUMPLINGS
The filling for the pork dumplings has that classic Chinese flavor profile. You will need:
Ground pork
Fresh garlic and ginger
Soy sauce
Sesame oil
Egg
Scallions
TIP: Dumpling wrappers are found in Asian markets and online. If you can't find them, you can easily substitute wonton wrappers, which are found in the produce section of most supermarkets, near the tofu products.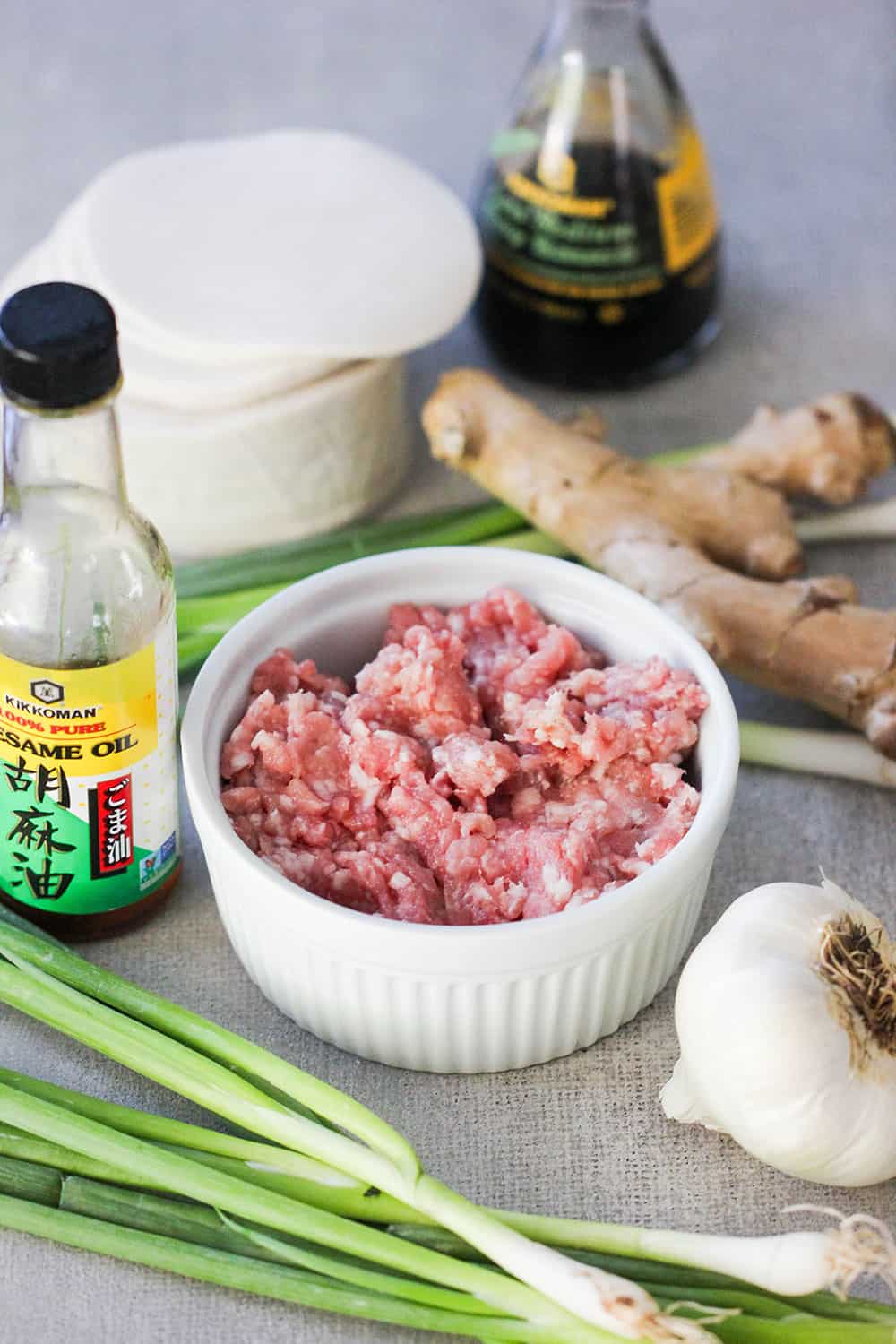 HOW TO WRAP THE DUMPLINGS
Wrapping the dumplings is actually easier than you might think.
You'll definitely want to start by wetting the edges of the wrapper with water. Only go with a teaspoon of filling, any more and it may seep out when cooking.
Use your fingers (or thumbs) to create little pleats along the edges of the wrapper once folded over.


HOW TO COOK PORK DUMPLINGS
There are various ways to cook the dumplings for our Pork Dumplings with Spicy Peanut Sauce. You can pan fry them in a little oil, boil them, or steam them.
We love using our bamboo steamer for cooking them. Be sure not to over cook them, or they will become rubbery.
We find that 20 minutes cooks the filling perfectly and keeps the wrapper soft and melt-in-your-mouth good.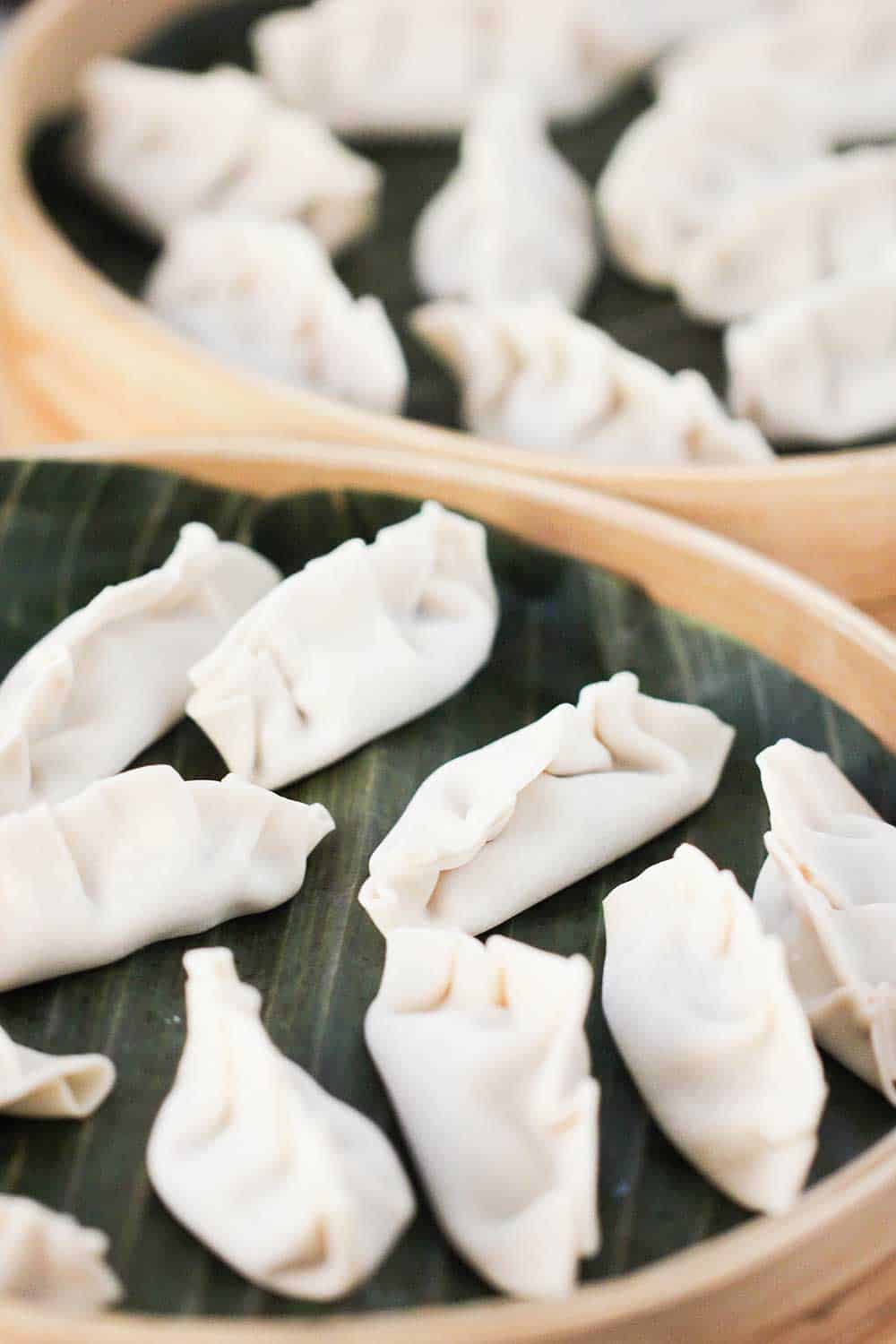 WHAT TYPE OF PEANUT BUTTER IS BEST FOR THE SAUCE?
You will definitely want to go with a creamy peanut butter for the sauce. For the perfect sauce, avoid the low-fat variety.
You want a velvety texture that is not too thick, yet not overly runny. You may need to add more water to thin the sauce. Asian chili oil can be found in many well-stocked supermarkets, Asian markets, and online.
TIP: You can increase or decrease the amount of heat (spiciness) by how much chili sauce you add. Red pepper flakes also increase the heat. Our recipe has just enough spice to make you tingle, but not scream for ice.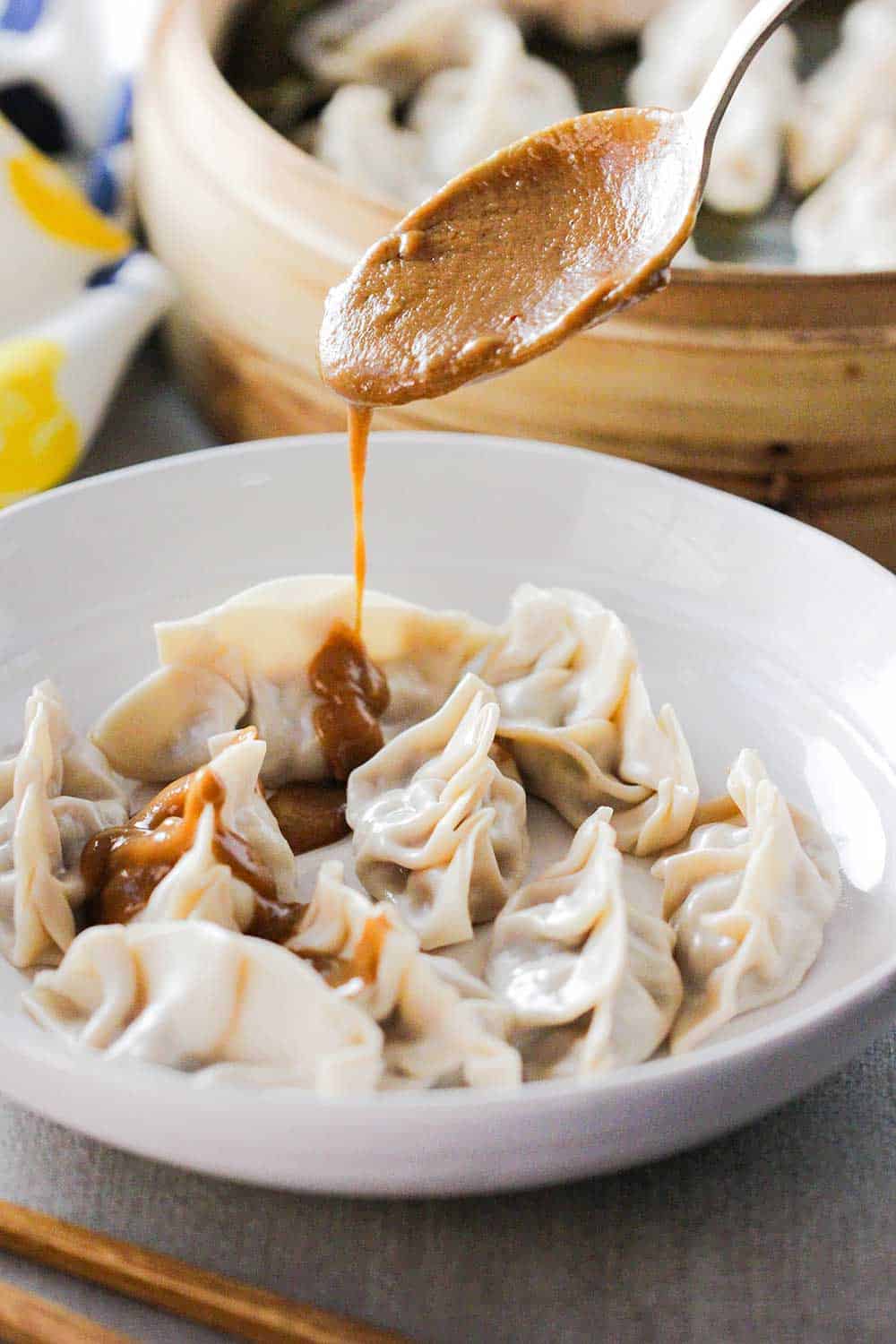 Pork Dumplings have no doubt made their mark in the world of culinary history.
And we are proud to say we have tested this recipe for many years, a can confidently say these will rival your favorite Chinese restaurant any day of the year.
They are really that yummy. And if you like the looks of these dumplings, you'll probably also love our Chinese Noodles in a Peanut Sauce. So good!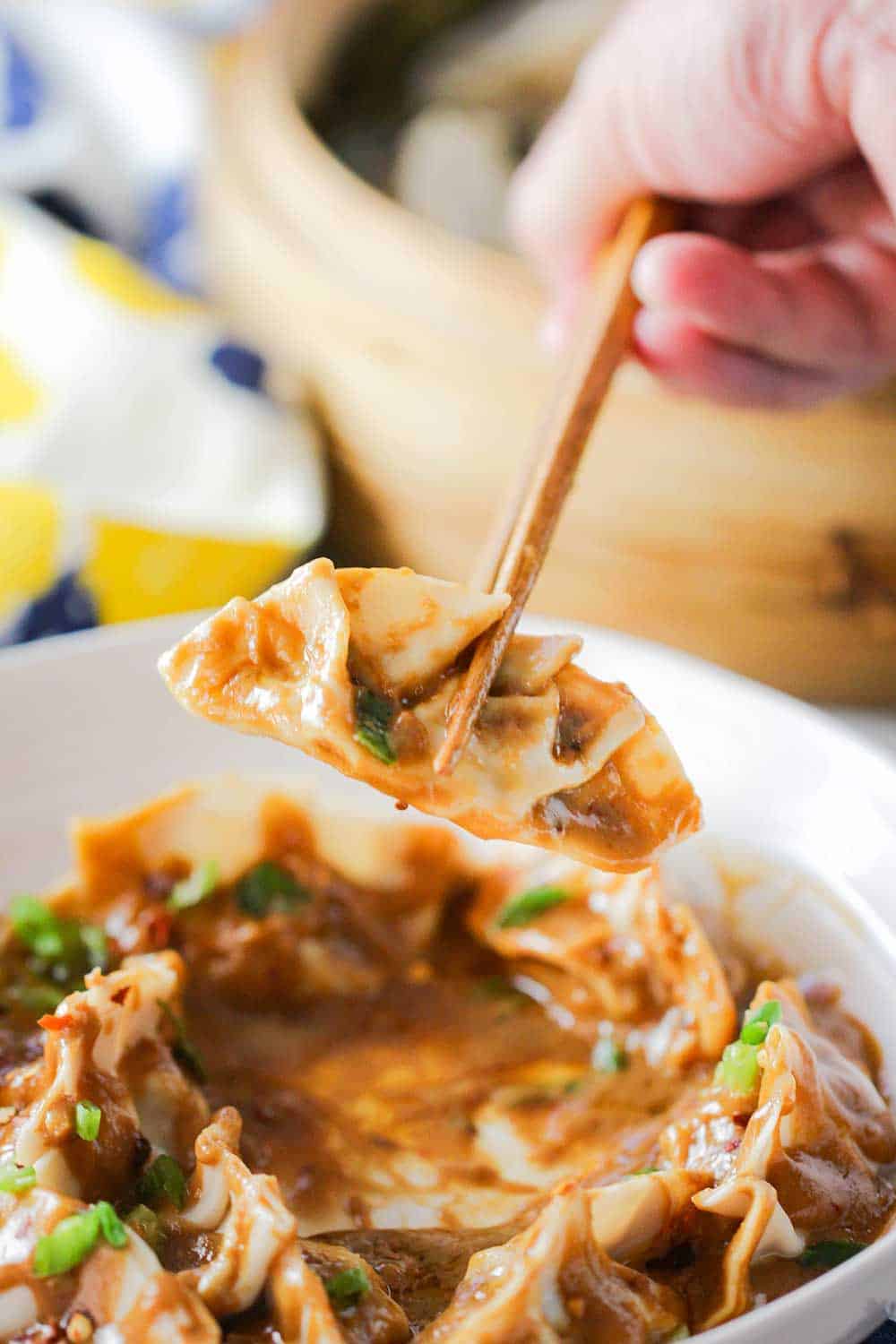 OTHER CHINESE FAVORITES
These Pork Dumplings with Spicy Peanut Sauce are absolutely one of our favorite dishes. But folks, you should check out these recipes, too!
But in the meantime, how about some Pork Dumplings? Yum!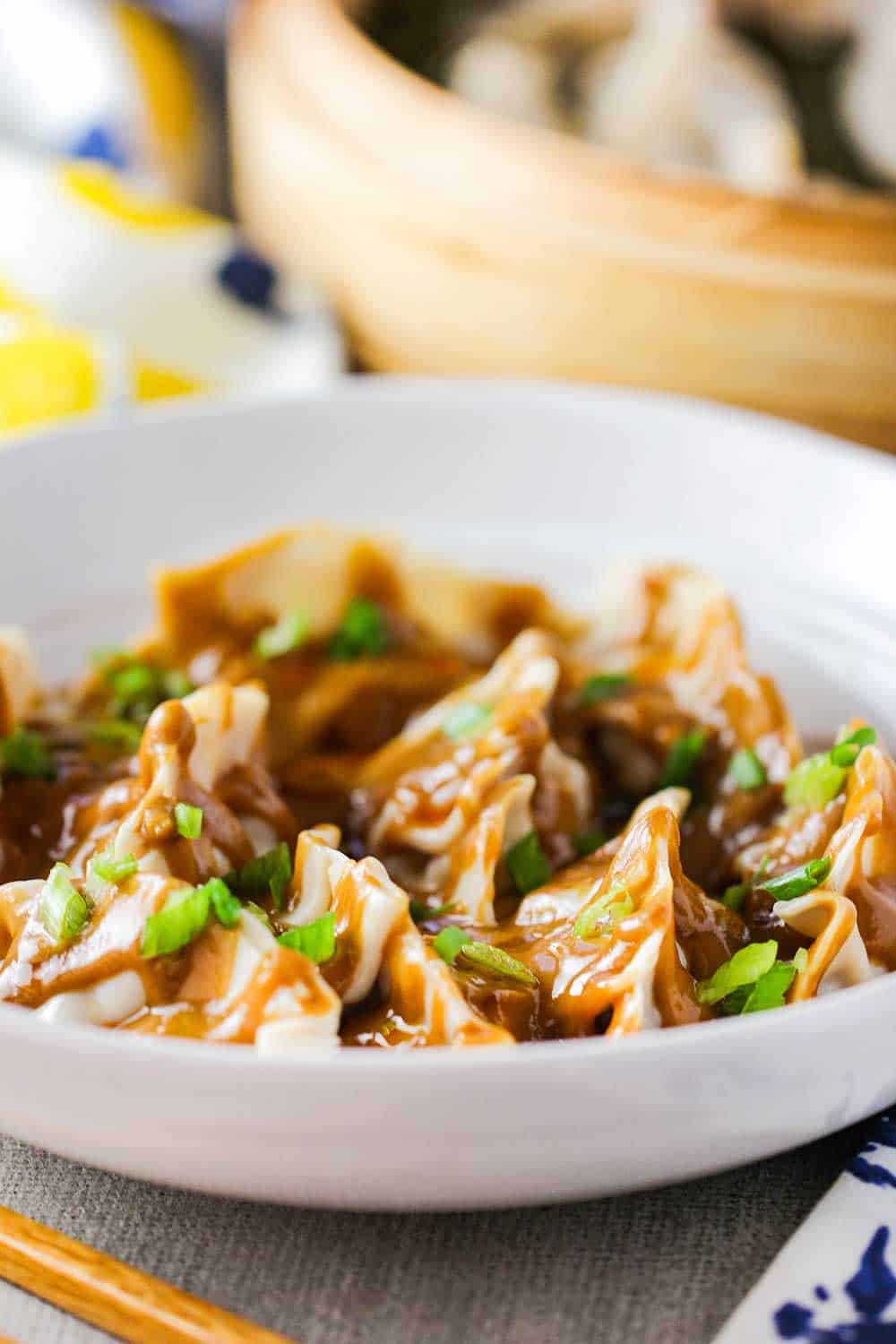 Just look at these dumplings. Aren't you getting excited to make them?
The filling is cooked perfectly and has the classic Chinese taste and texture.
And the sauce is to die for. And they are honestly so much fun to make. At home!
Ready to make the most amazing dumplings you'll ever have? Go for it!!
And be sure to take a picture and post on Instagram and tag @howtofeedaloon and #howtofeedaloon!
Pork Dumplings with Spicy Peanut Sauce
Pork Dumplings with Peanut Sauce are absolutely amazing and not hard to make! Order the best peanut butter on the planet from www.CapeMayPeanutButterCo.com!. Amazing!
Print
Pin
Rate
Servings: 8 people
Calories: 178kcal
Ingredients
FOR THE DUMPLINGS
1/2 lb ground pork
2 cloves garlic minced
2 tbsp fresh ginger diced
2 tbsp soy sauce
2 tsp sesame oil
1 large egg
2 green onions green and white parts, chopped
2 tsp corn starch
Salt and pepper a pinch of each
FOR THE SAUCE
1 tbsp hot chili oil or more, to taste
1 clove garlic minced
1/3 cup creamy peanut butter
1/2 cup water plus more, if neccesary to thin sauce
1 tbsp brown sugar
3 tbsp soy sauce
1 tbsp rice wine vinegar
FOR THE DUMPLINGS
25 dumpling dough skins
1 bowl of water
4 large banana leaves, or parchment paper for steaming
1/4 cup scallions chopped, for garnish
Red pepper flakes optional, for topping
Instructions
PRPARE THE FILLING
Combine the pork, garlic, ginger, soy, sesame oil, egg, green onions, cornstarch, salt, and pepper together in a medium-sized bowl. . Mix well and set aside.
ASSEMBLE THE DUMPLINGS
On a work surface, lay out 10 wrappers at a time.

With a spoon, scoop 1 teaspoon of the filling in the center of each square.

Brush the outer edges of the wrappers with water and then close them over in a triangle, or a half-moon shape.

Press the dough around the filling to avoid air bubbles. If desired, use your fingers and thumbs to create small pleats along the edges of the dumplings. (See images in post for reference)

Repeat, until filling is all used.

Heat about 2 inches of water in your wok.

If using, tear the banana leaves so they fit snugly on each level of your steamer. (optional)

Once the water is simmering, place the dumplings in your steamer, cover the steamer, and then place in the wok.

Steam for 20 minutes.
MAKE THE PEANUT SAUCE
While the dumplings are steaming make the sauce: In a medium-size saucepan, heat the chili oil over medim-high heat. Add the garlic and cook until softened, about 2 minutes.

Add in the remaining sauce ingredients and stir until combined. Simmer gently for about 4 minutes, until slightly thickened. Add more water, a tbsp at a time, if necessary. The sauce should be velvety, but not too thick.
PREPARE THE DISH
Add the steamed dumplings to your serving bowl.

Ladle the peanut sauce over the top.

Garnish with chopped scallions and red pepper flakes a drizzle of chile oil, if desired.
Notes
Do not cook the pork before steaming, the meat mixture cooks in the dumpling during the steaming (or frying or boiling) process. Dumpling wrappers and banana leaves can be found at Asian markets and online. Wonton wrapper can be substituted for the dumpling wrappers, and banana leaves can be replaced with parchment paper. If you do not have a bamboo steamer, you can steam in a large pot of water, or simply boil them. You can also pan fry the dumplings for about 15 to 18 minutes in a large skillet over medium-high heat with a little oil.
Nutrition
Calories: 178kcal | Carbohydrates: 6g | Protein: 10g | Fat: 13g | Saturated Fat: 4g | Cholesterol: 47mg | Sodium: 706mg | Potassium: 209mg | Fiber: 1g | Sugar: 3g | Vitamin A: 99IU | Vitamin C: 2mg | Calcium: 20mg | Iron: 1mg