This classic Chinese dish is the definition of Asian comfort food.
If you're in the mood to create a Chinese dinner party at home, these make for a fantastic appetizer, or as part of the main servings. We love to serve them with our homemade scallion pancakes. Such an amazing combination of sweet and savory. And they make delicious leftovers, too!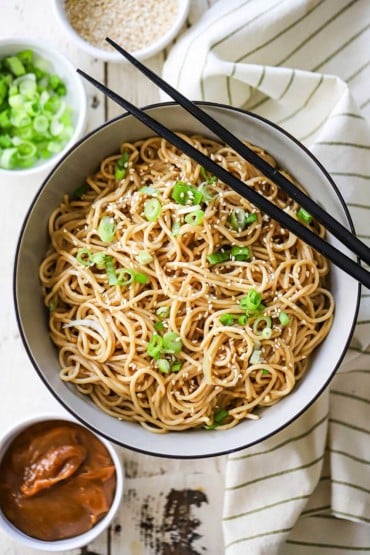 How To Make Chinese Noodles with Peanut Sauce
Did you ever wonder who invented the noodle? It's pasta, which makes you think it might have originated in Italy or Europe. Or is it China? Learn more about its amazing history here.
Now that we've got that out of the way, let's make this amazing dish!
NOTE: If you liked this video, please subscribe to our YouTube channel. Remember to click the little 'bell' icon so you'll never miss a new video. Thank you!
The Ingredients You Will Need
You might think this recipe is full of ingredients that you can only find at your local Asian market. Actually, they are all very straightforward and easy to get your hands on.
Here's What You'll Need to Have on Hand
Chinese Egg Noodles – Lo Mein, wide or thin will work. Found in the Asian section of most well-stocked supermarkets.
Peanut butter – Smooth and creamy works best.
Honey – Get your favorite top-notch variety.
Soy sauce – Low sodium or regular both work perfectly.
Rice vinegar – Found in the Asian section of many supermarkets, or at an Asian market, or online.
Ginger – Fresh, finely minced.
Garlic – Fresh, finely minced.
Lime juice – From the juice of of one lime
Chili oil – Found in the Asian section of many supermarkets, or at an Asian market, or online.
Sesame oil – Found in the Asian section of most supermarkets
Scallions – Thinly sliced
Sesame seeds – Toasted (or regular), for garnish
EXPERT TIP: If you like an extra thick sauce, add only 1/4 cup of the noodle water into the sauce when you are processing it. A thicker sauce is delicious, but the noodles become almost gummy after a couple of hours. We recommend adding at least 1/2 to 3/4 cup of water to the sauce.
Tips for Perfect Chinese Noodles with Peanut Sauce
Cook the Noodles Until They are Al Dente – Overcooked noodles will become mushy and won't hold up well in the peanut sauce. Be sure to cook the noodles until they are just tender, then rinse them under cold water to stop the cooking process.
Use Creamy Peanut Butter – Smooth and creamy peanut butter will make the sauce silky and smooth, while chunky peanut butter will create a gritty texture. If you prefer a little texture in your sauce, you can add chopped peanuts as a garnish.
Mix the Sauce Well Before Adding it to the Noodles – To ensure that the peanut sauce is extra-creamy, process it in a food processor until smooth, or vigorously whisk it.This will help to emulsify the ingredients and create a smooth and creamy sauce. Add noodle water to reach the desired consistency (usually about 1/2 cup).
How To Serve
As mentioned, this dish is wonderful served warm, but it's also delicious served at room temperature.
If chilled, we recommend letting it come to room temperature for at least an hour before serving.
It makes a wonderful appetizer, but it is also when served as a side dish to other classic Asian dishes (see below for some amazing recipes).
We serve the noodles with extra chili oil, soy sauce, and scallions for additional garnishing.
Other Classic Chinese Recipes to Try at Home
There's nothing much better than ordering your favorite Chinese dishes at your local Asian restaurant, or when ordering out. But, making them at home is easier than you might think, and truly spectacular in taste and presentation. Here are some of our all-time favorites:
General Tso's Chicken
Kung Pao Shrimp
Crispy Sesame Beef
Pork Dumplings in Peanut Sauce
Vegetarian Steamed Dumplings
Homemade Egg Rolls
Vegetable Stir-Fry
Orange Chicken (Panda Express Copycat)
Best-Ever Chicken Fried Rice
Broccoli and Beef Stir-Fry
Folks, it so much fun to make all of these dishes at home. And when you whip up a batch of these noodles with peanut sauce, you won't believe how good it all is.
We love this dish for so many reasons. It's easy, comforting, authentic, and can be prepared in advance.
But more than anything, it's just amazingly delicious.
It is truly one of those dishes that is always a hit with family and friends, even the picky eaters! Who doesn't love peanut butter, for goodness sake?
Ready to make the best Chinese appetizer that will rival your favorite Asian joint? Go for it!
And when you do, be sure to take a photograph, post it on Instagram, and tag @HowToFeedaLoon and hashtag #HowToFeedaLoon
Chinese Noodles with Peanut Sauce
This Chinese Noodles with Peanut Sauce recipe is so comforting and easy to make. Wonderful served warm or cold, you can't go wrong here. Make the sauce up to a week in advance! Delicious!
Print
Pin
Rate
Servings: 6 people
Calories: 442kcal
Equipment
1 Food processor or bowl with whisk
Ingredients
12 oz Chinese egg noodles
1 cup peanut butter smooth and creamy style
⅓ cup honey
¼ cup soy sauce
3 tbsp rice vinegar
1 tbsp fresh ginger minced
1 tbsp garlic minced
1 tbsp lime juice from 1 fresh lime
2 tsp chili flavored oil more, if desired
1 tbsp sesame oil
½ cup noodle water
2 tbsp scallions thinly sliced, for garnish
1 tbsp toasted sesame seeds for garnish
Instructions
Bring a large pot of water to a boil.

Cook noodles according to package instructions and then drain, but save a couple of cups of the noodle water (don't forget to do this!).

12 oz Chinese egg noodles

Blend all ingredients except noodles, scallions, and sesame seeds in a food processor or blender until smooth. Set aside.

1 cup peanut butter, ⅓ cup honey, ¼ cup soy sauce, 3 tbsp rice vinegar, 1 tbsp fresh ginger, 1 tbsp garlic, 1 tbsp lime juice, 2 tsp chili flavored oil, 1 tbsp sesame oil, ½ cup noodle water

Add the noodles to a large bowl and then toss with the sauce.

Serve hot or at room temperature.

Garnish with scallions, sesame seeds, and extra chili oil (if desired).

2 tbsp scallions, 1 tbsp toasted sesame seeds
Notes
See the video near the top of the blog post for visual guidance. If you liked the video, please subscribe to our YouTube channel.
Be sure to hold on to a cup to 2 cups of the noodle water. You'll want to thin the sauce with it. We typically add 1/2 cup to the peanut butter mixture, but you may want to add more, for a thinner sauce, or less for a thicker sauce. The thicker the sauce, the "gummier" the pasta will get as it rests.
If you don't have a food processor, you can bring the sauce together in a large bowl with a large whisk and some elbow grease. Whisk until smooth and creamy.
The sauce can be made 24 hours in advance. Bring to room temperature before tossing with the noodles, or you can gently warm on the stove over medium-low heat.
Leftovers will keep covered in the fridge (or on the counter) for up to 3 to 5 days.
Nutrition
Calories: 442kcal | Carbohydrates: 45g | Protein: 14g | Fat: 18g | Saturated Fat: 5g | Polyunsaturated Fat: 4g | Monounsaturated Fat: 7g | Sodium: 823mg | Potassium: 292mg | Fiber: 3g | Sugar: 21g | Vitamin A: 21IU | Vitamin C: 2mg | Calcium: 29mg | Iron: 2mg
POST UPDATE: This recipe was originally published in December 2017, but was updated with improved tweaks to the recipe with new tips and photography and a fabulous new video in July 2023!