Don't you just love ordering takeout from your favorite Chinese restaurant? After this recipe, you may never order out again. Well, that's a stretch, but just wait.
Chinese cuisine has been one of our favorite types of food for a long time. Some of our favorite dishes include Orange Chicken, Beef and Broccoli Stir-Fry, and Pork Dumplings in Peanut Sauce. But folks, this dish is quite possibly our top favorite of all time. It's not hard to prepare and comes together in about 30 minutes! A perfect weeknight dinner!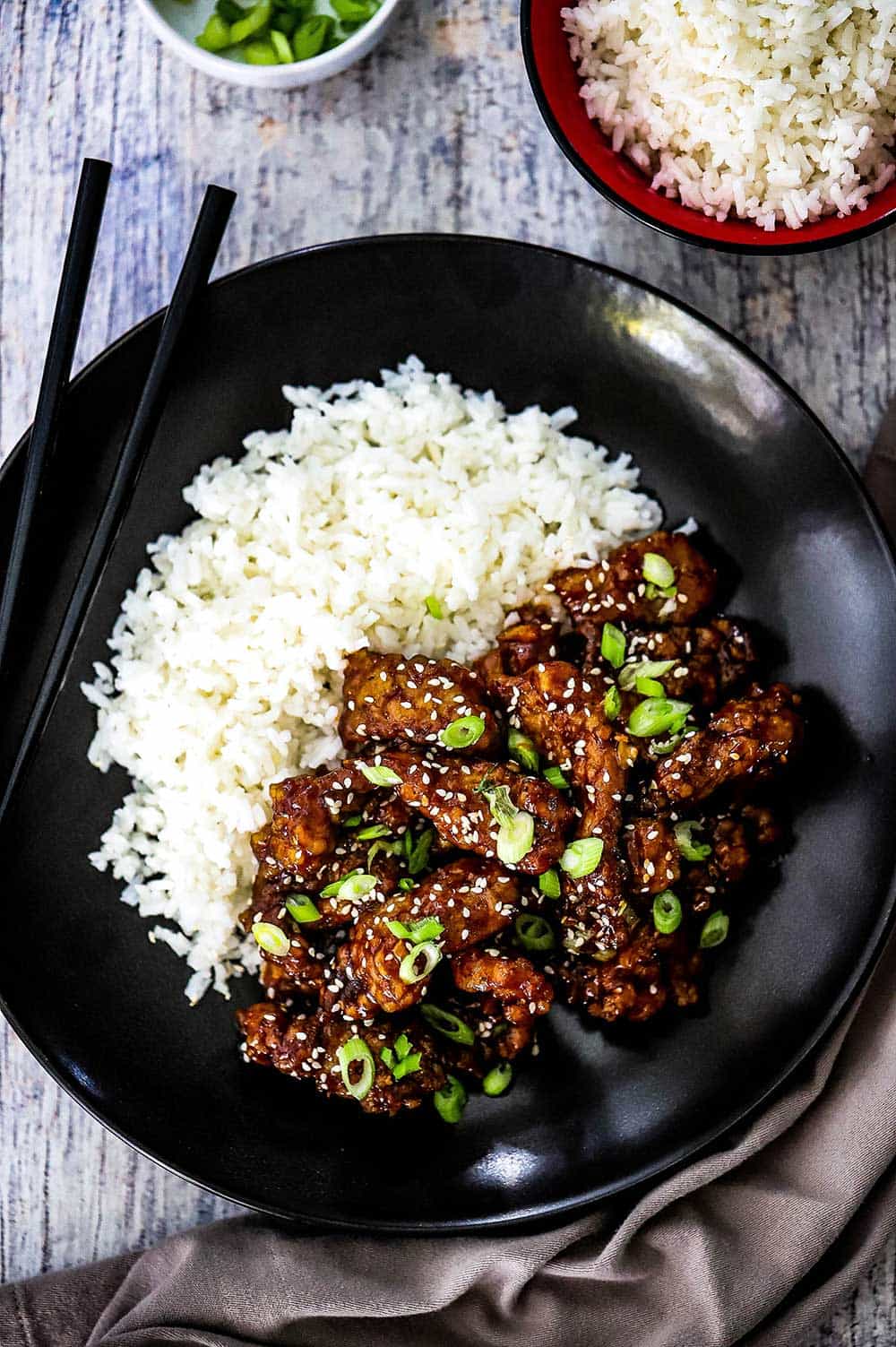 How To Make Sesame Beef
You will be amazed at how you truly can make this a restaurant-quality dish in your very own kitchen.
If you don't have a wok, don't fret, you can easily prepare the dish in a large sturdy skillet.
NOTE: If you liked this video, please subscribe to our YouTube channel. Remember to click the little 'bell' icon so you'll never miss a new video!
The Secret To Making the Beef Extra Crispy
We're using a couple of tricks in this recipe that is often used in classic Chinese cooking to get the protein really crispy.
The combination of all-purpose flour and cornstarch adds a wonderful crust around the beef that will get beautifully crispy. Egg yolks combined with soy sauce and Chinese cooking wine mixes with the flour and cornstarch to increase the crunchiness as well as add classic flavor.
EXPERT TIP: To make slicing the beef easier, place the steak in the freezer for about 15 minutes. Remove and immediately use a large sharp knife to slice the steak into thin (about ¼-inch thick) strips. If you prefer larger chunks of meat, cut the steak into cubes. Toss the beef with the flour, cornstarch, and egg yolk mixture. Keep mixing until the meat is completely coated.
Tips for Perfect Sesame Beef
Choosing the Right Cut of Beef – Our favorite choice of beef is 1.5 lb ribeye steak. The marbling gives a nice flavor and it's not expensive. You're basically deep-frying the meat so there's no need to get a super expensive cut of meat. You could really use whatever you have on hand. Tougher cuts of beef, such as brisket or London broil will be a little tougher since they won't have the chance to slow-cook.
Seek out Chinese Cooking Wine – Chinese cooking wine, known as Shaoxing wine, can nowadays be found in the Asian section of most well-stocked supermarkets, or at any Asian food market. If you can't find it anywhere, you could easily substitute dry sherry or Mirin (Japanese cooking wine). You could also omit it, but you won't quite get the classic taste, but it will still be yummy.
Everything in it's Place – Mise en Place is very important when stir-frying. Because once you start cooking, it all comes together very, very quickly. You won't have time to run grab an ingredient, otherwise, you will run the chance of burning the items in the oil. Even have your rice steamed and ready to go.
Choosing the Right Oil – Our oil of preference is peanut oil because it handles high heat perfectly. However, it is a little more costly and can sometimes be tough to find. Vegetable oil is a perfectly fine substitution. Don't use any kind of oil that will impart flavor, such as olive oil. See the NOTES for discarding the oil used for frying the meat.
EXPERT TIP: You'll want to fry the beef in batches. Be sure to allow the oil to come back to 365°F before frying the next batch. Let the fried meat drain on paper towels after they're cooked. It's okay if the breading doesn't 100% cover the steak. This is normal. The color will be a golden dark brown.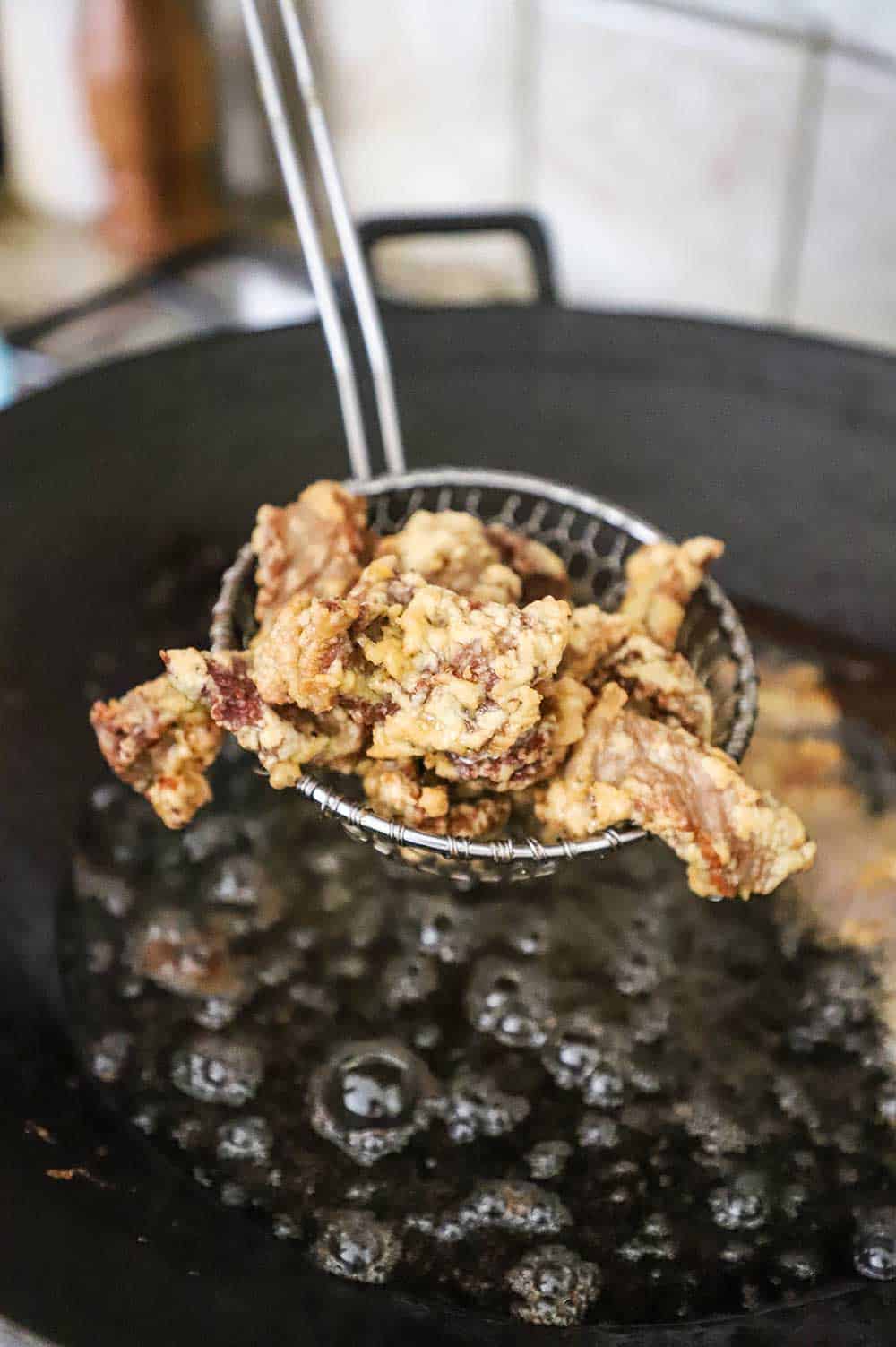 How To Serve
We definitely love to serve our extra crispy sesame beef with perfect steamed rice.
For an extra punch of flavor, drizzle about another tablespoon of sesame oil over the beef mixture just before serving. Thinly sliced scallions add depth of flavor and are a nice pop of color, too.
EXPERT TIP: Once you pour the sauce into the hot wok, you'll need to stir it constantly. The cornstarch in the sauce will act as a thickener and it only takes 1 to 2 minutes for the sauce to thicken. Keep stirring and have your prepared steak strips ready to go once you reached an almost glaze-like consistency.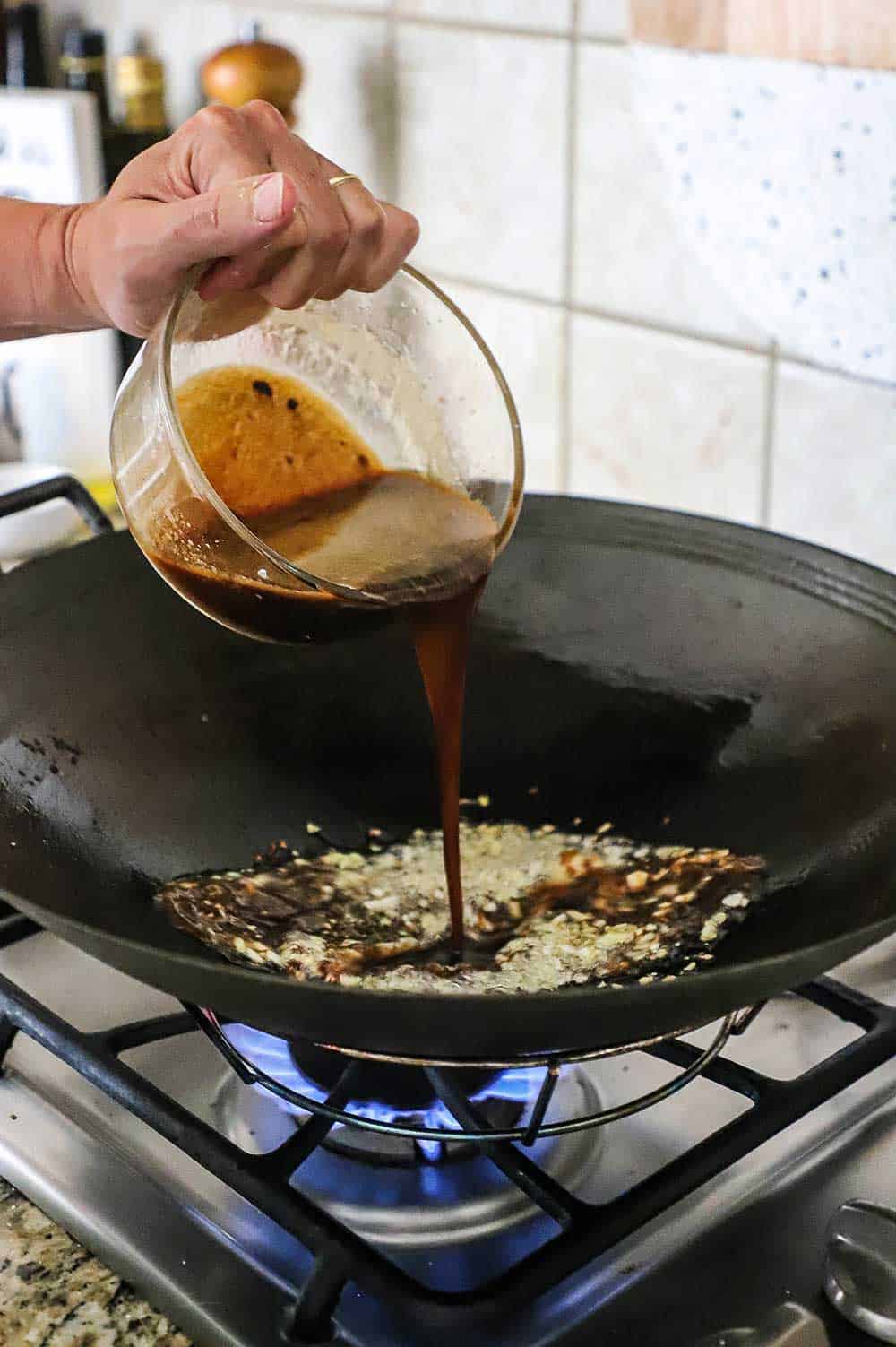 Other Classic Take-Out Recipes to Try
This dish has become near the top of our list for all-time favorite Asian-themed meals, but these are classic ones, too, and mouth-watering delicious!
Sesame Chicken
Homemade Egg Rolls
Vegetable Stir-Fry
Crab Rangoon
Steamed Veggie Dumplings
Kung Pao Shrimp
In the meantime, don't you just want to sink your teeth into this wok full of wonderfulness?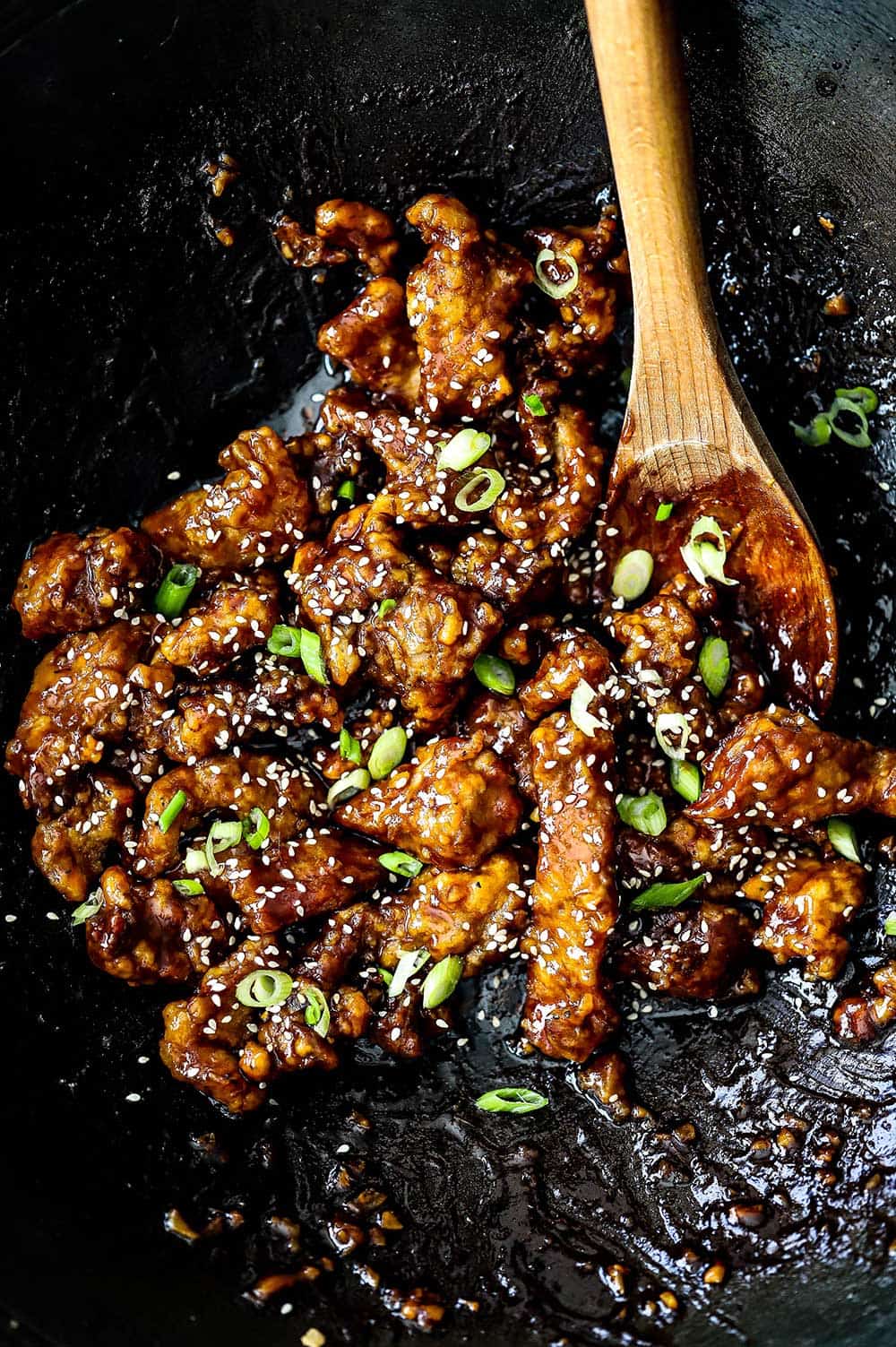 There are those times you just crave some comforting takeout from your favorite Chinese restaurant, right?
We're right there with you! But trust us, making this at home will make you re-consider ever ordering out again!
And it comes together in about 30 minutes, making it perfect for a busy weeknight dinner, but yummy enough for a fun dinner party with hungry guests!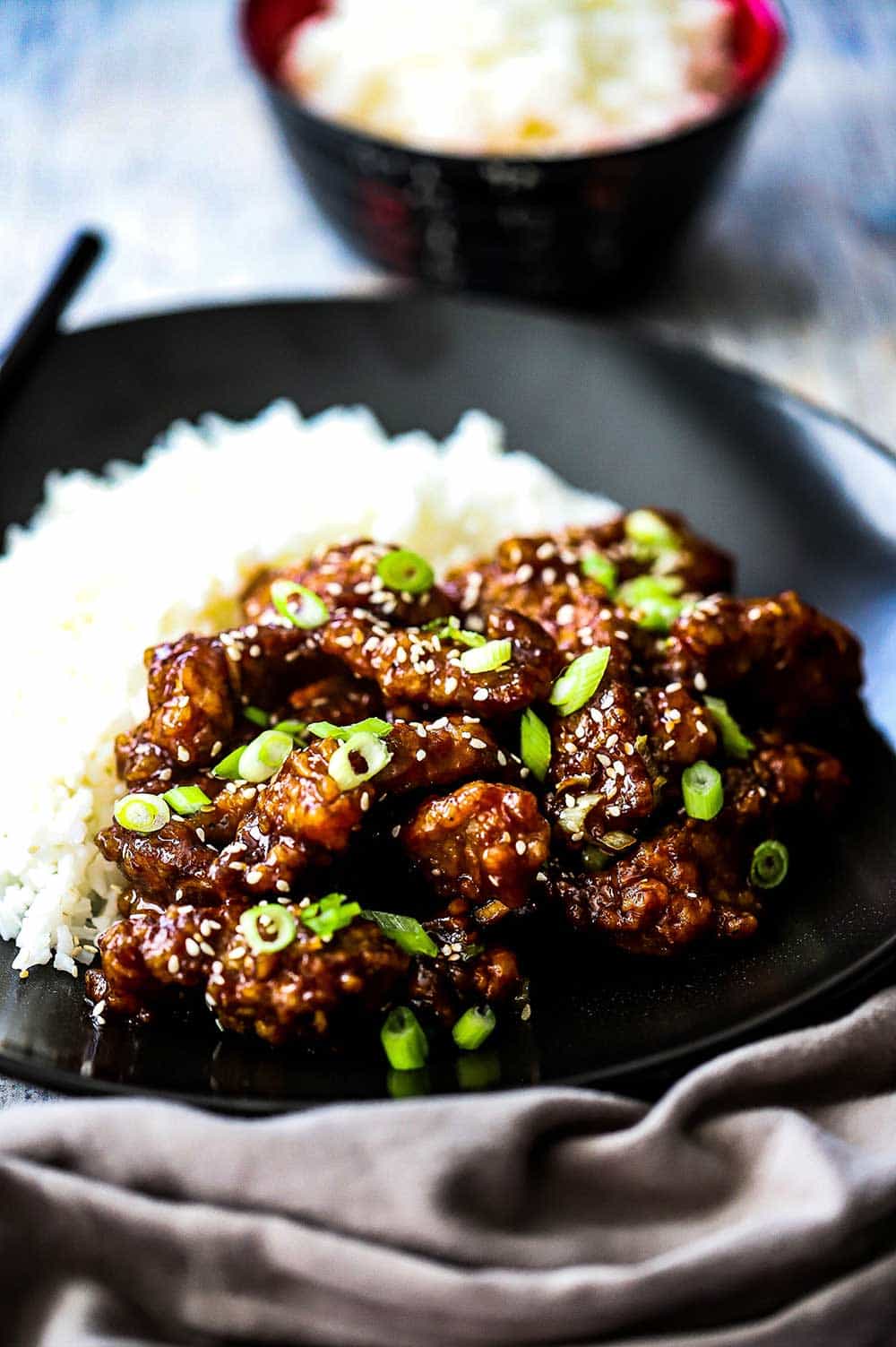 Ready to make the best Chinese takeout in town – in your own kitchen? Go for it!
And when you do, be sure to take a photo of it, post it on Instagram, and tag @HowToFeedaLoon and hashtag #HowToFeedaLoon!
Extra Crispy Sesame Beef
Extra Crispy Sesame Beef may sound like something that would only be good if ordered off of a respected menu. Trust us, you can make this in your own kitchen and you won't believe how great the results are! Remember to have everything prepped and ready to go, it comes together very quickly!
Print
Pin
Rate
Servings: 4
Calories: 657kcal
Equipment
Wok, or large sturdy skillet
Ingredients
For the Beef
Peanut oil for frying, 3 to 4 cups
1½ lb ribeye steak sliced into ¼-inch strips
2 egg yolks
1 tbsp soy sauce
1 tbsp Chinese cooking wine Shaoxing, see NOTES
½ tsp salt
½ tsp black pepper
⅓ cup all-purpose flour
⅓ cup cornstarch
For the Sauce
1 tbsp sesame oil
2 tbsp honey
2 tbsp tomato paste
2 tbsp Chinese cooking wine Shaoxing, see NOTES
¼ cup brown sugar dark
¼ cup beef stock or broth
2 tsp cornstarch
For Stir-Frying
3 tbsp peanut oil
1 tsp garlic minced
1 tsp ginger fresh, finely chopped
For Serving
2 tbsp sesame seeds
4 scallions thinly sliced
3 cups steamed rice
Instructions
Prep the Beef
Heat the oil to 365°F.

Place the sliced beef in a large bowl.

In a small bowl, whisk together the 2 egg yolks, soy sauce, wine, salt, and pepper.

Add the cornstarch, flour, and egg yolk mixture to the beef. Use your hands or two wooden spoons to stir until the beef is completely coated.

Working in batches, carefully add the beef to the hot oil. Use a spider, or metal tongs, to move the beef around in the oil to prevent them from sticking to each other. Fry until golden, about 3 minutes. Remove from the oil and place on a platter. Continue with the remaining beef. Set aside.
Make The Sauce
Place all of the sauce ingredients in a medium-sized bowl and whisk until fully combined and the cornstarch has dissolved. Set aside.
Bring It All Together
After the oil has cooled somewhat, safely discard it. Wipe the wok clean with a paper towel.

Heat the 3 tablespoons of oil over medium-high heat. Add the garlic and ginger and stir-fry for about 30 seconds, careful not to burn.

Pour in the sauce and stir frequently until slightly thickened, about 2 to 3 minutes.

Add the beef and stir until fully coated. Remove from the heat and stir in another tablespoon of the sesame oil.

Serve at once with steamed rice and garnish with sesame seeds and scallions.
Notes
See the video near the top of the blog post for visual guidance. If you liked the video, please subscribe to our YouTube channel.
Dry sherry is a good substitute for the Chinese cooking wine. Shaoxing can be found in the Asian section of many well-stocked supermarkets, or at Asian food markets.
Because this dish comes together very quickly, it's important to have all of the ingredients prepped and measured out before you get started.
Leftovers will keep in the fridge for up to 5 days. It can be frozen for up to 1 month. Reheat on the stove over medium heat, adding a little water, if needed.
Nutrition
Calories: 657kcal | Carbohydrates: 77g | Protein: 42g | Fat: 29g | Saturated Fat: 8g | Polyunsaturated Fat: 4g | Monounsaturated Fat: 6g | Cholesterol: 201mg | Sodium: 674mg | Potassium: 640mg | Fiber: 2g | Sugar: 23g | Vitamin A: 277IU | Vitamin C: 3mg | Calcium: 102mg | Iron: 5mg