This is one of those dishes that happen to be very low calories, but extremely big in taste. And that's no joke!
We love all kinds of Asian cuisine, especially stir-fry. The sauce is classic Chinese and the vegetables are crisp, delicious, and so healthy! And, of course, it all comes together in a matter of minutes! You can adapt the recipe to your favorite vegetables and those you have on hand. So much to love with this dish!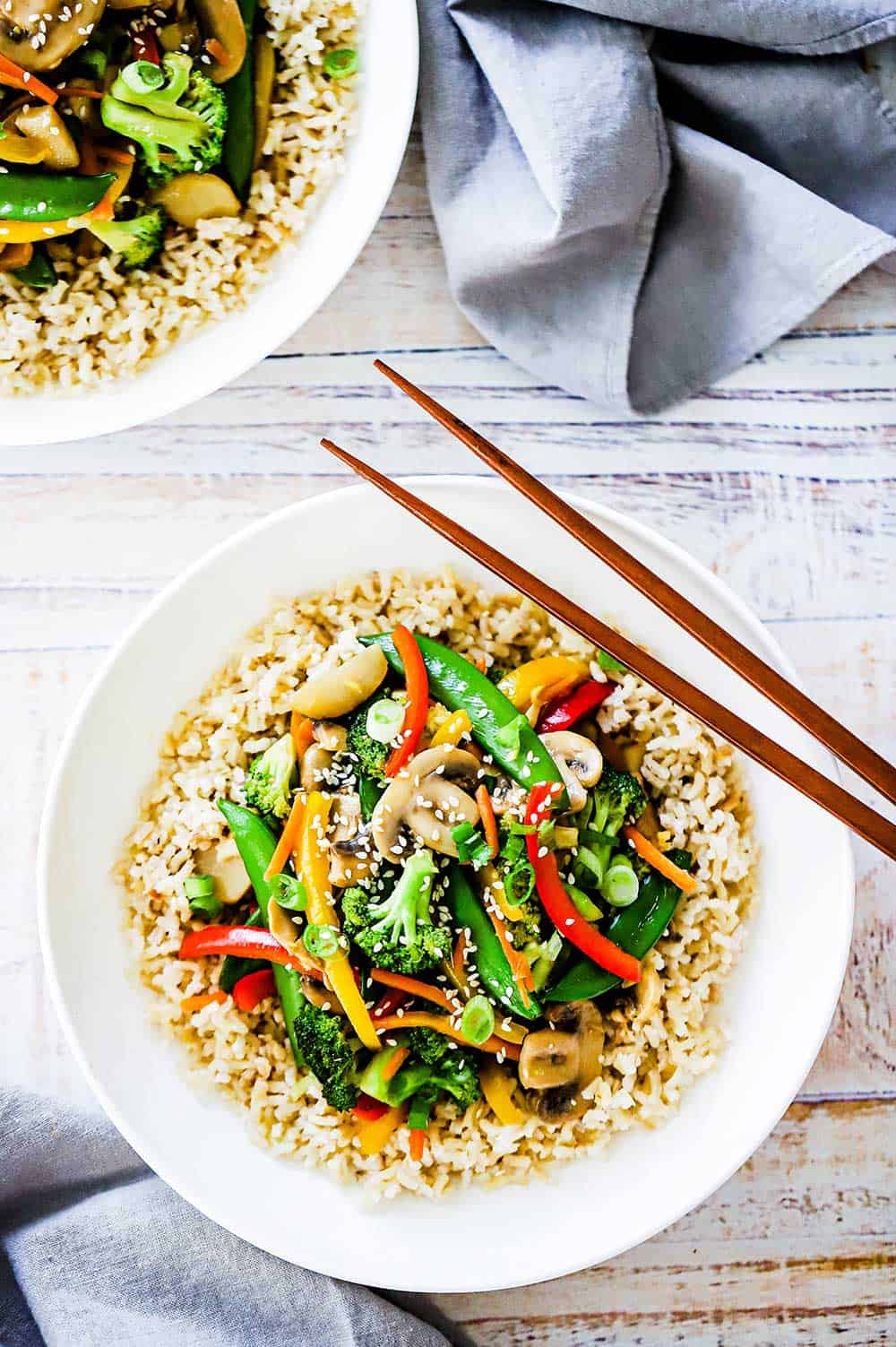 How to Make Vegetable Stir-Fry
As mentioned, this stir-fry comes together very quickly.
You can easily prep all the veggies a day in advance which makes preparing the dish a snap.
And it is truly one of those meals that are as beautiful in presentation as it is in taste.
NOTE: If you liked this video, please subscribe to our YouTube channel. Remember to click the 'bell' icon so you'll never miss a new video!
Which Veggies to Use
You really can't go wrong when selecting veggies for vegetable stir-fry.
Here are our favorites:
Red, Yellow, and/or Green Bell Peppers
Brocolli florets
Carrots
Sugar snap peas
Mushrooms
Other delicious ingredients to include:
Tofu, firm
Water chestnuts, sliced
Bamboo shoots
Baby Corn
Napa cabbage
Bok choy
EXPERT TIP: Stir-frying is a method of cooking over very high heat. This is great for numerous reasons, including cooking at high heat quickly cooks the vegetables and proteins and retains much of the nutritional value. Also, the dish comes together very quickly. For this reason, it is extremely to have your mise en place all set, meaning be sure to have all of your ingredients prepped and ready to go before you start to stir-fry.
We love to start by quickly cooking fresh garlic and ginger in a little bit of extra-virgin olive oil. This only takes about 30 seconds.
Once the garlic and ginger starts to turn a light brown (after about 30 seconds), it's time to add in all of the other vegetables.
You'll want to stir-fry the veggies just until they begin to soften, once you add the sauce, they will soften even more.
EXPERT TIP: When you add all of the vegetables into the wok, it may seem like there are too many. Don't worry, as the ingredients cook, they will reduce some in size. Don't over cook, though! You want the veggies to remain crisp and bright in color.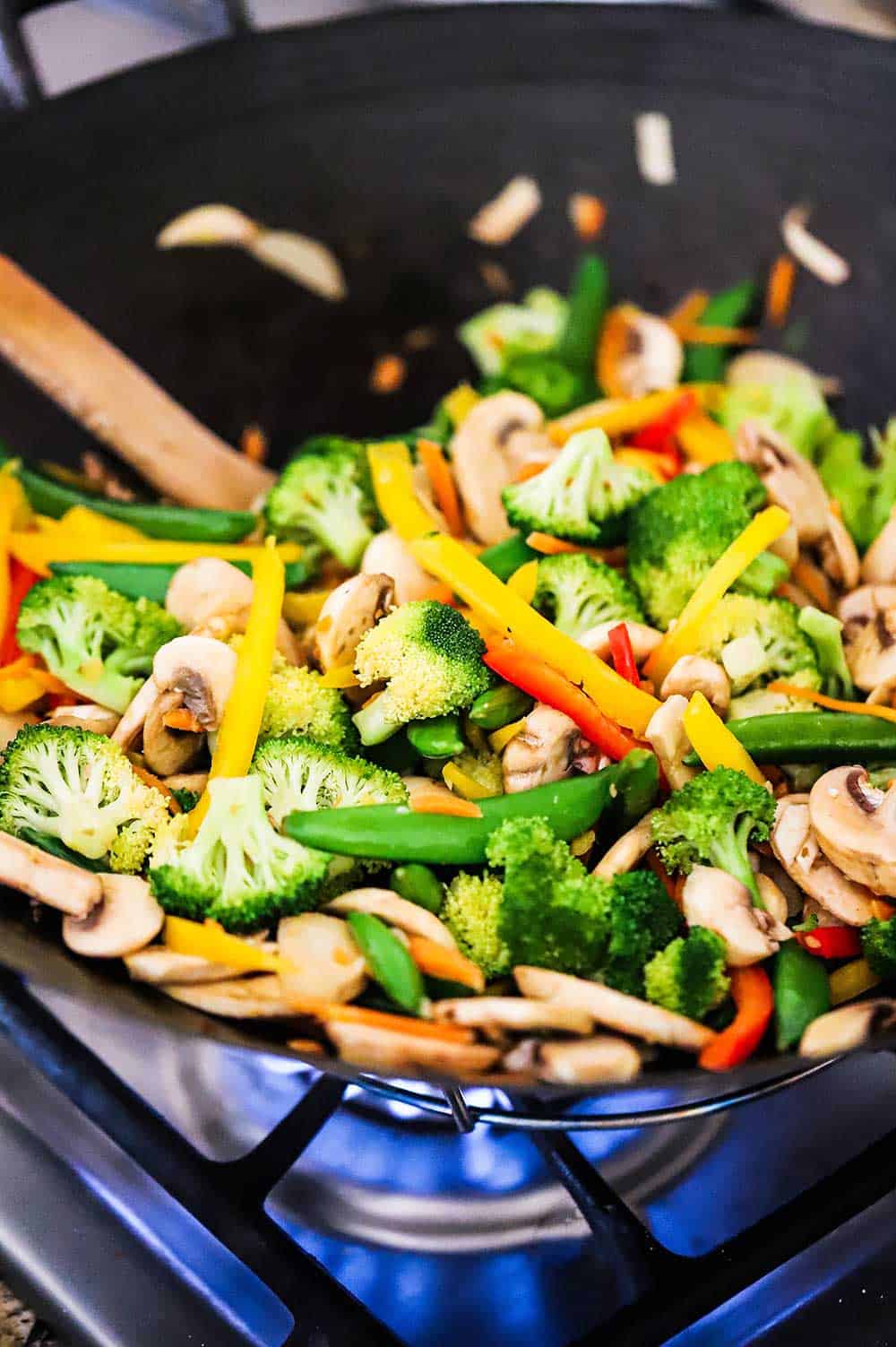 The Perfect Stir-Fry Sauce
This sauce is classic Chinese and really brings everything together beautifully.
We go with a combination of vegetable broth, oyster sauce, soy sauce, brown sugar, sesame oil, rice vinegar, and corn starch.
EXPERT TIP: To keep this stir-fry 100% vegetarian and vegan, substitute hoisin sauce for the oyster sauce. You'll still get that classic flavor. If you can't find rice vinegar, or rice wine vinegar, either omit it, or substitute white vinegar, apple cider vinegar, or distilled white vinegar.
Pour the sauce in, bring it to a quick boil, and then stir for about 1 minute. That's all there is to it!
Vegetable Stir-Fry FAQs
Do I have to use a wok to stir-fry? Absolutely not! This dish will come together beautifully in a nice large skillet. Be sure to go with one that will hold all the vegetables.
How many calories are in Vegetable Stir-Fry? Not a lot! Only 245 calories. We serve it over steamed brown rice. Healthy and so delicious. If you want additional soy sauce, consider low sodium.
Can it be made in advance? We definitely recommend prepping all of the ingredients in advance. You can even prep up to 24 hours in advance. Keep all the prepped veggies in a container with a lid in the fridge. Stir-fry just before serving.
Does it reheat well? Absolutely! In fact, you can even reheat in 30 seconds intervals on HIGH in your microwave. Leftovers will keep in the fridge for up to 5 days.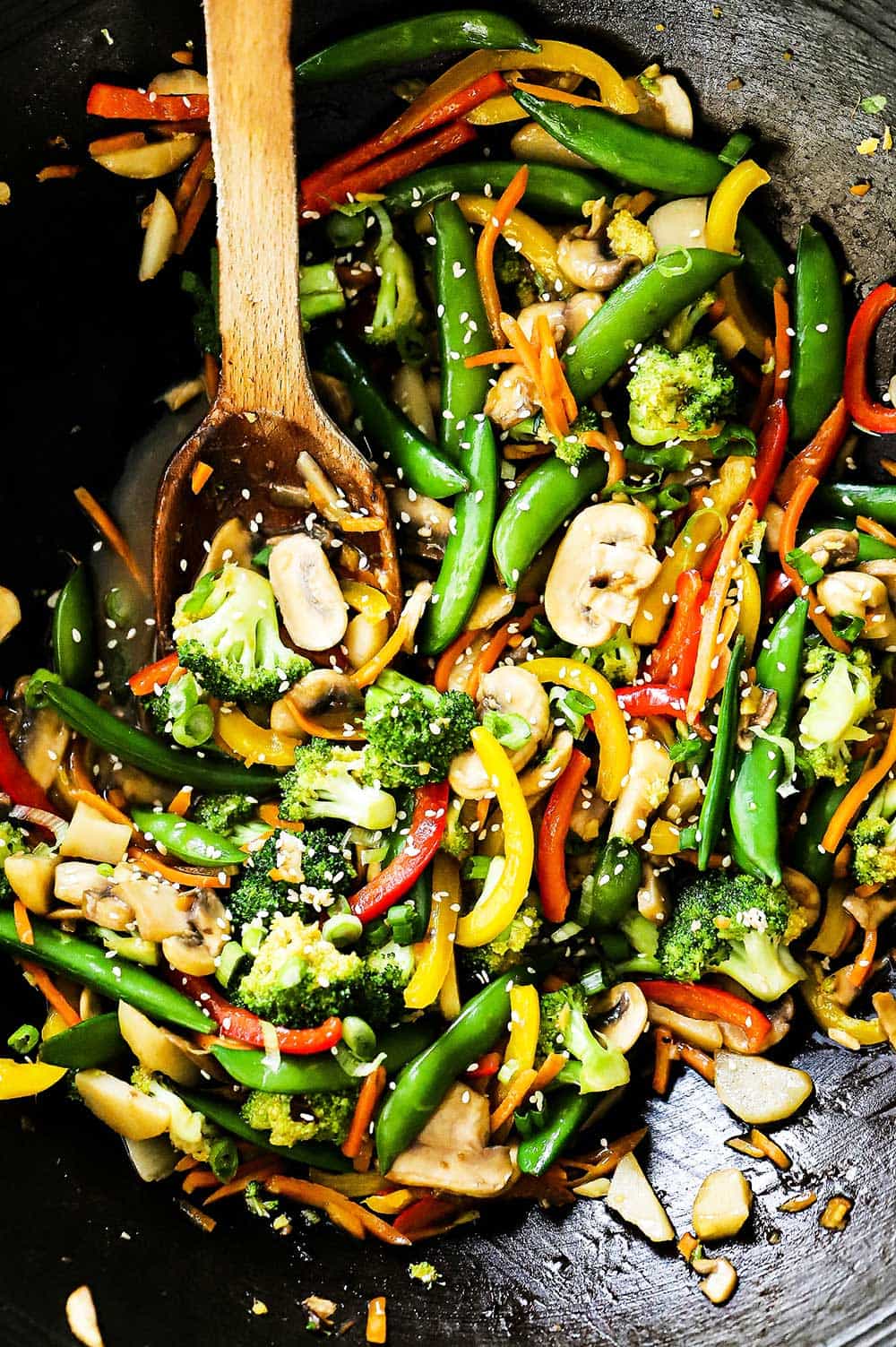 Other Classic Asian Dishes
We love all types of Asian cuisine, and here are some of our all-time favorites for you to try:
In the meantime, keep it super healthy with all that amazing stir-fry flavor!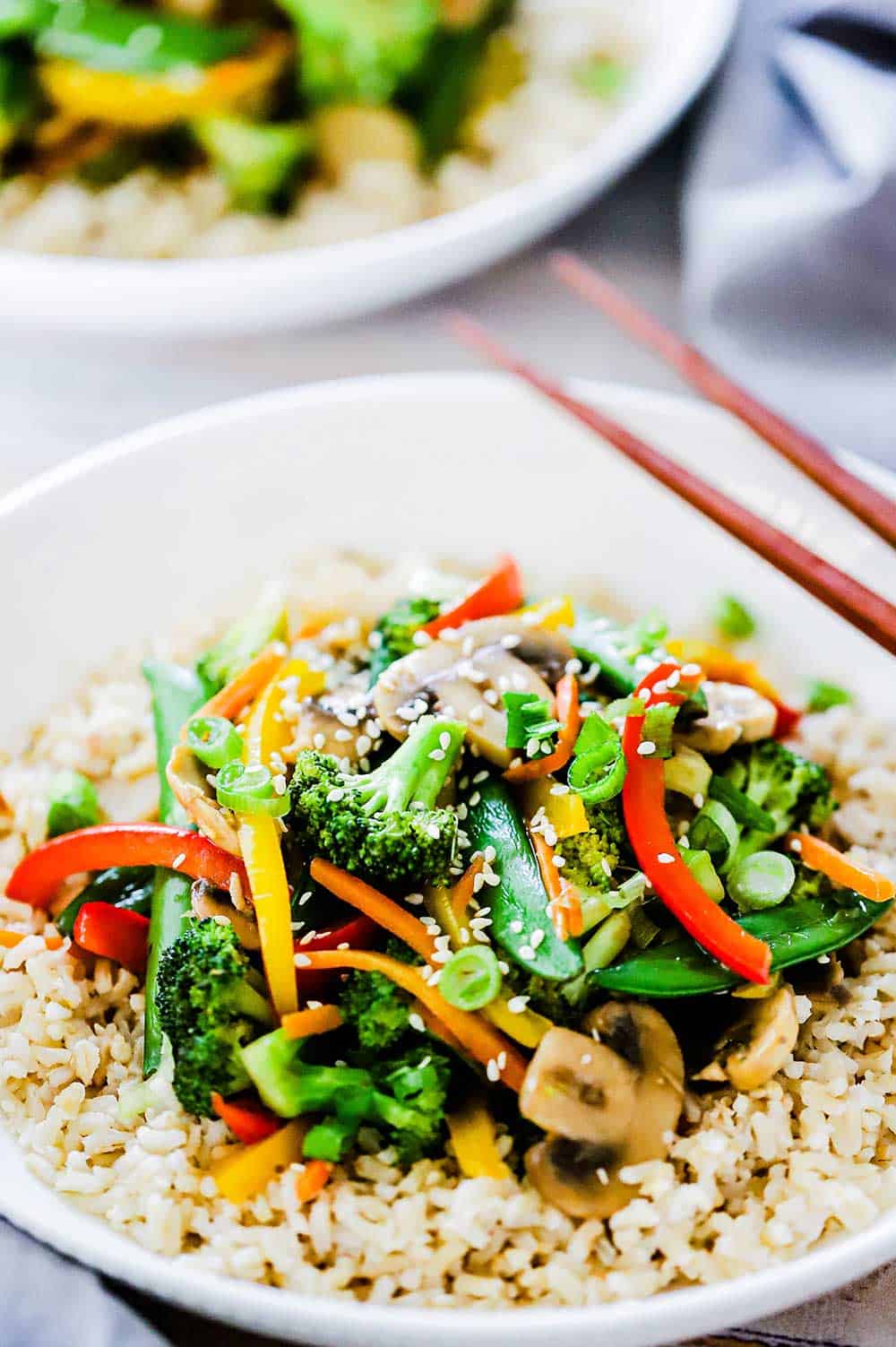 Ready to make one of the healthiest AND most delicious dishes in town? Go for it!
And when you do, be sure to take a photo of it, post it on Instagram, and tag @HowToFeedaLoon and hashtag #HowToFeedaLoon!
Vegetable Stir-Fry
Vegetable Stir-Fry is amazingly healthy but even more delicious. Go with your favorite veggies but be sure to have everything prepped and ready to go before you start stir-frying because it all comes together very quickly!
Print
Pin
Rate
Servings: 4
Calories: 176kcal
Equipment
1 Wok, or large skillet/saucepan
Ingredients
For the Sauce
½ cup vegetable stock
3 tbsp oyster sauce See NOTES
2 tbsp soy sauce low-sodium
1 tbsp brown sugar
1 tsp sesame oil
1 tsp rice vinegar
1 tbsp corn starch
½ tsp pepper white or black
For the Stir-Fry
2 tbsp vegetable oil
2 tsp ginger fresh, minced
3 cloves garlic minced
1 crown broccoli cut into bite-sized florets
1 red bell pepper cored, seeded, and cut into strips
1 yellow bell pepper cored, seeded, and cut into strips
¾ cup carrots peeled and cut into strips or sliced
10 oz sugar snap peas
1 lb mushrooms button, quartered
10 oz water chestnuts drained, roughly chopped
1 tbsp sesame seeds for garnish, optional
2 tbsp scallions sliced, for garnish, optional
Instructions
For The Sauce
In a small-medium bowl, mix all the ingredients together, making sure the corn starch has dissolved. Set aside.
For the Stir-Fry
Heat the oil in your wok (or large skillet) over high heat until shimmering.

Add the garlic and ginger and stir for 30 seconds.

Add the remaining vegetables and stir to coat. Continue cooking and stirring until the vegetables are just starting to turn soft and the mushrooms are starting to release their liquid, about 4 minutes.

Add the sauce into the wok and stir to combine. Bring to a quick boil and let cook for 1 minute, stirring often.

Remove from heat and serve at once, garnishing with sesame seeds and chopped scallions, if desired.
Notes
See the video near the top of the blog post for visual guidance. If you like the video, please subscribe to our YouTube channel. If you don't have a wok, you can prepare the dish in a large skillet/saucepan. Make sure it's large enough to hold all of the veggies. It's super important to have all of your veggies prepped and everything measure out and ready to go before you start to stir-fry. It all comes together very quickly so you won't have time to stop and prep or measure. Leftovers will keep in the fridge for up to 5 days. We love to serve this over steamed brown rice.
Nutrition
Calories: 176kcal | Carbohydrates: 33g | Protein: 9g | Fat: 3g | Saturated Fat: 1g | Polyunsaturated Fat: 1g | Monounsaturated Fat: 1g | Sodium: 1024mg | Potassium: 854mg | Fiber: 7g | Sugar: 13g | Vitamin A: 5852IU | Vitamin C: 143mg | Calcium: 85mg | Iron: 4mg