We just love a good stir-fry, and this dish is about as good as they come.
This is a mainstay dish in Asian restaurants all over the world, especially in the United States. The beef is melt-in-your-mouth tender and the sauce is a touch of savory, a touch of sweet, and a touch of heat. And it all comes together in about 20 minutes, once you've got everything prepped and ready to go!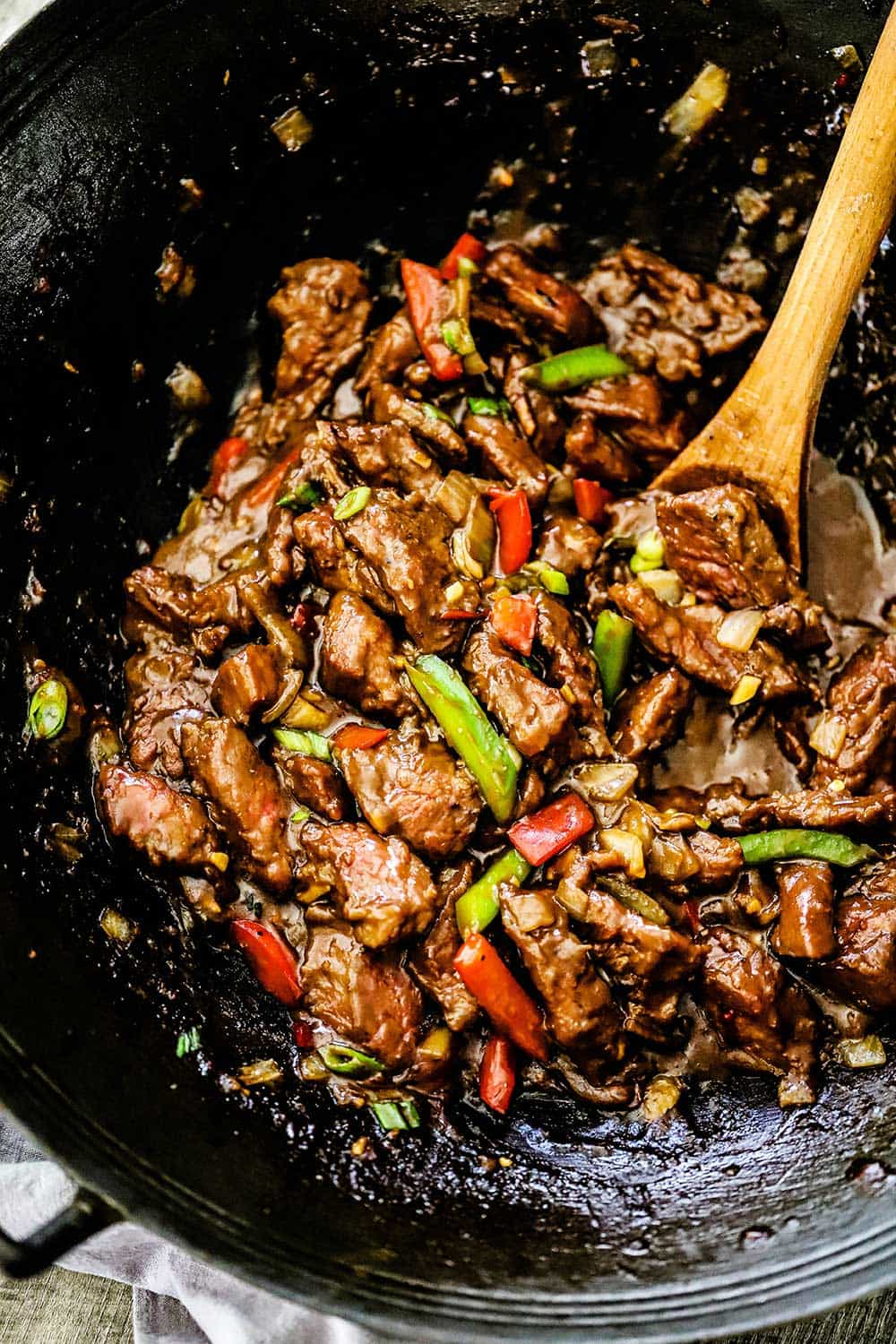 How To Make Mongolian Beef
Mongolian beef is actually quite simple to prepare.
All of the ingredients can usually be found in the Asian section of most well-stocked supermarkets.
Tenderizing The Beef
The traditional protein for this dish is beef flank steak. It's tender and perfect for a quick stir-fry.
If you can't get your hands on flank steak, then opt for skirt steak or use a strip steak, such as New York or Kansas City Strip. For easy slicing, place the meat in the freezer for 15 minutes and then slice.
EXPERT TIP: Corn starch and baking soda are very common in Asian cooking, especially Chinese cuisine. The corn starch actually helps to soften the texture of the meat even more and then acts as a thickener once you add the sauce. Cut the meat against the grain, place it in a large baggie, and then add corn starch, baking soda, vegetable oil, and water. Seal and massage with your hands. Let rest in the fridge for 1 hour, or up to 24 hours.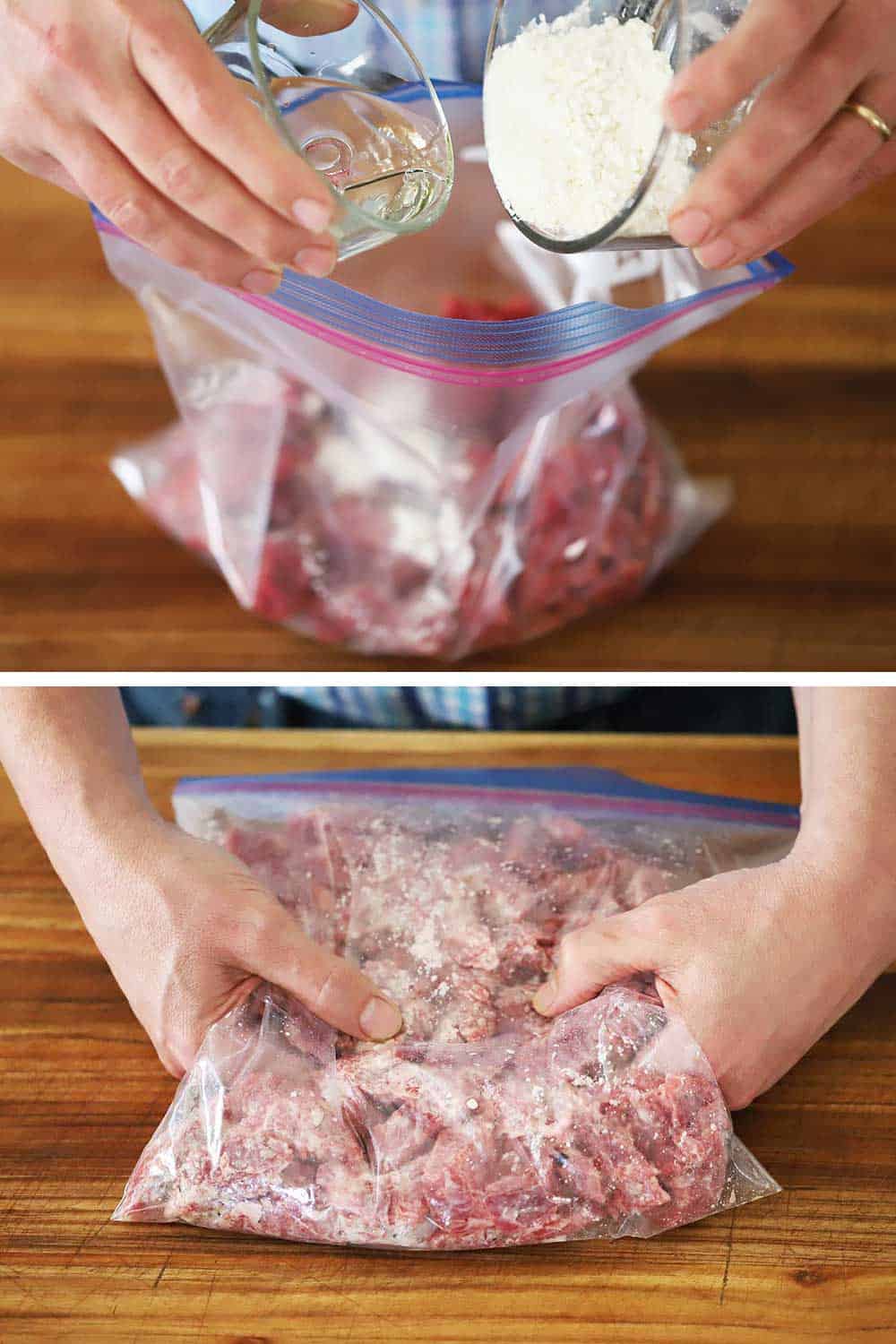 Now, it's time to fire up your wok or a large sturdy skillet.
We add ¼ cup of vegetable oil and crank the heat up to high.
Toss in the minced garlic for just a few seconds, and then add the cut beef. Stir until the beef is just almost no longer pink. Then, toss in the cut veggies. Stir for about 2 minutes.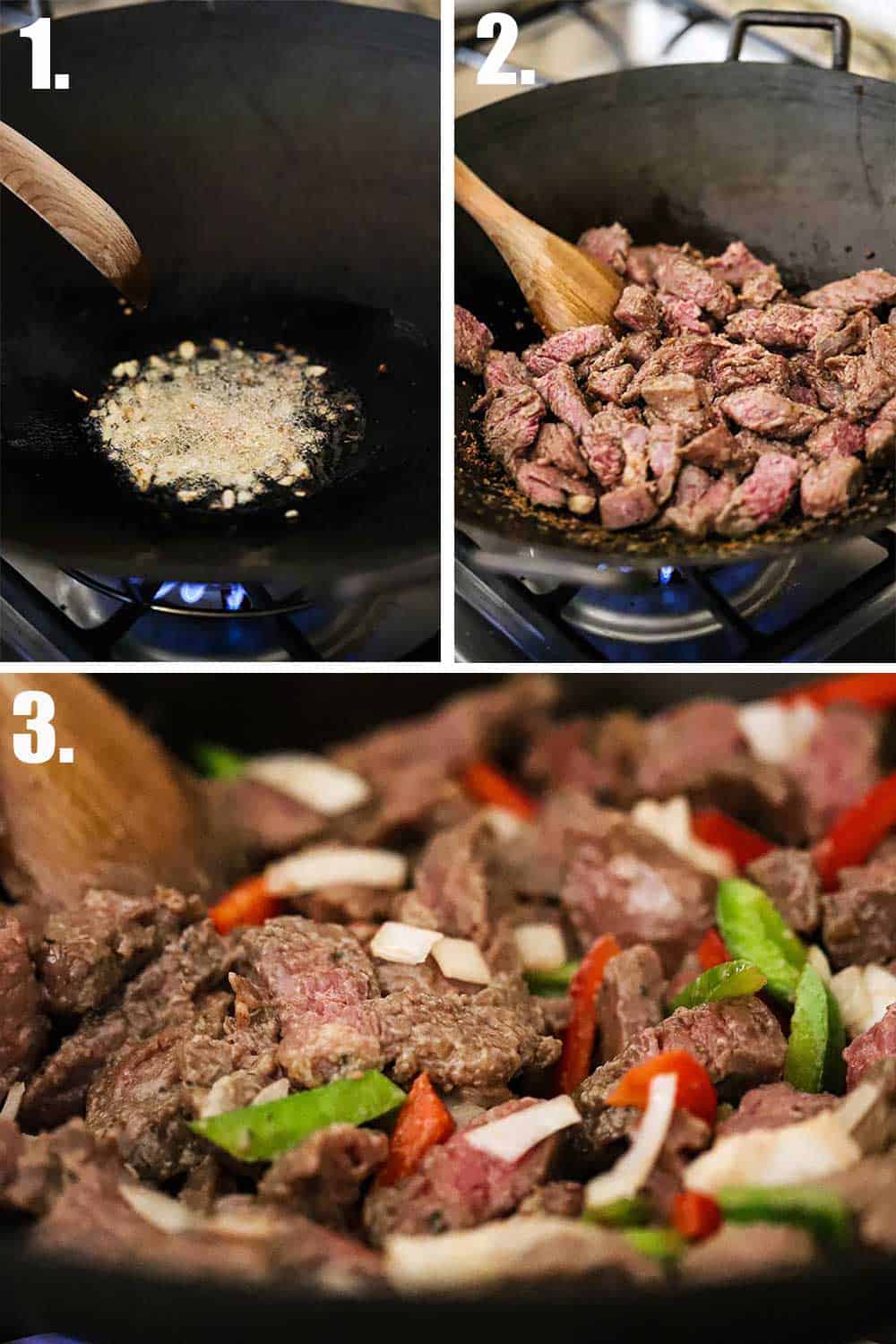 Classic Mongolian Beef Sauce
You may be asking, what is Mongolian beef? It originated in Taiwan, and not Mongolia, but is most popular in Chinese restaurants around the world.
It really comes down to the tender beef and vegetables, and that sweet and tangy sauce.
EXPERT TIP: Almost all of the ingredients for the sauce can be found in the Asian section of most well-stocked supermarkets. If you can't find them, you can purchase oyster sauce, hoisin sauce, and Thai sweet sauce online. Any type of chili sauce can be used, however, check the NOTES for spicy levels for different types of chili sauce.
Add all the sauce ingredients together in a bowl and whisk until fully combined.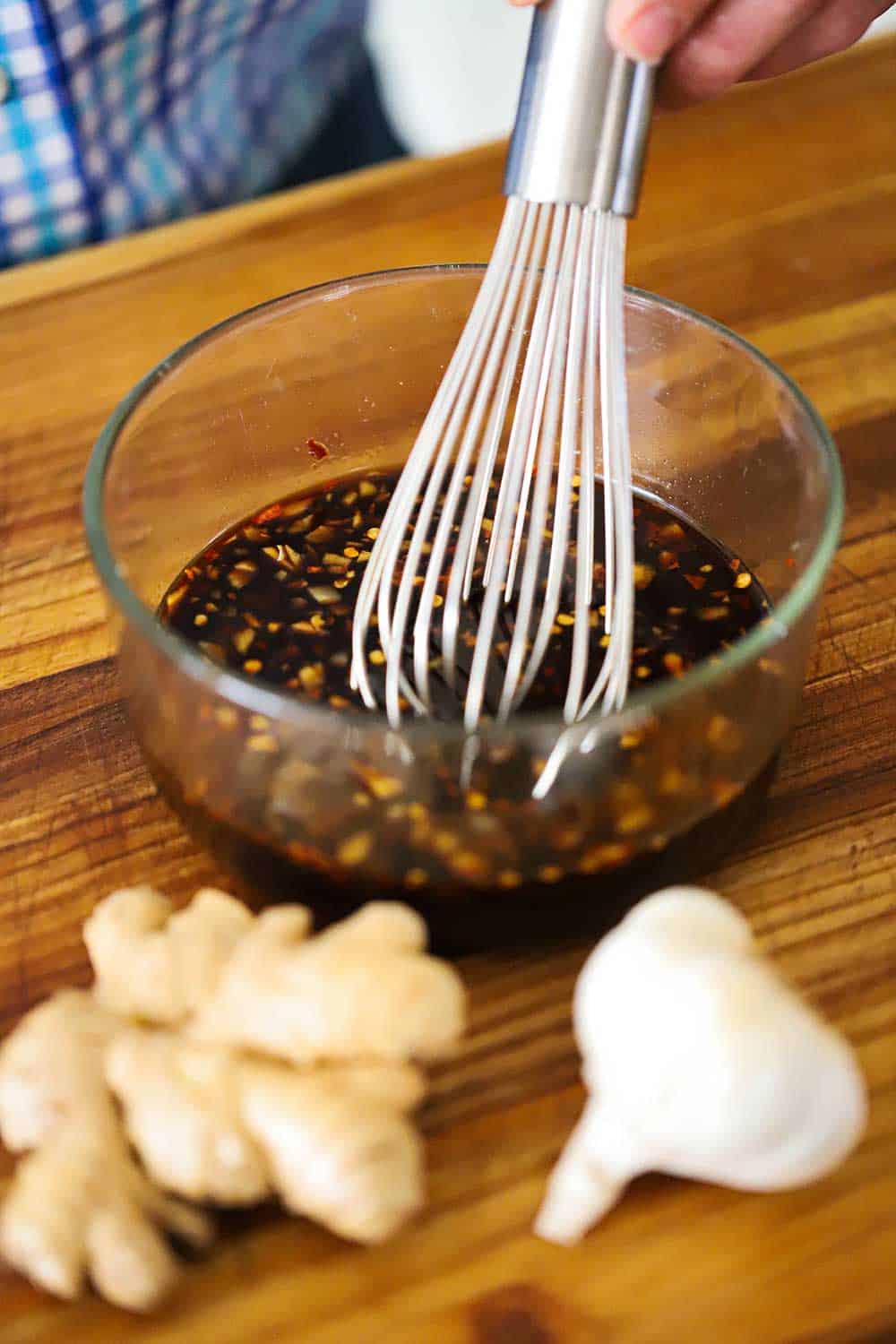 Once the meat and vegetables have had a few minutes to cook and become even more tender, it's time to add the sauce.
EXPERT TIP: As with most Asian cooking, it's really important to have all of your ingredients prepped and ready to go. Stir-frying is a very fast process and once you start, you won't have time to stop what you are doing and dice a pepper or make the sauce.
Add the sauce to the meat and veggie mixture and stir constantly until just slightly thickened, about 2 minutes.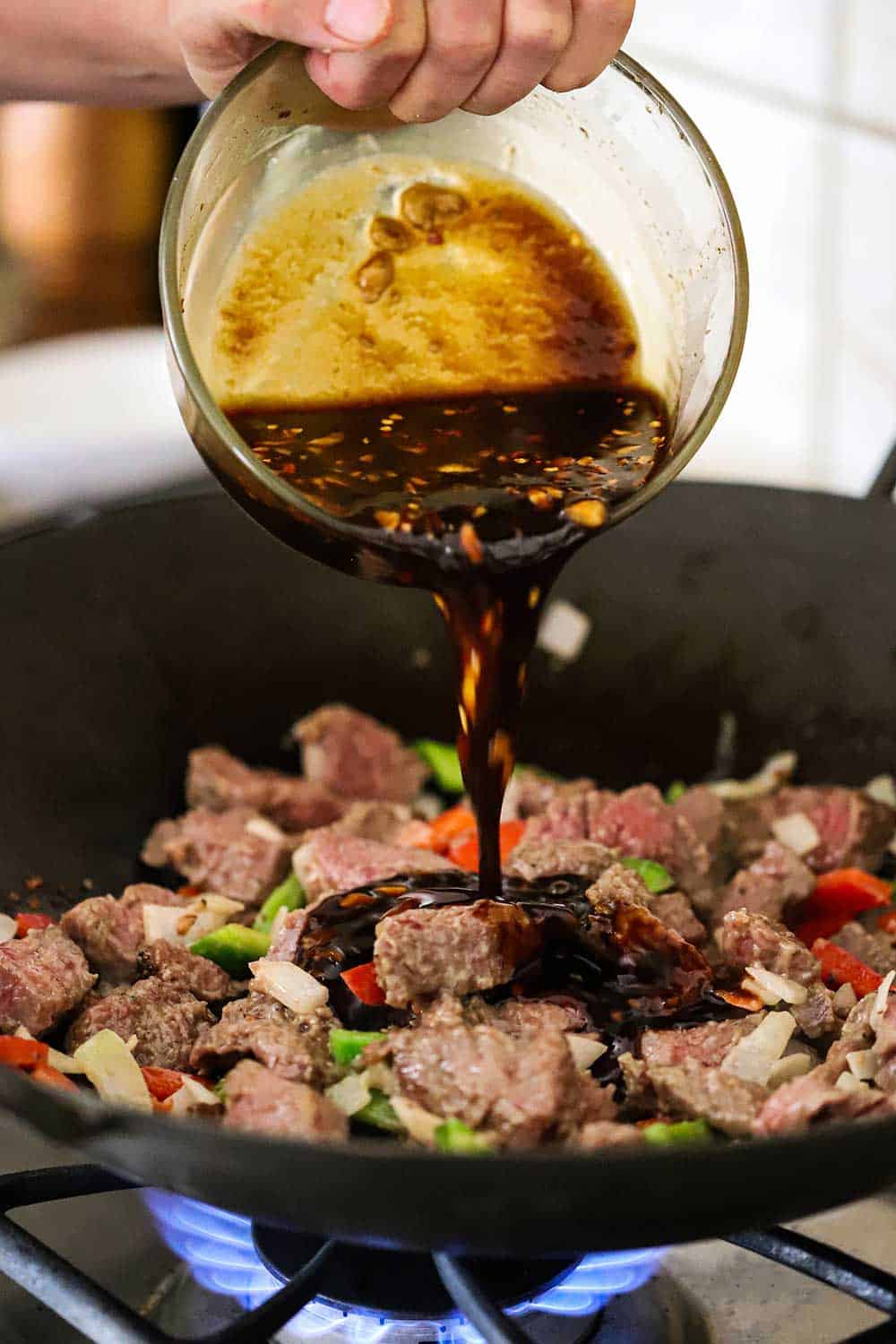 When To Serve Mongolian Beef
This dish is so amazingly delicious, we make it for an easy weeknight meal, but we also serve it to guests for a spectacular dinner party.
Place the beef mixture on a platter and let guests serve themselves.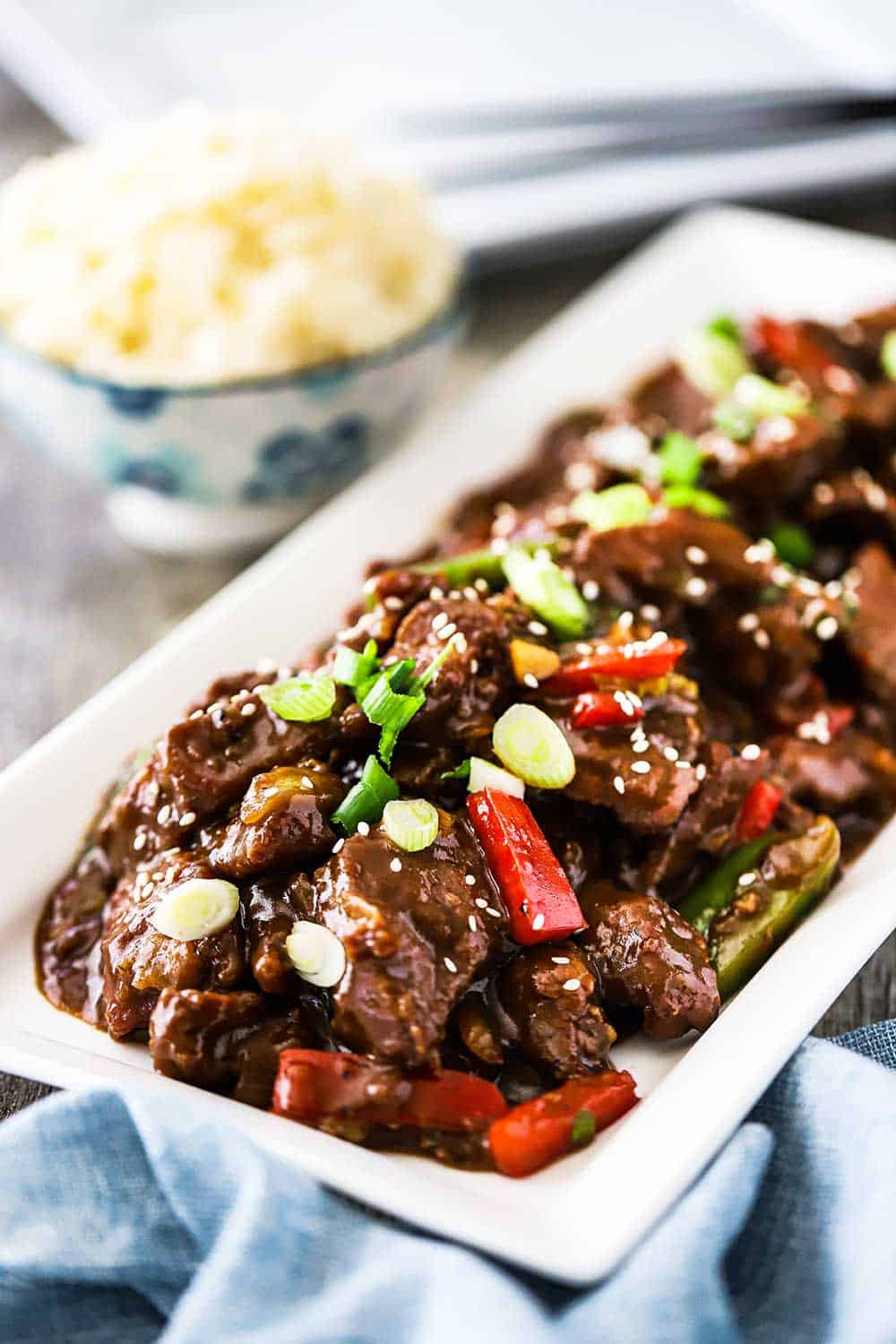 We recommend serving the beef mixture over steamed rice or cellophane noodles.
So delicious.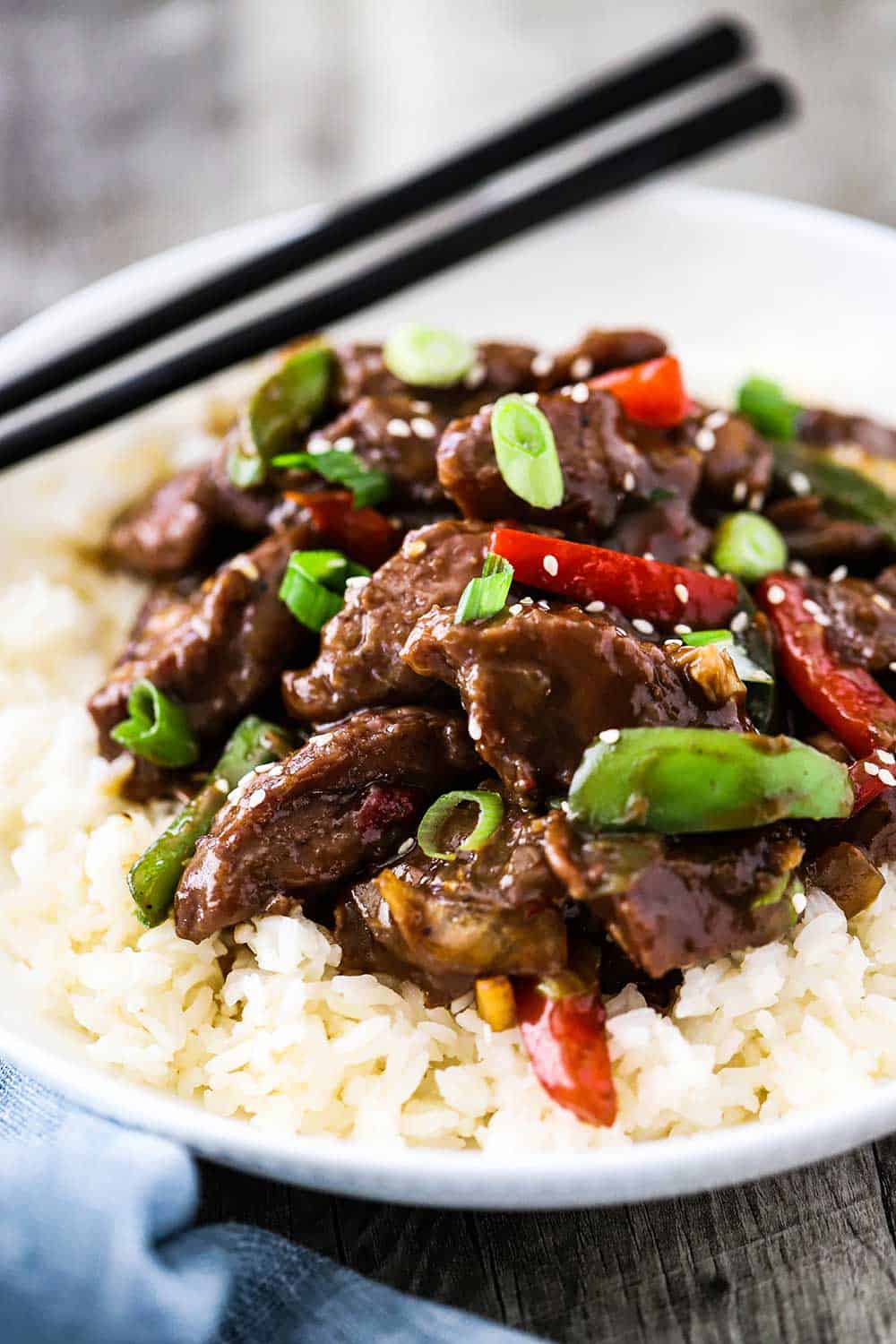 This is one of our most favorite Asian-inspired dishes of all time.
You will not believe how tender the beef is and how flavorful the sauce is.
If you are looking for an authentic Mongolian beef recipe, look no further!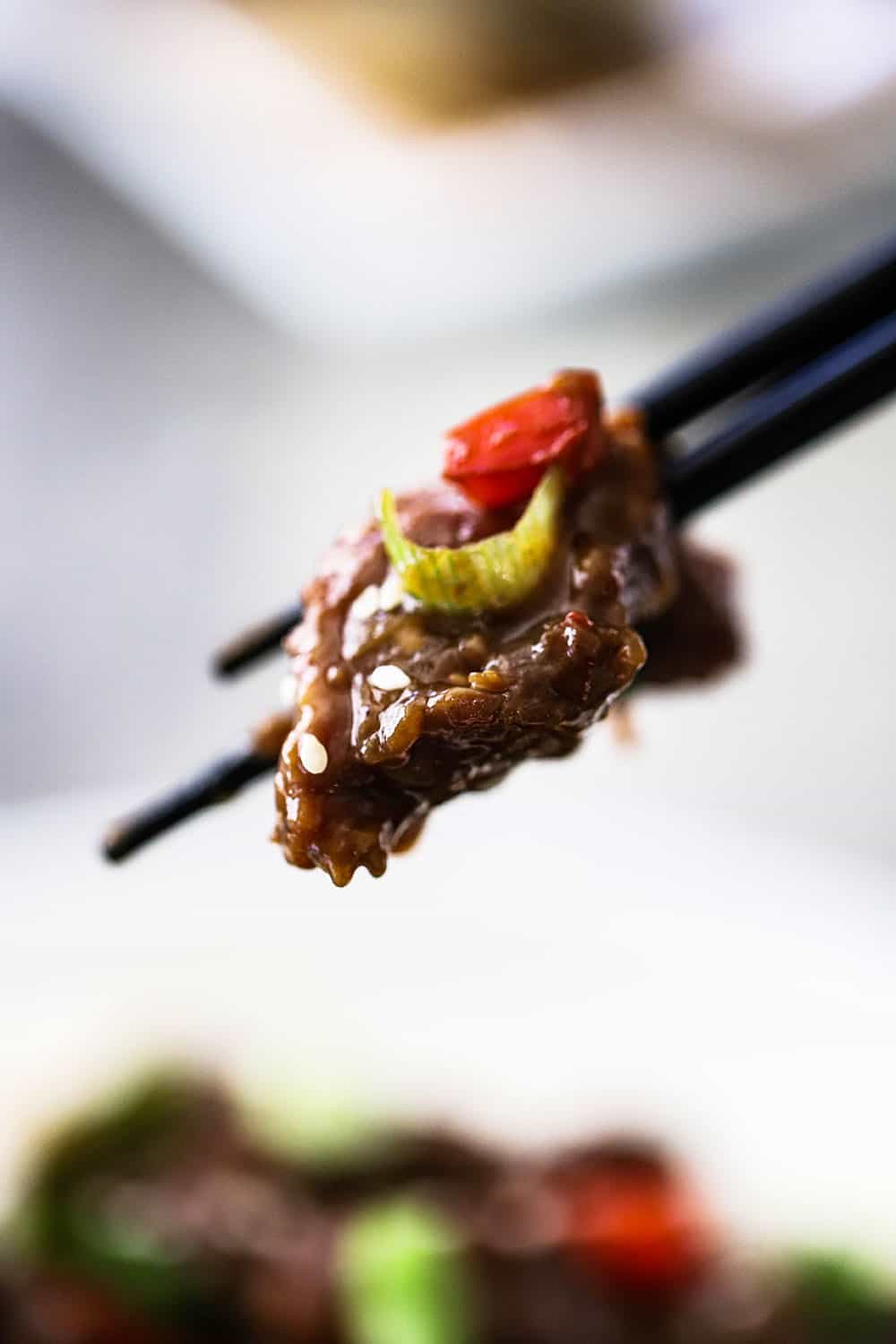 Ready to make Mongolian Beef at home that will rival your favorite take-out place? Go for it!
And when you do, be sure to take a photo of it, post it on Instagram, and tag @HowToFeedaLoon and hashtag #HowToFeedaLoon!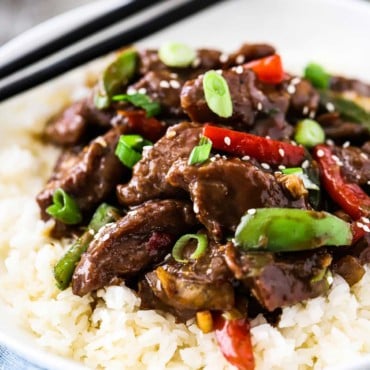 Mongolian Beef
Mongolian Beef is a classic dish from Asian menus around the world. This recipe gives you the tips and tricks to make the authentic dish in the comfort of your own kitchen. So yummy!
Print
Pin
Rate
Servings: 4
Calories: 570kcal
Equipment
Wok or a large sturdy skillet
Ingredients
FOR THE BEEF
1½ lbs flank steak sliced against the grain into ½-inch strips
¼ cup corn starch
Salt and pepper
1 tsp baking soda
2 tbsp water
2 tbsp vegetable oil
FOR THE SAUCE
¼ cup soy sauce
¼ cup brown sugar light or dark
3 tbsp oyster sauce
3 tbsp hoisin sauce
3 tbsp Thai sweet chili sauce See NOTES
½ tsp red pepper flakes
1 tsp ginger fresh, minced
1 clove garlic minced
1 tsp cornstarch
FOR THE STIR-FRY
¼ cup vegetable oil
3 cloves garlic minced
1 cup onion roughly chopped
½ green bell pepper cored, seeded, and roughly sliced
½ red bell pepper cored, seeded, and roughly sliced
4 green onions divided, thinly sliced
Instructions
PREP THE BEEF
Sprinkle the meat all over with salt and pepper. Set aside.

In a small bowl, mix together the cornstarch, baking soda. In another small bowl, add the vegetable oil and water.

Place the cut beef into a large ziplock baggie, or baking dish. Pour the cornstarch mixture and water/oil over the beef. Seal the baggie and use your hands to massage the beef into the cornstarch and water/oil. Place in the fridge for 1 hour, or up to 24 hours.
PREP THE SAUCE AND STIR-FRY
Combine all of the sauce ingredients into a medium-sized bowl and whisk together until blended.

Heat the oil (¼ cup) in your wok (or skillet) over high heat. Add the garlic and cook for about 30 seconds, until just starting to turn golden.

Carefully add the beef and stir with a wooden spoon until the pinkness is almost gone, about 4 minutes.

Add the onion, red and green peppers, and cook, stirring frequently, for another 2 minutes.

Transfer the sauce to the wok, and stir continuously for 2 minutes, or until the sauce has thickened slightly. Turn off the heat and stir in half of the sliced green onions.

Serve at once with steam rice or noodles on the side and extra sliced scallions and sesame seeds for garnish
Notes
If you can't find flank steak, then use skirt steak, or any kind of strip steak (such as New York or Kansas City). If using strip steak, place the meat in the freezer for about 15 minutes, and then slice into slivers. The beef can sit in the baggie with the cornstarch and baking soda for up to 24 hours in the fridge. We love using Thai Sweet Chili Sauce for the sauce, but, if you can't find it, then use any brand of chili sauce. Just remember, chili sauce typically has more heat (spice) than Thai Sweet Chili Sauce, so, you may want to use only 1 or 2 tbsp of chili sauce if you are substituting it for Thai Sweet Chili Sauce. SUPER IMPORTANT: Make sure you have all of your ingredients prepped and ready to go before you start preparing the dish. It all comes together very fast and you won't have time to stop and prep and ingredients once you get started cooking. This dish is wonderful served over steamed rice or cellophane noodles.
Nutrition
Calories: 570kcal | Carbohydrates: 36g | Protein: 40g | Fat: 24g | Saturated Fat: 12g | Cholesterol: 102mg | Sodium: 1747mg | Potassium: 814mg | Fiber: 2g | Sugar: 20g | Vitamin A: 642IU | Vitamin C: 37mg | Calcium: 84mg | Iron: 4mg