Sautéed White Beans with Garlic, Sage and Tomatoes is a recipe that you'll come back to time and time again.
It is such a wonderful side dish to so many main courses, but it's so delicious on its own, you could easily make a meal out of it with a nice loaf of crusty Italian bread, a leafy green salad, and a glass of wine.
Now we're talking!
HOW TO PREPARE SAUTEED WHITE BEANS WITH GARLIC, SAGE AND TOMATOES
This dish couldn't be easier to prepare, too. Simply sauté the garlic and sage in a little oil. Add some white wine and then simmer the beans and tomatoes. Not many recipes that are this easy to prepare will produce such flavorful and amazing results.
I get hungry every time I think about this dish.
Within no time, I'm running to the pantry to get the simple ingredients. This is definitely one of the Loon's favorite dishes.
There is something so soothing about beans and tomatoes simmering on a stove.
Steeped in history and layered in flavor and texture.
This is the good stuff.
AN INTERESTING HISTORY OF BEANS AND BEAN RECIPES
We just love beans of all kinds. But there is something about cannelloni beans that seem extra delicious to us.
I know the history of beans doesn't really sound fascinating, but actually it is. Read this interesting A Selective History of Beans article from Republic of Beans.
As mentioned, this Sautéed White Beans with Garlic, Sage and Tomatoes recipe is the perfect side dish for so many wonderful main courses.
Our Mediterranean Tuna Steaks are an absolute perfect match for these delicious sautéed beans.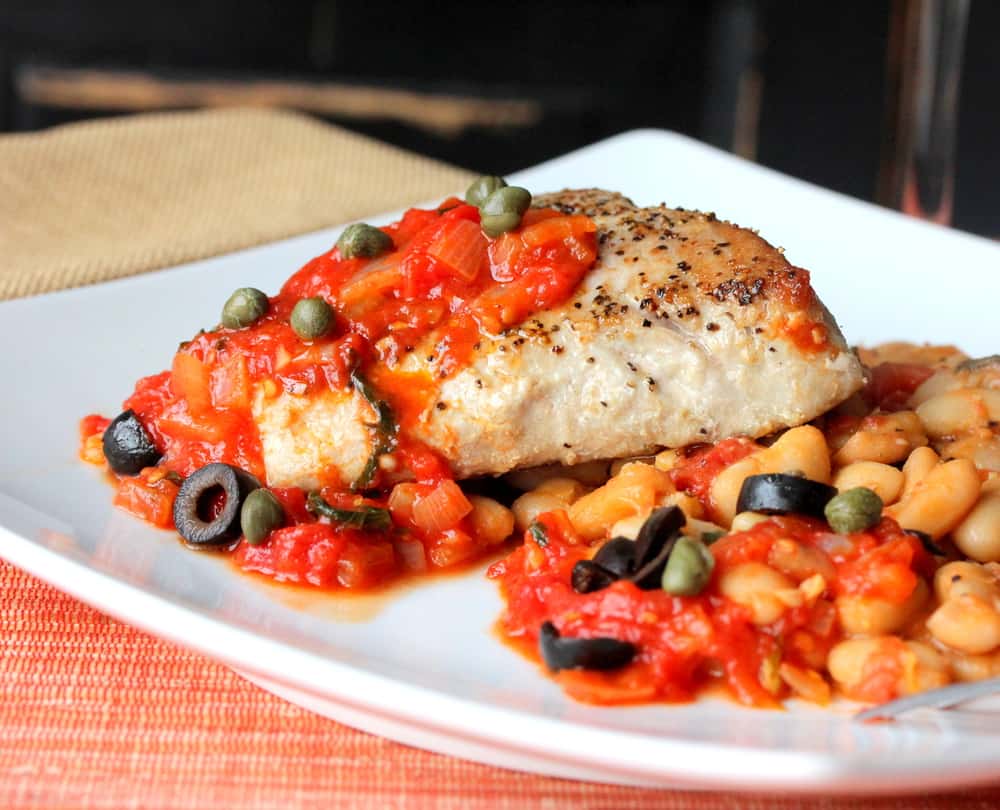 If this doesn't make your stomach growl, well…I don't know what to say to that.  Because this is one of those dishes that actually tastes even better than it looks.  And it is a gorgeous plate of yumminess!
Okay, so run, don't walk and pick up the simple ingredients to make this incredibly delicious Sautéed White Beans with Garlic, Sage and Tomatoes recipe!
Print
Sautéed White Beans with Garlic, Sage and Tomatoes
This Sautéed White Beans with Garlic, Sage and Tomatoes couldn't be easier to prepare, but is so full of robust flavor, you won't believe how quickly you'll be getting this to your table. Simple ingredients and wonderful flavors. It is wonderful served warm or at room temperature.
Ingredients
1 cup dried cannellini beans (or two 15.5 oz. cans, drained)
1/4 cup olive oil
4 cloves garlic, minced
4 fresh sage leaves, chopped
1/4 cup dry white wine
1 large tomato, seeded and chopped (or one 15 oz. can whole tomatoes, drained and roughly chopped)
Kosher salt and freshly ground black pepper
Instructions
Cover the beans with water in a large pot and let soak overnight (if using drained canned beans, skip to step 3)

Drain beans and re-fill with fresh water in same pot. Bring to a boil and cook for 1 1/2 to 2 hours, or until beans are soft. Drains beans, reserving about 1 cup of liquid.

In a large skillet over medium heat, warm the olive oil.

Add the garlic and sage and cook until lightly golden, about 2 minutes.

Add the wine and cook until nearly evaporated, about 3 minutes.

Add the beans and tomatoes and season with a healthy pinch of salt and pepper. Simmer for 15 minutes, adding reserved liquid if becoming dry.

Taste and add more salt, if desired.

Transfer to serving bowl and serve at once, or serve at room temperature.