This dish is truly a celebration of fresh and vibrant flavor.
This salad is amazing year-round, but we especially love to serve it when vegetables and herbs are at their peak. Making pesto from scratch is so easy and puts this over the top. And you'll love that comes together so fast!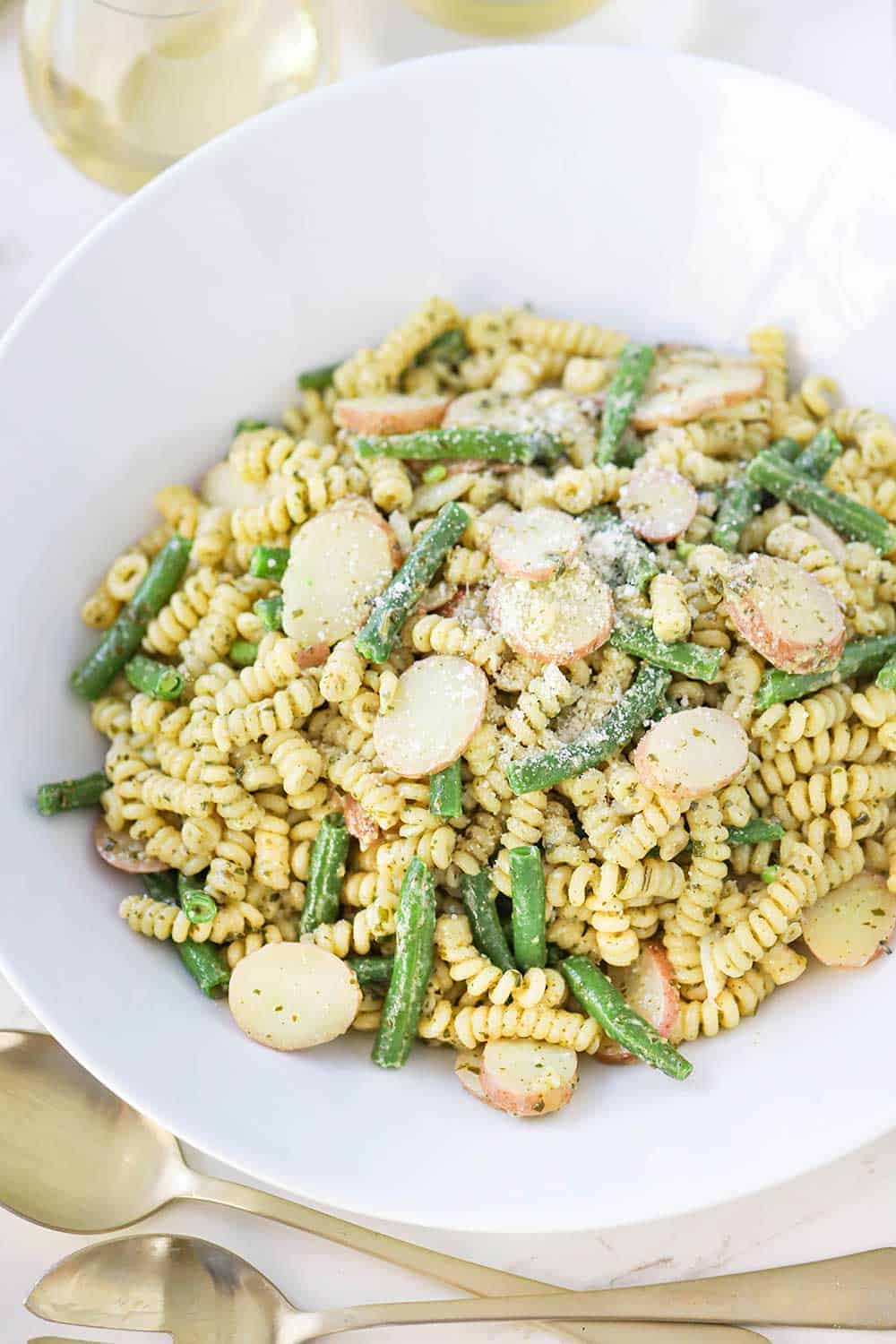 HOW TO MAKE PESTO PASTA SALAD WITH POTATOES AND GREEN BEANS
You will be amazing at how quickly this salad comes together and it is wonderful served warm or at room temperature.
As mentioned, making the Easy Pesto Sauce is just that, easy, and really elevates this dish to culinary heights.
However, that being said…good-quality store-bought pesto works well in this dish, too. You can't go wrong either way!
CHOOSING THE BEST VEGETABLES
There are plenty of potatoes to choose from for this dish. Small (or baby) red potatoes are great. Baby Yukon gold potatoes are wonderful, too.
Give them a good washing and then slice them to about 1/4-inch thick.
EXPERT TIP: We don't peel the potatoes for several reasons. One, the red color is pretty in the salad. Two, the skin is full of nutrients. Three, it's easier to leave them on. And four…they are delicious with the skins on!
Fresh young green beans are perfect for this salad. Snip the ends before cooking them.
You can easily cut the beans in half, too, if the beans are too long. This gives them a better bite-size shape, which you may prefer.
EXPERT TIP: After you have dropped the vegetables into your pot of salt boiling water, they only will take about 8 minutes to become nice a soft. If you have a removable pasta pot with holes in it, then pull it out and let the veggies drain. Otherwise, simply remove the beans and spuds with a slotted spoon and keep that water boiling. The pasta will go in next!
COOKING THE VEGETABLES AND PASTA
Transfer the cooked potatoes and beans to a large bowl and cover with foil to keep them warm. Cook the pasta to al dente according to the directions on the package.
Once the pasta is ready, drain and add to the vegetables.
EXPERT TIP: We love the look and the texture of fusilli pasta. However, any type of small pasta will work. You can go with penne, ziti, bow-tie, or elbow, just to name a few! Be sure to save about a cup of the pasta water to help loosen the salad once everything is combined.
Pour the amazing pesto sauce and Parmesan cheese all over the cooked pasta and veggies and gently stir.
This is such a bright, delicious, and satisfying dish.
You will instantly smell the freshness of the pesto as it hits the warm pasta and vegetables. So good!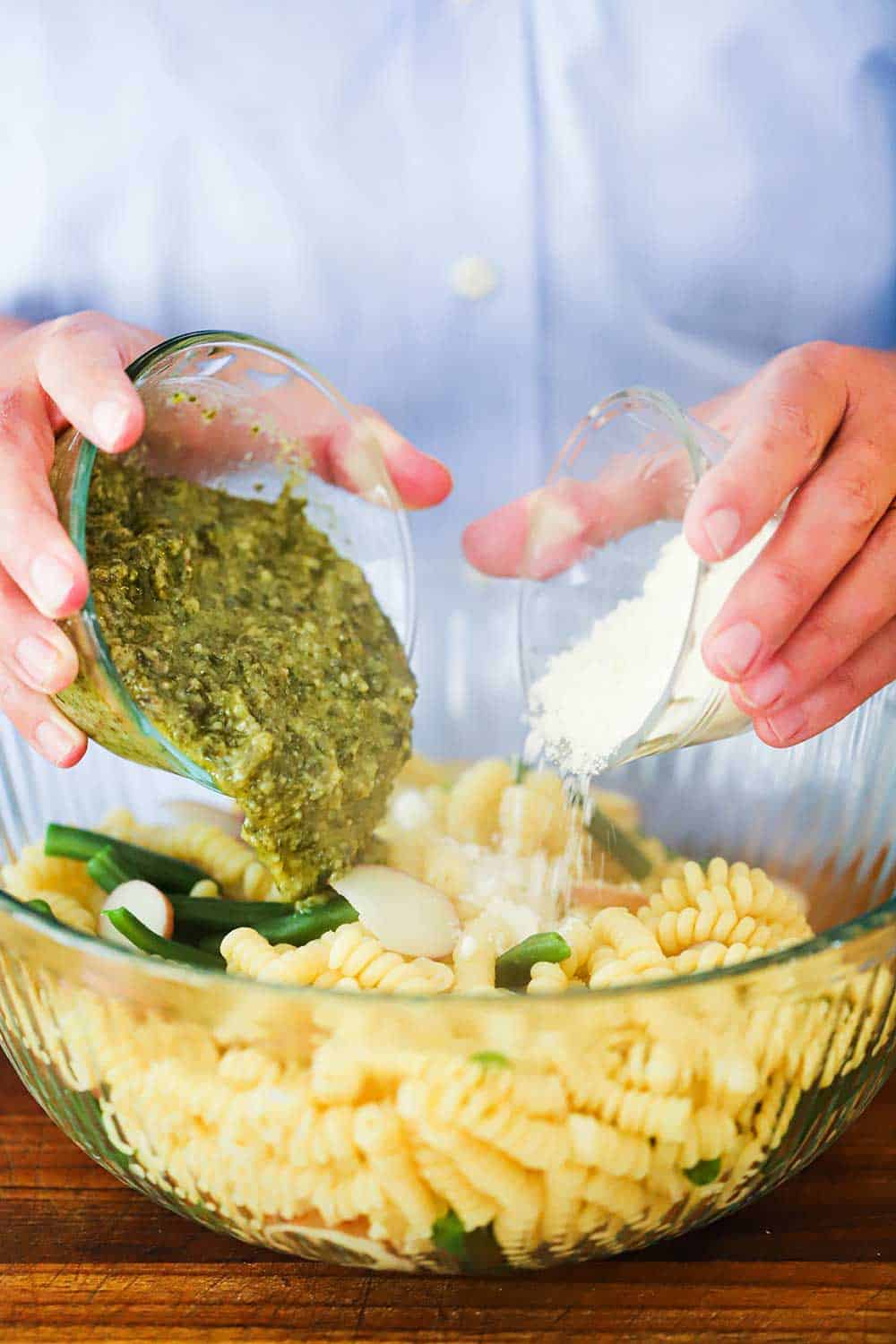 GENTLY TOSS TO COMBINE
All you need to do now is to gently toss the salad until fully combined.
Give it a taste test at this point, if you feel it needs a little more salt, sprinkle some on and mix again.
EXPERT TIP: We like to add anywhere from ¼ to ½ cup of the pasta water to slightly thin the texture of the pesto dressing. Remember, the water is salted, so if you do add more salt, taste as you go as to not over-salt the salad.
PESTO PASTA SALAD WITH POTATOES AND GREEN BEANS IS THE PERFECT SIDE
This dish is absolutely amazing when served warm.
But, it is also addictively delicious when served at room temperature.
EXPERT TIP: If bringing to an outdoor BBQ, then we suggest keeping the salad in an air-tight container in the refrigerator until about an hour before serving. If traveling with the salad, keep it in cooler if possible.
The flavors in the salad just work so beautifully together.
Fresh and vibrant and ideal for a picnic, BBQ, or nice luncheon or shower.
It's truly one of those dishes that is not only delicious in taste but beautiful in presentation, too.
Ready to make one of the best pasta salads in town? Go for it!
And when you do, be sure to take a photo of it, post it on Instagram, and tag @howtofeedaloon and hashtag #howtofeedaloon!
Pesto Pasta with Potatoes and Green Beans
This Pesto Pasta with Potatoes and Green Beans is truly a perfect side dish. It's great for brunch, lunch, or dinner. Fresh pesto makes all the difference, but this is even good with a good-quality store-purchased pesto. Make the pesto ahead of time, and then the dish comes together very quickly. Superb!
Print
Pin
Rate
Servings: 8 people
Calories: 366kcal
Ingredients
1 cup Pesto click for easy recipe
Kosher salt
10 oz potatoes baby red, cut into slices about 1/4-inch thick, about 2 cups
10 oz green beans fresh, ends trimmed and cut in half
1 lb pasta small
1 tbsp unsalted butter slightly softened
¼ cup Parmesan cheese grated
Instructions
Make the pesto and set aside.

Bring a large pot of salted water to a rolling boil. Add the potatoes and green beans and cook until tender, about 8-9 minutes.

Using a large slotted spoon, or directly from pasta pan (with holes), transfer the potatoes and beans to a large serving bowl. Cover the bowl lightly with foil to keep the veggies warm.

Bring the water back to a rolling boil and add the pasta, stir well, and cook, stirring occasionally, until al dente, following package instructions.

Add the drained pasta to the bowl with the veggies. Scoop out and reserve about 1 cup of the pasta water. Add the pesto, Parmesan cheese, and butter to the pasta with vegetables. Stir and toss until the pasta and veggies are evenly coated with the sauce, adjusting the consistency with some of the cooking water if needed. Taste and add salt, if desired.

Serve warm or at room temperature.
Notes
The homemade pesto can be made up to 1 week in advance. Keep in an air-tight container in the refrigerator until ready to use. Quality store-bought pesto works well in the recipe, too. Baby gold potatoes work great in this recipe, too, or a combination of red, yellow, and even purple! Our favorite type of pasta for this salad is fusilli, but any kind of small pasta will work, including penne, rigatoni, bow-tie, or elbow. This is wonderful served warm or at room temperature. If making ahead of time, toss the salad with about 1 tbsp of olive oil and give it a good mixing before serving. The salad will keep in the refrigerator for up to 1 week. We don't recommend freezing this salad.
Nutrition
Calories: 366kcal | Carbohydrates: 47g | Protein: 11g | Fat: 12g | Saturated Fat: 3g | Cholesterol: 8mg | Sodium: 346mg | Potassium: 201mg | Fiber: 3g | Sugar: 4g | Vitamin A: 938IU | Vitamin C: 4mg | Calcium: 112mg | Iron: 1mg
POST UPDATE: This recipe was originally published in July 2018, but was updated with improved tweaks to the recipe, with new tips and photography, and a fabulous new video in June 2020!