Pesto Pasta with Potatoes and Green Beans is such a celebration of flavor.
This dish is amazing year round, but we especially love to serve it when vegetables and herbs are at their peak. Making pesto from scratch is a easy and puts this over the top. And you'll love that comes together so fast!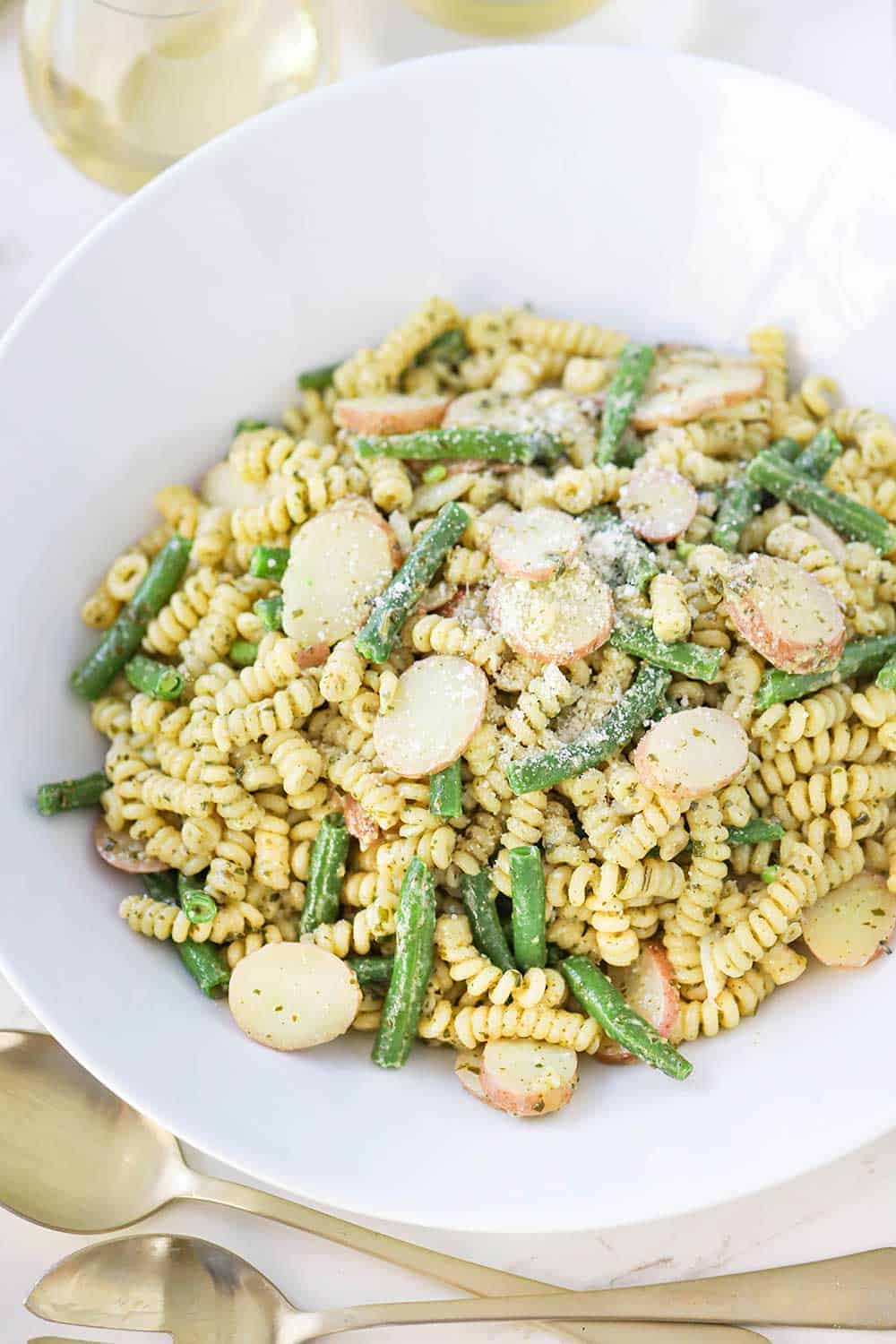 HOW TO MAKE PESTO PASTA WITH POTATOES AND GREEN BEANS
We also love that the dish comes together very quickly and is wonderful served warm or at room temperature.
As mentioned, making the Easy Pesto Sauce is just that, easy, and it is what elevates this dish to culinary heights.
Using our trusty food-processor makes whipping up a batch of pesto a snap!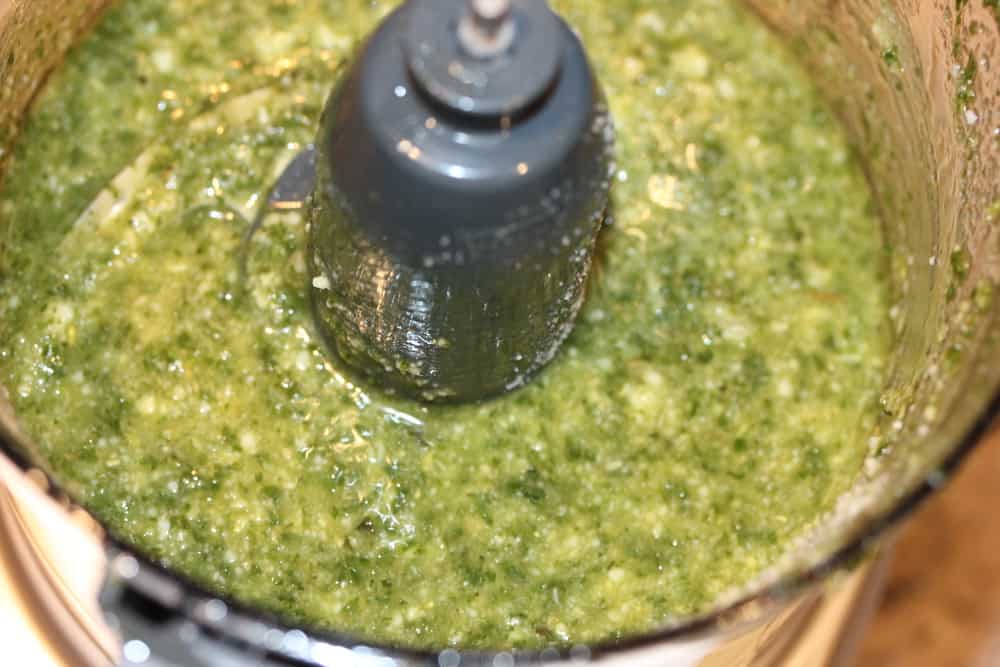 CHOOSING THE BEST VEGETABLES
There are plenty of potatoes to choose from for this dish. Small (or baby) red potatoes are great. Baby Yukon gold potatoes are wonderful, too.
Fresh young green beans are wonderful. Snip the ends before cooking them.
You can easily cut the beans in half, too, if the beans are too long. This gives them a better bite-size shape, which you may prefer.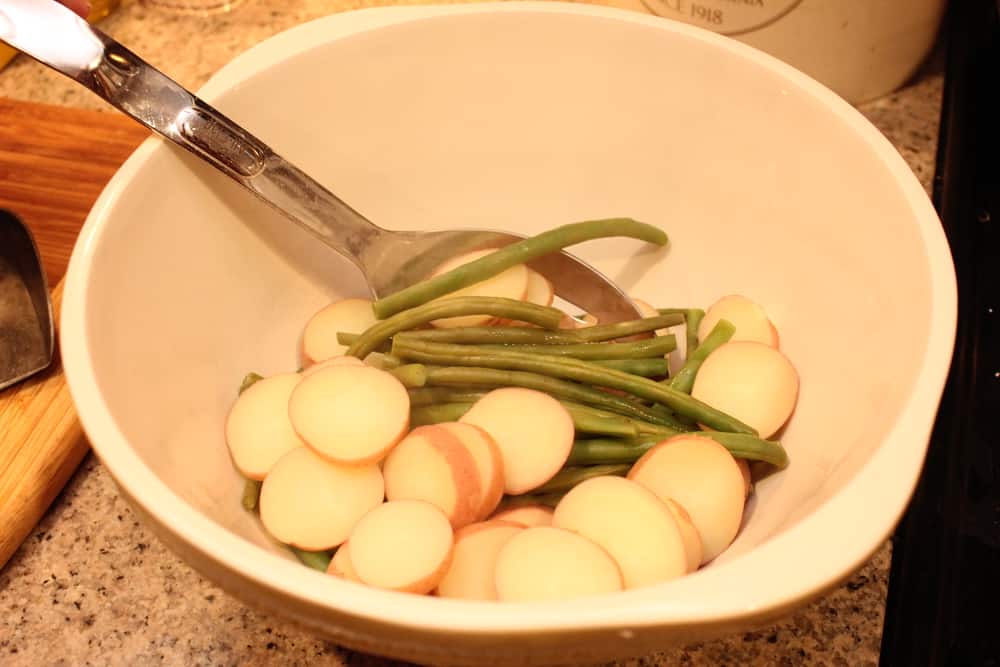 HOW TO COOK THE VEGETABLES AND PASTA
One of the wonderful things about preparing Pesto Pasta with Potatoes and Green Beans is that you can cook the pasta in the same boiling water that you cooked the veggies in.
If you really want to up the flavor ante, you can cook the potatoes and green beans in vegetable or chicken stock.
Pour the amazing pesto sauce all over the cooked pasta and veggies and gently stir.
This is such a bright, delicious and satisfying dish.  
I made this one Saturday afternoon, and the Loon and I just sat there with a couple forks and could not stop eating it.
Yes, folks…it's really that good. And a beautiful presentation, too!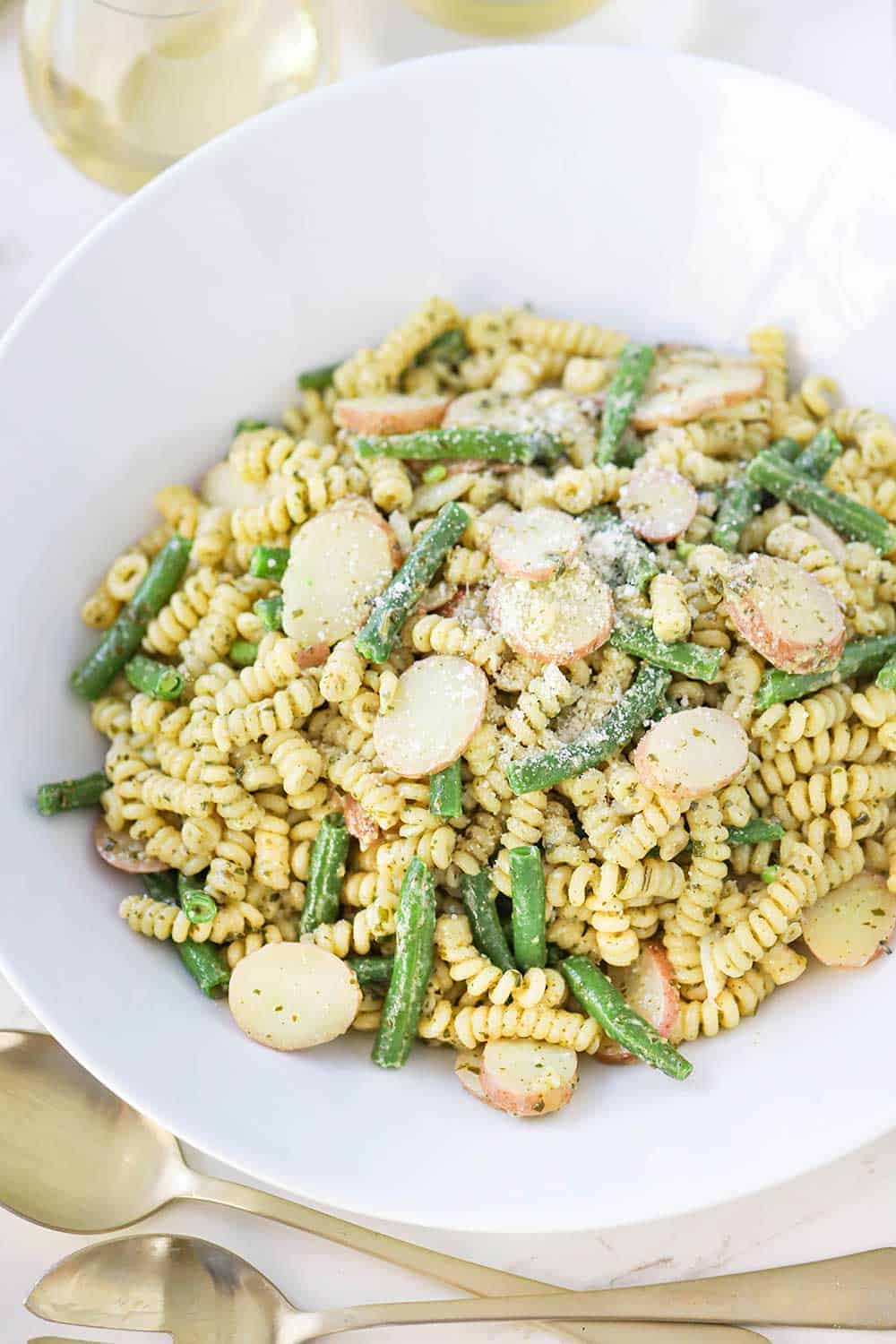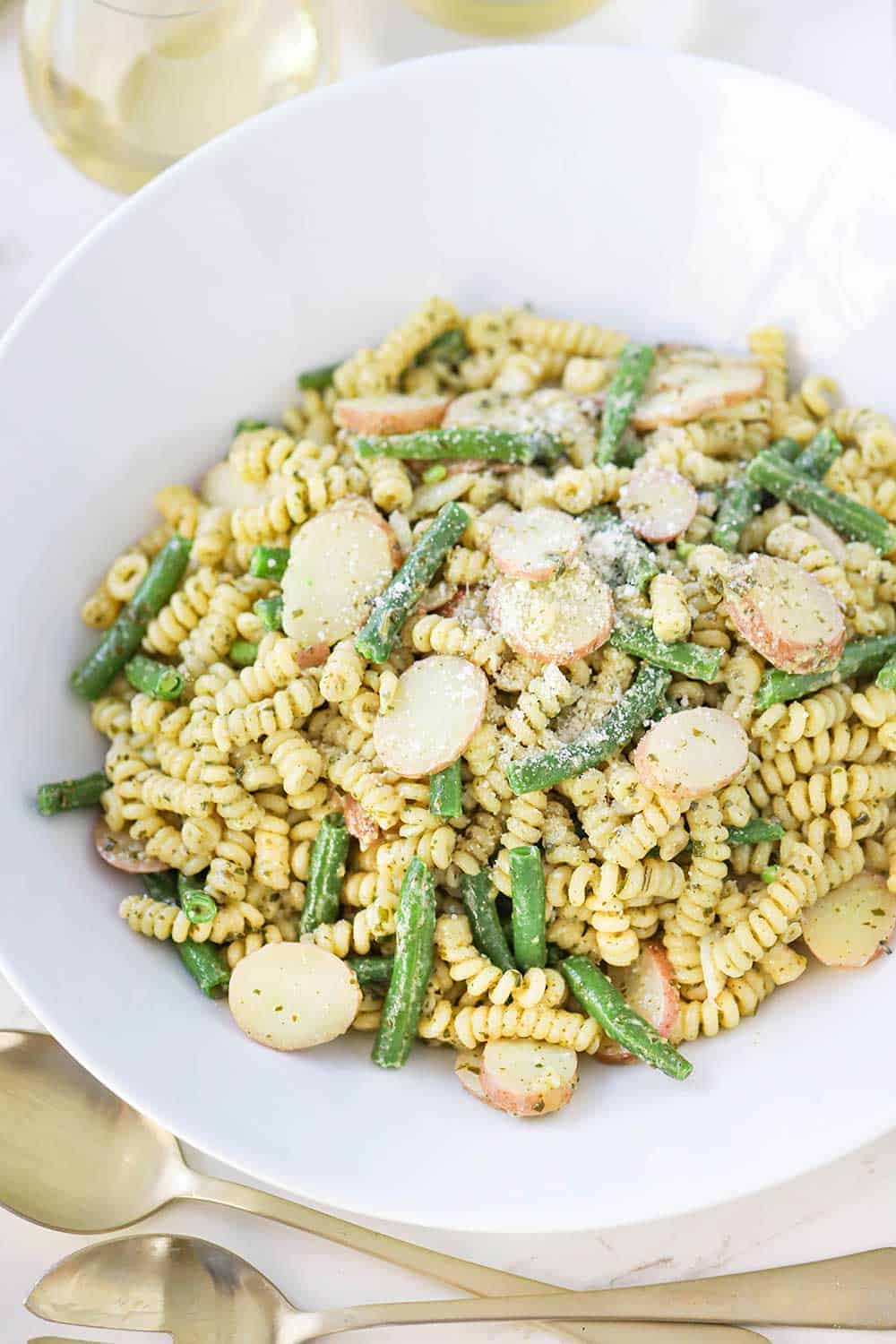 Pesto Pasta with Potatoes and Green Beans
This Pesto Pasta with Potatoes and Green Beans is truly a perfect side dish. It's great for brunch, lunch or dinner. Fresh pesto makes all the difference, but this is even good with good-quality store purchased pesto. Make the pesto ahead of time, and then the dish comes together very quickly. Superb!
Print
Pin
Rate
Prep Time: 15 minutes
Cook Time: 18 minutes
Total Time: 33 minutes
Servings: 4 people
Calories: 218kcal
Ingredients
Fresh pesto click for easy recipe
Kosher salt
1/2 lb baby red potatoes cut into slices about 1/4-inch thick
1/2 lb fresh green beans stem ends trimmed
1 lb penne ziti works well, too
1 tbsp unsalted butter slightly softened
Instructions
Make the pesto and set aside.

Bring a large pot of salted water to a rolling boil.

Add the potatoes and green beans and cook until tender, about 7 minutes.

Using a large slotted spoon, transfer the potatoes and beans to a large serving bowl.

Cover the bowl lightly with foil to keep the veggies warm.

Bring the water back to a rolling boil and add the penne, stir well, and cook, stirring occasionally, until al dente, following package instructions.

Scoop out and reserve about 2 cups of the pasta water, then drain the pasta.

Add the drained pasta to the bowl with the veggies and then add the pesto.

Stir and toss until the pasta and veggies are evenly coated with the sauce, adjusting the consistency with some of the cooking water if needed.

Add the butter and gently toss to coat evenly.
Nutrition
Calories: 218kcal