Easy Pesto Sauce really is easy. Really.
And on top of that, it is SO incredibly fresh and delicious. Learn more about the humble origins of this iconic Italian sauce here..
It is perfect on pasta or as a spread on your favorite sandwich. Its uses are practically endless!
PESTO SAUCE IS SIMPLE TO MAKE AT HOME
All you need is a small-to-medium food processor, or a blender, to make this delicious pesto sauce at home.
Watch us show you how to make Easy Pesto Sauce…Pronto!
WHAT YOU NEED TO MAKE EASY PESTO SAUCE:
In addition to salt, there are only 5 ingredients to make pesto sauce in your food processor, or blender:
Fresh basil
Garlic
Pine nuts
Parmesan cheese
Olive oil
HOW TO STORE
Be sure to use fresh basil when making this sauce.
Keep the fresh pesto sauce in an air-tight container in your refrigerator for up to 1 week.
You can also double, or triple, the pesto sauce and freeze for future use.
FRESH PESTO HAS MANY USES
We honestly use this sauce in, or on, so many dishes.
One of our favorite sandwiches in the world is our Italian-Style Paninis…within homemade Easy Pesto Sauce.
Crazy delicious!
And, of course, fresh pesto is amazing when paired with pasta.
It's wonderful warm or room temperature.
BLANCHING THE BASIL WILL PROVIDE A MILDER TASTE
When I'm making pesto to be served with pasta, such as our Spaghetti with Pasta, I blanch the basil first by simmering the fresh leaves for about 1 minute in boiling water, then transfer them to an ice batch. For the warm pasta dish, the blanching gives the pesto a milder basil flavor, which we feel works best for the dish.
But, for a sandwich spread, the food processor/blender version is perfect.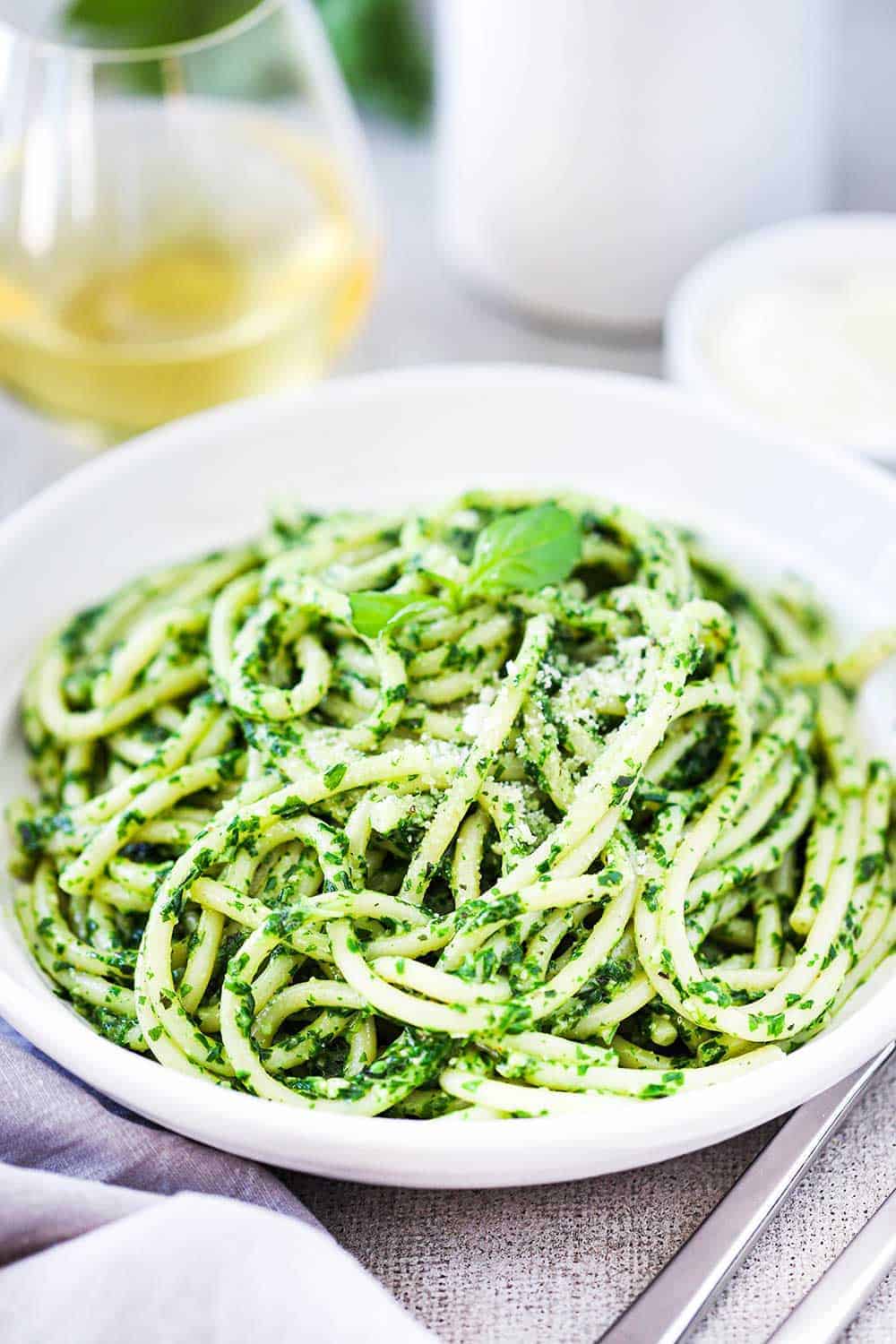 Another way we love it is on a pizza!
Use pesto sauce in place of a traditional tomato sauce, and you will just love the taste.
You will flip for our BLT Pizza (with pancetta, pesto, tomatoes and arugula). So good!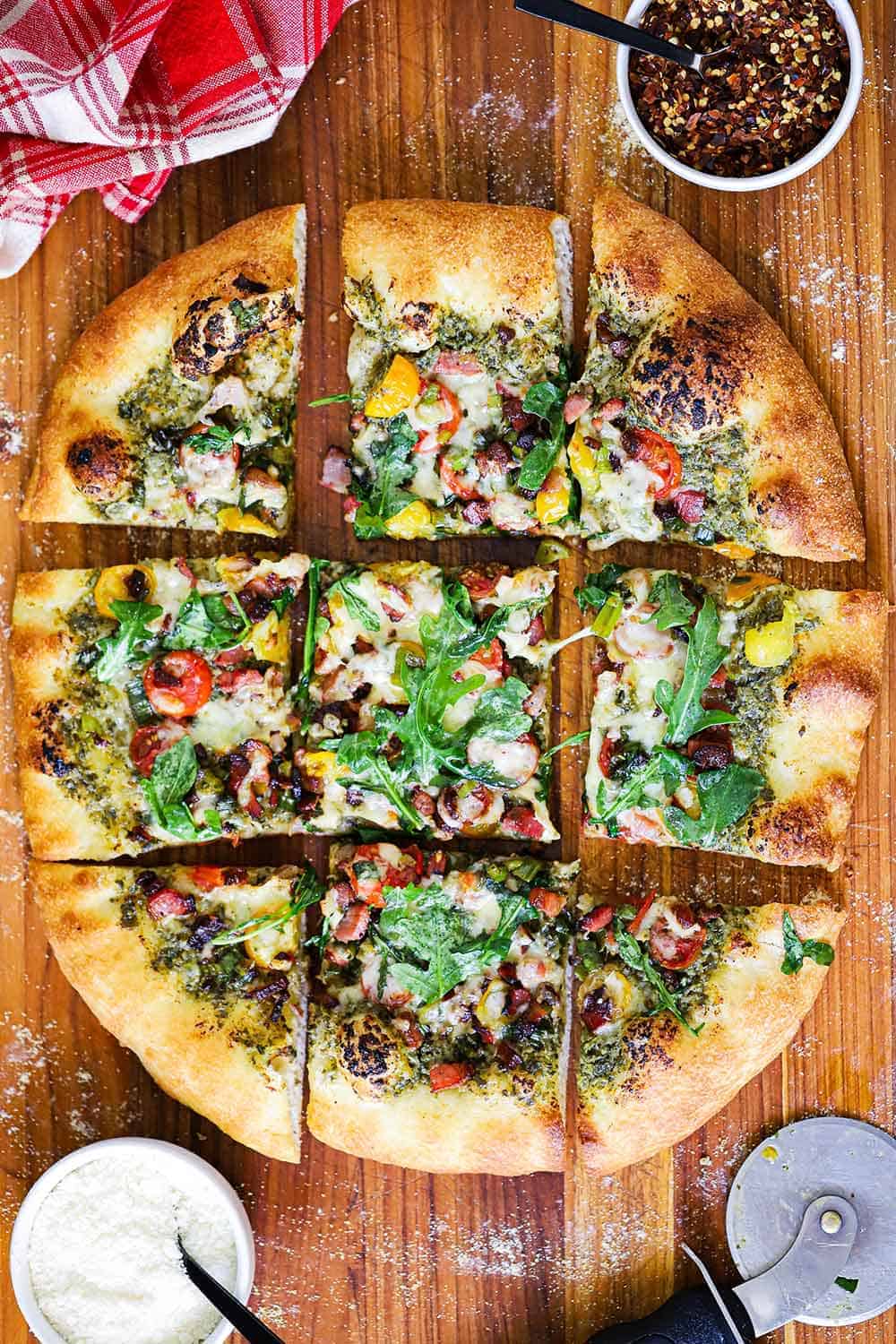 Now, it's time to make this at home and have FUN in the kitchen!
Go for it!
Mmmmm…Fresh Pesto!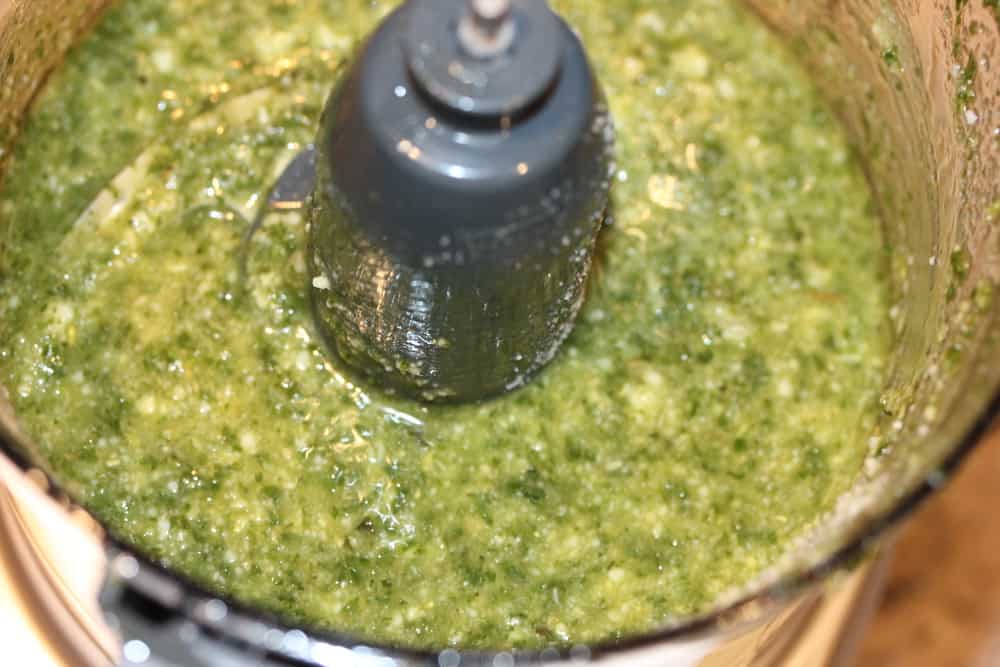 Easy Pesto Sauce
Easy Pesto Sauce really is easy. Perfect for pasta or sandwiches, or on a pizza! So packed with flavor and so easy!
Print
Pin
Rate
Servings: 6 people
Calories: 218kcal
Equipment
Food processor, or blender
Ingredients
2 cups fresh basil
1.75 oz pine nuts about 3 tbsp
1 tsp garlic minced (about 2 to 3 cloves)
1/2 cup quality olive oil
1/2 cup grated Parmesan cheese
1/2 tsp salt
Instructions
In a food processor (or blender) add the basil, pine nuts, and garlic and process until thoroughly chopped. Remove the lid and scrape the sides of the mixture back down into the base of the processor, or blender.

Place the lid back on, and with the motor running, slowly add the olive oil through the feed tube. Process until smooth, about 1 minute. Turn off the motor.

Add the cheese and salt and pulse until just combined.

Keep in an air-tight container in the fridge for up to 1 week, or freeze for up to 3 months.
Nutrition
Calories: 218kcal