Carnitas Tacos are truly an amazing Mexican treat.
We slow-cook a beautiful boneless pork shoulder for 10 hours until it becomes tender enough to shred with a couple forks.
And then, we assemble one of the best tacos you'll ever have.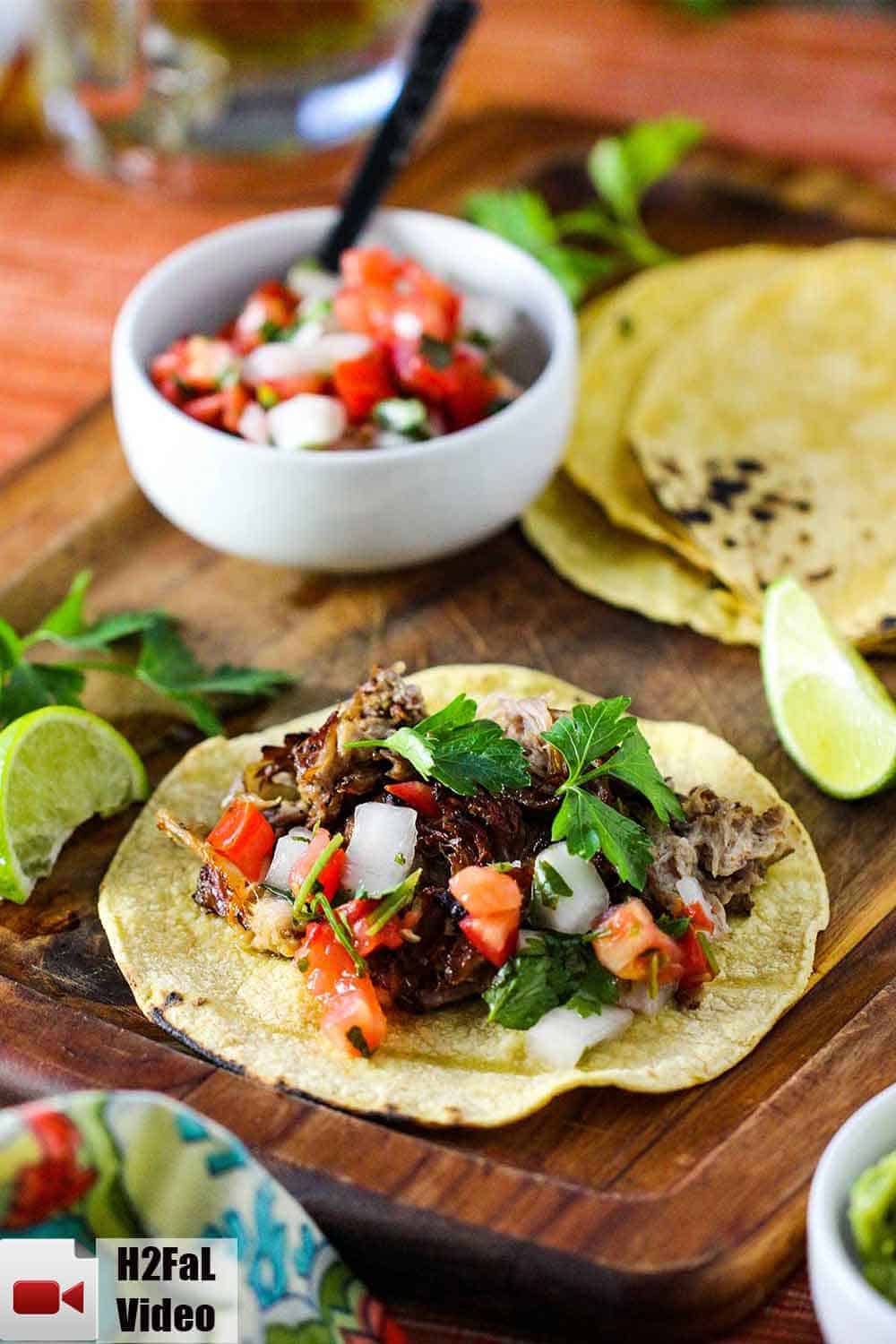 CARNITAS TACOS ARE EASY TO MAKE AT HOME
As mentioned, we love to use our slow-cooker to gently simmer the pork all day (or night).
Simply put all the ingredients in your slow-cooker, then slow cook for 8 to 10 hours on low (or 4 to 6 on high), and get ready for amazing carnitas.
Watch us show you how easy it is to make these amazing Carnitas Tacos!
HOW TO MAKE AUTHENTIC CARNITAS…WELL, ALMOST
Carnitas are believed to have their origins in the Mexican state of Michoacán. Traditionally, small pieces of pork are cooked slowly in pork lard until very tender.
When developing our version of carnitas, we opted to bypass the lard and instead slow-cook a pork shoulder in our 6-qt slow-cooker in a medley of amazing aromatics.
The addition of citrus, soda (with sugar) and Mexican beer helps round out the flavors perfectly. Some folks also add whole milk, which is delicious, as well.
If you don't have a slow cooker, you can certainly braise the pork in your oven.
If braising in the oven, pre-heat to 350°F, place the pork in a large Dutch oven, then add the remaining ingredients, cover, and roast for about 2 1/2 hours.
We find that the slow-cooker, on low for 10 hours, produces the most shreddable pork imaginable, but braising in the oven is good, too.
HOW TO SHRED THE CARNITAS
After the pork shoulder has slow cooked (preferably on low for 10 hours), carefully remove the meat from the vessel and place on a large baking sheet.
Save about 1 to 1 & 1/2 cups of the cooking liquid. This stuff is loaded with flavor.
At this point, all you need is a couple of forks to start pulling apart the meat. The meat will be so fall-apart tender, that you will have no problem at all shredding the meat. And the smell? Oh, it's insanely delicious. But just wait.
In the traditional way of preparing carnitas, once the meat has become fall apart tender from cooking in the lard for hours, it's time to crisp the meat up.
We achieve this at home by placing the meat under the broiler for about 5 to 10 minutes, until nice and crisp.
But before we do this, we pour the reserved cooking liquid all over the meat. Since broilers drastically vary from one to another, keep an eye on the meat! Once the meat has reached a nice brown, crispy exterior, get a large wooden spoon, stir around the meat, and stick back under the broiler for a few more minutes. We want the carnitas to be crispy all over on the outside, but still super tender on the inside!
SERVE CARNITAS TACOS WITH TRADITIONAL GARNISHES
First of all, you need a tortilla to place the amazing carnitas into. You can use corn or flour (we love corn, but that's up to you). Gently heat the tortillas before serving. TRICK: Turn on your grill or gas burner, and quickly heat them over the heat. You'll get a little char and warm them just enough, but don't over do it, or they will dry out!
Other traditional garnishes include:
Fresh cilantro
Fresh lime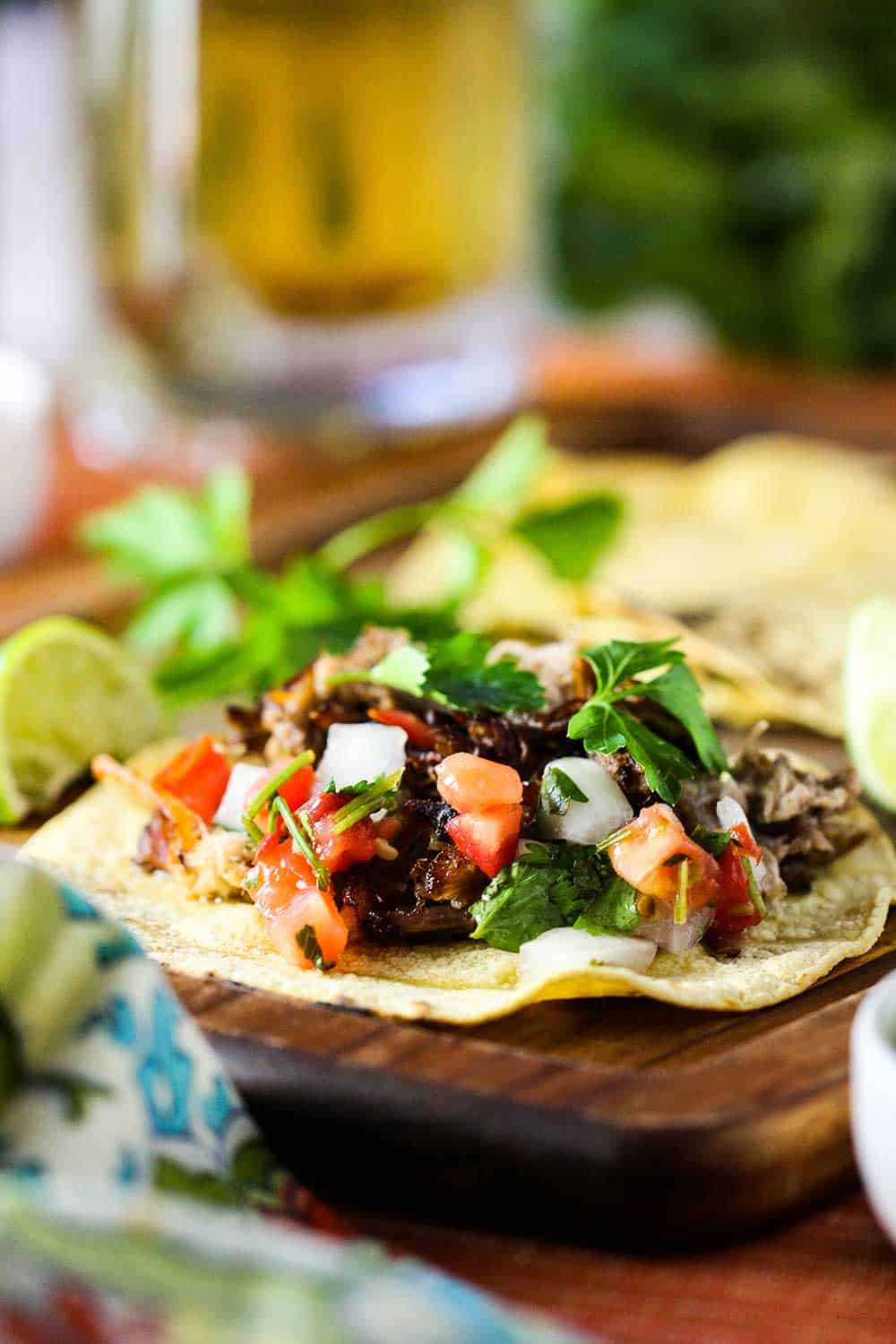 There is just something magical and extraordinary about homemade carnitas tacos.
We love to invite friends over for a festive taco party and let everyone build their own tacos!
The shredded pork also freezes beautifully for up to months. But good luck not eating all these amazing tacos in one sitting! They're that incredibly delicious!
Carnitas Tacos
Carnitas Tacos are Mexican-style shredded pork tacos that are bursting with amazing flavor and texture. Slow-cooked with incredible aromatics, citrus, soda and Mexican beer. Finished off under the broiler for a quick crisping. Taco perfection!
Print
Pin
Rate
Servings: 8 people
Calories: 368kcal
Equipment
6-qt Slow-Cooker or Large Dutch Oven
Ingredients
FOR THE SPICE RUB
3 tsp Kosher salt
2 tsp Mexican oregano
1 tsp dried cumin
1 tbsp ancho chile powder or regular chile powder
1 tsp ground cinnamon
EVERYTHING ELSE
1 4 to 5 lb boneless pork shoulder such as a Boston butt, can also use bone-in
1 large white onion sliced
4 garlic cloves roughly chopped
2 bay leaves
Juice of 1 lime don't discard the squeezed lime
Juice of 2 oranges don't discard the squeezed oranges
1 cup Mexican beer lager is good
1 cup Dr. Pepper of Coca-Cola with real sugar, if available (if not, just regular soda will work)
Coarse sea salt (optional) for finishing the cooked meat
SERVED WITH
8 to 12 corn or flour tortillas warmed
chopped onion
pico de gallo
fresh cilantro
fresh guacamole
fresh lime wedges
Instructions
Mix all the spice ingredients together in a small bowl.

Rub enough of the spice mixture over the pork to cover. Save the extra spice mixture.

Place a layer of onions on the bottom of the slow cooker and then place the meat on top. Add the remaining ingredients, incluing the squeezed lime and oranges, as well as the remaining spice mixture.

Cook on low for 8 to 10 hours (or on high for 4 to 6 hours)

Use two large spatulas to remove the pork to a large baking sheet. The meat will be extremely tender. Save 1 to 1 & 1/2 cups of the liquid from the slow cooker.

Use two forks to shred the meat. Pour the reserved liquid all over the pulled meat.

Place under a broiler on high for 4 to 8 minutes, keeping an eye on it as it cooks...don't let it burn! Turn the meat half-way through to ensure meat is gets crispy all over. Taste and sprinkle with more coarse sea salt, if desired.

Served at once with warmed tortillas and garnishes.
Notes
To braise the pork in the oven, simply rub the pork with the spice mixture, then add all ingredients into a large roasting pan, with lid (a large Dutch oven works well) and place in a pre-heated oven at 350°F for 2 & 1/2 hours, or until very tender.
Nutrition
Calories: 368kcal