Italian-Style Panini. This is one panini for the record books. This brings together some of our most favorite tastes into one mouth-watering sandwich.
Of course, we recommend making your own pesto, especially since it's just so darn easy to make, but, you can certainly get quality store-purchased as well.
Wow, is this delicious.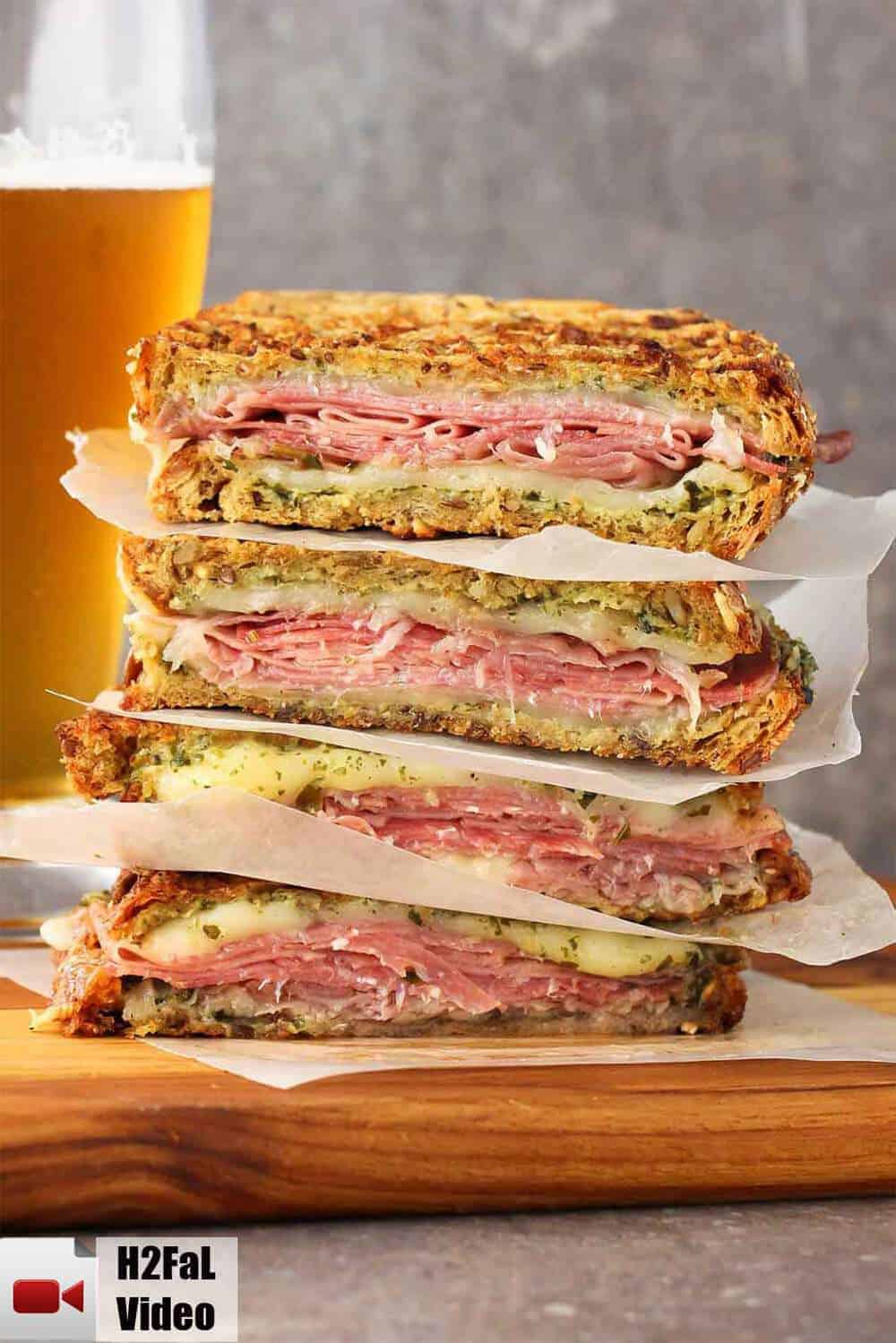 ITALIAN-STYLE PANINI IS EASY TO MAKE AT HOME
These are one of the best sandwiches we ever made in the H2FaL, and you won't believe how easy they are to prepare!
Watch us show you how simple (and fun) it is to make Italian-Style Paninis!
I absolutely love pulling out my trusty grill pan and getting it nice and hot. Then, I just grab another heavy skillet, and place it right on top of the sandwich. I love getting new gadgets and appliances as much as anybody, probably even more than most, but I haven't gotten a panini press because my grill pan / heavy skillet technique works so perfectly. But hey, a panini press would be pretty awesome, too.
Either way, you're going to get an over-the-top Italian-Style panini with this recipe!
Here's the grill pan I use almost every single week. I've had it for years and it works like a charm!
Just look at that…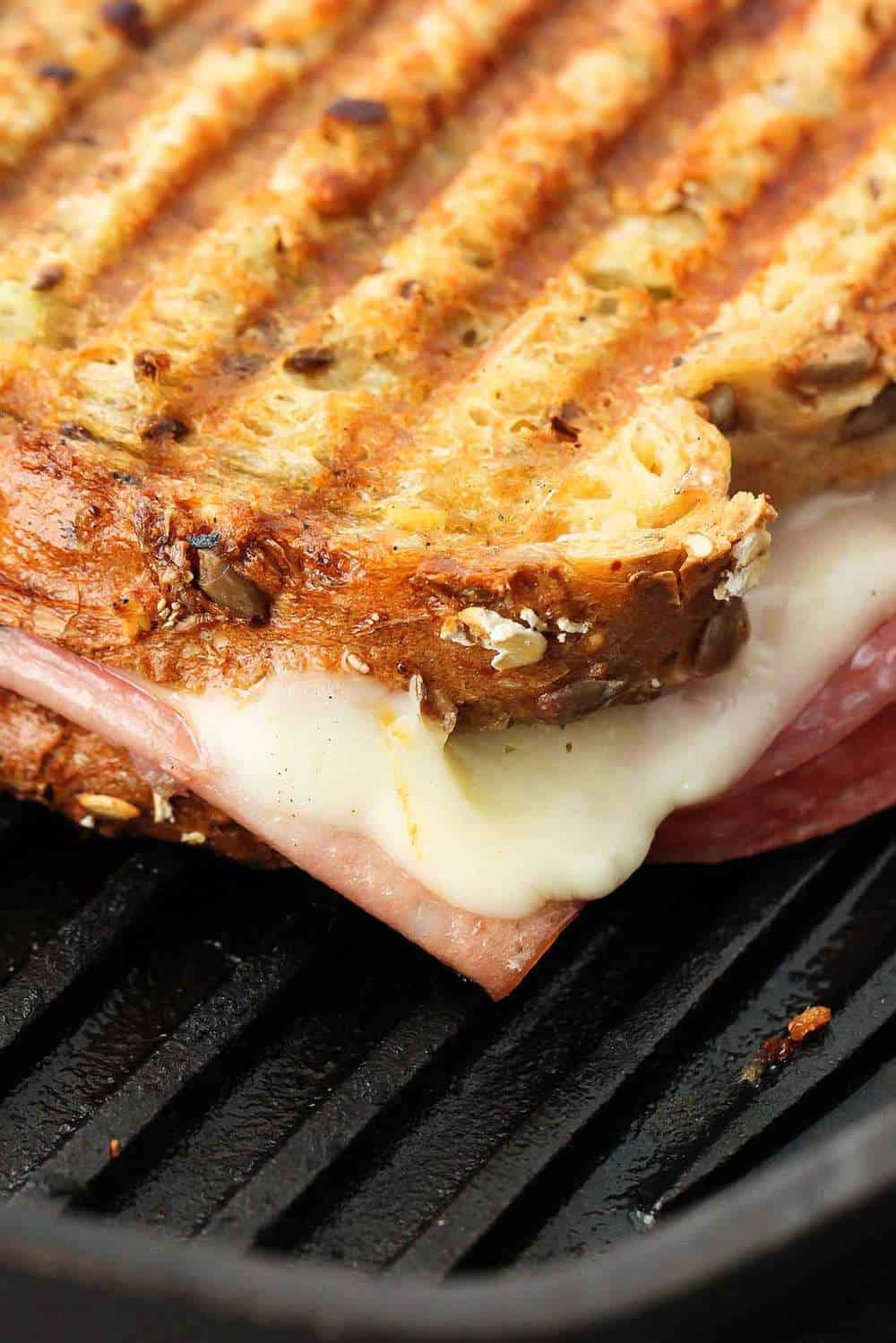 We love Italian cured meats. The combination of salami, soppressata, prosciutto and mortadella is just heavenly.
All of the meats can be found in a well-stocked deli section of most major supermarkets.
This combined with good-quality mozzarella, bread and pesto…oh, my mouth is watering just thinking about it.
Of course, if you want to go the vegetarian route, that can be just as delicious, too.
Go with roasted red peppers and baked eggplant, and you will not be disappointed.
But…if you're in the mood for a classic Italian-Style Panini recipe…look no further. You have just hit the panini jackpot. Just incredible!
Italian-Style Panini
This Italian-Style Panini recipe is one for the record books. The Italian cured meats, along with the fresh pesto and mozzarella cheese work beautifully with the grilled bread. This incredible sandwich pairs nicely with a crisp wheat beer. Doesn't get much better than this!
Print
Pin
Rate
Servings: 4
Calories: 528kcal
Equipment
Panini press

OR - Grill skillet

OR- Sturdy skillet
Ingredients
8 slices Firm whole grain bread
Fresh Pesto click for recipe, or use store-bought
1/4 lb thinly sliced whole-milk mozzarella
1/4 lb thinly sliced salami
1/4 lb thinly sliced soppressata
1/4 lb thinly sliced prosciutto
1/4 lb thinly sliced mortadella
1/4 cup unsalted butter room temperature
Instructions
Pre-heat oven to 200°F.

Lay out 4 slices of bread and spread the pesto on top of each slice.

Next, add to those 4 slices, the cheese. Then layer a few slices of each meat on top.

Top with another cheese slice and then top bread slices.

Spread butter on the top each sandwich.

Heat a grill pan (can also use a heavy frying pan) over medium-high heat, or heat your panini press.

Depending on the size of you pan, add 1 or 2 sandwiches, buttered side down first.

Place a heavy pan on top of the sandwiches.

Cook until the undersides are lightly browned and show grill marks, about 2 - 3 minutes. Adjust heat if cooking too quickly. Add butter to the top piece, while cooking the panini.

Flip the sandwiches, add the heavy pan on top of sandwich, and brown the other side, another 2 -3 minutes. The cheese should be melting by now.

If you are using a panini press, the total cook time is about 5 minutes.

Remove from the pan and place on a baking sheet and keep warm in the oven while preparing the other sandwiches in the same manner.

Cut each sandwich in half (on the diagonal is nice) and serve immediately.
Nutrition
Calories: 528kcal
I