This Arancini recipe for Italian Rice Balls is one of our all-time favorites.  There is just something so tantalizingly delicious about these little balls of yumminess.  These are quickly deep-fried to golden crispy perfection.  The risotto delivers superior flavor.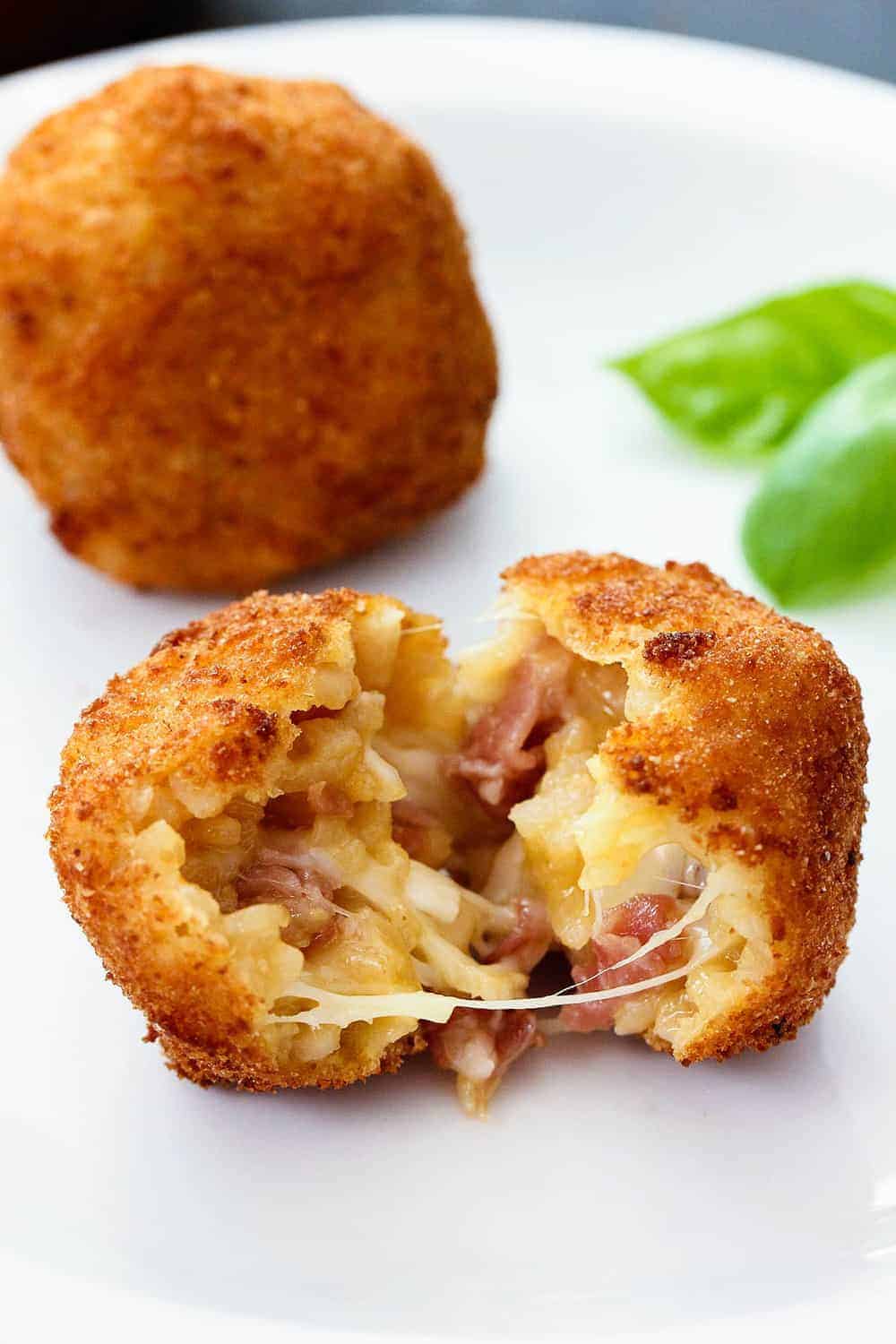 Arancini means 'little oranges' in Italian because they sort of look like little oranges once they come out of the fryer. All we know is they are nothing but pure deliciousness. These are very popular in Sicily and throughout Italian restaurants throughout the world.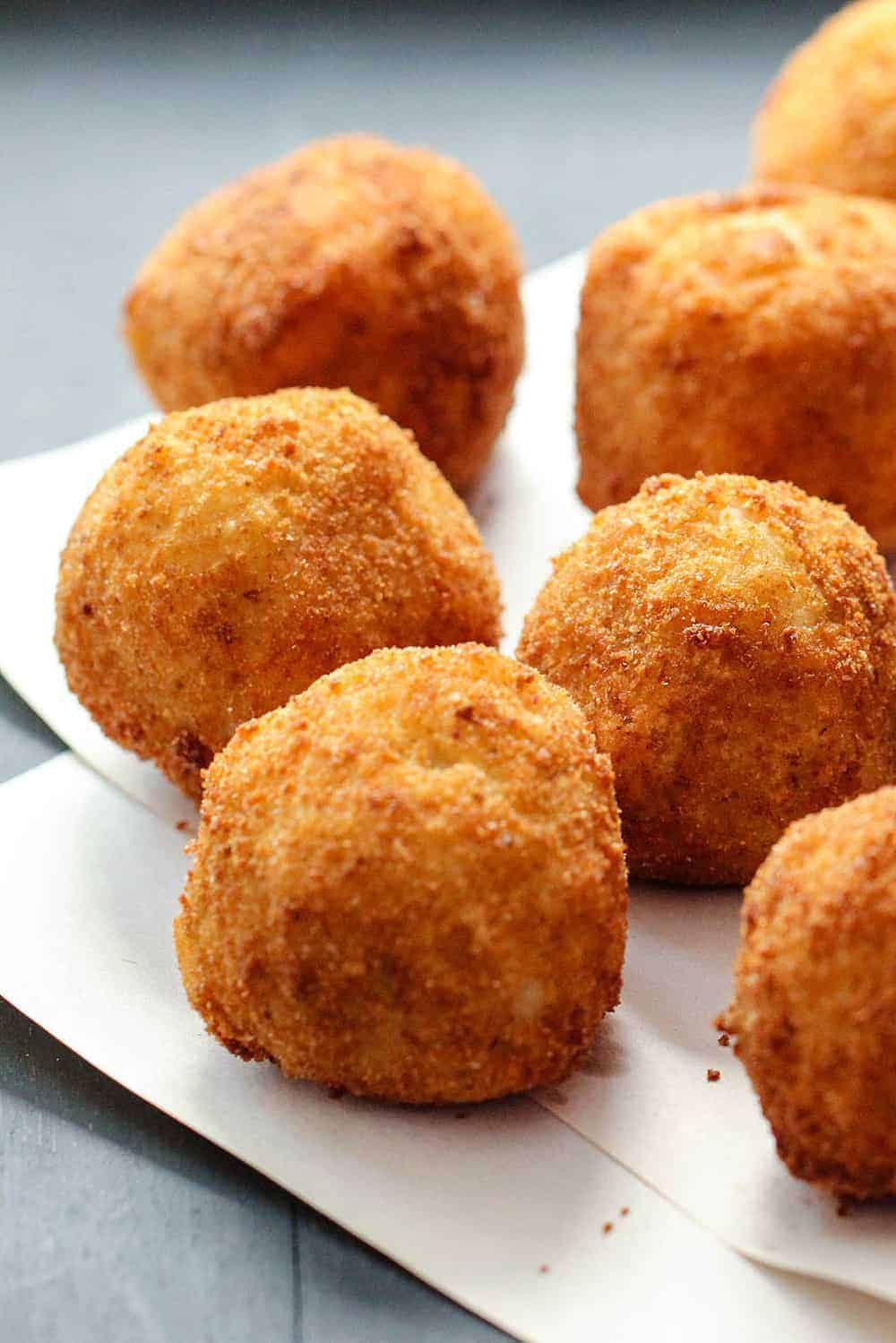 You can choose whatever filling you like for your Arancini. Sweet baby peas are popular along with a rich meat sauce. We love the simplicity of good-quality prosciutto and mozzarella. Ooey gooey, and oh so amazing!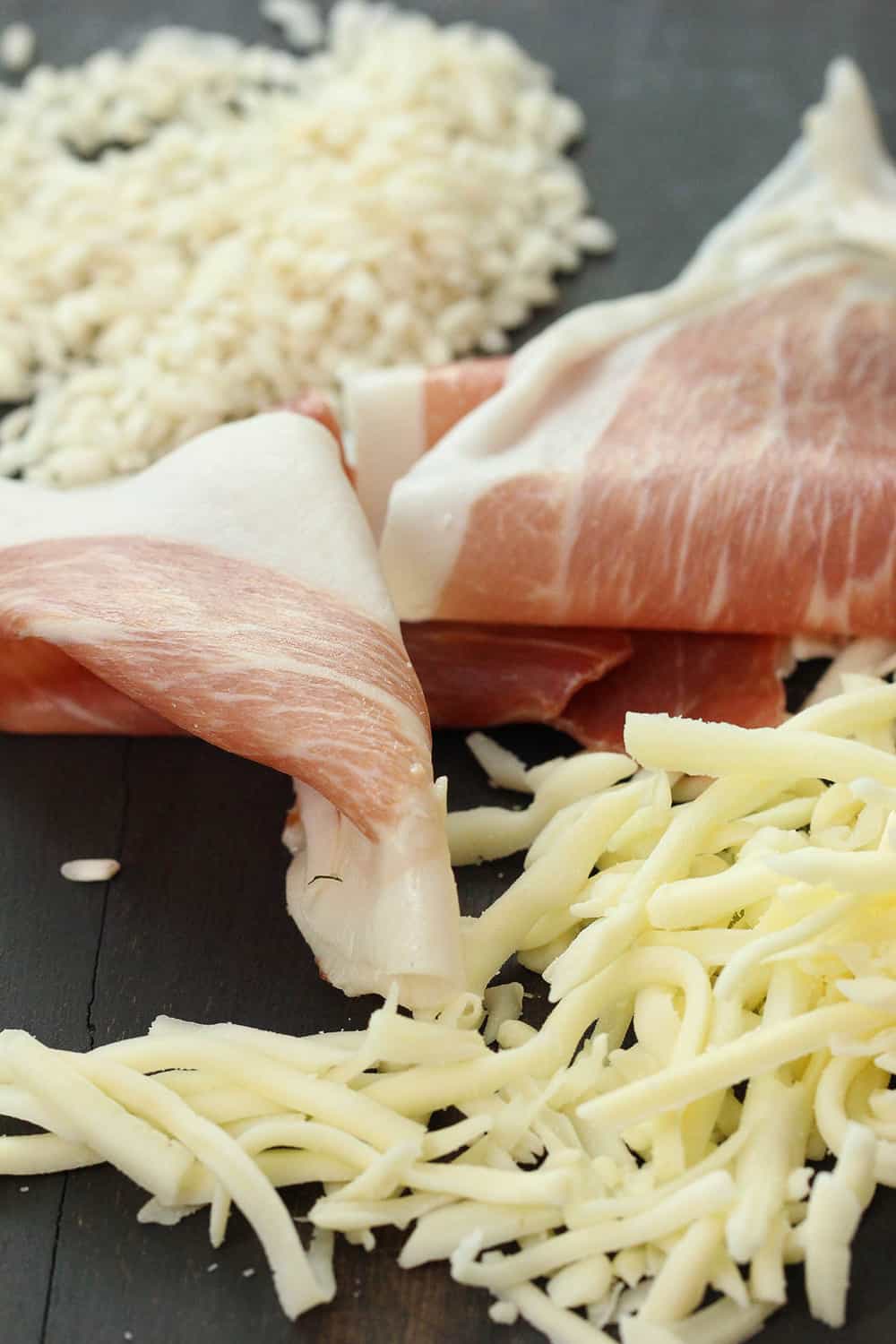 Ready to make these incredible balls of Italian deliciousness? They are easier than you'd think. Go for it and ENJOY!!
Arancini (Italian Rice Balls)
This Arancini (Italian Rice Balls) recipe is pure appetizer perfection. Lightly fried to golden perfection. We love filling them with good-quality prosciutto and mozzarella. Small peas and meat sauce are a popular filling, too. These are perfect by themselves, but they are great with marinara for dipping, too. Pure deliciousness!
Print
Ingredients
3 cups chicken stock
1 tbsp unsalted butter
1/4 cup shallots chopped
1 cup Arborio rice
1/4 cup dry white wine
Kosher salt
1/2 cup Parmesan cheese grated
4 eggs divided
1 cup all-purpose flour
2 cups bread crumbs fine crumbs are best
3 oz. prosciutto chopped
3 oz. mozzarella shredded
Canola or vegetable oil for frying
Instructions
In a medium pot, heat the stock to a simmer.

Meanwhile, in a large heavy skillet or pot (preferably a Dutch oven), melt the butter over medium-high heat.

Add the shallots and cook until translucent, about 4 minutes.

Add the rice and cook until lightly toasted, about 8 minutes.

Add the wine and cook until almost evaporated, about 4 minutes.

Ladle over enough of the hot stock to cover the rice.

Stir frequently with a wooden spoon until almost all liquid is absorbed, about 8 minutes.

Add more stock and continue stirring until absorbed.

Add stock again, until absorbed and creamy and rice is soft (about 25 minutes total). Remove from the heat.

Add 3/4 teaspoon salt, Parmesan cheese and 2 eggs and gently mix to incorporate. Set aside.

Heat the oil over medium-high heat until it reaches 365°F.

Spread the flour on a plate and the bread crumbs in a separate plate.

Add the remaining eggs and 2 tablespoons of water in a medium bowl.

In another bowl, mix together prosciutto and mozzarella, and divide into 12 separate portions.

Wet your hands with water.

Scoop about 1/4 cup of the risotto (rice mixture) into the palm of your hand and place 1 portion of the prosciutto/mozzarella cheese mixture on top. Shape the rice into a ball and add more rice, if necessary.

Roll the ball in flour, and then dip into the egg mixture to coat completely, shaking off excess.

Finally, roll the ball in the bread crumbs and place on a rack.

Repeat this process with remaining ingredients, you should have 12 balls.

Using a slotted spoon, transfer the balls (a few at a time) to the hot oil and fry until golden, about 2 minutes.

Remove with slotted spoon and place on a rack. (Keep finished arancini in a warm oven).

Serve at once and ENJOY!