So often, we find that dishes with just a handful of fresh ingredients are simply the very best.
This dish is absolutely no exception to that rule. It's all about the fresh basil, of course, but when combined with Parmesan cheese, pine nuts, garlic, and good-quality extra-virgin olive oil, it transcends into something magical. And it comes together in about 30 minutes!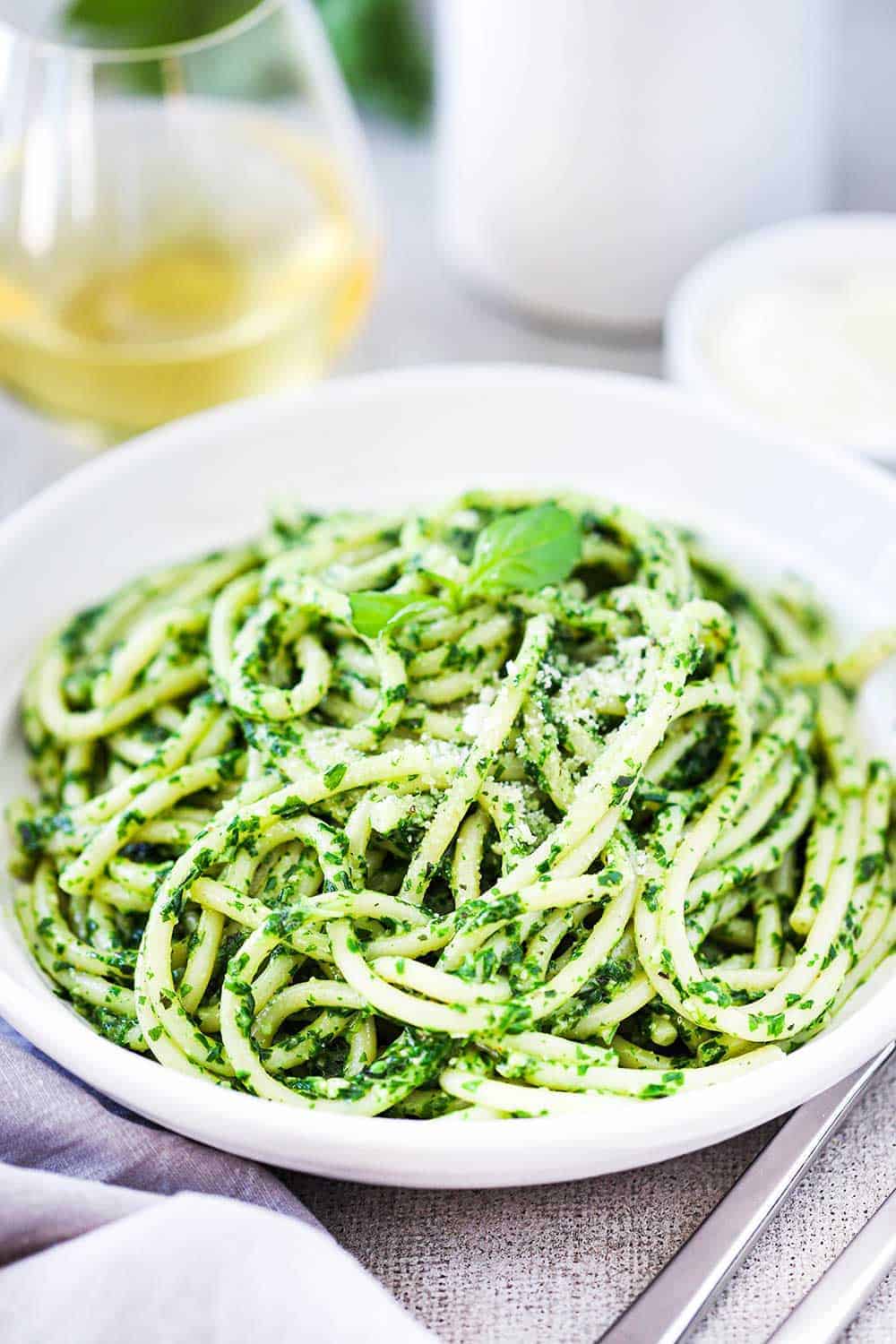 HOW TO MAKE PESTO PASTA
As mentioned, this iconic Italian pasta dish comes together very quickly.
We find that blanching the fresh basil first mellows the overall flavor of the pesto which works well with the cooked pasta.
You'll use the same water to blanch the basil as well as cook the pasta in.
BLANCHING THE BASIL
You're going to start off with 10 cups of fresh basil. That may seem like a lot, but like spinach, as it cooks, it wilts and reduces in size.
Drop the basil into a pot of salted, boiling water and stir to submerge.
EXPERT TIP: It only takes about 30 seconds to blanch the basil. To prevent the basil from continuing to cook, we recommend immediately transferring the blanched basil to an ice bath. We place a colander in a large bowl filled will water. Then add ice. The warm basil will melt the ice and then later, just remove the colander for easy removal of the basil. Be sure to squeeze out excess water and then pat the basil dry with paper towels.
THE INGREDIENTS YOU WILL NEED
As we have said, the ingredients of Pesto Pasta are simple and straightforward. Here's what you'll need:
Fresh basil
Parmesan cheese, grated
Pine nuts, aka pignoli
Garlic
Extra-virgin olive oil
Salt and pepper
Place everything, except the oil, in your food processor and pulse until fully processed.
EXPERT TIP: You'll need to thin the mixture with a couple of tablespoons of the spinach/pasta water. Be sure to have your pasta cooking while you're making the pesto, and remember to save about a cup of the water.
Place the basil mixture into a medium-sized bowl and use a large spoon to mix in the olive oil.
Stir for a couple of minutes to completely incorporate the oil into the mixture.
EXPERT TIP: We go with extra-virgin olive oil for our pesto pasta because it has a slightly lighter taste and texture, which works well against the flavorful basil and garlic.
CHOOSING THE RIGHT PASTA
You really can't go wrong when selecting a pasta for pesto pasta.
We love buctani, spaghetti, and linguine for this dish, but penne or bow-tie works beautifully, too.
EXPERT TIP: This also makes a wonderful pasta salad served warm or at room temperature. If serving as a pasta salad, we recommend using small pasta, such as penne, fusilli, or elbow.
Before tossing the pasta with the pesto, you'll need to thin the sauce a little more with about 1/2 a cup of the spinach/pasta water.
Start with half of the pesto in a large pasta bowl.
Add all of the pasta, top with remaining pesto and little more Parmesan, and use a couple of large wooden spoons to toss until the pasta is fully coated.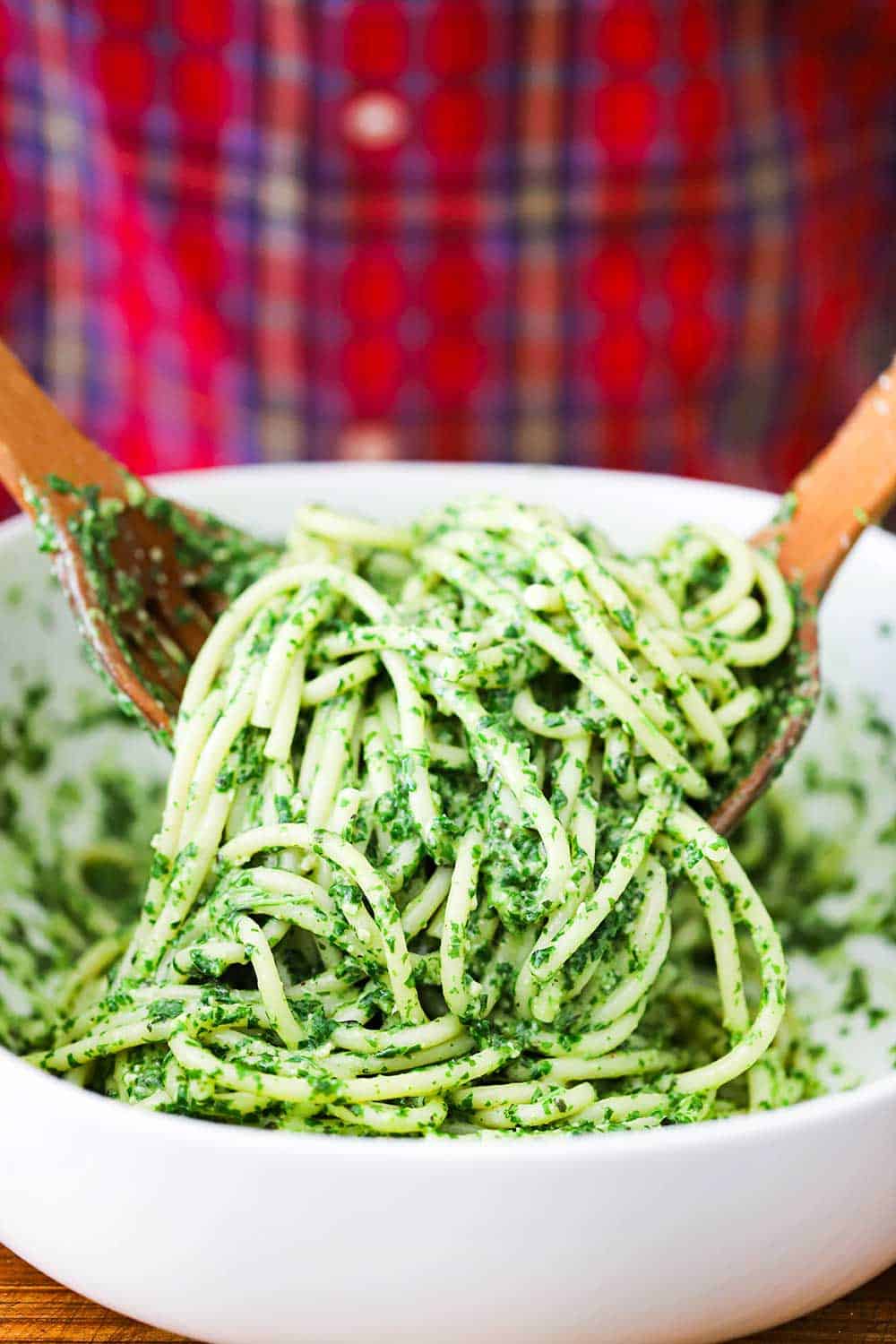 WHEN TO SERVE PESTO PASTA
This dish makes a wonderful "primo", or first course, of a spectacular Italian feast.
But, honestly, the dish is so satisfying, it makes an amazing main dish.
Serve with crusty Italian bread, a leafy green salad, and a crisp, dry white wine, and you'll be set. And happy.
We just love pesto so much. Other recipes that include fresh pesto are:
Italian-Style Panini
Pesto Potato Salad with Green Beans
BLT Pizza with Pesto, Tomatoes, and Pancetta
But, for this Pesto Pasta…it's all about the fresh pesto. And boy, oh boy, does it truly deliver the "Wow!" factor.
Ready to make the best Pesto Pasta in town? Go for it!
And when you do, be sure to tag @howtofeedaloon and hashtag #howtofeedaloon!
Pesto Pasta
Pesto Pasta is a true Italian classic. This dish is just so fresh, and amazing in it's simplicity. It really is incredibly good. One of our favorites. Serve it warm as a main dish, or use a smaller pasta and serve it at room temperature for an amazing pasta salad.
Print
Pin
Rate
Servings: 6 people
Calories: 505kcal
Ingredients
10 cups basil fresh
½ cup Parmesan cheese plus a little more for finishing off the dish
2 tbsp pine nuts aka pignolis
2 cloves garlic minced
½ cup extra-virgin olive oil plus a little more for finishing off the dish
½ Kosher salt plus more for boiling water
1 lb pasta uncooked, such as bucatini, spaghetti, or penne.
Instructions
Bring a pot of salted water to a boil. Meanwhile, place a colander in a large bowl of water, and then add ice. Working in 2 batches, blanch the basil in the boiling water for 20 to 30 seconds. Immediately transfser blanched basil to the ice bath.

Set aside ½ cup of the hot water and reserve the pot containing the blanching water.

Lift colander from ice water and squeeze out the excess water from the basil; transfer to paper towels and pat dry.

Add the pasta to the boiling water, and cook until al dente.

Meanwhile, pulse blanched basil, ½ cup Parmesan, pine nuts, garlic, ½ tsp salt, and ¼ tsp black pepper in a food processor until well combined. Adding a couple of tablespoons of water and pulse for another 5 to 10 seconds.

Transfer basil mixture to a medium bowl and stir in ½ cup extra-virgin olive oil.

Spoon ½ cup pesto and ¼ cup pasta cooking liquid into a large bowl. Transfer cooked pasta to the bowl and use wooden spoons or tongs to toss, adding the remaining pesto and another tbsp of cheese, until pasta is nicely coated.

Divide among bowls and top with cheese and a drizzle of oil.
Notes
Once you've finished blanching the basil, and transferred it to an ice bath, go ahead and your pasta cooking. Boil it in the same water that you blanched the spinach in. Remember to save about a cup of the pasta/spinach water. Be careful not to add too much salt to the pesto. Hopefully, you have liberally salted your pasta water, so when you add some water to the sauce, you'll also be adding salt. Do a taste test and add more salt, if needed. We love serving this with long pasta, such as bucatini, spaghetti, or linguine. However, this also makes a wonderful pasta salad served at room temperature. If you're doing that, we recommend going with short pasta, such as penne, fusilli, or elbow. The pesto sauce and easily be made up to several days in advance and then gently reheated on the stove. Pesto sauce keeps in the refrigerator for up to 2 weeks and freezes well for up to 2 months.
Nutrition
Calories: 505kcal | Carbohydrates: 59g | Protein: 15g | Fat: 14g | Saturated Fat: 4g | Cholesterol: 6mg | Sodium: 140mg | Potassium: 314mg | Fiber: 3g | Sugar: 2g | Vitamin A: 2175IU | Vitamin C: 8mg | Calcium: 187mg | Iron: 3mg
POST UPDATE: This recipe was originally published April 2015, but was updated with improved tweaks to the recipe, new tips, and photography, and a fabulous new video in June 2020!