There is something magical about spaghetti with pesto.  The flavors are so fresh and so flavorful.  It is a classic Italian dish that will truly impress your guests when you make this.  Use the freshest ingredients you can find, and you will be thrilled with the end result.   This makes a wonderful first course for 4 – 6, or a main course for 2 -4.   It is really amazing.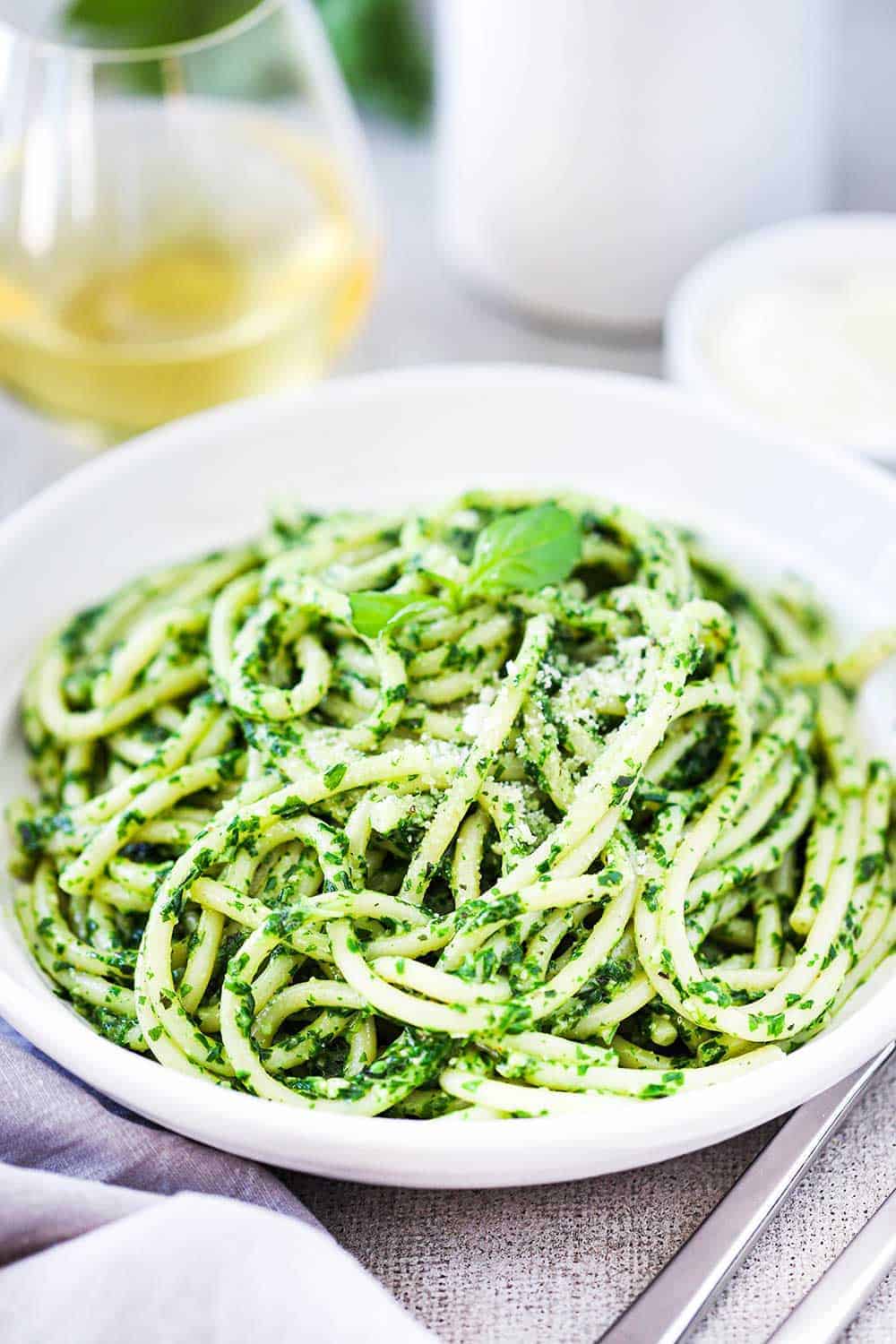 Spaghetti with Pesto
The spaghetti with pesto a true Italian classic. This dish is just so fresh, and amazing in it's simplicity. It really is incredibly good. One of our favorites.
Print
Pin
Rate
Prep Time: 15 minutes
Cook Time: 8 minutes
Total Time: 23 minutes
Servings: 6 people
Calories: 198kcal
Ingredients
Kosher salt a good pinch
10 cups loosely packed basil leaves
1/2 cup finely grated Parmesan plus more (you'll add a little more right at the end)
1 1/2 tbsp pine nuts
1 garlic clove minced
1/2 cup extra virgin olive oil plus more (you'll drizzle a little more when it's almost done)
1 lb spaghetti
Instructions
Bring a pot of lightly salted water to a boil.

Set a colander in a bowl of ice water.

Working in batches, blanch basil for 10 seconds.

Using a slotted spoon, transfer the basil to the colander; let cool.

Set aside 1/2 cup of the hot water and reserve the pot containing the blanching water.

Lift colander from ice water and squeeze out the excess water from the basil; transfer to paper towels.

Pulse blanched basil, 1/2 cup Parmesan, pine nuts, and garlic in a food processor until well combined, adding some of the blanching water, by tablespoons, to thin a little.

Continue to process until a smooth, thick puree forms, about 1 minute.

Transfer basil mixture to a medium bowl and stir in 1/2 cup oil.

Season with salt and pepper (a hefty pinch of each).

Return water in pot to a boil and add another pinch of salt.

Cook spaghetti until al dente.

Spoon 1/2 cup pesto and 1/4 cup pasta cooking liquid into a large bowl.

Using tongs, transfer spaghetti to bowl and toss, drizzling with oil and adding more pesto and cheese, until pasta is nicely coated.

Season with another pinch of salt.

Divide among bowls and top with cheese.
Nutrition
Calories: 198kcal