We love pizza. We love a good BLT. It's no wonder then that we are madly in love with this culinary creation.
Using quick and easy homemade pesto sauce on this pizza is really spectacular. The semolina pizza dough is easy to prepare and it, along with the pesto, can be made in advance. All the other flavors come together to make this just about the best pizza we've ever made or devoured.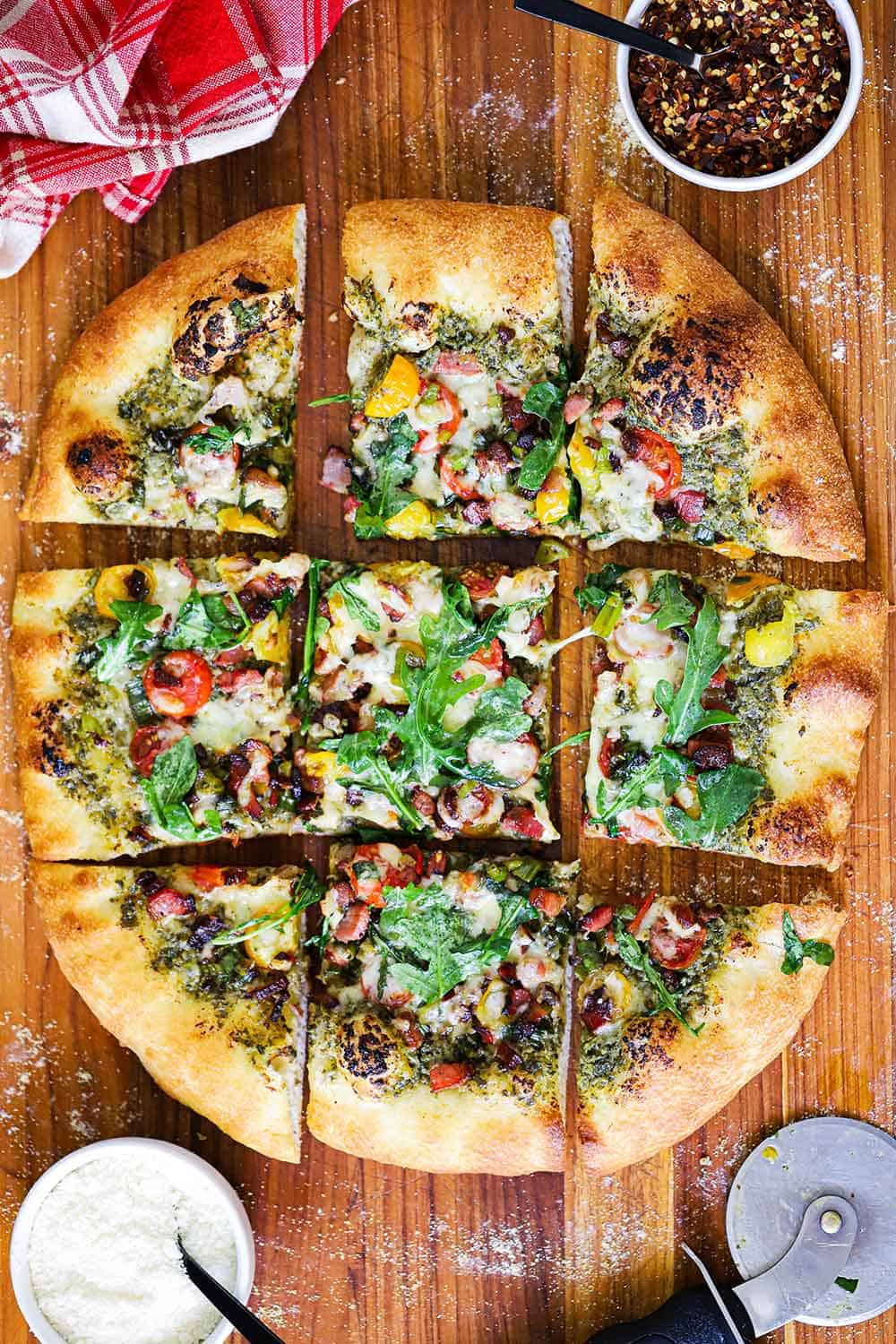 HOW TO MAKE A BLT PIZZA
As mentioned, this pizza is not difficult to prepare at all.
You can easily make the pesto sauce up to 1 week in advance and the dough can be made ahead of time, too.
Assembly is a snap and fun to prepare, as well.
SEMOLINA DOUGH IS PERFECT FOR THIS PIZZA
Before we go any further, let's talk some about our homemade semolina dough.
Of course, you can use store-bought pizza dough, but if you follow our recipe, you'll see how easy it is, and truly is what helps make this BLT pizza so amazing.
We like a little thickness to our crust for a BLT Pizza, but you can certainly use only half of the dough and make a thin crust.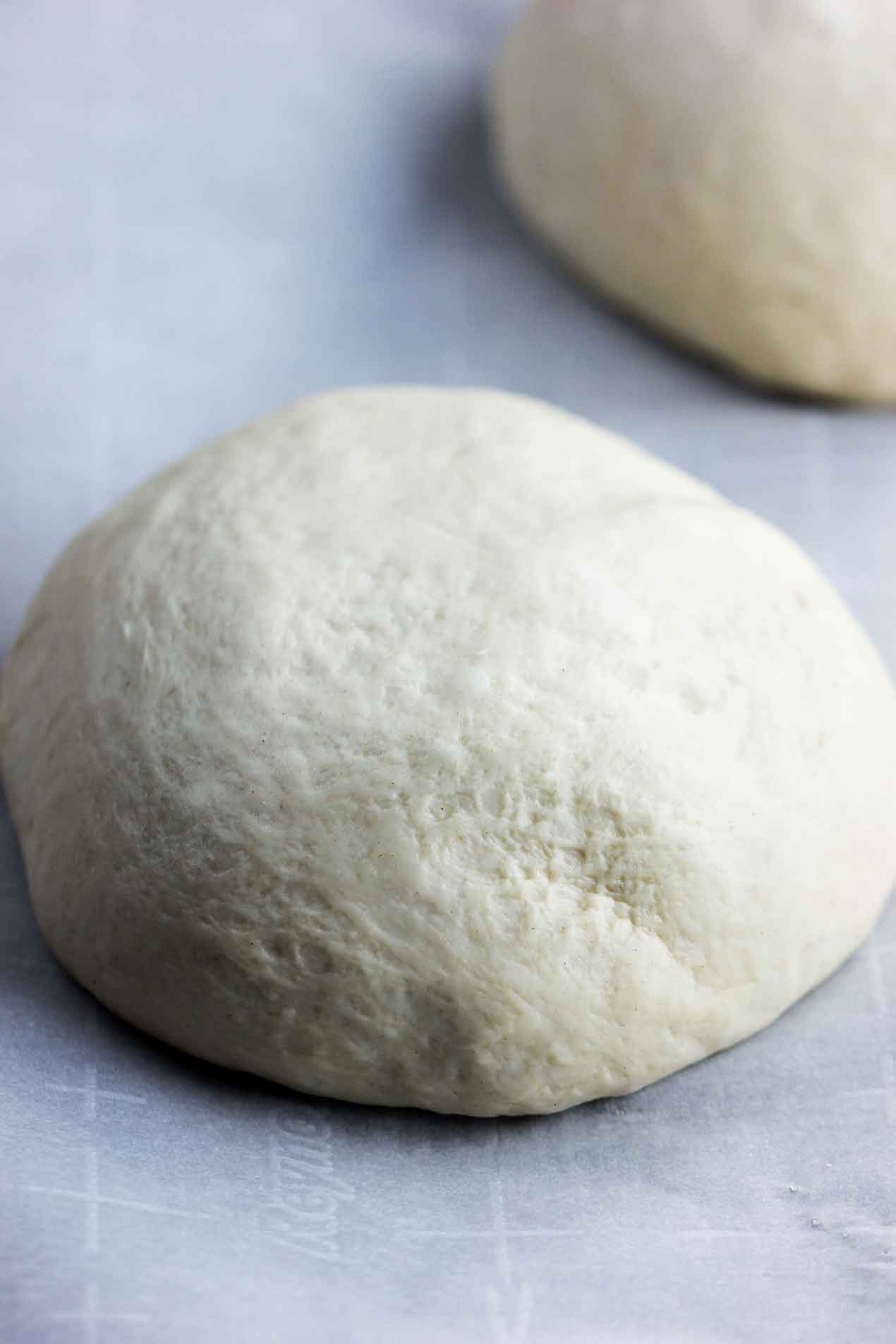 The homemade easy pesto sauce matches so perfectly against the salty pancetta and tomatoes.
We make a big batch and put it on sandwiches, pasta, and salads!
Homemade pesto is the best!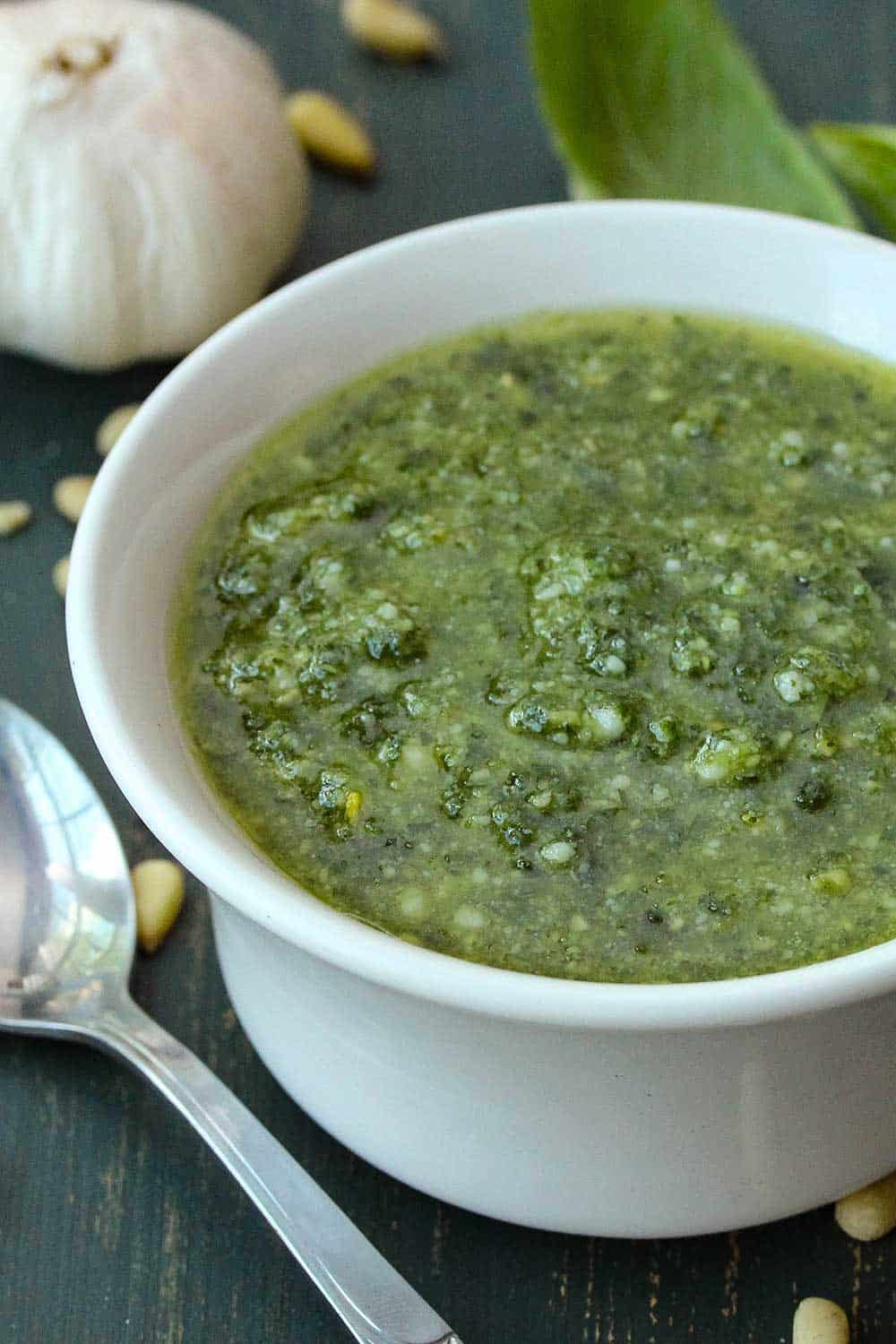 LAYERS OF FLAVOR
As we all know, the 'B' of a BLT is, of course, bacon.
For this BLT pizza, we're going with cubed pancetta, which is Italian cured pork, similar to bacon.
Sautéeing chopped green onions in the rendered pancetta fat adds an amazing depth of flavor for the pizza.
Now, it's time to build the pizza on your pizza paddle (or the back of a baking sheet or large cutting board).
Slather on a nice layer of the pesto sauce all over the stretched dough. Next a layer of the sliced tomatoes, pancetta, sautéed green onions, and finally the cheese.
EXPERT TIP: Don't worry about getting a perfectly round crust. For this pizza, give it more of an artisan feel and let it be a little misshapen. Press the edge of the dough with your fingers to give a little extra 'weight' to the crust edges.
At this point, you'll need to make sure your oven is as hot as it can get, and place your pizza stone in there if you have one.
You can really go with any kind of chopped tomatoes, but we love cherry or grape tomatoes.
If you can find them, seek out yellow and purple tomatoes along with red to give the BLT pizza a beautiful presentation.
Bake the pizza at 550°F for only about 8 minutes. Keep an eye on the pizza to make sure it doesn't burn on top!
Once the pizza is bubbling hot, remove from the oven and top with the arugula that you've dressed with a little extra-virgin olive oil, red wine vinegar, salt, and pepper.
BLT PIZZA IS A FLAVOR EXPLOSION
All the components of this pizza truly work amazingly well together.
Not one ingredient overpowers the other and they all are satisfyingly delicious.
EXPERT TIP: As with all pizza toppings, this pizza can be adapted to suit your tastes or what you have on hand. Bacon can be substituted for the pancetta, and any type of chopped tomato will work, as will any type of lettuce on top. The pesto is key to what makes this pizza so amazing, so we don't recommend changing that element.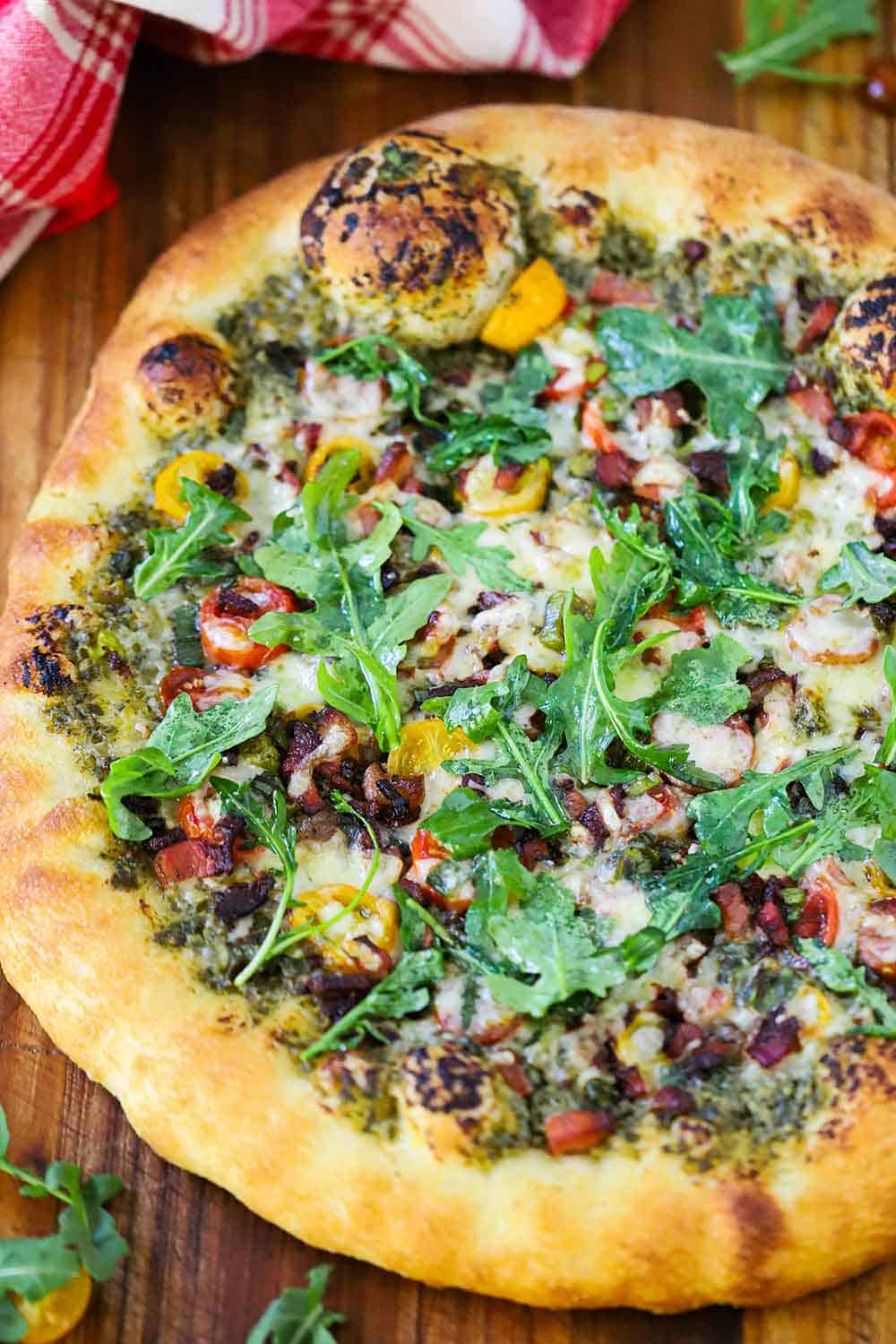 OTHER PIZZA RECIPES TO TRY
This BLT pizza is, hands down, one of our all-time favorite pizzas, but some of our other favorites include:
But, in the meantime, you've just got to make this amazing BLT Pizza with Pesto Sauce!
This is such a crowd-pleasing pizza.
Every time we serve it we are amazed at how fast it gets devoured.
Make this pizza, and you'll see what we mean.
Ready to make one of the best pizzas on the planet? Go for it!
And when you do, be sure to tag @howtofeedaloon and hashtag #howtofeedaloon!
BLT Pizza with Pesto Sauce
This BLT Pizza with Pesto, Pancetta, Tomato & Arugula is an amazing BLT pizza. The homemade pesto puts this pizza over the top. Well, that, and the homemade crust and the other incredible components of this amazing pizza!
Print
Pin
Rate
Servings: 4 people
Calories: 275kcal
Equipment
Pizza stone, pizza oven, grill, or regular oven.
Ingredients
1 semolina pizza dough click for the full recipe or use store-bought
Semolina or cornmeal (for dusting)
4 oz pancetta cut into cubes (can also use 3 slices of bacon, roughly chopped).
1 cup scallions roughly chopped
½ cup classic pesto sauce click for full recipe
1 cup tomatoes sliced, grape, cherry, or Roma - sliced or roughly chopped
4 oz Fontina cheese shredded
1 tbsp olive oil
2 tsp red wine vinegar
Pinch Kosher salt
cups baby arugula
Instructions
Place your pizza stone in the oven and preheat to 550°F. Allow the pizza stone to heat for 30 minutes.

Prepare pizza dough (unless using store-bought).

Prepare the easy pesto sauce.

On a lightly floured surface, stretch pizza dough to medium thickness.

Sprinkle your pizza paddle (or the back of a baking sheet) with a little semolina or cornmeal.

In a large skillet, cook the pancetta (or bacon) over medium heat until crisp. Drain on paper towels, reserving 1 tablespoon of the drippings in the skillet.

Cook scallion in the same skillet with rendered grease until tender, about 3 - 4 minutes. Use a slotted spoon to remove from pan and set aside.

Spread pesto over dough. Top with tomato pieces, pancetta, and scallions. Sprinkle with cheese. Brush olive oil over the edge of the pizza.

Carefully transfer the pizza to the pizza stone and bake 8 minutes, or until crust is golden and cheese is bubbly.

Meanwhile, in a medium bowl, whisk together the oil, vinegar, pepper, and arugula, toss to coat.

Top baked pizza with arugula mixture just before serving.
Notes
We love using our homemade semolina pizza dough for this pizza, but pizza dough purchased from your local pizza shop or a restaurant is a great option, too. We don't recommend pizza dough in a tube, however. The pizza dough and pesto sauce can be made up to several days in advance. Keep covered and in the fridge until ready to use. Turn your oven on as high as it will go. Place your pizza stone in the oven and let it heat for 30 minutes before transferring the pizza to it. If you don't have a pizza paddle, you can use the back of a baking sheet or a large cutting board liberally sprinkled with semolina or cornmeal. Give the pizza a shake every now and then to keep it loose on the surface, which will make transferring to the hot pizza stone easier. Bacon is a fine substitute for cubed pancetta. This pizza is best served right from the oven, although, leftovers (if there are any) are still pretty delicious the next day.
Nutrition
Calories: 275kcal | Carbohydrates: 4g | Protein: 12g | Fat: 24g | Saturated Fat: 10g | Cholesterol: 52mg | Sodium: 421mg | Potassium: 232mg | Fiber: 1g | Sugar: 2g | Vitamin A: 818IU | Vitamin C: 10mg | Calcium: 178mg | Iron: 1mg
POST UPDATE: This post was originally published in February 2017, but was updated with improved tweaks to the recipe, new tips and photography, and a fabulous new video in June 2020!