This is one of those treats that is just so delicious and a joy to get the kids in the kitchen to help pitch in.
You will be surprised how easy it is to make these delicious sweet treats at home. You can also fill with a vanilla custard or jam fillings. Use the same recipe that we use in our Jelly and Custard Doughnuts!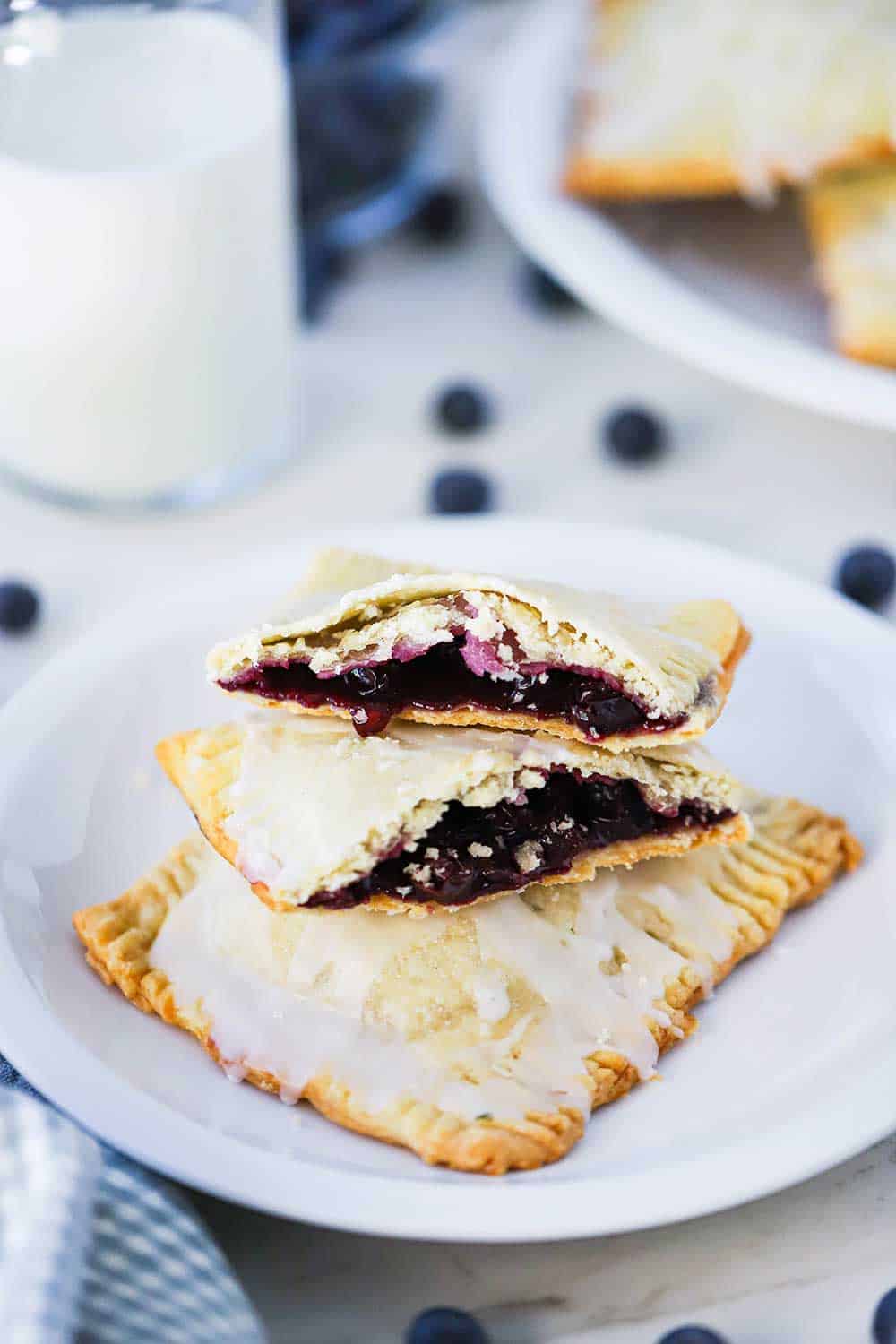 HOW TO MAKE HOMEMADE BLUEBERRY POP TARTS
Okay, folks, it's time to make pop tarts! Woo hoo!
Before we get started putting together these amazing pastries, we recommend making the Perfect Pie Dough. It's so easy and can be made up to several days in advance.
You can also make the blueberry filling up to a day or two in advance.
We love all types of fillings for homemade pop tarts, but there is something extra special about this blueberry mixture.
The process of making the blueberry filling is so simple and only requires you to simmer fresh blueberries with sugar and lemon juice. A cornstarch slurry thickens it to the perfect consistency and the addition of a handful of fresh blueberries thrown in at the end adds amazing texture and freshness.
EXPERT TIP: The filling can be made up to 3 days in advance and kept in an air-tight container in the refrigerator. It can also be frozen for up to 2 months.
STEPS FOR ASSEMBLING THE POP TARTS
This is when it's fun to bring in the kids, or anyone who might want to have some fun in the kitchen making fruit pies from scratch!
Start by rolling out your dough into a large enough shape that will allow you to cut an approximate 10″ x 12″ rectangle. Cut the rectangle with a pizza cutter or sharp knife and do this on a well-floured surface. (See Step 1).
Next, use a pizza cutter (or sharp knife) to cut three rectangles, 4 inches each in width. (See Step 2).
Now, add a couple of tablespoons of the blueberry filling in the center of one half of the rectangle. (See Step 3).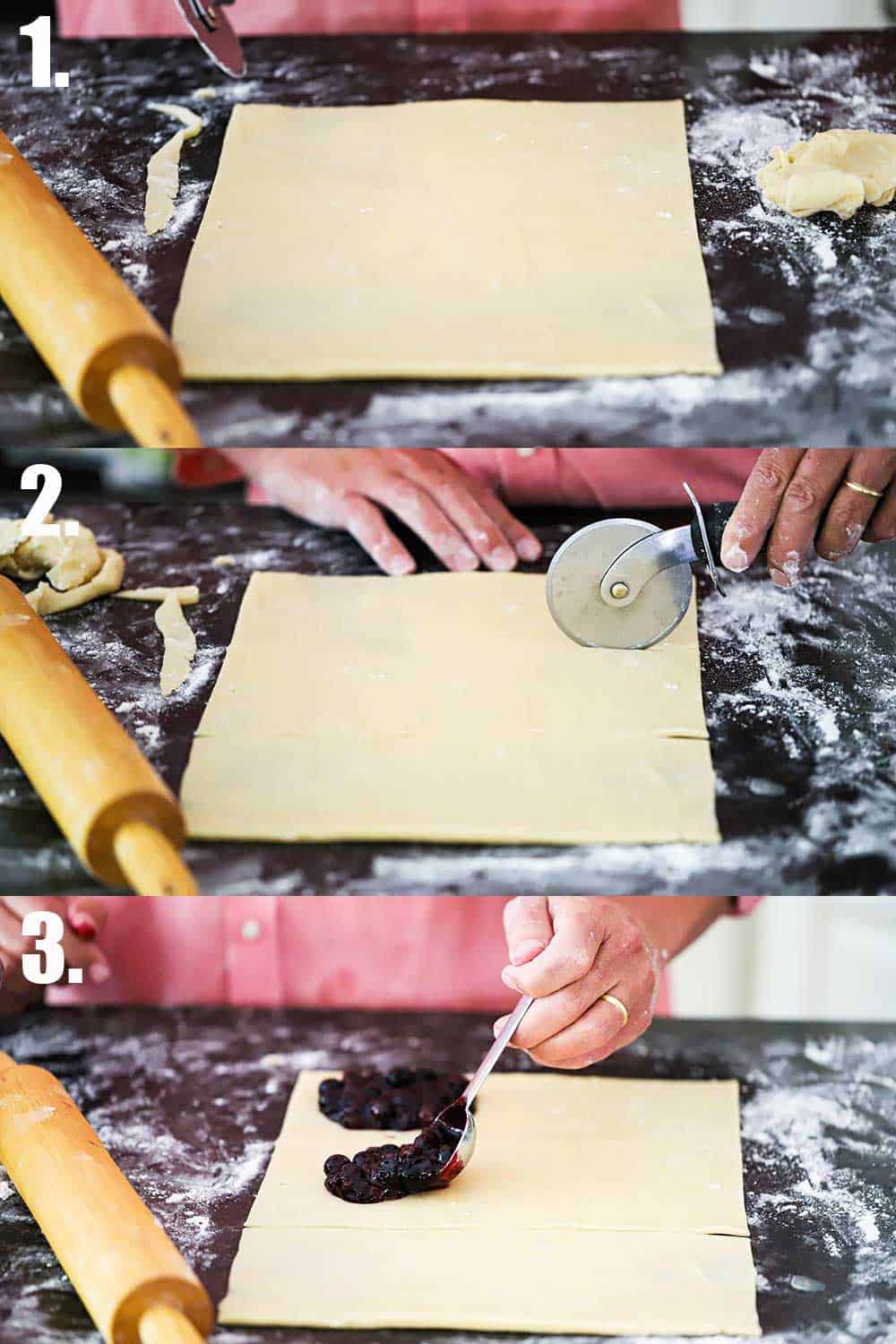 A little water on the edges of the dough helps the dough adhere when folded over. (See Step 4).
Carefully use your fingers to fold the dough over to cover the blueberries. (See Step 5).
Gently crimp all 4 edges of the pie to create a seal. (See Step 6).
MAKING THE PERFECT POP TART
Now, a simple egg wash on the top helps the pop tarts to brown slightly. (See Step 7).
A couple of small slits in the top of the pie will help steam escape. (See Step 8).
Finally, a sprinkle of sugar on top adds a touch more sweetness and texture. (See Step 9).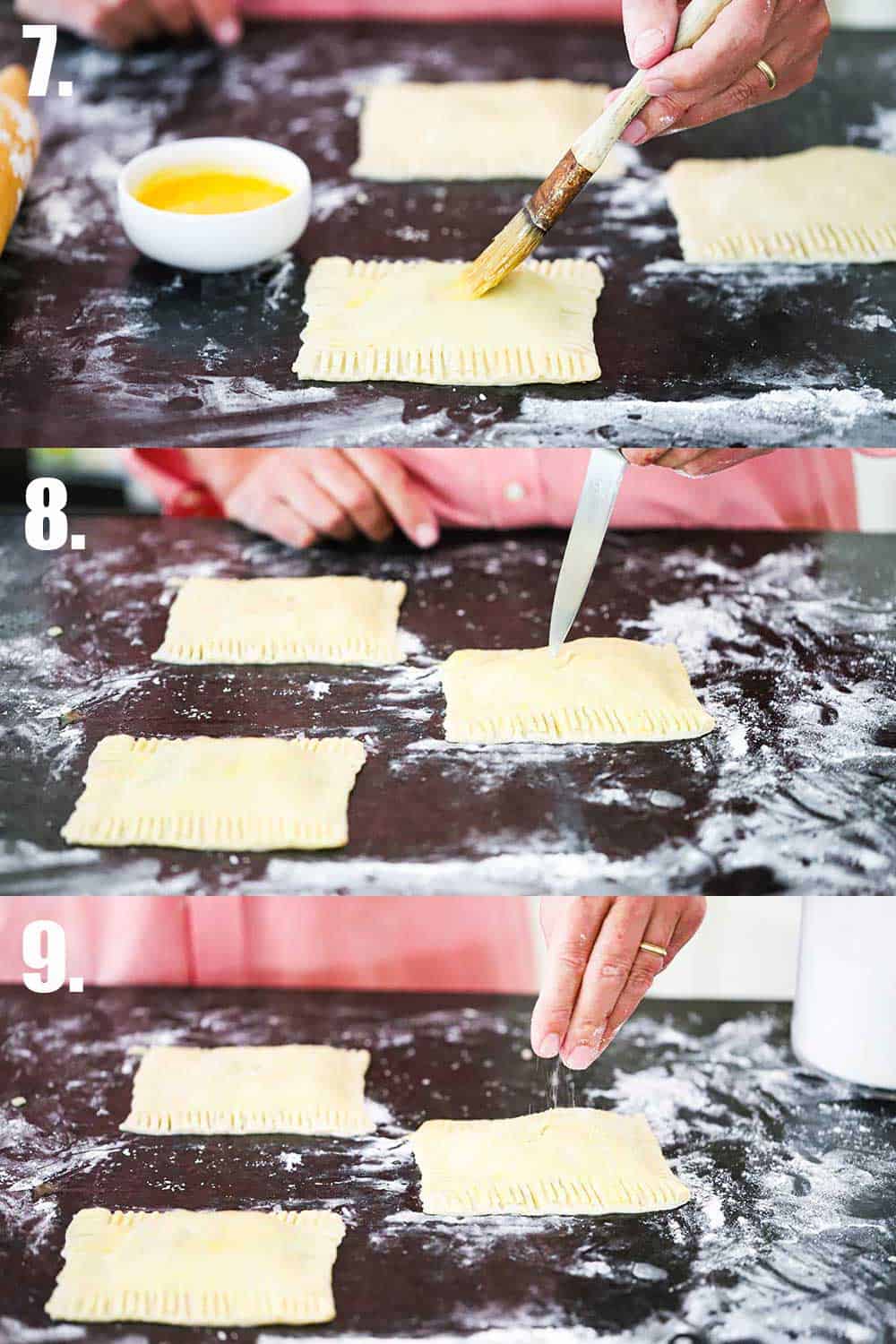 Transfer the Homemade Blueberry Pop Tarts to a baking sheet and then place it in a preheated oven at 375°F.
Let the tarts cool on a baking rack before glazing.
EXPERT TIP: A simple glaze is all the blueberry pastries need after they've cooled somewhat. We mix together 1¼ cup of confectioners' sugar (aka powdered sugar) with a couple of tablespoons of water. If too thick, add a little more water, if too thin, add a little more sugar.
Spoon all over the top of the cooled pop tarts.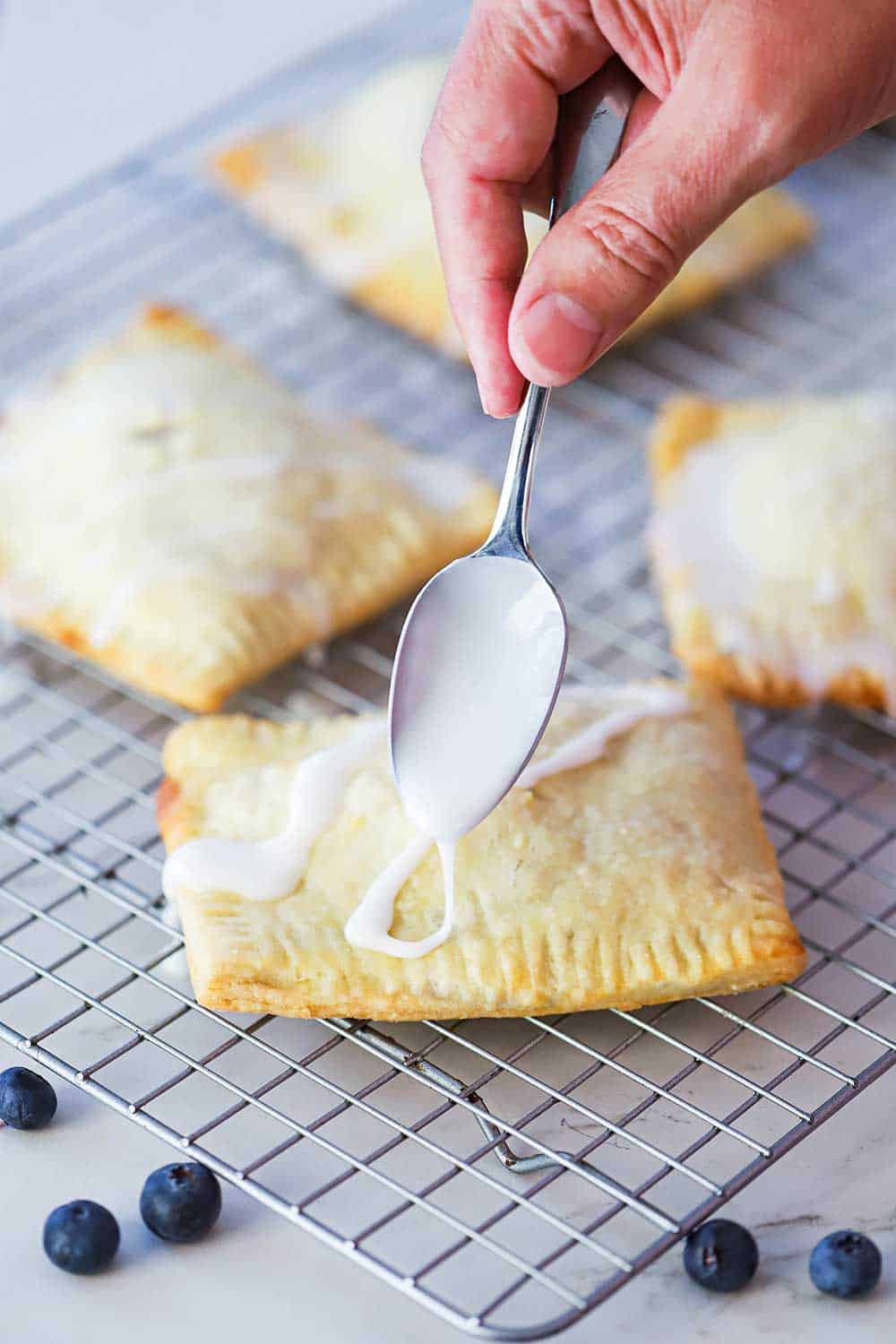 FUN FOR THE KIDS AND ADULTS
Who doesn't love a good ole Pop Tart every now and then? Well, make them from scratch, and you'll find an even greater appreciation for these awesome sweet treats.
This recipe makes 6 nice-sized pop tarts.
EXPERT TIP: Once the pop tarts are prepared, you can easily store them in an air-tight container in the refrigerator for up to 1 week. They are wonderful served warm or at room temperature.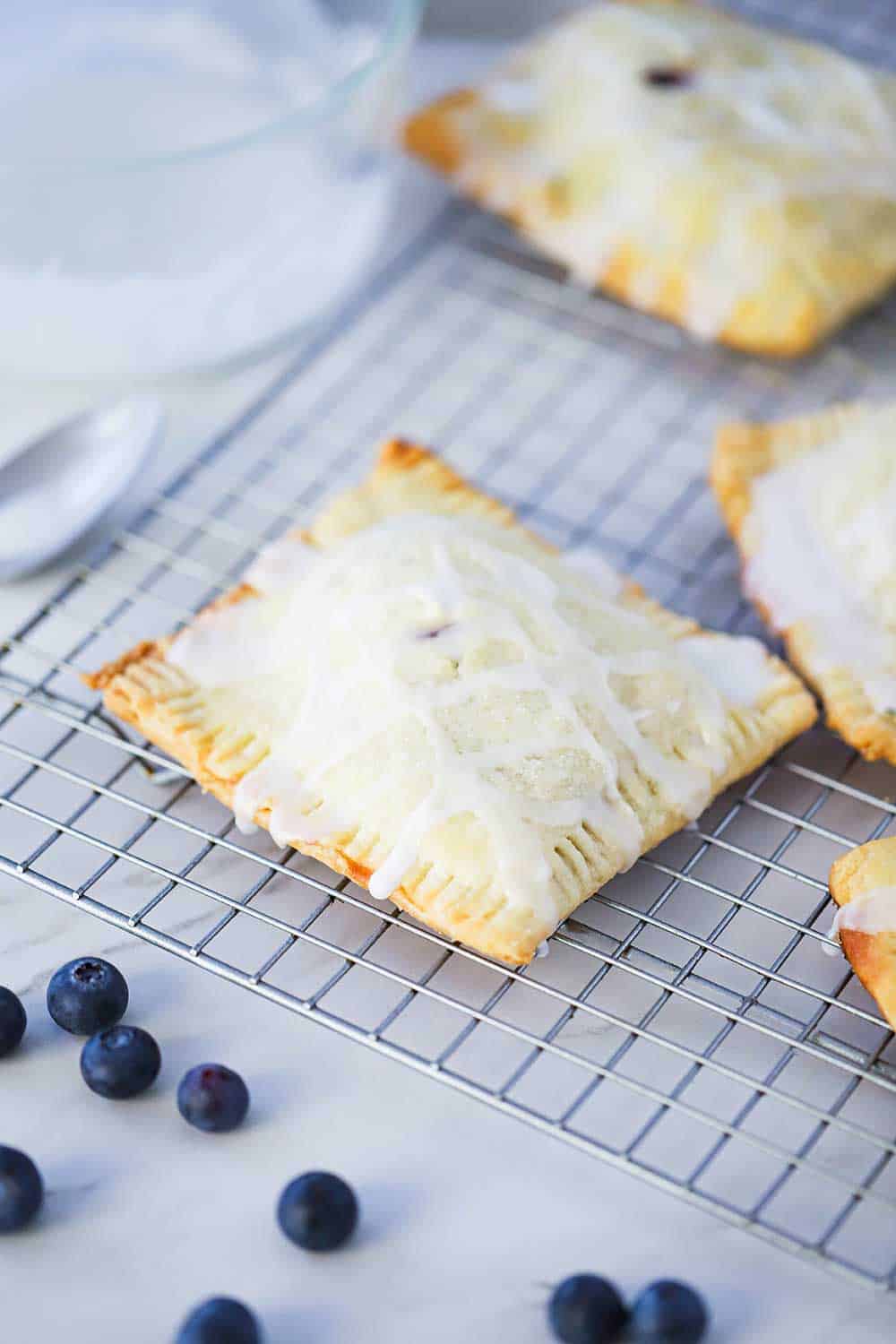 Pop Tarts conjure wonderful memories for so many of us.
When you make these from scratch, especially if you get the kiddos involved, you'll have even greater memories to cherish.
They are fun and off-the-charts delicious!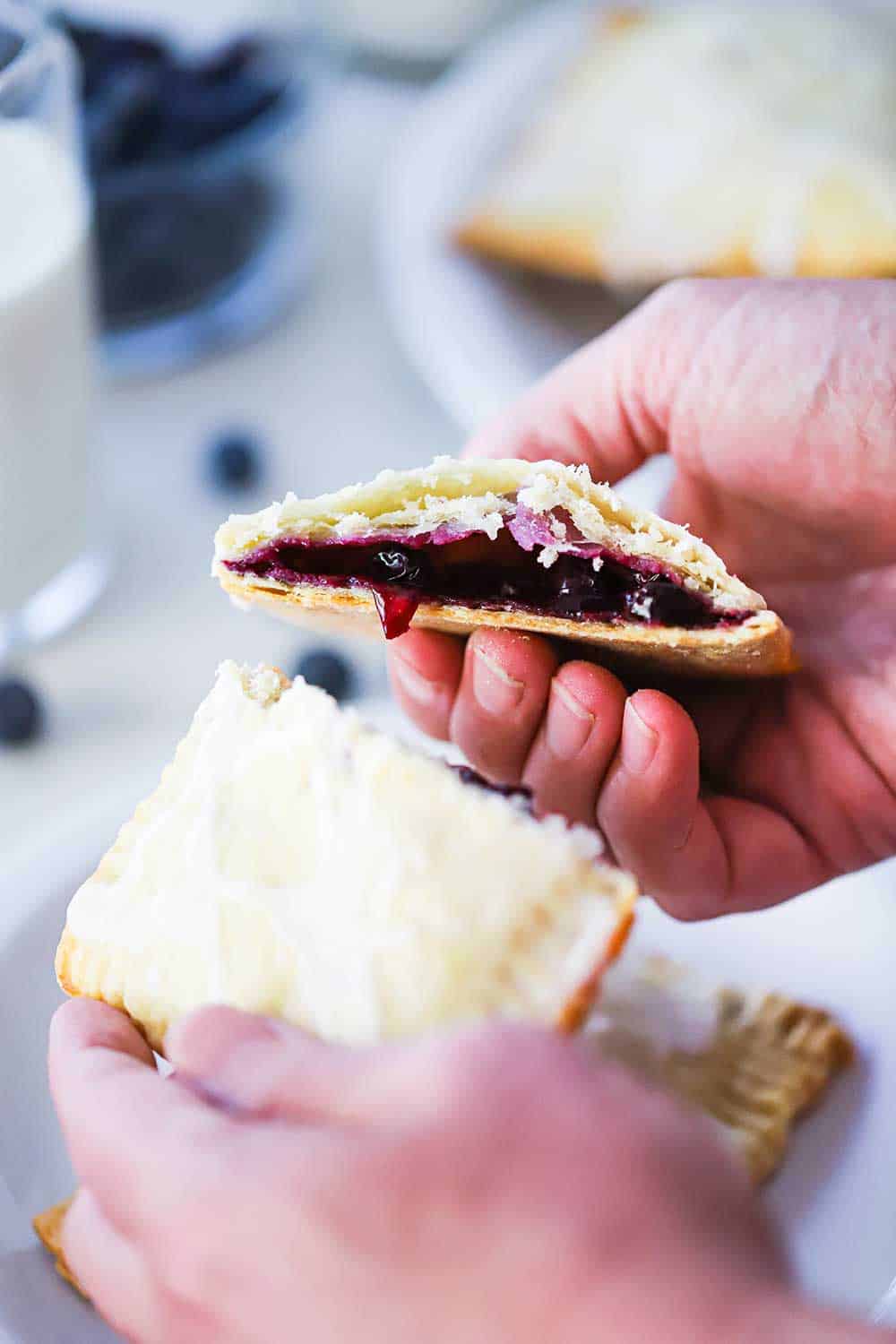 Ready to make the best sweet treat that kids and adults will be talking about for days to come? Go for it!
And when you do, be sure to take a photo, post it on Instagram, and tag @howtofeedaloon and hashtag #howtofeedaloon!
Homemade Blueberry Pop Tarts
Don't you just love Pop Tarts? Haven't had one in a while? Well, try these Homemade Blueberry Pop Tarts, and you'll never look at the boxed variety the same again. Be sure to whip up a batch of homemade pie dough and they're super easy, and incredibly tasty.
Print
Pin
Rate
Servings: 6 people
Calories: 426kcal
Ingredients
Double recipe pie dough
2 cups blueberries
¼ cup sugar plus 1 tbsp
1 tbsp lemon juice
2 tsp cornstarch
all-purpose flour for dusting work surface
1 large egg
1 cup confectioners' sugar
Instructions
MAKE AHEAD
Prepare the two pie doughs, form into two discs, wrap with plastic wrap, and keep in the refrigerator for up to 3 days.
PREPARE THE BLUEBERRY POP TARTS
Heat a medium-sized saucepan over medium heat and add 1½ cups of the blueberries, sugar (¼ cup), and lemon juice (1 tbsp). Stir with a wooden spoon until berries begin to release their juices and break down, about 5 minutes.

Meanwhile, in a small bowl, stir together the cornstarch and 2 tablespoons water. Add the cornstarch slurry to the saucepan and stir until thickened, a couple of minutes longer. Remove from heat and stir in the remaining ¼ cup of blueberries. Transfer to a bowl and set aside.

Preheat the oven to 375°F.

Working with one disc of dough at a time, transfer to a liberally floured work surface. Use the palm of your hand to begin flattening the dough. Use a floured rolling pin to gently roll the dough to a rough 10"x12" shape. Use a cookie cutter, or sharp knife, to cut the edges off each side of the dough to make a clean 10"x12" rectangle.

Using your pizza cutter, or knife, divide the dough into 3 rectangles, each 4"x 10."

Place about 2 to 3 tablespoons of the blueberry filling on one half of a rectangle, leaving a ½-inch border on each side. Brush a little water along the edges of each pie, and then use your fingers to carefully fold the side of the dough without the filling over the side with the filling.

Brush each pie with the egg wash. Then, use a small knife to cut a couple of slits on the top of each pie creating an "X." Sprinkle with a little sugar over the top of each pop tart and then transfer them carefully with a spatula to a baking sheet.

Bake the pies until golden, about 25 minutes (rotate the baking sheet halfway through).

Let the pies cool on the pan on a wire rack.

Meanwhile, mix 1¼ cup confectioners' sugar into a bowl with 2 tablespoons of water. The mixture should have the consistency of heavy cream.

Brush the icing over the cooled pies. Serve warm or at room temperature.
Notes
Store-bought pie dough can be used, but we strongly making the Perfect Pie Crust from scratch. The pie dough can be made several days in advance and kept wrapped in plastic wrap in the fridge, or frozen for up to 1 month. Frozen blueberries can be substituted for fresh, in a pinch. Make sure to flour your work surface liberally before forming the pies. When working with the first disc of dough, leave the other in the fridge. If your kitchen is warm, and if you handle the dough too much, the butter will soften and will want to stick to your work surface. If this is happening, go ahead and lift the rectangles of the dough up and sprinkle a little more flour beneath them. Don't worry if the pies become a little misshapen when transferring to the baking sheet. Fix them with your hands as best you can and re-crimp with your fork. These are homemade and shouldn't look perfectly square, anyway! It is completely normal for some of the blueberry juice to bubble out of the pies when cooking. The cooked pop tarts will keep in an air-tight container in the fridge for up to 10 days and they will freeze for up to 1 month. But, they are best served fresh!
Nutrition
Calories: 426kcal | Carbohydrates: 36g | Protein: 1g | Fat: 12g | Saturated Fat: 4g | Cholesterol: 31mg | Sodium: 13mg | Potassium: 49mg | Fiber: 1g | Sugar: 33g | Vitamin A: 72IU | Vitamin C: 6mg | Calcium: 8mg | Iron: 1mg
POST UPDATE: The recipe was originally published in May 2015, but was updated with improved tweaks to the recipe instructions, new tips and photography, and a fabulous new video in June 2020!
This recipe is adapted from Williams Sonoma Blueberry Hand Pies