Homemade Blueberry Pop Tarts are so much fun to make and are absolutely delicious.
You will be surprised how easy it is to make these delicious sweet treats at home. You can also fill with a vanilla custard or jam fillings. Use the same recipe that we use in our Jelly and Custard Doughnuts!
HOMEMADE DOUGH MAKES THEM SO GOOD
Making the dough from scratch puts these pop tarts over the top.
The dough can be made several hours in advance.
So good!
SIMMER THE FRUIT IN SUGAR
These baked pop tarts literally burst with flavor.
As the blueberries simmer, they actually will burst and release their amazing juices.
The perfect filling for these baked sweet treats!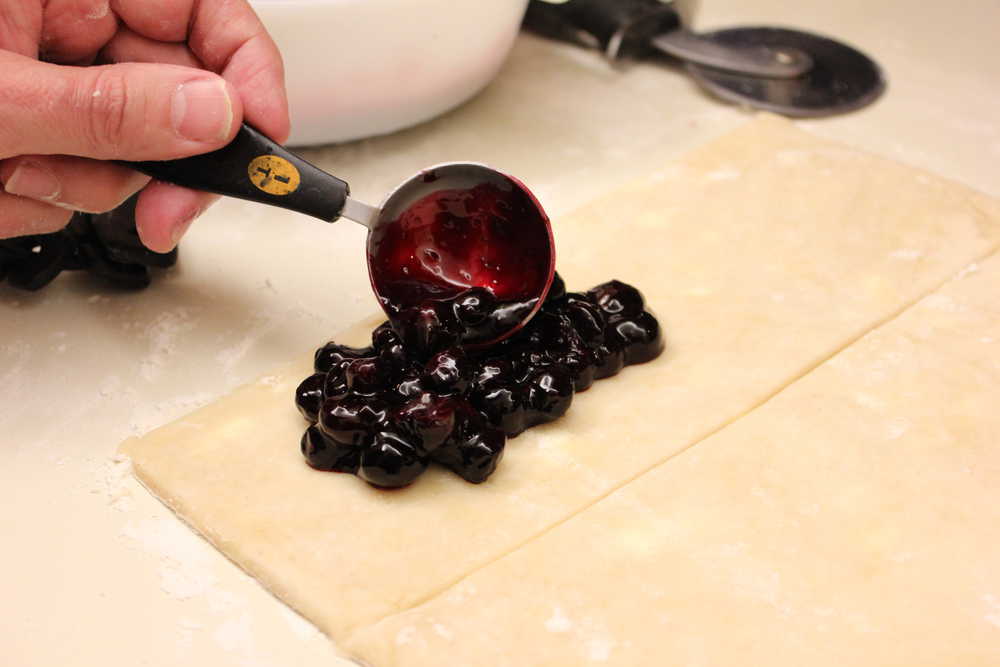 HOW TO FORM THE HOMEMADE BLUEBERRY POP TARTS
After rolling our the dough, you'll cut them into equal-sized rectangles.
Use a the tongs of a fork to seal the top and bottom layers of dough together.
A wash of melted butter is always nice to make them golden and extra delicious.
Who doesn't love a good ole Pop Tart every now and then?  Well, make them from scratch, and you'll find an even greater appreciate for these awesome sweet treats.
These aren't just for the kiddos!  Yum to the max!  Loon Approved!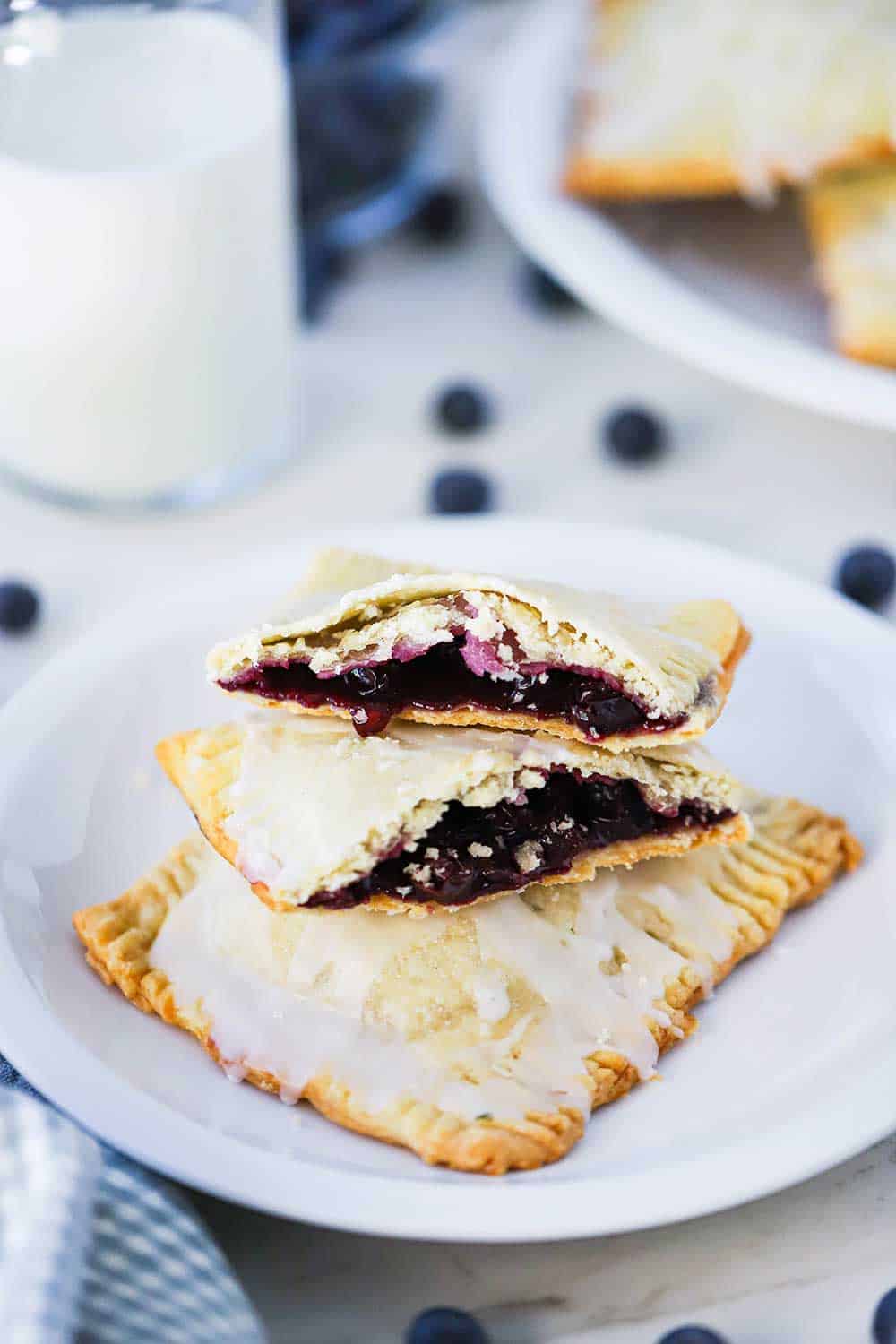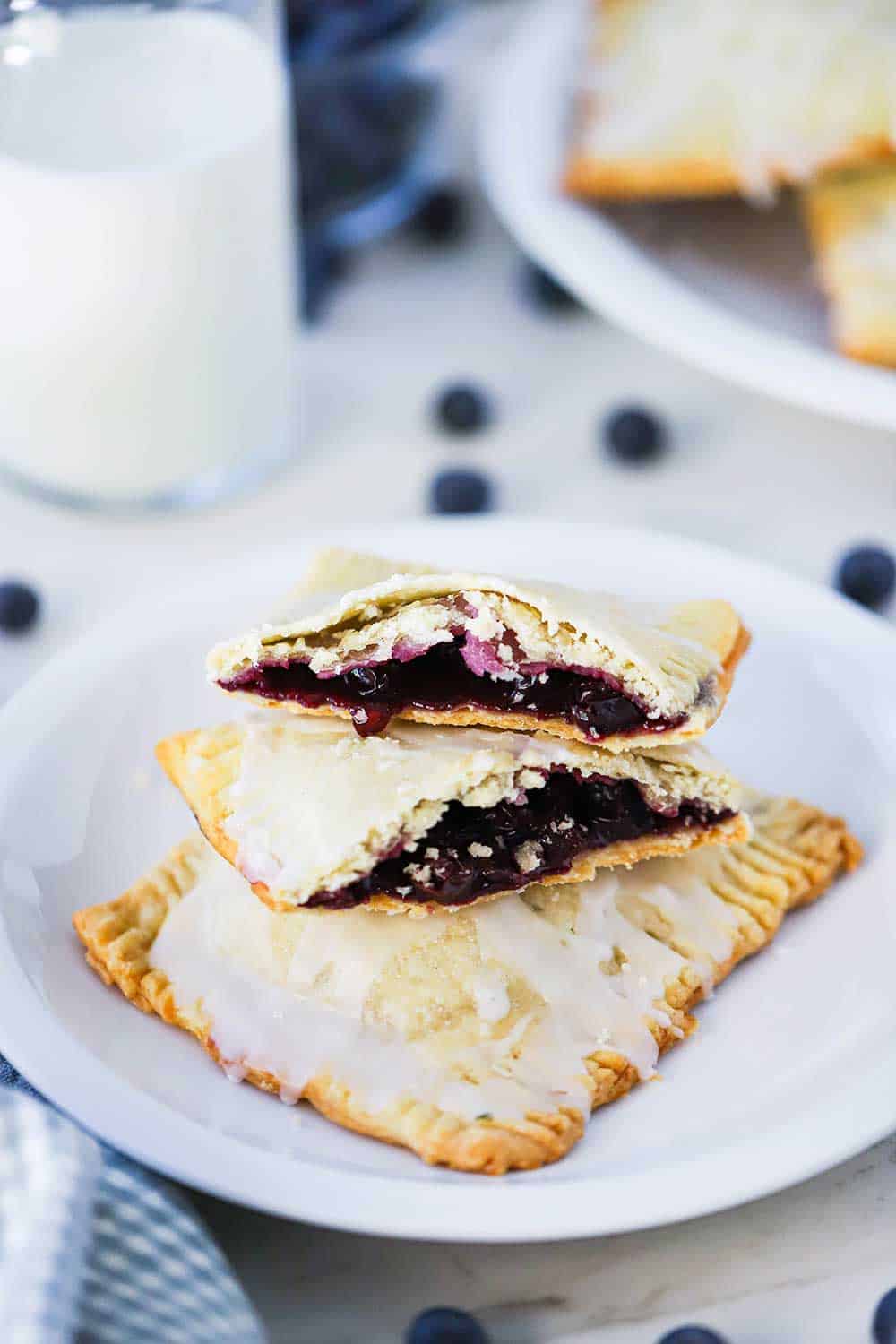 Homemade Blueberry Pop Tarts
Don't you just love Pop Tarts? Haven't had one in a while? Well, try these Homemade Blueberry Pop Tarts, and you'll never look at the boxed variety the same again. Be sure to whip up a batch of homemade pie dough and they're super easy, and incredibly tasty.
Print
Pin
Rate
Servings: 6 people
Ingredients
2 cups blueberries
1/4 cup sugar plus 1 tbsp
1 tbsp fresh lemon juice
2 tsp cornstarch
Double recipe for pie dough
Flour for dusting
1 large egg
1 cup confectioners' sugar
Instructions
In a saucepan, combine 1 & 1/2 cups of the blueberries, 1/4 cup of the sugar and lemon juice over medium heat and cook, stirring often, until the berries begin to release their juices. About 5 minutes.

Meanwhile, in a small bowl, stir together the cornstarch and 2 tablespoon water.

Add the cornstarch slurry to the blueberry mixture and cook until the juices come to a boil and thicken.

Remove from the heat and stir in the remaining 1/2 cup berries.

Pour the berry mixture into a medium bowl and allow to cool some.

Pre-heat the oven to 375 F.

Place the dough on a floured surface and divide in half.

One at a time, roll out a dough-half into rectangles, about 12 by 10 inches, and about 1/8" thick each.

Trim the edges evenly (I use a pizza cutter to do this).

Using a paring knife, or a pizza cutter, cut each pastry sheet into 3 rectangles, measuring 10 by 4 inches.

Place about 3 tablespoon of the blueberry filling on one half of a rectangle, leaving a 1/2-inch border uncovered.

For each pie, fold the dough in half, vertically so the edges meet, then crimp on all sides with a fork.

Transfer pies to an un-greased baking sheet.

In a bowl, beat the egg with 1 teaspoon water to make an egg wash.

Lightly brush the pies with the egg wash, then cut an 'X' in the top of each pie, and sprinkle with the remaining 1 tablespoon sugar.

Bake the pies until golden, about 25 minutes (rotate the baking sheet halfway through)

Let the pies cool on the pan on a wire rack.

Meanwhile, mix 1 cup confectioners' sugar into a bowl, and whisk in 2 tablespoons of water. The mixture should have the consistency of heavy cream.

Brush the icing over the cooled pies. Let rest a couple minutes.